Table of Contents
History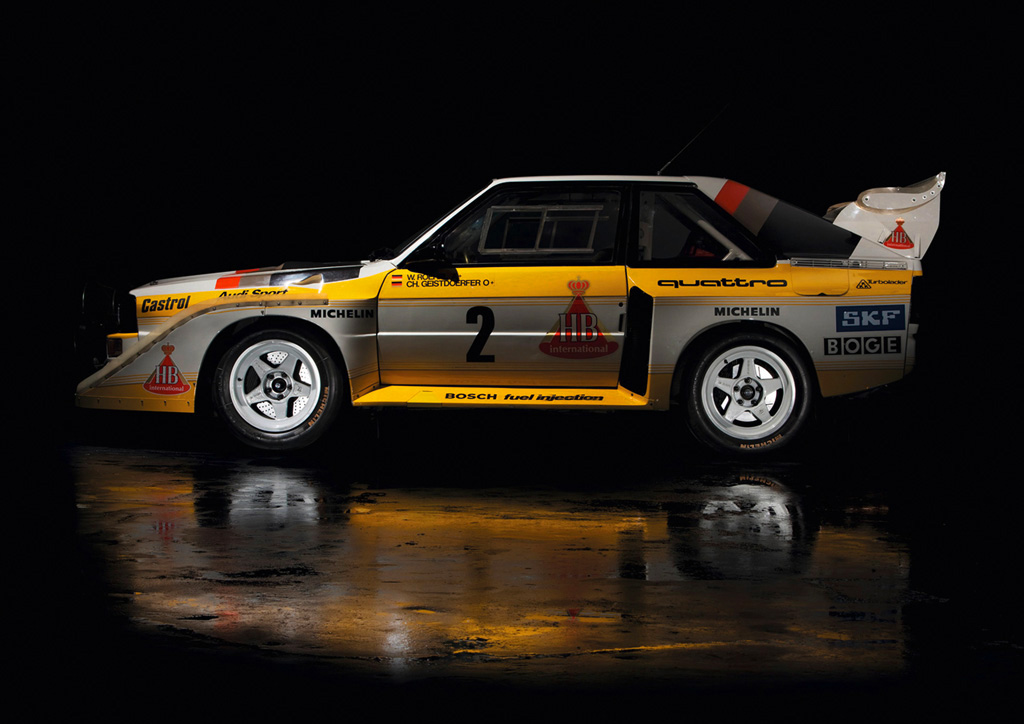 Revolutionary Racing Roots
The Audi Quattro is a prominent figure in automotive history. First introduced in 1981, the Audi Quattro would revolutionize rally racing; and subsequently the trajectory of production car technology.
It was the first rally car to effectively and reliably use all-wheel drive and would go on to to be a benchmark for future cars fitted with such a drivetrain. This inaugural generation of the Quattro is often referred to as 'Ur-Quattro'. The "Ur-" is a prefix derived from the German word for 'original', therefore denoting in its entirety, 'The Original Quattro'.
Eventually, it would be replaced with the Audi Sport Quattro in 1984, after shortcomings of the aforementioned car – such as its relatively large weight and dimensions – became too apparent. Taking advantage of the lenient homologation requirements of the time, Audi engineers went full tilt in creating a successor to the Quattro, doing so after producing the required 200 Sport Quattro cars.
1985 Audi Sport Quattro S1
An updated version of the Audi Sport Quattro – given the 'S1' moniker – was introduced at the end of 1984. To meet homologation requirements for the improvements, Audi first had to produce an additional 20 examples per Group B regulations. After this was completed, Audi debuted the Sport Quattro S1 at the 1000 Lakes Rally in August 1985.
The most notable changes could easily be spotted at a cursory glance, thanks to some very extroverted modifications which included huge overhangs and a massive rear wing.
The car also underwent some weight reduction by replacing a number of steel components with kevlar or aluminum, while some of the weight was redistributed towards the rear of the car by relocating the radiators, battery and other accessories. The car also featured a shorter wheelbase than the Quattro.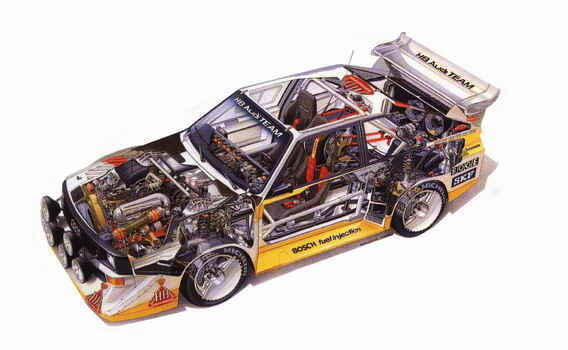 The Audi Sport Quattro S1 also improved on the unique 2.1L inline-5 power plant which now produced a factory-stated 470-horsepower. However, the true power input was believed to be in excess of 500-horsepower since the turbocharger was complemented with a recirculating air system which also reduced turbo lag.
The enhanced engine – in conjunction with the weight reduction and revised aerodynamics – propelled the car from 0-100 km/h in a staggering 3.1 seconds.
What supercars are doing today, the Sport Quattro S1 was doing in the mid-'80s. The speed, acceleration, and traction of the car would unsurprisingly, be its biggest claim to fame.
Defining The Way We Shift
During some rally races, certain examples of the Audi Sport Quattro S1 were equipped with a then-experimental version of the dual-clutch automatic gearbox. Thus, the very first iteration of what is now commonly known as DSG (direct-shift gearbox) or PDK (Porsche doppelkupplung), can trace its beginnings to the Sport Quattro S1.
Essentially, the Sport Quattro S1 is the forebearer of dual-clutch transmissions.

In hindsight, it is incredible to fathom, that something that is thought by the mainstream to be an advanced and relatively 'new' technology, was already around in 1985 thanks to Audi's ambition to create the ultimate rally machine.
All-Star Ensemble
The new Audi Sport Quattro and all its variants would be piloted by a world-class team of drivers which included Hannu Mikkola, Walter Röhrl, Michele Mouton, Bobby Unser, and Stig Blomqvist.
In terms of Group B Rally Racing, there were high expectations for this squad and the Sport Quattro to achieve results. Afterall, Blomqvist was the 1984 World Champion, having achieved this feat using the vastly inferior Quattro. Mikkola and Röhrl had also won races in the car, which allowed Audi to also secure the constructor's trophy.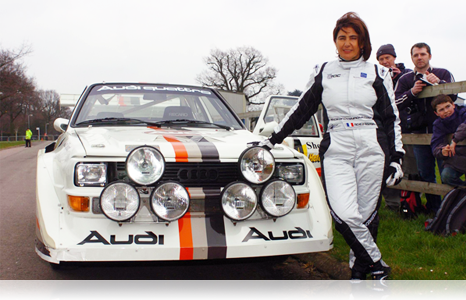 Above: Michele Mouton
The car would also partake in Pikes Peak International Hill Climb – amicably referred to as "Race to the Clouds" – with Mouton, Unser, and Röhrl featuring as drivers throughout a number of years in this daunting race event.
Instant Impact
The only downside to an otherwise commendable debut was that the Audi Sport Quattro S1 only managed its first appearance near the end of the season. By this time, the Peugeot 205 T16 had already won six out of the eight races for the year.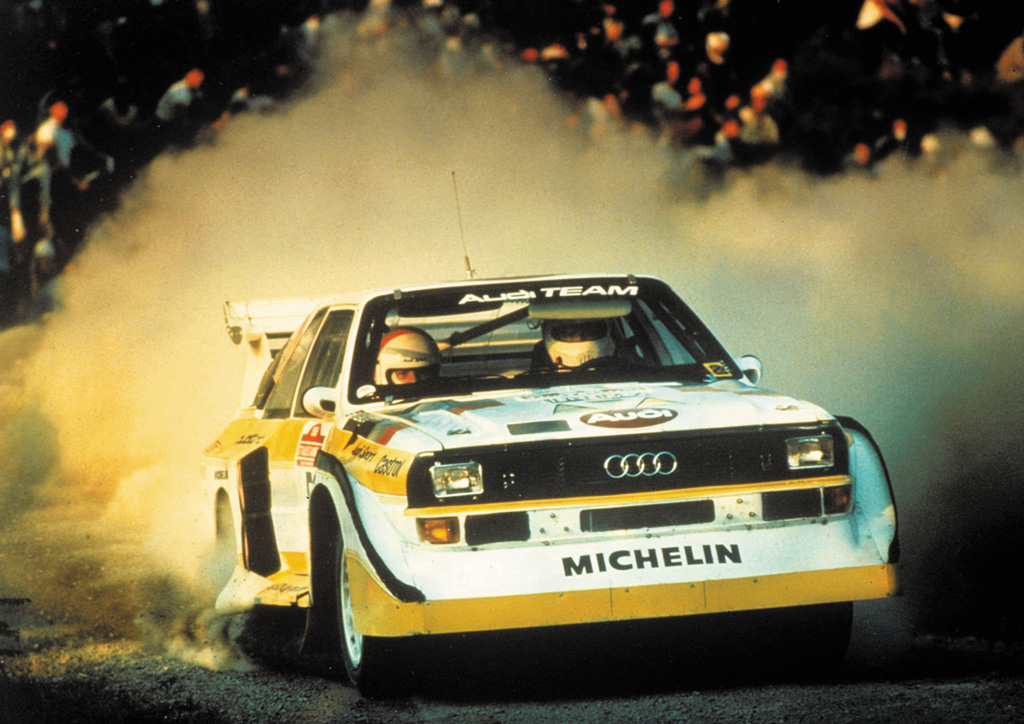 In its first race, the Sport Quattro S1 piloted by Blomqvist, scored a respectable second-place finish, behind the Peugeot. Röhrl would score the ultimate consolation goal by finishing in first place in the San Remo Rally. It during this race that the Sport Quattro S1 was able to put on full display, the levels of power and traction it would become best known for.
A Lasting Legacy
Shortly following the events at the Rallye de Portugal – where 3 spectators were killed, and 30 were injured during a racing incident – Audi announced that they would no longer be participating in rally racing.
Although Audi's Rally Program only spanned 5 years, its influence on motorsport and the greater automotive community are still apparent today. With four championship titles and the groundbreaking technologies it introduced, the Sport Quattro and its variants were an undisputed success.
The 1985 Audi Sport Quattro S1 is still the most powerful rally car ever built. The lessons learned from building and racing the car would later be effectively applied to Audi's participation in GT and Touring-car racing, with success to follow in Trans-Am, DTM and BTCC series.
The Sport Quattro S1 would also be triumphant in the Pikes Peak International Hill Climb. In 1985, Michele Mouton set a world record time, in the process of becoming the first female driver to achieve this feat at the event. Victories would be repeated by Walter Röhrl in 1987, again by Mouton in 1988, and then in 1989 by Bobby Unser.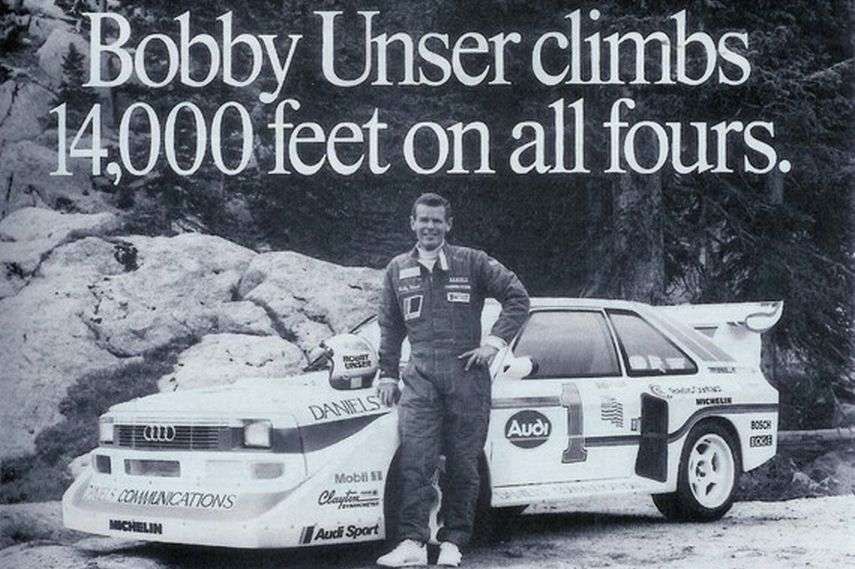 Performance & Specifications Summary*
*from Ultimatecarpage.com
Engine
Configuration
Straight 5
Location
Front, longitudinally-mounted
Construction
Aluminum alloy block and head
Displacement
2,110 cc / 128.8 cu in
Bore / Stroke
79.5 mm (3.1 in) / 85.0 mm (3.3 in)
Compression
7.5:1
Valvetrain
4 valves / cylinder, DOHC
Fuel feed
Fuel Injection
Lubrication
Dry sump
Aspiration
KKK Turbo
Power
540 bhp / 403 kW @ 7,500 rpm
Torque
590 Nm / 435 ft-lbs @ 5,500 rpm
BHP/Liter
256 bhp / liter
Drivetrain
Chassis
kevlar body on steel monocoque
Suspension (fr/r)
McPherson struts, coil springs, & shock absorbers
Steering
rack-and-pinion, power-assisted
Brakes
ventilated discs, all-round
Gearbox
6-speed Sequential
Clutch
Dry, single plate
Drive
Quattro All wheel drive
Dimensions
Weight
1,090 kilo / 2,403 lbs
Length / Width / Height
4,240 mm (166.9 in) / 1,860 mm (73.2 in) / 1,344 mm (52.9 in)
Wheelbase / Track (fr/r)
2,224 mm (87.6 in) / 1,465 mm (57.7 in) / 1,502 mm (59.1 in)
Fuel tank
120 Litre (31.7 Gallon US / 26.4 Gallon Imperial)
Wheels
9J x 16
Tires
18/68 – 16
Performance Figures
Power to weight
0.5 bhp / kg
0-60 mph
3.1 s
Gallery & Videos
Image Gallery
The 1985 Audi Sport Quattro S1 really took the base car to another level, not least of all in the looks department. Sporting an aggressive aerodynamic kit which included massive front and rear overhanging bumpers, widened fenders and an enormous rear wing, the S1 always arrived on set looking the part. In my opinion, its iconic appearance is all the more justified by the impact the car has made in the shaping of automotive history.
Video Gallery
Here is a tribute video put together by YouTube channel, "NM2255 Car HD Videos". It has almost 2 million views. Click to see (and hear) why.
A compilation by "5CylinderSound" of original footage starring the Audi Quattro Sport S1 – fully in its element – at the 1000 Lakes Group B Rally, can be seen below.
Audi USA put together a documentary of the legacy of the 5 cylinder engine, which features the Audi Quattro Sport S1.
Audi France has provided in-car footage of legendary rally driver, Walter Rörhl, taking the Quattro S1 through its paces. His footwork and technique in piloting the car are simply astonishing.

1