The 16th running of Salon Privé, one of the most notable and stylish Concours, saw automotive royalty once again descend on the ornamental gardens of Blenheim Palace, reinforcing its claim to be one of the most prestigious events in Europe.
A UNESCO World Heritage Site, Blenheim Palace is the only non-royal Palace in the UK, built in the early 18th Century during the English Baroque period. Over its 300 years, it has been inextricably linked with English history and now lies under the ownership of His Grace, the 12th Duke of Marlborough.
Salon Privé Concours d'Elégance has continued to gather momentum and recognition over its previous editions. Highly regarded, it has firmly established itself as one of the most prestigious events on the UK calendar, attracting year on year an incredible and exquisite collection of motorcars representing the most delectable designs and reflections on motoring heritage.
This year indeed was no exception, with the influential Concours d'Elégance attracting a phenomenal array, along with the centrepiece "Red Collection" – an exclusive curated collection of some of the most iconic and highly sought after cars in the world.
Salon Privé is also a launchpad for new models from prestigious manufacturers, with the UK and global debuts of a number of models, with hybrid and electric powered supercars leading the charge. Touring Superleggera launched their Touring Arese RH95 for its Global debut, with Land Rover also debuting the Range Rover Sport SVR Ultimate Edition.
Salon Privé attendees were also treated to the unveiling on these shores of the remarkable Battista Anniversario, the all-new 1873bhp, all-electric hypercar from Automobilia Pininfarina.
Concours d'Elégance
The curtain-raiser to the five days of automotive extravagance at Salon Privé is the highly regarded Concours d'Elégance. With a diverse panel of judges, an extraordinary wealth of knowledge and expertise were applied in the meticulous analysis of the fine machinery on show.
Uniquely, the judging panel comprises members of the International Chief Judge Advisory Group (ICJAG), the gold standard when it comes to the focus of provenance, authenticity, and condition in Concours judging.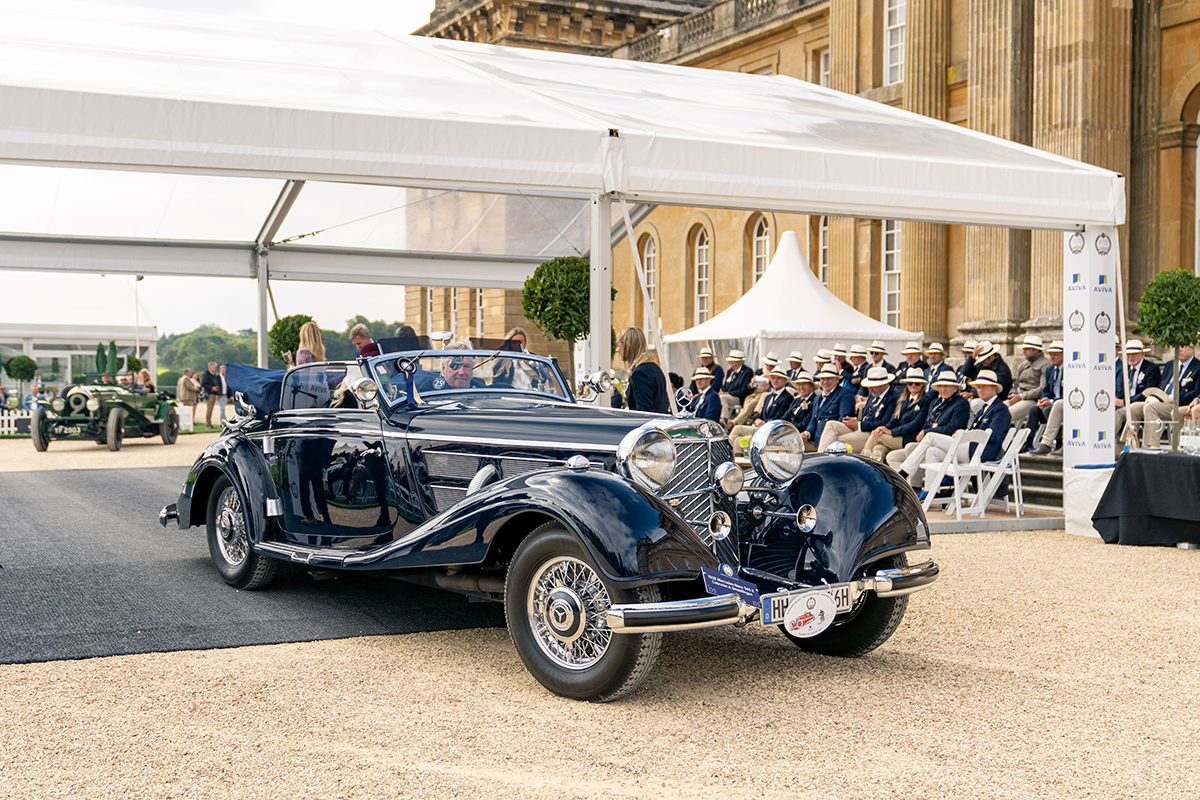 The Winners
Taking the award for 'Best of Show' was a quite incredible 1938 Mercedes-Benz 540k Cabriolet A Sindlefingen. Entered into the Pre-War Tourers category, its imposing aesthetics and meticulously maintained condition saw it take not only the class win but the overall award in addition. Considered one of the most coveted of all pre-war cars, the two-seater Cabriolet A coachwork is twinned with the longer wheelbase chassis – an absolutely incredible piece of automotive history, and rightfully a star of Salon Privé in 2021.
The Churchill Cup for Most Exceptional Design went to an incredibly elegant De Tomaso Mangusta from 1972. Entered to contest the Low Slung Sports class, the Mangusta oozes with sleek and sophisticated style, resplendent in red, this car certainly shone in the eyes of the judging panel.
The People's choice award, in true British fashion, was awarded to the 1955 Aston Martin DB2/4 Mk1 Monte-Carlo Rally car. With a celebration of World Rally champions at Salon Privé this year, there was evidently some impassioned feelings towards rallying history in the Oxfordshire air.
A full list of class winners and show winners from the 2021 Salon Privé Concours d'Elégance
Best in Show – 1938 Mercedes Benz 540K Cabriolet A Sindelfingen
Churchill Cup – 1972 De Tomaso Mangusta by Ghia
People's Choice – 1955 Aston Martin DB2/4 Mk1 "Monte Carlo Rally"
Preservation Award – 1955 Aston Martin DB2/4 Mk1 "Monte Carlo Rally"
Duke of Marlborough Award (Motorcycles) – 1901 Triumph Minerva 3/4hp
Chairman's Award – 1951 Jaguar XK 120 OTS
Class A – Competition Motorcycles – 1951 Moto Guzzi 500cc Bicilindrica
Class B – Exceptional Motorcycles – 1975 MV Agusta 750 Sport
Class C – Early Pioneers – 1904 Cadillac 81⁄4hp Model B rear-entrance tonneau
Class D – Pre War Tourers – 1938 Mercedes Benz 540K Cabriolet A Sindelfingen
Class E – Pre War Sports – 1938 SS 100 3½ Litre Roadster
Class F – Fit for a King – 1937 Rolls-Royce Phantom III Sedanca de Ville
Class G – Racing Greats – 1865 Ford GT40 Mk1
Class H – Post War Open – 1962 Aston Martin DB2 Drophead Coupé
Class I – Post War Closed (European) – 1950 Alfa Romeo 6C 2500 SS Villa d'Este Coupé
Class J – Post War Closed (British) – 1954 Austin-Healey 100/4 by D'Ieteren Freres
Class K – Post War Tourers – 1946 Tatra T87 Aerodynamic Saloon
Class L – Pininfarina Design – 1963 Alfa Romeo Giulia 1600 Spider 101 Series
Class M – 60 Years of the Jaguar E Type – 1963 Jaguar E-Type Lightweight 'Lindner Nocker Low Drag'
Class N – Low Slung Sports – 1972 De Tomaso Mangusta by Ghia
Class O – Classics of the Future – 1993 Jaguar XJ220
Class P – Rolling Bones Hot Rods – 1932 Ford 3-Window Coupe
Spirit Award – 1903 Panhard et Levassor
Most Exceptional Coachwork – 1927 Rolls-Royce 20hp Tourer by Barker
Most Opulent – 1931 Bentley 8 Litre Park Ward Four-Door Sports Saloon
Coup de Coeur – 1937 Talbot Lago T15 Cabriolet by Worblaufen
Best Interior – 1947 Bentley MkVI Cabriolet by Franay
Most Elegant – 1965 Ferrari 275 GTS
Most Iconic – 1966 Jaguar E-Type 4.2 FHC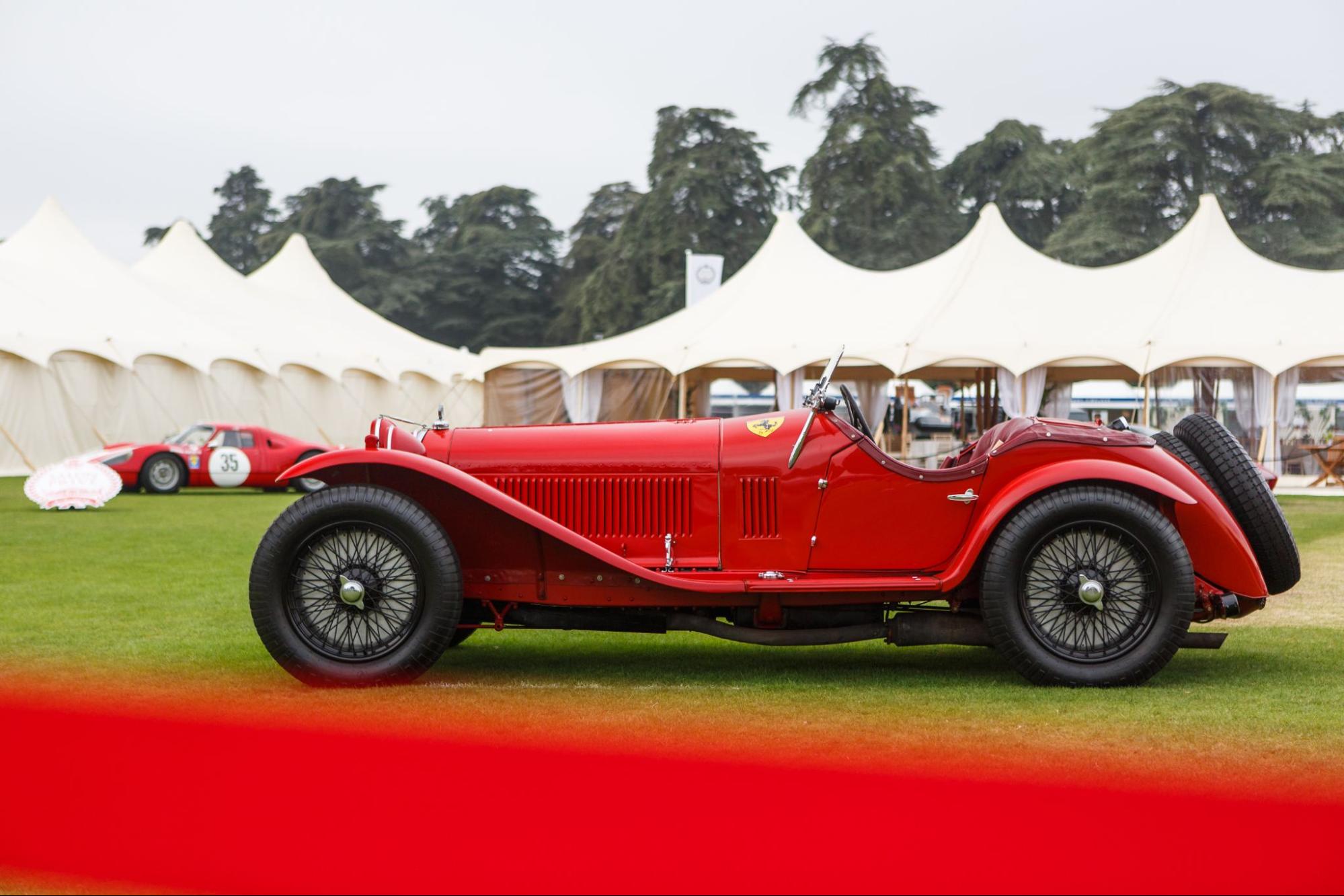 The Red Collection
A specially curated centrepiece for the Salon Privé 2021 event, the Red Collection brought together some of the most desirable and collectible cars ever produced, all sensational and striking in their red paintwork.
The Alfa Romeo 8C 2300 Monza Spider by Zagato is no stranger to Salon Privé, having featured in 2020, winning not only its class but also the prestigious Best of Show award. It has also starred at Heveningham Concours and Pebble Beach Concours d'Elégance. Carrying chassis number 2111044, this early works car was registered to Scuderia Ferrari in 1932.
Starring alongside was a sublime Ferrari 166MM. Considered by some to be the Ferrari that carries the most historical significance, this car won the Mille Miglia and 24h Le Mans in 1949, cementing Ferrari's presence on the motorsport map with these two historic wins.
Another notable Italian addition to the Red Collection was the Maserati 250S, chassis number 2409. Raced initially as a works car, the pedals have been graced by names such as Fangio, Scarlatti, and Moss, the latter having tested this car in period, returning in 1984 to compete in the Mille Miglia.
In this remarkable display, we were also treated to other incredible works of automotive repute, with a Ferrari F40, Mercedes Benz 300SL Coupé Gullwing, Pagani Zonda F Clubsport, McLaren F1, Ferrari 275 GTB Competizione Clienti, Amilcar C6, Pagani Huayra Roadster, and Porsche 904 Carrera GTS completing this phenomenal installation.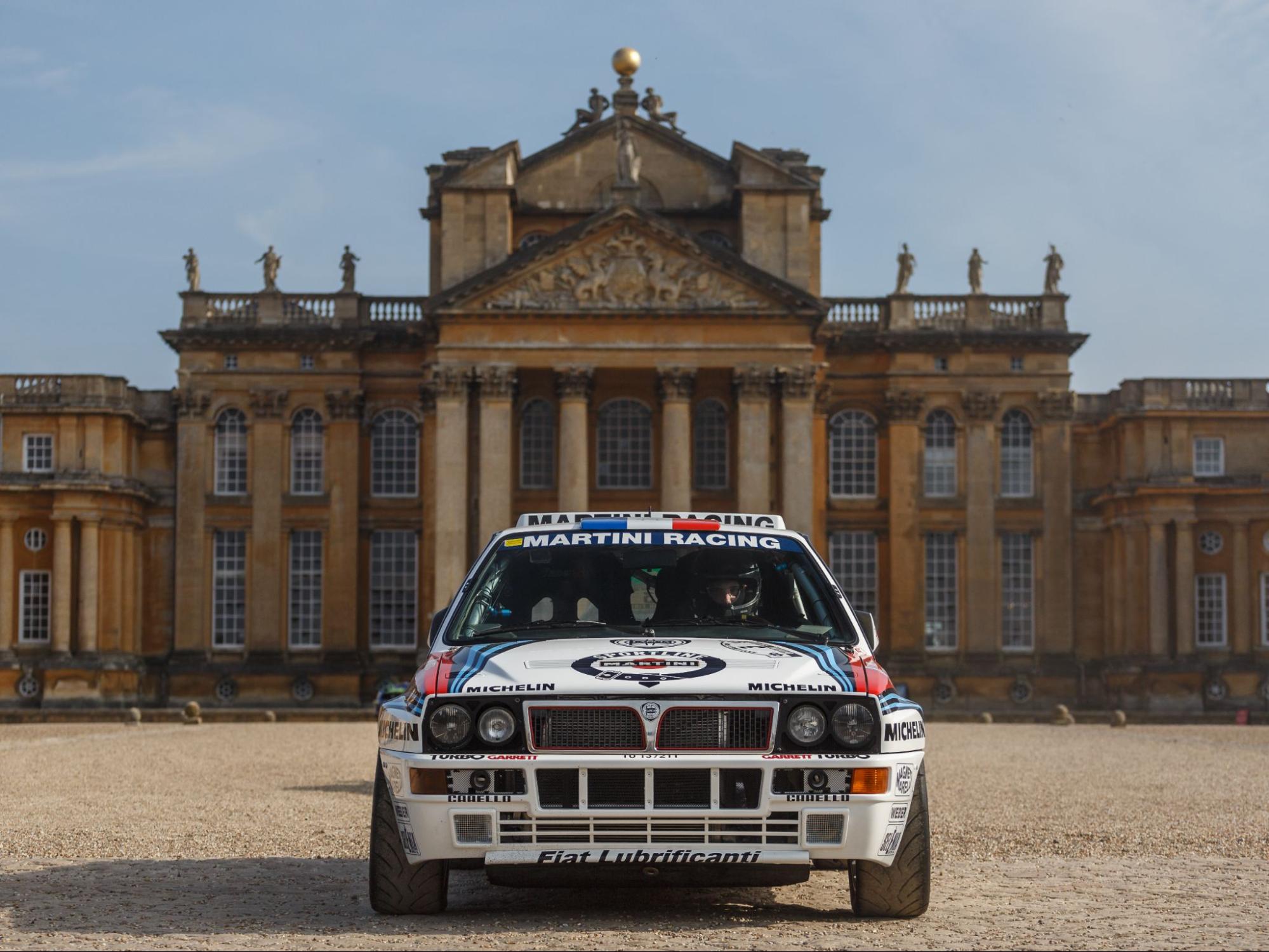 Legendary Rally Cars Take to the Palace Grounds
The final day of Salon Privé saw a degree of added dynamism with a live-action tribute to World Rally Champions. Celebrating also the 20th Anniversary of Richard Burns' WRC title, the parkland surrounding Blenheim Palace saw the return of rally giants decades after they first appeared here on the Lombard RAC Rally.
An eclectic mix of cars was present, some hosted on display near the main field, others taking to the tarmac on an incredible Hill Sprint, departing from the Palace gates in a haze of tyre smoke and dust, with anti-lag and exhaust notes echoing around the grounds, to the delight of a huge number of spectators who lined the route.
From a 1970s ex-Bjørn Waldegård Ford Escort Mk2, through 80s icons such as the Lancia Delta Integrale 16v and Audi Quattro Sport S1 E2, to the formidable Subaru Impreza WRC and Ford Focus RS WRC of the 1990s and early 2000s. To stand and witness the incredible power at close quarters of such prestigious rally machines was truly a sight to behold.
After the second of two runs on the Hill Sprint, there was a grand departure, where a number of the displayed exhibits left the palace grounds via the same route, and spectators were treated to some displays of spirited driving in the automotive exotica that had been lusted after all weekend.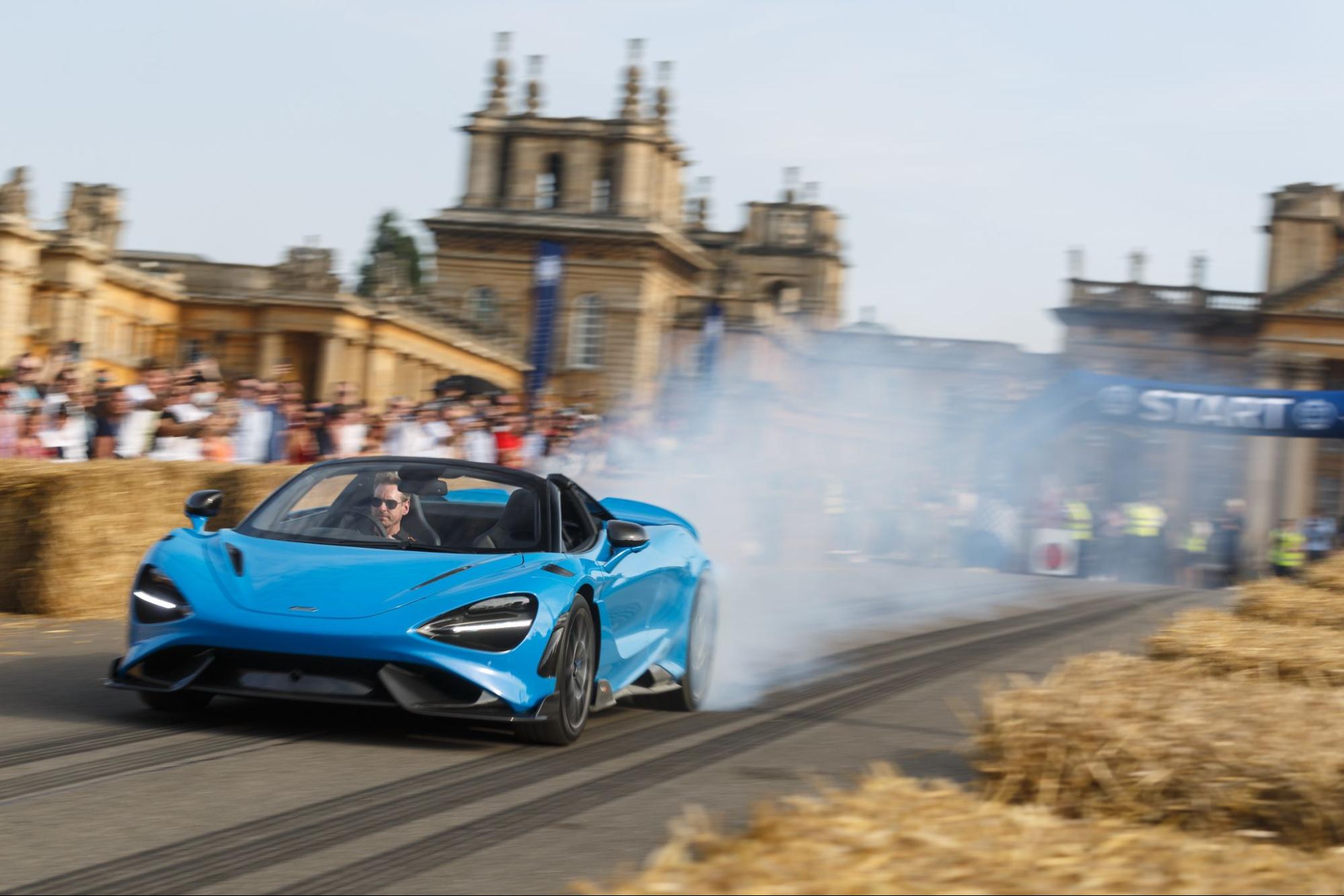 Salon Privé Goes From Strength to Strength
Salon Privé, now in its 16th year, continues to grow both in size and in reputation. Cementing its position amongst the greatest Concours events in the world and supported in ever-growing numbers, it seems fitting that Salon Privé has announced that in 2022, there will be a new event that sees the organizers return to their London roots.
Salon Privé, the Chelsea Edition will debut from the 21st to 23rd April 2022 as a complimentary event at the Royal Hospital Chelsea.
Designed to be energetic, high on style, and with a party atmosphere, London will see this exclusive event add to the already burgeoning classic car and Concours scene that has evolved over recent years.
Meanwhile, Blenheim Palace will be ready to host the 17th installation of Salon Privé in early September as is befitting to tradition.
Photo Gallery