I don't know about you, but I rather like the new Bentley Flying Spur, a big sedan that still comes over a lot more sporty than a Rolls Royce Phantom for instance, now I do understand the buyer for each of these might not be the same person, nor the designated market segment, some state you are driven around in a Rolls Royce while you drive a Bentley, and I like driving, so I'll go for a big Bentley please, and while my sentiment would go for the massive W12 engine, my heart would go for the lighter V8 model that has a more sporty driving temperament … but an environmentally conscious mind should really go for the V6 Hybrid, and Bentley just had this second electrified grand tourer in their range certified at the most efficient and economical Bentley ever.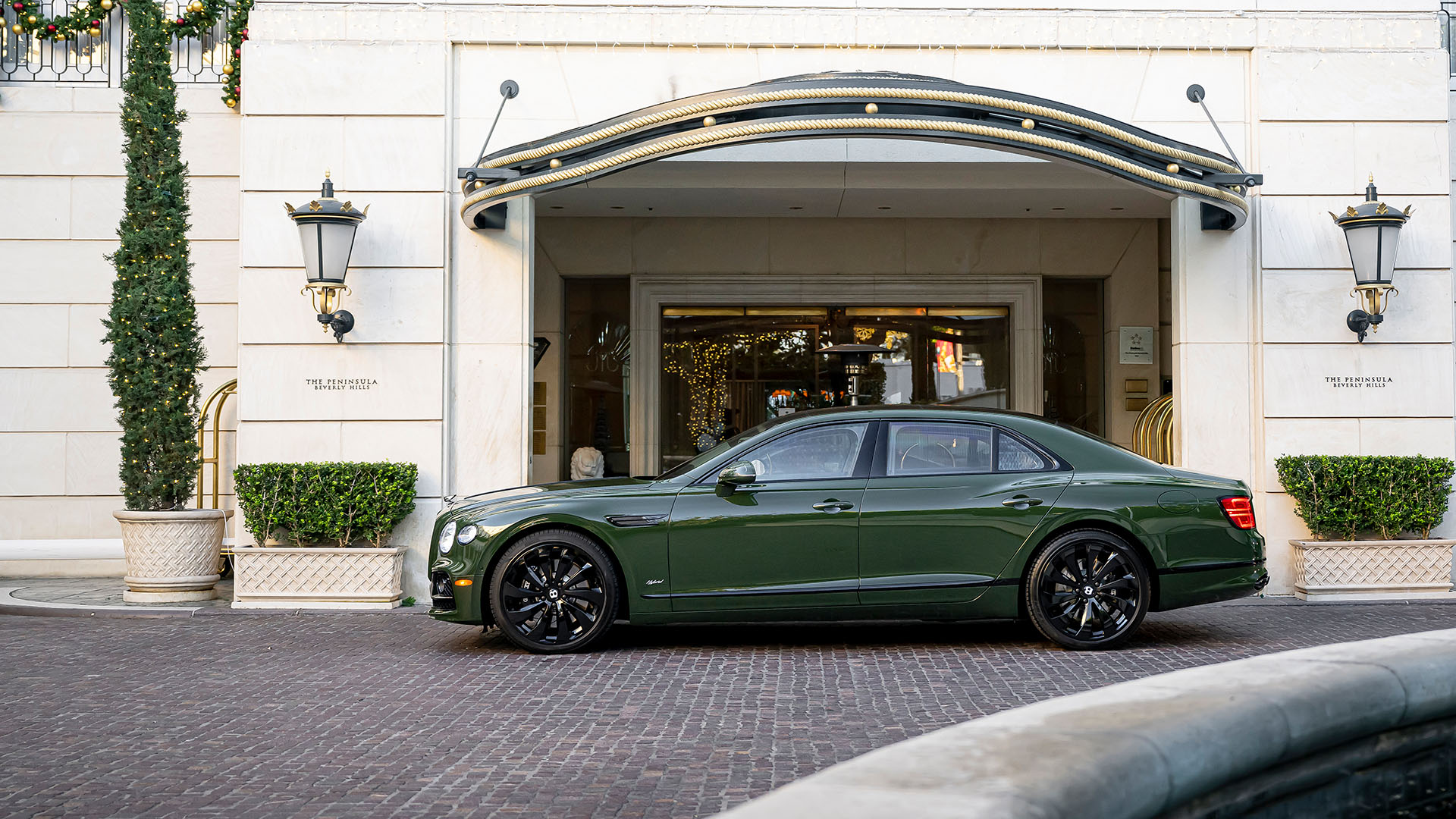 With just 75 g/km the Flying Spur Hybrid sets a record for Bentley, and let's face it, just a few years ago you would never put the words 'economical' and 'Bentley' in the same sentence, but things have changed, and electrification is the way to go from now on, there is no escaping, and when a hybrid looks as great as this dark blue Bentley press car, I'm all in, I love the black details on this absolutely stunning big sedan, and keep in mind Bentley wants to have their entire range available as a hybrid by 2024, they want to become an end-to-end carbon neutral organization and the world's leading sustainable luxury mobility company.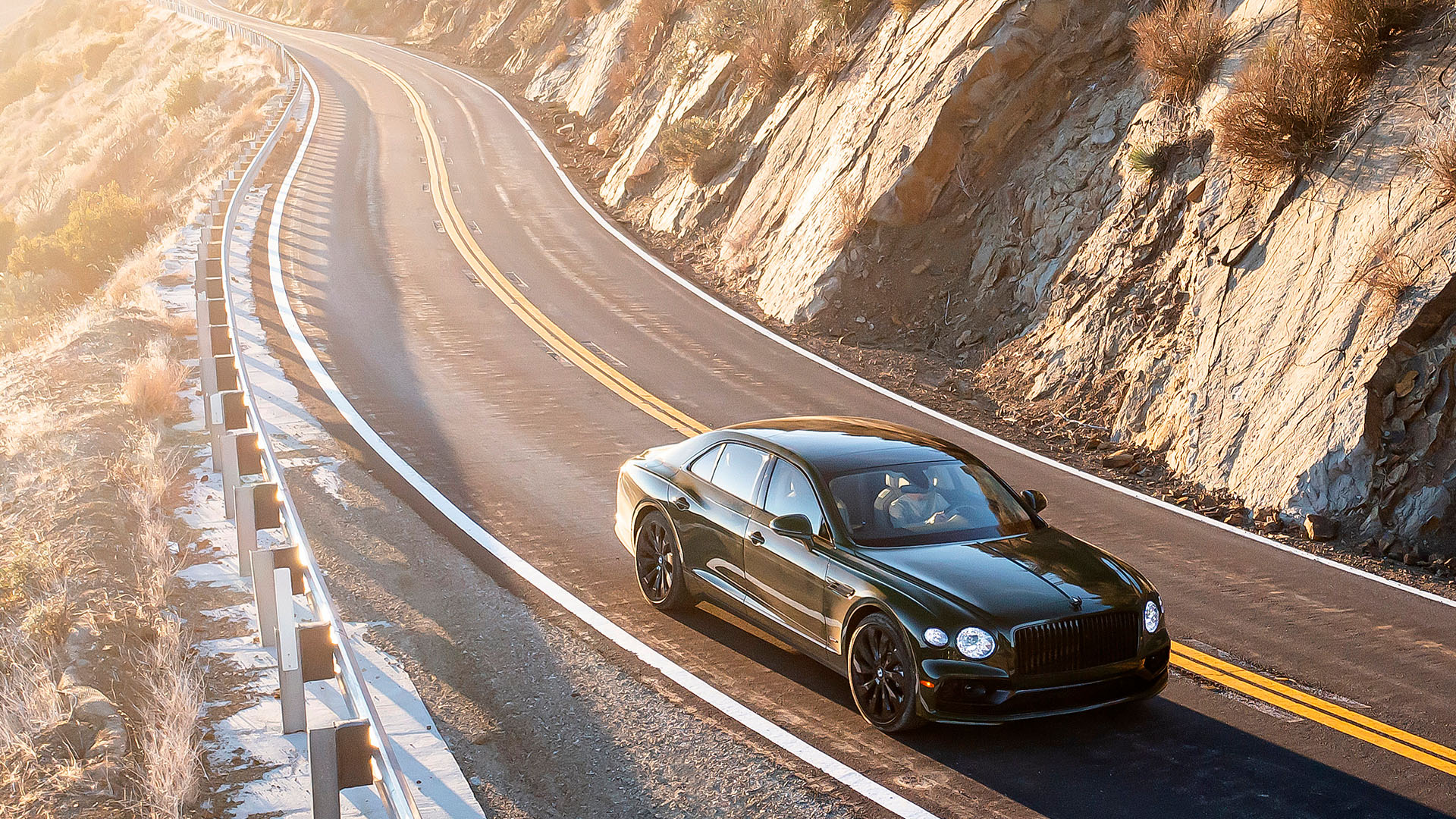 The plan is to have the first all-electric Bentley ready just a year later, in 2024, called the Battery Electric Vehicle (BEV), five years later, by 2030 Bentley intends to have their entire model portfolio as all-electric battery-powered vehicles, but for now, the Flying Spur Hybrids is a near-perfect marriage between an internal combustion engine and electric motors to offer their famous refined serenity while driving, no matter what mode you are in, we are talking about a 2.9-liter V6 engine coupled to an advanced electric motor for a total power output of 536 bhp and 750 Nm of torque, which is an increase of 95 bhp compared to Bentayga Hybrid SUV … fully loaded with both fuel and battery power, the Flying Spur Hybrid can travel more than 800 km or about 500 miles.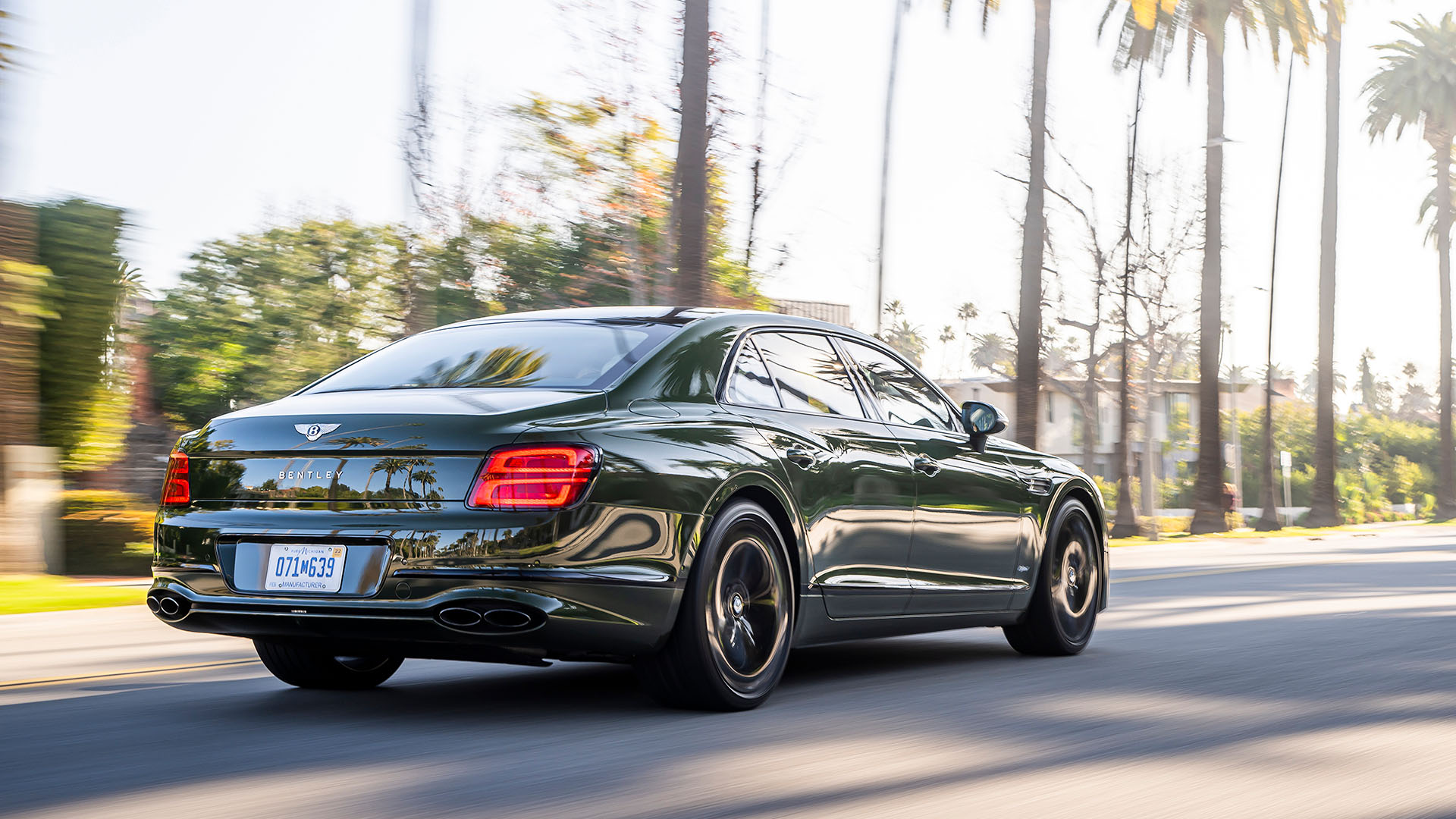 We all know electric cars accelerate very fast, and usually, hybrids enjoy that same advantage, getting off the line quickly, the Bentley Flying Spur Hybrid pulls the same car, reaching 60 mph in 4.1 seconds (100 km/h in 4.3 seconds) which is impressive for such a large and heavy car filled with luxury amenities, the electric motor in this car is fed by an 18.0 kWh lithium-ion battery, depending on the region, this battery can be fully charged in a matter of 150 minutes, and this battery not only powers the E-Motor, but it also supplements the 12V in-car infrastructure.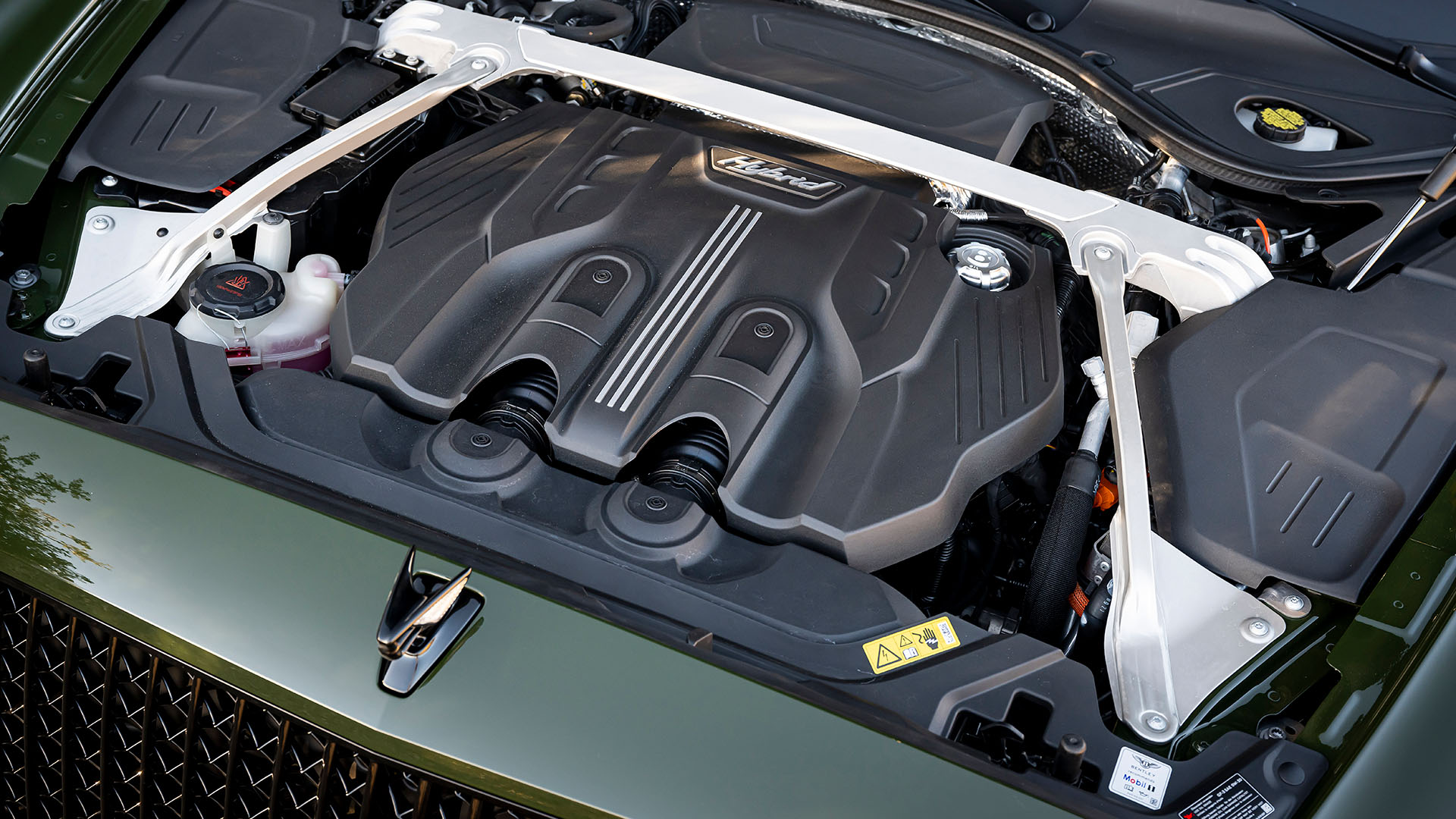 Apart from a selection of small badges on the exterior and interior of the Bentley Flying Spur Hybrid, you wouldn't know this is a car with an additional electric motor, the interior is absolutely Bentley style, a modern cabin with impressive luxury and innovation, the client has the option to choose from 15 leather hues, eight different veneers for the dashboard and door panels, and then you get to the stitching and emblems that can be finished as tone-on-tone or in contrast to stand out, which is also possible for the piping on the seats, just as it was available on the original Flying Spur from the 50s.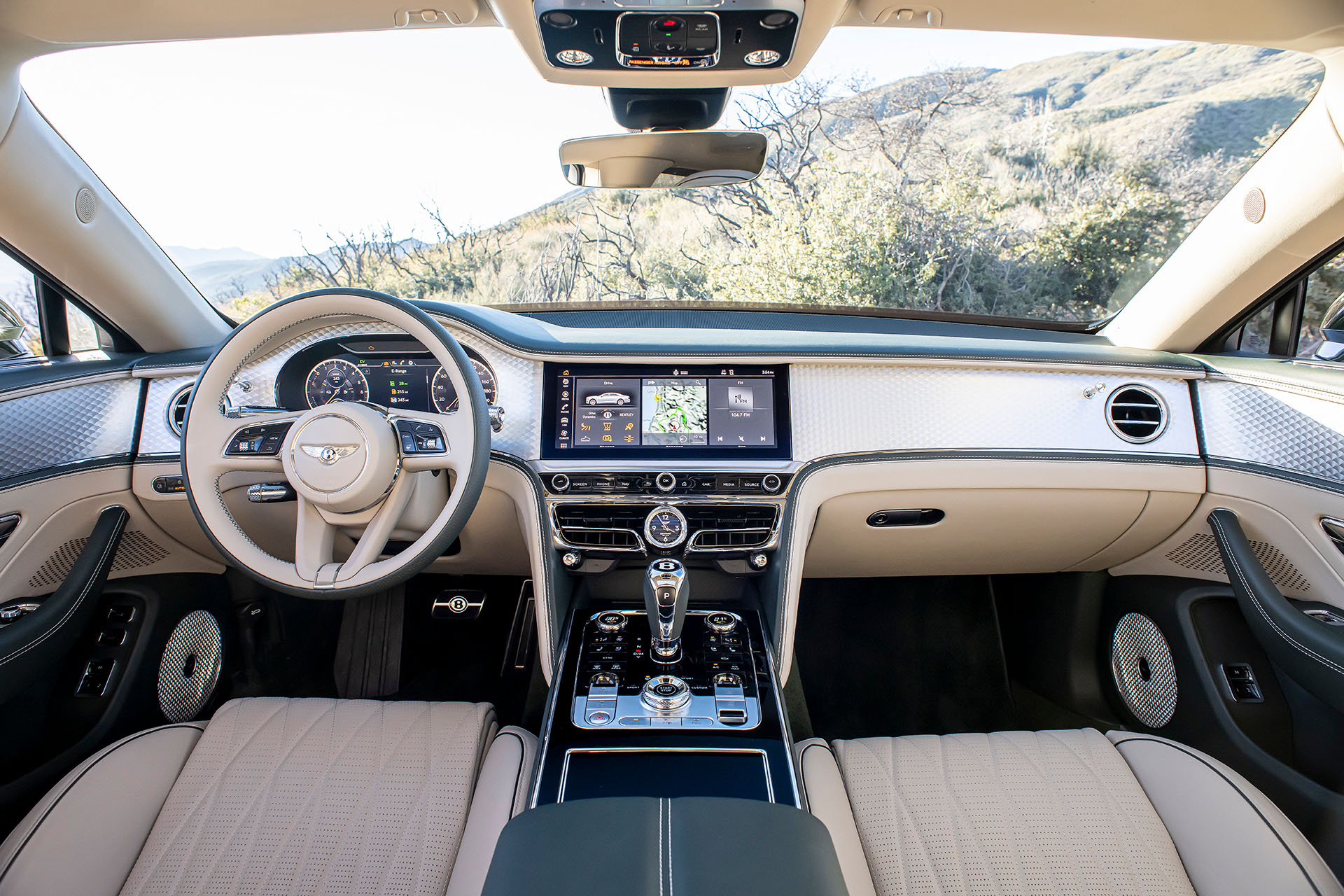 If you were able to choose from the vast options list for the interior, the options for the exterior are even more stressful … how about a pallette of 60 paints for the bodywork, and it gets even worse if you stray off to the Mulliner department where the choice is even more elaborate for both the inside and outside of this large sedan … and just don't go into the 'Personal commission' roam at Bentley where the sky is literally the limit and you can go bespoke on just about anything on your new Bentley Flying Spur, and while many like some chrome on the exterior, I would go for the Blackline specification where all the exterior brightwork gets a dark cover, while the optionally, illuminated electric Flying B above the grille is just a must-have in my opinion.
Let's enjoy some more detailed photos of this amazing looking Bentley Flying Spur Hybrid: