If you loved the looks of the classic Land Rover that has been replaced by now, you're in for a treat, as the first thing that comes to mind when you see the INEOS Grenadier is the fact this brand new off-road car looks like a restomod version of the legendary Land Rover, and I guess that is what INEOS intends with this modern 4X4 workhorse, the new Grenadier is available as a two-seat Utility Wagon and a five-seat Station Wagon, apart from the solid rear panels instead of windows, the side profile of these look identical.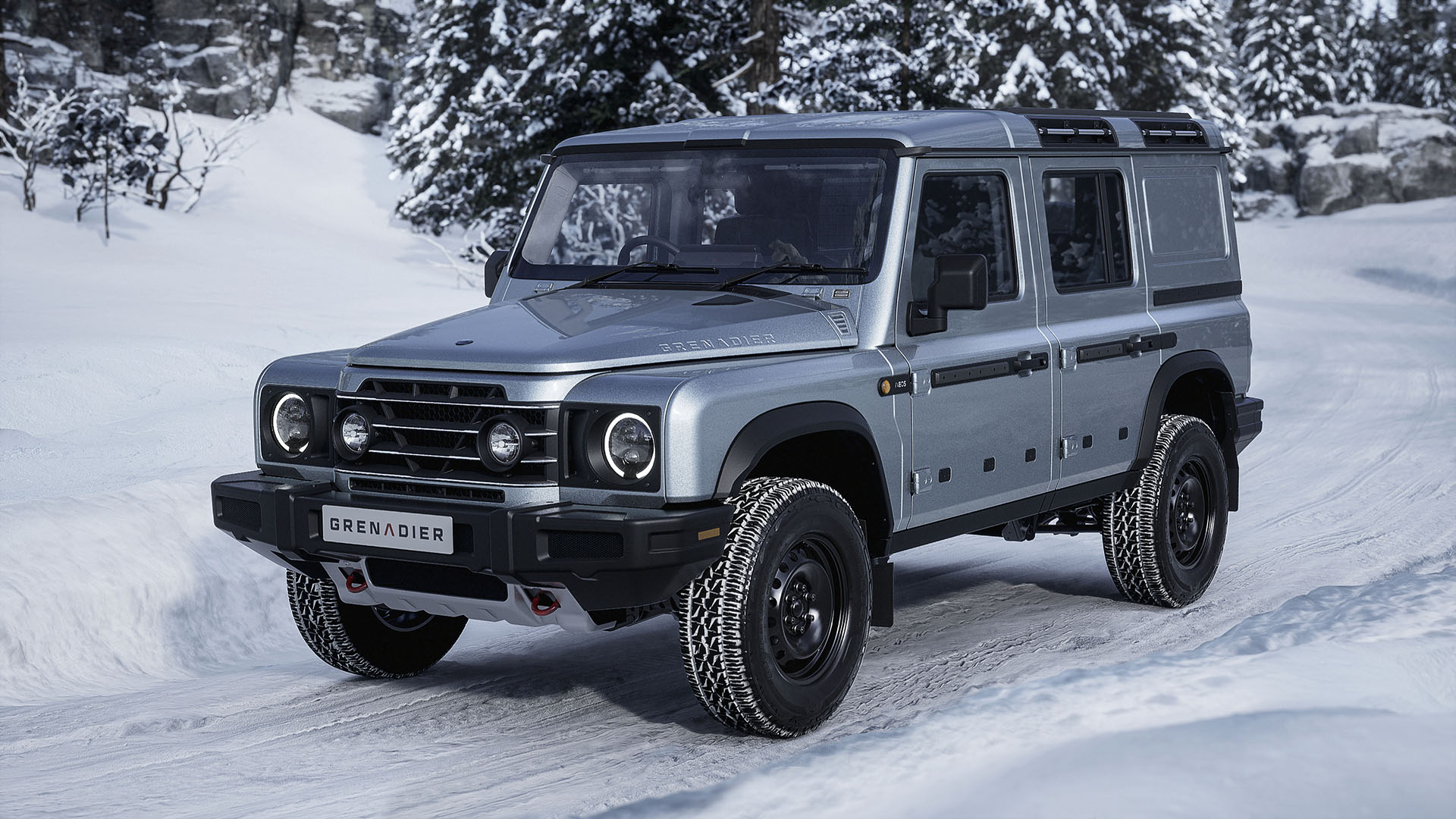 The Utility Wagon is designed to carry larger loads, it comes with two seats, and is certified as a commercial vehicle, there is also a full-height cargo barrier and a full-length flat floor capable of taking a standard Euro pallet (1,200mm x 800mm), and just in case you don't like the 'panel van' looks, you can specify to have the rear side windows instead of the standard blank panel at no additional cost. There is also a five-seat Grenadier Station Wagon that offers more passenger space but is still a commercial vehicle with a cargo barrier, if you need more room for the rear passenger and doesn't care about a little less cargo space, you can opt for the Belstaff edition with more 'creature comforts', but with the same utilitarian exterior looks.
There is also a special Grenadier Trialmaster Edition built with extreme off-roading in mind, named after the iconic Belstaff Trialmaster Jacket, which was created in 1948 at the request of professional Trials biker and Irishman, Sammy Miller, and was designed to cope with the grueling conditions of the Scottish Six Days Trial. While the Grenadier Trialmaster Edition also gets the Smooth Pack features, it has an entirely different personality thanks in part to
the additional Rough Pack. This adds front and rear diff locks and the BFGoodrich All-Terrain T/A KO2 tires. With functionality and versatility the top priority, the Grenadier Trialmaster Edition also gets a host of additional practical kits, including a raised air intake, exterior utility belts, and an auxiliary battery. This is the Grenadier for customers that are passionate about hardcore off-roading and tackling the toughest terrain on the most extreme expeditions.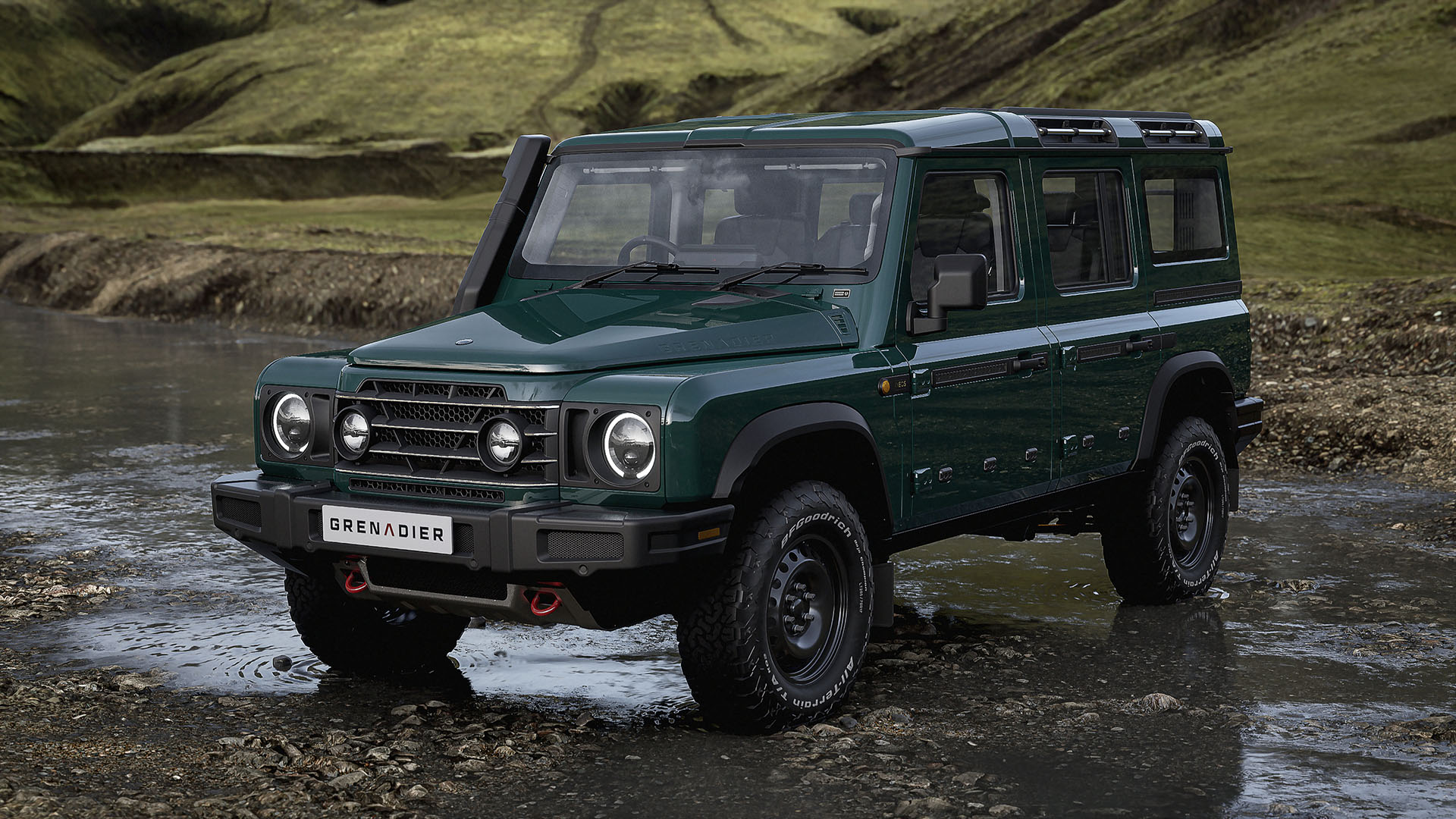 And then there is the Grenadier Fieldmaster Edition, named after the iconic Belstaff Fieldmaster Jacket, which is designed for life in the outdoors. It is specified for those with an adventure lifestyle who will use their vehicle to get them and their kit to wherever they want to go. It comes with the Smooth Pack, a collection of comfort and convenience features that makes the Grenadier even easier to use in every situation. It includes a rear-view camera, puddle lamps, power heated door mirrors, and auxiliary USB power outlets. Other additional premium enhancements include 17-inch alloy wheels (with the option to upgrade to 18-inch alloy wheels), Safari Windows, leather upholstery, carpet floor mats, and heated front seats. Whether towing a horsebox, hauling kayaks to the river, or going wild camping, the Grenadier Fieldmaster Edition makes outdoor adventures even more accessible.
Make no mistake, those round light units both at the front and the rear imply the strength of a solid tube running from front to back. The front lamp clusters are the same units on the left and the right, making service and parts availability easier; similarly, the rear lamps are a common unit. The center-mounted LED auxiliary high beam lights (included as standard) are integrated into the front grille and provide an extra 1,080 lumens when off-road, while power comes from two engines sourced from BMW, both 3.0-Liter straight-six units, one petrol, and one diesel engine, the BMW B58 and B57 respectively, the turbo petrol engine comes with 286PS (210kW) and 450Nm (332 lb ft) of
torque, while the twin-turbo diesel boasts a respectable 249PS (183kW) and 550Nm (406 lb ft), for increased pulling power.
Both engines come with a ZF8HP eight-speed automatic transmission which is widely used on the automotive scene, the Grenadier will only be available in full four-wheel-drive to offer instant traction on all surfaces thanks to a two-speed transfer case from Tremec with CV joints and prop shafts from the automotive specialist, Dana Spicer, together with the center-locking differential in the transfer case, two optional electronically actuated diff locks are available, front and rear, with 100% mechanical engagement. The front and rear diff locks can be independently toggled from the overhead control panel and automatically disengage at 75km/h to protect the drivetrain. Manufactured by Eaton
Industries, the front and rear diff locks are standard on the Trialmaster trim, and optional on all others.
The foundation of the Grenadier is a full box-section ladder-frame chassis. Simple, strong, and stable, it's designed to withstand daily punishment in all conditions, mile after mile. Its steel section is up to 3.5mm thick for outstanding rigidity and stiffness. Maximum protection against corrosion comes from a full E-coat treatment, internal cavity wax application, and an exterior powder coat. Paying testament to the brand's confidence in its durability, the ladder-frame is backed by INEOS Automotive's class-leading 12-year, anti-perforation warranty.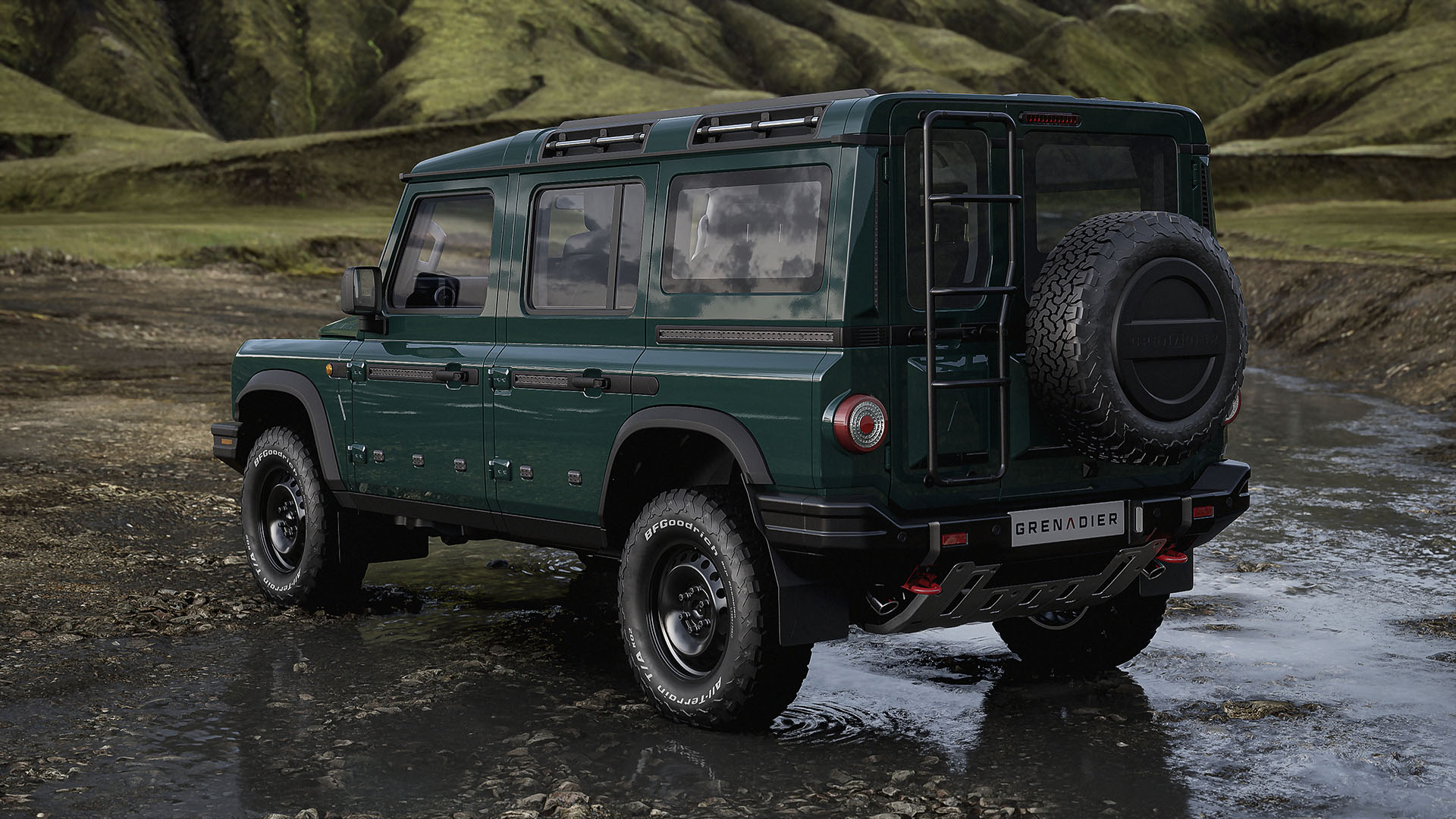 The Grenadier's coil springs are made by suspension specialists, Eibach, offering superior flex with nine degrees of front axle articulation and 12 degrees at the rear. Enabling more than 600mm of travel to maintain grip and make light work of driving over extremely uneven ground, they're low maintenance, lightweight, durable, and generate minimal friction. The Grenadier features a highly responsive brake system, with disks, pads, and calipers all supplied by industry leader, Brembo. Together, the components ensure impressive stopping power, even with a gross train mass (the combined fully laden vehicle and trailer weight) of up to seven tonnes. Proven in extreme conditions during prototype testing, the Brembo setup is perfect for the Grenadier.
INEOS Automotive has gone back to basics to create an interior that's functional, intuitive, and comfortable. Where possible, the Grenadier remains analog and mechanical. Benefiting from big, clearly labeled, and well-spaced buttons for use with gloves, the centrally-located controls offer simple and safe operation for both driver and co-driver. The Grenadier's overhead control panel keeps off-road switch gear out of the way, while guards provide protection on important switches to avoid inadvertent operation. All the info is conveniently displayed on one screen to provide maximum visibility.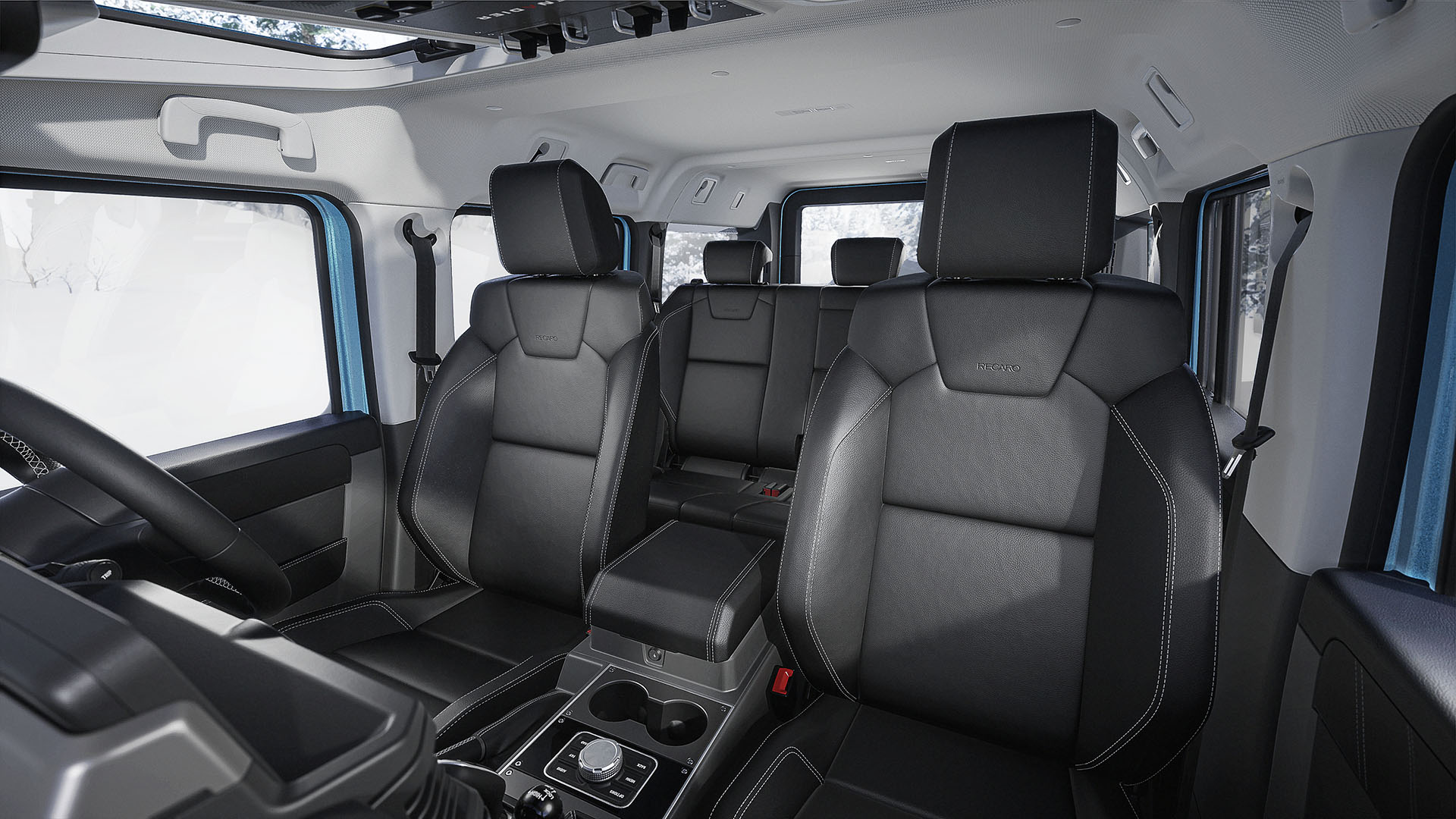 Highly supportive eight-way, manually adjustable RECARO seats have been specially designed for the Grenadier. Optimized lateral back support keeps the driver and passengers comfortable and secure, while low-profile cushion bolsters mean it's easy to get in and out. The standard seating upholstery is a combination of hard-wearing tough cloth and vinyl that are stain-, dirt- and water-resistant, and are easy to clean. Supple full-grain leather seats – in black, or in two-tone black-and-grey – are available as an option. Leather front seats are heated as standard, with heated front seats an option for the standard cloth and vinyl trim.
In terms of driving information, everything the driver needs to know is in one place, from speed, gear, and fuel level, to tire pressures, maps, media, phonebook, current bearing, coordinates, steering angle, vehicle attitude, and more. The Grenadier's Central Control System, designed specifically for INEOS Automotive, displays all required information via an easy-to-control 12.3-inch touchscreen, which can be accessed using the buttons on the multifunction steering wheel or the rotary controller on the center console.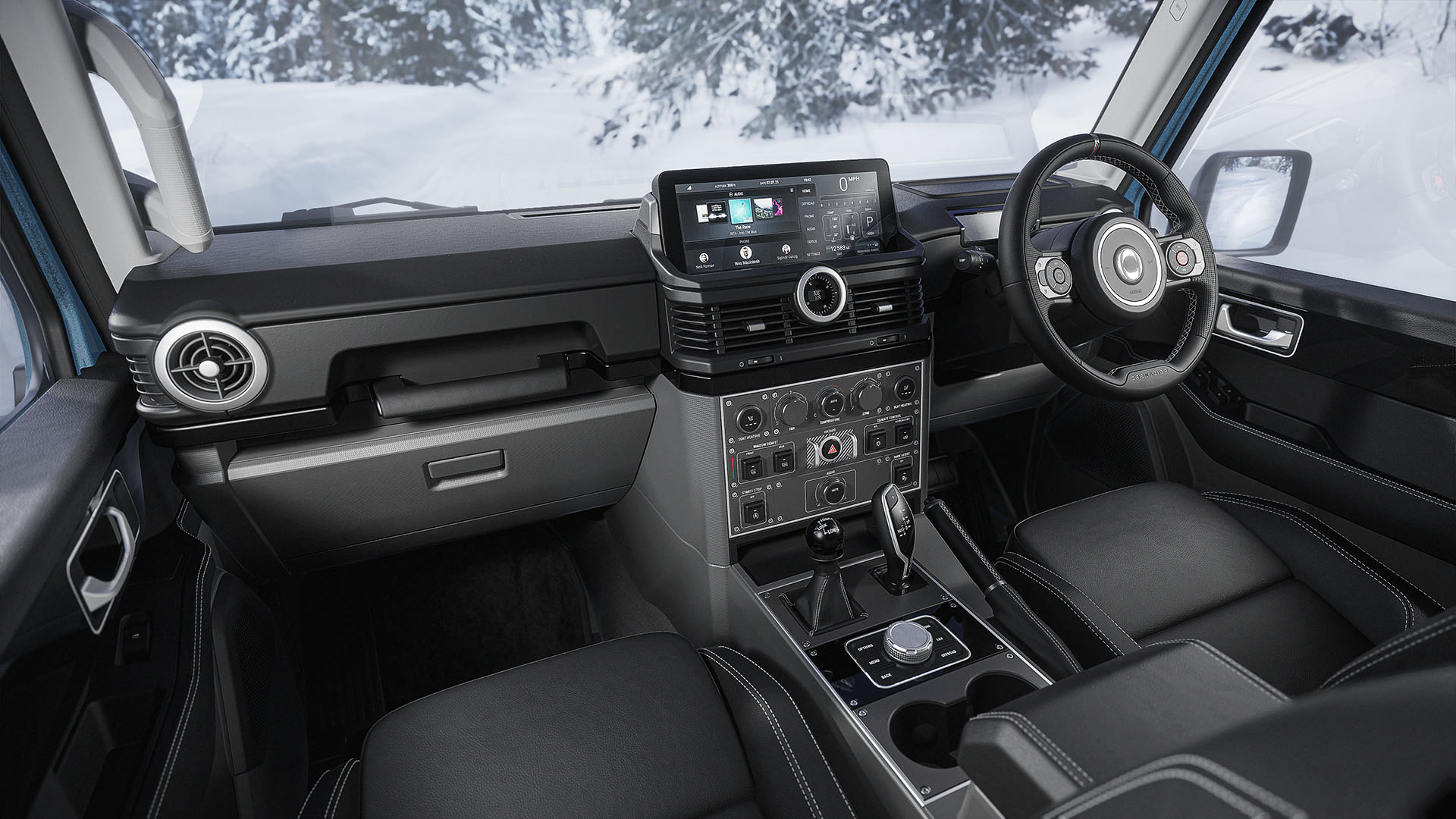 In 2017, INEOS Chairman Sir Jim Ratcliffe, a car enthusiast, and experienced adventurer identified a gap in the market for a stripped-back, utilitarian, hard-working 4X4 engineered for modern-day compliance and reliability. The idea to develop a vehicle from scratch was developed by Sir Jim and some friends in their favorite pub, The Grenadier in Belgravia, London, which inspired the vehicle's name. INEOS Automotive Limited was formed and a senior team of automotive professionals was assembled to bring the vision to reality with a fresh perspective on 4X4 development and manufacturing.
The Grenadier has come to life over the last five years, combining rugged British spirit and design with German engineering rigor. The team has not wavered in its razor-sharp focus on remaining true to Sir Jim's original vision. The Grenadier will provide best-in-class offroad capability, durability, and reliability to those who depend on a vehicle as a working tool, wherever they are in the world.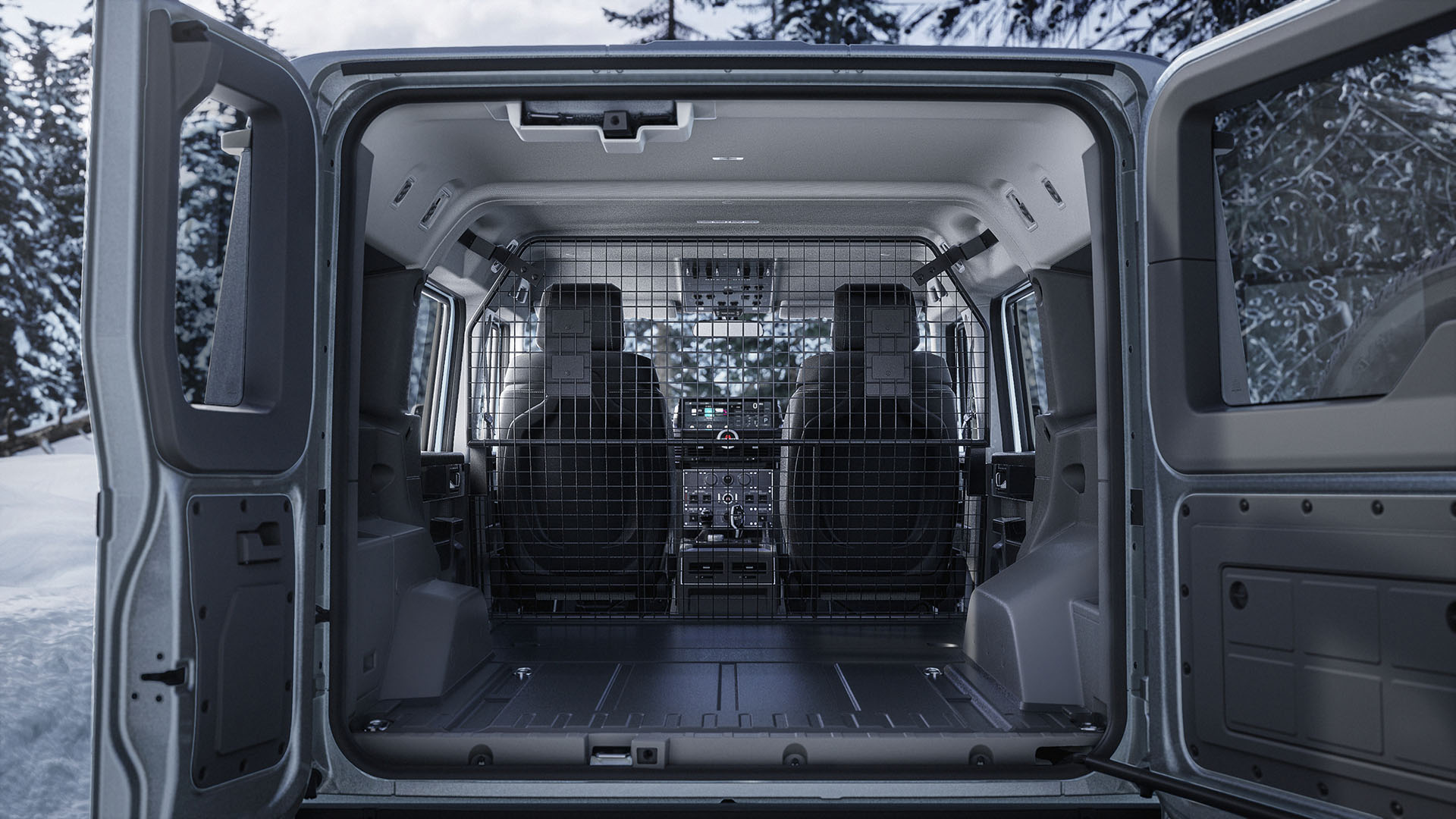 Hundreds of Grenadier production prototypes are now being built at Hambach. These are being used for final test rounds including crash testing for certification and to validate the assembly process and build quality. The Hambach workforce is going through 20,000 hours of training as it prepares for the start of production. INEOS Automotive's Hambach plant is a state-of-the-art 210,000m² facility. It employs a highly experienced direct workforce of 1,000 and with an excellent track record for the quality of its output. Its location within the German automotive cluster gives it excellent access to supply chains, automotive talent, and sales markets, this facility is on-track to begin launch series production in July 2022.