If you are looking for the biggest and baddest pickup truck on the market, you usually end up choosing between two models, either a Ford Raptor or a Dodge Ram, especially the TRX version of the latter, but for some customers that isn't even enough, so they turn to Hennessey Performance for something really different, we've seen some impressive 6×6 conversions from Hennessey before, but their latest offering takes the cake … the Hennessey Mammoth 1000 TRX 6×6 is the biggest truck they've ever created … in 30 years.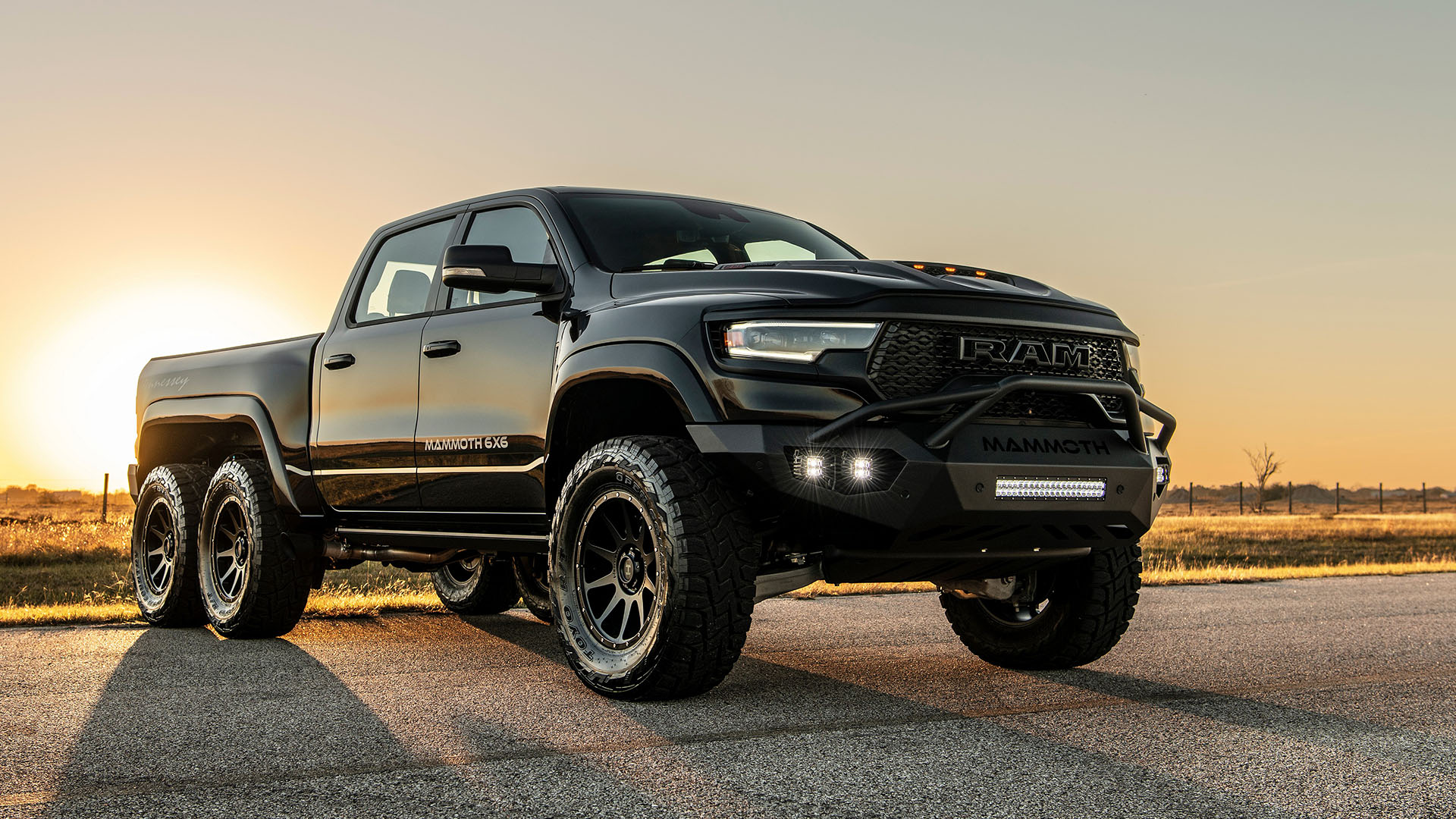 Hennessey Performance from Texas is usually known for hypercars and high-performance cars, but we all know their amazing truck conversions, and this new Mammoth isn't any different, with an increased power output of 1,012 bhp, a more than 300 bhp increase over the factory standard Dodge Ram TRX, or about a 50% increase in percentages, which is impressive on its own already, but get this, Hennessey also adds 319 lb-ft (433 Nm) to the base truck to reach a monstrous 969 lb-ft or 1,314 Nm … and let's be honest, with those six massive wheels, this truck deserves such a power boost.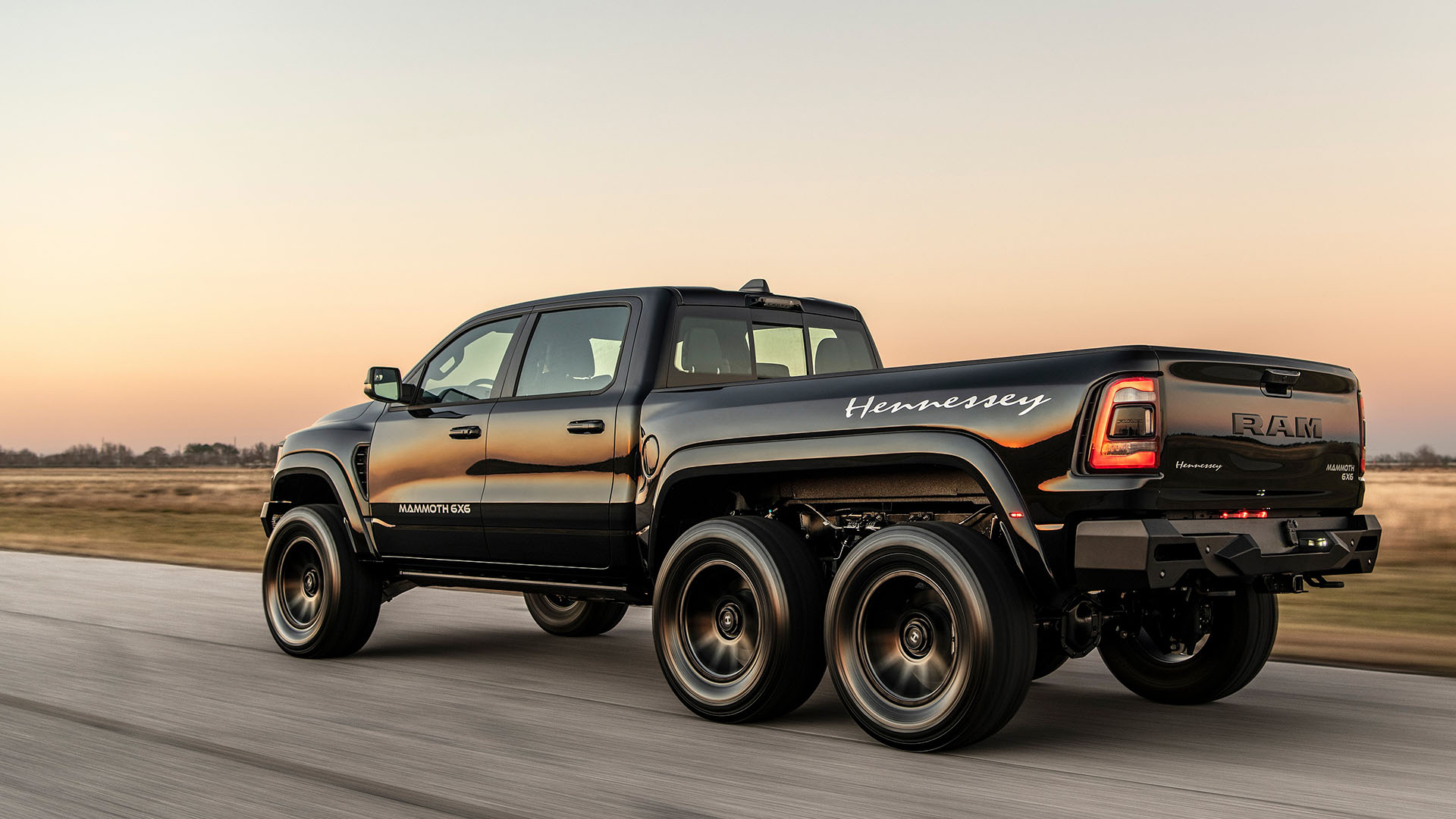 This isn't a truck for the faint-hearted, even a base Dodge Ram TRX comes with over 700 bhp, which might be scary sometimes, but adding a third axle to the rear and going over the magical 1,000 bhp number will give an everlasting impression to onlookers, and if that doesn't do the trick, the additional visual add-ons from Hennessey will … how about locking rear axles, a Bilstein suspension, large 20-inch wheels fitted with massive 37-inch off-road tires, and let's not forget the elephant in the room … the third axle on this 6×6 Mammoth, adding more than four feet to the overall length of the base Ram TRX, this creating an enormous bed behind the four-door cabin.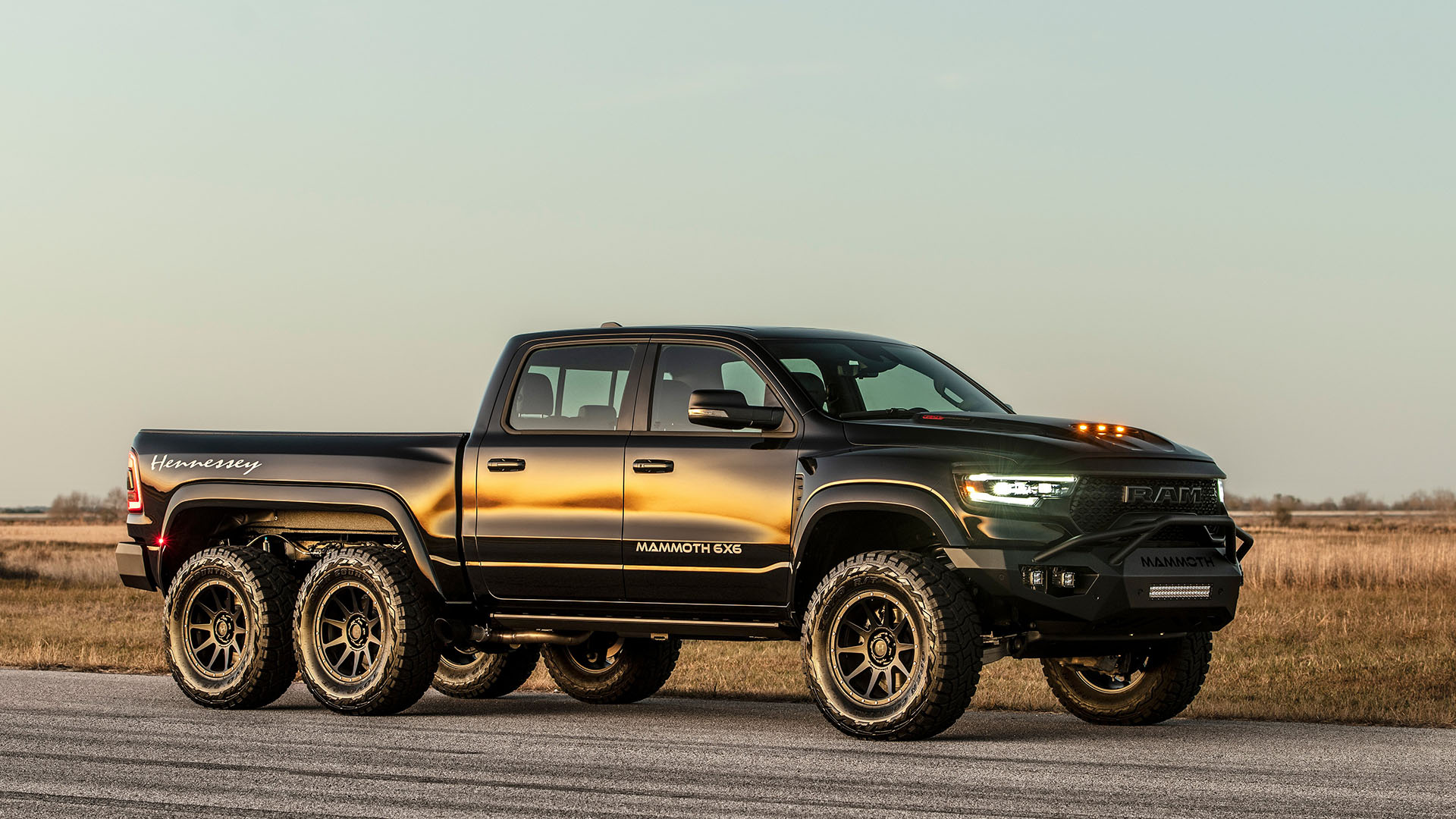 John Hennessey, company founder and CEO: "Everything we do at Hennessey Performance is turned up to 11, but the Mammoth 1000 6×6 is definitely turned up to 12! Everything on the Mammoth 6×6 is bigger, badder, and more imposing – plus, it's still super-fast, while being a total powerhouse off-road. It's the undisputed king of the road."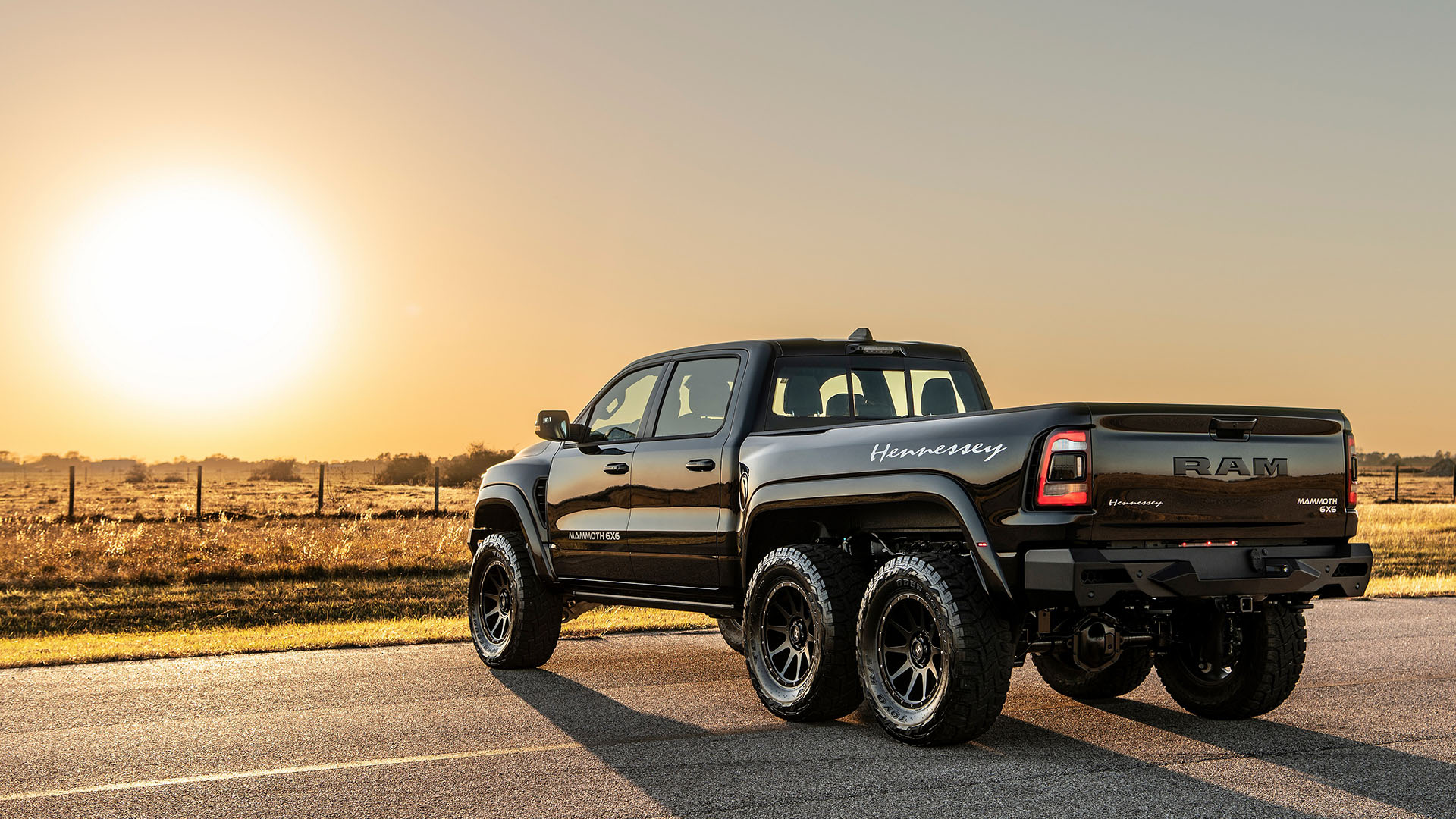 But such an impressive truck doesn't come cheap, pricing starts at US $449,950, but that does include the base Dodge Ram TRX already, for that kind of money you'll get an upgrade for both the front and the rear bumper, a stupefying array of additional LED lights and a custom, bespoke interior upgrade for this exclusive Mammoth, note that a production limit of 12 units per year will be built by Hennessey, on top of the 6.2-Liter Hellcat V8 engine they will install a high-flow 2.65L supercharger, change the fuel injectors and fit a high-flow induction system, after a performance-boosting calibration of the ECU we end up with 1,012 bhp.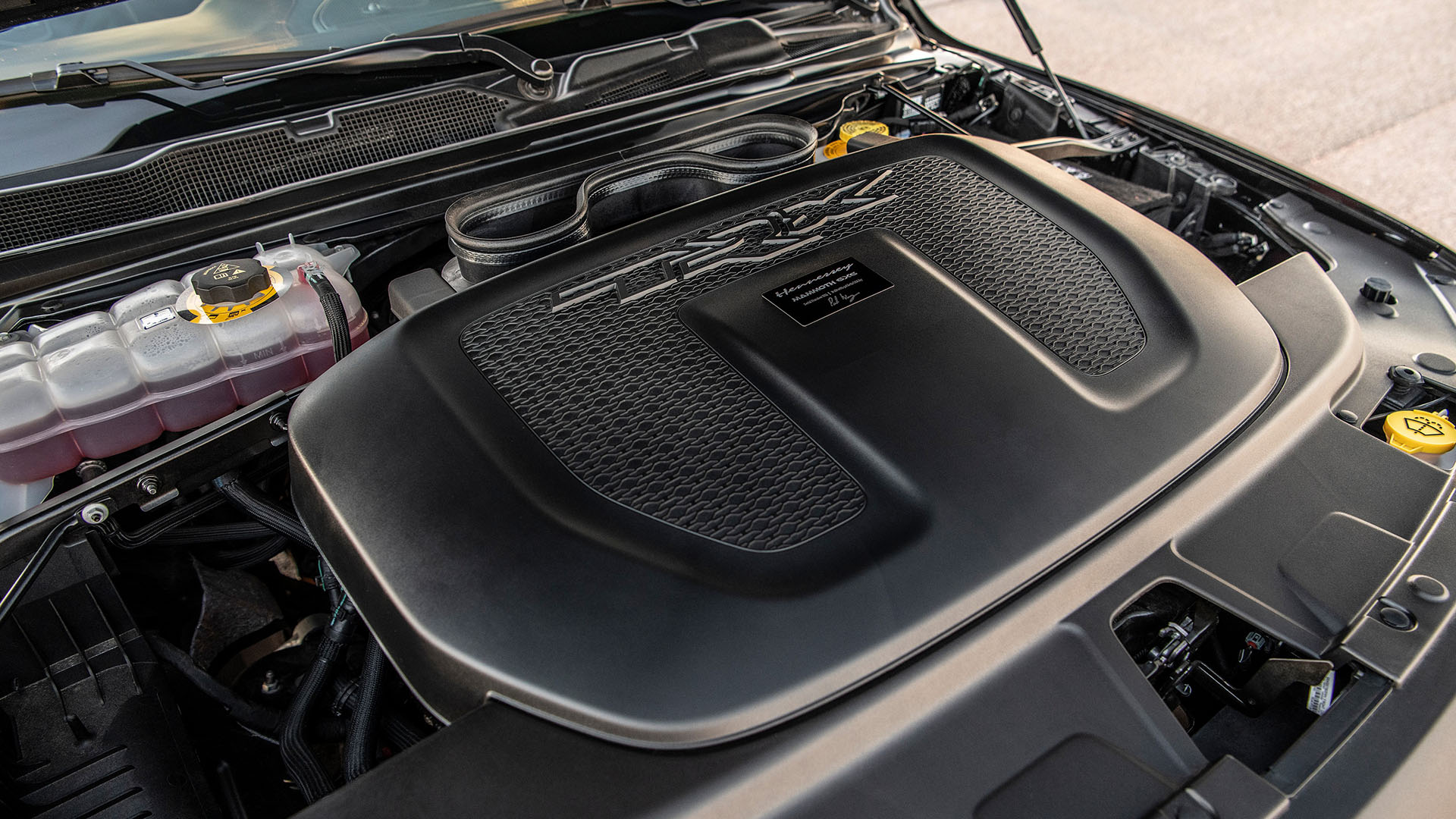 This isn't the first time we see a 6×6 conversion by Hennessey, over the last years they've managed to sell over 20 of their VelociRaptor 6×6 and Goliath 6×6 Silverado units to a global customer base, and let's not forget that Hennessey stands behind their quality and workmanship with a 2-year/24,000-mile extensive warranty, if you are looking for the biggest truck on the market, get in touch with Hennessey Performance and put in your order for one of these Mammoth 1000 TRX 6×6 now.
Some more details on this intimidating, all-black Hennessey Mammoth 1000 TRX 6×6: