1902→1904 Cadillac Model A
With a high level of craftsmanship and usability, the 1903 Cadillac was well received at the New York Auto show and orders poured in. It was Cadillac's first car and became known for its reliability and performance.
The car was largely the product of Henry Martyn Leland from Leland and Faulconer. They produced the single-cylinder engine, transmissions, and steering gears for Cadillac.
Model A chassis and bodies were all produced in house at Cadillac. The car was held together by a steel frame that was suspended on longitudinal leaf springs and rigid axles. The engine sat under the driver's seat and sent power to the rear wheels through a 2-speed transmission and Brown-Lipe differential. Braking was handled only on the rear wheels by applying friction to the half-shafts.
Leland & Faulconer produced the engine which was called the "Little Hercules." The valvetrain was fully actuated and acceleration controlled by sliding cam on the intake valve. With a square bore and stroke of 5 inches, 6.5 horsepower was the advertised rate.
The Model A was available as a 2-seat Runabout for $750 or 4-seat Runabout with Tonneau for $850. In total 2497 cars were produced in Cadillac's first year of production.
See full 1903 Cadillac Model A Image Gallery
Auction Sales History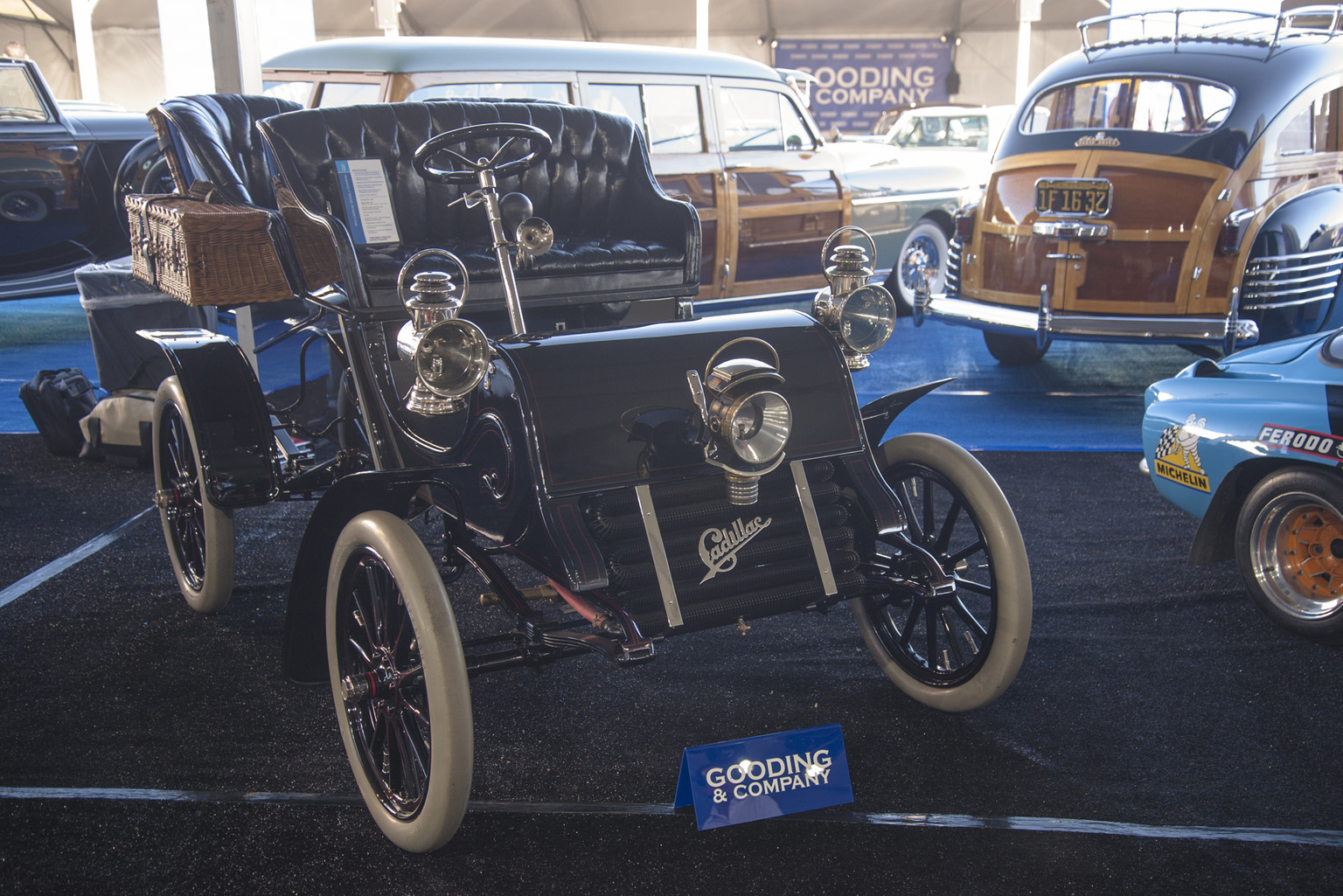 1903 Cadillac Model A Tonneau 644 – sold for $178,750
A Stunning Example of Cadillac's First-Ever Production Automobile. Eligible for the London-to-Brighton Veteran Car Run. Multiple Award-Winning Restoration. Shown at the 2012 Pebble Beach Concours d'Elegance. 2011 Amelia Island Concours d'Elegance Award Winner. Original Color Scheme.
Auction Source:
The Scottsdale Auctions by Gooding & Company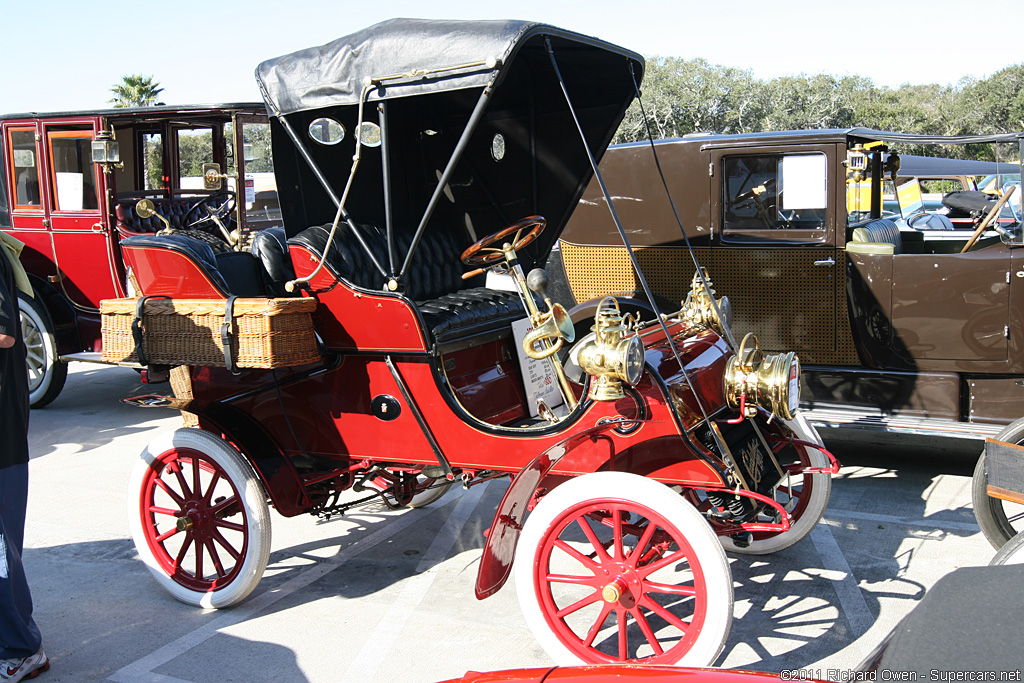 A two-time London-to-Brighton veteran, this 1903 Cadillac was restored many years ago and has been well maintained ever since. Outfitted for touring, it has a new, high-compression aluminum piston, which raises the compression ratio to 4.5:1. It thus starts better and develops more power for long-distance running. The crankshaft is also new. A lighter balanced flywheel was installed, machined on the back side and fitted with a ring gear to engage an electric starter, for convenient operation in today's traffic. The car also has a new radiator, new wheels, new hubcaps and a new wood body.
Auction Source:
2011 Amelia Island Auction by RM Auctions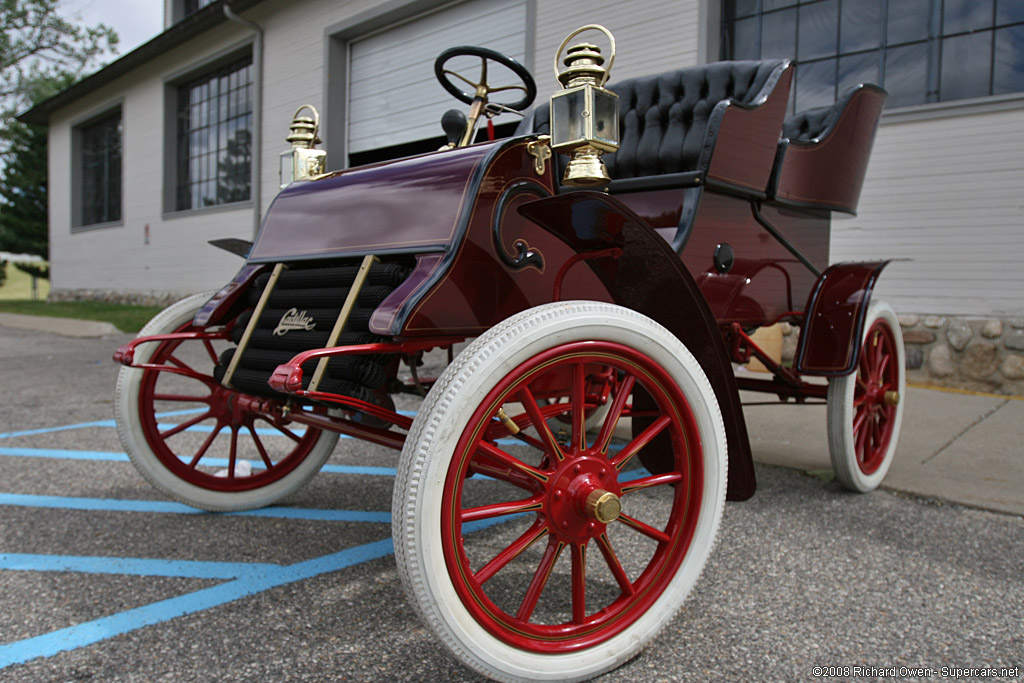 This particular 1903 Cadillac is one such Model A Runabout with a rear entry tonneau, whose engine (number 692), was shipped from the factory on June 17, 1903. Purchased most recently in 1999, it was fully restored in 2002 to period correct standards and refinished in its authentic 1903 livery. A new body was constructed by Terry Martin at Martin Carriage House in Warren, Ohio and the proper diamond-tufted leather upholstery was supplied by Loren Burch of Pasadena. Meanwhile, many new parts were supplied by The Cadillac Shop in Lewisberry, Pennsylvania and the wheels were provided by Calimer's Wheel Shop in Waynesboro, Pennsylvania. Mechanically, this Cadillac benefits from a rebuild of its original 1903 engine, transmission, and running gear as well as Weston-Mott front and rear axles, 1904 four-tube brass multiple oiler, a 1905 low-speed equalizing transmission linkage, and a new radiator from Patrick Herman in Layton, Utah.
Auction Source:
2008 Meadow Brook Concours