1933 Cadillac Series 452-C V16
Cadillac dwindled continued to offer the V16 model in 1933 as the Series 452-C. Despite the limiting production of 400 units, Cadillac only every sold about 125 cars. These are typically identified by their 3-bar bumpers and lined radiator without a chrome shroud.
General V16 Text
Built to each customer's individual taste, it became an American icon of prestige and helped the company out-perform Packard and their V12. Cadillac initially prepared the V16 to prodigiously power its flagship model with more cylinders than anything else available. The introductory brochure proudly claimed "Sixteen-cylinder powering, complete individuality in style "that, in brief, is the story of the Cadillac V16."
At a time when a custom coach-built body was a symbol of status and wealth, the V16 became the one of the most revered chassis. Cadillac wanted the engine to be as vibration-free as possible, and eight combustion cycles per crankshaft revolution combined with balanced internals meant that a V16 was one of the best available packages.
As early as 1926, Ex-Marmon engineer Owen Nacker designed the V16 from two straight-8 Buick units that shared a common crankcase and crankshaft. Each bank was independently operated and only shared a common, center mounted camshaft which operated the valves with pushrods. The 45 degree angle between the banks was unusually narrow to fit inside the chassis. It was named after its 452 inch cubic displacement and produced 185 bhp which was good for 100 mph. It also used a unique hydraulic valve silencing system that reduced noise and was a novel feature in its day.
Chassis details were straight forward and borrowed from Cadillac's 353/355 line. This included a huge steel ladder frame, rigid axles and hydraulically powered drums brakes to help with the large weight of the car.
Cadillac general manager Lawrence Fisher and GM's stylist Harley Earl were largely responsible for the V16s styling. Most of the cars were bodied by Fleetwood in Pennsylvania which was later purchased and moved to Michigan by GM to keep business in-house. The customer could choose between 70 or so available bodies that were elaborately finished and all highly individualized in detail. If that wasn't enough, Cadillac could also provide a bare chassis to be fitted by the independent styling house of the customer's choice. These arrangements helped Cadillac excel in the luxury custom market.
The engine bay was as finely detailed as many of the bodies that covered it. Chrome and polished aluminum, were used and the wiring loom was neatly concealed.
The V16 was released right after the stock market crash at the New York Auto Show on January 4th, 1930. It became the first production road car to use the V16 which both Marmon and Peerless were also trying to launch. The first V16 shown was a Madame X Landaulet that was designed by Harley Earl a year earlier for two 314-B V8 chassis. The Landaulet was a limousine with division glass, a leather roof and a folding rear roof portion. Following these two special cars, other 4-door Madame Xs were built by Fleetwood in Pennsylvania and these were among the most expensive bodies available.
Despite difficult times, and a price tag higher than any previous Cadillac, the V16 was ordered in huge numbers throughout 1930. GM paraded six cars for European tour and the cars received acclaim by both the press and public. Production reached 2000 examples by June, but by the end of the year, the economic depression nearly hauled sales.
During an eleven year production, 4076 V16s were constructed in several series. Minor upgrades separated the types which included 452, 452B, 452C, 452D. In 1936 they became the Series 60 and Series 90 a year later. These final production cars used a new wide-angle V16 that offered a much lower profile, but kept the same power rating. This new unit also had a square bore and stroke that lower piston speed and crankshaft stress.
After the initial flourish in 1930, production grinded away for ten years with only fifty units made per year. Later, Cadillac reverted to their V12 unit but only after the V16 had made its lasting mark. In the end, Cadillac lost money on every car sold, but it was worth the cost of propelling the marque as a whole. It was estimated the V16 cost Cadillac 54 million dollars.
To emphasize the V16's place in Cadillac history, a one-of show car was made for the 2003 Detroit Auto Show. Called the 'Sixteen Concept', it used a 13.6 liter engine with around and incredible 1000 bhp and 1000 ft lbs of toque on tap. This show car was part of GM's initiative to re-establish Cadillac as GM's top brand. Due to its excessive length, the V16 was not feasible in modern cars.
See full 1933 Cadillac Series 452-C V16 Image Gallery
In Detail
| | |
| --- | --- |
| | |
| type | Series Production Car |
| built at | USA |
| production | 125 |
| engine | 45° V16 |
| position | Front Longitudinal |
| aspiration | Natural |
| block material | Cast Iron |
| valvetrain | Pushrod OHV, 2 Valves per Cyl |
| fuel feed | Twin Cadillac Carburettors |
| displacement | 7412 cc / 452.3 in³ |
| bore | 76.2 mm / 3.0 in |
| stroke | 101.6 mm / 4.0 in |
| compression | 5.5:1 |
| engine designer | Owen Nacker |
| power | 130.5 kw / 175 bhp @ 3400 rpm |
| specific output | 23.61 bhp per litre |
| bhp/weight | 62.23 bhp per tonne |
| torque | 432.51 nm / 319 ft lbs @ 1700 rpm |
| body / frame | Body over Steel Ladder-Type Frame |
| driven wheels | RWD |
| front tires | 7.5×19 |
| rear tires | 7.5×19 |
| front brakes | Drums w/Hydrualic Assist |
| rear brakes | Drums w/Hydrualic Assist |
| steering | Worm & Roller |
| f suspension | Rigid Axle w/Semi-Elliptic Leaf Springs, Hydrualic Dampers |
| r suspension | Live Axle w/Semi-Elliptic Leaf Springs, Hydrualic Dampers |
| curb weight | 2812 kg / 6199 lbs |
| wheelbase | 3759 mm / 148.0 in |
| front track | 1500 mm / 59.1 in |
| rear track | 1580 mm / 62.2 in |
| length | 5730 mm / 225.6 in |
| width | 1890 mm / 74.4 in |
| transmission | 3-Speed Manual |
| gear ratios | 3.47:1, 1.48:1, 1.10:1 |
| final drive | 3.47:1 |
| 0 – 60 mph | ~24 seconds |
Auction Sales History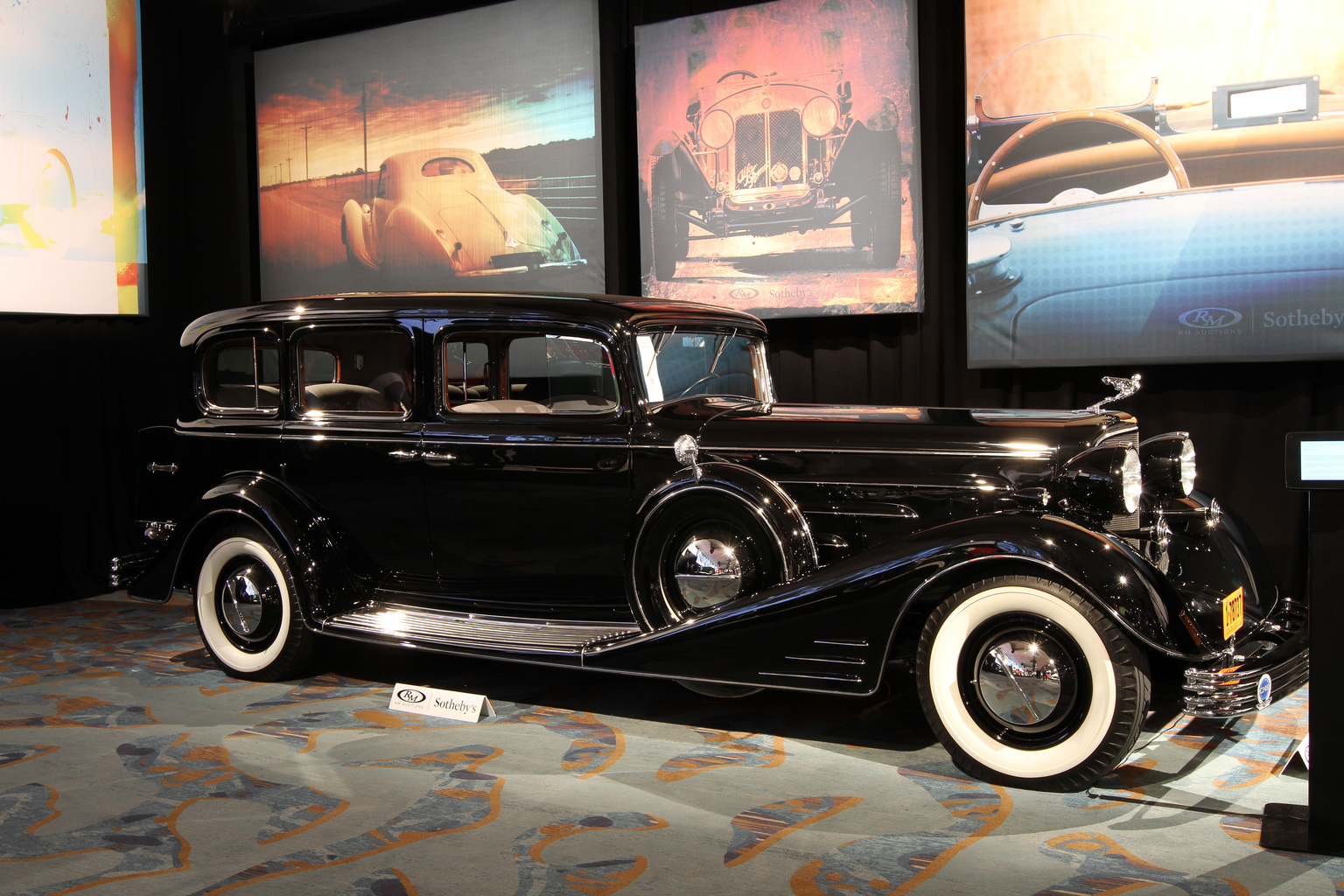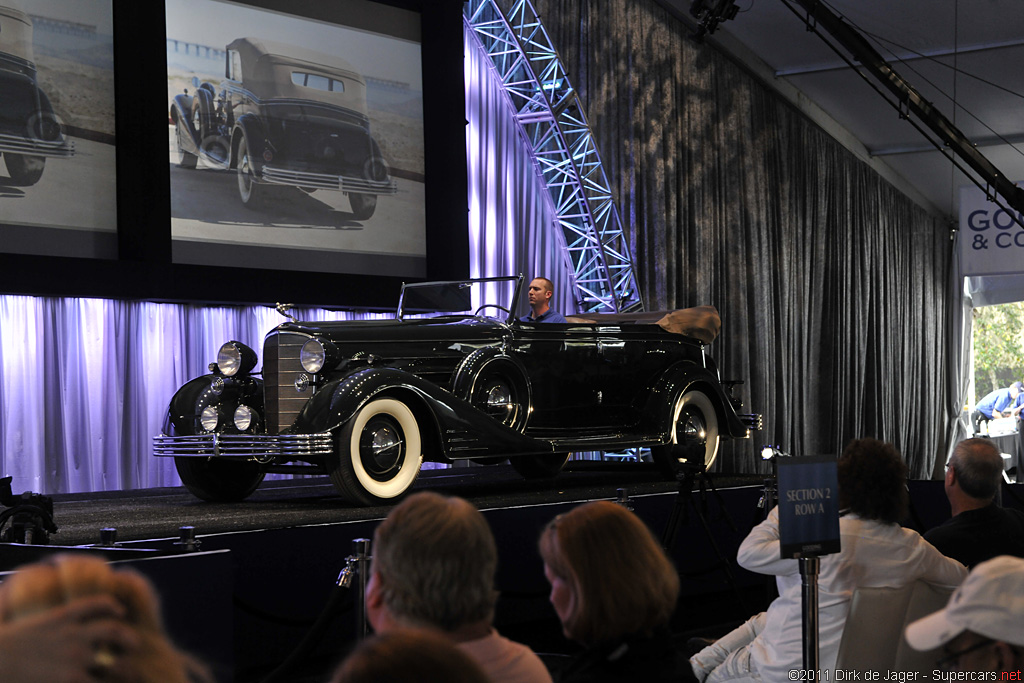 1933 Cadillac V-16 Fleetwood All-Weather Phaeton 5000116 – sold for $506,000
Special One-Off Design. Outstanding Fran Roxas Restoration. Numerous First Place Concours Awards. The Zenith of Pre-War General Motors Exclusivity. One of the Most Significant Cadillacs of the Classic Era.
Auction Source:
The Amelia Island Auction 2012 by Gooding & Company
1933 Cadillac Sixteen Series 452-C Seven-Passenger Limousine by Fleetwood – sold for $159,500
This car is a rare survivor in near-original condition. Built for a Mrs. H.A. Springle, it was delivered through General Motors Products of Canada on May 25, 1933. The paint, chrome and interior are all extremely original, and the car is accompanied by a copy of the build sheet, confirming its original configuration and body style of "Fleetwood Custom Limousine." Showing just 29,500 miles, it made a dramatic appearance at Pebble Beach in 2003.
Auction Source:
2011 St. John's Auction by RM
1933 Cadillac V16 Convertible Phaeton by Fleetwood – sold for $462,000
Fleetwoods were true customs – nearly 50 styles were offered, but only about 10 were built. According to the factory build sheet, the example offered here was ordered by the Chicago factory branch for G. E. Crandell, a Montgomery Ward executive who lived on Lake Shore Boulevard in Chicago. It took Fleetwood 16 weeks to construct, and at $8,000, it was double the price of the eight-cylinder Fleetwood all weather phaeton. For that sum, the new owner received, among other things, a personalized dash plaque giving his name and car number – #143 in this case
Auction Source:
2010 RM Automobiles of Amelia Island Auction