1937 Kurtis 'Tommy Lee Speedster'
Tommy Lee commissioned Frank Kurtis to create this special speedster in 1937. Based on a 1936 Ford chassis, the result was a striking car that was similar to the Cords of the era, but with much more performance potential. RM Auctions sold the one-of Kurtis Special at their 2007 Monterey Sports & Classic Car Auction for $440,000 USD. Sold at Gooding & Co's 2010 Scottsdale Auction for $235,000 USD with an estimate of $125,000 – $200,000 USD.
RM Described the car as follows:
Frank Kurtis, who'd later build winning Indy roadsters, midget racers and sleek customs, supervised Don Lee's Los Angeles Coachworks. In 1934, Kurtis fabricated a stunning boattail speedster from a wrecked LaSalle for Willet Brown, whose father managed the myriad Lee enterprises. After seeing that car, Tommy Lee asked Kurtis to build a creation that was even more attractive, and much, much faster.
Kurtis began with a 6-month-old 1936 Ford that he stripped down to the frame. Remember, the Cord 810 was that era's styling sensation, so Tommy told Frank to build a car that evoked the 810, but would be lighter, sleeker, even racier. Kurtis' elegant response resembled the marriage of a Cord Sportsman and an Auburn boattail speedster.
Its gorgeous aluminum body was hand-formed. Canted, chromed grille bars wrapped around each side, extending all the way to the cockpit. The streamlined effect was completed with graceful, minimalist doors made of steel, leading to a sharply pointed tail that would have done credit to an Indy racer. George DuVall fabricated the sexiest vee-ed windscreen imaginable. The result was extraordinary. There would be nothing on the road quite like it. Of course, it would be the best that money could buy.
The cockpit was narrow, even cozy, so when Tommy wasn't street-racing with local LA hot rodders, (which he loved to do), his date du jour could snuggle closely. The unique dash panel was an Art Deco bronze casting, with etched horizontal elements, replete with seven, custom-faced Stewart-Warner gauges. The banjo steering wheel came from a Cadillac. There were wind-up windows, but no top.
Tommy Lee insisted on a dual-purpose roadster that could be occasionally raced at the Dry Lakes. So all four fenders – the fronts, with disappearing headlights, were borrowed from a new Cord, the rears consisted of two sets of Oldsmobile teardrops on each side – were readily removable. So were the trim Oldsmobile bumpers. Rear fender skirts could be fitted for better streamlining at high speeds.
At first, the selection of an engine was a matter of discussion. Frank Kurtis suggested a big, 348 cubic inch Cadillac flathead V-8, modified with dual carburetors, perhaps a Winfield cam. But money was no object. Tommy commissioned Harry Miller protégé, Fred Offenhauser to create a very special Offy powerplant, the largest one ever built, an uncompromised 318 cubic inch, twin-cam, all-out racing engine developing an estimated 300-bhp and immense torque.
The gearbox was a sturdy three-speed LaSalle unit, and the rear end was a Columbia two-speed. Now Tommy had the best of both worlds – low gearing for drag racing, and a tall ratio for high speed attempts. Flipper bar hubcaps, on steel wheels, flashed and whirled as the car and its owner headed for adventure. At night, which was when most people saw the speedster, the caps flickered like candle flames.
As if the not-so-subtle mechanical cacophony from the big Offy's cam drive spur gears wasn't enough, the 318's wild exhaust system consisted of four separate coiled pipes, which first unraveled, then ran like chrome arrows alongside the car's sleek fuselage. There was a shorter competition exhaust for serious speed work.
Completed in 1937, Tommy Lee's one-of-a-kind Speedster was said to have cost $25,000, a princely sum in the midst of the Depression. Anxious to see 'what she could do,' Tommy opened up his blue jewel at the dry lakes, recording speeds of 123-mph in street trim, and 130-mph sans fenders. Reportedly, a top end of 148 mph was achieved in 1941, but this may be legend, lost in the swirling mists of time.
1937 Kurtis 'Tommy Lee Speedster' Gallery
Auction Sales History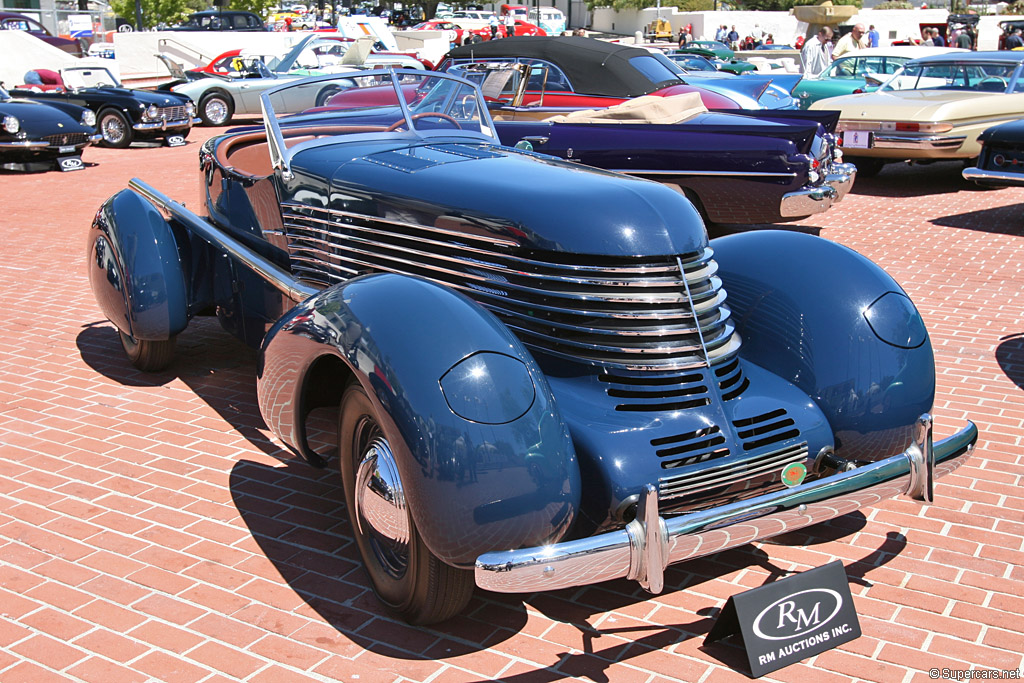 1937 Frank Kurtis Special The Tommy Lee Speedster – sold for $440,000 Tommy Lee was a memorable Hollywood character. And there's only one Tommy Lee Speedster. With its custom coachwork, glamorous image, art-deco styling, Kurtis-Offy racing heritage, impeccable provenance and remarkable history, the sale of this beautifully-restored, high-performance American sports car special represents an unrepeatable opportunity to own a one-of-a-kind treasure.
Auction Source: 2007 Monterey Preview
In Detail
| | |
| --- | --- |
| type | Racing Car |
| engine | Offenhauser Inline-4 |
| position | Front, Longitudinal |
| power | 186.4 kw / 250 bhp @ 6000 rpm |
| driven wheels | RWD w/Columbia 2-Speed Differential |
| wheel type | Steel |
| front brakes | Hydrualic Drums |
| rear brakes | Hydrualic Drums |
| f suspension | Ford Wishbones |
| r suspension | Ford Live Axle |
| transmission | 3-Speed LaSalle Manual |