1949 Delahaye 175 S Saoutchik Roadster
The most dramatic of all supercars is this 2-seat roadster which was owned by English movie star Diana Dors. Built for the post-war concours circuit, Saoutchik was responsible for its extreme body which borrowed styling cues from other earlier designs.
Using the French curves of the thirties with more modern baroque ornamentation, Saoutchik conveys a sense of drama and movement with this design. With completely enclosed wheels, the car's best angle is its profile as the front has a confusing mix of elements that look like they came from different sources. At the time, the aggressive use of chrome was revolutionary and an emerging trend that the American manufacturers would go on to master.
Much of this Delahaye's beauty is also shown in details such as chrome accents that highlight the curves and feature embedded turn signals or the small strips which flank the side and add a sense of speed while hiding the door handles . At the front is a curious nose which was inspired by the Figoni et Falaschi-designed Narval produced just a year earlier. Inside, a two-tone interior is relentlessly busy and features a medley of designs that work together in their excess. Rows of knobs are everywhere and the see-through steering wheel made of lucite is unique.
The car is built upon the first new Delahaye chassis designed after the war. New features for this model included a much larger 4.5 liter engine, a De-Dion rear suspension, Dubbonet front suspension, Lockhead brakes, and novelties such as a radio and heater came standard. When everything worked, the chassis was superb, but many cars suffered from breakdowns, particularly around the complex suspension and fragile drive-line.
The first owner of this car, chassis 815025, was Sir John Gaul of England who brought the car to several European concours, catching the attention of the press and public wherever it went. In 1949, it won top honors at the Grand Castle du Bois de Boulogne in Paris, the Monte Carlo Concours and Coup de l'Automobile in San Remo almost always accompanied by an attractive lady.
By the seventies the roadster had made its way to Colorado where maintenance on the race-spec engine and Dubonnet suspension became a nuisance. The owner then chopped out the entire front section of the chassis to fit a GM Toronado system which was front wheel drive.
For nearly forty years the original engine and car were separated much to the blissful ignorance of everyone who could still appreciate its distinct design. Eventually correct 175 parts were sourced and the owner had Fran Roxas refurbish the massive Delahaye. It made a welcome debut restoration at the 2006 Pebble Beach Concours where it graced the shoreline beside the best examples of the marque. Later, the original engine was sourced and it was offered at Sports & Classics of Monterey by RM Auctions with an estimate of $4,000,000-$6,000,000 USD.
Sources & Further Reading
1. Adatto, Richard and Diana Meredith. Delahaye Styling and Design. Dalton Watson Fine books. 2005.
2. Dorizon, Peigney and JP Dauliac. Delahaye-Le Grande Livre. Paris Editions EPA. 1995.
3. Renou, Michel. Delahaye-Tout l'historie. Paris Editions EPA. 1994.
See full 1949 Delahaye 175 S Saoutchik Roadster Gallery here
In Detail
| | |
| --- | --- |
| type | Series Production Car |
| built at | France |
| production | 1 |
| engine | Inline-6 |
| position | Front Longtudinal |
| aspiration | Natrual |
| valvetrain | 2 Valves per Cylinder |
| displacement | 4455 cc / 271.9 in³ |
| power | 123.0 kw / 165 bhp |
| specific output | 37.04 bhp per litre |
| front brakes | Finned Alloy Drums |
| rear brakes | Finned Alloy Drums |
| f suspension | Dubbonet w/Coil Springs |
| r suspension | De Dion Axle w/Semi-Elliptic Springs |
| wheelbase | 2946 mm / 116 in |
| transmission | 4-Speed Cotal Preselector |
Auction Sales History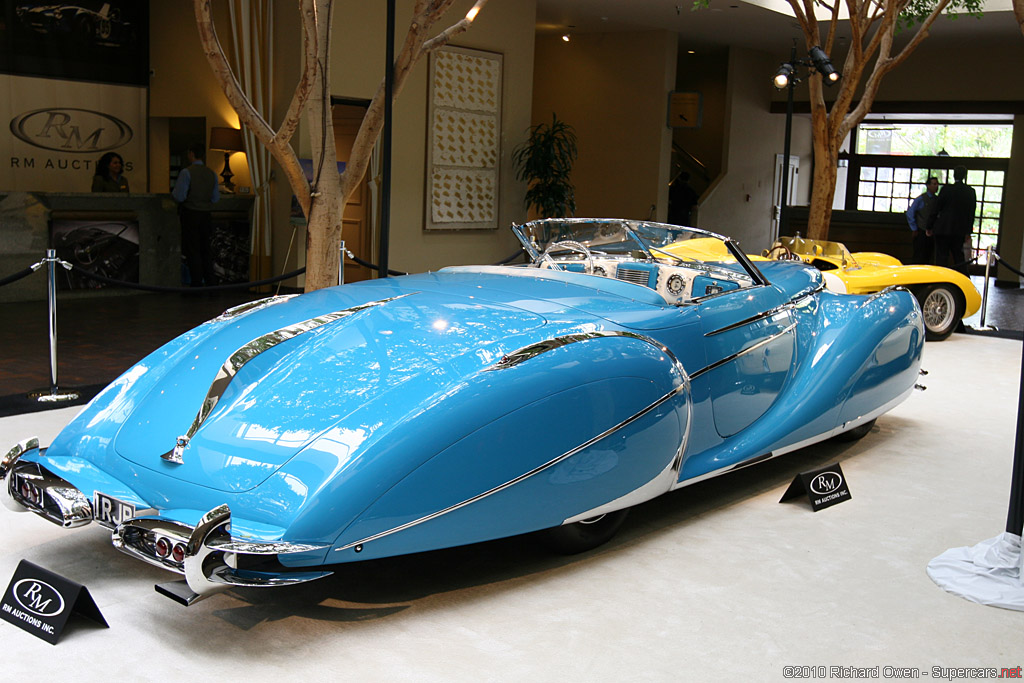 1949 Delahaye Type 175 S Roadster 815023 – sold for $3,300,000
As is the case with most landmark examples of the coachbuilder's art, much of this Delahaye's beauty is evident in the details, such as chrome accents that highlight the curves, the embedded turn signals or the small strips which flank the sides, adding grace, length and a sense of speed while cleverly hiding the door handles. The graceful façade was inspired by the Narvals produced just a year earlier.