1960 Jaguar E2A
After a successful decade of racing, Jaguar created a E2A, a new prototype that would lend its development to future racing and production cars. Essentially, E2A became an interim model bridging the gap between the iconic E-Type and the victorious D-Type.
The release of E2A marked Jaguar's possible intention to continue their motor sports program which ended in 1956. E2A was designed to accommodate the new 1960 sports car regulations which included minimum heights for both the car and windscreen. It was these same restrictions which forced Bizzarrini to raise the windscreen angle on his Ferrari GTO, effectively ruining his initial form.
Engineering
E2A borrowed much from the D-Type it effectively replaced. The body and chassis formed a single aluminum monocoque. Compared to the long-nose D-Type, E2A was stretched six inches to maintain proper aerodynamics with the large windscreen. Having a high windscreen also necessitated the need for window wipers instead of having the driver just look over the window.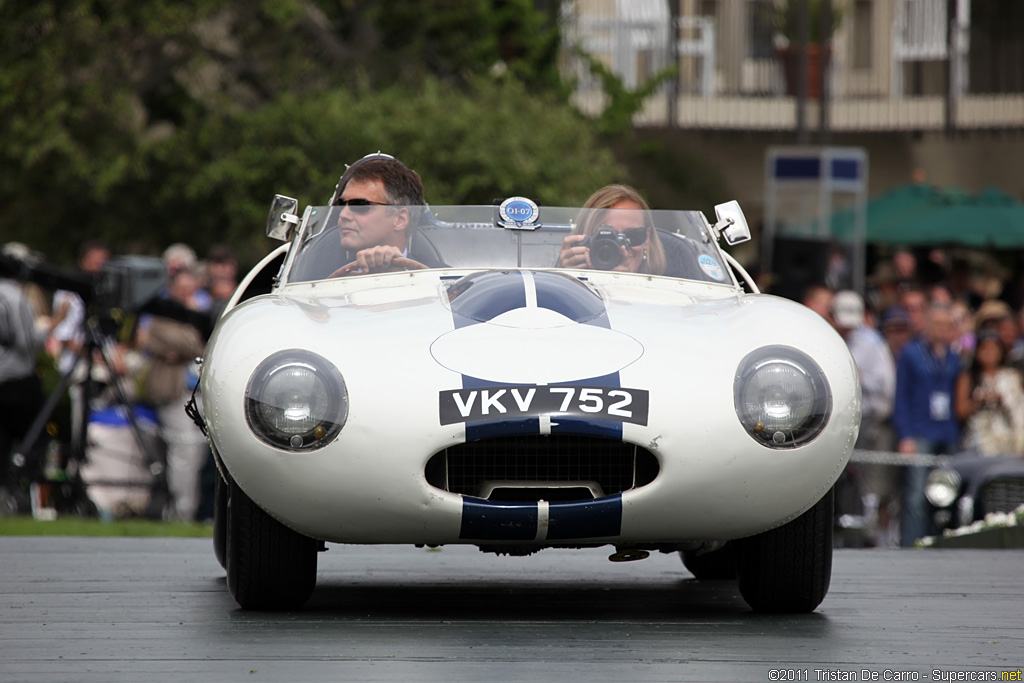 Similar to the D-Type, E2A used an XK-based engine having the same DOHC cylinder head. Different materials were used in the engine, such as an aluminum block and titanium connecting rods. Lucas Fuel Injection was also installed.
As a significant change from the D-Type, E2A used an independent rear suspension with inboard rear brakes. Two ducts just behind the doors provided cooling for the brakes. E2A marks the first Jaguar to have an independent rear suspension.
See full 1960 Jaguar E2A Gallery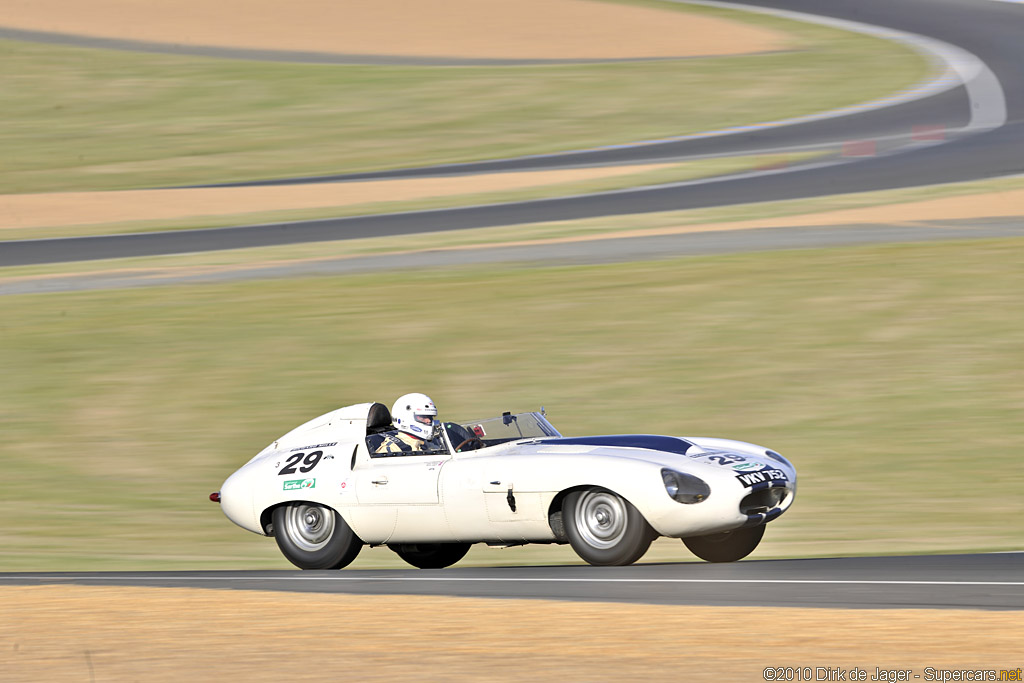 Racing
E2A was initially ordered by Brigs Cunningham for a private assault on LeMans. The car was never given a model designation, but is known for its chassis stamping, E2A. It raced in the 1960 LeMans 24 Hour Race with drivers Dan Gurney and Walt Hansgen. Unfortunately the car retired due to head gasket failure caused by faulty fuel injection.
After LeMans, the windscreen on the car was reduced and a 3.8-litre engine with triple Webers was installed. It continued racing in America for some time until it was shipped back to England for brake testing.
1960 Jaguar E2A Image Gallery
See full 1960 Jaguar E2A Gallery
In Detail
| | |
| --- | --- |
| type | Racing Car |
| built at | England |
| production | 1 |
| engine | Inline-6 |
| valvetrain | DOHC, 2 Valves per Cyl |
| fuel feed | Lucas Fuel Injection |
| displacement | 2997 cc / 182.9 in³ |
| bore | 85 mm / 3.35 in |
| stroke | 88 mm / 3.46 in |
| power | 220.0 kw / 295 bhp @ 6800 rpm |
| specific output | 98.43 bhp per litre |
| bhp/weight | 337.14 bhp per tonne |
| redline | 7000 |
| body / frame | Aluminum Monocoque with Steel Front Subframe |
| front tires | 6.5×16 |
| rear tires | 6.5×16 |
| front brakes | Unassisted Dunlop Discs |
| rear brakes | Inboard Unassisted Dunlop Discs |
| steering | Rack & Pinion |
| f suspension | Wishbones w/Torsion Bars, Girling Dampers |
| r suspension | Half Shafts w/Lower Wishbones, Dual Coil Springs, Girling Dampers, Anti-Roll Bar |
| curb weight | 875 kg / 1929 lbs |
| wheelbase | 2438 mm / 96.0 in |
| front track | 1219 mm / 48.0 in |
| rear track | 1219 mm / 48.0 in |
| length | 4318 mm / 170.0 in |
| width | 1594 mm / 62.8 in |
| height | 1137 mm / 44.8 in |
| transmission | 4-Speed Manual |
| gear ratios | 2.14:1, 1.64:1, 1.277:1, 1.00:1 |
| final drive | 3.31:1 |
| top speed | ~305.8 kph / 190.0 mph |
Story by Richard Owen
Auction Sales History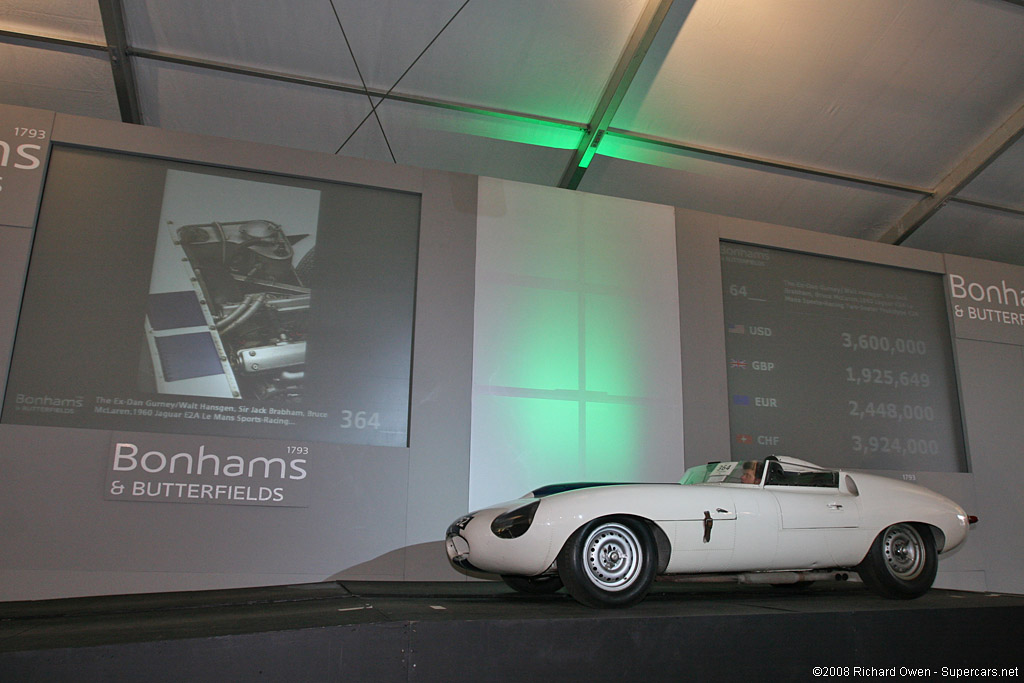 1960 Jaguar E2A – sold for $4,957,000 Jaguar 'E2A' survives today as absolutely one of the most charismatic and significant prototypes ever produced by mainstream motor industry. It is neither a cobbled-together rough-cut, nor a merely vapid show car. And what other prototype of such a significant production model has ever had a racing history to match this one? As the only surviving taproot of the iconic E-Type Jaguar series, 'E2A' towers in stature for that alone. Auction Source: 2008 Monterey Preview