1962 Jaguar E-Type 3.8 Fixed Head Coupé
The E-Type debuted in 1961 at the Geneva Motor Show as a Fixed Head Coupe (FHC) and chassis 885005 was the first car shown to the press and public.
After extensive study and restoration of chassis 885005, it was found that the Fixed Head Coupe design was built and developed from the roadster monocoque tub. This allies with the story that Sir William Lyons chose to manufacture the Coupe late in the five-year development process.
The design was novel as it combined an hatchback design with a pure sports car. Aside from the obvious roof, another difference was slightly wider seats fitted to the Coupe models.
Other than the early prototypes, FHC production didn't begun until a few months after roadster production and the first few Coupes were released to dealers in August of 1961 with production ramping up in December of 1961.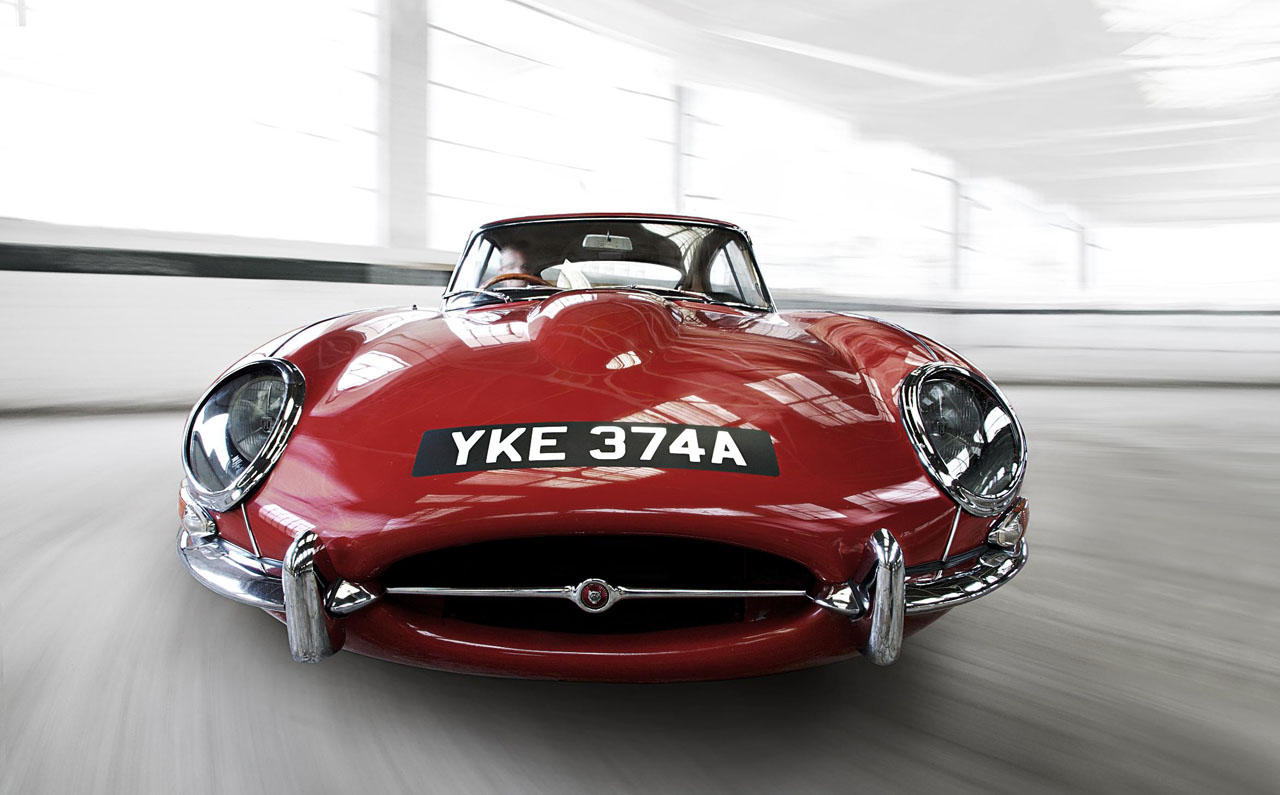 Total production of 3.8 coupes was 7,669 cars with just 1,798 made in right hand drive.2. The first coupes made in 1961 and 1962 are different from later production cars by having early details such has outside hood latches, a fully spot-welded hood with a separate louvre panel. These cars were only sold to Jaguar dealer's top customers and are highly sought after for this reason.
1962 Jaguar E-Type 3.8 Fixed Head Coupé Images
See the full Jaguar E-Type 3.8 Fixed Head Coupé Image Gallery
Sources & Further Reading.
1. Porter, Philip. Jaguar E-Type The Definitive History. Foulis: 1989.
2. Haddock, Dr. Thomas. Jaguar E-Type 6&12 Cylinder Restoration Guide. Motorbooks:1997.
See the full Jaguar E-Type 3.8 Fixed Head Coupé Image Gallery
In Detail
| | |
| --- | --- |
| type | Series Production Car |
| built at | England |
| body stylist | Malcom Sayer, Bob Knight |
| engineers | Bill Heynes |
| production | 7669 |
| engine | Inline-6 |
| position | Front, Longitudinal |
| aspiration | Natural |
| ignition | Lucas Distributor & Coil |
| block material | Cast Iron w/Aluminum Cylinder Head |
| valvetrain | Chain-Driven DOHC |
| fuel feed | Tripple SU Carburetors, HD8 2 |
| displacement | 3781 cc / 230.73 in³ |
| bore | 87.0 mm / 3.425 in |
| stroke | 106.0 mm / 4.1732 in |
| compression | 9.0:1 |
| power | 197.6 kw / 265.0 bhp @ 5500 rpm |
| specific output | 70.09 bhp per litre |
| bhp/weight | 216.15 bhp per tonne |
| torque | 352.5 nm / 260.0 ft lbs @ 4000 rpm |
| body / frame | Unitary Steel MOnocoque w/Front Steel Subframe |
| driven wheels | RWD |
| wheel type | 72-Spoke Knock-Off Wire Wheels |
| front tires | 6.40×15 Dunlop RS5 |
| front brakes | Dunlop Discs w/Servo Assist |
| f brake size | 9.5 x 279 mm / 0.375 x 11.0 in |
| rear brakes | Dunlop Discs w/Servo Assist |
| r brake size | 9.5 x 254 mm / 0.375 x 10.0 in |
| front wheels | F 38.1 x 15.2 cm / 15.0 x 6.0 in |
| rear wheels | R 38.1 x 16.5 cm / 15.0 x 6.5 in |
| steering | Rack & Pinion |
| f suspension | Wishbones w/Torsion Bars, Hydrualic Telescopic Dampers |
| r suspension | Half Shafts w/Transverse Links, Twin Coil Springs, Hydrualic Telescopic Dampers |
| curb weight | 1226 kg / 2700 lbs |
| wheelbase | 2440 mm / 96.1 in |
| front track | 1270 mm / 50.0 in |
| rear track | 1270 mm / 50.0 in |
| length | 4450 mm / 175.2 in |
| width | 1660 mm / 65.4 in |
| height | 1220 mm / 48.0 in |
| transmission | 4-Speed Manual |
| tran clutch | Borg & Beck 10 |
| gear ratios | 3.377:1, 1.860:1, 1.283:1, 1.00:1 |
| final drive | 3.31:1 |
| top speed | ~241.4 kph / 150.0 mph |
| 0 – 60 mph | ~7.0 seconds |
| 0 – 100 mph | ~16.0 seconds |
| 0 – 1/4 mile | ~14.8 seconds |
| fuel capacity | 63.5 litres or 16.76 gal. |
Auction Sales History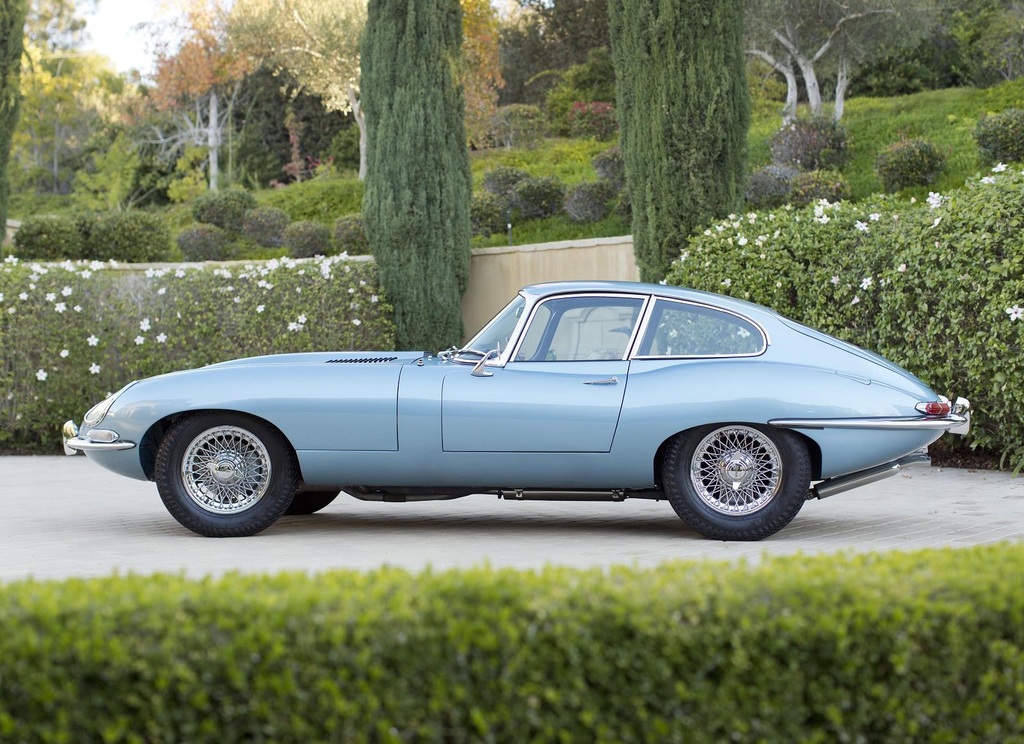 1962 Jaguar E-Type Series 1 3.8 Coupe 886871 – sold for $176,000 Low mileage, exquisitely restored Series 1 E-Type with exciting history. Toured over the continent by the first owner after factory delivery. Matching numbers example in factory correct appearance. Participant in the 50th Anniversary run from Coventry to Geneva. Accompanied by extensive history file and Heritage Trust Certificate. Auction Source: The Scottsdale Auction 2015 by Bonhams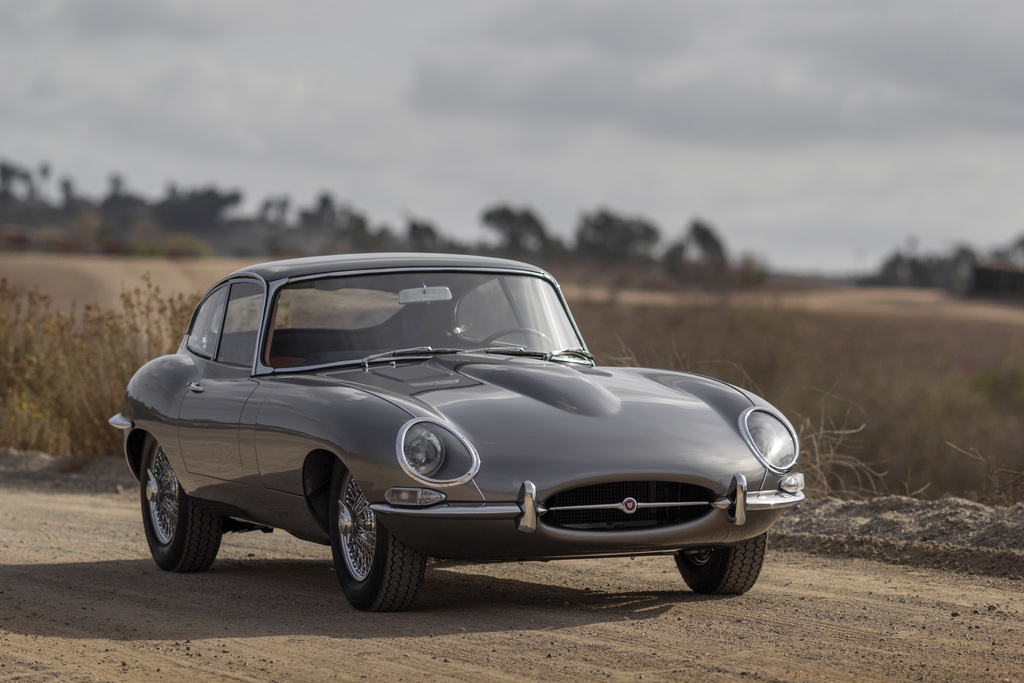 1964 Jaguar E-Type Series 1 3.8-Litre Fixed Head Coupe 889647 – sold for $209,000 Desirable Series 1 E-Type Fixed Head Coupe. Opalescent Silver Grey over a tan leather interior. Restored by marque specialists. Only test mileage since completion. Auction Source: Arizona 2015 by RM Auctions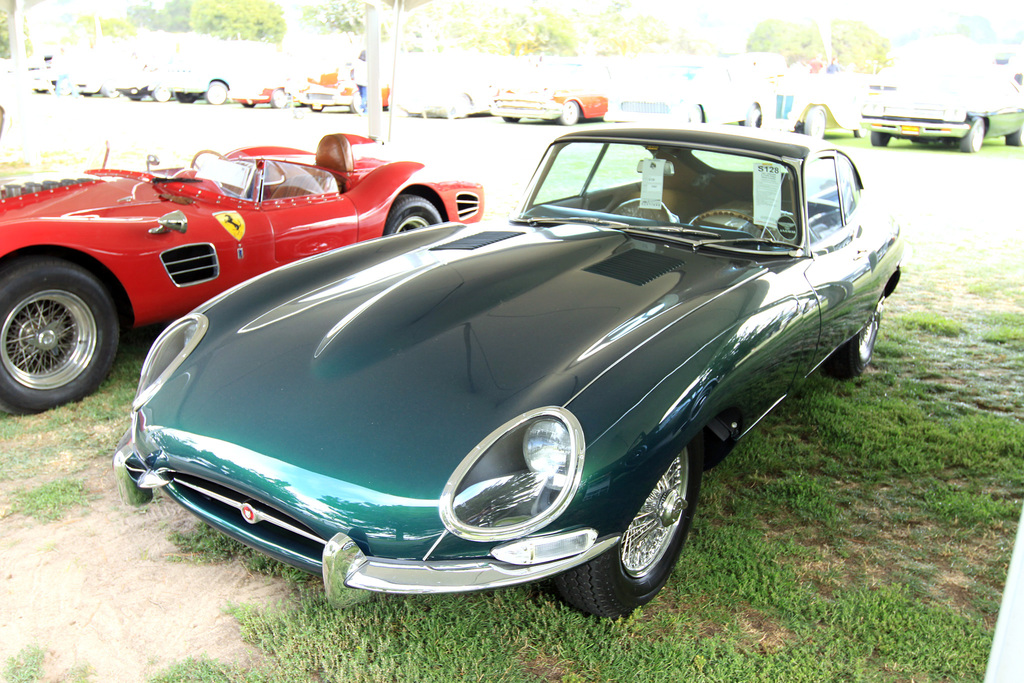 1961 Jaguar E-Type Fixed Head Coupe 885038 – sold for $95,000 First year for the iconic XKE. Only 398 left hand drive coupes were built in 1961. The 38th left hand drive fixed head coupe built. Delivered new to Newport Beach, CA. Bare metal restoration completed in 2014. Rebuilt 3.8L Straight Six engine. 4-speed manual transmission. Opalescent Dark Green. New Cinnamon leather interior. New chrome wire wheels and new tires. Upgraded with stainless exhaust system and aluminum radiator. Jaguar Heritage Trust certificate. Listed in XKE Registry. Extensive restoration photos and receipts. Owners manual, vintage ads, and XKE literature. Auction Source: Monterey 2014 by Mecum Auctions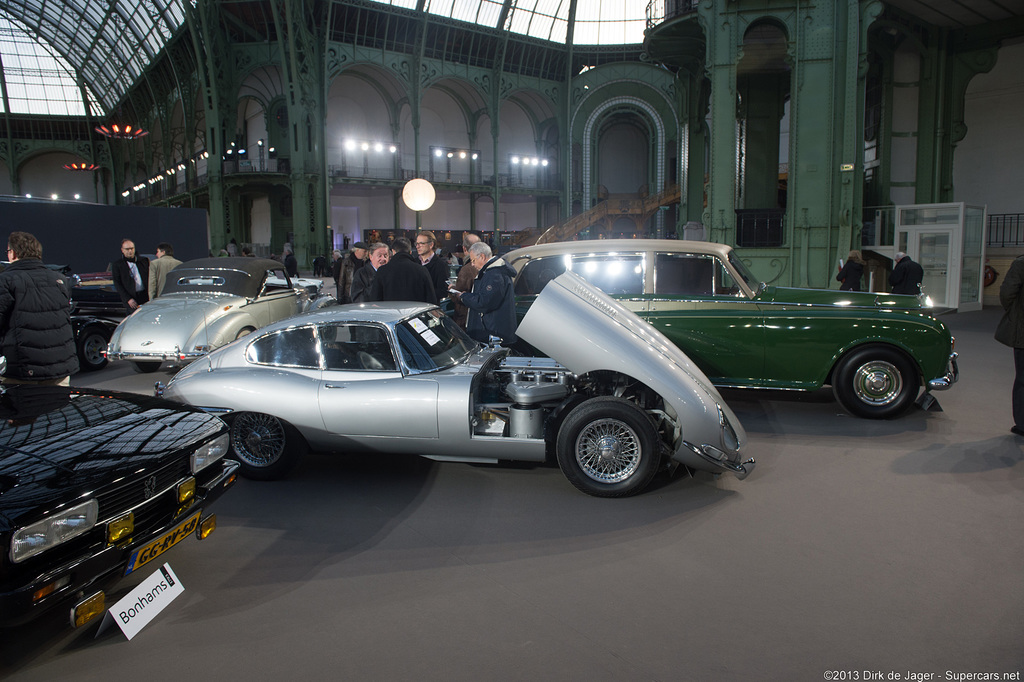 1963 Jaguar Type E Série 1 3.8-Litre Coupé 887537 – sold for €69,000 We are advised that this Series 1 3.8-litre coupé was sold by Fantasy Junction of Emeryville, California with title stating 'the 17,504 miles reflects the actual mileage…' It should be noted that the car came from Idaho, a state under snow for six months each year, which severely restricts the use of vehicles not specifically designed for such conditions. At time of photographing the odometer reading was 17,582 miles (approximately 28,300 kilometres). A matching-numbers example, the car benefits from a major service undertaken less than 50 kilometres ago and is offered with MoT certificate and UK V5 registration document. Auction Source: 2013 Les Grandes Marques du Monde au Grand Palais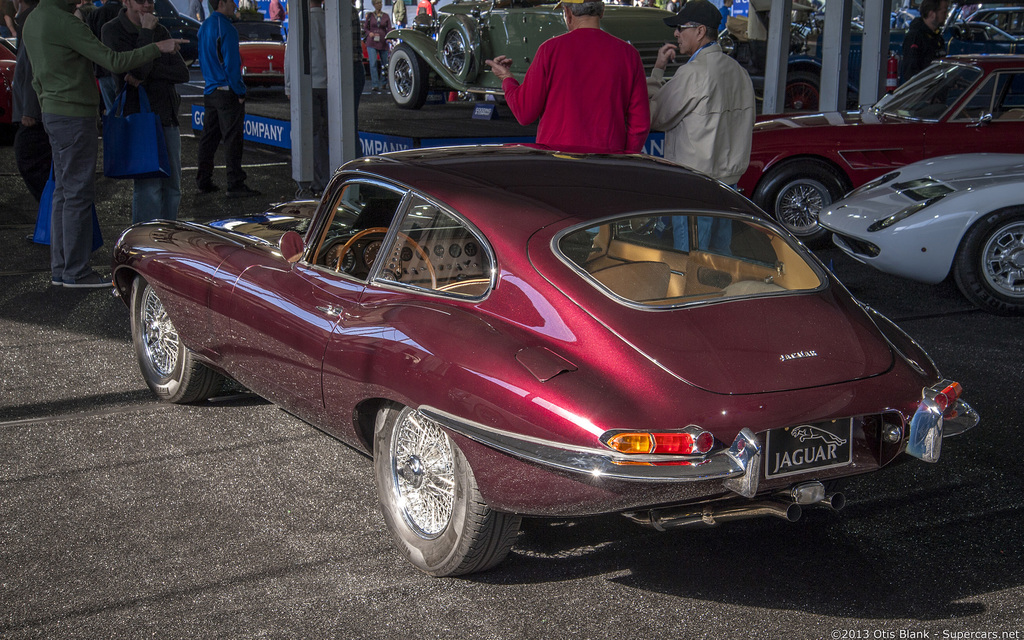 1963 Jaguar E-Type Series 1 3.8-Litre Coupe 888140 – sold for $143,000 A Stunningly Presented E-Type. One of the Most Beautifully Designed Sports Coupes. Photo-Documented Restoration to Show Standards. Recipient of Numerous Concours Awards. Offered with Books and Tools. Auction Source: The 2013 Scottsdale Auctions by Gooding & Company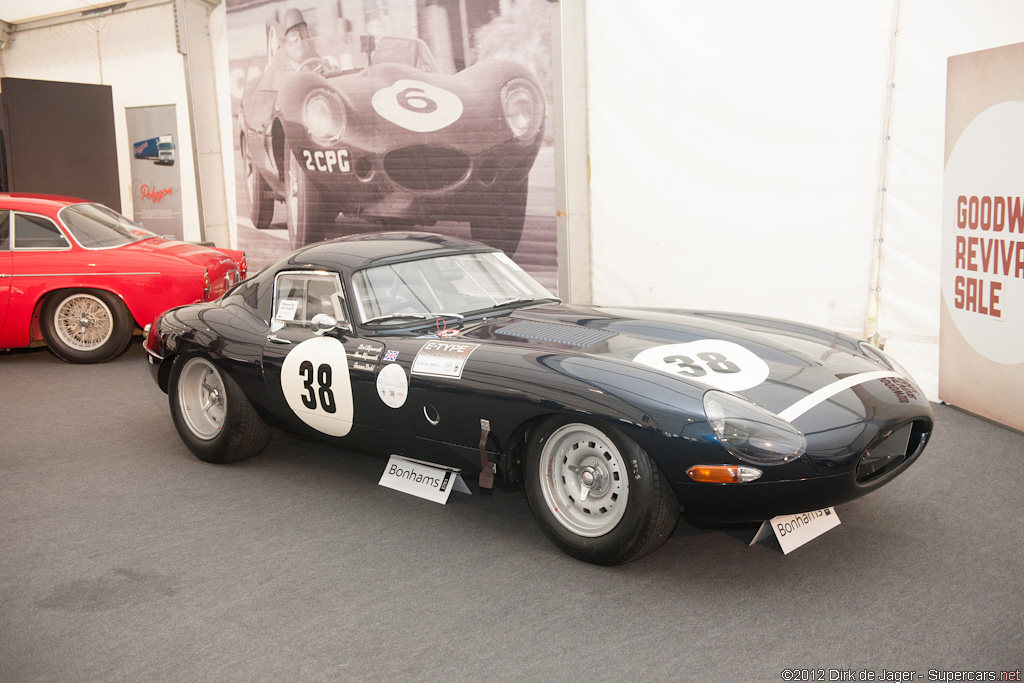 1965/2010 RS Panels E-Type 3.8-Litre Lightweight Low-Drag Competition Coupé 860291 – sold for €268,000 uilt during 2008/2010 by RS Panels and purchased directly from them, this example has been race prepared with no expense spared by MRM Engineering Services Ltd of Wolverhampton (bills available). Its specification includes an aluminium monocoque and body panels; full internal roll cage; full race 3.8-litre engine by Sigma Engineering (only one race since refreshment); E-Type close ratio four-speed gearbox with straight cut gears; 3.77:1 Salisbury limited-slip differential complete with cooler; and the optional long-range fuel tank. Auction Source: 2012 Goodwood Revival Sale by Bonhams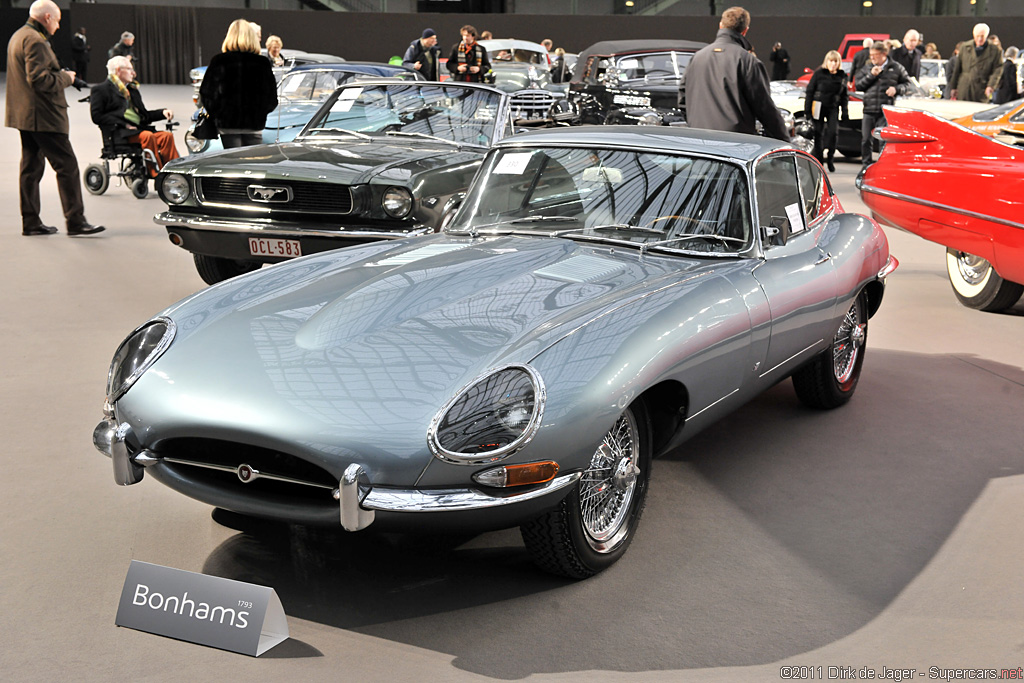 1964 Jaguar E-Type Series I 3.8-Litre Coupé 890794 – sold for €55,200 First registered on 3rd July 1964, this left-hand drive E-Type coupe was imported from the USA in November 1989 for Mr F van Belle, since when it has benefited from extensive works carried out by renowned Dutch Jaguar specialist, C. Huis In't Veld (see invoices on file for work undertaken between 1990 and 2003). Finished in light blue metallic with dark blue interior, this beautiful example of one of the most iconic of post-war sports cars is described as in magnificent condition and 'on the button'. Auction Source: 2011 Automobiles d'exception au Grand Palais by Bonhams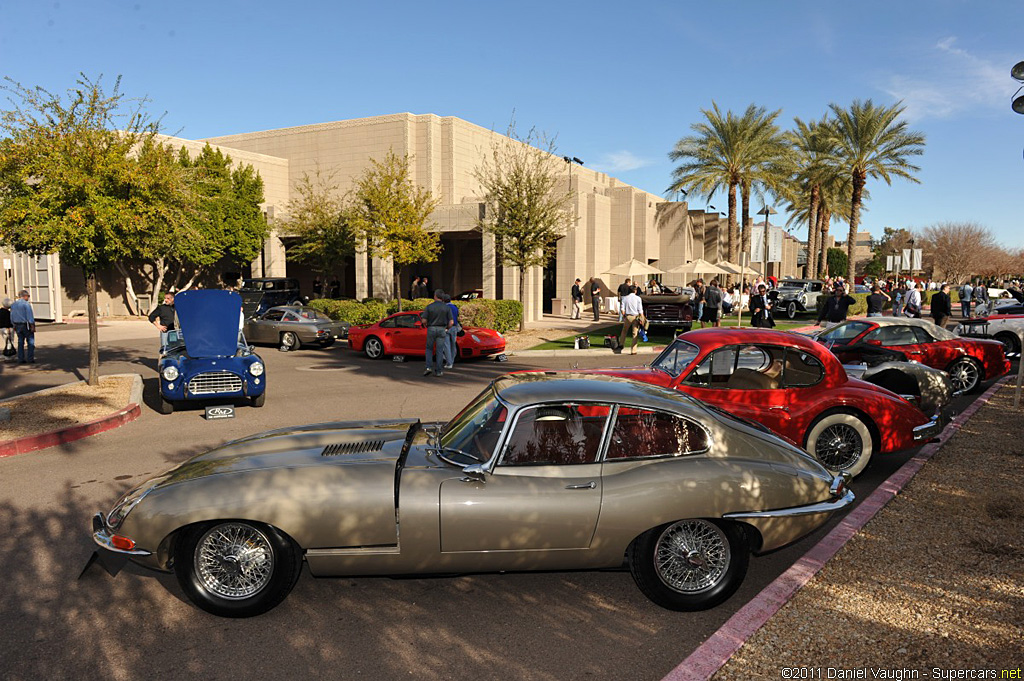 1965 Jaguar E-Type Series I Fixed Head Coupe 1E30493 – sold for $88,000 Now showing only about 17,000 original miles and equipped with chrome wire wheels, new tires and the original AM/FM radio, this Fixed-Head Coupe is show-ready and performs exactly as it should, with the crisp overall feel that only an unrestored car can deliver. With fascinating early ownership and not yet shown in competitively judged events by the current owner, this impeccable Series I E-Type now stands ready for participation in any number of events. Auction Source: 2011 Automobiles of Arizona by RM Auctions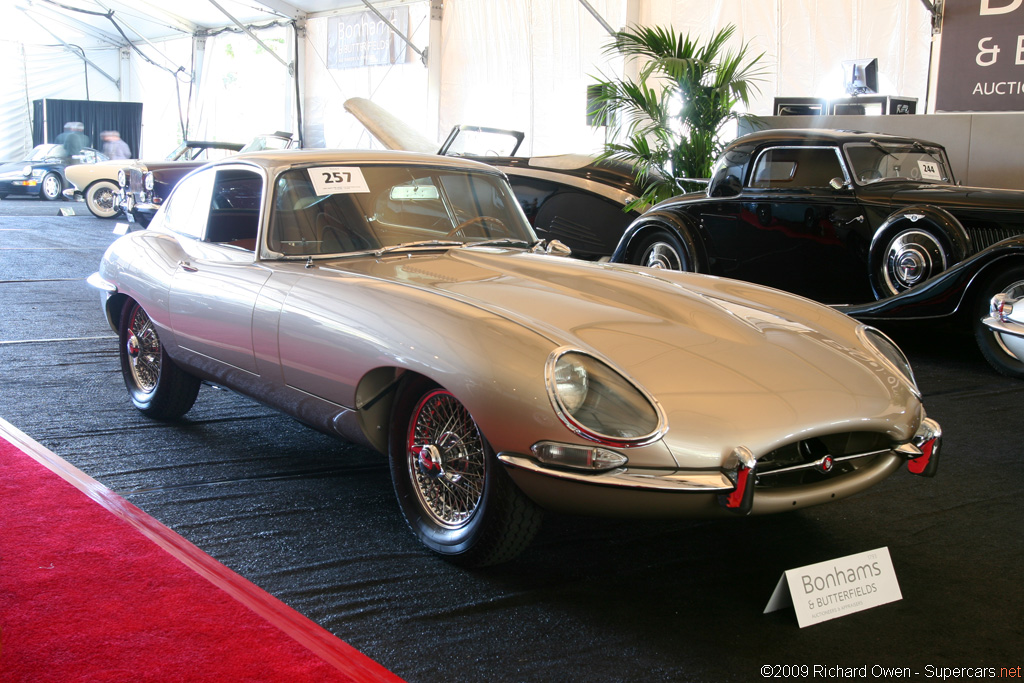 1964 Jaguar XKE Series I 3.8 Fixed-Head Coupe Chassis no. J64889113 – sold for $99,450 A numbers-matching California car driven just 23,000 miles, this Series I Fixed-Head Coupe has always been garage-kept, well-maintained and properly serviced. It bears the patina that only age and careful stewardship can bestow. The body displays excellent panel fits, very good chrome and excellent glass. It has been repainted in the original Golden Sand Metallic, while the rare Cinnamon interior is original. The whole car has been carefully detailed. Auction Source: 2009 Bonhams Exceptional Motorcars at Quail Lodge Resort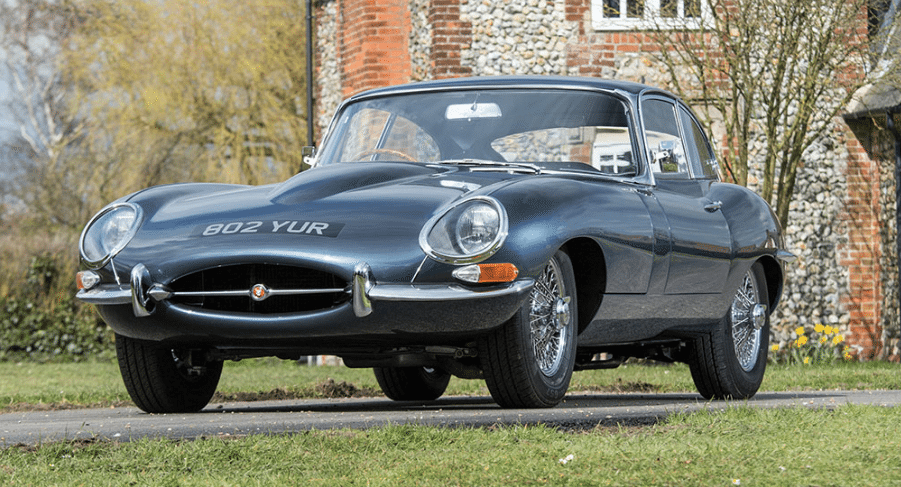 1961 Jaguar E-Type Series 1 3.8-Litre Fixed Head Coupé – Sold for €140,000. The 29th right-hand drive fixed head coupé, this Series 1 E-Type was manufactured on 15 November 1961 with the distinctive early flat floor and welded bonnet louvres, and despatched from the Works nine days later to Jaguar Cars New York. It is believed to have spent most of its life in the United States and was restored in the Philadelphia–New York area in the 1990s, for which receipts are available. The engine is original to this early chassis, although the gearbox has subsequently been replaced.
It was imported into the United Kingdom in 2010, serviced by Alexandra Motors, MOT'd, and registered. In late 2012 and early 2013, the interior was replaced, and all gauges were refurbished. Subsequently, Fullbridge Restorations performed extensive body restoration. In 2015, the engine was rebuilt by Foxley Classics, along with fitment of a virtually new brake system, including new callipers.
Painted in the original Opalescent Dark Blue, it has a complementing navy blue interior. With its fresh engine overhaul, superb appearance and great attention to detail, it is an excellent example of the coveted early Series 1 Fixed Head Coupé, relatively rare in right-hand drive. It is accompanied by a Jaguar Heritage Trust Certificate, attesting to its build configuration, a book detailing the United States restoration and invoices for all work performed since its repatriation to the United Kingdom. Sold for €140,000.