1963 Pontiac Catalina 421 Super Duty 'Swiss Cheese'
As the 1962 drag season drew to a close, it was obvious that Pontiac's position at the top of the Super Stock hierarchy was weakening. Ford, Chrysler and Chevrolet were gaining on the Chiefs with bigger engines and an ever-increasing supply of special parts, including weight-saving aluminum components and body panels. Pontiac engineers knew they had to have a lighter, more powerful car for 1963, and it came in the form of a special Catalina bearing some serious modifications. First the chassis was altered by cutting the top section away from the boxed rails, leaving a U-shaped section. Then approximately 120 holes were drilled in the sides of the frame rails, removing as much material as possible while maintaining a semblance of structural integrity, resulting in the "Swiss Cheese" moniker that remains today.
Further mods involved deleting the front sway bar and substituting an aluminum bellhousing and third member for the original pieces. It did not stop there: insulation and sound deadener was dropped, aluminum body panels were used wherever possible, including the hood, inner and outer front fenders, splash pan, radiator bulkhead, bumpers and brackets. Plexiglas windows were also available to further reduce the car's 3,308lb shipping weight. Even the cast iron exhaust manifolds were replaced with special high-flow aluminum units with integral cutouts. These proved suitable only for short periods of use given their tendency to melt under prolonged operation.
The 421 engine used in the Swiss Cheese Catalina was treated to 13.0:1 Mickey Thompson pistons, a #10 McKellar camshaft, lightweight valves in reworked heads, heavy duty rotating assembly and a lightweight flywheel. Carburetion was by twin Carter AFBs atop a special aluminum manifold. Rated at 410 horsepower, the engine brought the car's total weight to 3,308 pounds and propelled it to 12-second times at 120mph. The cars were originally equipped with the Borg Warner 3-speeds with aluminum tail sections and aluminum-case 4.30:1 Positraction differentials; most were converted to close ratio BW 4-speeds and either 4.56 or 4.88 rear gears.
In Detail
| | |
| --- | --- |
| | |
| type | Racing Car |
| built at | USA |
| production | 14 |
| engine | Super Duty 90º V8 |
| position | Front, Longitudinal |
| aspiration | Natural |
| block material | Cast Iron |
| valvetrain | Pushrod OHV |
| fuel feed | Dual Carter Carburetors w/Bathtub Ram Intake |
| displacement | 6899 cc / 421 in³ |
| bore | 103.9 mm / 4.09 in |
| stroke | 101.6 mm / 4.00 in |
| compression | 12.0:1 |
| power | 302.0 kw / 405 bhp @ 5600 rpm |
| specific output | 58.7 bhp per litre |
| torque | 576.2 nm / 425 ft lbs @ 4400 rpm |
| body / frame | Steel Body w/Aluminum Fenders & Hood over Pressed Steel Chassis |
| driven wheels | RWD |
| wheel type | Steel |
| front tires | 8.00×14 |
| rear tires | 8.00×14 |
| front wheels | F 35.6 x 15.2 cm / 14 x 6 in |
| rear wheels | R 35.6 x 17.8 cm / 14 x 7 in |
| f suspension | Control Arms w/Coil Springs, Hydraulic Shock Absorbers, Anti-Roll Bar |
| r suspension | 4-Link Control Arms w/Coil Springs, Hydraulic Shock Absorbers |
| wheelbase | 3048.0 mm / 120 in |
| front track | 1587.5 mm / 62.5 in |
| rear track | 1625.6 mm / 64 in |
| length | 5382.3 mm / 211.9 in |
| width | 1999.0 mm / 78.7 in |
| height | 1402.1 mm / 55.2 in |
| transmission | T-85 3-Speed Transmission |
Chassis & Sales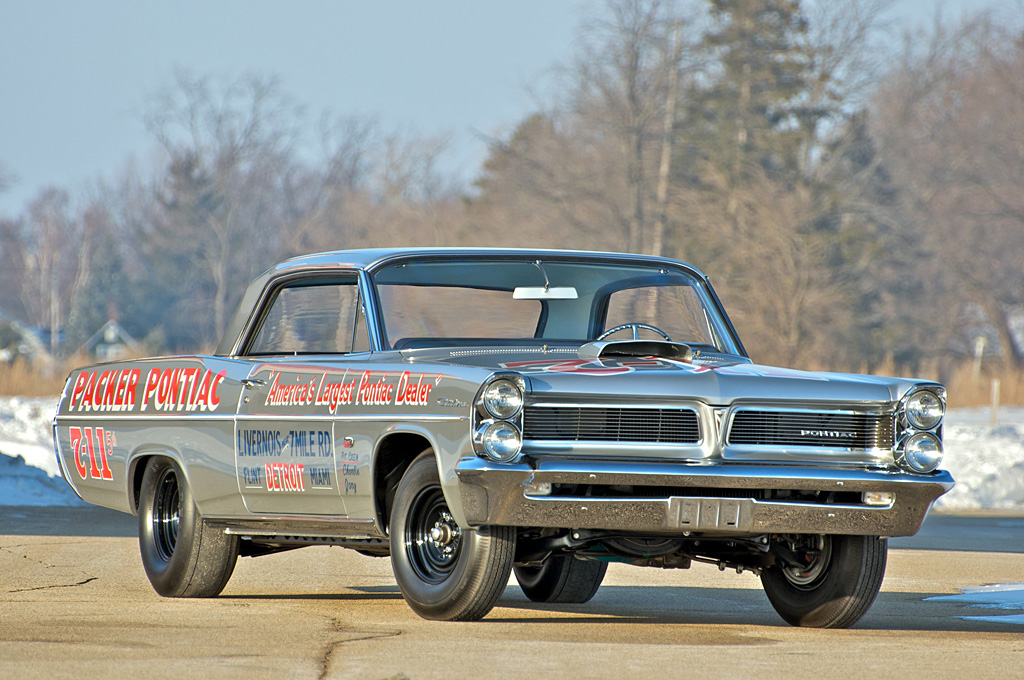 The 1963 "Swiss Cheese" Catalina offered here is perhaps the most famous of the 14 built before GM's racing ban. Sponsored by Packer Pontiac of Detroit, it was driven in 1963 by Packer employee Howard Maselles, who set the NHRA C/Stock class record with a 12.27 ET at 114.64 MPH, a record that stood for several years. The car was discovered in the late 70s by famed Pontiac collector and historian Randy Williams, and was the first of several historically significant Super Duty Pontiacs that formed his famous collection. After years of collecting a vast treasure trove of Pontiac NOS parts and pieces, Williams and his good friend Scott Tiemann of Supercar Specialties in Portland, MI, began restoring the car, which project was completed by Tiemann and Williams in 2000.
Today the Packer Pontiac "Swiss Cheese" Catalina is regarded as the reference point for this rare group of Pontiac lightweight factory racers, a monument to Randy Williams' dedication to preserving Pontiac history and to Scott Tiemann's world class craftsmanship and expertise. It is extensively documented by the records and photographs compiled by Howard Maselles, including the original "For Sale" flyer created by Maselles to sell the car at the end of the 1963 season. It was offered at Dana Mecum's 2010 Original Spring Classic Auction, but did not sell with a high bid of $475,000 USD.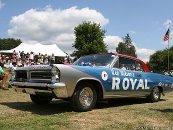 This car was driven by such legendary names as Jim Wangers. It was raced out of Royal Pontiac Dealership in Royal Oak, Michigan. The car was campaigned nationally and was very successful. The biggest victory was at the U.S. Nationals when it won its class, beating out stiff competition.
Story by Mecum Inc.