1964 Pontiac Banshee XP-833
Called Project XP-833, this concept was built by John DeLorean but never reached production. It was meant as a middle-model in-between Chevrolet's Corvette and Camaro. Like the Corvette it had a 2-seat fiberglass body, but was powered by a unique six-cylinder engine. Unfortunately, the bosses at GM thought the model was too similar to the Corvette and canceled production plans.
At their Scottsdale Auction, Barrett-Jackson offered the only Banshee Coupe experimental car. Below is the excerpt available from their catalogue:
"A vehicle design that challenged the limits of American engineering and thinking. John DeLorean's vision for a Pontiac 2-seat sports car, with long sweeping hood and short rear deck styling, screamed speed. This all original Grey hardtop, with Red interior, and Pontiac Overhead Cam six cylinder engine weighed in at only 2200 pounds and utilized a unique solid-body construction of exterior fiberglass and steel underbody. The Banshee had all the elements of an awesome performer. General Motors executives viewed the concept to be too much of a threat to the Corvette and as a result instructed DeLorean to cease additional development. Only two runable prototypes were built. The car's influence on future GM products spanned decades, with some of the styling cues seen on vehicles such as the 1968 Corvette. As part of automotive history, this specific Banshee was invited to be displayed at the 2001 Meadow Brook Hall Concours d'Elegance."
Again the car was offered at RM's 2010 Amelia Island sale with an estimate of $400,000-$600,000 USD. Below is an excerpt of the description:
In the early 60s, still handily out-selling Buick and Oldsmobile, Pontiac's leadership clamored for a sporty car to anchor its image. The Banshee concept, designated GM Project XP-833, was conceived in the nimble mind of John DeLorean with backing from Pete Estes. Positioned within GM as a response to Ford's pioneering Mustang, it exploited a two-seat niche not met by Ford's pony car. It fit neatly into GM's sporty car hierarchy between Chevy's Corvette and the coming Camaro.
Banshee was based on the mid-sized corporate A-body coil spring, live rear axle suspension that underpinned the redesigned 1964 Chevelle and LeMans. DeLorean gave it a 90-inch wheelbase steel platform chassis rather than the heavy A-body perimeter frame and clothed the convertible and coupe concepts with a dramatic fiberglass body conceived by PMD designer Jack Humbert under Chuck Jordan's corporate design leadership.
While concept cars frequently hint at what stylists are thinking, Project XP-833 was an unprecedented preview of future GM designs. Its long nose, short deck layout, swooping "coke-bottle" profile, broad grille with chrome bumper surround, steeply raked windshield, fastback roof terminating in a hint of a spoiler, bulging fenders and triple slit taillights in a raked cut off rear fascia foretold the lines of the third generation Corvette and future Pontiac identity cues. So did the hidden headlights and the suggestive power bulge on the hood.
Under the coupe's hood lay one of Pontiac's most imaginative engines. Based on the re-designed Chevrolet block, DeLorean's engineers came up with the single overhead camshaft cross-flow cylinder head to give their six better performance and a cool performance image. The high performance head was made practical by one of the first applications of a fiberglass-reinforced toothed timing belt to drive the camshaft. While it was offered in 215 hp "Sprint" tune with a four-barrel carburetor and high performance camshaft, in an attempt to assuage corporate's fears, the engine in the Banshee coupe prototype was the base 155 hp version with a single-barrel carb driving through a four-speed manual transmission to the live rear axle.
Other innovative ideas incorporated in the Banshee included cooling air intakes under the long nose and fixed seats with movable pedals. Finished in silver to show the dramatic body lines to advantage, it was upholstered in bright red and was fitted with Rally II styled wheels. Estes and DeLorean had two complete, running prototypes built, the coupe offered here and a convertible finished in white.
Although both the Banshee concepts survived, the project did not, killed by GM's committee management and adamant opposition from Chevrolet which vigorously defended its position as GM's purveyor of high performance sports cars.
Carefully preserved for nearly a half century, the prototype Pontiac Banshee coupe has survived essentially as it was last shown to GM management and driven by Pontiac executives. It was an invited participant among the prestigious classics and important concept cars at the Meadow Brook Concours d'Elegance in 2001. Its odometer shows barely 1,500 miles from new, and its condition is original throughout. Its original paint has been protected and preserved with clear coat. The convertible counterpart survives in an important long term collection of show and concept cars.
Story by Supercars.net, RM Auctions
In Detail
| | |
| --- | --- |
| submitted by | Richard Owen |
| type | Series Production Car |
| body stylist | Jack Humbert |
| engine | Inline-6 |
| valvetrain | SOHC |
| displacement | 3769 cc / 230 in³ |
| power | 123.0 kw / 165 bhp |
| specific output | 43.78 bhp per litre |
| bhp/weight | 165.17 bhp per tonne |
| body / frame | Fiberglas Body over Steel Chassis |
| front brakes | Drums |
| rear brakes | Drums |
| f suspension | Independent w/Coil Springs |
| r suspension | Live Axle w/Coil Springs |
| curb weight | 999 kg / 2200 lbs |
| wheelbase | 2286.0 mm / 90 in |
| transmission | 4- Speed Manual |
Auction Sales History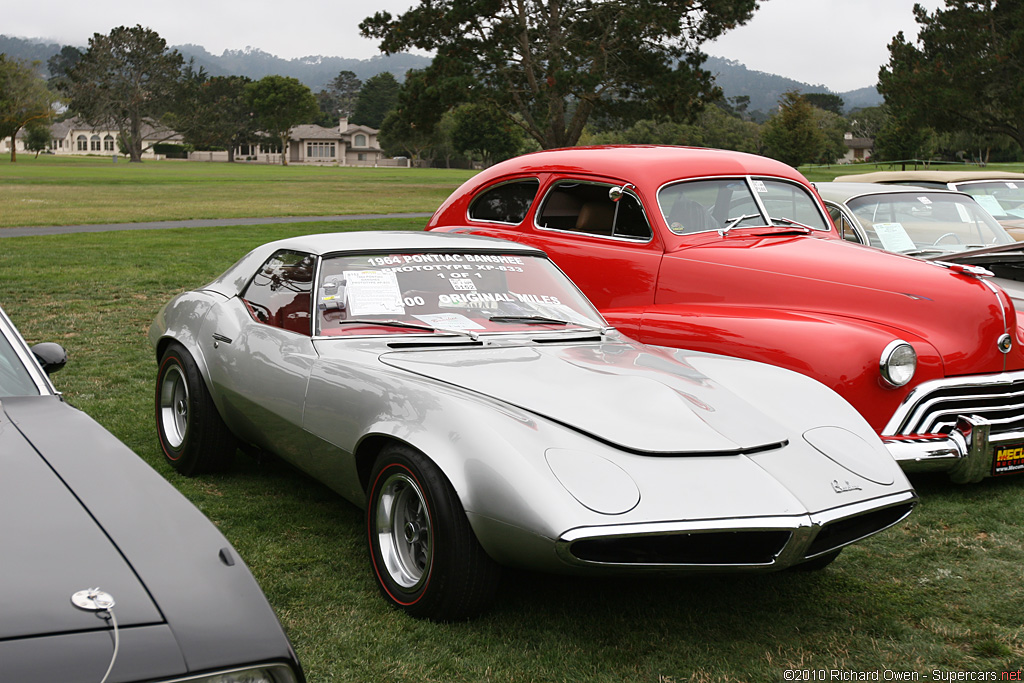 1964 Pontiac Banshee XP-833 – did not sell for $400,000. Based on the Chevelle and Le Mans A-body platform, the Banshee featured a Jack Humbert-designed fiberglass body on a 90-inch wheelbase steel platform chassis. Future Corvette and Firebird styling cues abounded, from its pronounced cabin-rearward Coke-bottle shape to the raked windshield, fastback roof, Kamm-back rear fascia with triple slit taillights and the split front grille below its pop-up headlights. Under the bulging hood, Pontiac engineers installed a specially-built cross flow head OHC inline six whose base rating of 155 horsepower was intended to allay corporate fears of "too much" power, yet was still enough to endow the 2,200-pound Banshee with respectable performance.  Auction Source: 2010 Mecum at Monterey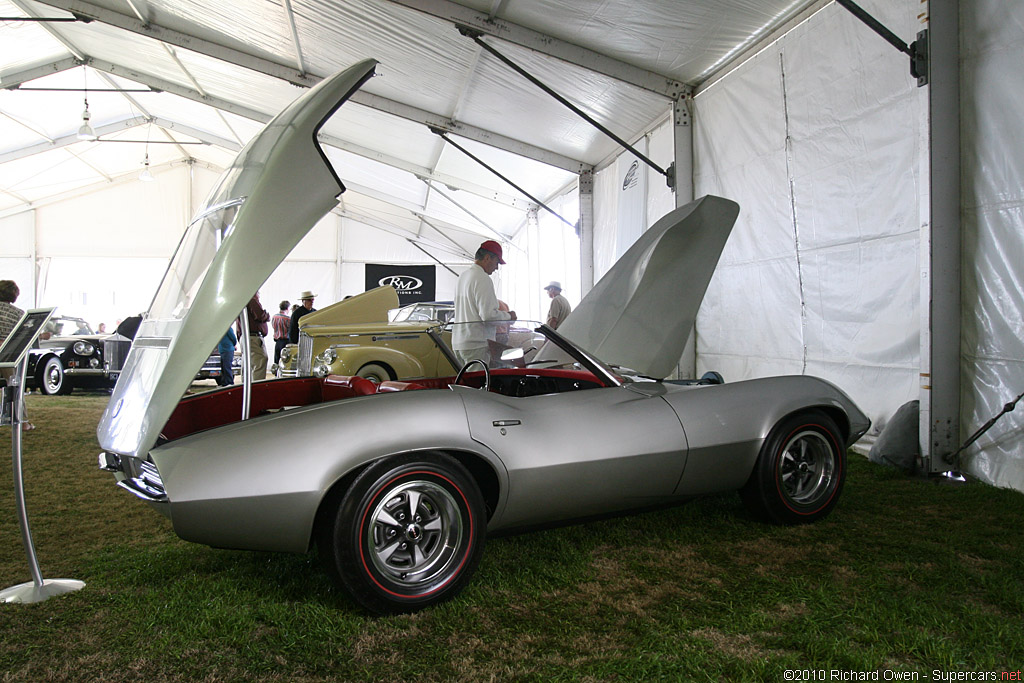 1964 Pontiac Banshee XP-833 – did not sell for $325,000. Carefully preserved for nearly a half century, the prototype Pontiac Banshee coupe has survived essentially as it was last shown to GM management and driven by Pontiac executives. It was an invited participant among the prestigious classics and important concept cars at the Meadow Brook Concours d'Elegance in 2001. Its odometer shows barely 1,500 miles from new, and its condition is original throughout. Its original paint has been protected and preserved with clear coat. The convertible counterpart survives in an important long term collection of show and concept cars. Auction Source: 2010 RM Automobiles of Amelia Island Auction