1965 Shelby Cobra 427 Roadster
The Shelby Cobra 427 Roadster is arguably the most famous and relevant of all the automotive legends. In 1962, the Shelby Cobra (or AC Cobra, in the UK) wrote its storied beginnings as a collaboration between Ford and British automaker AC with the release of the first production Cobra known as the CSX2001 / Mark I.
In the early 1960s, Ford endeavored to build a car that would oust the Chevrolet Corvette as the USA's most significant sports car. The American automaker was well prepared to take on their local rival and had already produced the engine they would take to the fight – a new, lightweight, thin-wall cast small-block 3.6L V8. However, they still needed a chassis to go along with the powerplant.
Here enters the charismatic Carroll Shelby – financially backed by Ford for this venture – who recognized the racing success of the AC Ace in the late 1950s and would end up brokering an agreement with the Britons who would manufacture a chassis based on the Ace, which Ford would then use its fledgling V8 engine to breathe life into.
Although the Ace was an aging design near the end of its life cycle, its lightweight structure would become the ideal complement in creating one of the greatest American sports cars ever made over the next few years. Thus, the Shelby Cobra was born; and the rest, as they say, is history.
Shelby Cobra 427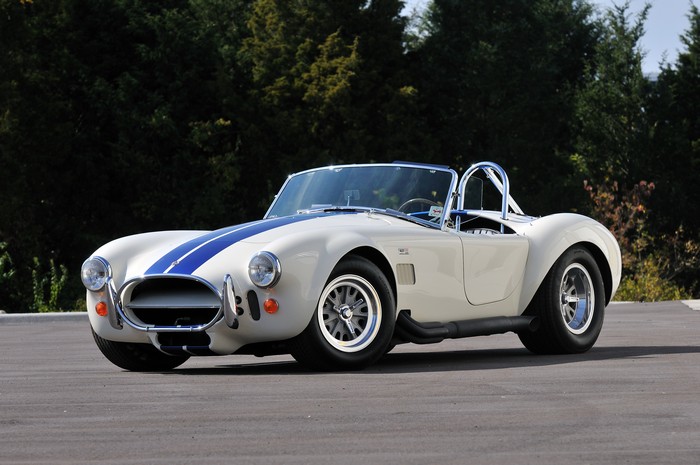 By 1963, the Cobra was subject to its first major design refresh (Mark II) and in 1965, a new chassis was designed (Mark III) for what would become the platform for the Cobra 427. Production of the Mark III Cobras began early in 1965, with the goal of homologation for the racing season that year.
However, only 53 out of the 100 required for homologation were produced by the time the deadline had passed, leaving Carroll Shelby with a fleet of non-road-legal, competition race cars which could not be sold or raced. He decided that the best recourse was to modify 31 of the competition cars to be allowed for road use, fitting them with windshields and detuning the engines.
These variants became known as the S/C – an abbreviation for 'Semi-Competition' – and would go on to become the fastest production cars in the world at that time. Today, original and mint condition examples of the S/C are sold for more than $2 million USD.
Engine & Performance
Specifications:
Engine Type & Size: Front-mounted 7.0L (427 cu. in.) Naturally Aspirated V8
Horsepower: 410 bhp (485 bhp in Competition Model) @ 6,000 rpm
Torque: 480 lb-ft @ 3,700 rpm
Drivetrain: Rear-wheel Drive
Transmission: Four-speed Borg-Warner Manual Transmission
0-60 mph: 4.2 seconds
The Shelby Cobra 427 gets its moniker from the 7.0L (427 cu. in.) Ford FE V8 engine it uses. This single 4-barrel 780 CFM Holley carbureted engine was originally designed to be used in race cars, with its most notable feature being its 'side oiler' design which prioritized oil distribution to the crankshaft and main bearings before the oil made its way to the cylinder head and valve train.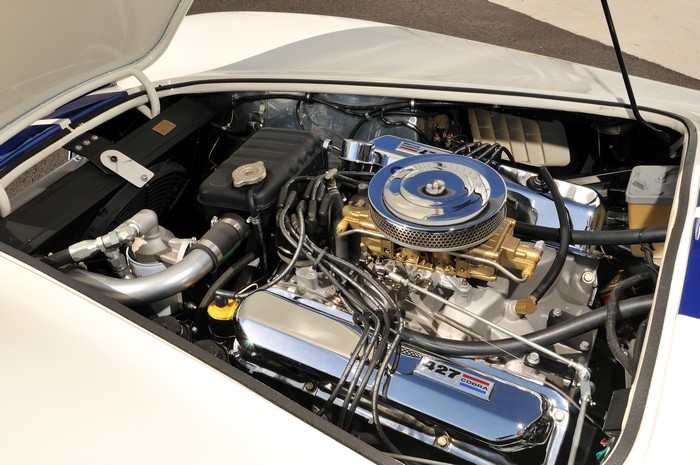 Ford produced two versions of the FE V8 for the Mark III Cobra – the standard version which produced 410 bhp @ 6,000 rpm and 480 lb-ft of torque @ 3,700 rpm, and the competition version which output an additional 75 bhp, for a total of 485 bhp.
Due to traction limitations, both engines propelled the Cobra from 0-60 mph in 4.2 seconds and enabled it to complete the standing ¼ mile in just 12.4 seconds. However, the extra horsepower in the competition version did allow for a higher top speed of 185 mph vs. the standard version's 164 mph.
Chassis, Handling, & Design
When it came to power and displacement, it was no secret that Americans strongly believed that more was always better. Acutely aware of this, Carroll Shelby knew that his biggest challenge with the 427 would be to find an acceptable common ground in the marriage of the 7.0L monster engine and the lightweight damsel of an AC chassis.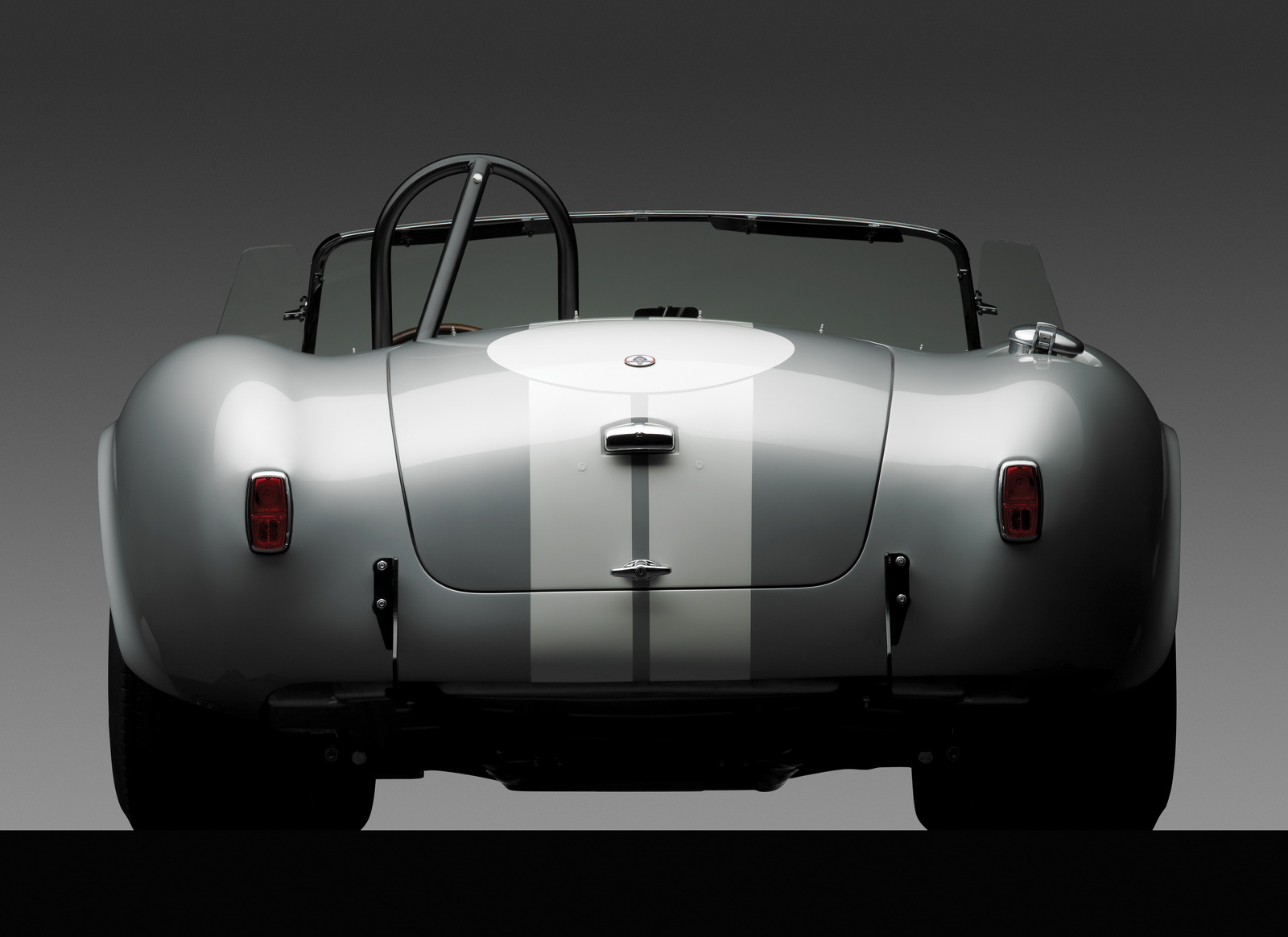 The Mark III chassis would continue to be largely based on the original AC schematic, with the overall design elements of the car remaining largely intact. Under Ford's direction, the new chassis would continue to be produced by AC and would feature a variety of changes deemed necessary to accommodate the engine's significant displacement boost.
The most notable improvements included bolstering the main chassis frame with 4" diameter tubing, up from the 3" tubing used before. On the exterior, new fenders were installed to house the now wider wheel track of the Mark III Cobra, while a reimagined front bumper provided a larger opening for the front radiator. These changes also gave the new Cobra a more aggressive appearance, befitting of its improved-self.
As far as the suspension was concerned, the transverse leaf springs were replaced with coil springs for the Mark III, although the use of equal length wishbones was carried over from the original chassis.
Based on these specifications, Ford received the first shipment of unpainted Mark III chassis from AC in October of 1964, allowing Carroll Shelby and his team their first opportunity in figuring out how to fit the engine and transmission in; which they did so, in January of 1965.
Variants
AC 289 Sports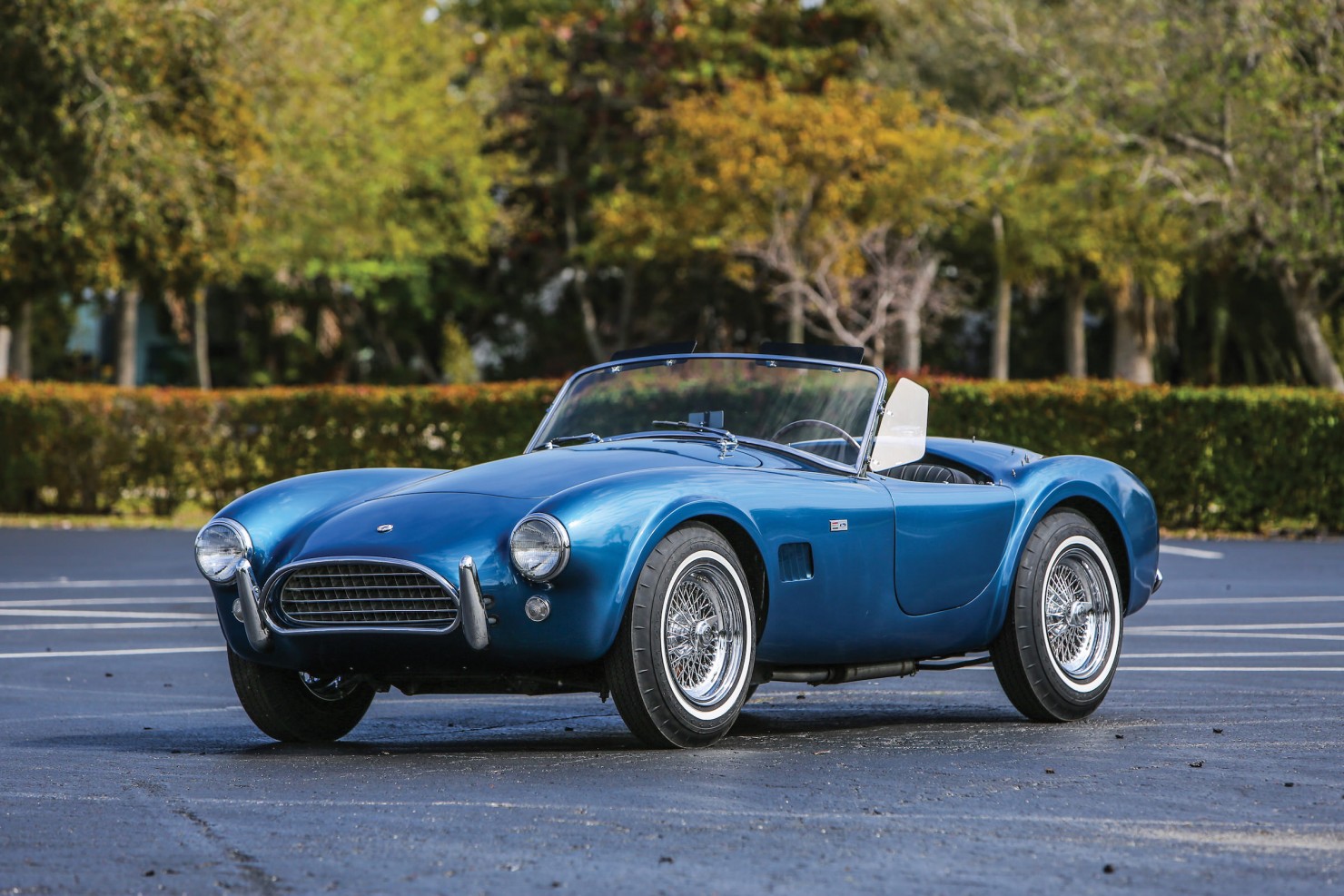 The Mark III Cobra was designed with, mostly, Americans in mind, with its 427 cu. in. engine at the forefront of the new platform. Though chassis producer AC was obviously on board with Ford for this new venture, they had realized there were broader markets in places like Europe, Australia and internationally that would be much more receptive to a more road-friendly, and economical version of the car.
They had the Mark III chassis fitted with a small block Ford 289 cu. in. V8 engine. This ended up producing an incredibly balanced sports car which didn't overwhelm the dextrous chassis with a robust engine. It was a hybrid of British chassis and American muscle which highlighted the best elements of each.
Dragon Snake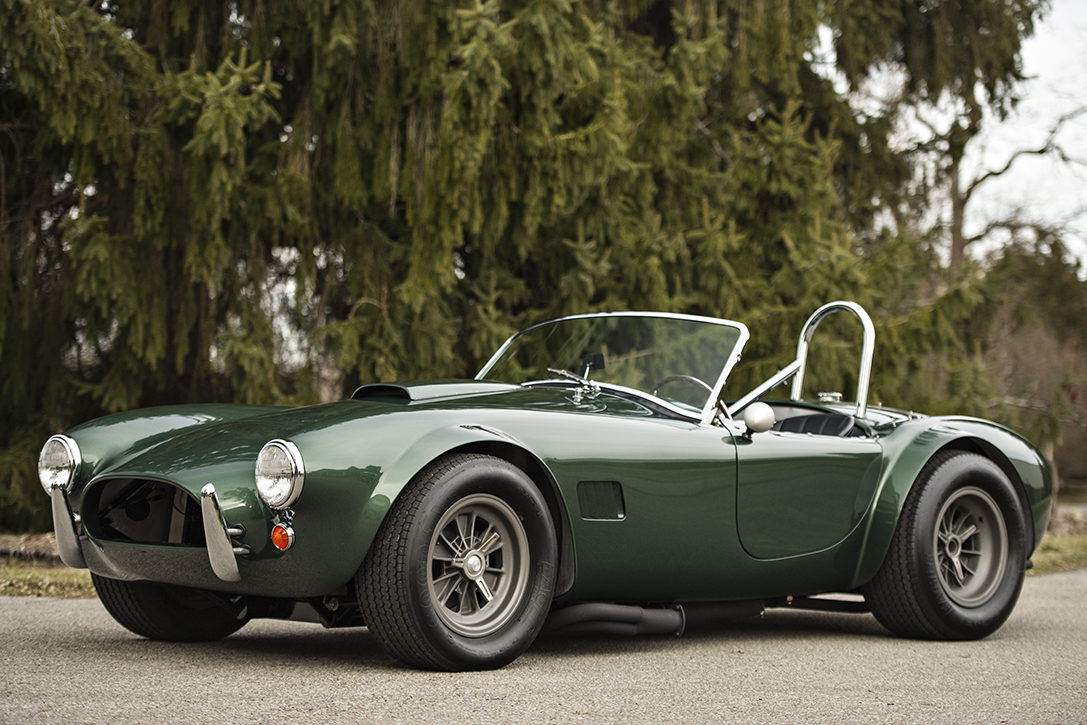 Recognizing the popularity of drag racing in America, Shelby introduced a drag package known as 'Dragon Snake', which fitted the car with a ¼-mile-winning arsenal made especially for straight-line racers.
This equipment included a 3.77 rear end, Koni shocks, a roll bar, shoulder harnesses and in some of the models, a 289 cu. in. engine. Each example was made to order and highly customizable, where clients could opt for different 'stages' which each came with its own selection of options.
The Dragon Snake won several NHRA National events with Bruce Larson or Ed Hedrick at the wheel. Only six of the 289 cu. in. Dragon Snake Cobras were built, making them amongst the rarest Cobras in existence. There are said to be 8 built in total.
Slalom Snake
The Slalom Snake version of the Cobra was designed with auto-cross events in mind, with notable upgrades including Koni struts, front and rear anti-roll bars and Goodyear Blue Streak Sports Car Special tires.
These are also extremely rare, with only two examples were produced. Both cars were finished in white exterior paint with red racing stripes down the middle, and red leather interiors. Each of the two owners opted for some bespoke features such as a hood scoop, side exhaust and a painted roll bar, which would have been amongst the only distinguishing features between the two.
Super Snake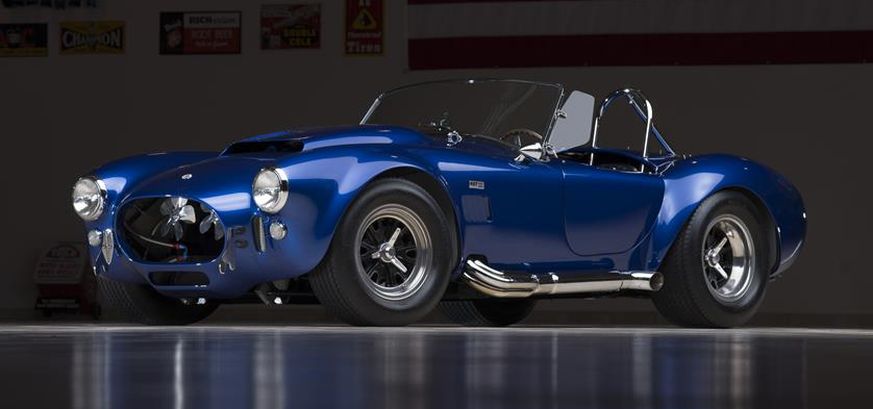 In 1966, Carroll Shelby embarked on a mission to create the "Cobra to End All Cobras". He had an S/C version converted into a special model which was called the Super Snake. As the mission objective clearly reveals, this Shelby would become the fastest and most brutal yet, thanks in large part to the addition of Twin Paxton Superchargers.
Other modifications include the use of the racing rear end, brakes and headers that were used in the competition car, though the car remained road-legal since it was based primarily on S/C infrastructure.
Only two examples were made, with one given to Carroll Shelby's close friend and comedian Bill Cosby. He would end up returning the car shortly after, remarking that the car was "too difficult to control". The second car was used as Shelby's personal car which he would sometimes enter into local races or shows.
Pricing
The price of the Shelby Cobra 427 brand new in 1965 was around $7,500 USD. However, other than being a historical tidbit, that information has become vastly insignificant when the economics come into play today.
Such is the car – so rich in history and exceptional in nature – that the prices of original Shelby Cobras at auction in recent years have become out of this world. It is common to see Mark III Cobras with a strike price starting at $800,000 USD with the more rare versions such as the S/C models, going for north of $2 million USD.
Then there are the truest of unicorns; the Super Snake which auctioned in 2007 for $5.3 million USD, and the very first Shelby Cobra ever made, going for a record $13.75 million USD (for an American car) in 2016!
Here is an article by RCN Magazine which lists some of the most expensive Shelby Cobras ever sold.
Performance & Specifications Summary
Model & Pricing Info
| | |
| --- | --- |
| Make | Shelby |
| Model | Cobra |
| Sub-model | 427 |
| Car type | Roadster |
| Introduced | 1965 |
| Units built | 343 |
Chassis, Suspension & Powertrain
Curb Weight
1,035 kg / 2,282 lbs
Layout
Longitudinal Front Engine, Rear-wheel drive
Cooling
Water-cooled
Body / Frame
Aluminum over Tubular Steel Frame
Suspension (F)
Equal Length Wishbones w/ Coil Springs over Dampers
Suspension (R)
Equal Length Wishbones w/ Coil Springs over Dampers
Steering
Rack-and-pinion
Brakes

(F) Discs, 297 mm

(R) Discs, 273 mm

Transmission
4-speed Manual
Engine, Output & Performance
| | |
| --- | --- |
| Engine | V8 |
| Displacement (Litres) | 427 cu. in. (7.0 L) |
| Aspiration | Naturally Aspirated |
| Power (hp) | 416 bhp @ 6,000 rpm |
| Power (hp) / liter | 59.4 hp / liter |
| Power (hp) / weight | 0.40 hp / kg |
| Torque | 480 lb-ft @ 3,700 rpm |
| 0-60 mph time | 4.2 seconds |
| ¼ Mile (standing) | 12.4 seconds |
| Top Speed | 164 mph (264 km/h) |
Gallery & Videos
Image Gallery
The Shelby Cobra 427 is a car that has an unmistakable appearance. Its race-derived, British-made tubular chassis would become the platform on which one of the world's most iconic cars was built. Boasting its flared wheel arches, a bulging stern, and a low stance with meaty tires, the car's presence is one that is menacing but also somewhat elegant in nature.
Over the years, there have been many copy cats which have ranged in quality from atrocious to outstanding; which in any case, speaks volumes about the fascination and allure this car commands. It is truly one of the most recognizable and timeless designs of an automobile, and will only continue to enthrall us for perpetuity.
Video Gallery
One of the better video reviews of the Shelby Cobra on YouTube was done by a channel called Vehicle Virgins. While the chosen video title is "THIS 1965 SHELBY COBRA IS FASTER THAN A LAMBORGHINI", the reviewer also remarks that the car "handles a lot better than I was expecting."
ThatDudeinBlue was lucky enough to have Superformance in California invite him to drive one of their Shelby AC Cobras for the chance of a lifetime. Built under the approval and certification of Shelby themselves, these cars are built completely from scratch in house down to the millimeter.
Donut Media tells us everything we need to know about Shelby the company, and its namesake founder Mr. Carroll Shelby. It is an informative and humorous documentary which chronicles the journey of the man – and his company – during his quest to attain sports car hegemony.
Car and Driver – November 1965 Issue
1965 Shelby Cobra 427
Not long ago, the Cobra 427 would have been the hot setup on any race track. Now it's a civilized street machine!
From the November 1965 issue of Car and Driver
JESSE ALEXANDER
Several years ago, the manufacturers of a posh Brit­ish grand touring car got a fair amount of mile­age out of the claim that their vehicle could accelerate from 0–100 mph and brake to a complete stop in less than 25 seconds.
This was indeed an impressively brief period of time during which all that change of velocity happened, but automotive development has come a long way since then and today perhaps half a dozen produc­tion cars of one kind or another can perform on that level. What's more, there are several automobiles being produced in the United States that will breakthrough that arbitrary 25-second barrier like the Germans through the Maginot Line. One is the 427 Sting Ray; another, most certainly, is the new 427 Cobra from Shelby American.
Alright, you say, if 25 seconds from 0–100–0 isn't so hot anymore, what the hell is? Twenty seconds?
Forget twenty seconds.
How about 18 seconds?
Not too bad, but the Cobra can do better.
How much better, wise guy?
How about maybe 14.5 seconds? Get that, 14.5 sec­onds to accelerate to 100 miles an hour and then stop again. Until something better comes along, that may have to stand as some sort of high watermark in performance for cars that are readily available to the general public.
That figure, mind you, is obtainable by the average Cobra driver with the regular 8.15 x 15 Goodyear Blue Dot street tires. Cobra test driver Ken Miles has done the job in as little as 13.8 seconds, and who knows how much improvement could be made with racing tires that would nullify some of the tre­mendous wheel spin?
The 427 Cobra does accelerate and decelerate at unbelievable rates, as the above figures should imply. What's more, it is a more civilized machine than the original 289 Cobra that brought the fabulous Shelby organization into being four years ago. It handles properly, thanks to a completely new all-independent suspension system that is traceable to the deft hand of Klaus Arning, the Ford Motor Company genius re­sponsible for the impeccable handling of the Ford GT.
Everyone at Shelby is more than candid about ad­mitting that the handling of the original Cobra was considerably less than optimum. In fact, C/D was once informed by a Shelby lieutenant that the old tubular AC chassis had considerably less torsional rigidity than the rail frame of a Model T! Coupled with this flexible frame was an antiquated suspension system, designed in the post-war years, that utilized leaf springs and lower wishbones.
One staff member recalls a partic­ularly painful day in southern California when he was outrun down a bumpy orange grove lane by an MG 1100. "There I was, with all that Cobra horse­power, and the rear wheels were bouncing and leaping around so badly that I could barely keep the beast on the road, much less catch up to the MG. It was terrible!"
In Detail
| | |
| --- | --- |
| engine | Water Cooled V8 |
| position | Front Longitudinal |
| aspiration | Natural |
| valvetrain | OHV 2 Valves / Cyl |
| displacement | 6997 cc / 427 in³ |
| bore | 107.4 mm / 4.23 in |
| stroke | 96.0 mm / 3.78 in |
| compression | 11.5:1 |
| power | 305.7 kw / 410 bhp @ 5600 rpm |
| specific output | 97.6 bhp per litre |
| bhp/weight | bhp per tonne |
| torque | 626.39 nm / 462.0 ft lbs @ 2800 rpm |
| body / frame | Aluminum over Tubular Steek Frame |
| driven wheels | Front Engine / RWD |
| front tires | 185×15 |
| rear tires | 195×15 |
| front brakes | Girling Discs |
| f brake size | mm / in |
| rear brakes | Girling Discs |
| r brake size | mm / in |
| steering | Rack & Pinion |
| f suspension | Unequal Wishbones w/Coil Spring over Dampers |
| r suspension | Unequal Wishbones w/Coil Spring over Dampers |
| curb weight | 1035 kg / 2282 lbs |
| wheelbase | 2286 mm / 90.0 in |
| front track | 1397 mm / 55.0 in |
| rear track | 1372 mm / 54.0 in |
| length | 3962 mm / 156.0 in |
| width | 1727 mm / 68.0 in |
| height | 1245 mm / 49.0 in |
| transmission | 4-Speed Manual |
| gear ratios | 2.20:1, 1.66:1, 1.31:1, 1.00:1, :1 |
| final drive | 3.54:1 |
| top speed | ~265.5 kph / 165.0 mph |
| 0 – 60 mph | ~4.5 seconds |
| 0 – 100 mph | ~10.3 seconds |
| 0 – 1/4 mile | ~12.4 seconds |
Auction Results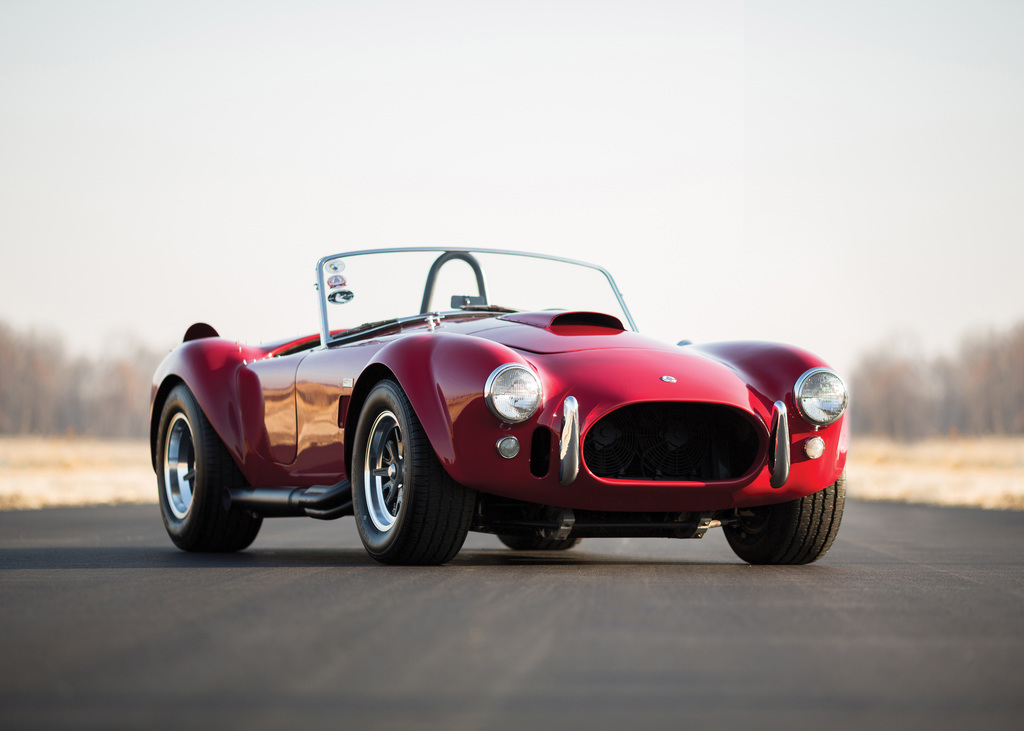 1966 Shelby 427 Cobra CSX3102 – sold for $990,000 The famous Jones Brothers' "Mr. Formal Wear" Cobra. A genuine, well known and respected 427. Original Shelby-supplied, Le Mans-modified bodywork. Original interior, top, side curtains, and Halibrand wheels. Subject of a six-page feature article in the SAAC World Registry. Auction Source: Arizona 2015 by RM Auctions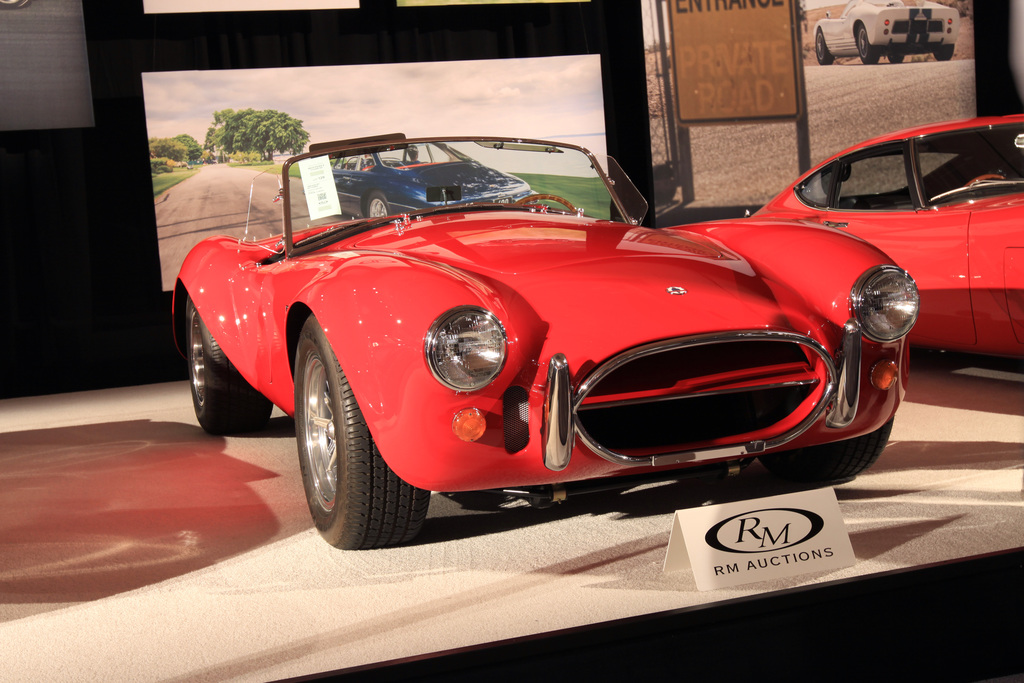 1966 Shelby 427 Cobra CSX3359 – sold for $1,705,000 Only 1,819 original miles. The second to last 427 Cobra produced. History since new documented by the SAAC Registry. An exceptional road going Shelby Cobra. Incredibly authentic with unquestioned purity, including original "sunburst" wheels and blue dot tires. Formerly owned by noted collectors John Mozart and Lawrence Bowman. Auction Source: 2014 Monterey by RM Auctions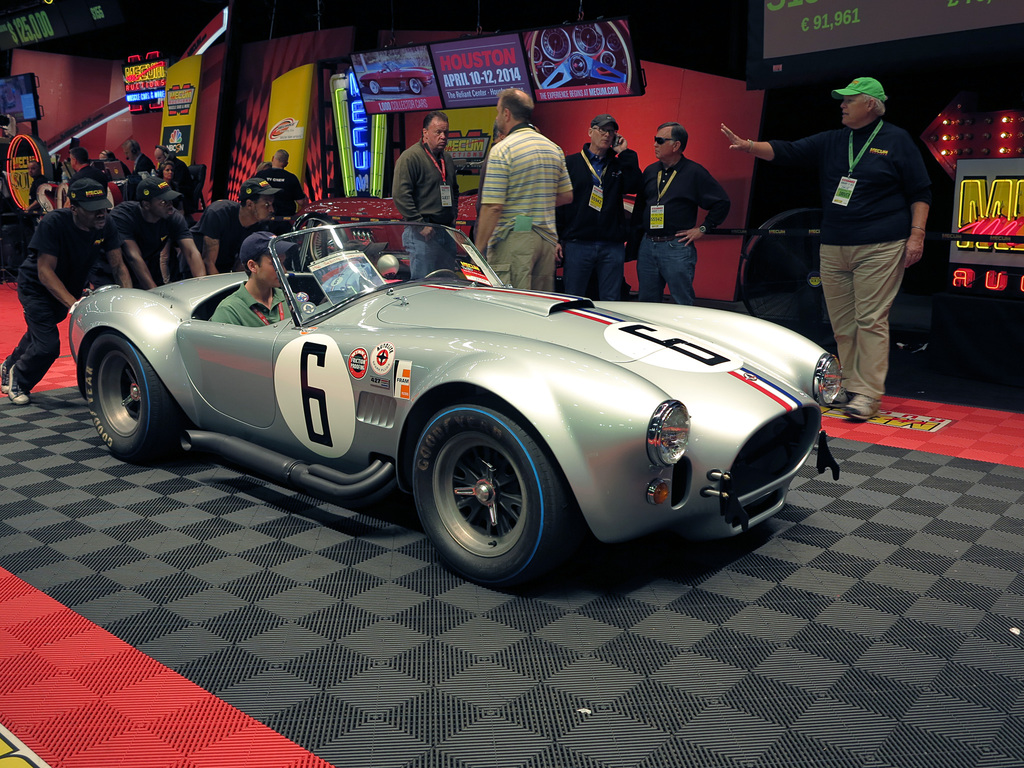 1965 Shelby 427 Competition Cobra CSX3016 – did not sell for $1,700,000 1965 Shelby Cobra CSX3016. 1 of 23 factory competition Cobras. Class winner 1966 12 Hours of Sebring. Driven by Bob Grossman. Broke track record at Watkins Glen in 1966. Raced at Lime Rock and Bridgehampton, NY. Restoration done by Shelby experts Mike McCluskey and Billy Andrews. Painted in Original Sebring winning colors. CSX listed in both Shelby Registry and Shelby American Guide 1st edition, pg. 47. Auction Source: Kissimmee 2014, #WhereTheCarsAre by Mecum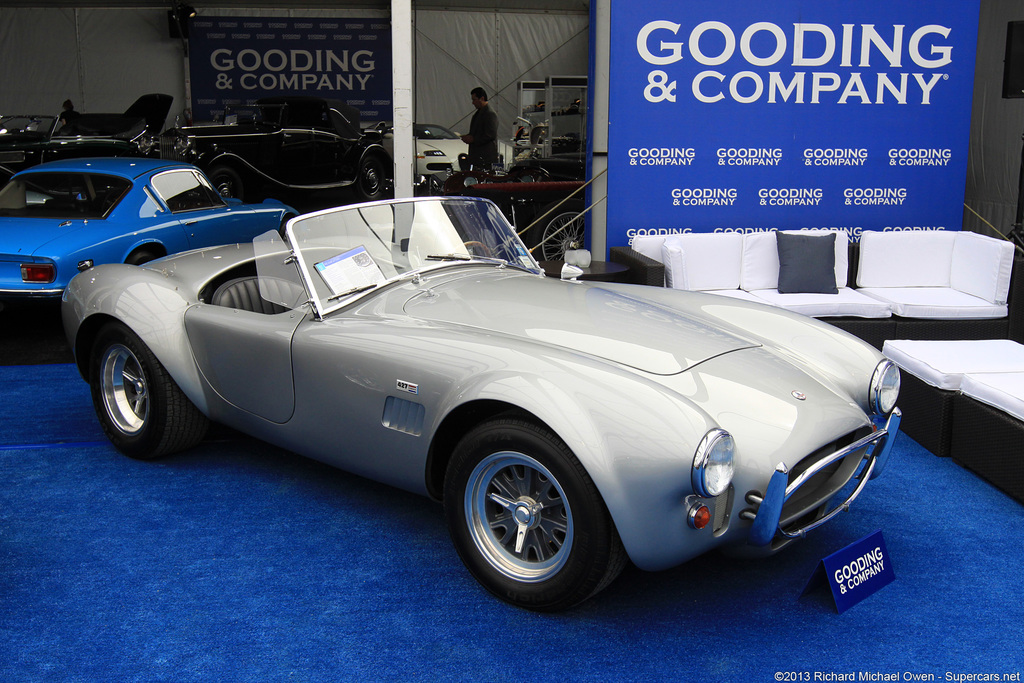 1966 Shelby 427 Cobra CSX3166 – sold for $1,100,000 One of Only 260 Street 427 Cobras. Early-Production Car with Desirable Features. Well-Documented Chain of Ownership. Presented in Rare Factory-Delivered Color Scheme. Believed to Be a Genuine 24,000-Mile Example. Recent Service by Shelby Specialist HRE Motorcars Inc. Offered with Correct Sunburst Alloy Wheels and Goodyear Blue Dots. Perfect Entry for Leading Tours, Concours, and Marque Gatherings. Auction Source: Gooding & Company's 10th Anniversary 2013 Pebble Beach Auction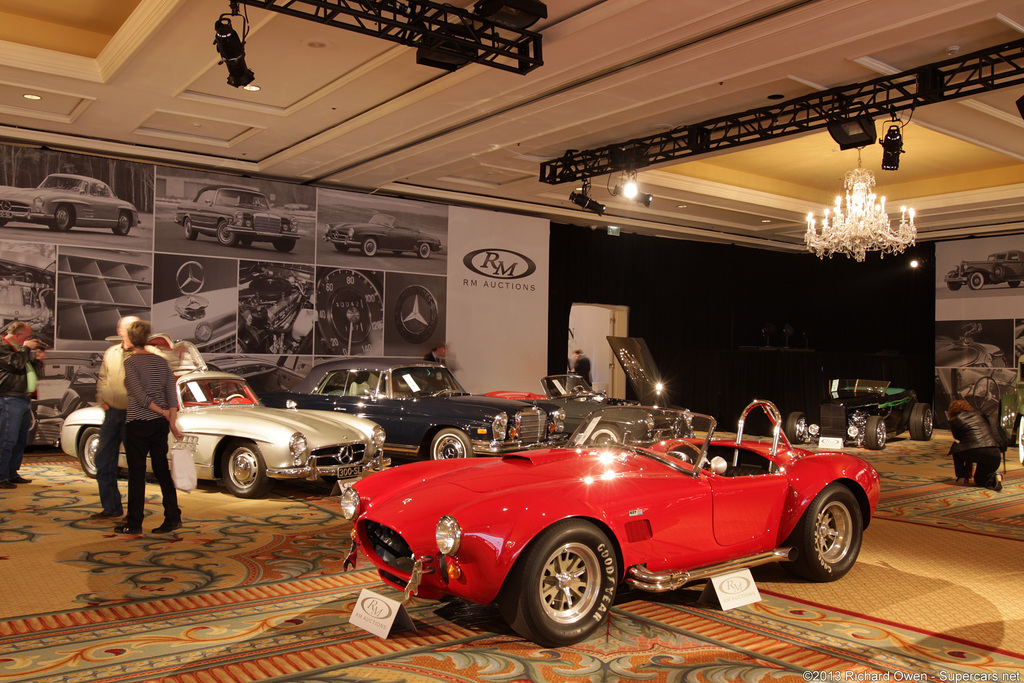 1966 Shelby 427 Cobra CSX3259 – sold for $800,000 Documented, well-known, "no stories" history. Recently and completely restored by Stewart Hall. 520 horsepower, 427 "side-oiler" V-8 with four Weber carbs and aluminum heads. Outstanding fit and finish; beautifully detailed throughout. Auction Source: 2013 Amelia Island by Rm Auctions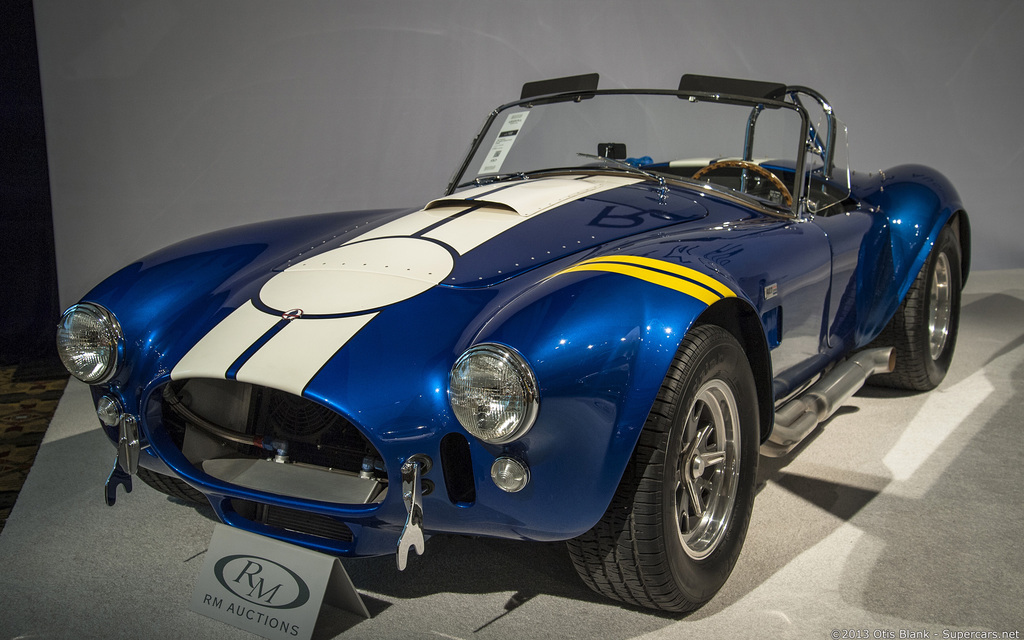 1967 Shelby 427 'Semi-Competition' Cobra CSX3045 – sold for $2,007,500 One of only 29 Semi-Competition Cobras built. Genuine and fully documented. Ex-John Mozart Collection. With only 29 Shelby 427 Semi-Competition Cobras built, these raucous roadsters are seldom offered publicly. It is even more unusual to find a genuine, 18,000 mile S/C with this car's perfect provenance and stunning appearance, providing a very tempting purchase consideration for a serious collector of American racing history. Auction Source: 2013 Arizona Auction by RM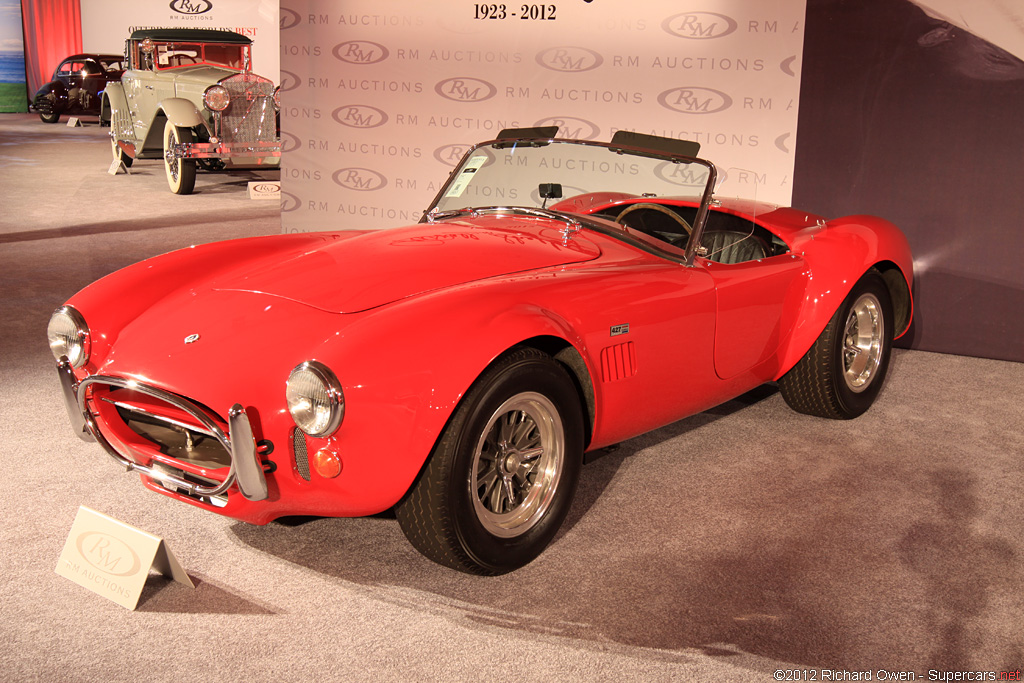 1966 Shelby 427 Cobra CSX3293 – sold for $819,500 A genuine, no stories example with 21,000 miles reported from new. Owned in period by noted collector and racing enthusiast Bruce Canepa. Recent cosmetic restoration by marque specialists. Auction Source: Monterey 2012 by RM Auctions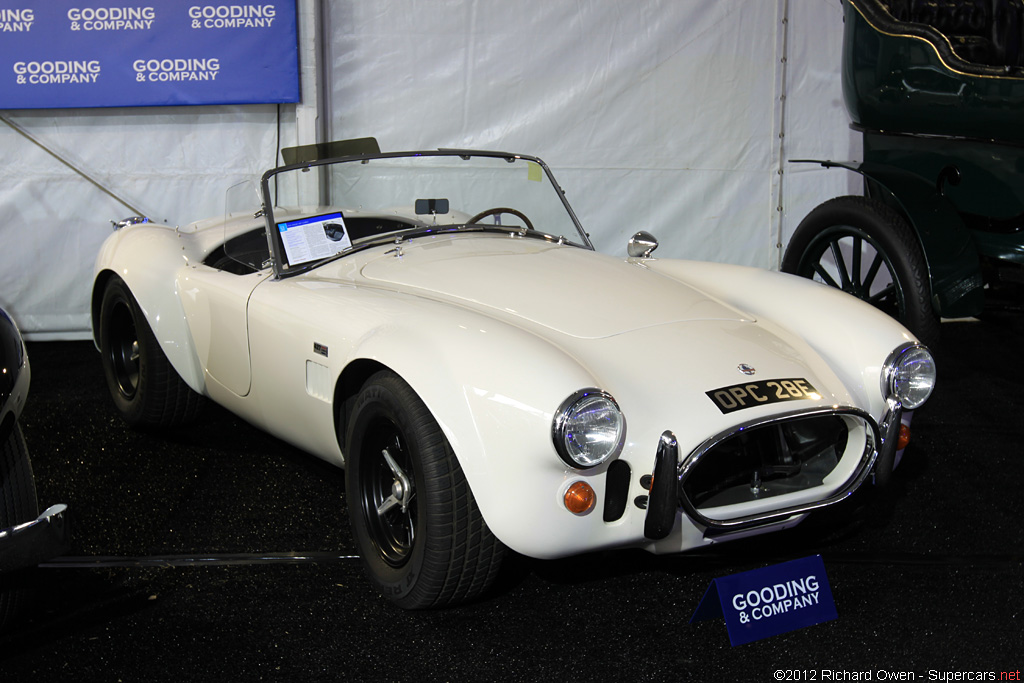 1966 Shelby 427 Cobra CSX3216 – sold for $825,000 A Superb Example of the Ultimate Shelby Road Car. One of Only 260 Street 427 Cobras Built. Impressively Documented, Unbroken Provenance. Faithfully Presented in Factory-Delivered Color Scheme. Beautifully Preserved Original Interior. Featured in Thoroughbred & Classic Cars, Octane and EVO. Recent Restoration Work by Cobra Automotive, Bob Houghton and JD Classics. Offered with Original Owner's Manual, Extensive History File and Complete Restoration. Auction Source: 2012 Pebble Beach Auctions by Gooding & Company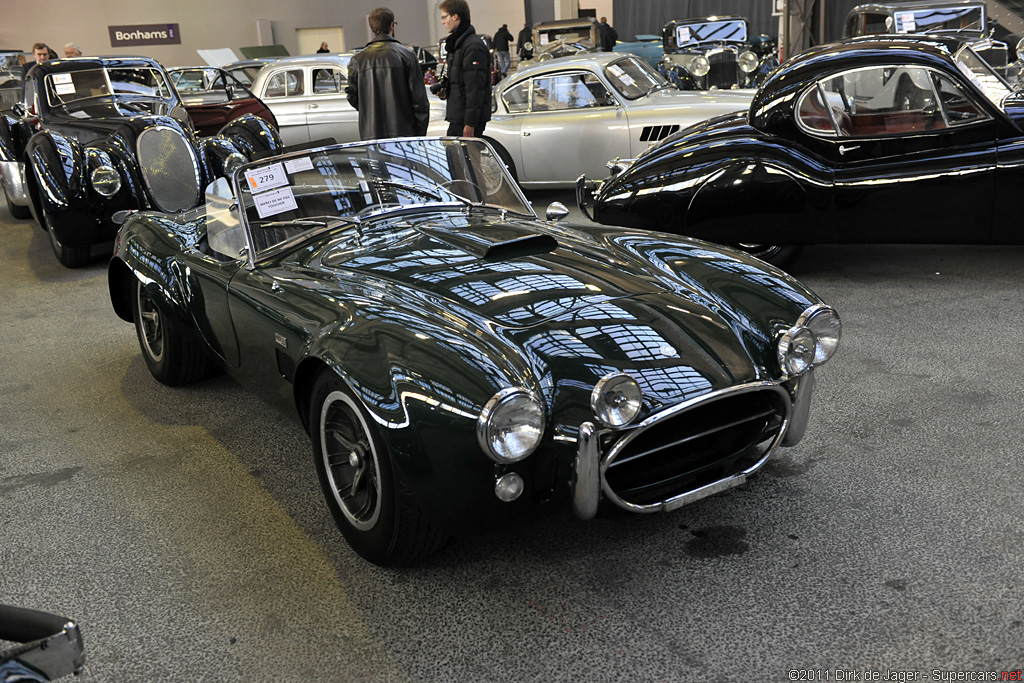 1966 AC Shelby Cobra '427' Roadster Chassis no. CSX3249 – sold for €471,500 Chassis number 'CSX3249' is listed in the Shelby World Registry. Originally finished in green with black interior, the car was invoiced to Shelby American on 10th June 1966. The Cobra was then despatched to Ford of Belgium for well-known endurance racer Claude Dubois, Shelby American's official distributor for that country, who was billed on 17th October 1966. Auction Source: The Paris Sale 2012 by Bonhams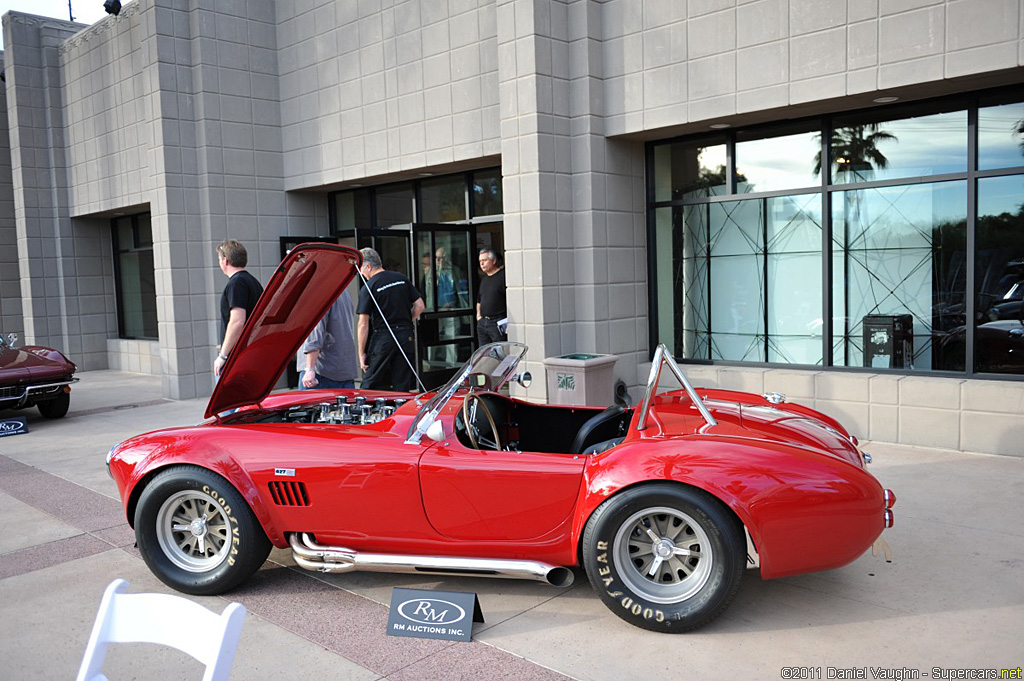 1966 Shelby 427 Cobra CSX3259 – sold for $643,500 Highly documented, well-known "no stories" history. Recently and completely restored by Stewart Hall, 520 horsepower, 427 "side-oiler" V-8 with four Weber carbs and aluminum heads, Outstanding fit and finish, beautifully detailed throughout. This is an exceptional opportunity to acquire an outstanding 427 Cobra with excellent documented history, invoices dating back nearly 40 years and a beautiful restoration to the highest standards. Auction Source: 2011 Automobiles of Arizona by RM Auctions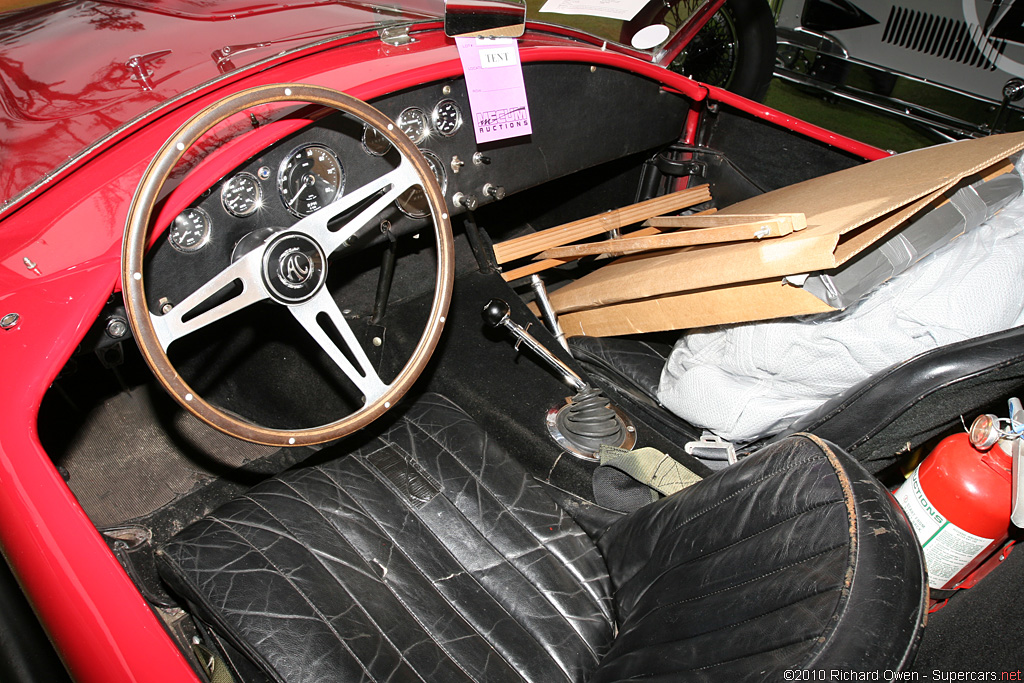 1966 Shelby Cobra 427 Roadster CSX3102, 427/425HP – sold for $650,000 This car, CSX3102 is the real thing. The second street 427, with many competition features, it's documented in detail on pages 523/524 of the World Registry of Cobras and GT40s 4th ed. Its first purchaser was a Minnesota buyer whose name remains unknown. Sadly, on a rainy afternoon, he rolled the Cobra, and damaged some of its body panels. Dennis Henningsen, CSX3102's second owner, had the chassis magnafluxed and found no damage. Auction Source: 2010 Mecum at Monterey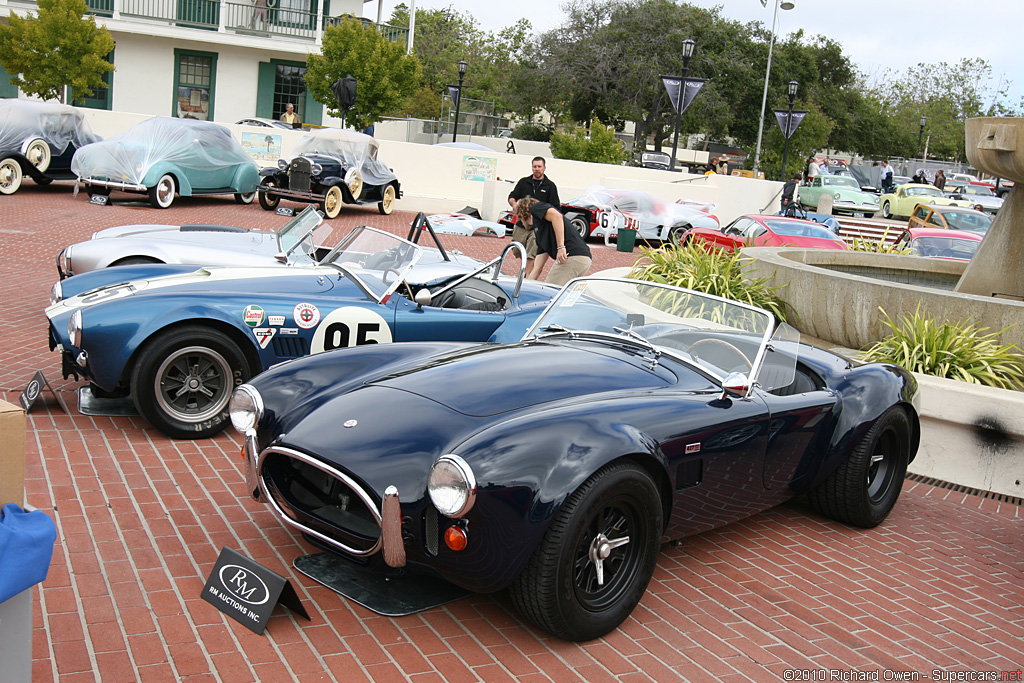 1967 Shelby 427 Cobra CSX3275 – sold for $715,000 Authentic, low mileage example of the powerful Big Block Cobra. As offered today, the Cobra possesses a clean, simple and unique look that escapes many other 427 Cobras in their presentation. It remains in excellent cosmetic and mechanical condition throughout, and with a well-known, trauma-free history, CSX 3275 is ready to be driven, shown and thoroughly enjoyed by its next owner. Auction Source: RM Auctions' 2010 Sports & Classics of Monterey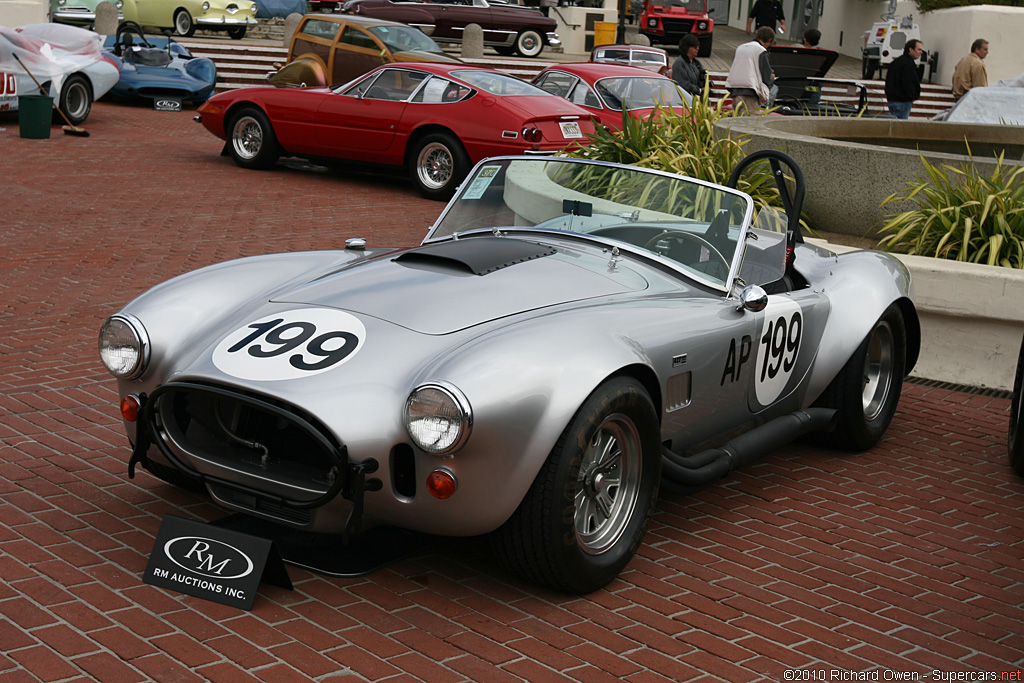 1967 Shelby 427 Cobra CSX3265 – did not sell for $540,000 Two owners from new. Original Holman Moody 427 side-oiler producing well over 550 bhp. As a low mileage example still showing less than 11,000 miles from new, CSX 3265 still retains its factory original body panels, most of the interior, all chrome, head and tail lamps, wiring harness, Serck radiator and cooling fans, transmission shifter and linkage, 3:31 rear end gear and even the soft top frame, top, wind wings, side curtains, tonneau cover and jack. Auction Source: RM Auctions' 2010 Sports & Classics of Monterey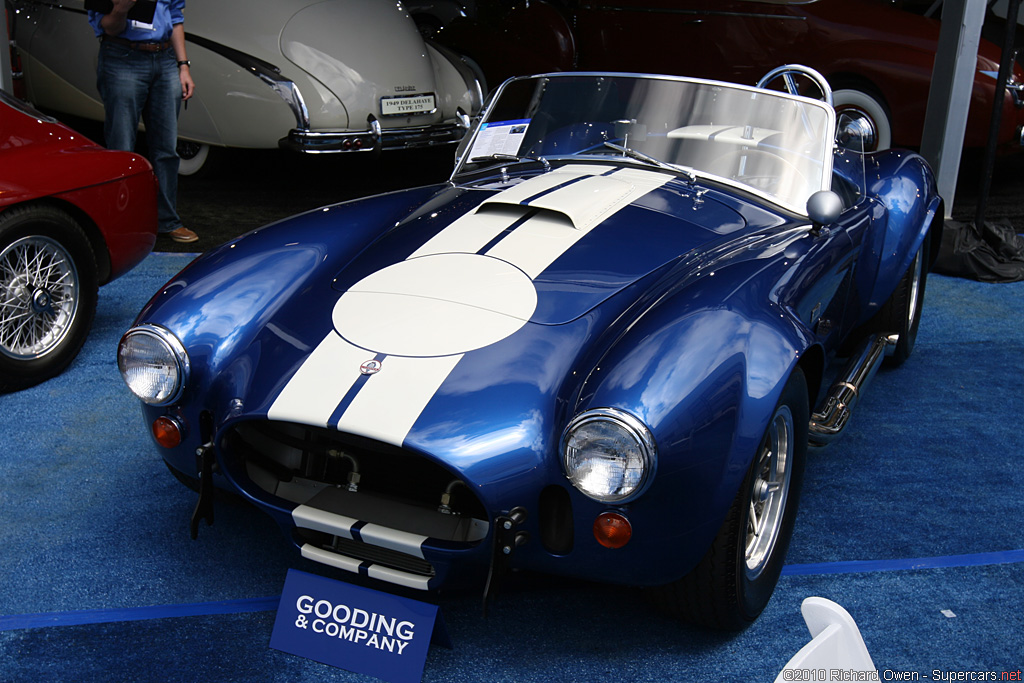 1967 Shelby 427 Cobra CSX3307 – did not sell for $632,500 This muscular 427 Cobra looks to be a spectacular specimen in every respect from the gleaming Guardsman Blue paint, to the correct black leather interior, to the spotless engine bay. The correct Lucas and Smiths gauges are in place, as are the characteristic pin-drive Halibrand wheels. The Cobra has been fastidiously maintained, serviced and exercised on a regular basis, keeping the mechanical systems dialed-in. Auction Source: 2010 Gooding & Company Pebble Beach Auction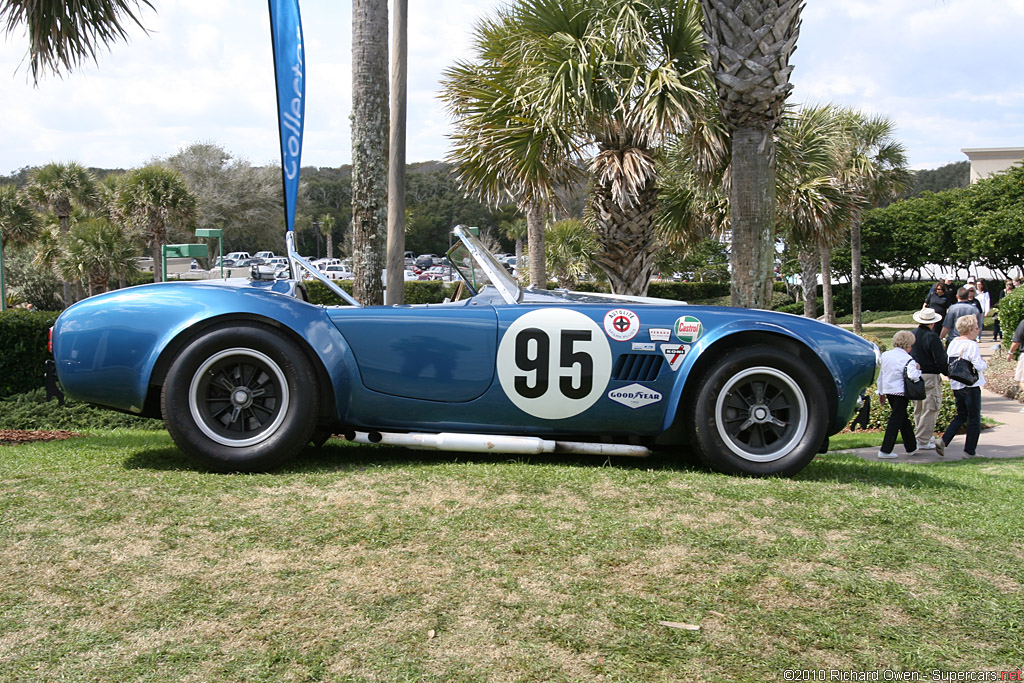 1964 Shelby Cobra USRRC Roadster CSX2557 – did not sell for $1,275,000 CSX 2557, offered here, is one of those six 1964 USRRC cars. One of only two of the USRRC Cobras completed with dual side pipes on each side of the car, it was entered in the season-ending FIA race, the Bridgehampton Double 500 in September 1964. Driven there by Charlie Hayes, it failed to finish when a carburetor drain plug worked loose, dumping its fuel on the track and emptying the tank on lap 48 of the 110-lap race. Auction Source: 2010 RM Automobiles of Amelia Island Auction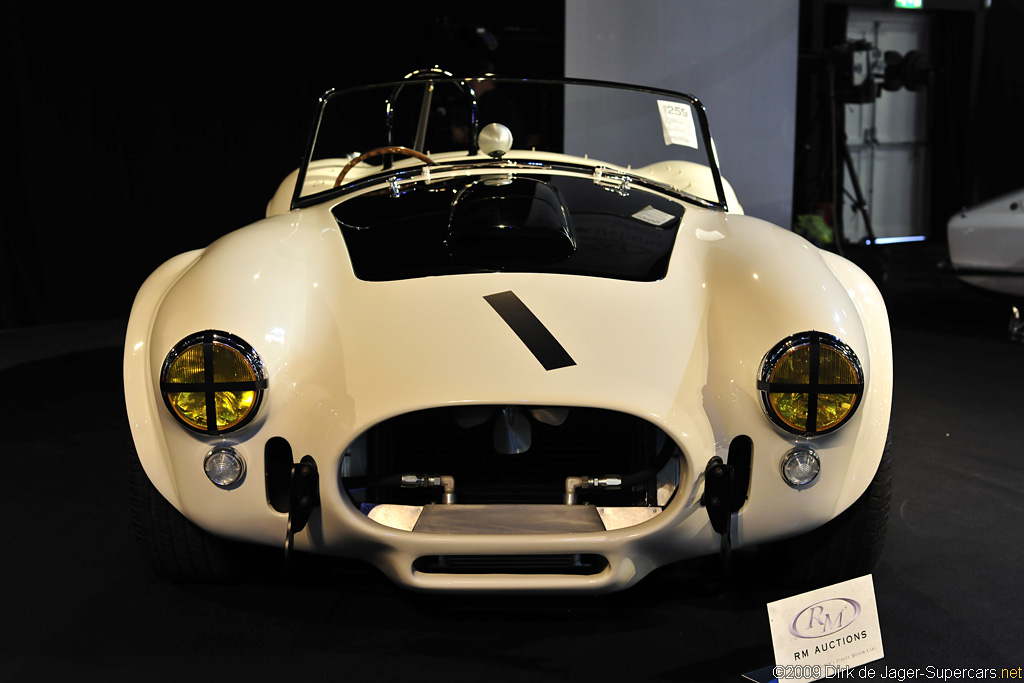 1965 Shelby 427 Competition Cobra CSX3006 – did not sell for €590,625 The Shelby Cobra offered, chassis CSX 3006, is one of the aforementioned chassis sold to private teams. According to the Shelby American World Registry, it was billed to Shelby American on 31 December, 1964. The work order was opened on 25th January to build CSX3006 for William G. Freeman of Muncie, Indiana. Upon Freeman's request, the car was finished in metallic blue, slightly lighter than the team cars, and had gold stripes. Auction Source: 2009 RM Auctions' Automobiles of London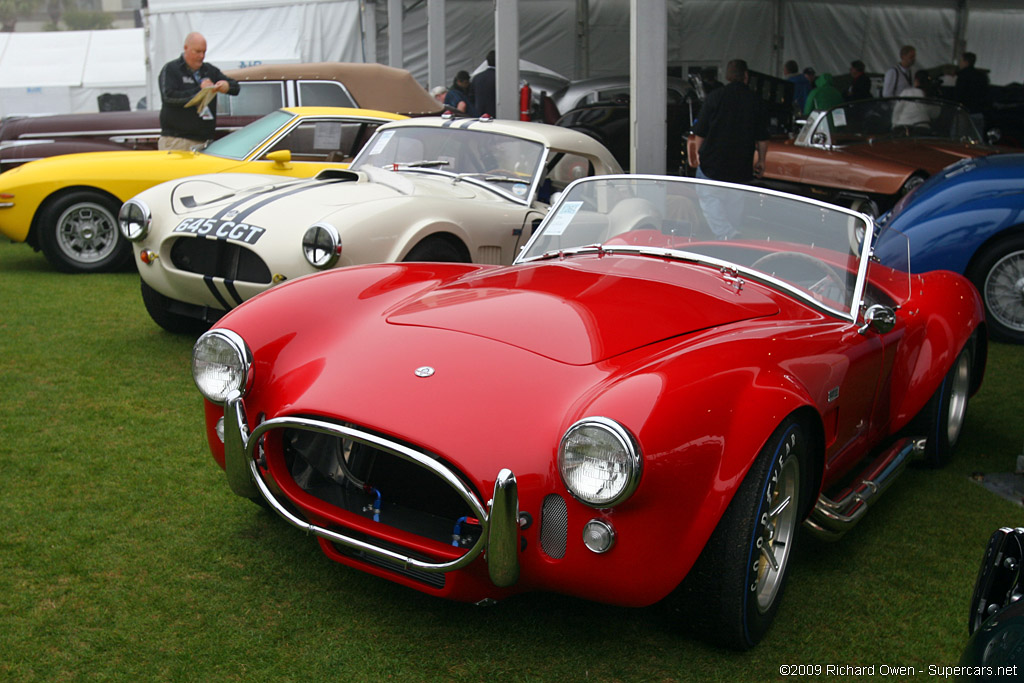 1966 AC 427 Cobra 'side-oiler' CSX3187 – sold for $675,000 When considering the virtues of CSX 3187, the list is nearly endless. Not only was it an outstanding, undamaged original car with known ownership history and less than 6,000 miles from new, it has been owned by the same enthusiasts for three decades, who have dedicated themselves to an unparalleled video-documented restoration, resulting in a Best in Class award at Amelia Island. Auction Source: 2009 Automobiles of Amelia Island RM Auction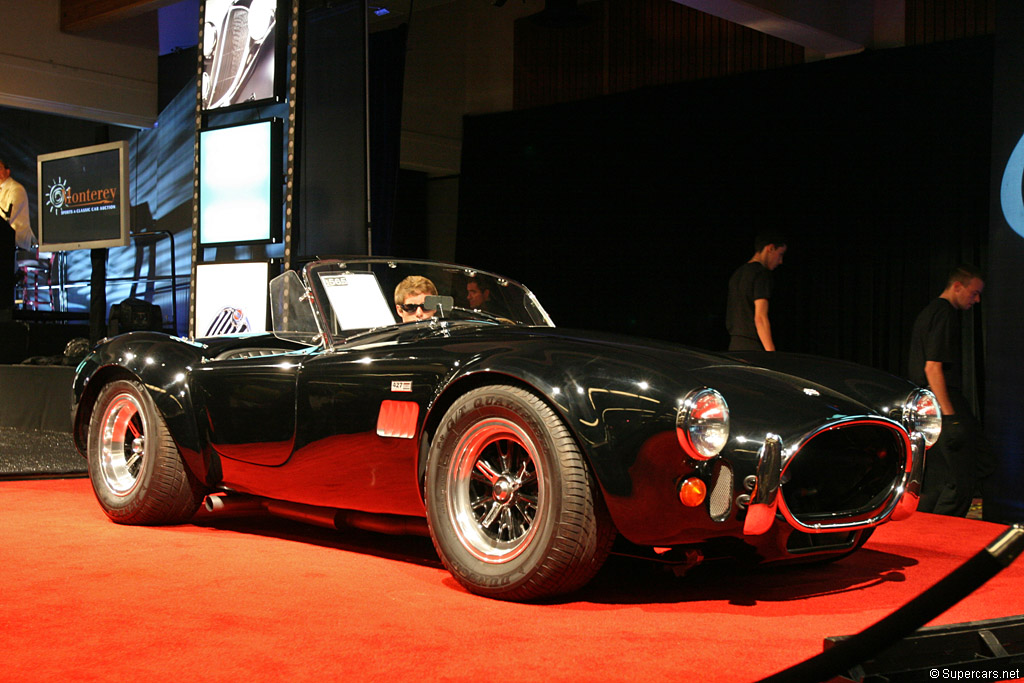 1966 Shelby Cobra 427 CSX3271 – sold for $770,000 The Cobra offered, in addition to its excellent quality and stunning presence, benefits from an extensive documented ownership history detailed in the world registry of the Shelby American Automobile Club. Invoiced on April 10, 1966, CSX 3271 was delivered new, along with CSX 3284 and a Group 1 Mustang, to Hayward Motors in Hayward, California on October 10, 1966. At $6,145, the cost of the Cobra was staggering when compared to the $50 shipping price.
Mr. Wayne Skiles of Oakland, California subsequently purchased the car in the early 1970s but by late 1975 advertised it for sale: "AC Cobra 427. Exceptional doesn't nearly describe this 30,000-mile car. Straight, clean, and reasonably priced at $18,000. Many extras. If you want a 427, you won't find a better one for sale. Consider a later model Miura or Daytona. No flakes!" This casual advertisement for such a spectacular sports car was answered by Mr. Lonnie W. Stovall of Lake Tahoe, who met Mr. Skiles and purchased the car on the spot. Auction Source: 2007 Monterey Preview