1966 Jaguar E-Type Frua Coupe
In 1961, Sir Williams Lyons released a 'cornerstone' product which would be the most exciting Jaguar since the XK120. First previewed at the Parc des Eaux Vives, and later launched at the Geneva Auto Show, the breathtaking E-Type was highly desired among the press. The car's styling, clearly influenced by Jaguar's motor sport products, combined with sporting performance and an affordable price to give the E-Type huge appeal. It became Jaguar's leading product, with almost 5000 examples being made each year.
Frua's Jaguar
Pietro Frua was one of Italy's leading auto designers, creating prototypes and production vehicles for companies such as Fiat, Maserati and Glas. When John Coombs, a Jaguar dealer and racehorse owner, approached Frua to make a unique car, the E-Type was an obvious choice.
Frua worked on giving a 1965 fixed-head coupe, chassis 1E 21041, his unmistakable lines. Most of his modifications were made to the front nose and rear, leaving the rest of the car as Malcolm Sayer originally designed it. The nose of 1E 21041 was shortened by ten inches and given a treatment similar to the Alfa Romeo Duetto Spider. Accommodating the new front end was a scoop replacing the bulge normally found on the hood. To cope with the additional frontal air flow, the wheel arches were opened to release the extra air.
Like the front, the rear of the car was also shortened substantially, resulting in a length that was twenty inches shorter than the original. Frua also increased visibility with a larger rear window.
In the end, the E-Type was unsatisfactory to John Coombs who wanted a more radical design. Frua tried to mend the situation, but other projects demanded the much needed time. Coombs, not happy with the results, had his own workers alter the design and later had Italsuisse of Switzerland, which worked with Frua, to create new front and rear bumpers.
After modifications, the car was shown at the 1966 Earls Court Motor Show. It was then sold to Roy MacCulloch and registered as KPH 4C which it still bears today. 1E 21041 has been offered for auction twice, in 2000 and 2003, but has failed to sell at an estimate price of 35.000 to 45.000 euros.
Sources and Further Reading
Cahill, Peter. 'Frua E-Type Resurfaces'. Classic Jaguar World, Vol 13. December 2001
Porter, Philip. Jaguar E-Type. The Definitive History. Haynes Publishing. 1989
Lichtenstein, Detlef. Pietro Frua und seine Autos.
Dierkes, Stefan & Registro Pietro Frua. http://www.pietro-frua.de.
Story by Richard Owen for Supercars.net , Images by Anthony Hazelaar
In Detail
| | |
| --- | --- |
| | |
| engine | Inline-6 |
| position | Front Lonfitudinal |
| aspiration | Natural |
| valvetrain | DOHC |
| fuel feed | Triple HD8 Su Cabrurettors |
| displacement | 4235 cc / 258.4 in³ |
| bore | 92 mm / 3.62 in |
| stroke | 106 mm / 4.17 in |
| compression | 9.0:1 |
| power | 197.6 kw / 265.0 bhp @ 5400 rpm |
| specific output | 62.57 bhp per litre |
| bhp/weight | 194.71 bhp per tonne |
| torque | 383.7 nm / 283.0 ft lbs @ 4000 rpm |
| body / frame | Unit Steel |
| front tires | 6.40×15 |
| rear tires | 6.40×15 |
| front brakes | Dunlop Discs w/Servo Assist |
| rear brakes | Dunlop Discs w/Servo Assist |
| steering | Rack & Pinion |
| f suspension | Unequal A-Arms w/Tube Shocks, Torsion Bars, Anti-Roll Bar |
| r suspension | Unequal A-Arms w/Tube Shocks, Coil Springs, Anti-Roll Bar |
| curb weight | 1361 kg / 3000 lbs |
| wheelbase | 2438 mm / 96.0 in |
| front track | 1270 mm / 50 in |
| rear track | 1270 mm / 50 in |
| length | 4445 mm / 175.0 in |
| width | 1651 mm / 65.0 in |
| height | 1219 mm / 48.0 in |
| transmission | 4-Speed Manual |
| final drive | 3.54:1 |
| top speed | ~241.4 kph / 150 mph |
| 0 – 60 mph | ~8.0 seconds |
| 0 – 100 mph | ~20.0 seconds |
Auction Sales History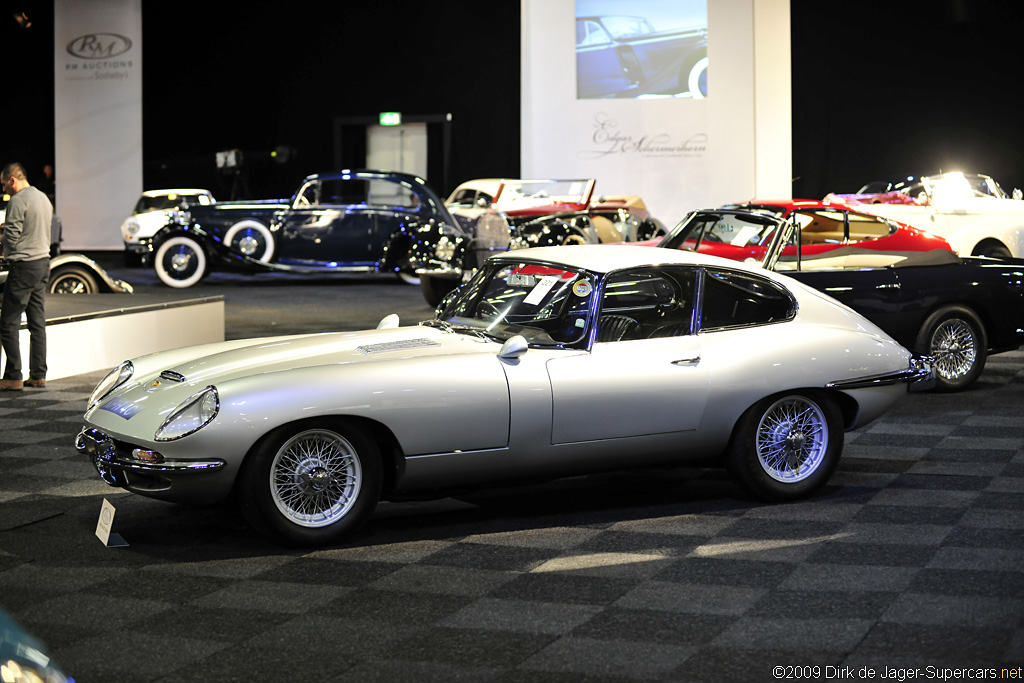 1966 Jaguar E-Type Frua Coupe – sold for €56,925 The unique motor car offered here was the brainchild of John Coombs. In 1965, he commissioned Frua to re-design a red FHC E-Type (1E21041). His engineers enhanced performance by polishing the engine ports, fitting a Continental back axle ratio, adding wider stove enameled wheels, fitting a lightweight flywheel and improving the suspension. Then the car was shipped to Turin based designer Pietro Frua to modify the body. Among other projects, Frua was responsible for Maserati's A6G and 3500 GT, the unique BMW 3000 of 1967 and various Monteverdis. The end result was unmistakably recognisable as an E-Type, and Coombs planned to market the Frua E-Type as a special model. Auction Source: 2009 RM Auctions' Automobiles of London