1969→1971 Porsche 908/3 Spyder
The 903/3 prototype was built for the sole purpose of winning the Targa Florio and Nürburgring legs of the world Championship.
The 908 specialized in lightweight design through the use of a 48 lbs titanium space frame and 26 lbs body.
Known as the Porche miracle by Italians, the 908/3s won the Targa Florio and Nürburgring outright in 1970. The car was so effective it won championship around up to 1980 without concern over fatigue due to the lightweight components.
Porsche Text
Although Porsche concentrated primarily on development of its twelve cylinder 917 from the middle of 1969, the eight cylinder 908 was also developed further. This 908 received a completely new tubular frame based on that of the 909 Bergspyder and its three liter engine was moved forward by mounting the gearbox ahead of the differential to achieve more equal weight distribution.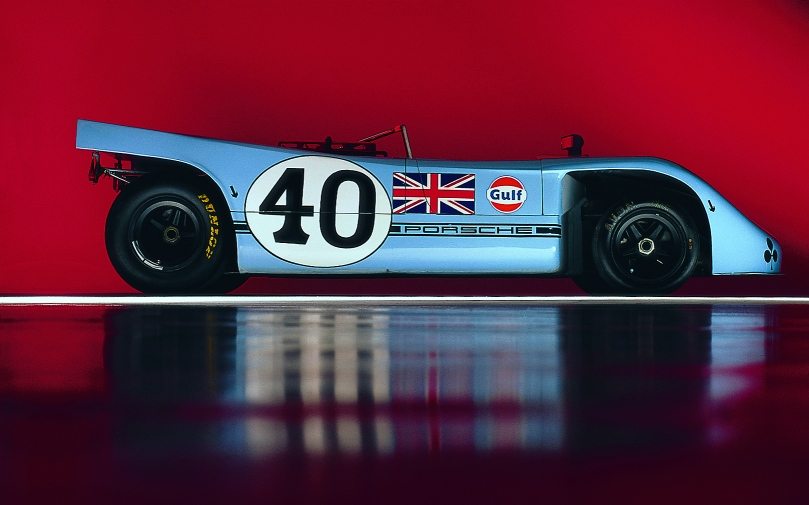 Thus Type 908/03 was basically conceived for tight twisty circuits that demanded high levels of maneuverability. Consequently, the size of the sports car was kept to a minimum and it weighs a mere 540 kilos. The driver's seat is even mounted on the right-hand side to ensure better weight distribution on the predominately clockwise circuits the car was to race on.
The flat-eight three litre engine produced 350hp enabling the 908/03 to obtain a top speed of approximately 275 km/h (172 mph), but it was the car's agility that was to ensure success during its racing career.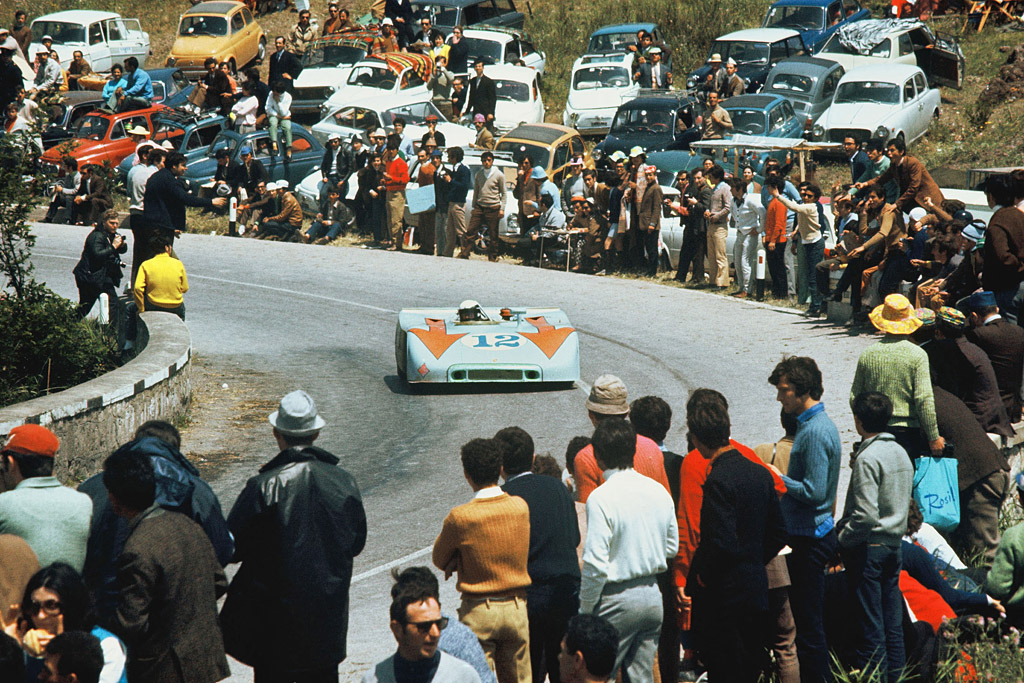 As pre-determined by its extreme fitness for purpose, in 1970 and 1971 the Porsche factory only entered the 908/03 in four races, yet managed to win three of them. Taking its debut victory in the 1970 Targa Florio (Jo Stiffert/Brian Redman), the only thing as impressive as the car's speed around the tortuous mountain circuit in Sicily was the conspicuous paint schemes of the factory cars. That year's Nurburgring 1000km race saw the 908/03 again finish first and second, securing the World Championship for Makes for Porsche.
The 1971 Nürburgring 1000km saw three out of the four 908/03s which started, finish in the first three places. The 908/03 continued to win in the hands of privateer teams for many years and even finished first overall in the 1980 Nurburgring 1000km.
In Detail
| | |
| --- | --- |
| submitted by | Richard Owen |
| type | Racing Car |
| production years | 1969 – 1971 |
| built at | Germany |
| production | 13 |
| engine | Air-Cooled Flat-8 |
| position | Mid, Longituidnal |
| aspiration | Natural |
| valvetrain | DOHC, 2 Valves per Cyl |
| fuel feed | Bosch Mechanical Iinjection |
| displacement | 2997 cc / 182.9 in³ |
| bore | 85 mm / 3.35 in |
| stroke | 66 mm / 2.6 in |
| compression | 10.4:1 |
| power | 268.5 kw / 360 bhp @ 8400 rpm |
| specific output | 120.12 bhp per litre |
| bhp/weight | 666.67 bhp per tonne |
| torque | 365 nm / 269.2 ft lbs @ 6600 rpm |
| body / frame | Plastic Bodywork over Aluminum Tubular Spaceframe |
| driven wheels | RWD w/LSD |
| steering | Rack & Pinion |
| f suspension | Double Wishbones w/Coil Springs, Shock Aborbers, Anti-Roll Bar |
| r suspension | Double Wishbones w/Radius Arms, Coil Springs, Shock Aborbers, Anti-Roll Bar |
| curb weight | 540 kg / 1190 lbs |
| wheelbase | 2300 mm / 90.6 in |
| length | 3540 mm / 139.4 in |
| width | 1950 mm / 76.8 in |
| height | 675 mm / 26.6 in |
| transmission | 5-Speed Manual |
| top speed | ~276.8 kph / 172 mph |
Auction Sales History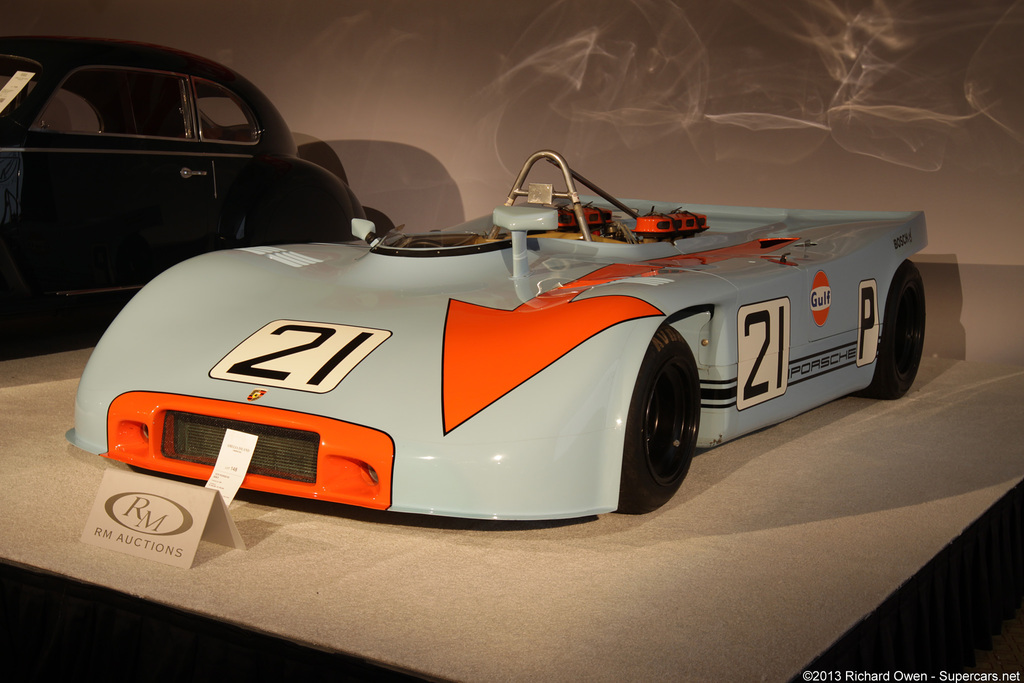 1970 Porsche 908/3 Spyder 004 – did not sell for $1,300,000. Number four of 13 examples produced. Just four private owners over 37 years. Factory test-chassis of the Targa Florio-winning model that contributed to Porsche's 1970 and 1971 Makes Championship. Two-and-a-half-year restoration completed in 2005. Recognized as authentic by the Porsche factory. Exhibited with, and vintage raced against, some of Porsche's greatest drivers. Lightweight aluminum chassis with precise handling and powerful performance. Ideal for vintage racing events and concours d'elegance. Auction Source: 2013 Amelia Island by Rm Auctions