1969 Ford Mustang BOSS 429
To compete with the Mopar HEMI engine in NASCAR, Ford launched the BOSS 429 V8 in 1969. It was built as a limited production Mustang Fastback to meet the required homologation of 500 units. The '69 BOSS became the ultimate Mustang after the 'clydesdale' body was used for the 1970 version.
Ford prepared the 429 for inclusion into NASCAR's Grand National Division. They modified a version Ford's big block V8 design known as the 'Ford 385 engine' and changed the stroke from 3.85 inches to 3.59. Built as a full-on race engine the exhaust ports were so large, it was nicknamed the 'Shotgun engine'.
Power was legally rated to 375 horsepower (280 kW) although 500 horsepower (370 kW) was possible. To meet emissions regulations, a mild cam was fitted along with a smog pump and small carburetor. With a few modifications up to 600 bhp was common.
See Full 1969 Ford Mustang BOSS 429 Gallery
Since the new engine was too large to fit in standard Mustang body, KarKraft was hired to modify the front-end of the car into a standard Sportsroof SCJ body. They took a 428 Mach 1 and changed the inner fenders, widening the shock towers, to made additional space. A smaller brake booster was fitted and air conditioning wasn't offered.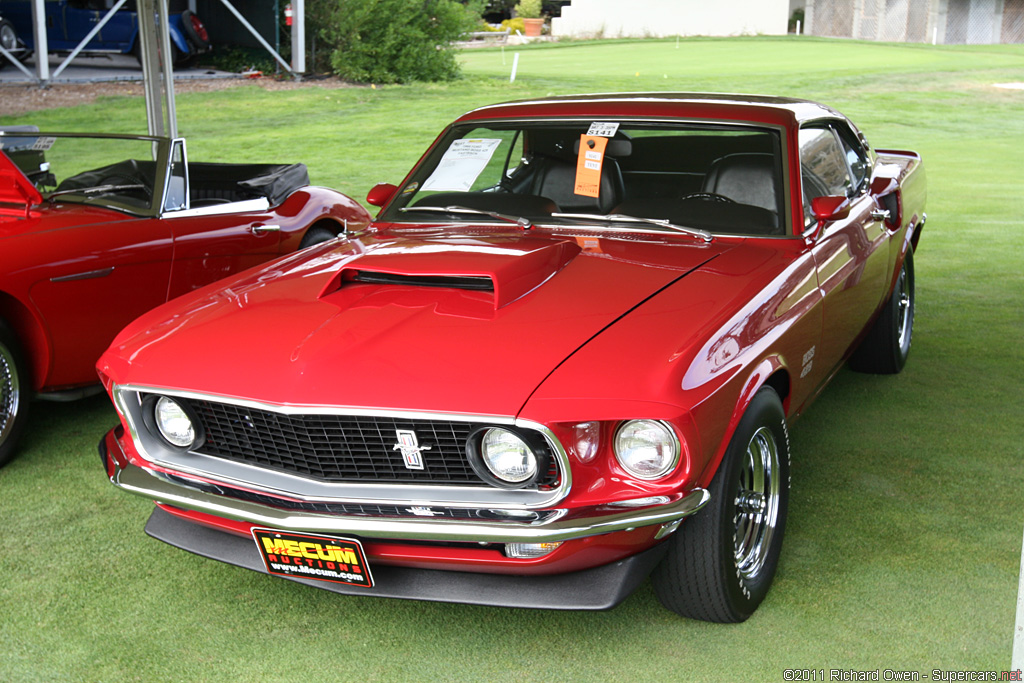 Also included in Boss Package was the fender decals, manually-controlled hood scoop, a front spoiler, dual racing mirrors, engine oil cooler, trunk mounted battery, power steering, power front disc brakes, a close-ratio 4-speed manual, 3.91:1 Traction-Lok differential, 3/4-inch rear swaybar, F60x15 Goodyear tires and the Deluxe decor interior with 8000 rpm and AM/FM radio.1
With everything combined, the package added nearly $2,000 to the base $2,740 Mustang Sportsroof. Available options on the 429 included the functional adjustable rear spoiler.
The BOSS 429 was only produced for two years. In 1969 cars could be ordered in Raven Black, Wimbledon White, Royal Maroon, Candyapple Red, and Black Jade. In 1970 the hood scoops were painted black and the exterior colors were Grabber Orange, Grabber Green, Grabber Blue, Colypso Coral, and Pastel Blue.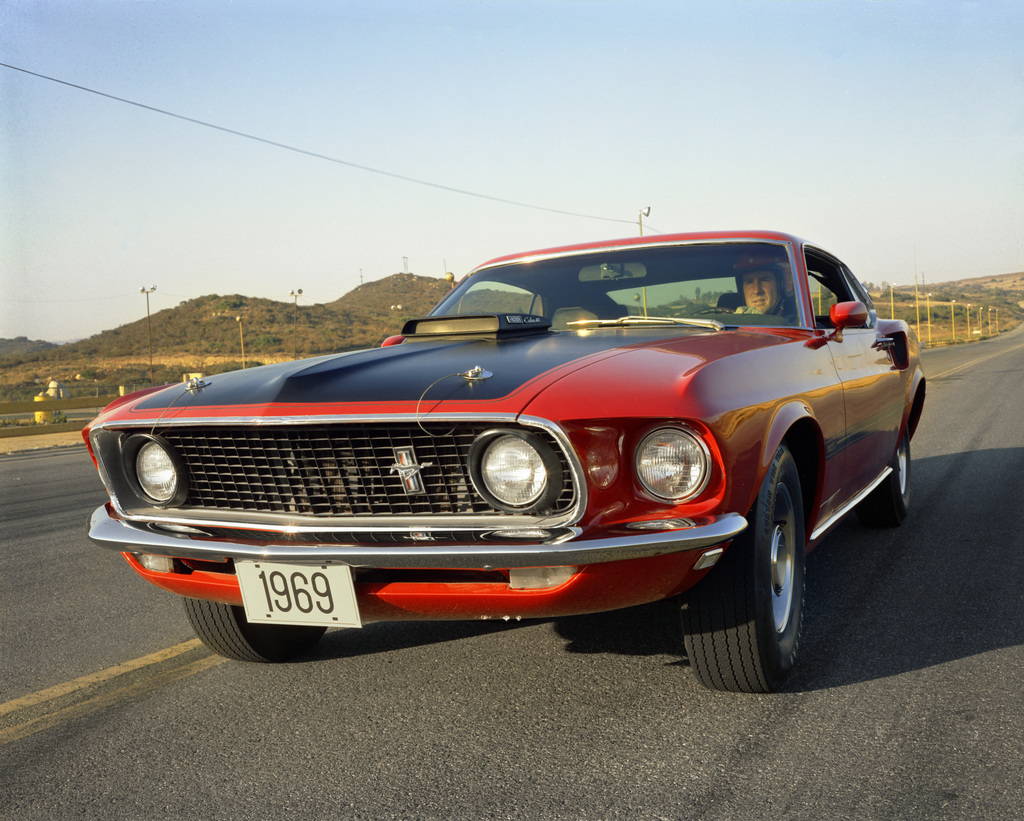 1969 Ford Mustang BOSS 429 Gallery
See Full 1969 Ford Mustang BOSS 429 Gallery
In Detail
| | |
| --- | --- |
| type | Series Production Car |
| built at | Brighton, Michigan, USA |
| production | 859 |
| price $ | $ 4,740 |
| engine | V8 |
| block material | Cast Iron w/Aluminum Heads |
| valvetrain | OHV |
| displacement | 7030 cc / 429.0 in³ |
| bore | 110.74 mm / 4.36 in |
| stroke | 91.2 mm / 3.59 in |
| compression | 10.5:1 |
| power | 279.6 kw / 374.9 bhp @ 5200 rpm |
| specific output | 53.33 bhp per litre |
| bhp/weight | 234.17 bhp per tonne |
| torque | 610.12 nm / 450.0 ft lbs @ 3400 rpm |
| body / frame | Steel |
| driven wheels | RWD w/3.9 Traction-Loc diff |
| wheel type | Magnum 500 |
| front tires | F60x15 Goodyear RWL Polyglas GT |
| rear tires | F60x15 Goodyear RWL Polyglas GT |
| front brakes | Discs w/Power Assist |
| rear brakes | Drums w/Power Assist |
| front wheels | F 38.1 x 17.8 cm / 15.0 x 7.0 in |
| rear wheels | R 38.1 x 17.8 cm / 15.0 x 7.0 in |
| steering | Recirculating Ball w/Power Assist |
| curb weight | 1601 kg / 3530 lbs |
| wheelbase | 2743 mm / 108.0 in |
| front track | 1511 mm / 59.5 in |
| rear track | 1511 mm / 59.5 in |
| length | 4760 mm / 187.4 in |
| width | 1824 mm / 71.8 in |
| height | 1280 mm / 50.4 in |
| transmission | 4-Speed Manual |
| gear ratios | 2.32:1, 1.69:1, 1.29:1, 1.00:1 |
Auction Sales History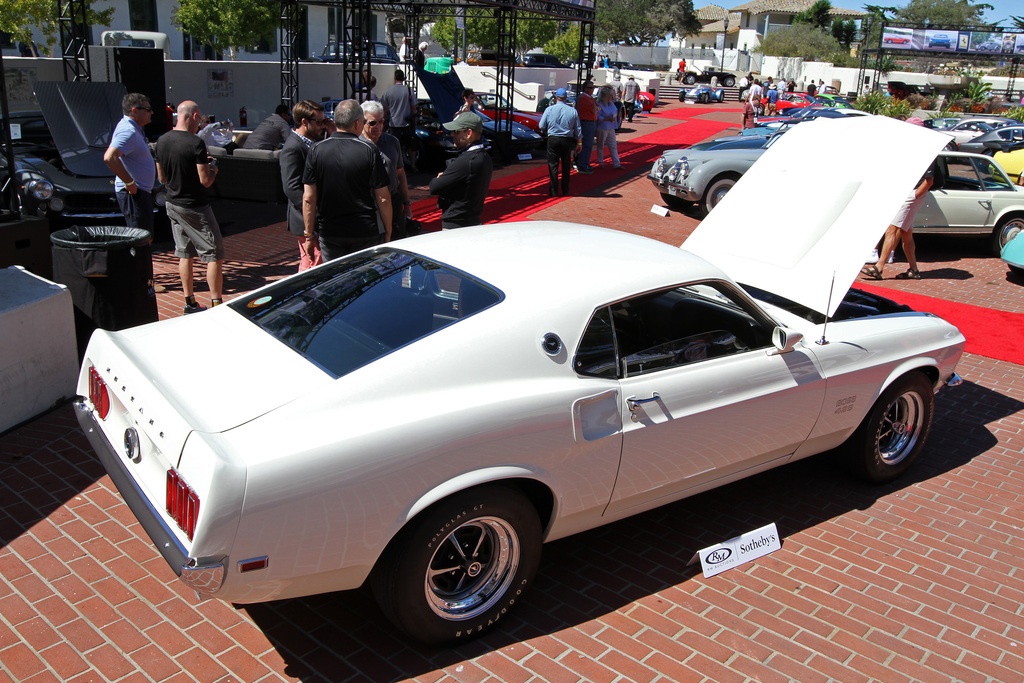 1969 Ford Mustang Boss 429 9F02Z150456 – sold for $247,500 Only 120 actual miles; one of the lowest-mileage Boss 429s in existence. Restored to better-than-new condition, with final detailing by Bob Perkins. Accompanied by original dealer and delivery documentation, as well as a Marti Report. One of the finest Boss 429s in the world. Auction Source: RM Sotheby's Monterey 2015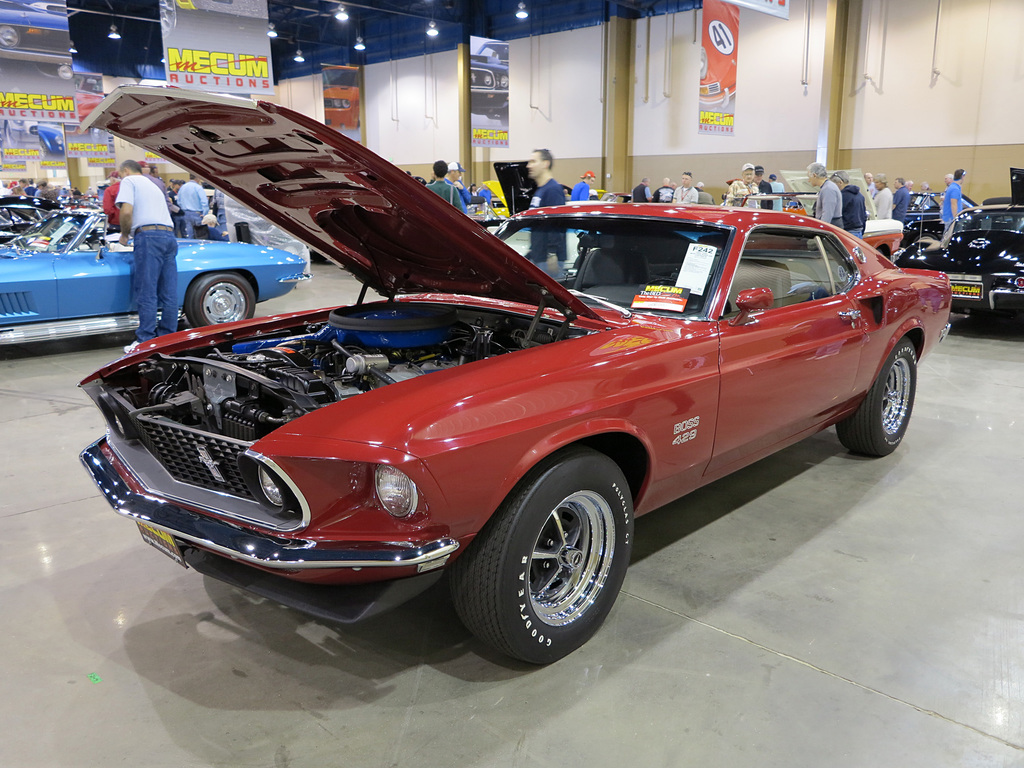 1969 Ford Mustang Boss 429 Fastback 9F02Z192875 – did not sell for $200,000 KK #1726. Fully restored back to the way it came off the line at Kar Kraft. Completed in June 2013. 90% of the rusted panels were replaced with original sheet metal from a donor car to keep original quality metal. MCA National Event and won Gold Concours Trailered division in 2013. Invited and received the Gold award at the Muscle Car and Corvette Nationals in Chicago in November 2013. Factory correct Candyapple Red. Auction Source: Kissimmee 2014, #WhereTheCarsAre by Mecum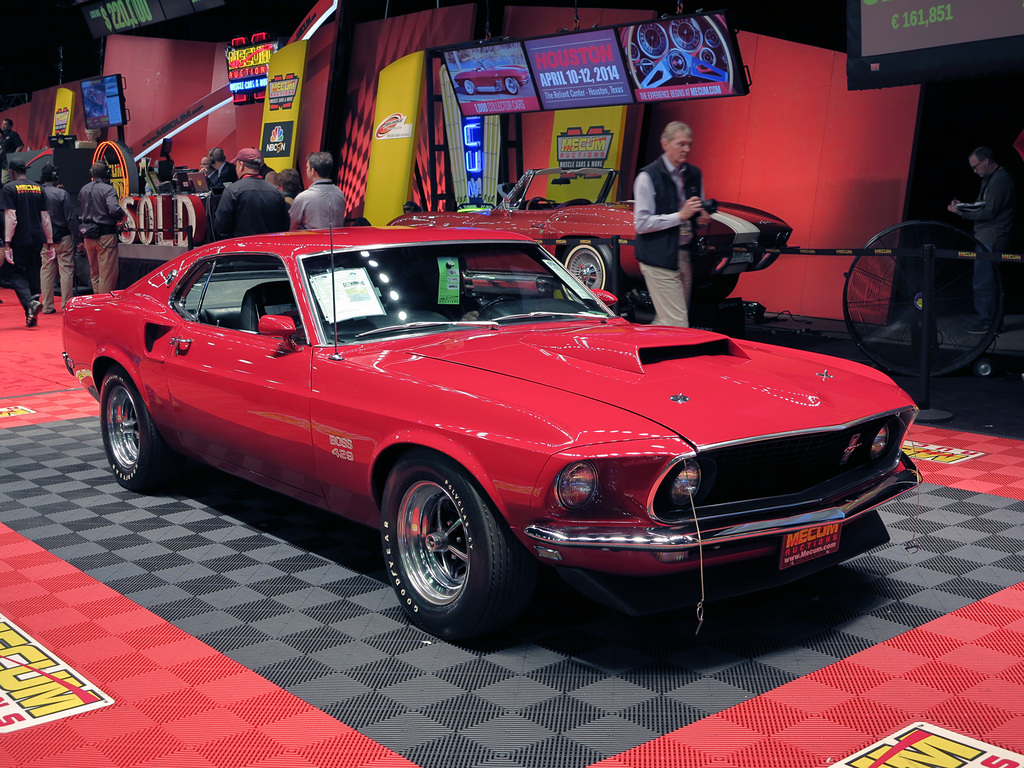 1969 Ford Mustang Boss 429 Fastback 9F02Z172936 – sold for $240,000 Unrestored car with one repaint. Believed to be actual miles of 23023. Original numbers matching engine, transmission and rear end. 429/375 HP V-8 engine. 4-speed close ratio transmission. 3.91 Traction-Lok rear end. Original tailpipes, muffler and door/trunk door jamb paint. Power steering and front disc brakes. Competition suspension. Functional front air spoiler. Trunk mounted battery. Visibility group, console. Original Magnum 500 wheels. New Goodyear Polyglas tires. Candyapple Red with Black interior. Freshly detailed engine compartment. Elite Marti report. Formerly on display at the Floyd Garrett Muscle Car museum. Auction Source: Kissimmee 2014, #WhereTheCarsAre by Mecum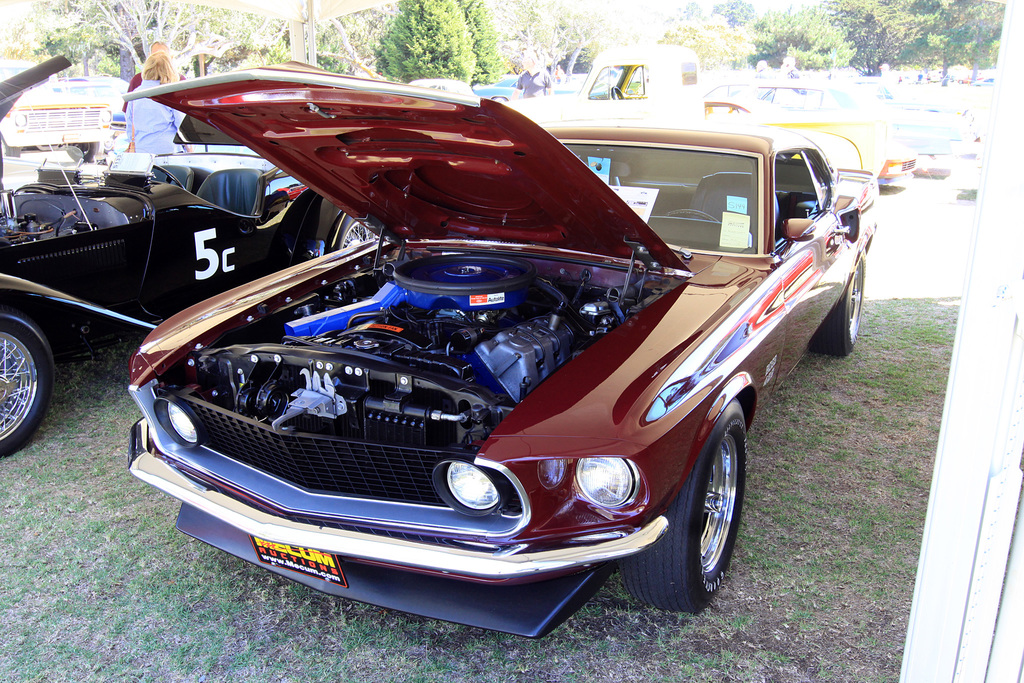 1969 Ford Mustang Boss 429 Fastback – sold for $220,000 KK #1687, car #372 of 858 produced in '69. Extremely original car. Very desirable early car, 1 of the first 500 built. Built on 4/10/69. 4-speed close ratio transmission. Power steering. Power disc brakes. Console, AM radio. Trunk mounted battery. Competition suspension. Deluxe belts/warning light. Functional and adjustable hood scoop. Rim Blow horn. Delivered new in Lafayette, California and sold on May 13, 1969. Deluxe Marti Report and owners manual accompany the car. Warranty book. Auction Source: The Daytime Auction in Monterey by Mecum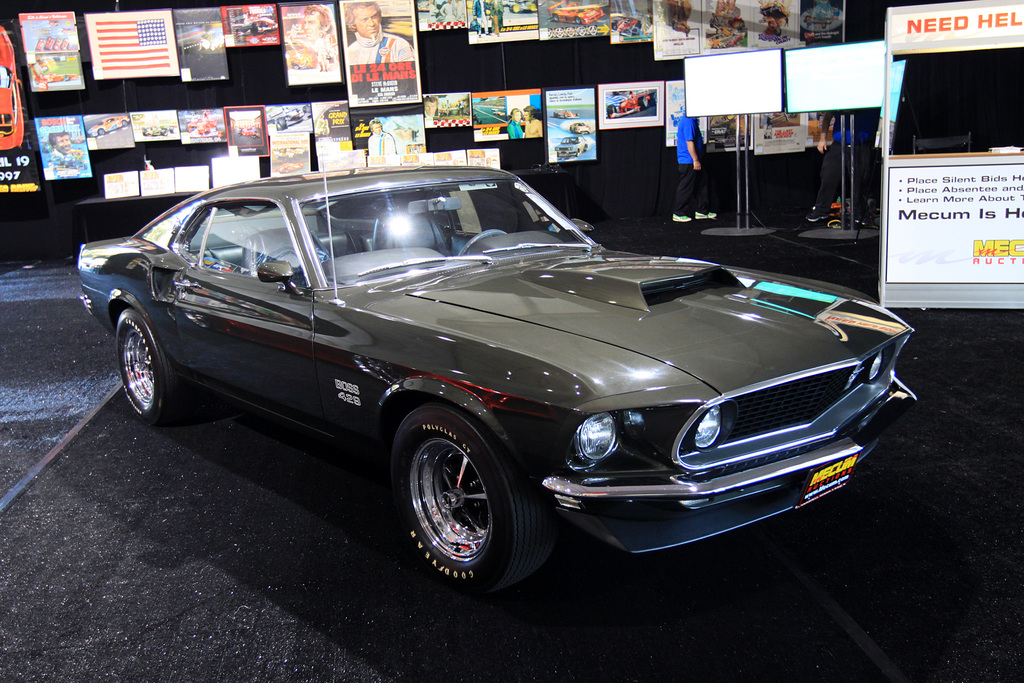 1969 Ford Mustang Boss 429 Fastback – sold for $550,000 902 actual miles. Original window sticker still intact. Original 429/375 HP engine. Original build sheet, pre-delivery checklist and invoices. Original Black Jade paint and Black Decor interior. Formerly owned by MCA authenticity head judge Bob Perkins. Perkins affirmed, There isn't a nut, bolt, screw or decal that isn't original to the car. Auction Source: The Daytime Auction in Monterey by Mecum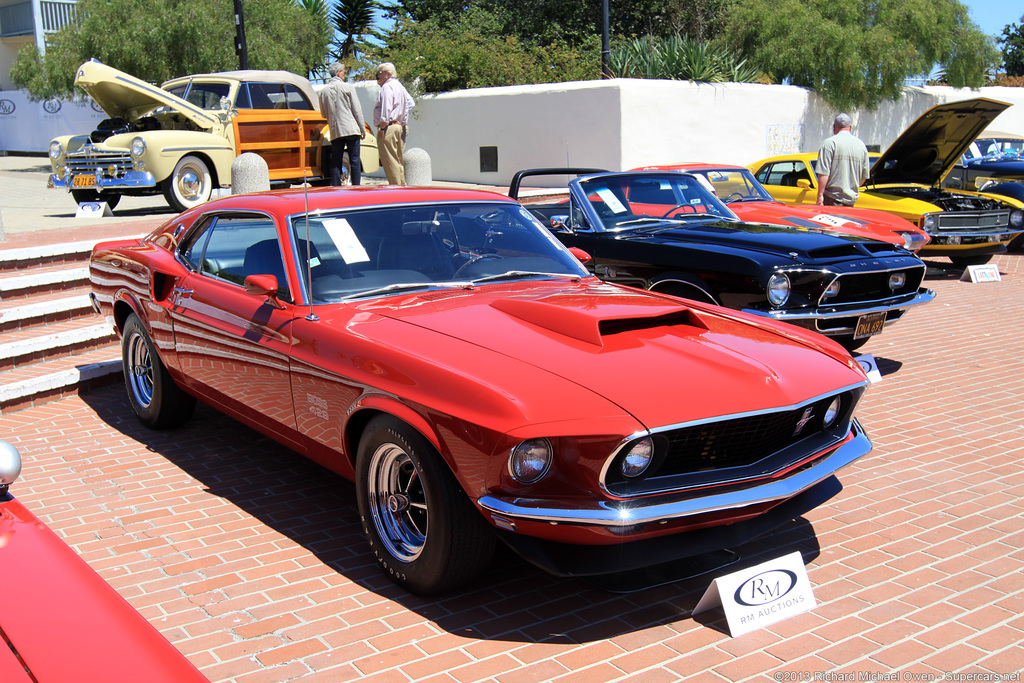 1969 Ford Mustang Boss 429 9F02Z150469 – sold for $275,000 One of the first 50 "priority built" Boss 429s. Hand-assembled with numerous unique KKX and XE parts. Incredibly detailed restoration overseen by Boss 429 expert Ed Meyer. Original documentation. One of the very best of the best. Auction Source: 2013 Monterey Auction by RM Auctions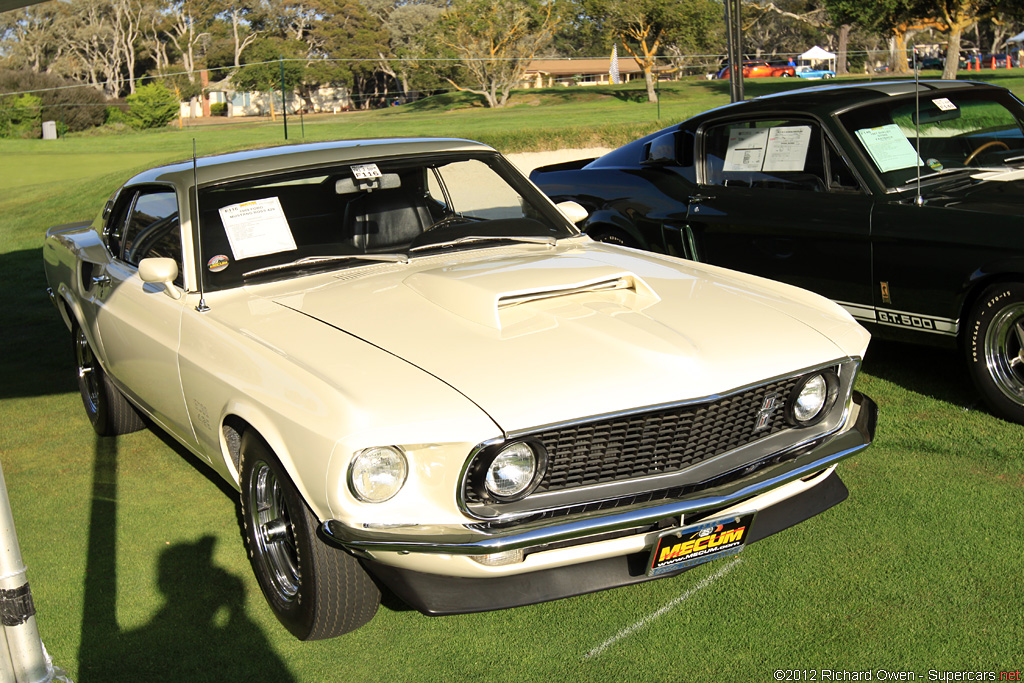 1969 Ford Mustang Boss 429 Fastback 9F02Z173010 – did not sell for $175,000 One of 857 built in 1969.. Believed to be 26,788 actual miles. Kar Kraft #1520. 3.91 Traction-Lok rear axle. Competition suspension. Power front disc brakes. Power steering. Trunk mounted battery. Magnum 500 wheels. Sold new in California and never left. Auction Source: 2012 Daytime Auction by Mecum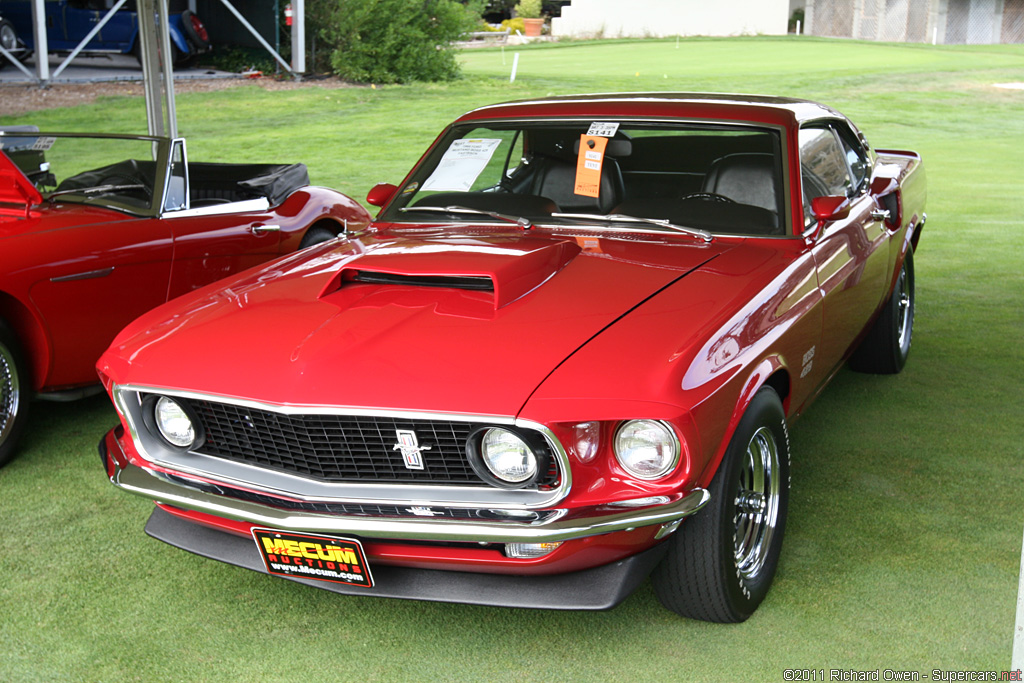 1969 Ford Mustang Boss 429 Fastback 429/375 HP, 4-Speed – sold for $280,000 KK #1661. 429/375 HP engine. 4-speed transmission. Red with Black interior. Goodyear polyglas tires. Auction Source: 2011 Monterey Daytime Auction by Mecum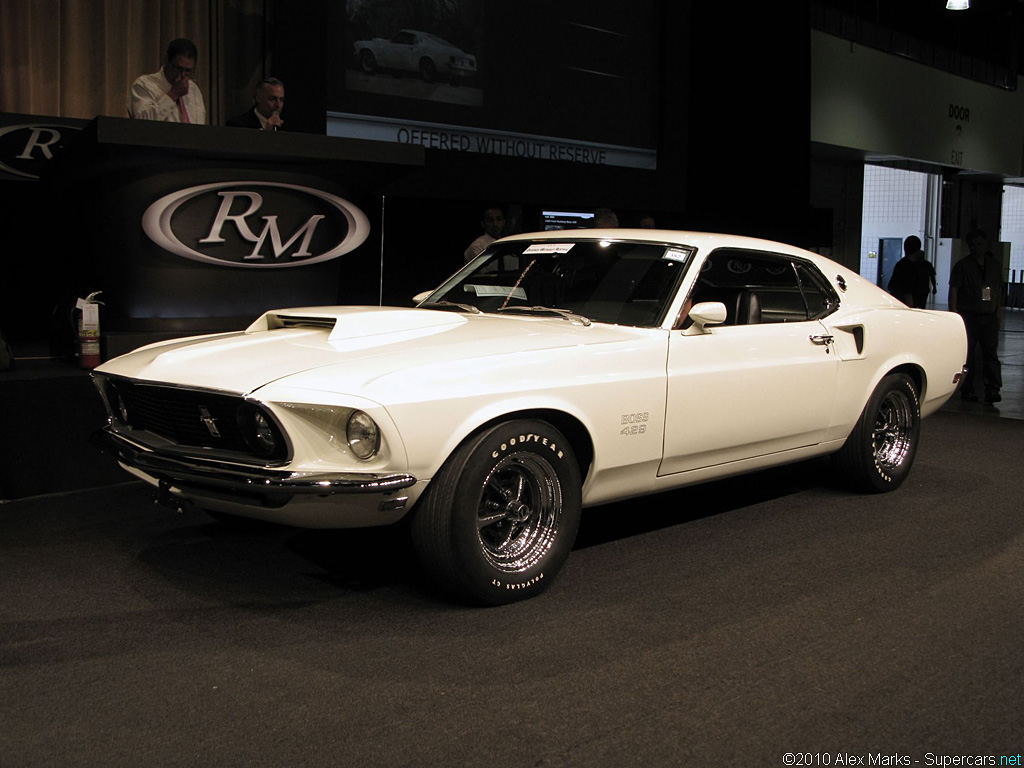 1969 Ford Mustang BOSS 429 – sold for $151,250 According to its Deluxe Marti Report, this Boss 429 was assigned KK 429 NASCAR production number 1335 and completed ahead of schedule on February 13, 1969. Today, it clearly continues to benefit from a high-quality, ground-up restoration dating to 2004/2005 and features a correct and highly detailed engine bay with the correct emissions-control equipment in place.  Auction Source: RM Auctions 2010 Collector Cars of Fort Lauderdale