1983 Nissan Skyline GTS-R
The R31, the seventh-generation Skyline, was launched on August 19, 1985. The 6-cylinder twin-cam engine, last used on the C110, was reintroduced with the R31 and together with its breakthrough HICAS 4-wheel steering system and card entry system (both world firsts), this model attracted much attention.
At launch, the R31 was available as either a 4-door sedan or a 4-door hardtop, but in May of the following year a coupe was added to the lineup. On August 21, 1987, the GTS-R – base car for Group A races – was launched as a limited-edition model (800 units). The GTR-S was a pure sports model, equipped with a Garrett high-caliber turbocharger and stainless steel exhaust manifold, increasing engine output from the GTS's 190PS to 210PS (both net values).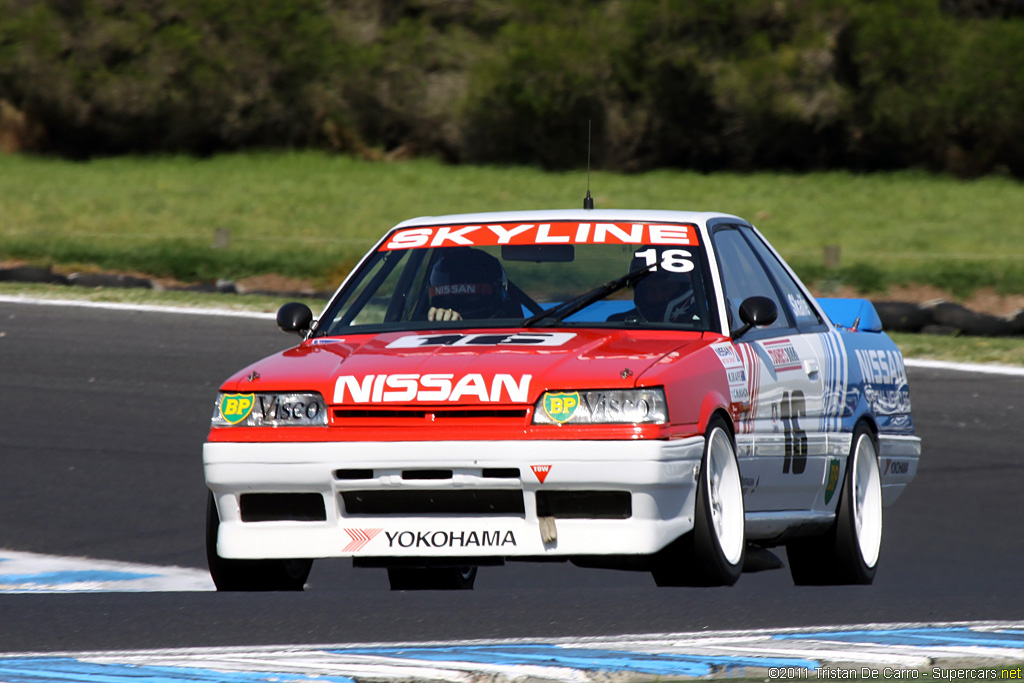 The vehicle shown was a racing car manufactured by NME – Nissan Motorsports Europe, the subsidiary established in England as a European base for Nissan Motor Sports International. It was used by Allan Grice and Win Percy to compete in the 1988 European Touring Car Championship (ETCC).
At the 24-hour Spa-Francorchamps race in Belgium, one of the world's three top endurance races, Anders Olofsson – a member of the Nissan team for the All Japan Sports Prototype Championship (JSPC) – joined Grice and Percy and the trio came in 6th overall.
In Detail
| | |
| --- | --- |
| type | Racing Car |
| built at | Japan |
| engine | RB20DET-R Inline-6 |
| position | Front, Longitudinal |
| power | 294 kw / 394.3 bhp @ 7200 rpm |
| bhp/weight | 339.91 bhp per tonne |
| torque | 412 nm / 303.9 ft lbs @ 6000 rpm |
| body / frame | Unitary Steel Monocoque w/Carbon Fiber Doors & Hood, Roll Cage |
| front tires | 230/660R17 |
| rear tires | 230/660R17 |
| front brakes | AP ventilated disc |
| rear brakes | AP ventilated disc |
| f suspension | MacPherson Struts |
| r suspension | Semi-Trailing Arms |
| curb weight | 1160 kg / 2558 lbs |
| wheelbase | 2615 mm / 103.0 in |
| front track | 1460 mm / 57.5 in |
| rear track | 1465 mm / 57.7 in |
| length | 4660 mm / 183.5 in |
| width | 1690 mm / 66.5 in |
| height | 1325 mm / 0.5 in |
| top speed | ~1 kph / -1.0 mph |