Ferrari F40 LM
If you have even an inkling of appreciation for supercars, the Ferrari F40 is an automobile that needs no introduction. Wherever one may appear, an inevitable congregation of awestruck gearheads will follow. One wouldn't need to know much about the details about the car to appreciate it, but I will digress by getting into those right away now.
The Ferrari F40 is the spiritual successor to the Ferrari 288 GTO, and was also intended to mark the celebration of Ferrari's 40th anniversary. It is also the last Ferrari automobile to have been personally approved by founder Enzo Ferrari. Even with technical details aside, this car was destined to be something very special on these merits alone.
When it made its debut in 1987, the Ferrari F40 was the fastest, most powerful, and most expensive production car to come by the renowned Italian marque. The car (and by association, its designers) made no apologies for it being a solely-purposed performance machine.
Related: Ultimate Guide to the Ferrari F40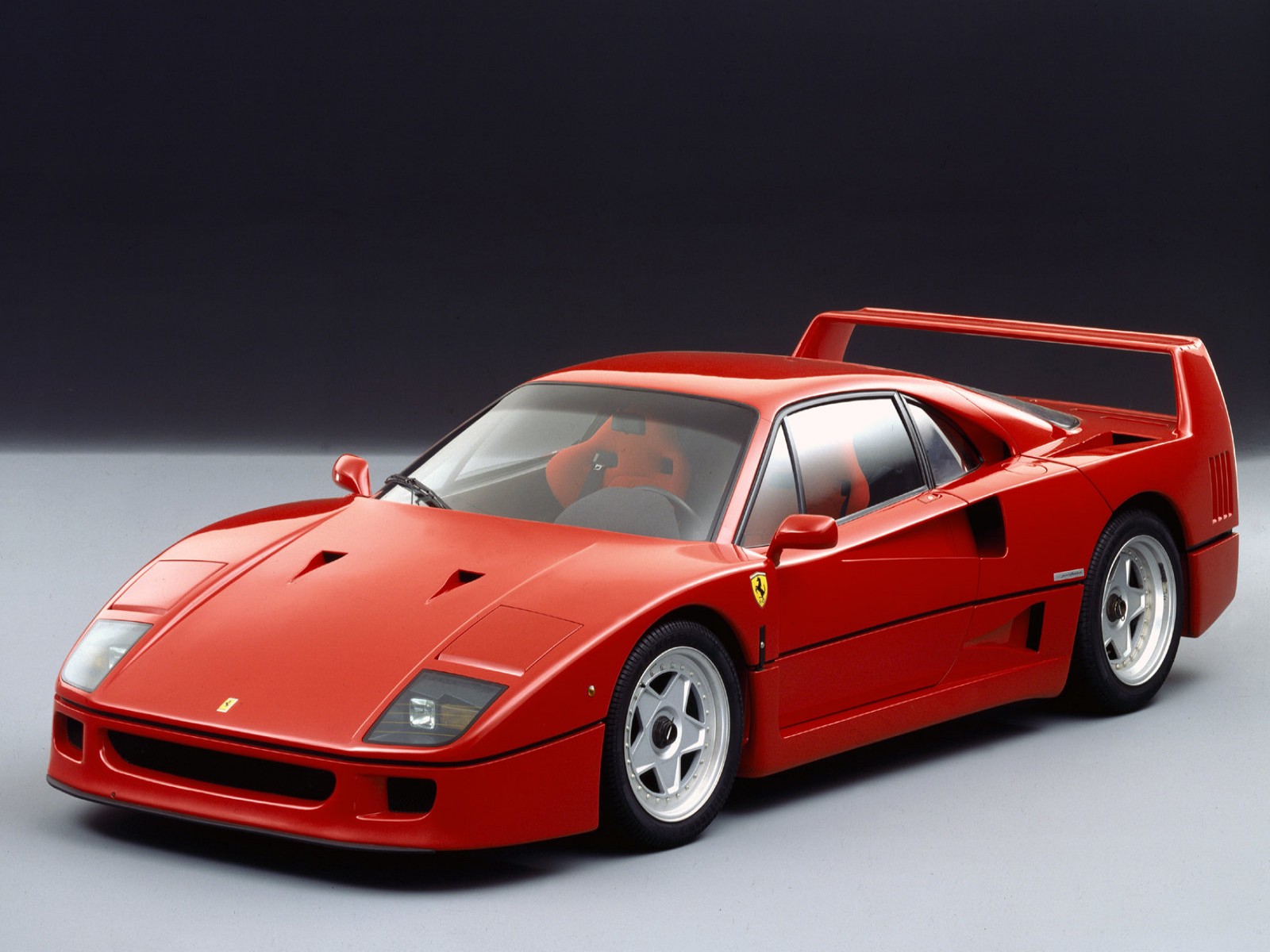 1987 Ferrari F40
Its extremely spartan character had led to a mixed reception from the press upon its release, perhaps because most journalists could not initially accept that a flagship Ferrari should be found to be lacking in any way whatsoever. There was also some controversy over the existence of the F40. Firstly, some would dub it a mere cash grab after the recent passing of Enzo Ferrari and secondly, it was seen as a knee jerk reaction to the success of the Porsche 959.
Ferrari eloquently rebutted this sentiment, stating that "The F40 is for the most enthusiastic of our owners who want nothing but sheer performance. It isn't a laboratory for the future, as the 959 is. It is not Star Wars. And it wasn't created because Porsche built the 959. It would have happened anyway."
These days, they're typically found in a now familiar habitat – hogging the spotlight at your local Cars and Coffee events – where the presence of the Ferrari F40 is encapsulated by its iconic silhouette and design; dutifully representing a legendary era of automobiles, and the Ferrari brand as a whole.
It is more than apparent that the Ferrari F40 has shook off (or at least, made peace with) any negative connotations from the past and has consolidated for itself, an esteemed position in automotive history.
For The Races – Ferrari F40 LM
For all the concessions it made towards being bred with no shortage of racing pedigree, the Ferrari F40 is still a road-legal car. In fact, Ferrari's original intent was for the F40 to strictly remain as an ultra high performance street-legal car, rather than one homologated for competition racing.
However, the initial sampling of the F40's performance capabilities subsequently sent demand soaring for Ferrari to release a factory race-spec version of the car. Thankfully Ferrari didn't take long to mull over the idea, and the Prancing Horse would delegate Michelotto Automobili – Italian race car builder and long-time business partner, who they collaborated with for the 512 BB LM and 308 GTB  – to the task of bringing the idea of such an F40 to life.
Here enters, the Ferrari F40 LM. This race-spec variant packs more power, better aerodynamics and less weight than the car it is based on. The LM, which stands for Le Mans, was specced to satisfy IMSA regulations with the goal of competing on the world's highest stage in its performance category.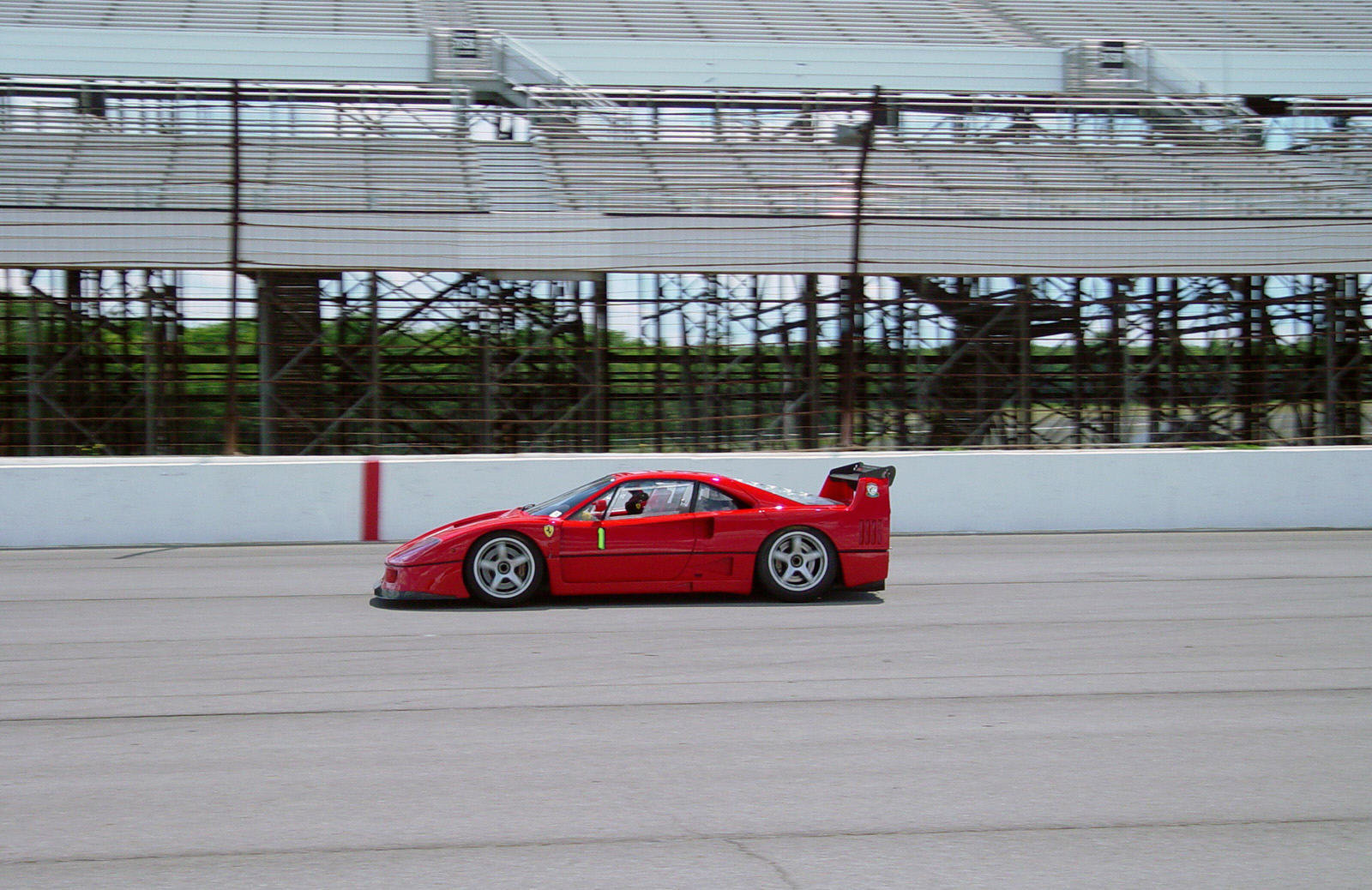 As expected, the F40 LM is an extremely exclusive car which was reserved only for Ferrari's most distinguished clients. Before the first customer example had been delivered in May of 1990, the F40 LM had already gone through an extensive testing and quality assurance program.
This was concluded with the F40 LM making its debut in professional competition at the 1989 Laguna Seca IMSA race, where it finished a very respectable third place in the GTO category with race driver Jean Alesi behind the wheel.
In the end, only 19 Ferrari F40 LM examples were produced by the joint partnership between Ferrari and Michelotto.
Enduring Competitive Legacy
After its professional introduction at Laguna Seca, the F40 LM would go on to see competition in other racing series such as JGTC, following its retirement from IMSA. The F40 LM would continue racing effectively in the GT category throughout the mid-90s, having along the way won the 4 Hours of Vallelunga in 1994 and the 4 Hours of Anderstorp, both in 1995 and 1996.
After setting what would be its final milestone, the Ferrari F40 platform was no longer seen as competitive with the introduction of new, fresh-faced challengers such as the McLaren F1 GTR; thus bringing an end to the F40 LM on the professional stage.
The legacy of the Ferrari F40 LM lives on today. The very same car that campaigned in the BPR Global GT series – where it won in Anderstorp – recently went up for auction at RM Sotheby's. It is also said to be the prototype car used as a reference point in the overall conception of the regular Ferrari F40.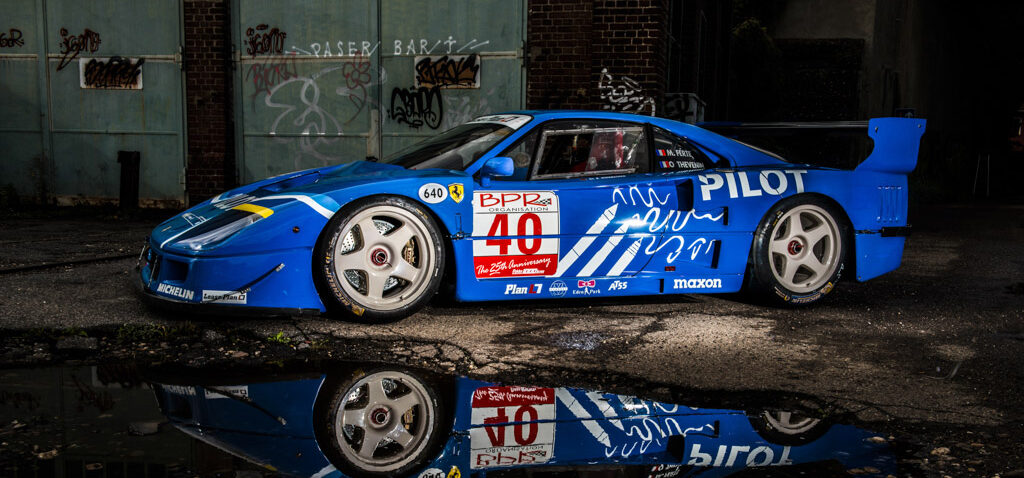 Chassis #74045
Still wearing its race car livery, this example – so bestowed in history and dubbed "the most successful F40 LM" – sold for the very grandiose amount of €4,842,500.
Engine & Performance
Specifications:
Engine Type & Size: 2.9L Twin-Turbocharged V8
Horsepower: 720 hp @ 7,500 rpm
Transmission: 5-speed Manual
O-60 mph: 3.1 seconds
Top Speed: 229 mph
The regular Ferrari F40's power unit – codenamed the 'Tipo F120 A' – had no shortage of marvel itself, producing a formidable 471-horsepower that helped accelerate the car from 0-60 mph in only 3.8 seconds.
However, this would simply not be enough for the LM, so Michelotto and his team got to work in improving the performance of the existing engine; in the process altering it so much that it needed a new callsign – the 'Tipo F120 B'.
The 'B' engine retained the original displacement of 2.9 liters but was most notably upgraded with a set of new IHI turbos which were engineered to produce as much as 37.7 psi of boost in the LM, compared to the standard F40's 16 psi.
In order to accommodate the radical changes to the forced induction system, massive Behr intercoolers, new cams, an updated ECU and larger fuel injectors were added. Compression was also increased to 8.0:1 from 7.8:1.
The amalgamation of these updates amounted to 720-horsepower @ 7,500 rpm for the Tipo F120 B. This is said to be a 'restricted' figure, with rumors suggesting that as much as 900-horsepower was possible with the shackles removed.
There are no official claims for a torque figure by either Ferrari or Michelotto, but it's no secret that this number would be well in excess of the regular F40's 425 lb-ft of torque @ 4,000 rpm.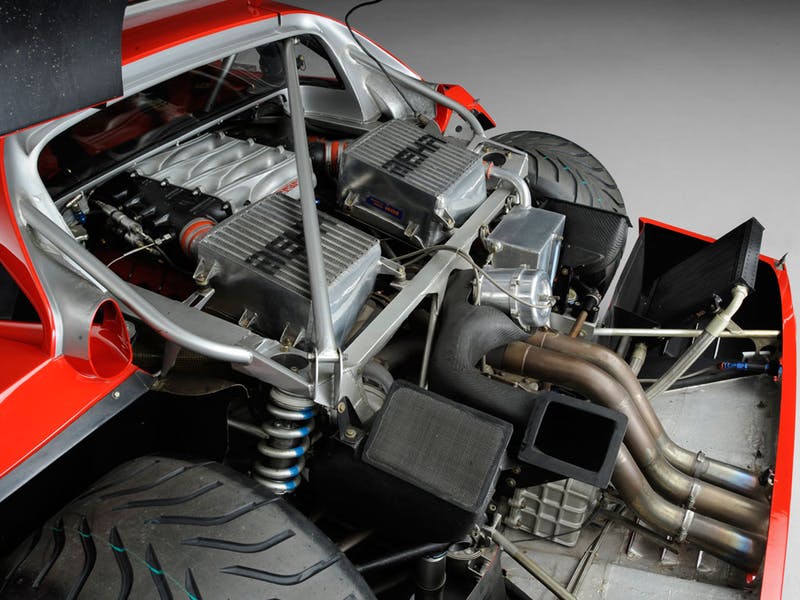 Mated to the engine is a much more robust and high-performance version of the 5-speed manual gearbox, which designed specifically to handle the unworldly amount of power in the Ferrari F40 LM. Amongst the most significant upgrades to the transmission was the use of a triple-plate hydraulic clutch in favor of the synchromesh setup used in the regular car.
Overall, the Ferrari F40 LM was able to complete the 0-60 mph sprint in just 3.1 seconds, while its top speed is rated at 229 mph. Now, remember that this car was released in 1989.
Chassis & Handling
As if the 'base' Ferrari F40 wasn't outstanding enough, Michelotto ensured that the Ferrari F40 LM would be the beneficiary of a reinforced chassis and some wildly extroverted aerodynamic enhancements over and above what was on the original car.
Every improvement is done purely for performance, mind you, with larger brakes, firmer Koni suspension and wider wheels amongst the complements to the radically transformed, competition-spec F40 LM.
Amongst the most noticeable bodywork modifications would be the deeper front air dam, as well as the much larger (and adjustable) rear spoiler. Under all of the aerodynamic fittings, carbon fiber was used extensively to provide the chassis reinforcements which included stiffer anti-roll bars. The brakes are provided courtesy of Brembo with 335 mm ventilated rotors on all four corners.
Perhaps the most remarkable feat of all of these changes, would be the amount of weight reduction that was achieved. The Ferrari F40 LM weighed in at only 2,315 lbs – over 700 pounds lighter than the standard F40. 
"Astonishing" would be a better word for it all, really. 
Design, Styling, & Interior
The Ferrari F40 LM was one of the first cars that really showcased the use of NACA ducts. Usually seen on aircraft prior to this, these low-drag air inlets increased cooling to the engine and brakes, while essentially improving aerodynamic efficiency by producing little to no drag penalty. 
These NACA ducts are found throughout the body, including the hood and rear fenders. The rear spoiler is noticeably larger and more aggressive in nature, and its angle can be adjusted from inside the cockpit.
One of the Ferrari F40's most distinctive design elements would have to be its period-correct and era-defining, pop up headlights. However, these too would not be spared in the name of weight reduction and aerodynamic efficiency – fixed headlamps mounted behind Lexan covers took their place instead.
Speaking of Lexan, the original glass side windows are all replaced with the plastic material as well.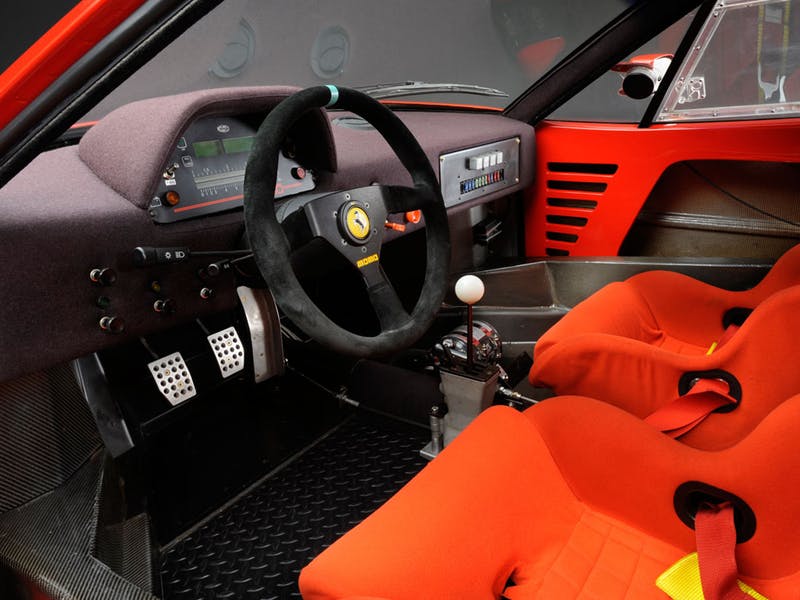 The Ferrari F40 LM even manages to take the interior (or lack thereof) to the next level, featuring an even more spartan cabin than the standard F40's already very minimalist considerations. Afterall, the LM is a meant to be race car and what it has going for it in this regard, is that this was always expected to be the norm.
The interior doesn't feature much, but it still has plenty of the good stuff – OMP racing bucket seats, a digital instrument cluster, a three-spoke Alcantara steering wheel, and a healthy douse carbon fiber, are all a part of the ever-present fixtures inside the car.
Prices
The original cost of a Ferrari F40 LM – which would be the combination of purchasing the F40, then having the LM conversion completed by Michelotto – isn't exactly clear. While it is well documented that the base car would have set buyers back at least $400,000 USD when brand new, factoring in the cost of the conversion seems to prove more difficult; this is likely due to some of the bespoke requests each owner would have made for their LM build.
There were only 19 examples of the F40 LM ever made, and given the type of automobile that it is, it would be safe to say that they haven't gotten any cheaper over time. In fact, that is probably a huge understatement.
If you want to purchase one today – which is the only way you're going to have one if you don't already – expect to pay well over $2 million USD. The most recent and notable exchanges have occurred over the last few years, with one example changing hands in 2013 for $2.09 million USD and 2014 for $2.2 million USD. 
In 2015, another F40 LM sold for $3.3 million and in early in 2019 (as mentioned earlier in this article), yet another example would end up being auctioned off for a record €4,842,500. The upward trend in price is quite obvious at this point, and this sentiment doesn't look to be changing anytime soon. 
Performance & Specifications Summary
Engine

Configuration
F120B 90º V8
Location
Mid, longitudinally-mounted
Construction
light alloy block & head
Displacement
2,936 cc / 179.2 cu in
Bore / Stroke
82.0 mm (3.2 in) / 69.5 mm (2.7 in)
Compression
8.0:1
Valvetrain
4 valves / cylinder, DOHC
Fuel feed
Weber-Marelli Fuel Injection
Aspiration
Two IHI Turbos with two Behr intercoolers
Power
720 bhp / 537 kW @ 7,500 rpm
Torque
706 Nm / 521 ft-lbs
BHP/Liter
245 bhp / liter
Drivetrain

Body
Carbon-fiber & Kevlar
Chassis
Steel spaceframe, reinforced by composite panels
Suspension (fr/r)
Unequal A-arms, coaxial springs, Koni hydraulic shock absorbers, anti-roll bar
Steering
Rack-and-pinion
Brakes
Ventilated discs, all-round
Gearbox
5 speed Manual
Drive
Rear-wheel drive
Dimensions

Weight
1,050 kilo / 2,315 lbs
Length / Width / Height
4,535 mm (178.5 in) / 1,980 mm (78 in) / 1,150 mm (45.3 in)
Wheelbase / Track (fr/r)
2,450 mm (96.5 in) / 1,580 mm (62.2 in) / 1,570 mm (61.8 in)
Wheels
Speedline
Performance Figures

Power to Weight
0.69 bhp / kg
Top Speed
367 km/h (228 mph)
0-60 mph
3.1 s
Gallery & Videos
Image Gallery
In my opinion, there is no sight more impressive than a Ferrari F40 when it comes to things that are automotive. Its shape and silhouette are a timeless work of art which will never cease to captivate and inspire us for perpetuity. It truly is the Mona Lisa of automobiles. 
The Ferrari F40 LM is the ultimate incarnation of this icon, equipped with the arsenal to needed in challenging the ultimate test of a supercar's worth – a test it passed with flying colors. The race version LM was a deliberate, but ultimately natural, combination of form and function.
Hats off to Ferrari and Michelotto for creating this masterpiece.
Video Gallery
Full HD 1080p Video By NM2255: Ferrari F40 LM Competizione (Le Mans) amazing sounds on the track. Start up, revving, accelerations and flybys with lots of great flames from the exhaust!
The Ferrari F40 LM is a timeless masterpiece! In this video, you can see the LM doing a massive power launch/burnout during the Goodwood Festival of Speed 2017. The sound it makes is music to the ears!
Ferrari F40 LM being driven by former F1 driver Jacques Lafitte. Turn up your volume and enjoy it.
GoPro footage of Ferrari F40 LM lapping at Ferrari Racing Days at Limerock in Connecticut, which hosted the Historics and 458 Challenge series.  The F40 LM qualified in first place and took home the victory with a blisteringly fast lap time of 54 seconds.
Final Verdict
For many automotive enthusiasts, the Ferrari F40 is considered to be the supercar's supercar – the poster boy of all things that are great about the automobile. The F40 LM takes that very demi-god status and manages to take it to a higher plane of existence.
As far as getting a journalist's viewpoint on the car, this has proved elusive. Since they are all privately commissioned builds, they aren't exactly on offer for test drives in the way you would expect most cars direct from the manufacturer would be. Private owners are unlikely to be receptive to risk having someone – other than themselves – wreck their 1 of 19 uber-rare race car.
With that being said, most of the 19 examples have never been raced. Unfortunate as it is understandable, the values of these machines are nothing to balk at even for their ultra-wealthy possessors. Conservation is likely the name of the game right now, especially given the fact that there are much cheaper and more capable options for satisfying the track junkie in all of us.
Nevertheless, the Ferrari F40 LM is the embodiment of the ultimate road car made sharper, more hardcore and faster than ever before – through its transcendence to the realm of automotive nirvana, it would forever be untouchable in this regard. No technological advancements or otherwise can take that away.