1993 Toyota Supra
Introduction
All the current buzz surrounding the release of the new 2020 Toyota Supra has stirred up plenty of fanfare in the automotive community – not just for the incoming iteration, but also for the more nostalgic of varieties. While the new Supra is hogging all the headlines and creating excitement, as a debutant, it still has much to prove.
The A80 Toyota Supra (1993-2002) still continues to encapsulate what has become somewhat of a golden automotive age – and, more certainly, when it comes to the history of Japanese cars specifically.
Unofficially dubbed in America as the 'Mark IV' to more discernibly denote its status as the fourth generation of the Supra, the A80 would go on to become a pop culture icon and one of the most distinguishable cars in the world.
Unveiled at the 1993 Chicago Motorshow, the A80 Toyota Supra was the product of over four years of development. Overseen by Chief Engineer Isao Tsuzuki, the team behind the making of the legendary car were armed with an arsenal of experience and new ideas, with previous accolades including the first-gen Celica and both generations of the MR2.
By Japanese roadcar standards, the Supra boasted a large-displacement engine with an abundance of low-end torque. In terms of outright power, the Supra was conspicuously equipped to challenge American and European counterparts in the muscle department.
However, Tsuzuki and Co. ensured that the car would remain competitive against local rivals in a space that emphasized a more balanced approach when it came to high performance.
The overall design of the A80 chassis would benefit from the extensive use of lightweight materials and components, allowing the Supra to shed over 100 kg of weight compared to its predecessor. With a lower, wider and shorter chassis than the outgoing car, the A80 had a more optimal center of gravity while also emphasizing aerodynamically efficiency.
The A80 Toyota Supra had so many things going for it. For one, it could be had with a 6-speed manual transmission in the twin-turbocharged model – something normally reserved only for the most exotic sports cars of the time.
It also featured an F1-derived ABS system which allowed each brake caliper to be individually controlled through sensors based on factors such as the speed, angle, and pitch of an approaching corner.
Over the course of the next few years, the Supra would gain notoriety through a number of means which included Hollywood movie references and a wide range of motorsport successes.
As is the case with any dynasty however, the Supra would eventually succumb to the sands of time, with the last units being sold in North America by 1998. This was primarily due to the overall declining sentiment towards sports cars on the continent, and an appreciating Japanese yen.
Having cemented its place in automotive history, the fourth-gen Toyota Supra is now considered to be a collector's car, with prime examples known to have sold for well north of $100,000 USD. The quintessential sports car of the 1990s – the A80 Toyota Supra – remains as relevant today as it has ever been. Such is the power of a legend.
Engine & Performance
Specifications (Turbo model):
Engine Type & Size: 3.0L Twin-Turbocharged Inline-6
Horsepower: 321 hp @ 5,600 rpm
Torque: 315 lb-ft @ 4,000 rpm
O-60 mph: 4.6 seconds
The Toyota Supra was equipped with the ubiquitous 2,997cc 2JZ engine in all its models. The most recognized version of the Supra possessed a twin-turbocharged engine known as the 2JZ-GTE, which was specced with up to 326-horsepower depending on which region it was sold in. The less elaborate naturally-aspirated versions were sold in North American and Japanese markets exclusively and featured the 2JZ-GE engine which produced 220-horsepower.
The US and Canadian versions of the 2JZ-GTE produced 321-horsepower @ 5,600 rpm and 315 lb-ft of torque @ 4,000 rpm. This allowed the twin-turbocharged Supra to sprint from 0-60 mph in just 4.6 seconds and complete the standing ¼ mile in an impressive 13.1 seconds. Top speed was recorded at 155 mph.
Japanese and European specs were slightly different. Most notably for the Japanese market which used a detuned version of the 2JZ-GTE which produced 272-horsepower in order to satisfy the gentlemen's agreement between Japanese automakers to limit maximum horsepower to 280 PS.
Later versions of the Supra – reserved especially for the Japanese market from 1997 to 2002 – produced 276-horsepower and 335 lb-ft of torque and also featured Toyota's variable valve timing technology (VVTi) in the 2JZ engine for the first time. Throughout the entire lifetime of the Supra in Europe, only the turbo model was offered; it produced 326-horsepower and 325 lb-ft of torque.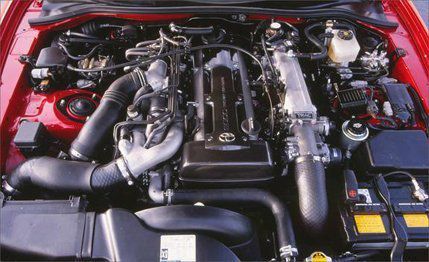 Although the specs suggest an engine that may have been your typically laggy and jerky power unit of the time, Tsuzuki took great measures to ensure this was not going to be the case with the Supra.
The two turbochargers operated sequentially and not in parallel. This essentially meant that one of the turbochargers was designed to provide nearly-maximum torque as early as 1,800 rpm, while the second turbine would be engaged in a "pre-boost" mode until around 4,000 rpm where thereafter both turbochargers would be at full blast.
This translated to better low-end throttle response, less 'turbo lag', increased boost at higher engine speeds, and relatively linear delivery of power – all of which was difficult to congregate based on the technology of the day.
All Supra models came fitted with a manual transmission or an A340E 4-speed automatic transmission. The non-turbo version could be had with a W58 5-speed manual while the turbo cars came with the remarkably robust Getrag V160 6-speed manual transmission. The later Japanese-only turbo models mentioned earlier featured an upgraded version of the Getrag, known as the V161.
Chassis & Handling
The A80 Toyota Supra had lofty aspirations, to say the least, and it wasn't going to reach its supercar-slaying goals on horsepower alone. There was a concerted effort by Tsuzuki and his team to focus on the car's handling, with an emphasis on weight reduction and an overall sense of balance between engine and chassis.
The heaviest Supra variant – the twin-turbo – weighed in at 1,565 kg, about 100kg less than the previous generation A70 (or MK III) Supra. The A80 Supra did not forgo the majority of modern-day conveniences in order to do so, as it still came standard with features such as dual airbags, traction control, air-conditioning, and a sound system.
Weight was shed through methods that were less noticeable to the naked eye. Such as the front hood, targa top, front crossmember, and oil and transmission fluid pans constructed entirely of aluminum instead of steel. Other creative measures included the use of hollow-fiber carpeting, a lightweight magnesium-alloy steering wheel, and a single outlet exhaust.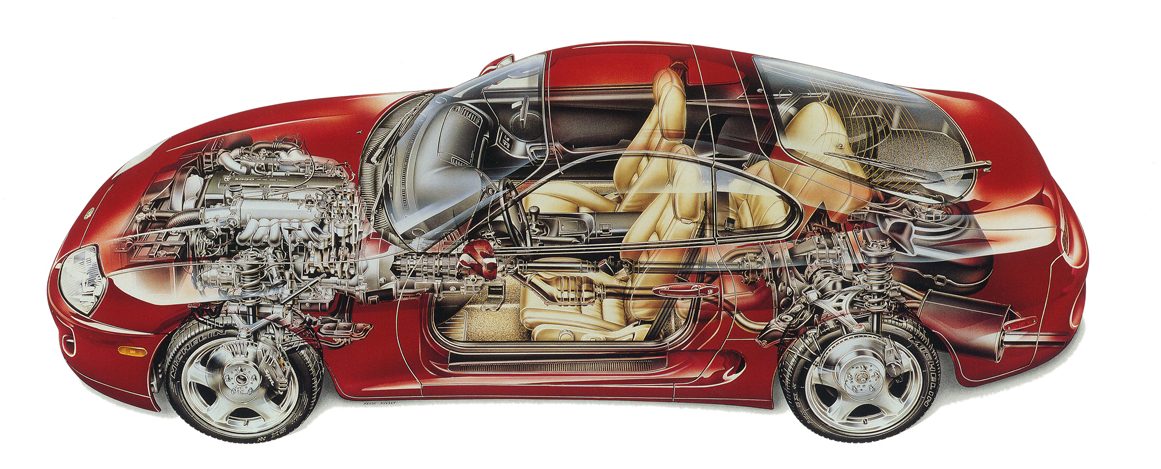 The non-turbo base model fitted with a manual transmission weighed 1,456 kg and had an impressive 51:49 front to rear weight distribution. The addition of the optional targa top would add 18 kg on top of that, while an automatic transmission accounted for another 25 kg of extra weight.
Due to the increased mass of the engine with the twin turbos and associated components added, the turbo model achieved a weight distribution was 53:47 – still an impressive feat for a front-mounted engine sports car that packed more than a punch.
The A80 Toyota Supra was fitted with world-class braking technology which trickled down from its use in Formula 1 racing. This system allowed the car to actively manage weight transfer as each brake caliper could independently apply the optimal amount of pressure, based on a number of variables that included its speed, angle, and pitch at any given moment. All of this information was monitored by electronic sensors.
Not only did this enable the Supra to stay incredibly balanced under hard cornering, but it also allowed it to stop with remarkable prowess in straight-line situations. The A80 achieved phenomenal ratings of 0.95 and 0.98 lateral Gs for 200ft and 300ft skidpad tests respectively.
The turbo model also managed to earn the title of "best braking performance of any production car tested in 1997" – conducted by Car and Driver magazine – by recording a 70-0 mph braking distance of just 149 ft. This stat would not be challenged until 2004 when the Porsche Carrera GT bested the Supra by just 4 feet in the same test.
Design, Styling, & Interior
The overall exterior design elements of the A80 Toyota Supra were a significant overhaul of the previous generations' aesthetics philosophy.
While it retained features that are universal to automotive athleticism, such as a long hood and short overhangs, the Supra opted for more a more rounded and curvy silhouette, versus the chiseled and boxy figure of the outgoing model.
This design would go on and make the Supra become one of the most iconic and recognizable sports cars of its generation, and this is still the case today. Components such as its signature crescent-shaped rear wing – standard on all turbo models – and a distinguishable set of quad-housed tail lamps, are defining features of the car that can be spotted from a mile away.
The targa roof – also standard on all turbo models – further exclaimed the presence of the Supra.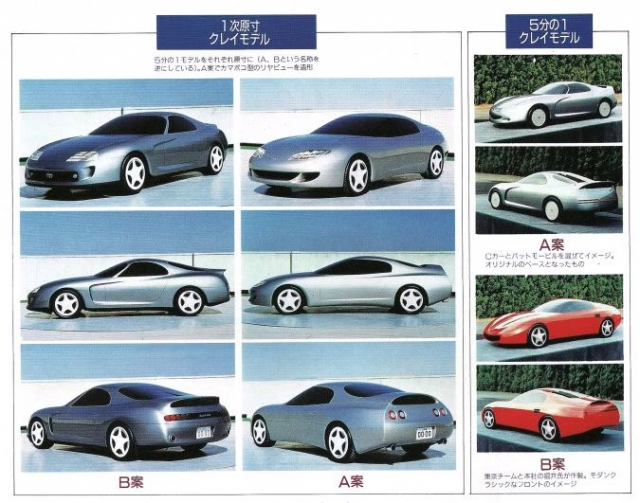 As far as the interior was concerned, Tsuzuki and his team felt that this was one area of the car which didn't need an overhaul, and decided to carry over the majority of the cabin's layout and design from the third-generation Supra.
Like the exterior, the inside of the car was certainly extroverted in nature, most notably with a center console that is angled in a way that seems to confine the driver into his or her own area. Feels very 'fighter pilot-ish'.
Despite its peculiarities, the interior was actually well-anointed with standard equipment and conveniences. Although this made the Supra an expensive consideration for buyers who would prefer to opt-out of many of these features given the choice.
To address this, Toyota introduced an 'SE' package in 1996 which axed some of the amenities in order to reduce its base price and also reduce its overall weight.
Pricing
When the A80 Toyota Supra debuted in 1993, the base model started at $33,900 USD and the turbo model would go for at least $39,900. Over the years, prices would fluctuate notably upwards – mostly due to global economics at play – and then curve back down towards as production came to a close.
Predictably, it is the turbo models that are the most sought after versions of the car in today's used market. After all, the turbo is the pinnacle of Supra performance, while the Supra as a whole represents a golden age in automotive history.
This is exponentially more so the case for turbos fitted with a manual transmission, which have been known to command north of $100,000 USD in auctions where mint and low mileage examples of such cars were on offer.
Automatic versions of the turbo models will probably net much less than half of that on average, though some real bargains can be found with the non-turbo models which do not command such shocking levels of value-appreciation.
Well kept examples of the aforementioned fall well into the expectations of 'used car territory' when it comes to price, so you might be able to procure some in the low five figures or less, range.
Performance & Specifications Summary
Model & Pricing Info
| | |
| --- | --- |
| Make | Toyota |
| Model | Supra |
| Generation | A80 (MK IV) |
| Sub-Model | Turbo |
| Car type | Coupe |
| Category | Series Production Car |
| Built At | Toyota City, Aichi |
| Introduced | 1993 |
| Base Price (US) | $39,900 USD |
| Units built | TBD |
Chassis, Suspension, & Powertrain
| | |
| --- | --- |
| Curb Weight | 1,565 kg (3,450 lbs) |
| Layout | Front-engine, Rear-wheel Drive |
| Body / Frame | Unit Steel |
| Suspension (F) | Independent double-wishbone w/ aluminum upper arms |
| Suspension (R) | Independent double-wishbone w/ aluminum upper arms |
| Steering | Rack & Pinion, power-assisted |
| Brakes | Vented Discs w/ Vacuum Assist & ABS |
| Transmission | Getrag V16X 6-Speed Manual |
Engine, Output, & Performance
| | |
| --- | --- |
| Engine | Inline-6 |
| Displacement (Litres) | 3.0L |
| Position | Longitudinal |
| Aspiration | Twin-turbocharged |
| Power (hp) | 321 hp @ 5,600 rpm |
| Power (hp) / litre | 107 hp / liter |
| Power (hp) / weight | 0.21 hp / kg |
| Torque | 315 lb-ft @ 4,000 rpm |
| 0-60 mph time | 4.6 seconds |
| Top Speed | 155 mph |
Gallery & Videos
Image Gallery
When the A80 Toyota Supra was released in 1993, it became part of a movement that represented a new approach to producing high-performance sports cars. Practical, reliable, and punching way above its weight, the Supra underscored the ushering in of a golden age in automotive history.
Through its appearance, the Toyota Supra hinted of an homage – or at least a nod – to legendary Toyotas of the past, such as the 2000GT – with its rounded, curvy, fastback silhouette which appeared to resurrect a plethora of retro styling queues.
In my opinion, the A80 Toyota Supra is one of the most distinctive and iconic looking vehicles in the world. Easy to spot from a distance, its athletic stature is accentuated by some conspicuous features such as the massive rear spoiler, short overhangs, targa top, and quintessential tail lights.
Its appearance in the Hollywood limelight has done nothing to detract from the recognition it continues to receive internationally.
Video Review Gallery
YouTube's most famous car reviewer, Doug DeMuro, doesn't wait long to tell us what he thinks about a 1994 Toyota Supra Turbo he got his hands on for a review – "It is a legend. An absolute legend."
He briefly goes over the history of the A80 Toyota Supra, before diving into the details and specifications of the car being featured – a bone stock, completely unmolested example which might as well have come straight from the Toyota factory or museum.
Jay Leno is arguably the world's most famous car collector, thanks to an ideal combination of celebrity, affluence and sophisticated palate when it comes to cars.
This episode of "Jay Leno's Garage" features a 1993 Toyota Supra turbo from his personal collection, and also guest stars Cody Walker. The two automotive enthusiasts mull over the details of the car, and pay tribute to the late Paul Walker – and his special connection to the Supra – as the episode progresses.
An official advertisement for the 1993 Toyota Supra.
Car and Driver – Toyota Supra Turbo Review (March 1993 Issue)
Toyota Supra Turbo – Think of it as a Lexus for Smokey Yunick
By John Phillips, March 16, 1993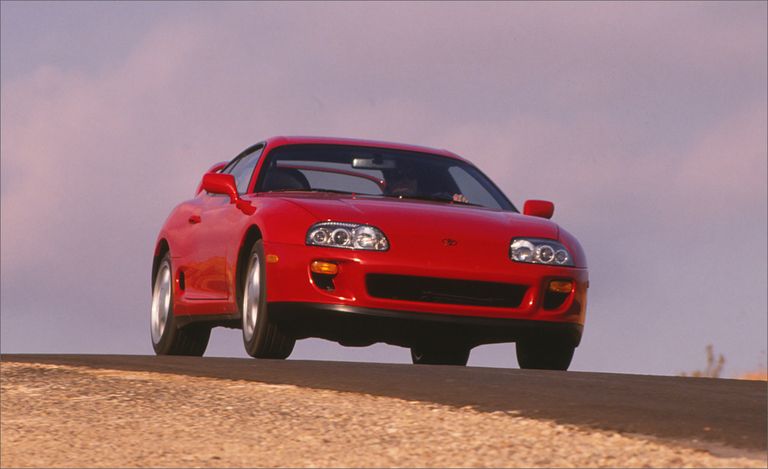 Toyota's first Supra was a bastard: the 110-horsepower progeny of the plain-Jane and little-loved Celica. We expected it to be orphaned quickly, describing it in 1979 as "a make-believe Monte Carlo" with "vapid steering and doughy suspension."
Much has changed.
Since 1979, the Supra has established its own, respectable family tree. And now we have a fourth-generation Supra—one that rushes to 160 mph rather than 110, and one that shares as many parts with a Celica as a Tappan oven shares with a Ferrari F40.
Which is apt, actually, because the 1993 Supra Turbo definitely cooks, and it steals more than a few F40 styling cues—the shape of its grille, its trapezoidal head­lamp lenses, and its colossal brake scoops. Not to mention the plagiarized rear wing, which appears to have been unfastened from something manufactured by Aerospatiale but is, praise the Pharaohs, only an option. (As Joseph Campbell once said, "Not one shred of evidence exists that life is serious.")
The 1993 Supra shares its 3.0-liter inline-six with the Lexus SC300 and GS300. The naturally aspirated iteration produces 220 horsepower at 5800 rpm. But with two turbos strapped to the iron block's star­board flank, it musters an additional 100 horsepower, as well as a pot-walloping 315 pound-feet of torque—32 pound-feet more than a twin-turbo Nissan 300ZX can summon.
The Supra's turbos are sequential. The smaller one spools up to full boost at around 2500 rpm. Its big brother crashes the party with a bottle rocket of thrust at 4500 rpm, kicking in with all the subtlety of a Holyfield uppercut. Once this engine is force-fed through both turbos, you may want to examine whether the switchable traction control is on duty.
The Supra Turbo has no trouble painting impressive black stripes as its massive rear Bridgestone 255/40ZR-17s spin freely exiting second-gear corners on Atlanta Motor Speedway's tricky road course. Plenty of throttle-induced oversteer, here, but if you run shy of courage, simply lift, even at mid-turn. The tail tucks in, and the drama subsides, unless, like us, you enter Turn Three at 140 mph and the compres­sion on the banking reduces suspension travel to the length of a Q-Tip.
The Supra and the Supra Turbo share a modified version of the Lexus SC300's platform, surgically shortened by 5.5 inches, with special geometry and coil-over shocks at each corner. In overall length, the new Supra is 4.2 inches stub­bier than last year's car.
Apart from the Turbo's unique 17-inch Potenza RE020s mounted on 9.5-inch-wide rear wheels, there are no special badges, bulges, or zoomy giveaways to differentiate the Supra from the Supra Turbo.
So, unless you order the Turbo's huge rear wing because, let's say, your recent brain surgery went quite badly, the guy next to you on Woodward Avenue has no way of knowing that your humble little Supra which, in 1979, required 11.2 seconds to attain 60 mph—might just catapult itself to that same speed in the next 4.6 seconds.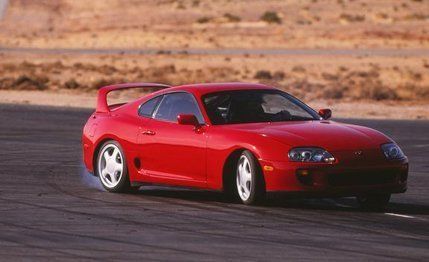 This is quick.
Quicker than an Acura NSX, a Dodge Stealth R/T Turbo, and a Porsche 928GT—a trio of cars that tackle 60 mph in 5.2 seconds. It's quicker, in fact, than stellar strip artists like the Mazda RX-7, the Corvette LT1, and the Nissan 300ZX Turbo, all three of which perform the same trick in five flat.
Although the Supra's success will be measured by America's reaction to it, the styling was wholly conceived in Japan. From the front, as we mentioned, the car is F40-ish, although, if you get down on hands and knees, you will count ten lights on the snout. Very Christmasy. From the side, the greenhouse and C-pillars mimic the new Honda Prelude's.
The hatchback is reminiscent of a Celica's. And from the rear, the new Supra is, ah, just plain spooky. The ducktail and deep bumper lend the car a flabby fanny to which your eye is already drawn for all its clutter: eight baseball-size taillights, a Toyota steer-brand logo, the Toyota name, a CHMSL with an odd white lens, and a script Supra decal. Equally jarring are the horizontal cutlines in front of the rear wheel wells, just above the functional rear brake scoops.
The two new Supras will be in show­rooms in June. Right now, the marketeers predict the naturally aspirated version will go for about $36,000 and the Turbo for $40,000. A heap o' beans, but at least competitive with other warp-speed starships, such as the RX-7, the 300ZX, the Corvette, and the twin-turbo Dodge Stealth and Mitsubishi 3000.
For all that money, you do get brakes big enough to stop a Clinton campaign bus and as effective as those on current Corvettes. Entering a 90-degree turn at 120 mph three times in a row, we failed to elicit brake fade.
The Turbo's front rotors, with unique spiral, Cuisinart-style air-sucking fins, are 12.7 inches in diameter. And the rears, at 12.8 inches, are bigger than a Corvette ZR-1's. What is strange is that the naturally aspirated model's rotors are also two different sizes—meaning there are four unique rotors for this Supra.
Explains chief engineer Isao Tsuzuki, "With different [size] wheels and different unsprung weights, we performed a balanc­ing act to get the handling perfect on both versions." Here we have a company that really does sweat the details.
This same engineering conscientious­ness was applied to the car's heft, down 124 pounds from the previous Supra sumo. The sushi-and-soda diet was expen­sive, admits Tsuzuki. It required 950 meet­ings in which engineers sedulously hacked at cellulite.
To shed lard, adjustable shocks were forsaken. A telescoping steering wheel was canned. Dual exhaust tips, which looked ultracool but didn't add horsepower, got deep-sixed, saving 30 pounds. Aluminum hood, roof, and bumper supports helped, as did a plastic fuel tank.
To save a few pounds, hollow anti-roll bars were fitted. To save a few grams, hollow-fiber carpet was installed, and hollow-head bolts were specified wherever they weren't grasping an item more substantial than, say, an engine.
With this diet came a bonus: the Supra's center of gravity fell an inch. That, combined with the macho coil-over shocks, improved anti-dive by some 20 percent and reduced body roll drastically, even under max-lat Gurney laps around Atlanta Motor Speedway, where the car is more stable above 100 mph than an RX-7. This is a remarkably well-planted platf­orm, as flex-free as a granite tombstone. Check out the skidpad grip: an amazing 0.95 g.
The standard gearbox in the naturally aspirated Supra is a five-speed manual, while a Getrag six-speed is part of the Turbo package. Predictably, sixth is for Scotsmen. It chugs along at a thrifty 2200 pm at 60 mph, well shy of usable boost.
Shift throws have been shortened to the length of a Bic lighter, and the lever itself is the height and width of the dowel in a roll of toilet paper. Combined with a light clutch, the result is gear selection almost as slick and speedy as that in a Miata.
Our two gripes: a handbrake too close to the shift lever, and a big ratio gap between second and third gears, where it is too easy to fall off boost.
From within, visibility is as good as anything in the Supra's class, even with the optional wing, which is so tall that it frames the backlight like a halo, rather ban bifurcating it. The new instrument cluster's centerpiece is a massive tach, redlined at 6800 rpm. The speedometer, to the right, registers to 180 mph, a speed Tsuzuki says—without smiling—was attained by an early ungoverned mule.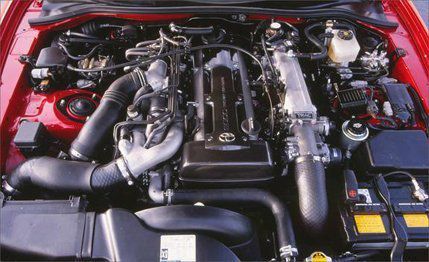 The Supra's new front seats, like those in a Porsche 911, offer narrow cushions and seatbacks, with surprisingly conserva­tive bolsters. Raymond Burr need not apply. As in the 911, however, the seats are major-league comfortable and support­ive. We prefer the fabric, rather than the optional leather facings. The fabric breathes better and is grippier. Also, the black and tan cowskins have a Naugahyde look about them.
The brake and throttle pedals are aligned satisfactorily for heel-and-toeing, and there's a terrific dead pedal for brac­ing your left leg. If only the radio were as deliberately placed. It's low on the dash, which is a shame: there's a perfect spot for it up high, where a vent and a large digital clock currently reside.
Another mistake: a digital odometer that occupies its own panel, removed some distance from the speedometer. Gratuitous clutter.
Alas, the new Supra should be consid­ered a two-seater. Joe Pesci might wedge himself into one of these rear seats but only after barking four or five unprintable oaths. Moreover, the passenger's footwell is clogged with a huge tumor on the side of the transmission hump. And the cargo area under the hatch, even with the rear seat folded flat, is disappointingly shallow. What's more, we don't find the Supra's interior sufficiently luxurious for $36,000.
The Supra used to be a sporty touring coupe, an Oriental counterpart to, say, the Thunderbird SC. Now it is targeted at buy­ers—admittedly precious few of them—who loiter in Nissan showrooms next to the 300ZXs. After our one-day drive (on a racetrack only), we wonder whether the new Supra faces an identity crisis. It is fast, but it is not a pure sports car like the RX-7. And it offers neither the styling, the luxury, nor the prestige of the 300ZX.
On the other hand, it is also true that the manual-box Lexus SC300 and this new Supra are almost fraternal twins in size, shape, drivetrain, and price. The Lexus is refined, opulent, and a styling imperium. The Toyota is stiff-riding, with more direct steering, and is as obscenely quick as Clyde Drexler on a fast break.
Each approach has its adherents. Toyota only half-jokingly defines them as being either north or south of their 40th birthdays. Although several C/D editors have yet to suffer the big Four-O, we still find it easier to imagine a long-term romance with the baby Lexus coupe, from which the Supra is now so aristocratically descended. In any event, no one calls the Supra a bastard anymore. Except for maybe some Corvette salesmen.
SPECIFICATIONS
1993 Toyota Supra Turbo
VEHICLE TYPE
front-engine, rear-wheel-drive, 2+2-passenger, 2-door hatchback
ESTIMATED PRICE AS TESTED (1993)
$42,000
ENGINE TYPE
twin-turbocharged and intercooled DOHC 24-valve inline-6, iron block and aluminum head, port fuel injection
DISPLACEMENT
183 cu in, 2997 cc
POWER
320 hp @ 5600 rpm
TORQUE
315 lb-ft @ 4000 rpm
TRANSMISSION
6-speed manual
CHASSIS
Suspension (F/R): control arms/multilink
Brakes (F/R): 12.7-in vented discs/12.8-in vented discs
Tires: Bridgestone Potenza RE020, F: 235/45ZR-17 R: 255/40ZR-17
DIMENSIONS
Wheelbase: 100.4 in
Length: 177.7 in
Width: 71.3 in
Height: 50.2 in
Passenger volume: 72 cu ft
Cargo volume: 10 cu ft
Curb weight: 3480 lb
C/D
TEST RESULTS
Zero to 60 mph: 4.6 sec
Zero to 100 mph: 11.1 sec
Zero to 130 mph: 19.9 sec
Zero to 150 mph: 29.6 sec
Rolling start, 5–60 mph: 5.9 sec
Top gear, 30–50 mph: 13.1 sec
Top gear, 50–70 mph: 8.1 sec
Standing ¼-mile: 13.1 sec @ 109 mph
Top speed (governor limited): 160 mph
Braking, 70–0 mph: 160 ft
Roadholding, 300-ft-dia skidpad: 0.95 g
From the March 1993 issue
Final Verdict
5/5
For anyone who had the privilege of partaking in the explosion of 'import tuner' culture in the late 1990s, the A80 Toyota Supra would be considered by most as the movement's charismatic leader.
The baggy jeans and Oakley sunglasses I was rocking was usually enough to get some style points amongst friends, but having a Supra with the works – large aluminum rear wing, neon underglow, aggressive body kit, et al – would have garnered the utmost respect. Oh, what could've been.
Thankfully our perceptions have matured in terms of what we believe makes the Supra such an iconic car. Over the past 25 years, the largely millennial fan base of the Supra has tempered their appreciation to originate from the more pragmatic and soft-spoken aspects of the car. That is not to say that the car has become less significant in terms of its performance, stature, and appeal; it has anything but.
From its legendary 2JZ engine to its cult-status as a Hollywood symbol, the Toyota Supra continues to enthrall us to this day. Unmistakable when spotted, the sight of a Supra in person will always generate positive emotions, particularly from those who have spent the last quarter of a century with the Supra in mind.
It will be especially interesting to see how the A80 Supra fares with the recent release of the fifth-gen A90 Supra. The incoming iteration has had almost 20 years to build upon the previous version and is armed with the latest and greatest technologies that will allow it to be the best performing Supra yet.
But will it be the most loved? Only time will tell, although recent sentiments seem to indicate that more and more people are being drawn towards more nostalgic characteristics in automobiles. The general claim is that the new technologies have glossed over the importance of a pure, analog driving experience – the type of experience that made us love sports cars since the beginning.
For these very reasons, I believe the A80 Toyota Supra is destined to be an objectively magnificent car for perpetuity.