Nismo 400R
Amongst most inner circles, whether they be of the pop-culture or grassroots variety, the R33 (1993-1996) Nissan Skyline is somewhat considered the 'blacksheep' of the Skyline family. Critics often attribute it to being a watered-down version of the R32 which preceded it, and then it just had the tough luck of being followed by the legendary – and probably the most renowned Skyline of all – the R34.
This is definitely more so the case when comparing the more economical, rear-wheel-drive, non-GT-R models across each generation. Afterall, Nissan took the unusual step of downgrading the GTS model with a weaker engine, and discontinued the proven twin-cam engine design that was used in the R32 (and then later reintroduced in the R34 lineup). Popular opinion also finds the appearance of the R33 to be contentious, thanks to its long, awkward overhangs which make it look flabby, despite not weighing in much more, or less, than its stablemates.
The top model Nissan Skyline GT-R R33 leaves a lot less up for debate and is a brilliantly performing car in its own right. Although its longer wheelbase made it more prone to understeer than the other generations, overall handling was an improvement over its predecessor thanks to the ATTESA E-TS Pro AWD system and improved chassis rigidity. It lapped the Nürburgring faster than any production Skyline before it, clocking an impressive 7 minutes and 59 seconds. The R33 also achieved some success with versions homologated for the 24 Hours of Le Mans endurance series, which is what the car I'm supposed to be writing about is an homage to and the reason it exists.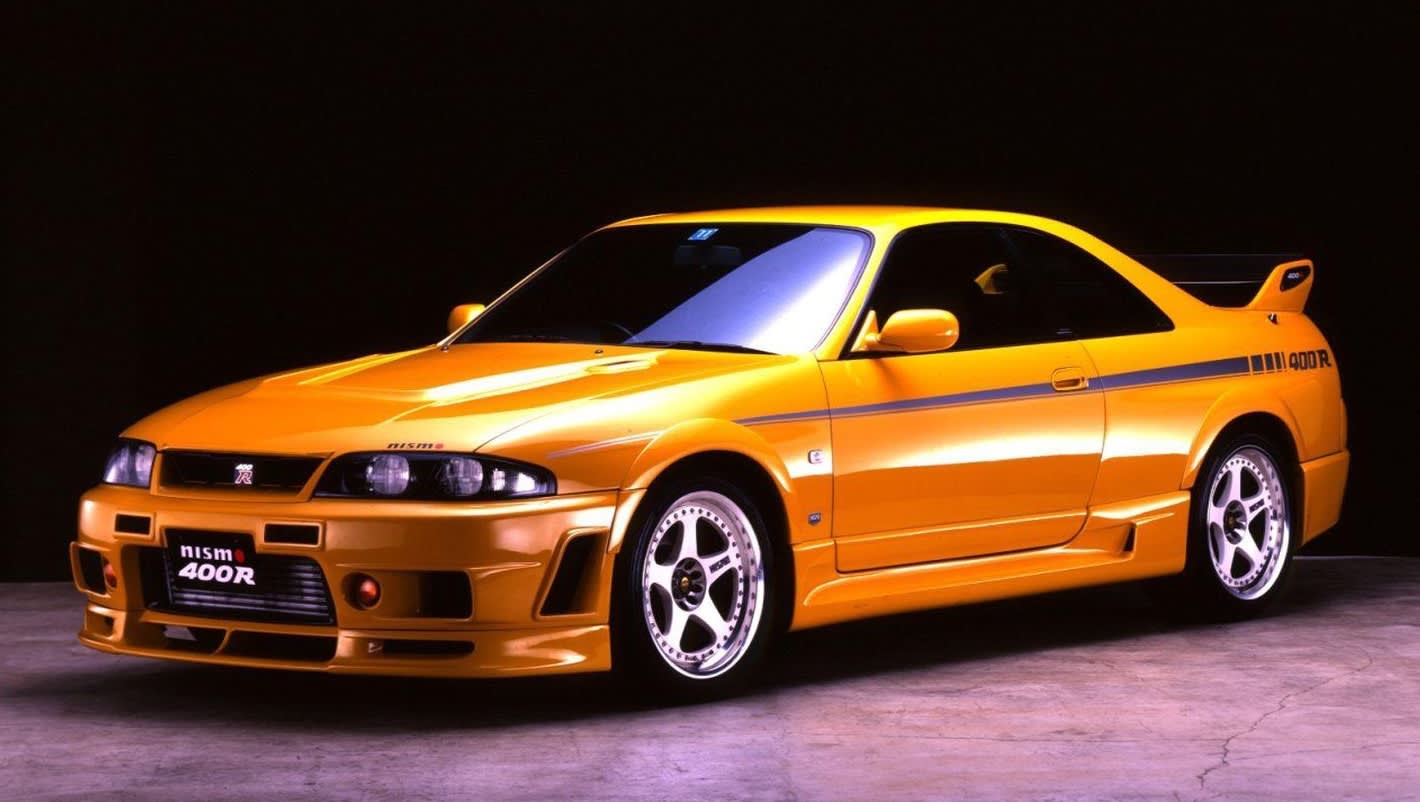 1997 NISMO 400R
Built by Nissan's racing division – Nissan Motorsport or more commonly known as, 'Nismo' – the 1997 Nismo 400R is a celebration of the Le Mans racing car, with both aforementioned vehicles based on the Nissan Skyline GT-R R33. Although Nismo had originally planned to produce 100 units of the 400R, only 44 units were made before production of the R33 ended in 1998. Suffice to say, the 400R was a real unicorn car back then, and as time passes, this becomes even more so the case.
Even as a street-legal production car, it is far above merely being a novelty with a catchy paint job, bold racing stripes and a fancy aero package; the Nismo 400R is loaded with radical improvements over the base GT-R model in every department imaginable. In fact, the car's name is a derivative of rather simple function – the 'R' stands for racing, with '400' representing the engine's output in horsepower. Fitted with all the attributes needed to take on the supercars of the day – which it did – the Nismo 400R was definitely not the R33 that could be picked on for being the oddball middle-child of the Nissan Skyline.
Engine & Performance
Specifications:
Engine Type & Size: Inline-6 2.8L Twin-Turbocharged
Horsepower: 400 hp @ 6,800 rpm
Torque: 346 lb-ft @ 4,400 rpm
Redline: 9,000 rpm
O-60 mph: 4.0 seconds
At the heart of the transformation was a bored and stroked version of the factory R33 GT-R's RB26DETT engine – dubbed the RBX-GT2 – which was built and engineer by renowned Japanese tuner shop, REIMAX. Most of the engine components had to be upgraded in order to accommodate the roughly 200 cc increase in displacement; a hardier crankshaft, forged 87 mm pistons, stronger rods, polished ports, high-lift camshafts, high-efficient oil system and larger exhaust manifolds were part of the tall order commissioned to the company. Redline was also increased to 9,000 rpm from the standard model's 8,000 rpm.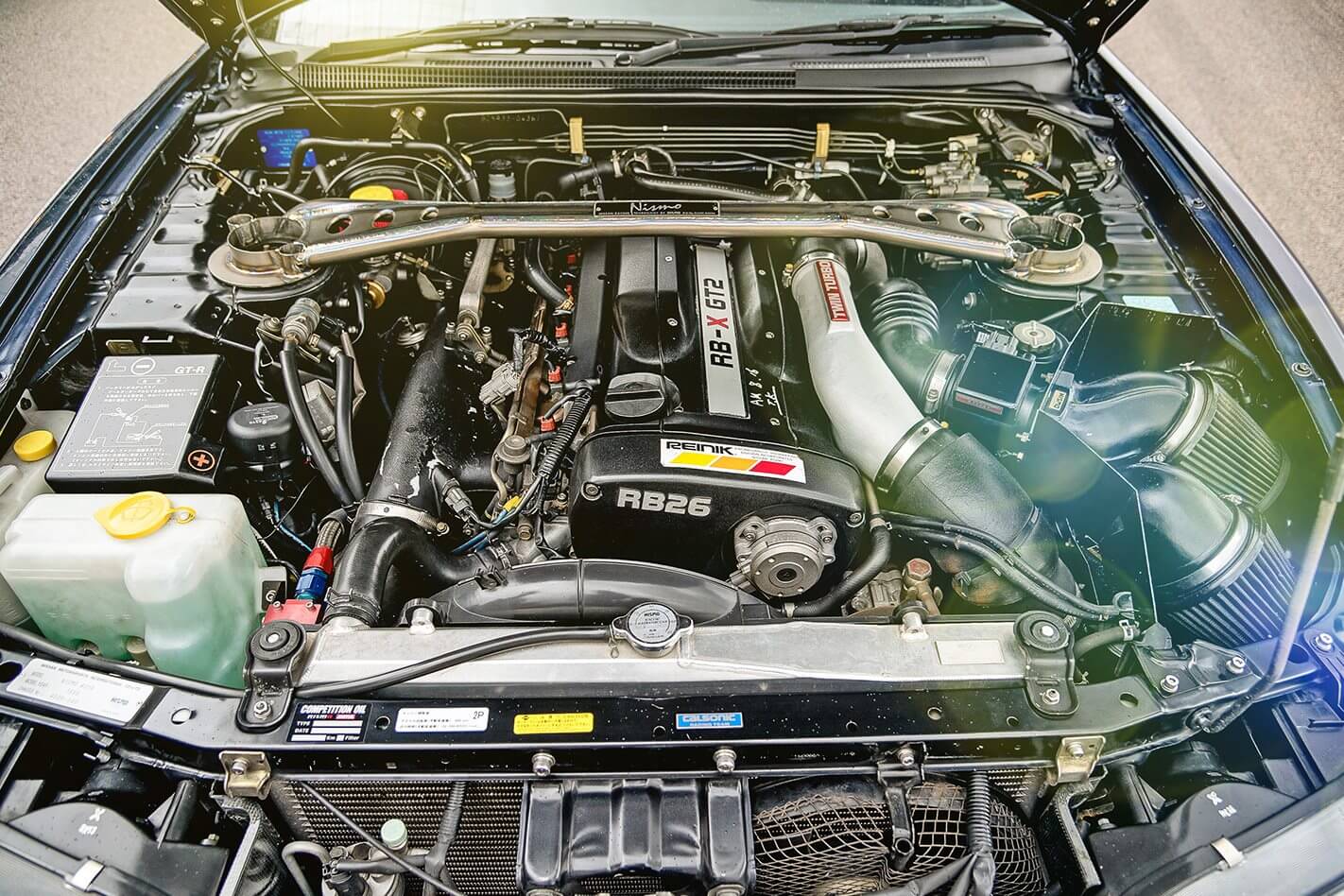 Nismo provided the finishing touches to the engine overhaul, adding a pair of N1-spec turbochargers, an upgraded exhaust, a new twin-plate clutch and larger intercooler system. All the of these changes culminated in the power plant outputting no less than 400-horsepower @ 6,800 rpm and 346 lb-ft of torque @ 4,400 rpm. Nismo also fitted the 400R with a 5-speed manual with better gear ratios to suit the RBX-GT2, than would have been the case if the standard R33 GT-R's five-speed manual was used in this application.
This enabled the Nismo 400R to accelerate from 0–60 mph in 4.0 seconds, and a top speed of 186 mph was attainable. Definitely supercar stats for the time.
Chassis & Handling
The Nismo 400R is certainly equipped with a chassis potent enough to keep pace with its engine. Even by today's standards, the 400R provides a remarkably ideal balance of refinement and raw performance. The Bilstein dampers, despite its stiffer spring rates, are so thoughtfully engineered that the car feels compliant and relaxed when it needs to be – rough surfaces and bumps are thoroughly absorbed – but also never fails to feel planted and grippy in any situation. The 400R could very well have been Nissan's very first 'everyday supercar'.
The technologically advanced active limited slip differential and rear-biased ATTESA E-TS Pro AWD system ensure efficient situational power distribution to each wheel resulting in improved turn-in, traction and overall handling. The understeer that seems to plague the other R33 Skyline models – including the GT-R to some degree – seems to be have been dialed to zero thanks to the Nismo treatment.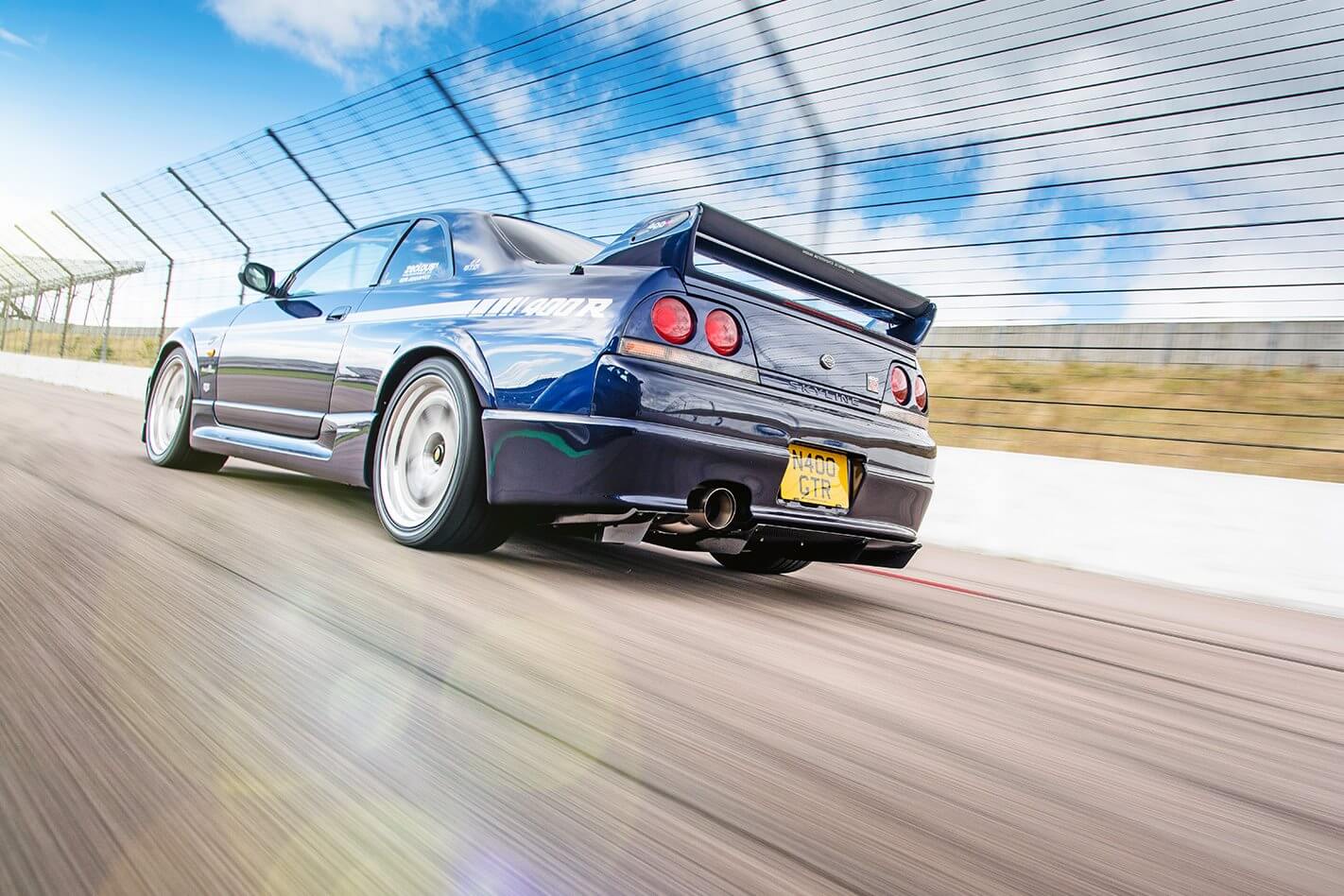 The Nismo 400 R has excellent braking capabilities as well; utilizing the same Brembo calipers from the base R33 GT-R model, but with the addition of specially produced Nismo brake pads – which like the rest of the chassis, are competent in both street and track applications. 18-inch Nismo LM-GT1 wheels – forged, of course – are fitted in all four corners and wrapped in super beefy 275/35/18 high-performance Bridgestone RE710 tires.
Design, Styling & Interior
The Nismo 400R is adorned with a model-exclusive, original Nismo aerodynamic package. Not only did these parts improve downforce and cooling efficiency, but they also gave the 400R a look that set it apart from any other GT-R – past, present or future.
A more aggressive, wider track is notable thanks to 25mm arch extensions over the front and rear wheel wells which house the much wider Nismo LM-GT1 wheels and tires. The front bonnet and adjustable rear spoiler are made from carbon fiber, while other elements such as a vented front bumper, broad side skirts, and redesigned rear bumper complete the package. '400R' vinyl stripes are seen across each side of the car, while badging on the front grill and trunk lid signify what is ultimately, something very special.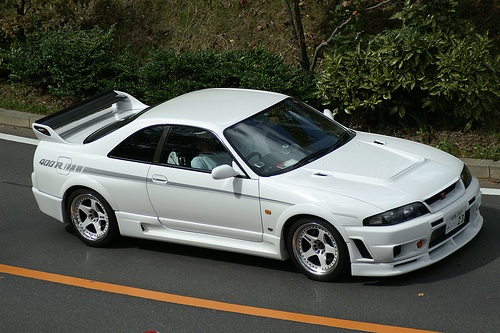 The interior follows a relatively minimalist approach, although that "extra sense of Nismo" continues to be present throughout the cabin. Nismo logos are etched into both reclinable bucket seats, while a '400R' horn button can be found accenting the Nismo leather steering wheel. The gauges and instrument panel are also given the Nismo signature, with their more race-inspired appearances. A special titanium shift knob also replaces the original leather version.
In a more subtle manner, the 400R's tachometer goes up to a maxmimum 11,000 rpm – as opposed to the 10,000 rpm maximum in the standard GT-R – likely because the redline was respectively increased to 9,000 rpm in the 400R, from the 8,000 rpm seen in the standard GT-R.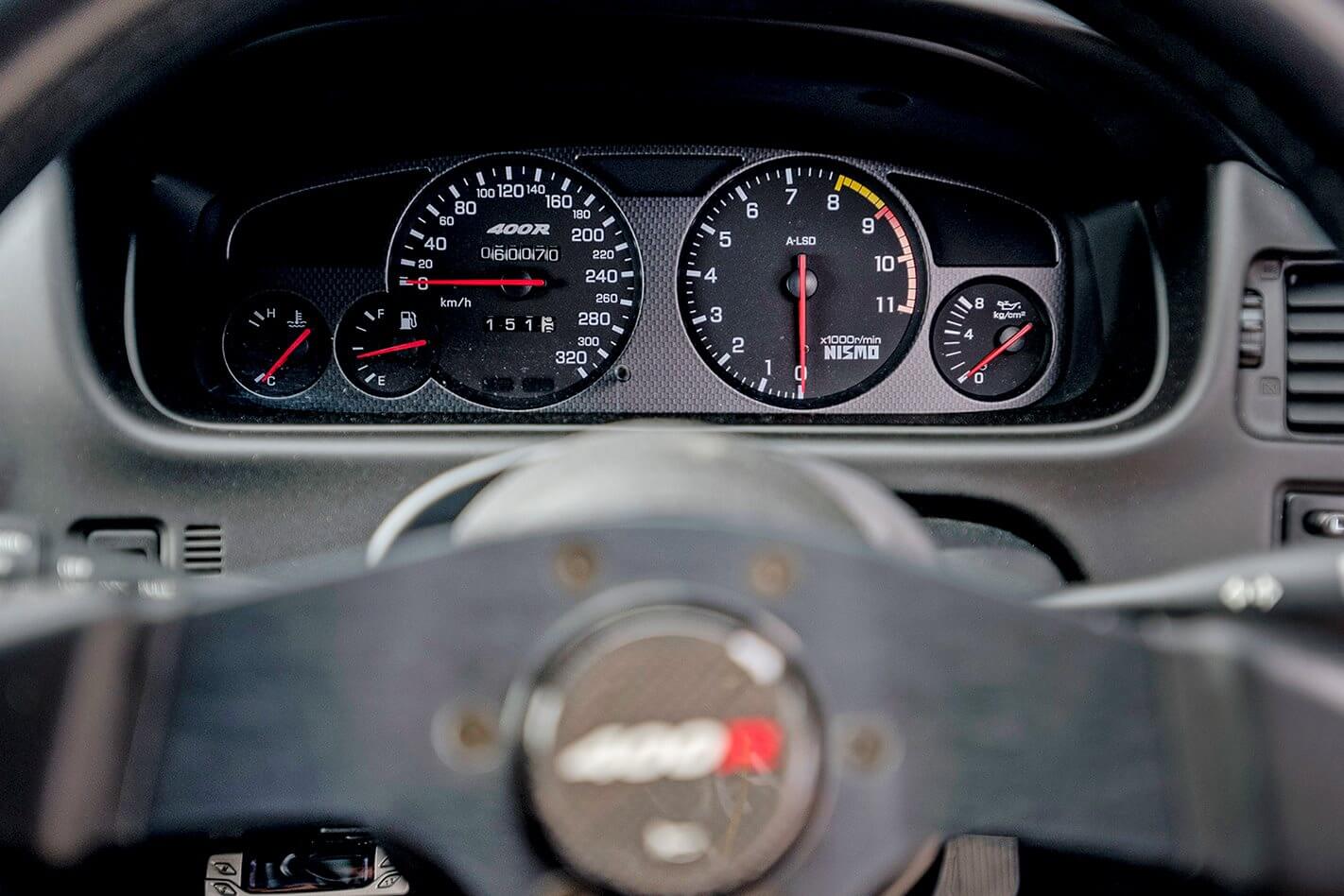 Pricing
Many consider the Nismo 400R as the car that put Nismo on the map. The Playstation racing game – Gran Turismo – is credited for being the primary catalyst for the exposure it has received since the late 90s, and even until now, having featured in every one of the series' titles over the past 20 years.
The Nismo 400R is more than just a figment of imagination or some bytes in a video game console. It is a very real, and very awesome car. It also fetches very big, and very real currency. One of my contacts – who is a JDM car importer in Canada – has told me that these days, 400Rs typically sell on auction for somewhere between $100,000 USD to $175,000 USD depending on mileage, condition, originality and other factors you would expect.
Information on what pricing was like brand new is a bit more murky – after all there were only 44 sold – with the majority going straight to private collectors, so there aren't exactly any "sticker prices" for the car lying around anywhere. Most sources seem to indicate that a brand new Nismo 400R cost around $135,000 USD in 1998 (the equivalent of $210,000 USD today). Suffice to say, they've held their value very well; which after considering everything there is to know about the car, is no surprise at all.
Performance & Specifications Summary
Model & Pricing Info
| | |
| --- | --- |
| Make | Nismo |
| Model | 400R |
| Generation | R33 |
| Car Type | Coupe |
| Category | Limited Series Production Car |
| Built At | Musashimurayama, Japan |
| Introduced | 1997 |
| Base Price (US) | $135,000 (est.) |
| Units Built | 44 (100 originally planned) |
Chassis, Suspension & Powertrain
| | |
| --- | --- |
| Curb Weight | 1,550kg (3,417 lbs) |
| Layout | Front-engine, All-wheel Drive |
| Body / Frame | Unitary steel monocoque |
| Suspension (F) | Multi Link w/ Bilstein Gas Shocks |
| Suspension (R) | Multi Link w/ Bilstein Gas Shocks |
| Brakes | Brembo calipers w/ ventilated rotors and Nismo brake pads |
| Wheels & Tires | 18"x10" Nismo LM-GT1 forged alloy wheels, Bridgestone RE710 275/35/18 tires (square setup) |
| Transmission | 5-Speed Manual |
Engine, Output & Performance
| | |
| --- | --- |
| Engine | Inline-6 |
| Displacement (Litres) | 2.8L |
| Position | Longitudinal |
| Aspiration | Twin-turbocharged |
| Power (hp) | 400 hp @ 6,800 rpm |
| Power (hp) / litre | 142.9 hp / litre |
| Power (hp) / weight | 0.26 hp / kg |
| Torque | 346 lb-ft @ 4,400 rpm |
| Top speed | 186 mph |
| 0 – 60 mph | 4.0 s |
Gallery & Videos
Image Gallery
The Nismo 400R does more than enough to shake off any of the less savory preconceptions that other R33 models would otherwise have brought on. As the first notable production car to have been given the works by Nismo, the 400R was their well-executed debut in every sense possible.
In my opinion, the Nismo 400R set the bar for what future Nismo production cars would become. Elements of the 400R are seen even in today's Nismo GT-R, with its influence apparent in the overall philosophy of its R35 predecessor. As recognizable as it is rare, the 'original' Nismo GT-R is both timeless and pioneering in its approach.
Video Review Gallery
Jethro Bovingdon of EVO provides a video review of the Nismo 400R, which is probably the most comprehensive you will find on the world wide web. He gives a charming reference to the car's historic rise to fame through the Gran Turismo series, before going into the technical details as he puts the car through its paces.
Carfection was lucky enough to take the only Nismo 400R in the UK out for a test drive – at a local race track, no less. They make direct comparisons to a modern R35 GT-R, crediting it as being a more pure and tactile driving experience. As much as it is a collector's item, it is a car meant to be driven.
Speaking of the Nismo 400R being driven, how about some in-car footage of a lap around the Nürburgring?
Final Verdict
5/5
The 1997 Nismo 400R is as every bit iconic as it is a truly capable road racer, and that speaks volumes about a car that is just a Nissan, and only an R33 Skyline. It is certainly both those things – neither of which are bad – but we have Nismo to thank for it being so much more. Achieving cult status in both the virtual and real world, this car would go on to offspring a golden generation of Nissan vehicles, and in particular the GT-R line.
With there being just 44 examples (at most) of the Nismo 400R in the world, each of these hand-built machines are amongst the most rare cars – and certainly the most rare Skylines – ever produced. The former poster boy for the Gran Turismo series will surely command serious money these days, from any current owner who is crazy enough to part with theirs.
Where agreements are made, the end price would preclude any common sense, as the car transfers from one wealthy private owner to another. Known to go for anywhere between $100,000 USD to $175,000 USD, only the most privileged collectors will have one on their radar. Even with that said, there are probably much more suitors than there are mistresses and for preservation's sake this is a good thing. I think we'd all rather have that, than having one end up in the average fanboy's unkempt garage and clumsy hands.
The Nismo badge today is synonymous with the highest echelons of Nissan motorsport fandom. Although more technically superior Nismo successors such as the R34 Skyline and R35 GT-R have taken over the reigns and consecutively driven the brand to the next level, the Nismo 400R will always remain the car that created the very legacy which they continue. Heroes get remembered, but legends never die.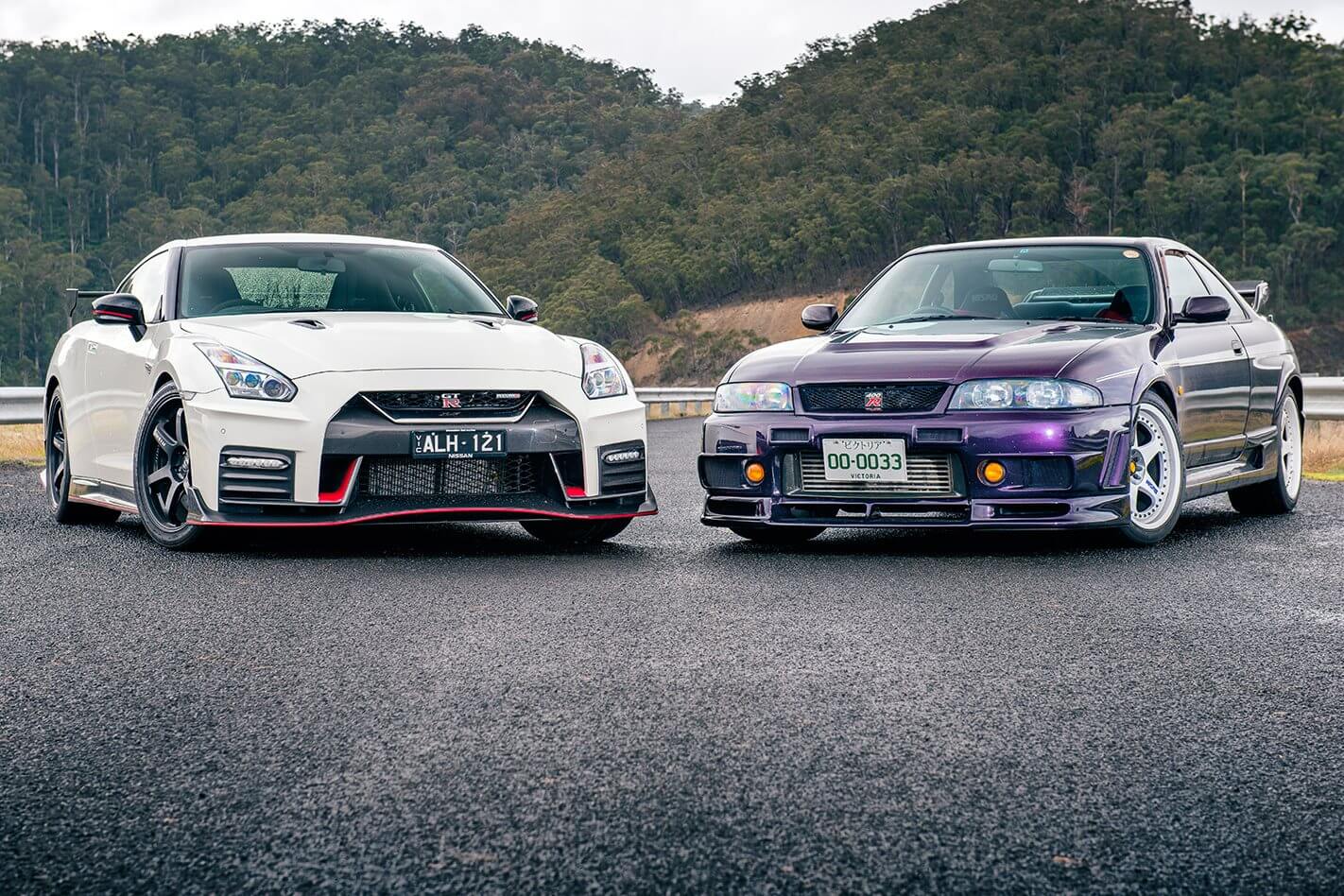 Archived Report
On November 3, 1997, NISO released a racing version of the Skyline GT-R simply known as the 400R. It was comprehensively upgraded in every area. Many of these were inspired by the GT-R LM NISMO fielded in the 24 Hours of Le Mans.
It use a larger version of the RB26DETT engine called the RBX-GT2. This had a larger bore and stoke which meant the block and cylinder head had to be reinforced. Other upgrades included forged connecting rods, a forged crank shaft, reshaped pistons, an N1-spec turbocharger. This produced around 400 bhp and was unique to the 400R.
To match the engine a new intake, exhaust and intercooler system was fitted.
The interior had a leather-wrapped SRS steering wheel, titanium shift knob, monoform bucket seats,
Body upgraded consisted of wider fenders, side skirts, rear bumper, front bumper with bigger air scoops, redesigned hood and rear spoiler made of carbon fiber. 18 x 10 inch wheels called NISMO Nismo LM-GT1 were fitted.
When R33 production ceased in 1998, NISMO had produced and sold 44 units for the Japanese domestic market.
In Detail
| | |
| --- | --- |
| type | Series Production Car |
| production | 44 |
| price $ | $ 100,000 |
| engine | RBX-GT2 Inline-6 |
| aspiration | Twin Turbo |
| valvetrain | DOHC 4 Valves / Cyl |
| displacement | 2771 cc / 169.1 in³ |
| bore | 87.0 mm / 3.43 in |
| stroke | 77.7 mm / 3.06 in |
| compression | 8.5:1 |
| power | 298.3 kw / 400 bhp @ 6800 rpm |
| specific output | 144.35 bhp per litre |
| bhp/weight | 258.06 bhp per tonne |
| torque | 469 nm / 345.9 ft lbs @ 4400 rpm |
| body / frame | E-BCNR33 Unitary Steel Monocoque |
| driven wheels | 4WD w/Front, Rear & Side to Side Torque Controller |
| wheel type | Nismo LM-GT1 |
| front tires | 275/35R-18 |
| rear tires | 275/35R-18 |
| front brakes | Ventilated Discs w/NISMO Pads |
| rear brakes | Ventilated Discs w/NISMO Pads |
| front wheels | F 45.7 x 25.4 cm / 18.0 x 10.0 in |
| rear wheels | R 45.7 x 25.4 cm / 18.0 x 10.0 in |
| f suspension | Multi Link w/Bilstein Gas Shocks |
| r suspension | Multi Link w/Bilstein Gas Shocks |
| curb weight | 1550 kg / 3417 lbs |
| wheelbase | 2720 mm / 107.1 in |
| front track | 1500 mm / 59.1 in |
| rear track | 1510 mm / 59.4 in |
| length | 4675 mm / 184.1 in |
| width | 1830 mm / 72.0 in |
| height | 1330 mm / 52.4 in |
| transmission | 5-Speed Manual |
| gear ratios | 3.214:1, 1.925:1, 1.302:1, 1.000:1, 0.752:1 |
| final drive | 4.111:1 |
| top speed | ~318.7 kph / 198.0 mph |
| 0 – 100 kph | ~4.0 seconds |
| fuel capacity | 65 litres or 17.16 gal. |