2002 Gemballa GTR 750 EVO
Where Porsche stops, Gemballa takes off. As a long time tuner of Porsches, Uwe Gemballa is no stranger to the Flat-6 platform. His tuning takes Porsche performance from outstanding to extreme.
The example of interest is a one-of car created for a customer in Dubai. His intention was to buy a Gemballa GTR 600 at an even greater state of tune!
The Gemballa GTR 600 is the car known for holding fast laps around the Nurburgring circuit. In 2001, the car proved its worth when Wolfgang Kaufman achieved a lap time of 7:33. This time made the GTR 600 faster than any TechArt, Blitz ,Caterham, Lamborghini or Ferrari road car that tried before it.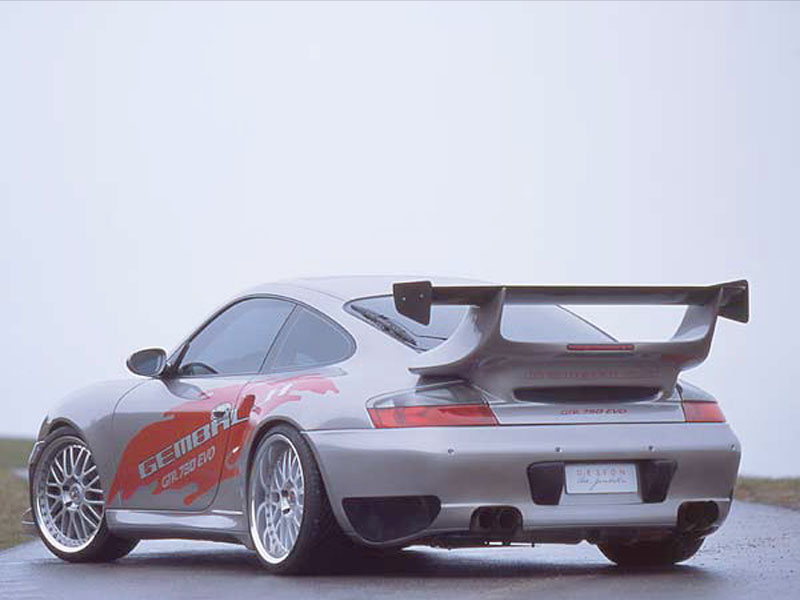 To achieve the best results around the ring, handling, including suspension, brakes, and steering, must work in harmony with power. In every area, the GTR 600 and its newer brother the GTR 750, work hard at effectively delivering their 600 to 800 horsepower to the pavement.
Impressive tire 'meat' helps Gemballa products deliver their payload. Huge nineteen inch, Yokohama AVS Sport tires bare the pain every time the GTR 750 launches. To fit the tires, and their three-piece alloy wheels, Gemballa enlarges both the front and rear wheel arches. During the process additional inches are added to the width of the car.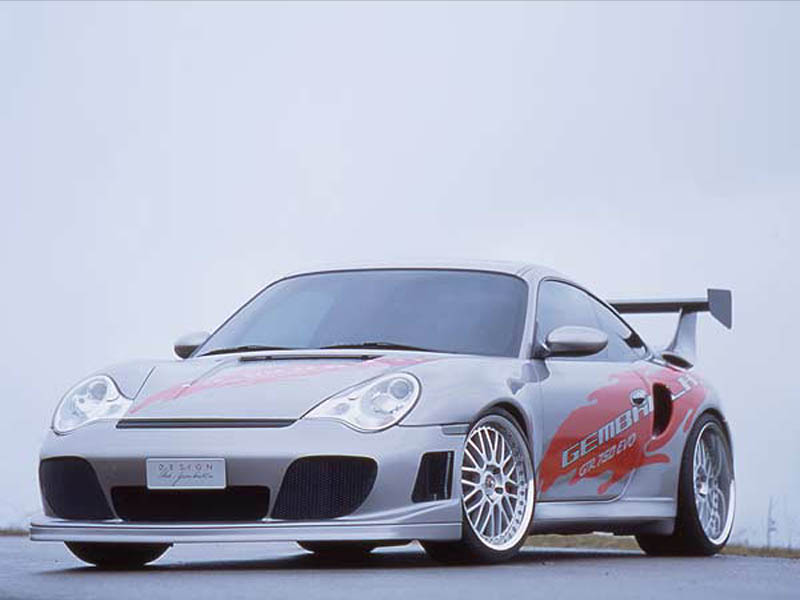 Additional rigidity is introduced into the suspension of the 750 GTR. Stronger bushings are used throughout, with H&R coil-overs all around. Flexibly is also introduced unto the suspension, having height adjustable springs, three position anti-roll bars and geometry settings a la GT3.
When first introduced, the GTR 750 was believed to have 750 horsepower. Recent tests have revealed that the actual output of the engine is more around 850 horsepower with 935 Newton meters of torque!. With such power on tap, the GTR 750 is the most powerful 911 on the planet.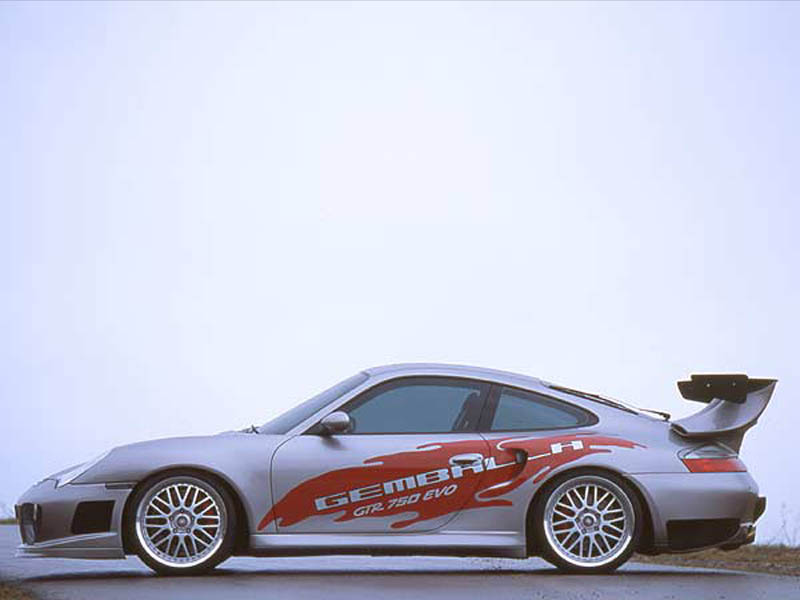 To achieve such high amounts of power, twin modified Garret T035 turbochargers replace the stock KKK units. These turbos combine with GT3-R heads, a machined crank and special connecting rods which increase the engine capacity to 3.8 liters.
On the body, many revisions are made, specifically to the front spoiler and rear valance. A large adjustable rear spoiler is attached which includes the familiar Gemballa ducts for engine cooling. The GTR750 is an example of a Porsche at it's limit. At such high states of tune (and boost), Uwe Gemballa has gone where no other tuner dares. Surely the likes of Hamann, TechArt and Lotec will have their minds on the GTR 750 when creating their next tuning packages.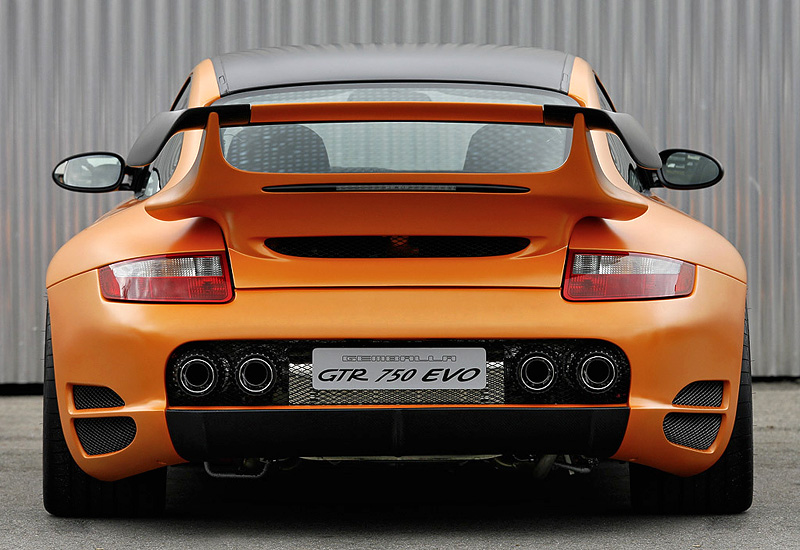 In Detail
| | |
| --- | --- |
| price $ |  $250 000 USD |
| engine | Twin Turbo Opposed 6-Cylinder |
| position | Rear Longitudinal |
| aspiration | Twin Garret T035 Turbochargers |
| valvetrain | DOHC 4 valves / cyl |
| displacement | 3800 cc / 231.9 in³ |
| bore | 100 mm / 3.94 in |
| compression | 8.3:1 |
| power | 633.9 kw / 850.1 bhp |
| specific output | 223.71 bhp per litre |
| torque | 935 nm / 689.6 ft lbs |
| body / frame | Unit Steel |
| driven wheels | Rear Engine / 4WD |
| front tires | 235/35ZR19 Yokohama AVS Sport |
| rear tires | 315/25ZR19 Yokohama AVS Sport |
| front brakes | Brembo Cross-Drilled Discs w/8-Pot Calipers |
| f brake size | x 380 mm / x 15.0 in |
| rear brakes | 993TT Front Discs w/4-Pot Calipers |
| r brake size | x 330 mm / x 13.0 in |
| front wheels | F 48.3 x 22.9 cm / 19 x 9 in |
| rear wheels | R 48.3 x 29.2 cm / 19 x 11.5 in |
| steering | Rack & Pinion w/Power Assist |
| f suspension | Mac Struts w/H&R Coilovers, Ajustable Anti-Roll Bar |
| r suspension | 5-Link Multi-Link w/H&R Coilovers, Ajustable Anti-Roll Bar |
| transmission | 6-Speed Manual |
| gear ratios | 3.82:1, 2.05:1, 1.41:1, 1.12:1, 0.92:1, 0.75:1, :1 |
| final drive | 3.44:1 |
| top speed | ~362.1 kph / 225 mph |
| 0 – 60 mph | ~3.5 seconds |
| 0 – 100 mph | ~6.5 seconds |
Above Images ©IMAGE CREDITS – Gemballa Automobiltecknik GmbH & CO. KG