2002 Jaguar X-Type Racing Concept
LAS VEGAS, Nevada, November 5 Jaguar North America is today unveiling a dramatic Racing Concept version of its all-wheel-drive X-TYPE at the 2002 Specialty Equipment Manufacturers Association (SEMA) annual trade show. The bold, race-inspired concept has been developed to test the potential of Jaguar's X-TYPE sports sedan as a project car for the enthusiast market, as well as continuing to explore options for Jaguar racing in North America.
With design inspiration taken from Trans-Am and the European DTM race series, the X-TYPE Racing Concept was built by Rocketsports Racing at its Lansing, Michigan shop using a 3.0-liter V6 all-wheel drive Jaguar X-TYPE as a donor vehicle.
Paul Gentilozzi's Rocketsports Racing was a natural choice for the project. The team competes in the Trans-Am Series for the BFGoodrich Tires Cup using a Jaguar XKR-bodied racecar, and has considerable experience in racecar fabrication and development.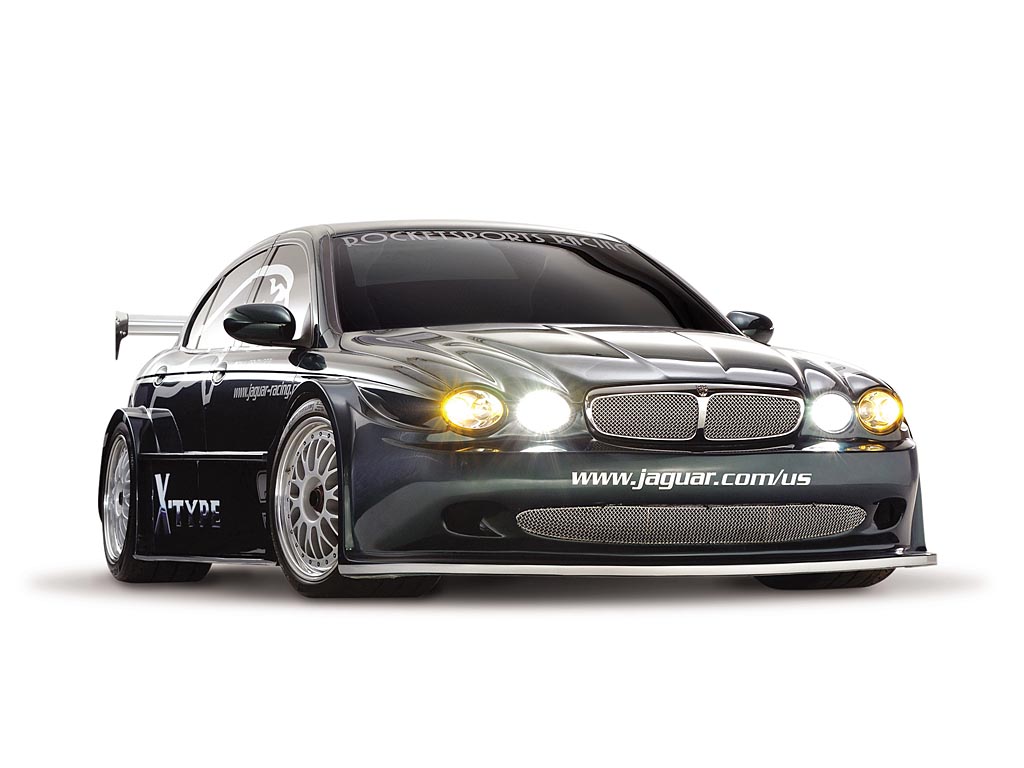 Rocketsports team of racecar engineers began by widening the X-TYPE's track by over eight inches and fitting three-piece, center-lock BBS wheels. These 18-inch race alloys are similar to the ones the team used on its XKR during February's Rolex 24 Hours of Daytona endurance race when Gentilozzi won his GTS class. They are fitted with the latest Michelin Pilot race tires, with a 345/18-section at the front, 385/18 at the rear.
Modifications to the body included the addition of race-style wheel arches joined longitudinally by aerodynamic rocker box sections. At the front, there's a deeper spoiler incorporating a lower splitter, while at the rear a full-width, racing-style wing is mounted on the rear deck. Rocketsports also fabricated a new exhaust system, featuring dual pipes emerging from each side of the rear.
In Detail
| | |
| --- | --- |
| engine | AJ-V6 |
| aspiration | Natural |
| valvetrain | DOHC, 4 Valves per Cyl |
| displacement | 3000 cc / 183.1 in³ |
| body / frame | Unit Steel |
| driven wheels | All Wheel Drive |
| front tires | 345/18 |
| rear tires | 385/18 |
| front brakes | Brembro Vented Discs w/6-Pot Calipers |
| f brake size | x 356 mm / x 14 in |
| r brake size | x 330 mm / x 13 in |
| front wheels | F 457.2 x 304.8 cm / 18 x 12 in |
| rear wheels | R 457.2 x 330.2 cm / 18 x 13 in |
| gear ratios | :1 |