2003→2006 Ford GT
Released at the 2002 North American Auto Show, Henry Ford II was proud to show off a modern-day version of Ford's most successfull endurance racer. A month after the release, Ford anounced the Ford GT would be put into production and with a price 'around six figures'. The waiting is now over, Ford have released official details of the production version.
The Ford GT supercar's design instantly stirs up images of the glorious Ford GT race cars from the 1960s. Yet a new presentation features all-new dimensions and a contemporary, striking interior – as well as epic engineering stories of how high-tech methods helped preserve a classic form.
Indeed, the first design proposal was a completely revolutionary design that interpreted cues from the past in a modern shape. The car used harder edges, abbreviated surfaces and short overhangs like a contemporary vehicle.
The second design, penned by Ford GT Chief Designer Camilo Pardo, paid more homage to the Ford GT Mark II race car. 'Freeing ourselves of the fear of creating a car that looked too much like the original was a liberating experience for the team,' says Pardo. 'But staying true to the original themes in a clean, modern design made it the most difficult project I've ever been involved with.'
That is, until the concept car was approved for production. Then, Pardo's role changed from designer to protector. As the engineering team transformed the concept, which was only 5 percent production-feasible, into a production car, Pardo was tasked with preserving the essence of the concept's design.
Since official program approval in May 2002, the 2005 Ford GT has been on the fast track for product-development timing. The build process of the first three production cars kicked off March 10, 2003. Internally, these vehicles are referred to as jobs one, two and three, referring to Ford's term for the beginning of vehicle production, job one. Regular production of the Ford GT will begin in spring 2004.
Aluminum Space Frame
Usually a new vehicle is designed from the inside out, meaning that the chassis and suspension points are set before the exterior body is designed around those dimensions. The exact opposite is true of the Ford GT. To preserve the design of the Ford GT40 concept car shown at the 2002 North American International Auto Show, the Ford GT engineering team is doing most of its work 'under the skin.'
The team developed an all-aluminum space frame, comprising 35 extrusions, seven complex castings, two semi-solid formed castings, and various stamped aluminum panels. The structure has two unique features: A large center tunnel to house the mid-mounted fuel tank and cut-out roof sections for the cantilevered doors.
Once the structure of the hybrid-aluminum design was approved, the team addressed each component to maximize strength and minimize weight. As a result, larger extrusions such as the primary frame rails have a different thickness on each wall. Portholes or windows in the complex castings – which support the suspension and powertrain – decrease unnecessary mass. Even the small castings that join the A-pillars to the roof have been fine-tuned for utmost rigidity and lightness.
Fuel System
Crash modeling verified that the center tunnel is the preferred location for the Ford GT fuel tank because it helps reduce risks, most notably in collisions. As an added benefit, the location keeps overall weight distribution and the center of gravity relatively consistent at differing fuel levels. The ship-in-a-bottle design of the fuel tank is an industry first. The mechanical components, including the fuel pumps, level sensors and vapor control valves are first mounted on a steel rail. Then, the single-piece tank is blow-molded around the rail. This method maximizes fuel volume and reduces the number of connections to the fuel system.
As another industry first, the Ford GT features a capless fuel filler neck under an aluminum cover. The aperture automatically opens as the fuel nozzle is inserted and seals the fuel system when the nozzle is removed.
Aerodynamic Development
Like the concept car, every air intake and heat extractor on the production Ford GT is functional. According to Kent Harrison, Ford GT performance development supervisor, preliminary wind-tunnel testing showed the concept car had remarkably good internal air flow.
The heat extractors in the front cowl were modified to pull more heat from the front-mounted radiators. The side intakes under the B-pillar were slightly enlarged, driving more cooling air into the engine bay and transmission cooler. Finally, an additional set of vents on either side of the rear glass help diffuse heat from the engine compartment.
To preserve the design of the concept car, Harrison had to concentrate on the underside of the vehicle. Harrison's team added a front splitter, which creates a high-pressure area for front downforce, and limits the volume of air traveling under the vehicle. They also added side splitters to prevent air from sliding under the rocker panels. A smooth, enclosed belly pan reduces underbody turbulence. Finally, venturi tunnels accelerate exiting air, creating a vacuum that literally sucks the car to the pavement. The cumulative result is significant downforce at speed and one of the most efficient lift/drag values on a production car.
Double-wishbone Suspension
double-wishbone suspension design with unequal-length aluminum control arms, coil-over monotube shocks and stabilizer bars is used front and rear. The upper control arms are the same at each corner. They are made with an advanced rheo-cast process that allows the complexity of form associated with casting while retaining the strength of forging. The metal, heated to just below its melting point, is the consistency of butter when it is injected into a mold at high pressure. Pressure is maintained as the part cures, preventing porosity in the final product for exceptional strength.
Brembo one-piece brake calipers with four pistons each grab cross-drilled, vented discs at all four wheels. The discs are a massive 14 inches in front and 13.2 inches in the rear, for fade-free stopping power. Anti-lock control and electronic brake force distribution help provide consistent, straight braking even from very high speeds.
One-piece BBS wheels are wrapped by Goodyear Eagle F1 Supercar tires, size 235/45ZR-18 in front and 315/40ZR-19 in the rear.
Supercharged 5.4-liter V-8
The Ford GT is driven by an all-new, mid-engined powertrain producing 500 horsepower and 500 foot-pounds of torque. The engine architecture comes from Ford's MOD engine family, which includes performance powertrains like the 390-horsepower 4.6-liter DOHC supercharged V-8 in the SVT Mustang Cobra and the 380-horsepower 5.4-liter SOHC supercharged V-8 in the SVT F-150 Lightning.
'We're just starting to tap the performance potential of Ford's modular engine architecture,' says Curt Hill, Ford GT powertrain engineering supervisor. 'This application really demonstrates its awesome potential. The 5.4-liter engine easily produces 500 horsepower and 500 foot-pounds of torque, while meeting all the current emissions and durability standards. Those numbers are comparable to the race-prepared, blue-printed 427 (7.0-liter) big-blocks in the Ford GT race cars.'
The Ford GT engine features an all-new, aluminum block fitted with high-flow, four-valve cylinder heads and dual overhead camshafts. To bear the stresses necessary to produce 500 horsepower, a forged-steel crankshaft, shot-peened H-beam connecting rods and forged aluminum pistons are used. 'In total, 85 percent of the reciprocating parts are unique to the Ford GT,' says Hill.
Fuel is delivered via dual fuel injectors per cylinder. A modified screw-type supercharger blowing through a water-to-air intercooler supplies sufficient airflow for engine output.
Hill's team specified two race-inspired powertrain components, a dry-sump oil system and a twin-plate clutch. The high-capacity, dry-sump oil system provides consistent lubrication, even during maximum handling. The twin-plate clutch delivers low pedal efforts while still providing the clamp loads necessary to handle 500 foot-pounds of torque. More significantly, these two features allow the powertrain to sit more than 4 inches lower in the frame as compared with the front-engined SVT Mustang Cobra. This helped maintain the low design profile and keep the car's center of gravity low for better handling. Backing the clutch is an all-new, six-speed transaxle from Ricardo. The clean-sheet design enabled Ford engineers to tailor the individual ratios to their specifications, without being forced to select from an existing assortment. The transmission is fully synchronized and features an integral, torque-sensing, limited-slip differential.
Interior
'As a race car, the original Ford GT didn't have an interior design to speak of,' says Pardo, Ford GT Chief Designer. 'They featured two seats, a steering wheel, a few toggle switches and lot of bare metal. That's it.' As such, the interior of the Ford GT is the biggest deviation from the vintage cars.
'The passenger cabin of most modern cars is isolated from the engine,' says Pardo. 'But, in the Ford GT, the supercharger is right there, inches behind your ear. It creates an intimate relationship with the engine, more like a motorcycle than a car.'
The centerpiece of the interior is a brushed-magnesium tunnel, which contains the center-mounted fuel tank. The tunnel is flanked by a pair of deep bucket seats featuring carbon-fiber shells and leather seating surfaces. To provide ventilation, the leather seat cushions are dotted with aluminum grommets similar to those used in the vintage endurance racers.
The instrument panel features a comprehensive array of analog gauges, including a center-mounted, oversized tachometer wrapped in aluminum bezels. In homage to vintage Ford GT race cars, stylized toggle switches line the panel, controlling the headlights, foglights, dimmer switch, windshield wipers and rear defroster.
The matte-black instrument panel, door panels and lower portions of the tunnel are crafted in Azdel SuperLite Composite. This is the industry's first application of Azdel throughout the interior. Azdel is roughly 30 percent lighter than standard injection-molded substrates, offers better wear resistance and is recyclable.
Exterior
Interior comfort considerations had two effects on the exterior styling of the Ford GT. To increase passenger headroom, the engineering team wanted to raise the roof height. However, the design team felt the low profile was an essential aspect of the Ford GT design. The engineers and design team fought for each millimeter, finally agreeing to raise the roof 17 millimeters above that of the concept. To compensate for the added height, Pardo returned to the studio and scaled up the entire profile, preserving the overall proportions of the design.
Second, Pardo designed the concept car with flush-mounted windows to recreate the smooth, fuselage shape of the original Ford GT. The execution of this design proved difficult since fixed windows would not be acceptable in a modern supercar, and drop-down windows created a packaging nightmare. A series of elaborate apertures were considered and rejected, until the team sectioned the window, and Pardo pushed the bottom edge of the window inboard. The solution preserves the continuity of design and allows the window glass to drop completely into the door, snaking between the hidden side-impact beam and the concave exterior door panel.
The cantilevered doors created yet another production challenge. Due to their size and shape, the exterior panels were too complex for traditional stamping. Thus, the team shaped the panels using super-plastic forming that uses air pressure to force heated aluminum panels into a one-sided die. This process also enabled the team to reproduce the sweeping curves and intersecting shapes throughout the rest of the exterior. Pardo calls the design, from the dramatic sweep of the front fenders into the nose to the transition from the C-pillars into the rear deck, 'organic and geometric.'
Story by Ford Motor Co, edited by Supercars.net
In Detail
| | |
| --- | --- |
| tags | gt40 |
| submitted by | Richard Owen |
| type | Series Production Car |
| production years | 2003 – 2006 |
| built at | Wixom, Michigan, USA |
| production | 4038 |
| price $ | $ 150,000 |
| engine | All Aluminum, MOD V8 w/Dry Sump Lubrication |
| position | Mid Longitudinal |
| aspiration | Eaton Model 2300 Screw-Type Supercherger |
| valvetrain | DOHC, 4 Valves per Cyl w/Variable Inlet Geometry |
| fuel feed | Sequential Multi-Port Electronic Fuel Injection (SEFI) with Dual |
| displacement | 5409 cc / 330.1 in³ |
| bore | 90.2 mm / 3.55 in |
| stroke | 105.8 mm / 4.17 in |
| compression | 8.4:1 |
| power | 410.1 kw / 550 bhp @ 6500 rpm |
| specific output | 101.68 bhp per litre |
| bhp/weight | 346.35 bhp per tonne |
| torque | 677.91 nm / 500 ft lbs @ 3750 rpm |
| redline | 6500 |
| body / frame | Aluminum Panels over Aluminum Spaceframe |
| driven wheels | RWD w/Helical LSD |
| front tires | Goodyear Eagle F1 Supercar 235/45ZR18 |
| rear tires | Goodyear Eagle F1 Supercar 315/40ZR19 |
| front brakes | Cross-Drilled & Vented Discs w/Brembro 4-Piston Monoblock Calipers, ABS |
| rear brakes | Cross-Drilled & Vented Discs w/Brembro 4-Piston Monoblock Calipers, ABS |
| front wheels | F 45.7 x 22.9 cm / 18 x 9 in |
| rear wheels | R 48.3 x 29.2 cm / 19.0 x 11.5 in |
| steering | Rack & pinion |
| f suspension | Upper A Arm & Lower L Arm w/Springs, Monotube Aluminum Dampers, Tubular Anti-Roll Bar |
| r suspension | Upper A Arm & Lower L Arm w/Springs, Monotube Aluminum Dampers, Tubular Anti-Roll Bar |
| curb weight | 1588 kg / 3500 lbs |
| wheelbase | 2710 mm / 106.7 in |
| front track | 1599 mm / 63.0 in |
| rear track | 1618 mm / 63.7 in |
| length | 4643 mm / 182.8 in |
| width | 1953 mm / 76.9 in |
| height | 1125 mm / 44.3 in |
| transmission | Ricardo Six-Speed Manual |
| gear ratios | 2.61:1, 1.71:1, 1.23:1, 0.94:1, 0.77:1, 0.63:1 |
| final drive | 3.36:1 |
| top speed | ~329.9 kph / 205 mph |
| 0 – 60 mph | ~3.6 seconds |
| 0 – 100 mph | ~8.0 seconds |
| 0 – 1/4 mile | ~11.7 seconds |
| fuel econ epa | 16.80 L/100 km or 14 mpg-us |
| city fuel econ epa | 19.60 L/100 km or 12 mpg-us |
| hwy fuel econ epa | 12.38 L/100 km or 19 mpg-us |
Auction Sales History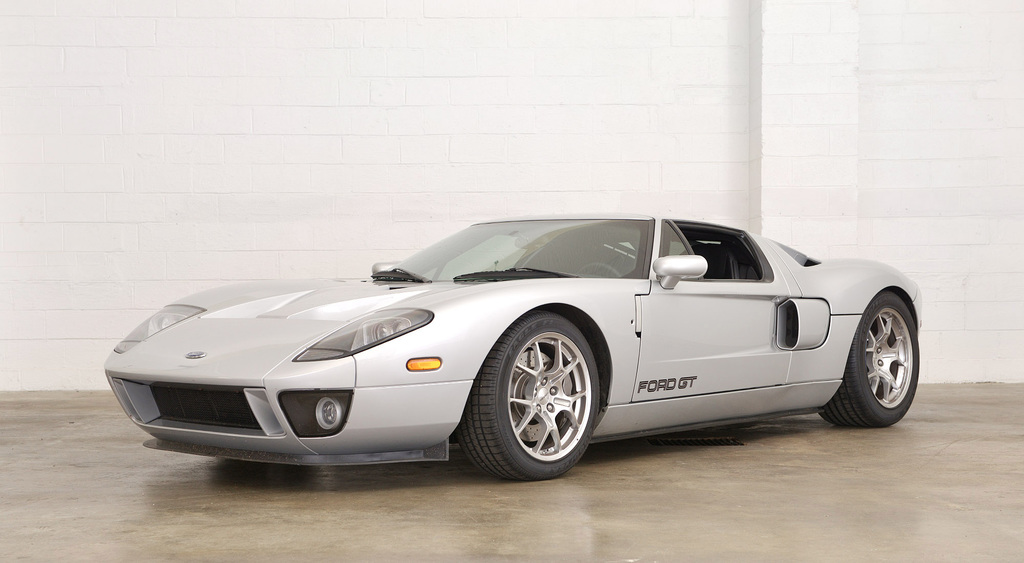 2005 Ford GT 1FAFP90S75Y401331 –
This 2005 Ford GT has been properly maintained and preserved in factory-fresh, original condition. It is one of few that were produced in silver, and is one of about 52 in silver that were ordered without the racing stripe option. A recent Car Fax indicates two previous owners and documents that the 3,110 miles, as noted on the odometer, are actual and original. It has been recently serviced and detailed by We Love Cool Cars LLC of Asherville, North Carolina, at which time new tires were installed. It is a solid, well-maintained example of a very impressive American supercar.
Auction Source: 'Rolling Sculpture' 2015 NYC by Keno Brothers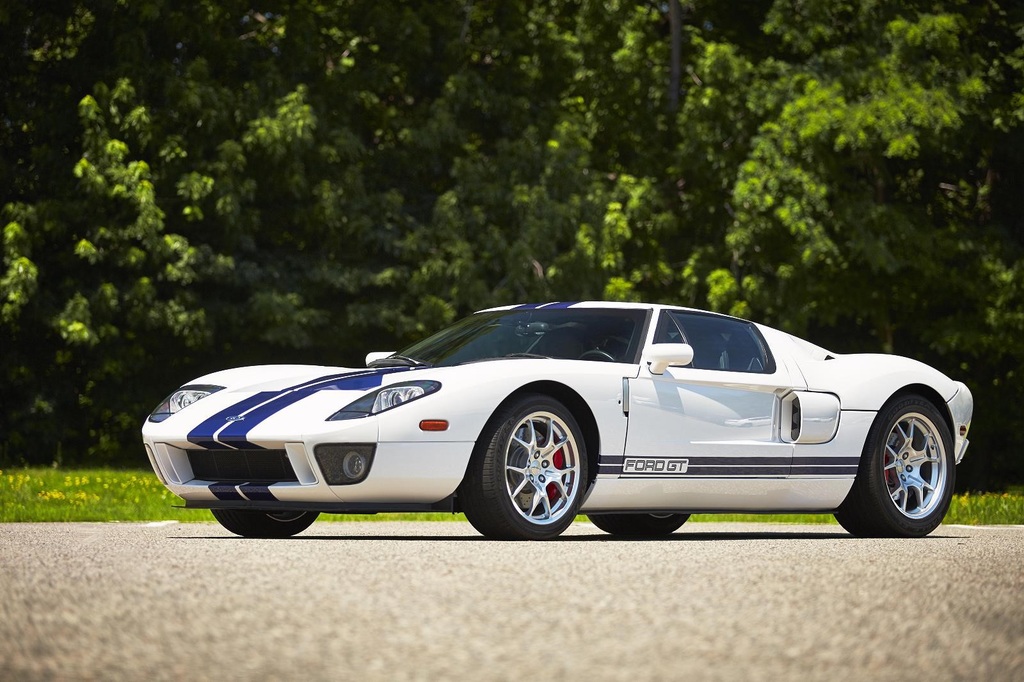 2005 Ford GT 1FAFP90S45Y400055 – sold for $297,000
Extremely well-kept example with less than 2,000 miles from new. Offered with the original window sticker and factory-delivered accessories. Four-option example. Presented in classic Centennial White with blue Shelby stripe. 29th example produced.
Auction Source:
2015 Quail Lodge Auction by Bonhams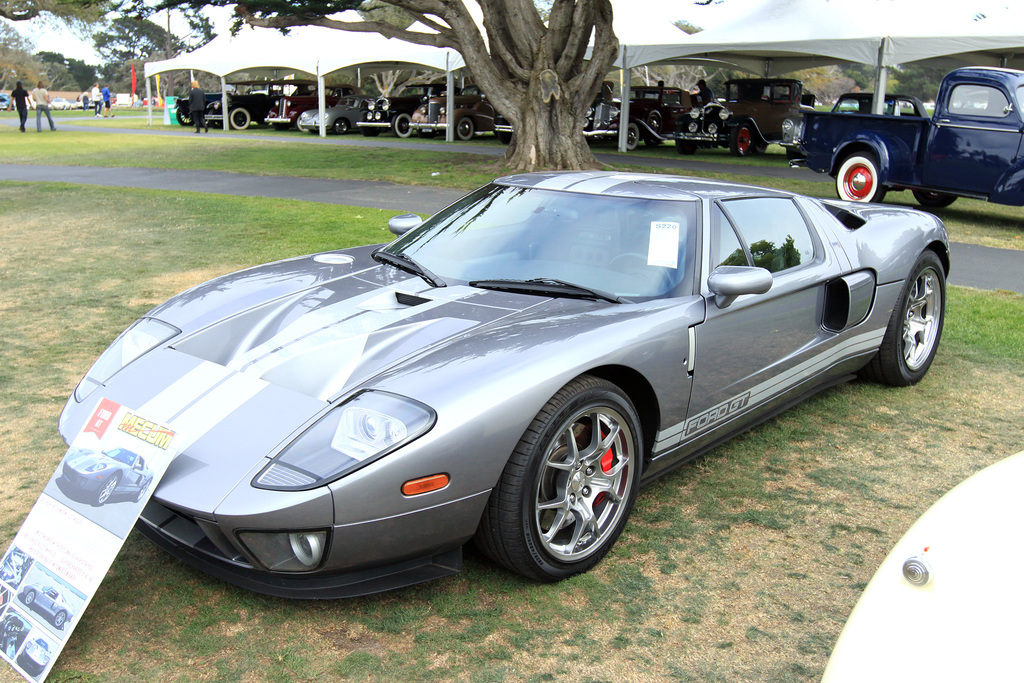 2006 Ford GT 1FAFP90S66Y401886 – sold for $240,000
5.4L/550 HP engine.6-speed transmission. Forged BBS wheels. Red brake calipers. #515 of 541 built in Tungsten Gray. Ford Certificate of Authenticity.
Auction Source:
Monterey 2014 by Mecum Auctions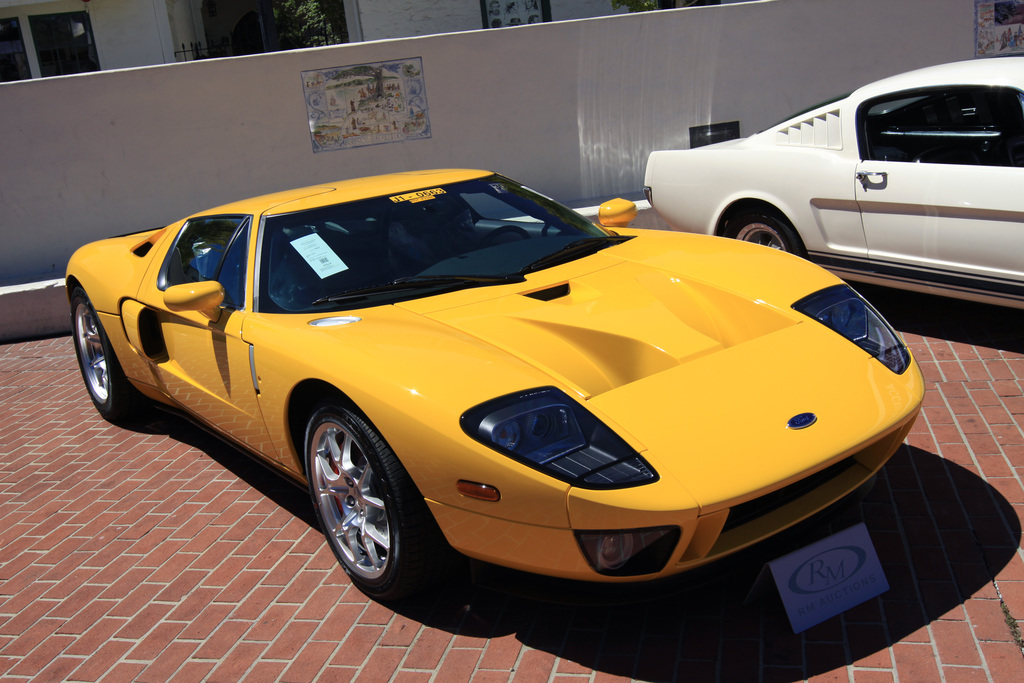 2006 Ford GT 1FAFP90S36Y400663 – sold for $407,000
One of just two Ford GTs produced in Speed Yellow with a "stripe delete". Factory fresh, with 13 miles since new. Seats still in their factory plastic covering. Among the finest, rarest, and lowest-mileage Ford GTs.
Auction Source:
2014 Monterey by RM Auctions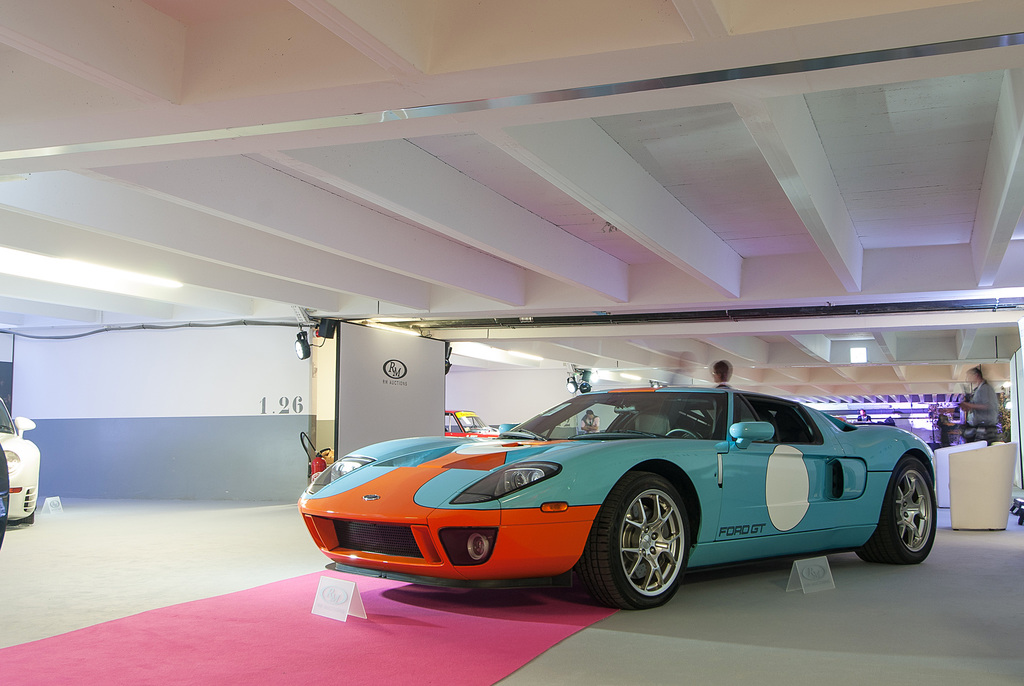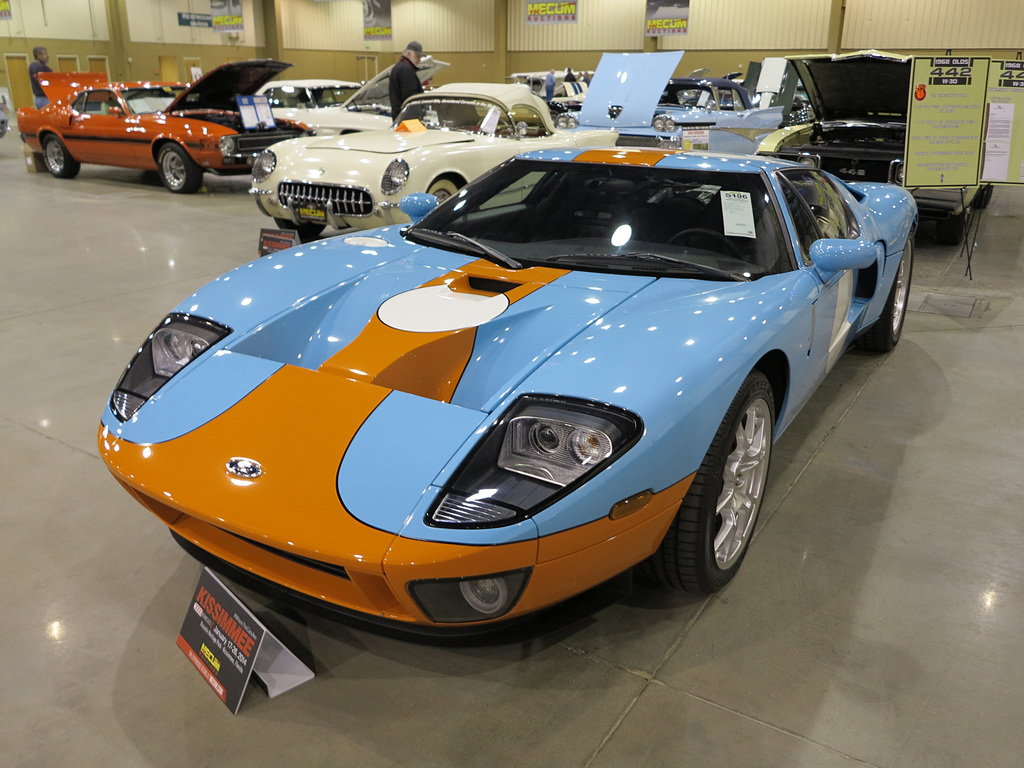 2005 Ford GT Heritage Edition 1FAFP90S06Y400622 – sold for $320,000 2006 Ford GT Heritage Edition 1 of 343. 2,400 miles. Climate controlled and garage kept. Manual, books, cover and number kit included. Sold new at Mullinax Ford in Orlando.
Auction Source: Kissimmee 2014, #WhereTheCarsAre by Mecum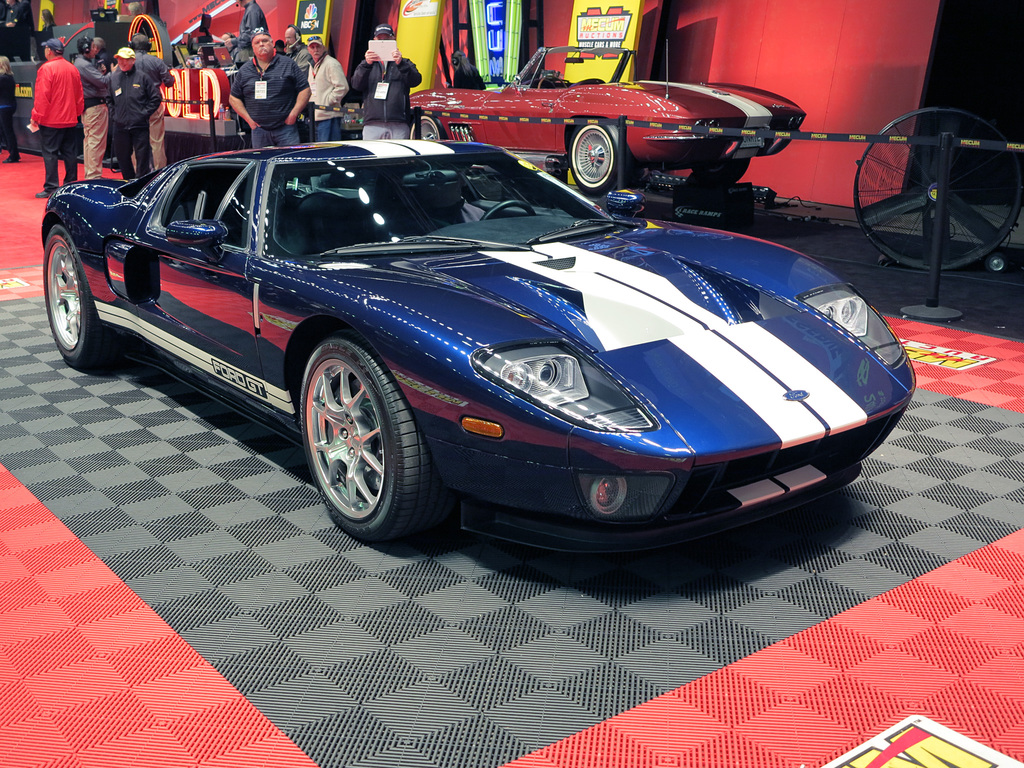 2005 Ford GT – sold for $237,400
Just 266 Ford GT's were finished in Midnight Blue for the 2005 model. Supercharged 5.4L DOHC with 550 HP. 6-speed Ricardo transmission. Plastic still on door sill. All four factory options. Forged alloy wheels. McIntosh stereo system. Gray painted brake calipers. White Le Mans racing stripe. Ebony leather interior. Keyless entry.
Auction Source:
Kissimmee 2014, #WhereTheCarsAre by Mecum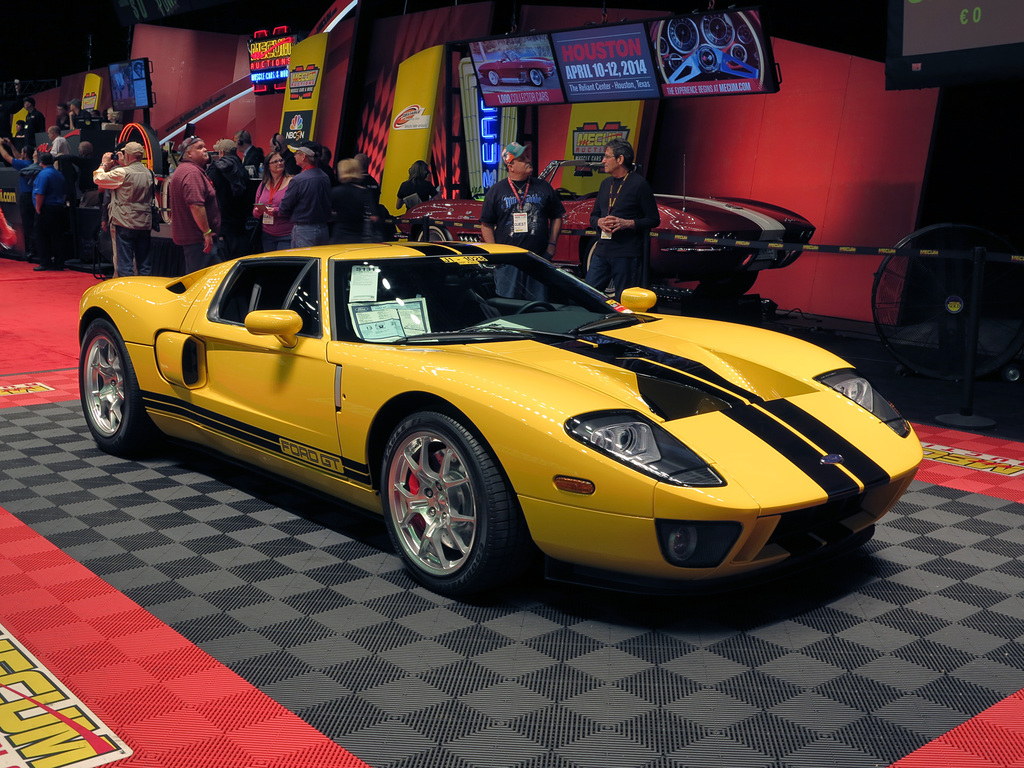 Speed Yellow 2006 Ford GT 1FAFP90S46Y401028 –
Still on MSO from original Ford dealer. 568 actual miles. 5.4L supercharged 550 HP. Total build was 4,038. Considered to be a true exotic race car. New version of the original GT40. Stunning looks. All the performance to satisfy any racers needs. Standing 44 inches tall, it is described by Ford Motor Company as the "Pace car for an entire company". Inspiration came from the legendary first, second and third place finishes in 1966 at the 24 hour Le Mans Endurance Race.
Auction Source: Kissimmee 2014, #WhereTheCarsAre by Mecu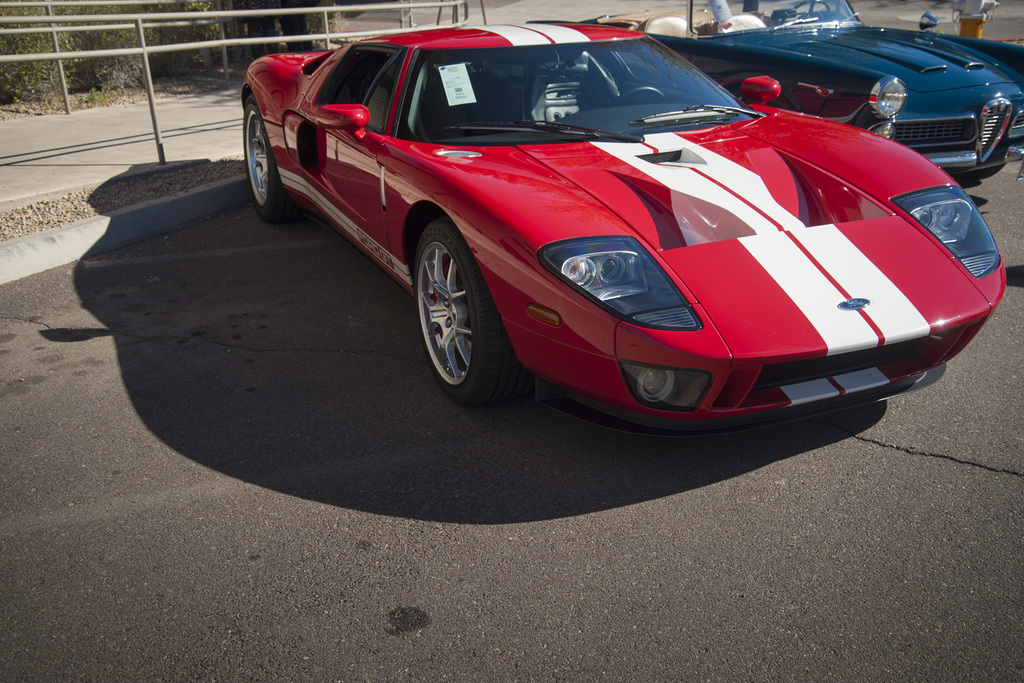 2005 Ford GT 1FAFP90S85Y400057 – sold for $225,500
An early production example of the iconic modern American supercar. Outfitted with all four factory options. Single ownership and 5,100 miles since new.
Auction Source:
2014 Arizona by RM Auctions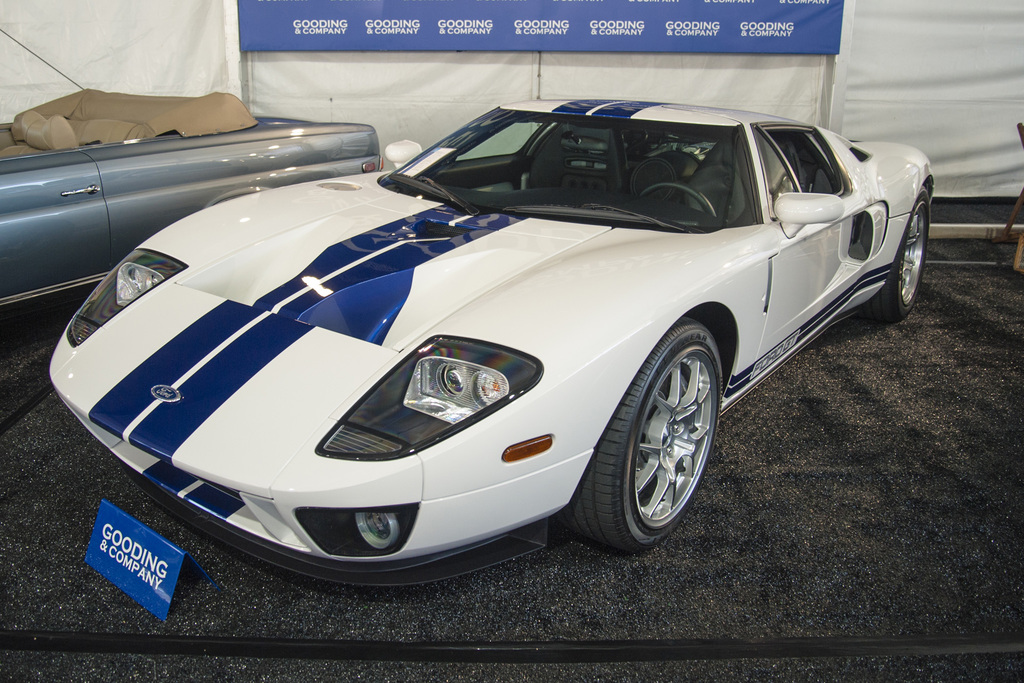 2005 Ford GT 1FAFP90S35Y401312 – sold for $258,500 Model Commemorating Ford's Le Mans-Winning GT40. Less than 600 Miles of Use. BBS Forged Aluminum Wheels. 200+ MPH Performance. Offered with Books and Tools. A Modern Supercar Classic.
Auction Source: The Scottsdale Auctions by Gooding & Company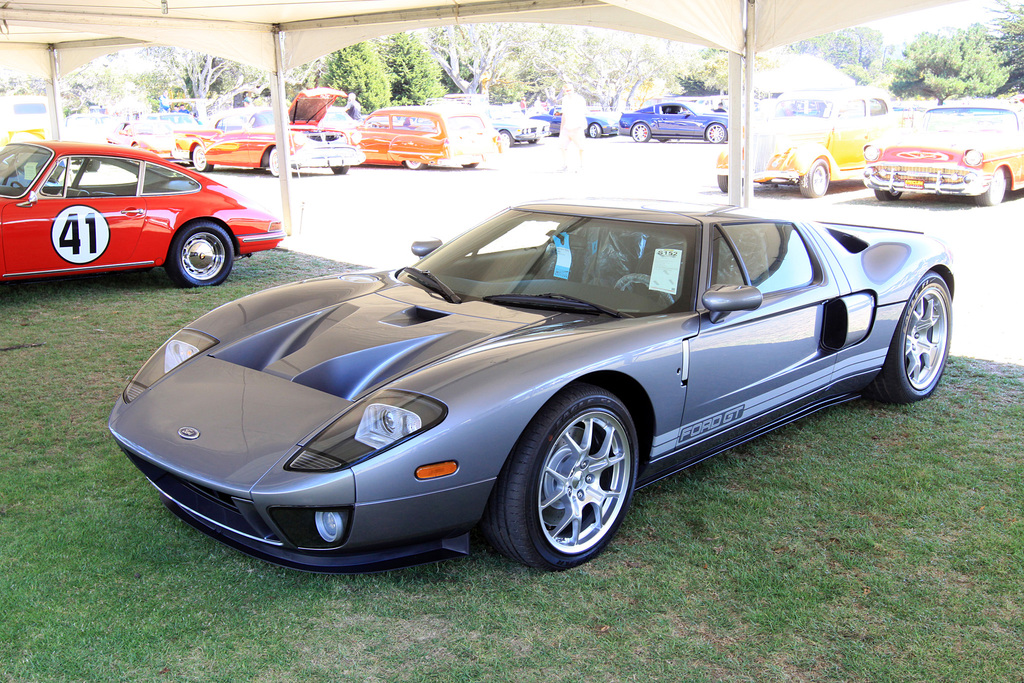 2006 Ford GT –
2006 Ford GT limited production supercar. 45.8 careful one owner miles. Tungsten Gray, one year only color. Truly new in the wrapper. 5.4L engine with 550 HP. 6-speed manual transmission. All paperwork included. Window sticker, hang tags, books, sales brochure poster, two keys, plastic on the seats. McIntosh stereo and BBS forged Alloys. One of the lowest mile examples available. Air compressor. Battery tender. Factory car cover. CAN NOT BE REGISTERED IN CALIFORNIA.
Auction Source: The Daytime Auction in Monterey by Mecum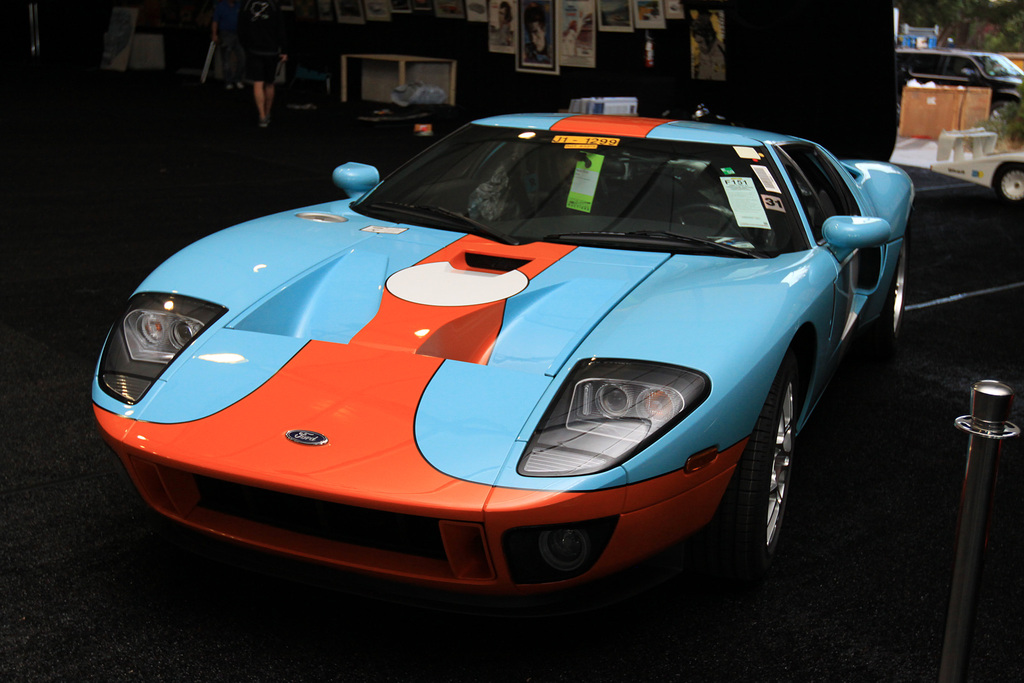 2006 Ford GT Heritage Edition –
Untouched GT Heritage Edition with 5.8 original miles. The factory and transport stickers remain intact. The center console shinkwrap, steering wheel wrap and seat plastic were not removed. Commemorative Heritage Blue and Epic Orange exterior. Aluminum chassis with double wishbone suspension. Supercharged 5.4L aluminum DOHC V-8 with 550 HP. Ricardo 6-speed manual transmission. Optional McIntosh audio system with CD player. BBS forged aluminum 19″ rear and 18″ front wheels. Goodyear Eagle F1 tires with 315 rear tire width. Gray painted brake calipers, air conditioning. HID headlights, power windows, Black leather interior. Original sticker kit in unopened box. Owner's manual attache, manuals and books included. Sold new at Steve Baldo Ford in Niagra Falls, New York. 1 of 343 Ford GT Heritage Editions produce.
Auction Source: The Daytime Auction in Monterey by Mecum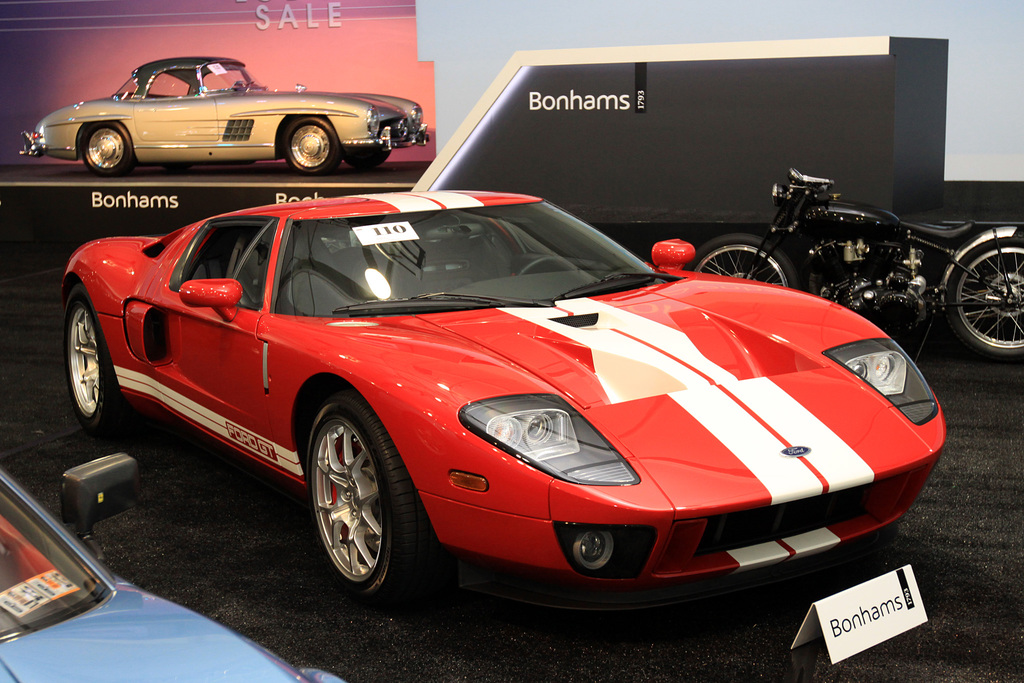 2006 Ford GT 1FAFP90S66Y401063 – sold for $209,000
One owner and fewer than 1,000 miles from new. Never painted or damaged. Desirable factory options fitted. Late example from the final year of production. Offered with the original window sticker, owner's manuals and all factory delivered accessories.
Auction Source:
2013 Quail Lodge Auction by Bonhams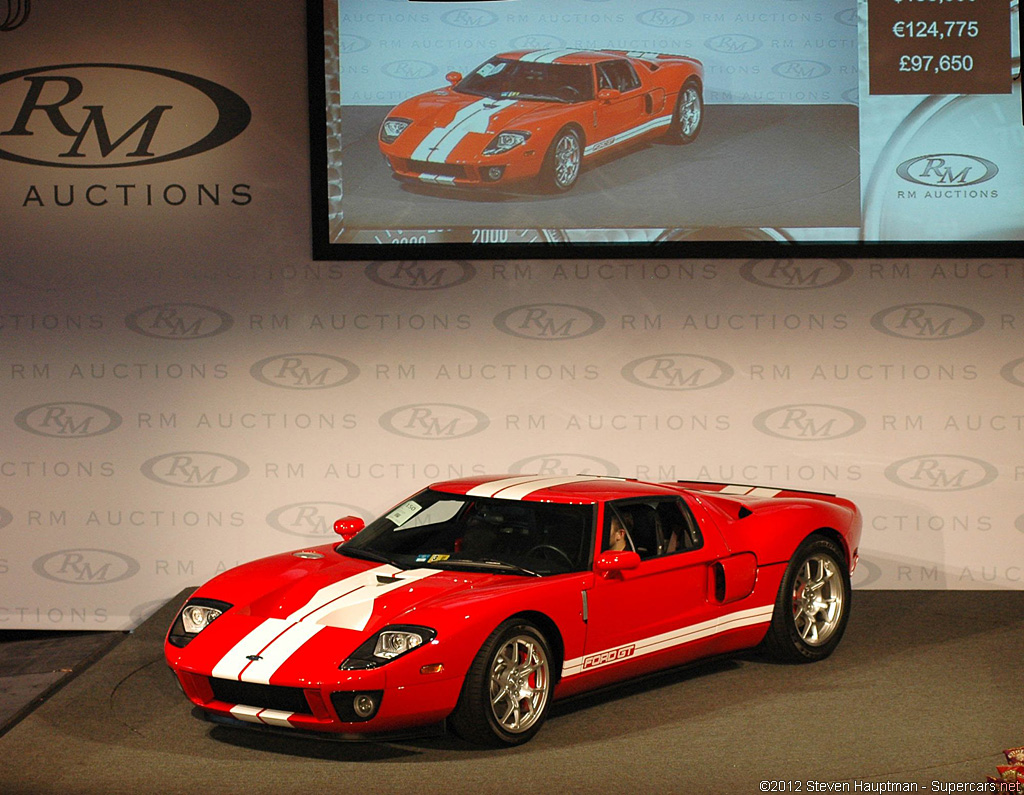 2005 Ford GT – sold for $170,500
With just one meticulous owner from new, no accident history, and only an approximate 1,300 miles, this is a striking, very early production Ford GT. Striking in Mark IV Red, it was factory-equipped with all four available options, including the $5,000 white painted stripes, the $4,000 McIntosh CD stereo system, the $3,500 lightweight BBS forged aluminum wheels, and the $750 color-matched Brembo brake calipers.
Auction Source:
2012 St John's by RM Auctions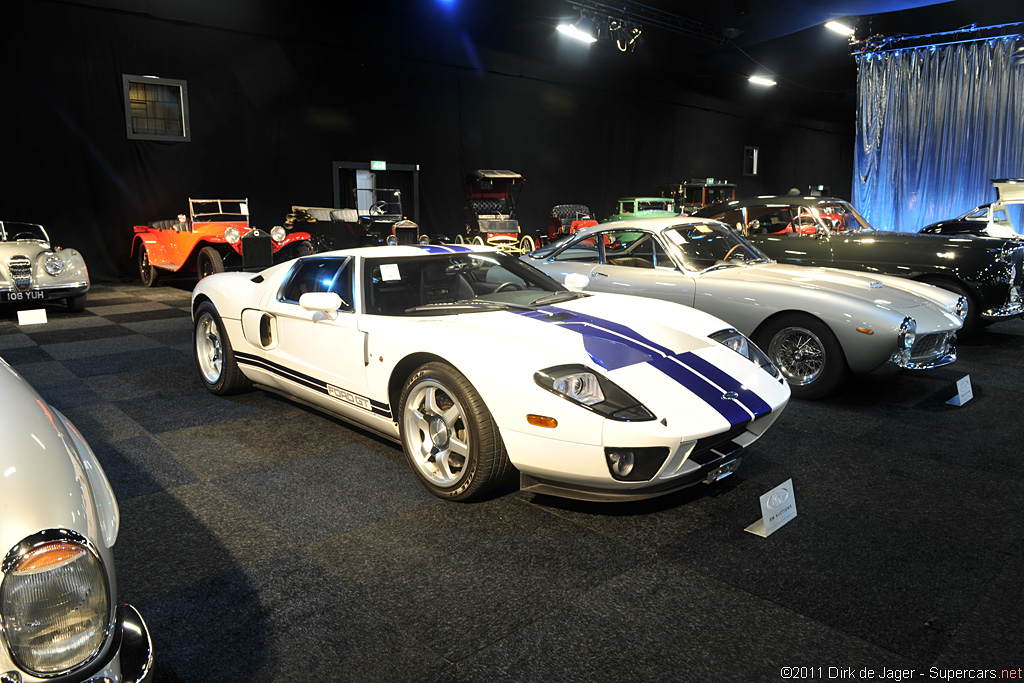 2005 Ford GT –
Delivered to him in September 2005 finished in Centennial White with painted stripes and invoiced at CHF 276,599, the car has since covered just 9,700 miles and has been kept in a climate-controlled environment, never suffering damage and receiving meticulous care. It is Swiss registered and accompanied by a history file including sales invoice and comprehensive owners documentation. A modern classic, which Jeremy Clarkson famously summed up as "sensational—as good as anything I have ever driven!"
Auction Source: 2011 London Auction by RM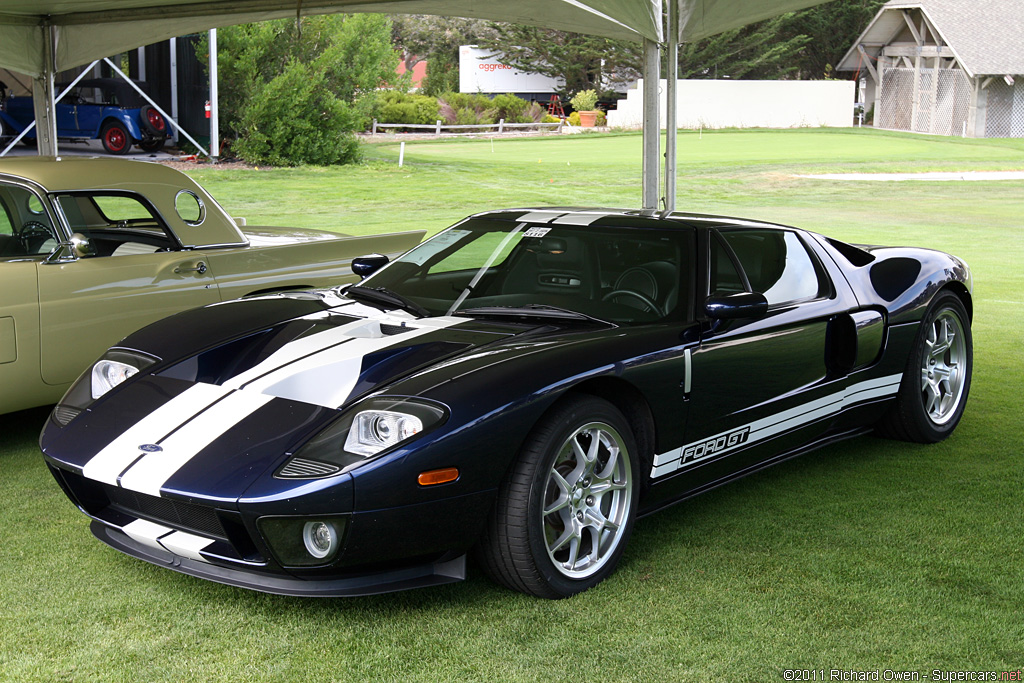 2005 Ford GT Coupe –
Ford delighted generations of fans with its reinterpretation of the legendary Le Mans-winning GT40. The Ford GT features many new and unique technologies, including super-plastic-formed aluminum body panels, roll-bonded floor panels, a capless fuel filler system, one-piece door panels an aluminum engine cover with a one-piece carbon-fiber inner panel and an all-new supercharged 5.4/550 HP V-8 that gives the GT a top speed of 180 MPH. This 2005 GT from the Harold R. Wing collection harks back to the original with its Blue-and-White competition livery.
Auction Source: 2011 Monterey Daytime Auction by Mecum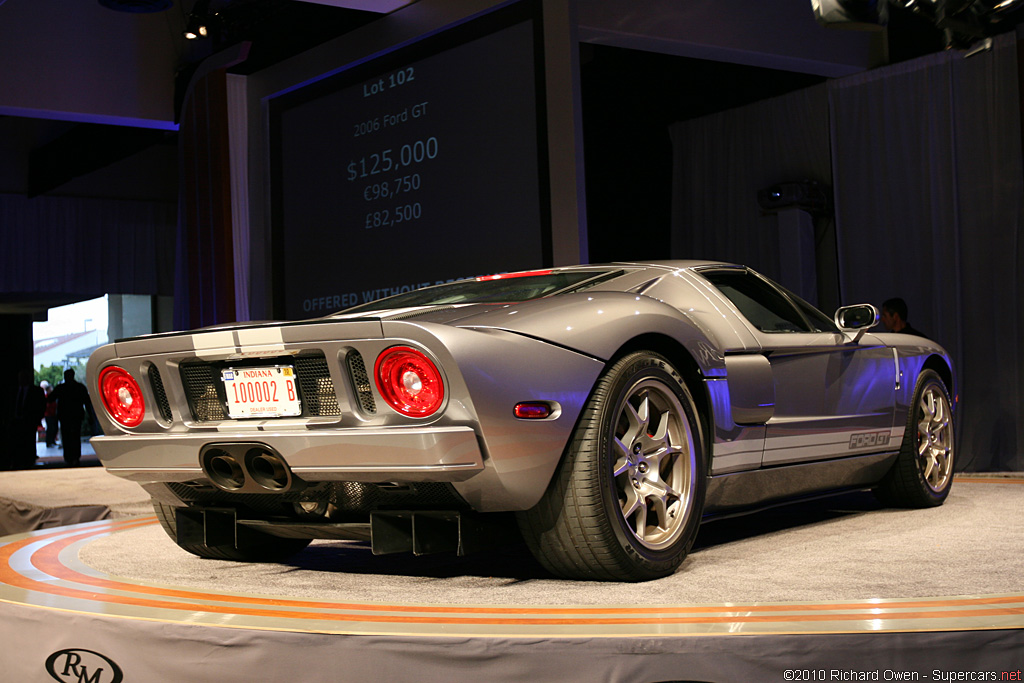 2006 Ford GT –
One owner and fewer than 10,000 actual miles. Delivered new to Hacienda Ford in Edinburg, Texas on November 1st, 2005, this Ford GT was then traded to Lone Star Ford of Houston, Texas on January 17th, 2006 showing only 10 delivery miles. Purchased by the current and only owner from Lone Star Ford on February 6th, 2006, this example is finished in titanium with silver racing stripes and a black leather interior. Maintained to the highest standards, it shows fewer than 10,000 actual miles, and with an MSRP of $149,995 (not including options), it remains one of the very few limited production supercars destined to become a true classic and collecto
Auction Source: RM Auctions' 2010 Sports & Classics of Monterey