2003 Jeep Treo Concept
Chrysler Group designers took a look into the future and created a concept vehicle that explores the limits of the Jeep® brand, combining innovative design and environmentally friendly advanced technology in an activity vehicle aimed at young consumers.
Premiering at the 37th Tokyo Motor Show, Jeep Treo offers a fresh new look at classic Jeep design themes, such as the seven-bar grille and prominent windshield presence. Inside, the Jeep Treo provides space for three passengers or two-plus-gear in a cabin that creates an open feel in what is a truly compact vehicle. Underneath, Treo is based on an all-new platform designed to utilise drive-by-wire technology and a zero-emission fuel cell – or other advanced powerplant of the future – along with an electric drive powertrain that gives Treo full-time four-wheel drive capability.
Treo's designers were challenged to look a decade or more into the future and extend the Jeep brands customer base. The result is an urban mobility vehicle that provides Jeep style and freedom in a clean, compact package – one that can adapt to youthful lifestyle demands, both in an urban environment and at the trailhead.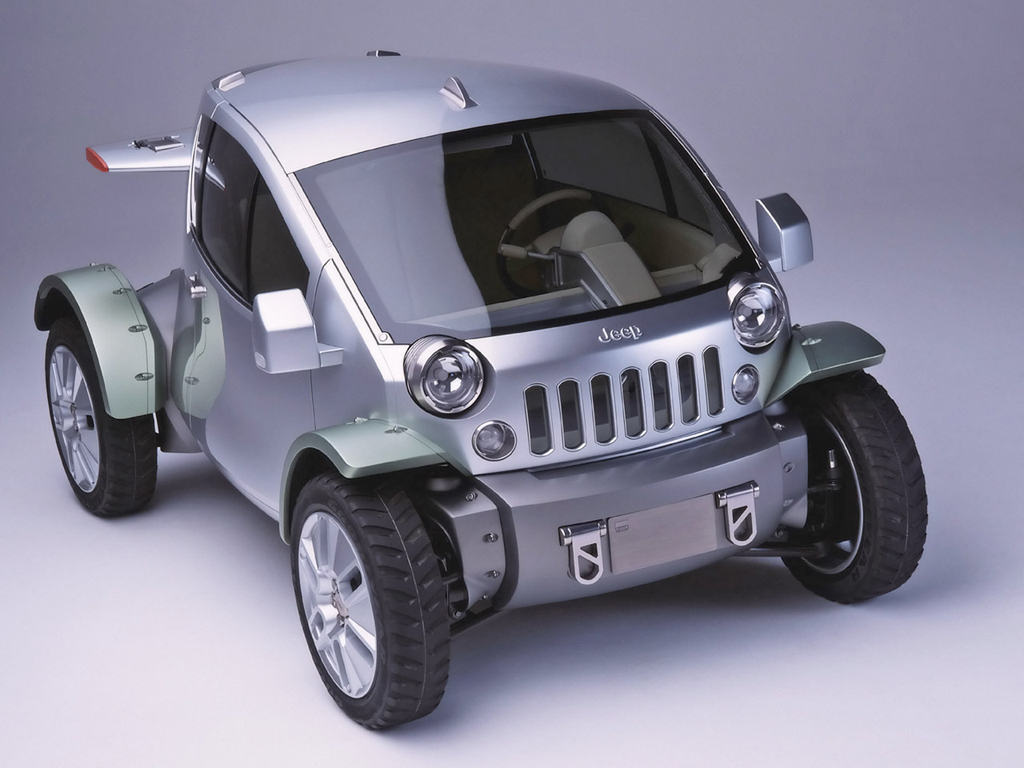 A Bold New Jeep Signature
The Treo's front end presents a bold new Jeep signature and provides fresh insights on the classic Jeep face. Treo then tapers front-to-back in a tear-drop shape, to end with two high-mounted spar wings that house rear lamps and serve as mounts for twin high-tech Jeep Rubicon mountain bikes – the perfect equipment for tomorrow's active young consumers. The rear hatch with a large cutout notch provides easy access to rear storage.
Jeep ruggedness is signalled by the flared wheel arches that give the over-sized tyres plenty of play, tow hooks exposed on the front end, and the precision tool look of the headlamps and mirrors. The military-style tyre tread, exposed front suspension and the hiking boot tread detail on the sill plate all enhance the vehicle's adventurous image.
The Treo's look is rugged and purposeful – a truly imaginative evolution of the Jeep face with packaging that belies its compact dimensions, said Creed. It has a real presence in the flesh, one that grows more interesting every time you look at it – from every angle.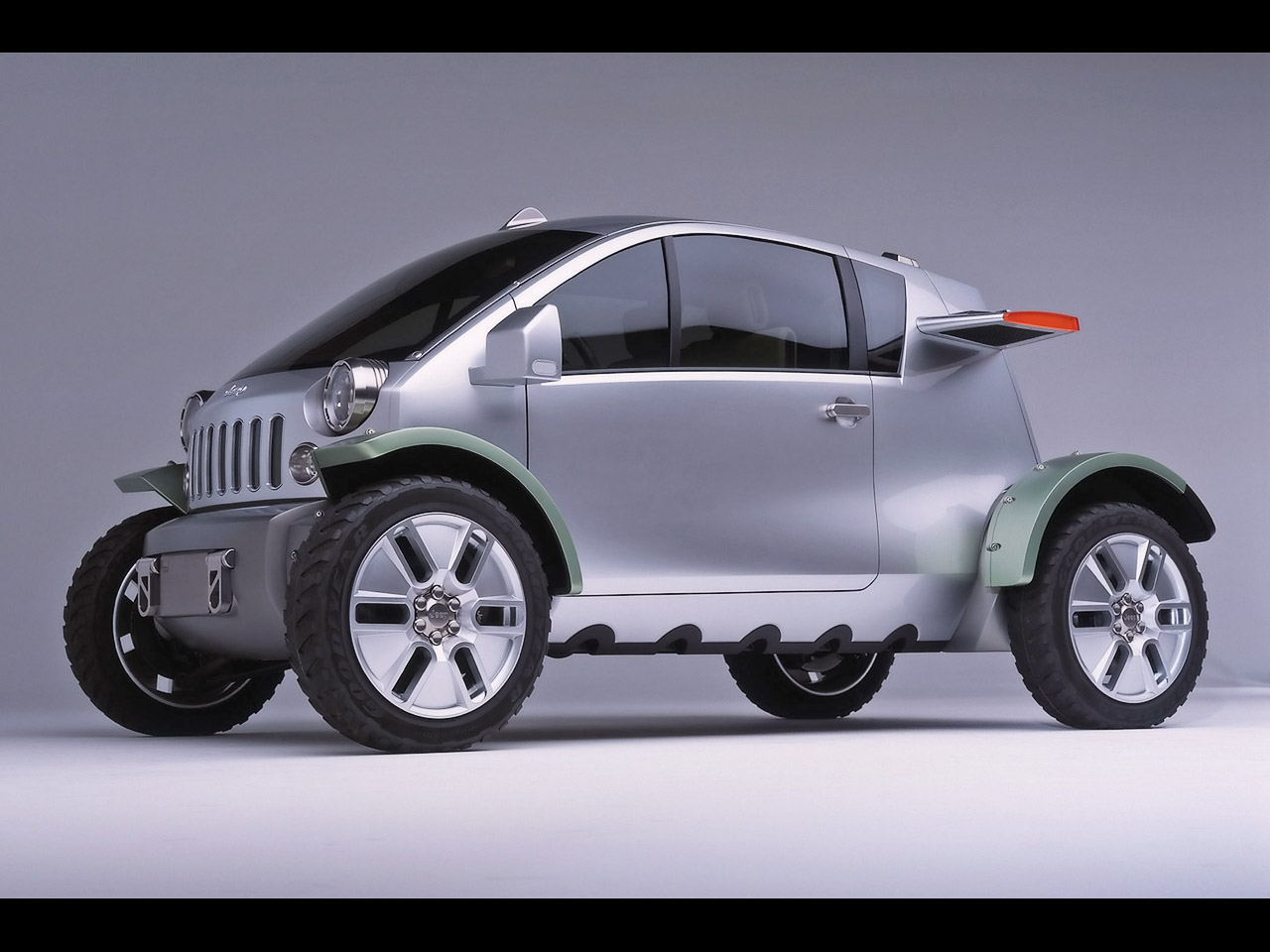 Flexible Interior and Propulsion Possibilities
Jeep Treo's interior continues the simple, honest Jeep look. The steering wheel and column, pedals, speedometer and other instruments are housed in a single, sculptured module. The entire module slides through a slot in the dash for quick adaptation to right- or left-hand driving, extending Treos reach to world markets. The radio, global positioning satellite locator and climate controls with touch-screen operation are housed in a second, removable module.
Lightweight seats are made of translucent material over a strong carbon fibre frame. The rear seat folds flat for storage of additional gear. Another configuration allows for the front wheels from the Rubicon bikes to be removed and mounted in the rear of the interior, while still allowing a third passenger to ride along.
Despite the vehicle's compactness, a feeling of openness is maintained in the interior by the large windshield, a see-through, seven-slotted Jeep front grille, and a glass roof that extends over the rear passenger space.
Jeep Treo is powered by two electric motors driving the front and rear wheels, giving the vehicle full-time four-wheel drive capability. For the future, Treo is designed to adapt to new technologies, such as drive-by-wire, fuel cells or other advanced powertrains.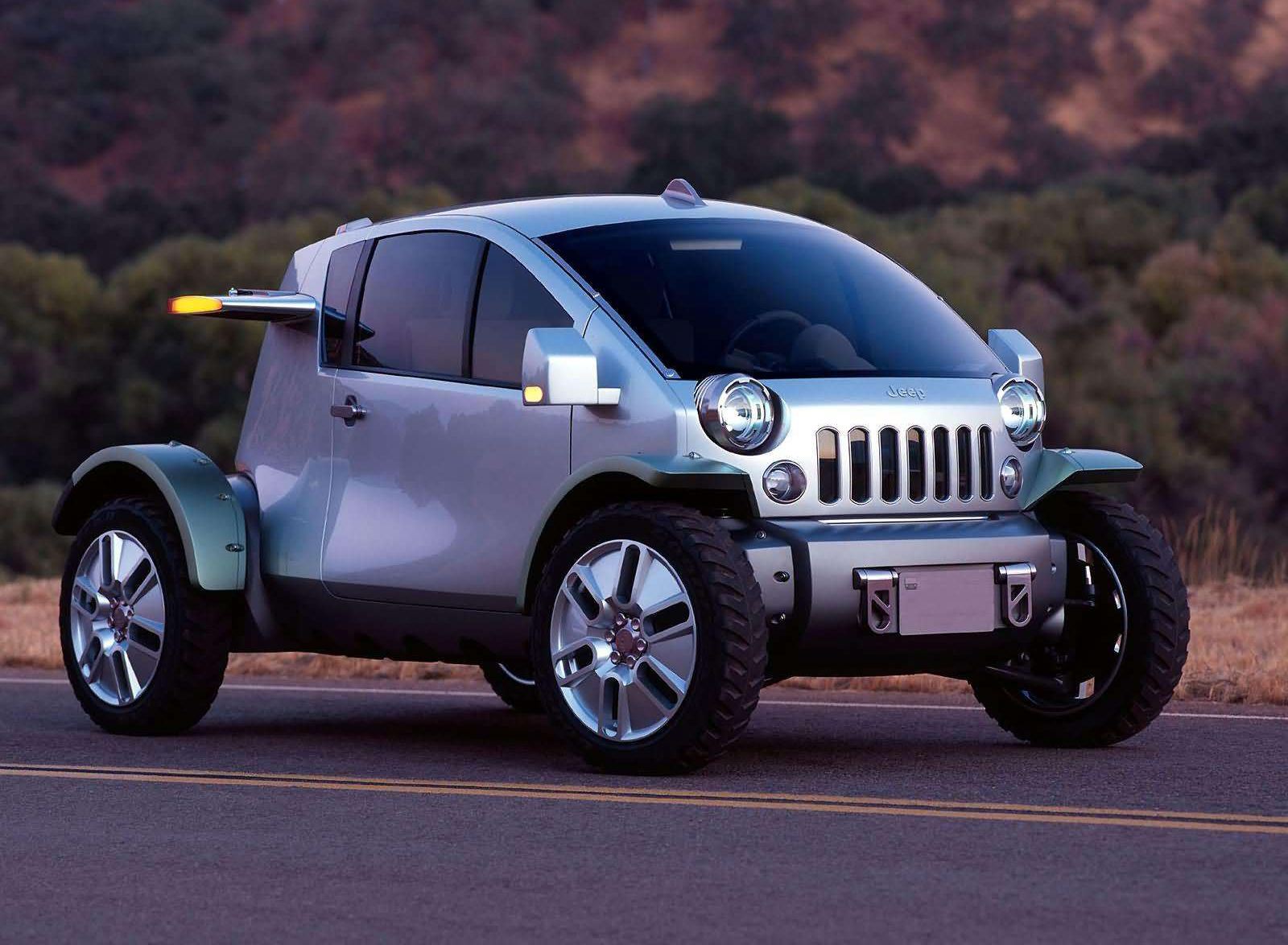 Treos visionary vehicle packaging with its basic three-seat configuration and built-in versatility lends itself to future Jeep activity seekers – at entry-level price positioning. It is rugged and functional in genuine Jeep fashion, but its adaptability is taken to the next level, Creed said.
Original Animation for a Unique Vehicle
Chrysler Group's introduction of the Jeep Treo concept vehicle will feature an original animation sequence produced especially for the Tokyo Motor Show. The animation is influenced by the style known as anime, which is popular in Asia and other parts of the world. This adventurous, high tech animation is the perfect style for introducing the Jeep Treo concept.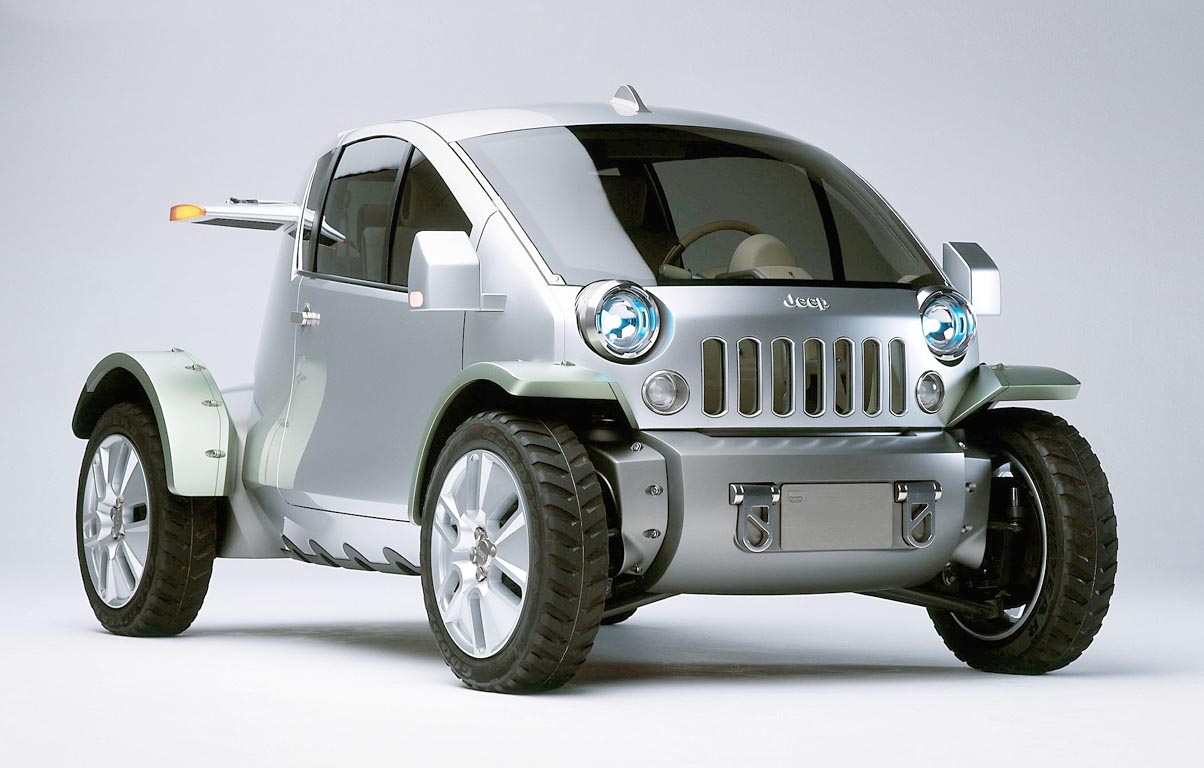 In Detail
| | |
| --- | --- |
| front tires | 185/65R19 |
| rear tires | 185/65R19 |
| f brake size | mm / in |
| r brake size | mm / in |
| front wheels | F 48.3 x 15.2 cm / 19 x 6 in |
| rear wheels | R 48.3 x 15.2 cm / 19 x 6 in |
| curb weight | 816 kg / 1799 lbs |
| wheelbase | 2450 mm / 96.5 in |
| front track | 1499 mm / 59.0 in |
| rear track | 1499 mm / 59.0 in |
| length | 3235 mm / 127.4 in |
| width | 1680 mm / 66.1 in |
| height | 1585 mm / 62.4 in |
| gear ratios | :1 |