We all remember the very impressive Ford GT40 from the 1960s, winning Le Mans four consecutive years from 1966 to 1969, I guess most of us have seen the movie about the competition between Ford and Ferrari at that time, and to celebrate Ford's centennial they created a more modern interpretation of those glorious race cars … the 2005 and 2006 Ford GT, in just two years of production they made a total of 4,038 units, making these modern-day classics rare, and expensive today, and they weren't cheap to begin with, the MSRP was $149,995 in 2006.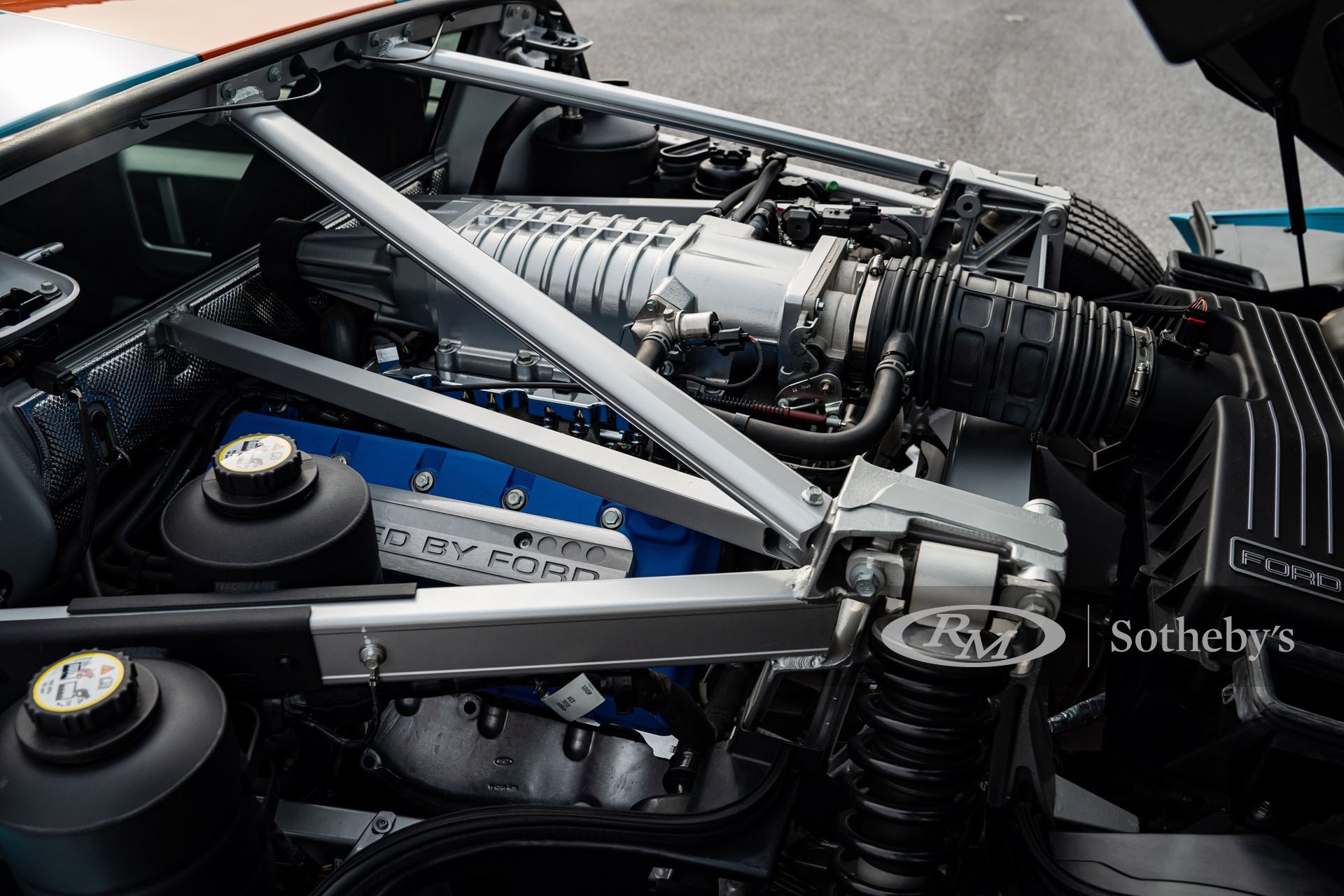 The 'new' Ford GT came with a dry-sump 5.4-Liter V8 engine fitted with a twin-screw supercharger from Lysholm delivering 550 hp to the rear wheels only, a six-speed transmission was fitted, acceleration figures were 3.3 seconds from 0 to 60 mph with a top speed of 205 mph … this was a very fast Ford back in 2005.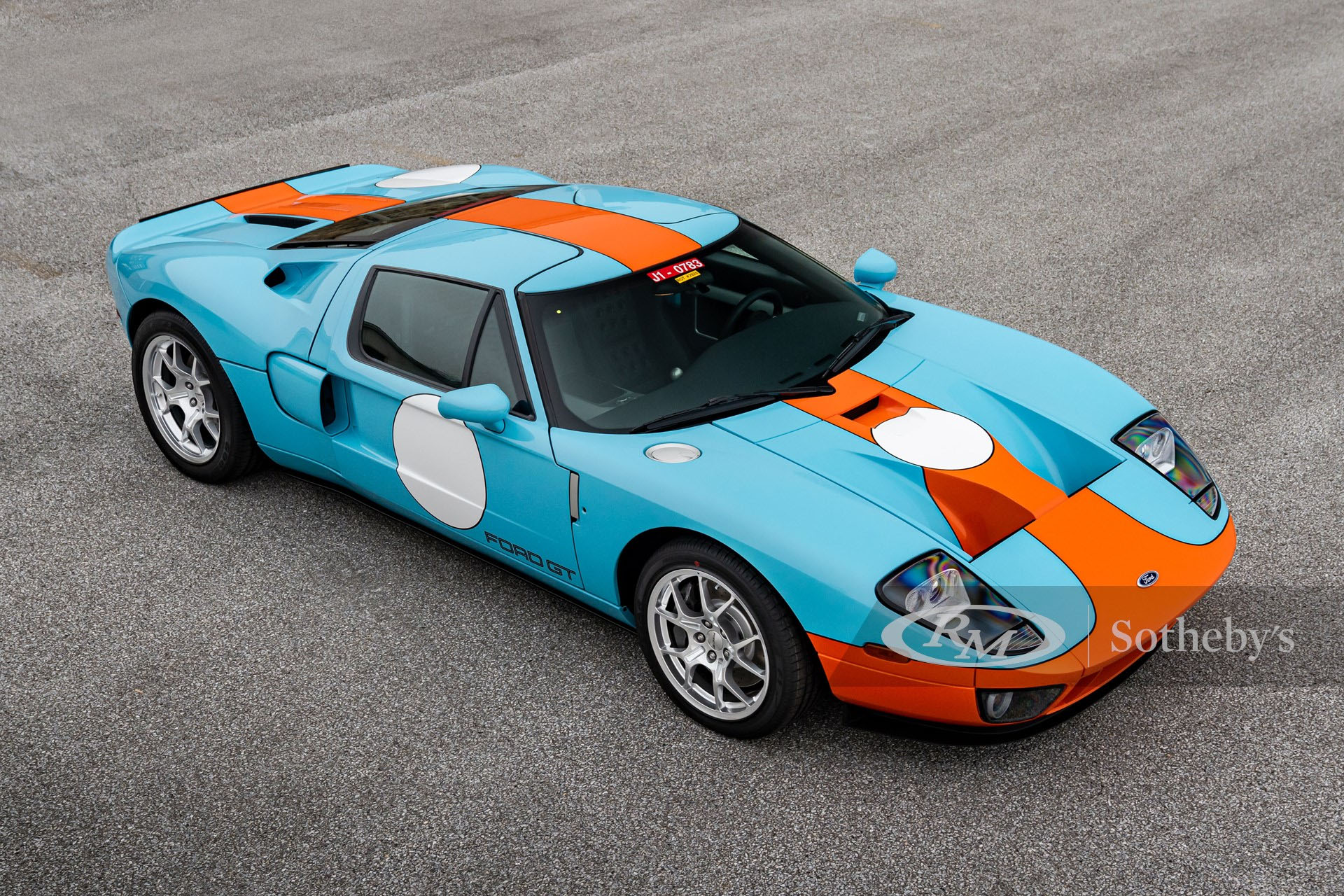 If we look at listings for a 2006 Ford GT the price has doubled since new, most of them are around the $300,000 mark today, some a little cheaper, most of them near $350,000 and more … in 2006 a total of 2,011 Ford GT were made, but for that final year there was a special option available, the limited-production Heritage Paint Livery Package edition … only 343 units were sold with this specific option.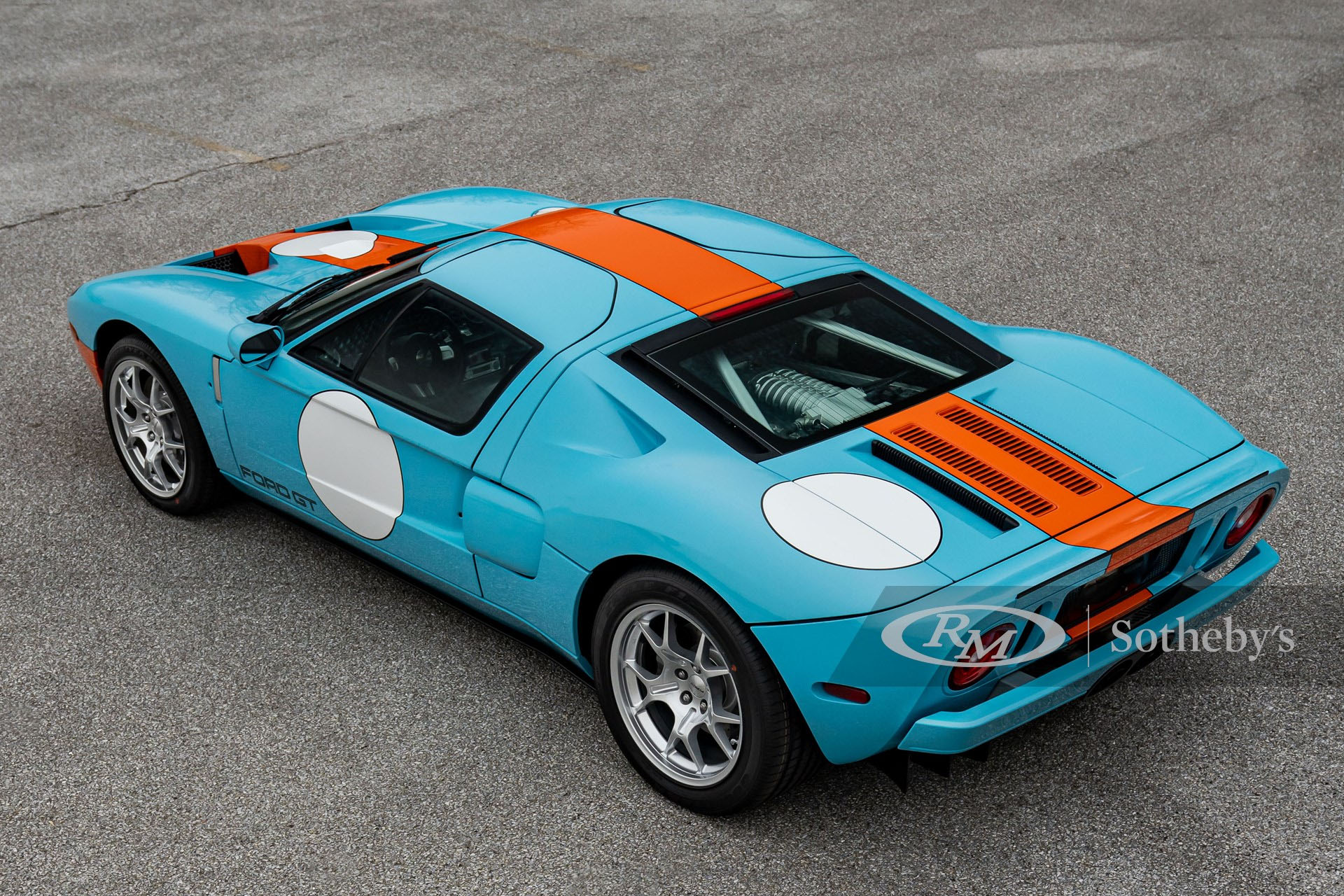 If you selected this option, your Ford GT would be finished in 'Heritage Blue' and feature those impressive 'Epic Orange' stripes, the cars also came four white roundels to which the owner could add a number of their liking. This special livery took inspiration from the GT40 that won Le Mans in both 1968 and 1969, chassis number 1075, which featured the now famous 'Gulf Oil' sponsorship.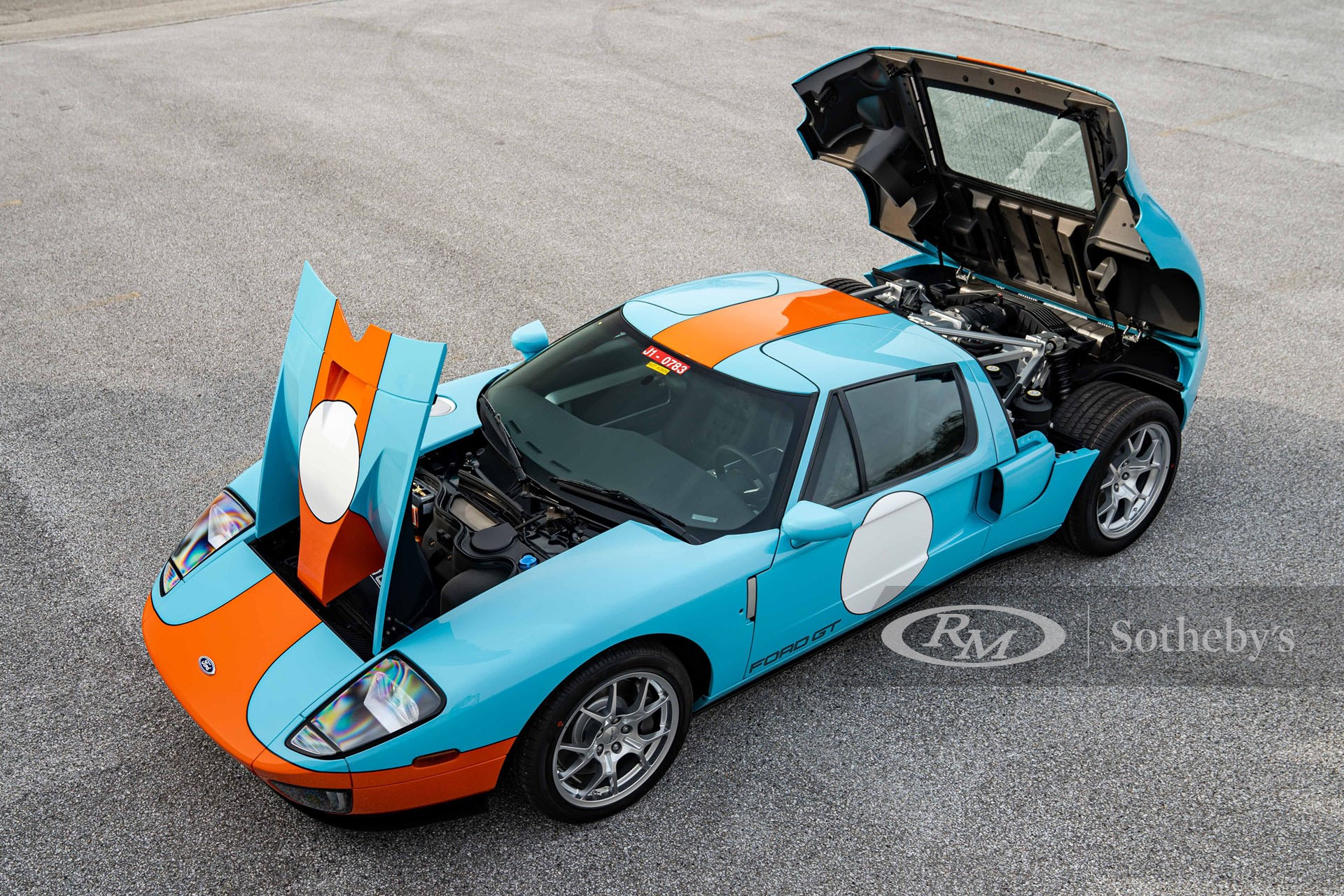 And if you missed out on the Ford GT back in 2006, you now have a second chance as RM | Sotheby's has one of these Ford GT Heritage listed for their Amelia Island auction on May 22, 2021. What makes this specific Ford GT Heritage, chassis 1FAFP90S26Y400783 even more interesting, is the fact it only has 2.7 miles on the odometer, this is basically a brand new, time capsule 2006 Ford GT Heritage, and it's only 1 of 50 that were available in Canada.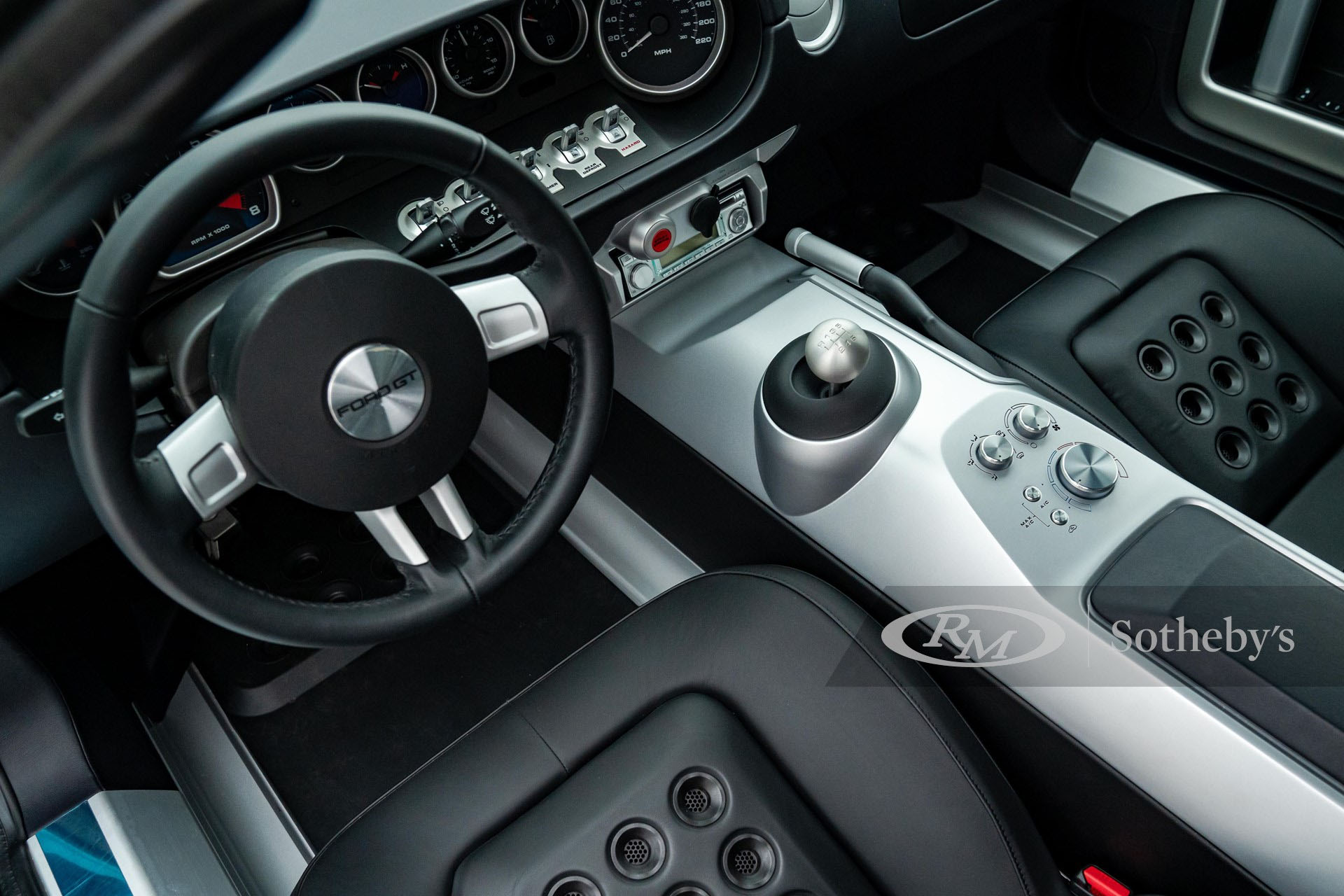 This specific Ford GT Heritage was sold in Canada, which makes it slightly different from US market cars, all Canadian cars were sold with the optional forged wheels, the gray-painted brake calipers, and the regular stereo, Canadian customers couldn't request the 'stripe delete' option, nor the McIntosh CD stereo system. On the other hand, Canadian Ford GT all came with daytime running lights, different foam in the front bumper, and a rear bumper that protrudes more than on US-spec models.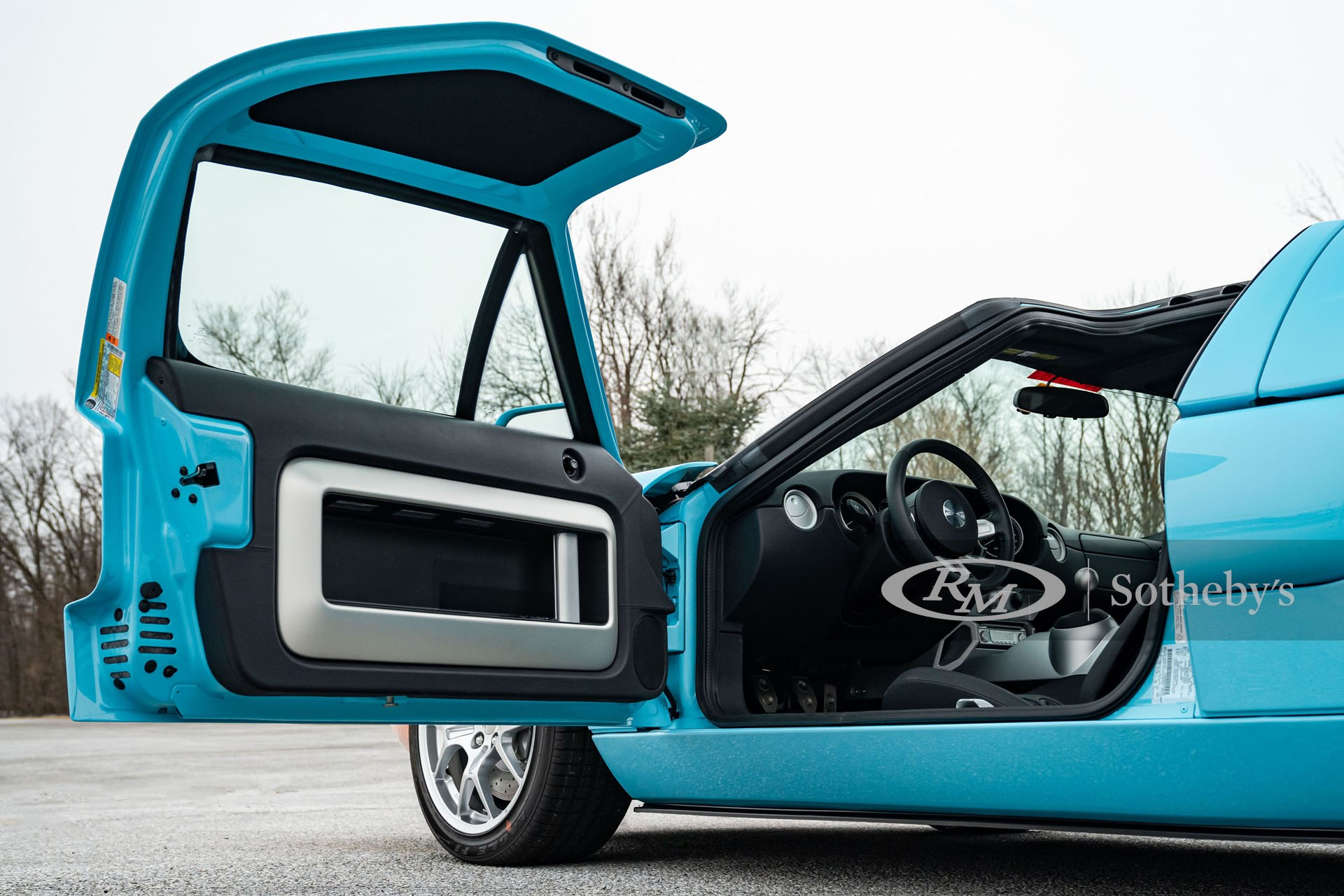 This is one of only a handful of remaining Ford GT that are still considered to be 'new', this specific one still has the driver's seat, the steering wheels, and the door sills protected by the factory–original wrapping, it doesn't get any newer than that. Naturally, all the original factory documentation is still present, as are the keys and user manuals … but also the original box of accessories that came with the car when new, including the set of roundel numbers in their original box.
At the time of writing, I found one other 2006 Ford GT Heritage listed for sale, in West Palm Beach, FL (which makes it a US-Spec car probably), a car with 978 miles, listed at $479,900. And while there isn't an estimate listed for the RM Sotheby's auction listing yet, I wonder if this Canadian one with even fewer miles will reach that number, or sell for an even higher amount.