2006 Gemballa Avalanche GTR 650
With the new Gemballa GTR 650 Avalanche, based on the Porsche 997 Carrera, the Leonberg, Germany Porsche conversion specialist Gemballa has created THE absolute dream car for the 2006 sports car year, optionally on 19 inch or 20 inch wheels. This ultimate German sports car will be available to a selected clientele starting next year.
With this refined, ultra-sporty and equally reliable automobile, Gemballa is continuing in its very own great tradition of sports car construction. The Gemballa Avalanche, Mirage and Cyrrus models from the 80's didn't earn their legendary reputation for no reason.
The performance of the 2006 dream car is already the first attention-getter. The Gemballa GTR 650 Avalanche's motor boasts a breathtaking 650 hp. Part of the motor's conversion by the Gemballa engineers included eliciting an impressive 820 Nm torque, guaranteed to bring a satisfied smile to the driver's lips already at 4800 RPM.
In comparison, the standard Porsche 997 model features maximum 400 Nm torque at 4600 RPM. The difference puts the GTR 650 Avalanche's sprinting qualities in a class all their own. The GTR 650 Avalanche reaches the 200 km/h mark in only 11.2 seconds, and its top speed leaves doubters in the dust: The irrepressible GTR 650 Avalanche engine delivers a maximum tempo of up to 335 km/h.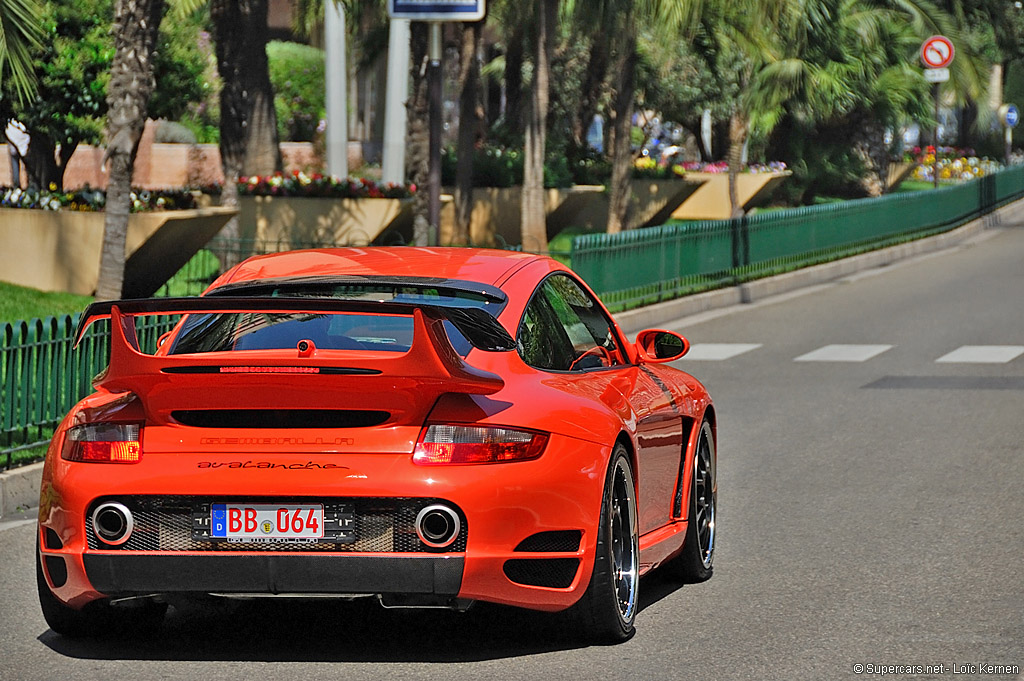 But peak performance wasn't the only item at the top of the Gemballa engineers' spec sheet. The Porsche conversion specialists placed just as much emphasis on the safety and durability of the Avalanche. Titanium piston rods, an intake system specially developed by Gemballa, three intercoolers and a special turbo configuration ensure Gemballa pleasure for a long time to come. And its lucky owner only has to share this pleasure with one passenger, because for safety reasons, from 650 hp the GTR 650 Avalanche is only available as a two-seater.
Massive eight-piston brake calipers and accordingly sized 380 millimeter diameter perforated disk brakes make sure the Avalanche also slows to a safe stop. The GTR 650 Avalanche sits on 19 inch wheels with tires sizes of 235 (front) and 315 (rear). The new 20 inch racing wheels are also optionally available, with tire sizes of 245 (front) and 325 (rear). For the particularly ambitious driver who would like to push the GTR 650 Avalanche's envelope, for example on the Nordschleife, Gemballa also offers an optional roll bar.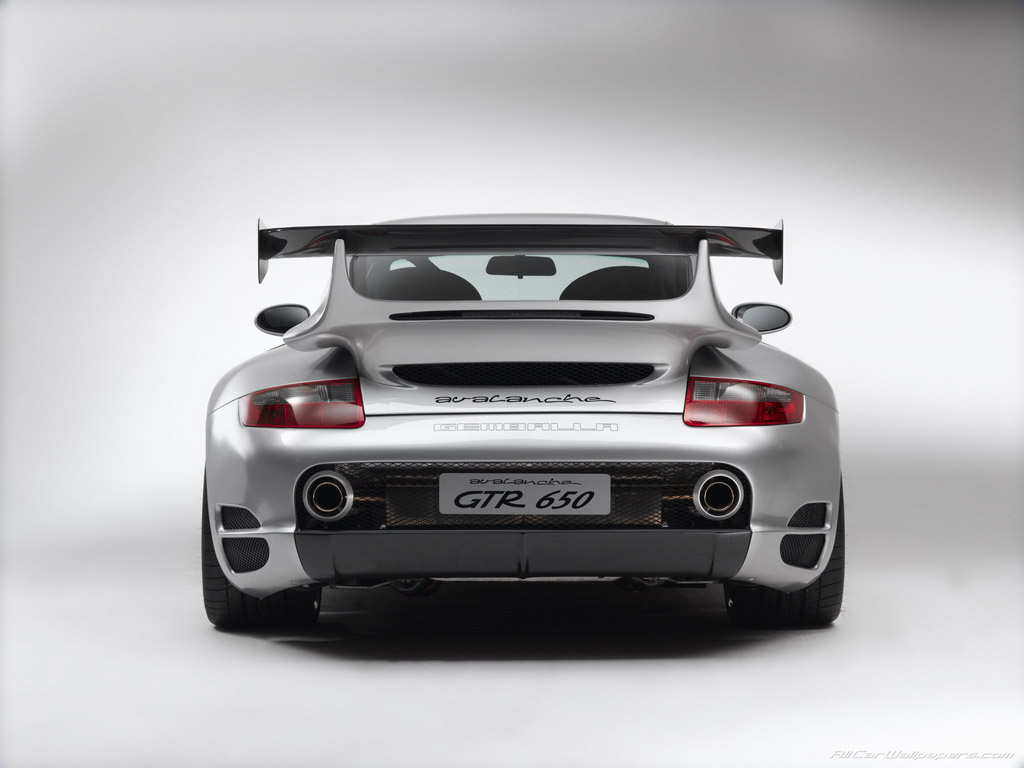 The new Avalanche's body and interior are equally as exclusive and unique as its driving performance and safety components. All of its add-on components are made of carbon. Fenders and sidewalls are all metal. And the future owner of the GTR 650 Avalanche can also look forward to Gemballa sport seats, a Gemballa sport steering wheel and aluminum pedals. Starting at 240,000 Euros, the new Gemballa dream car becomes tangible sports car euphoria.
In Detail
| | |
| --- | --- |
| | |
| type | Professionally Tuned Car |
| built at | Leonberg, Germany |
| price $ | $ 300,000 |
| engine | Flat-6 |
| position | Rear, Longitudinal |
| aspiration | Gemballa Twin Turbochargers |
| block material | Aluminum Alloy |
| valvetrain | DOHC, 4 Valves per Cyl |
| fuel feed | Fuel Injection |
| displacement | 3596 cc / 219.44 in³ |
| bore | 100 mm / 3.9 in |
| stroke | 76.4 mm / 3.0 in |
| power | 484.7 kw / 650 bhp @ 7300 rpm |
| specific output | 180.76 bhp per litre |
| torque | 890 nm / 656.4 ft lbs @ 4500 rpm |
| body / frame | Unitary Steel Monocoque |
| driven wheels | RWD |
| f suspension | MacPherson Struts w/Lower Control Arms, Coil Springs, Gas Pressurized Twin-Tube Shock Absorbers, Anti-Roll Bar |
| r suspension | Multi-link w/Coil Springs, Single Sleeve Gas Pressurized Shock Absorbers |
| transmission | 6-Speed Manual |
| top speed | ~340 kph / 211.3 mph |
| 0 – 60 mph | ~3.5 seconds |
Story by Gemballa Automobiltechnik GmbH & Co. KG