2006 Jurgen Alzen Motorsport Mission 400 Plus
Mission 400 Plus – under this project name H&R presents an especially spectacular world premiere at the Essen Motor Show 2006. Jurgen Alzen Motorsport, long-time partner of H&R in the long-distance championship on the Nurburgring, engine tuner RS Tuning and H&R have jointly developed a sports car based on the Porsche 997. It is destined to win the Blue Ribbon for the world's fastest street-legal sports car next year, with a top speed of more than 250 mph (400 km/h).
The idea to tackle the world record was born in August 2006 at the Six-Hour Race on the Nurburgring. After the H&R-sponsored Alzen Motorsport Porsche 911 GT3 fell victim to an accident in only the second lap, team boss Jurgen Alzen and H&R marketing director Hardy von der Brake had time to discuss means to better demonstrate the technology transfer from motorsports to the development of sporty suspension components.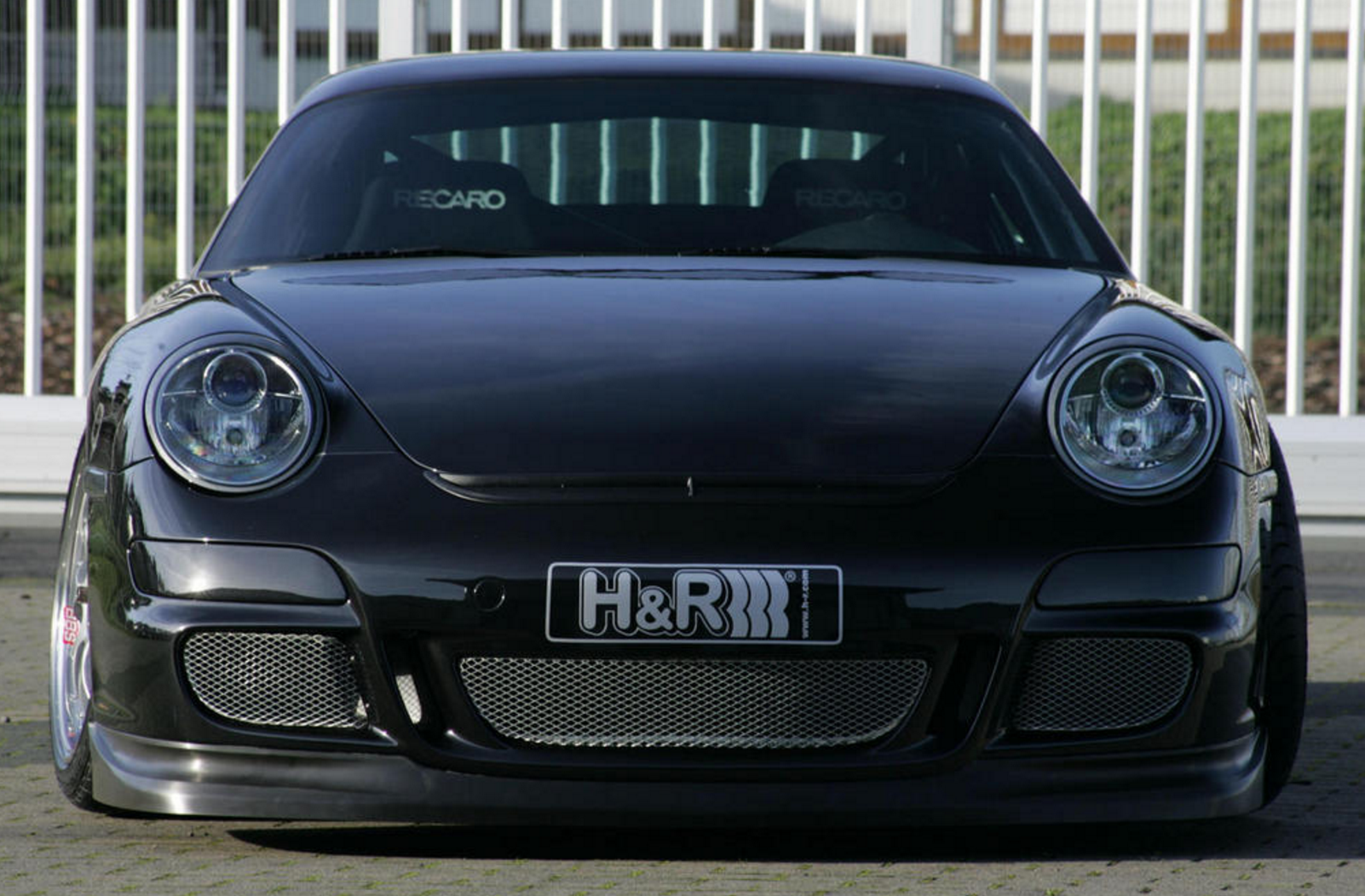 The idea quickly turned into the Mission 400 Plus concept, whose prototype now celebrated its world debut at the Essen Motor Show 2006. The three companies that have joined forces to turn this concept into reality have proven their potential in building super-fast sports cars numerous times before.
The experienced team of technicians from Jurgen Alzen Motorsport in Betzdorf is responsible for the technical design and for building the car. The engine is based on that of the latest 997-series Porsche 911 Turbo, and comes from RS Tuning. H&R contributes its immense know-how in the field of suspension design and setup.
Favorable aerodynamic properties are essential for a car that is designed to break the 400-km/h barrier. Minimizing frontal surface area is absolutely elementary, which is why Jurgen Alzen decided to lower the roof by 3 inches. At the same time the A-pillars were tilted back further by 5.5 degrees. To give the coupe a homogenous overall appearance the tilt of B- and C-pillars was adjusted accordingly. Special flush-mounted polycarbonate windows all around complete the roof conversion.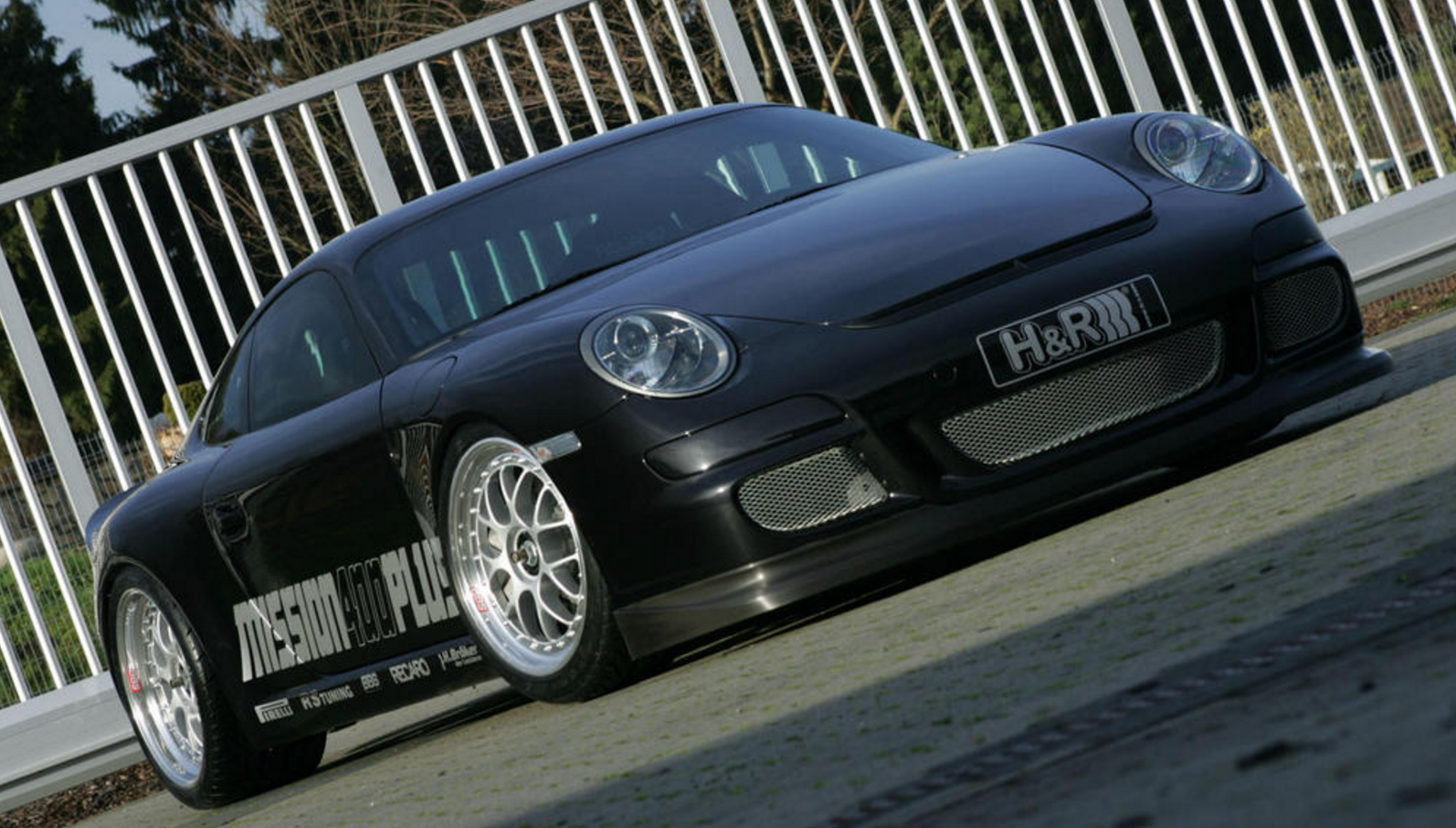 Also part of the Mission 400 Plus aerodynamics concept are numerous other modifications that were developed and tested in the wind tunnel. Among them are a long rear with pronounced separation edge and the absence of rain channels. Streamlined cowlings for the 18-inch BBS light-alloy wheels will reduce air turbulence on the vehicle's sides during the record run.
The Mission 400 Plus engine is built by RS Tuning in Kirchhaslach, where the racing engines for Jurgen Alzen Motorsport have been created for many years. The displacement of the six-cylinder flat engine is increased from 3.6 to 3.8 liters and the engine is reworked entirely. Company owner Reinhold Schmirler's power cocktail also includes special combustion chamber shapes as well as precision-machined cylinder heads with larger valves, and high-performance camshafts.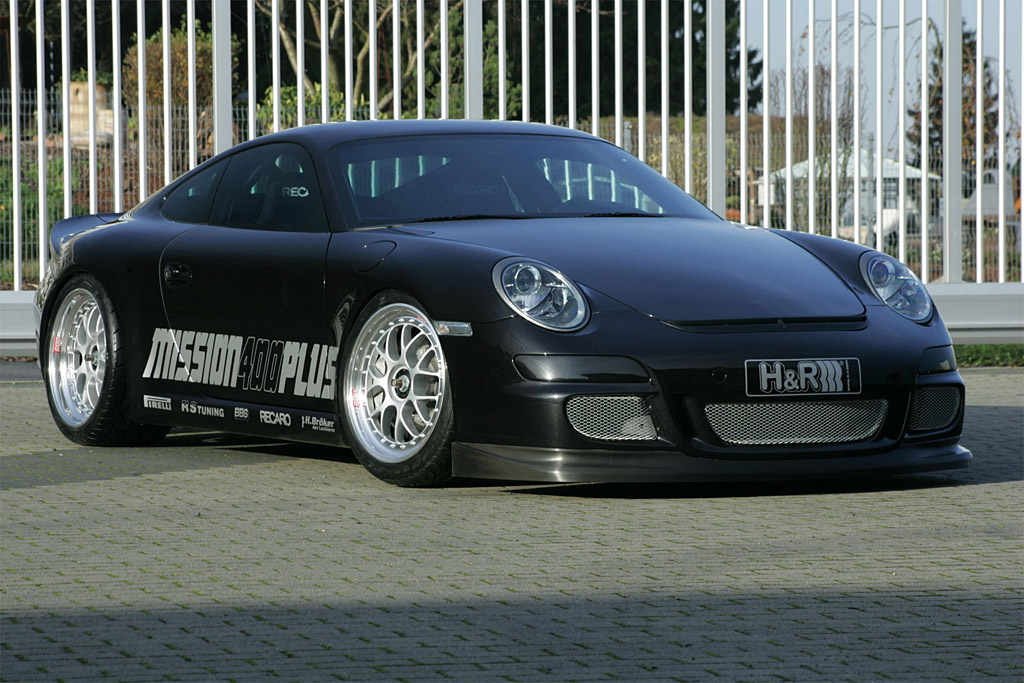 The engine's peripherals are also completely new. In addition to an intake manifold with larger and smoothened ports the engine is equipped with a more powerful turbocharging system and a high-performance exhaust.
The stock turbos with variable turbine geometry are replaced by larger conventional ones, which are supplied with optimal amounts of exhaust gas by the custom-tailored stainless-steel exhaust manifolds. Higher capacity intercoolers provide cooler charge air for maximum power output, aided on the exhaust side by a stainless-steel sport exhaust with metal catalysts.
RS Tuning's stationary test bench is used to fine-tune the perfect interaction of all individual components with special 100-octane fuel mapping for the Bosch-developed engine electronics.
With a boost pressure of 1.5 bar the engine develops 1,054 bhp / 775.7 kW at 7,700 rpm and a peak torque of 760 lb-ft at 5,800 rpm. And yet, the speed-record hunter meets stringent EURO IV emission limits.
Power is transferred to the rear wheels via a high-performance clutch and a modified high-geared six-speed transmission.
The high-speed track in Nardo, where the world record is supposed to be set next year, places extreme demands on the Mission 400 Plus suspension, due to its undulated surface. H&R has custom-developed a special version of its H&R HIGH-END suspension specifically for this purpose.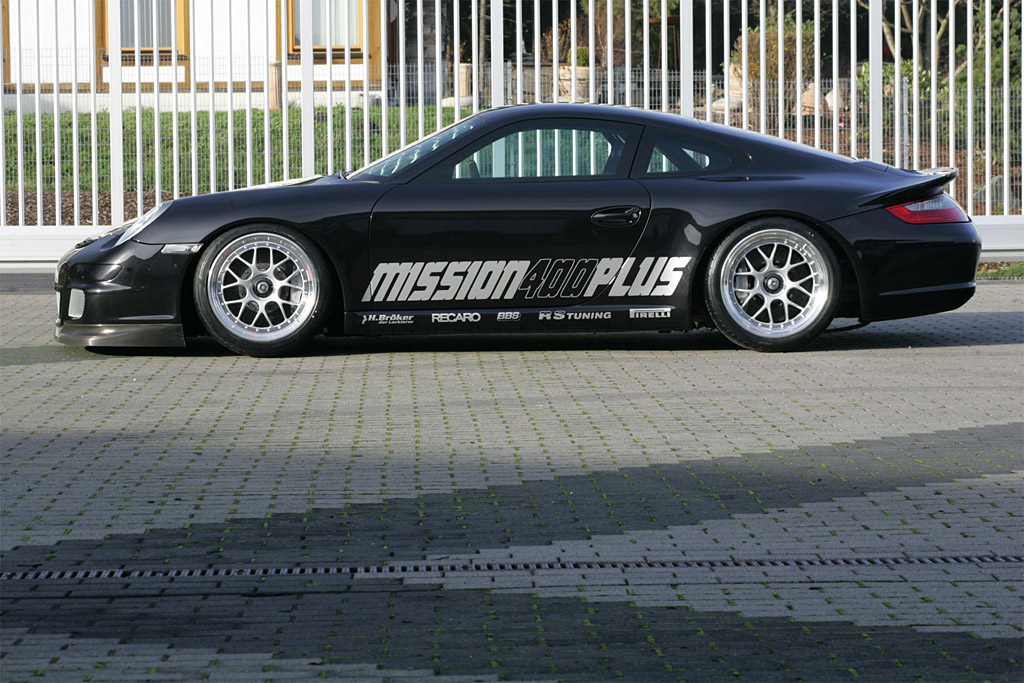 The top-of-the-line product in the H&R lineup distinctly sets itself apart from conventional sport suspensions. In addition to special struts with sporty springs and shocks the H&R HIGH-END suspension further consists of bearings made from especially high-quality harder materials, custom-made aluminum lower A-arms as well as special tie rods and newly designed upper rear axle links.
Installing this almost infinitely adjustable suspension results in even more strength and more direct response. It also allows an even more precise setup of the record car to account for the banked track at Nardo. The Mission 400 Plus is further equipped with adjustable H&R sport sway bars on front and rear axle.
The overall lightweight design is completed with Carbon-made doors and hoods and a Spartan interior with Recaro carbon-fiber racing seats and a roll cage.
Mission 400 Plus will hunt for the record in Nardo in the first half of 2007. Creator and race driver Jurgen Alzen will pilot the ultra-low-profile coupe.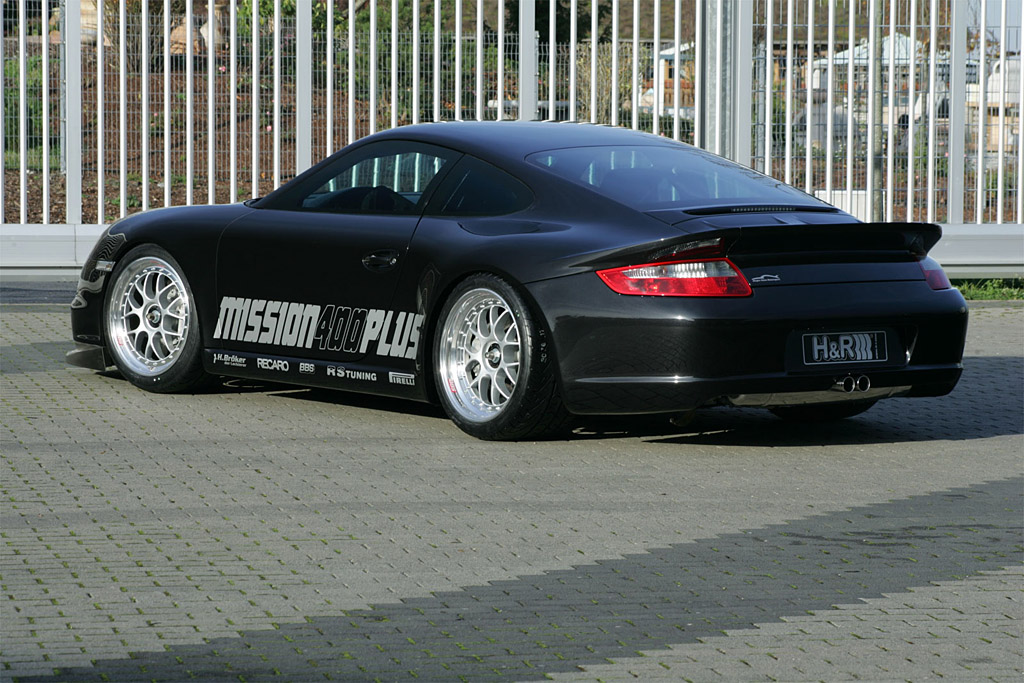 In Detail
| | |
| --- | --- |
| engine | Aluminum M96/70S Flat-6 |
| position | Rear Longitudinal |
| aspiration | Modified Twin Turbos |
| valvetrain | DOHC, 4 Valves per Cyl |
| fuel feed | Bosch Motronic DME 7.8 Fuel injection |
| displacement | 3800 cc / 231.9 in³ |
| power | 786.0 kw / 1054 bhp @ 7700 rpm |
| specific output | 277.37 bhp per litre |
| torque | 1030.42 nm / 760 ft lbs @ 5800 rpm |
| body / frame | Unit Steel |
| driven wheels | 4WD w/PSM, PTM |
| wheel type | Aluminum Alloy |
| front brakes | PCCB Ceramic Discs w/Brembro 6-Piston Calipers, ABS |
| f brake size | x 350 mm / x 13.8 in |
| rear brakes | PCCB Ceramic Discs w/Brembro 4-Piston Calipers, ABS |
| r brake size | x 350 mm / x 13.8 in |
| f suspension | H&R HIGH-END suspension |
| r suspension | H&R HIGH-END suspension |
| transmission | Modified 6-Speed Manual or 5-Speed Tip-Tronic |
| gear ratios | :1 |
| top speed | ~400 kph / 248.5 mph |