2006 Noble M15
Leicestershire-April 4th, 2006 – Noble Automotive has today staked its claim to a place amongst the highest echelon of the world's sportscar manufacturers with the launch of the new M15.
Building on the success of the no-compromise M12, the M15 is a more mature Noble with luxuries including Satellite Navigation, impeccable ride and 300 litres of luggage space!
"The M12 is a great car, but it's very focused and I wanted to produce a supercar people could use every day," said founder Lee Noble. "It was time for Noble to take a big step up in terms of refinement, practicality and style."
With a 455bhp version of the tried and trusted three-litre twin turbo engine Noble has come to rely on, this is also the quickest car ever to emerge from Barwell, Leicestershire. With the complementary figure of 455lb/ft of torque, all In a car that weighs slightly more than 1200kg, the M15 is devastatingly fast.
The M1S accelerates from 0-60rnph in less than 3.5 seconds and 10 l00 mph in less than 8s. It keeps going all the way to 185mph, too, and has been tuned for rapid acceleration throughout the range rather than an easily achievable 200mph top end speed.
Supreme cornering skills and a confidence-inspiring chassis are part the DNA and, in this respect, the M15 promises to be the best yet. The spaceframe chassis with integral rollcage is 57 per cent stiffer than the M12 that has won plaudits throughout the world and intensive development has ensured that the fabled Noble handling on the limit is even better than before.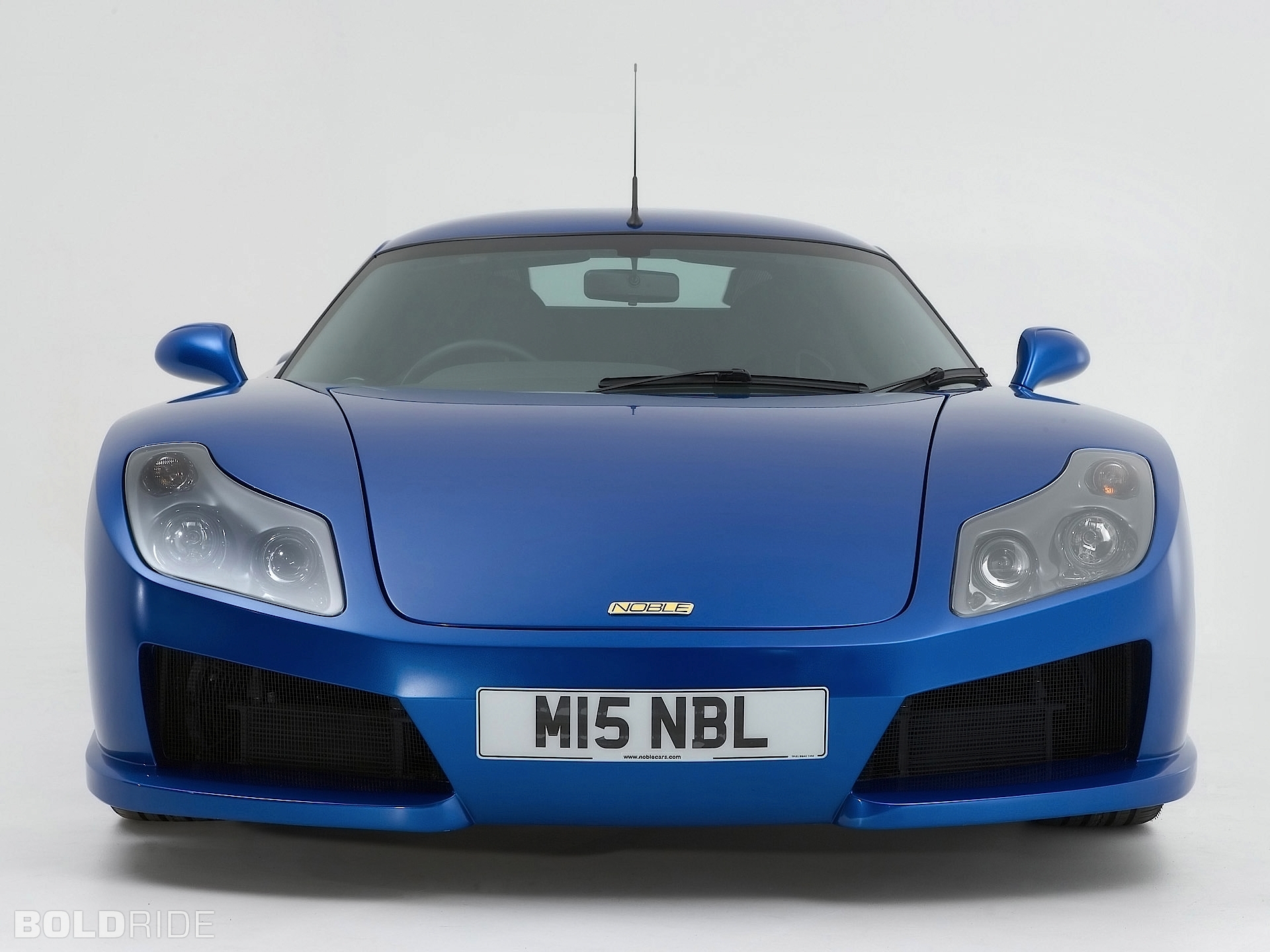 At £74 950 the M15 pitches straight into battle with the established supercar brands, but Noble is happy to meet them head on. "Hopefully people that test this car will see it as a real alternative to £130,000 exotica, as well as the immediate competition in the price range," he said. "We know we're taking on tough opposition," but I'm sure this car is going to take us forward in a big way."
Noble M15 Image Gallery
In Detail
| | |
| --- | --- |
| price $ | $112 000 USD |
| engine | Ford Racing V6 |
| position | Mid, Longitudinal |
| aspiration | Twin Turbochargers |
| valvetrain | DOHC 4 Valves per Cyl |
| displacement | 2968 cc / 181.1 in³ |
| bore | 89 mm / 3.5 in |
| stroke | 2019.3 mm / 79.5 in |
| power | 339.3 kw / 455 bhp |
| specific output | 153.3 bhp per litre |
| bhp/weight | 364.0 bhp per tonne |
| torque | 616.9 nm / 455 ft lbs |
| redline | 7200 |
| body / frame | GRP Composite Body over Steel Spaceframe |
| driven wheels | RWD w/.LSD |
| wheel type | Noble 10-Spoke |
| front tires | 225/40-18 |
| rear tires | 285/40-19 |
| front brakes | Noble Discs w/4-Piston Calipers |
| f brake size | x 330 mm / x 13.0 in |
| rear brakes | Noble Discs w/4-Piston Calipers |
| r brake size | x 330 mm / x 13.0 in |
| front wheels | F 45.7 x 20.3 cm / 18 x 8 in |
| rear wheels | R 48.3 x 26.7 cm / 19 x 10.5 in |
| steering | Rack & Pinion w/Hydrualic Assist |
| f suspension | Wishbones w/Coisprings, Dampers |
| r suspension | Wishbones w/Coisprings, Dampers |
| curb weight | 1250 kg / 2756 lbs |
| wheelbase | 2438 mm / 96.0 in |
| front track | 1594 mm / 62.8 in |
| rear track | 1503 mm / 59.2 in |
| length | 4270 mm / 168.1 in |
| width | 1850 mm / 72.8 in |
| height | 1116 mm / 43.9 in |
| transmission | 6-Speed |
| gear ratios | 3.15:1, 2.17:1, 1.56:1, 1.16:1, 0.93:1, 0.75:1, :1 |
| final drive | 4.10:1 |
| top speed | ~297.7 kph / 185 mph |
| 0 – 60 mph | ~3.4 seconds |
| 0 – 100 mph | ~8.0 seconds |
| designers | Lee Noble |