2007 Edo 911 GT2 R
*Conversion kit made from ultra-light carbon fiber in extra-wide
*High-performance brake system
*Sport suspension
*Extensive modification program ranging from aerodynamics to engine tuning
The latest project of edo competition Motorsport GmbH showcases an extra-wide sport version of the 997 GT2 R with convincing performance specs:
Specifications
*Engine — water-cooled, twin-turbocharged horizontally opposed 6-cylinder
*Power — est. 542 hp / (398 kW) at 6,790 rpm
*Torque — 755 Nm (557 ft-lb) at 4,300 rpm
Performance
Top speed — 330 km/h (205 mph)
*0 – 100 km/h (0 – 62 mph) — 3.8 s
*0 – 200 km/h (0 – 124 mph) — 11.0 s
Features
The basis is formed by the edo 996 GT2 R, which had already been modified in the areas of brakes, suspension, engine, transmission, aerodynamics, exhaust system, interior, wheels/tires and light-weight windows. The only thing missing to be up-to-date is the look of the current Porsche 997!
To that end, the following conversion kit made from ultra-light carbon fiber was created:
*Complete front fascia: front skirt, radiator air inlets, brake cooling ducts
*Front fenders modified and widened
*Fender liners
*Mesh inserts front and rear
*Front lip spoiler in carbon fiber
*Modified fuel filler door
*Litronic headlight kit
*Brake system: Rotor diameter front/rear 380/350 mm with 4-piston fixed calipers
*Suspension: Adjustable edo/KW sport suspension with individually adjustable compression and rebound damping
*Wheel dimensions: Tires: Michelin Pilot, front 235/45 18, rear 335/30 18 on 10" and 13" wheels
The edo competition conversion kit applies to the following models: 996 Carrera, 996 S4, 996 GT3, 996 GT2 and 996 Turbo. A large selection of body parts, wheels, exhaust systems and suspension components complete edo competition's modification program.
It goes without saying that engine modifications are readily available.
Upgrades producing up to 680 hp (500 kW) at 6070 rpm and 870 Nm (642 ft-lb) at 4220 rpm are possible (base: Turbo and GT2).
2007 Edo 911 GT2 R Images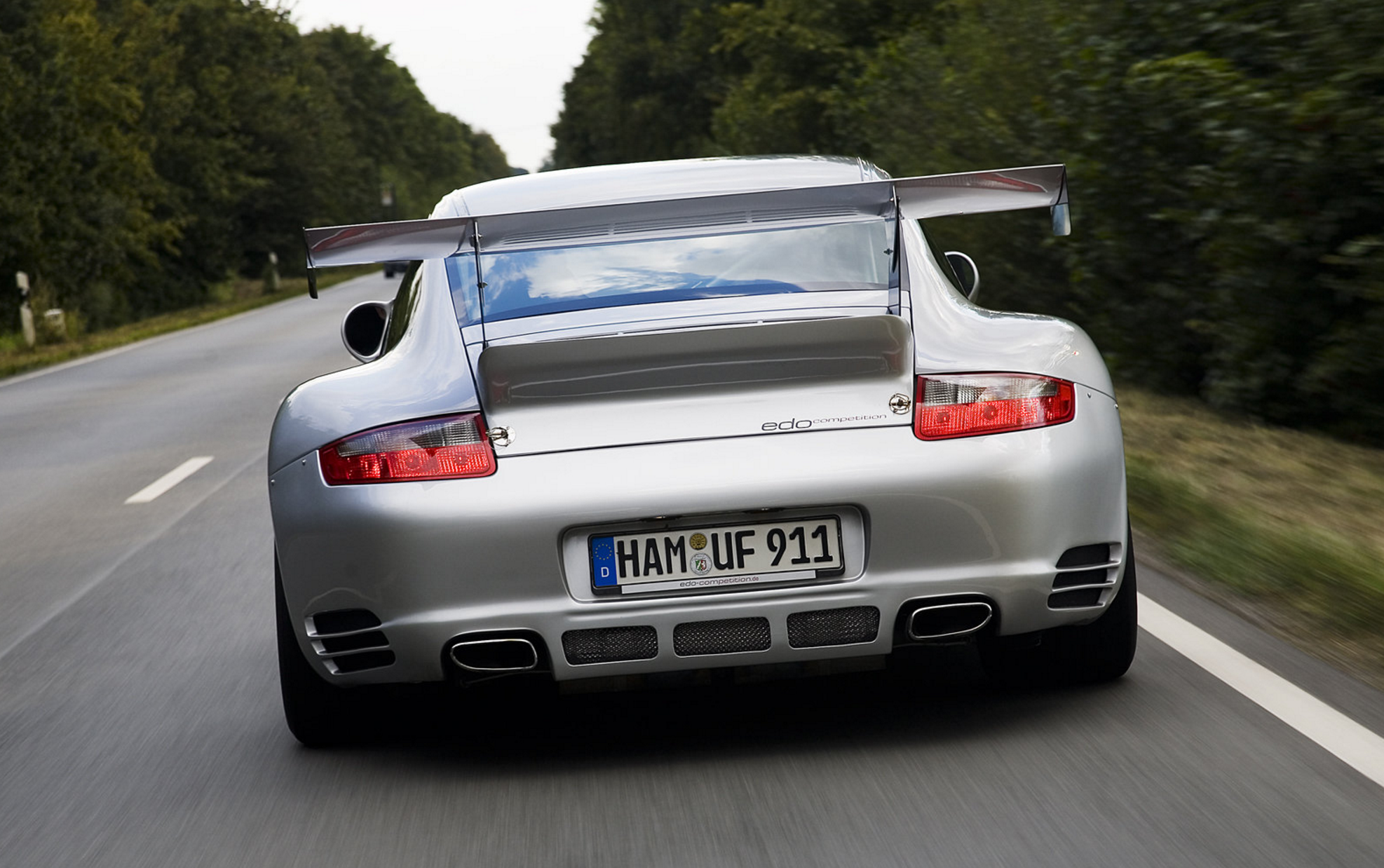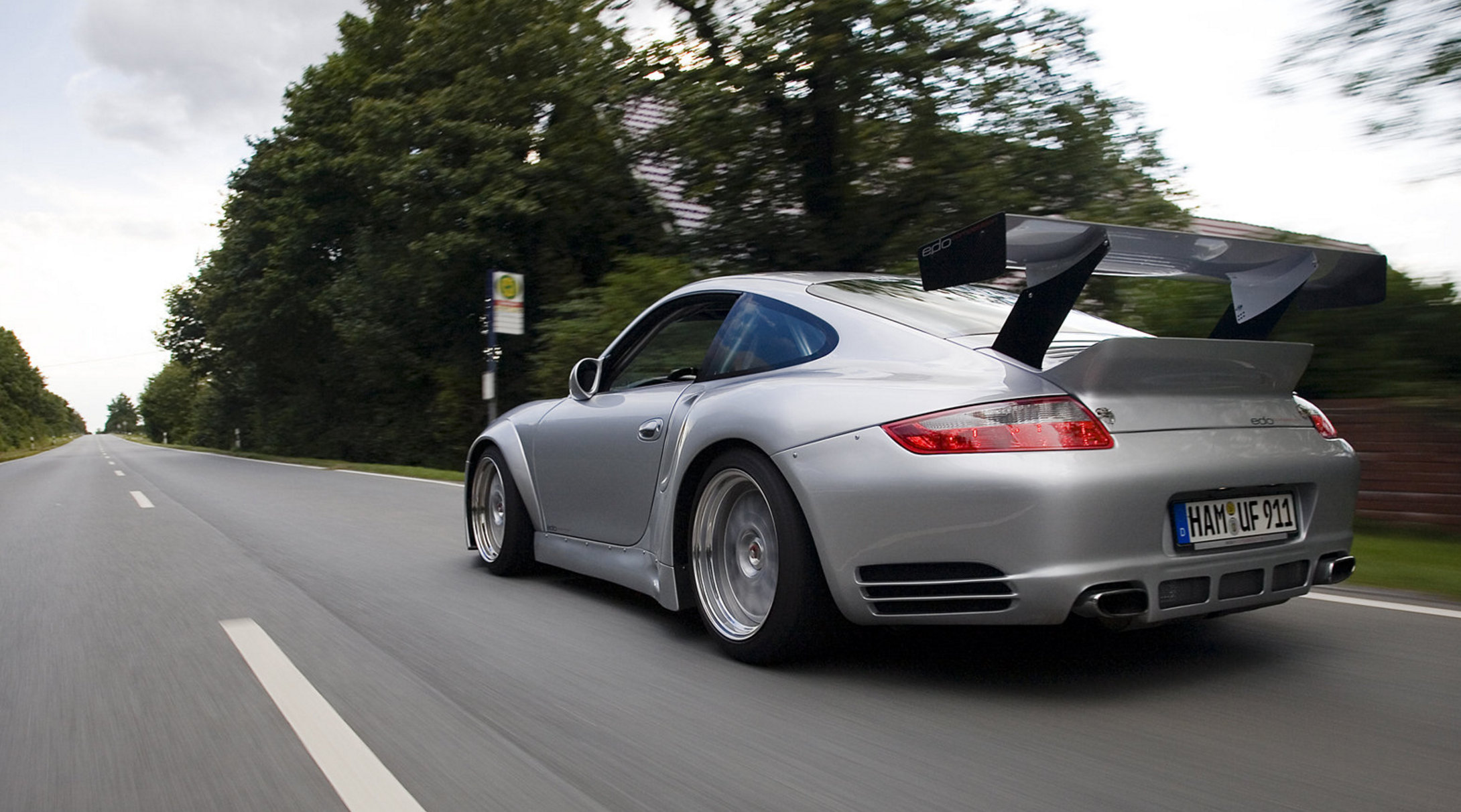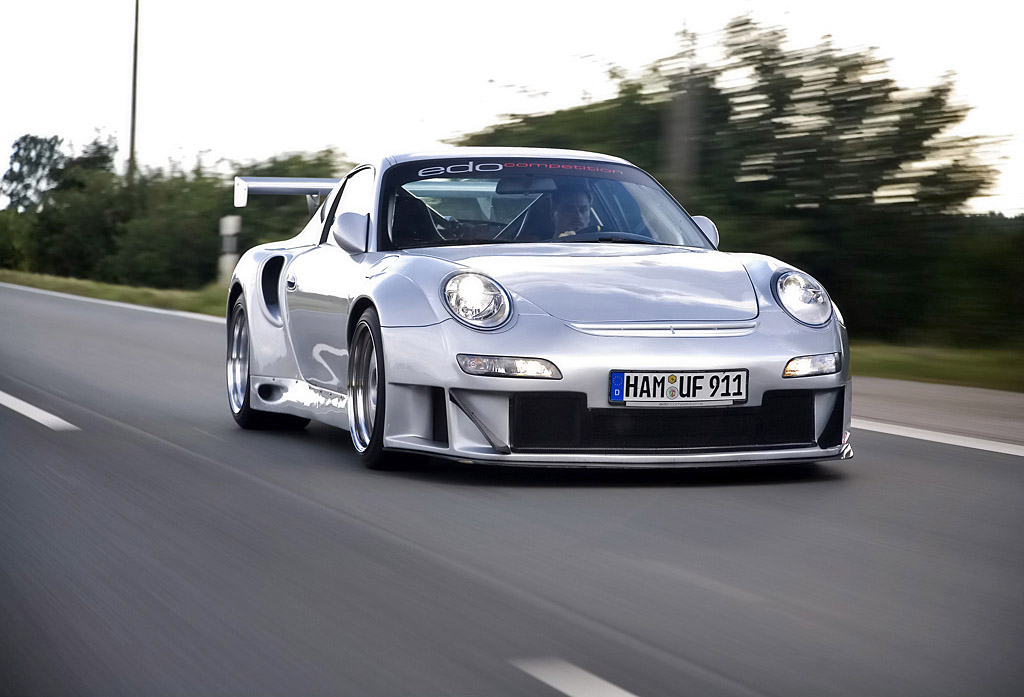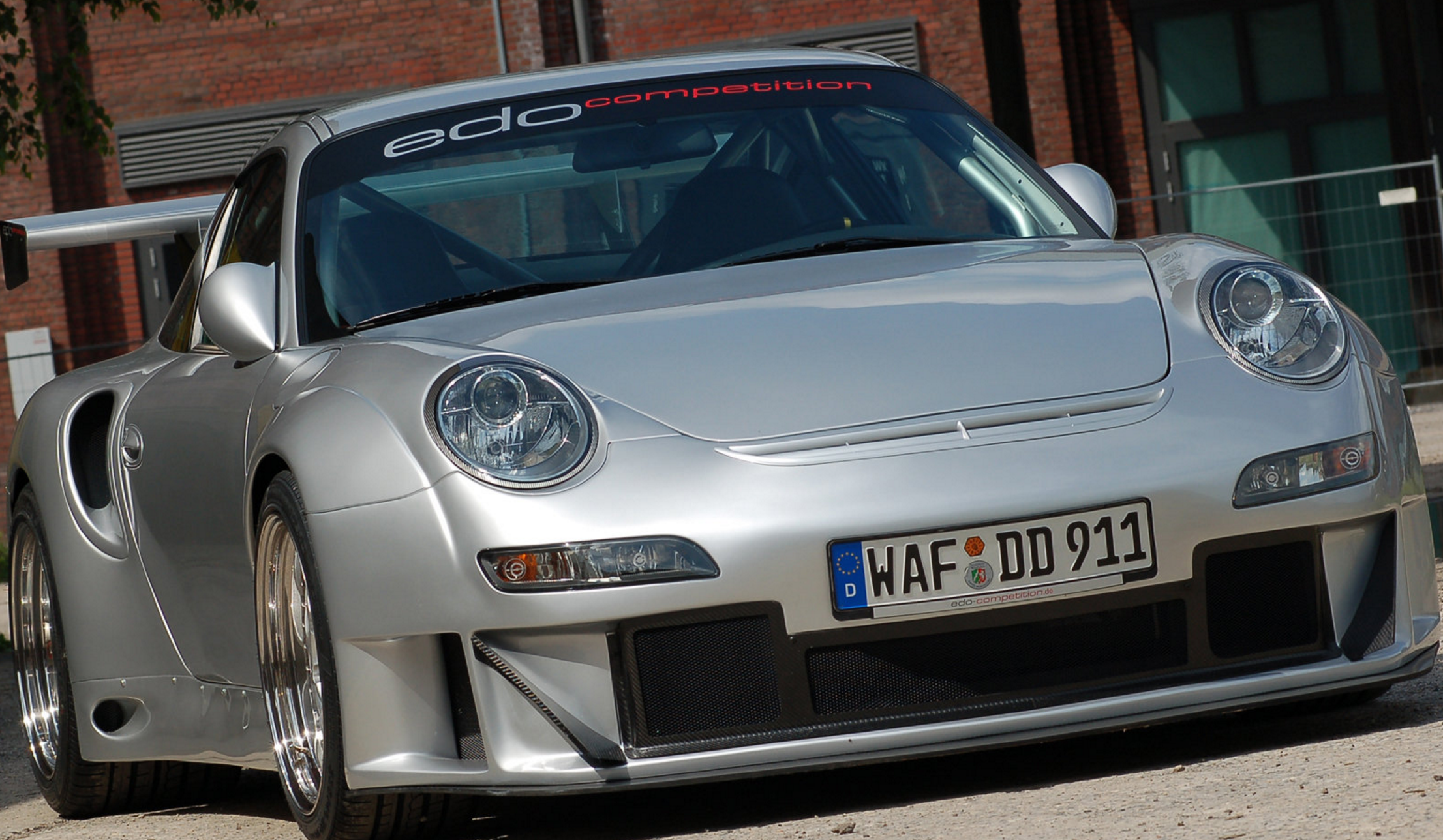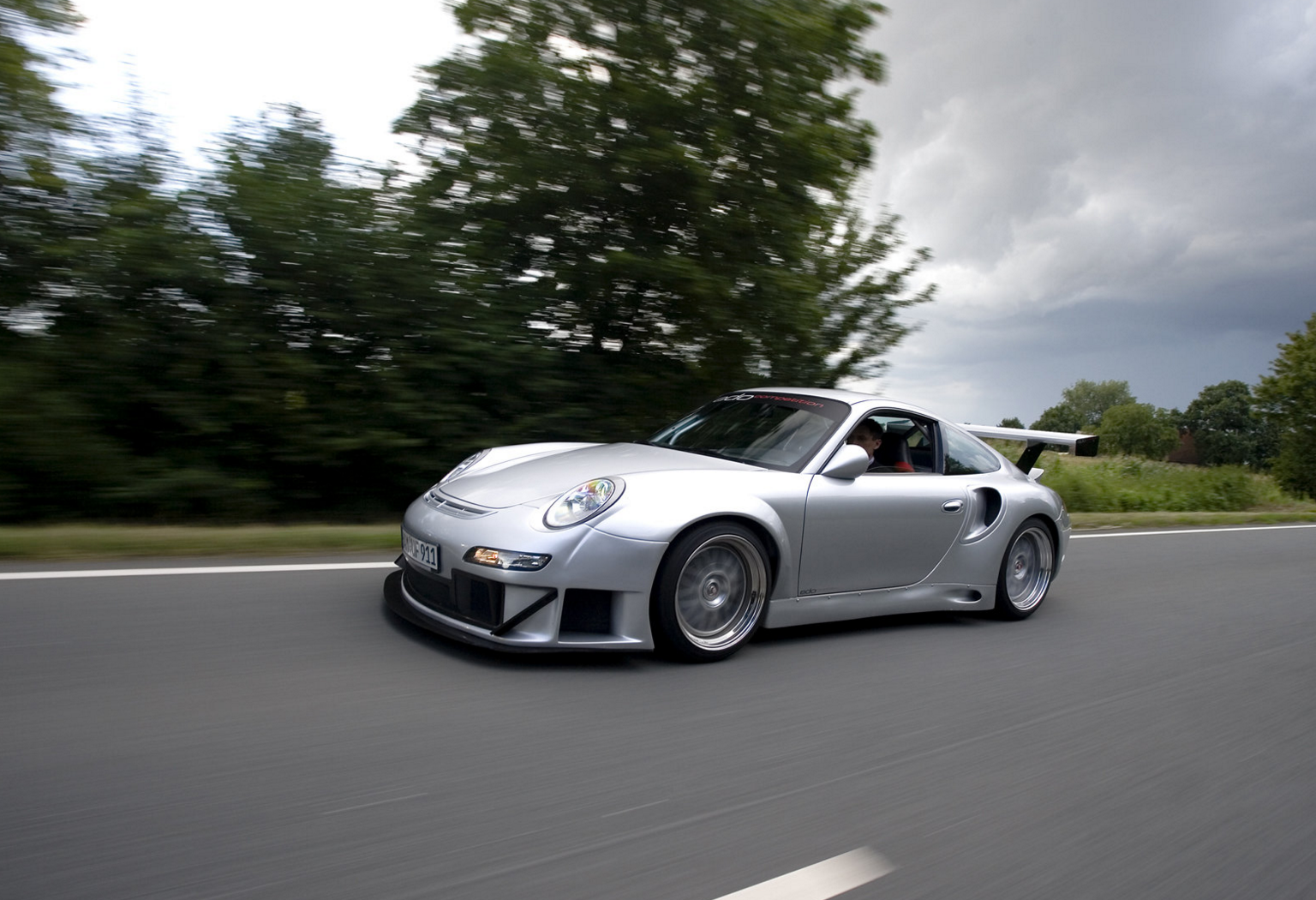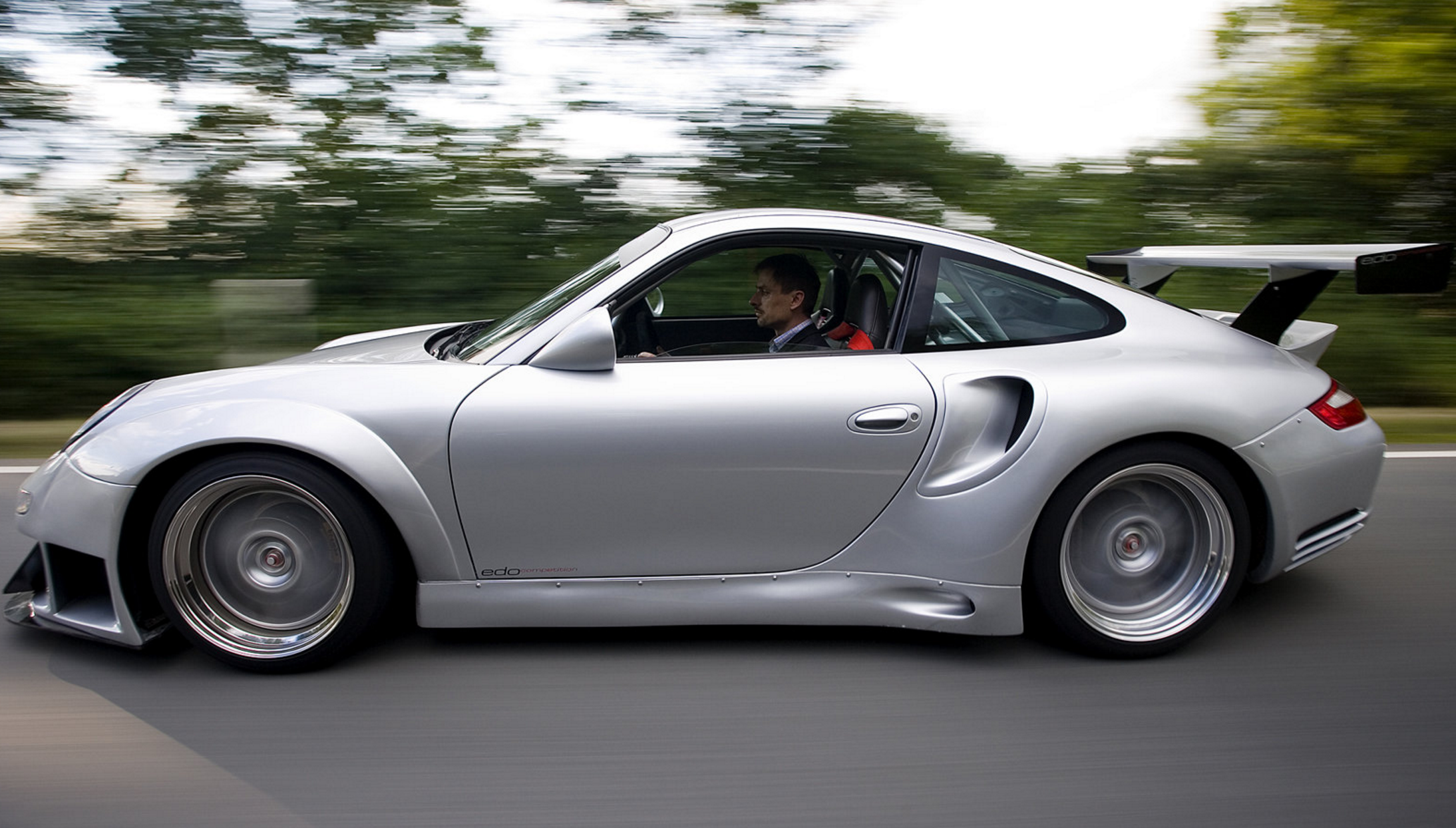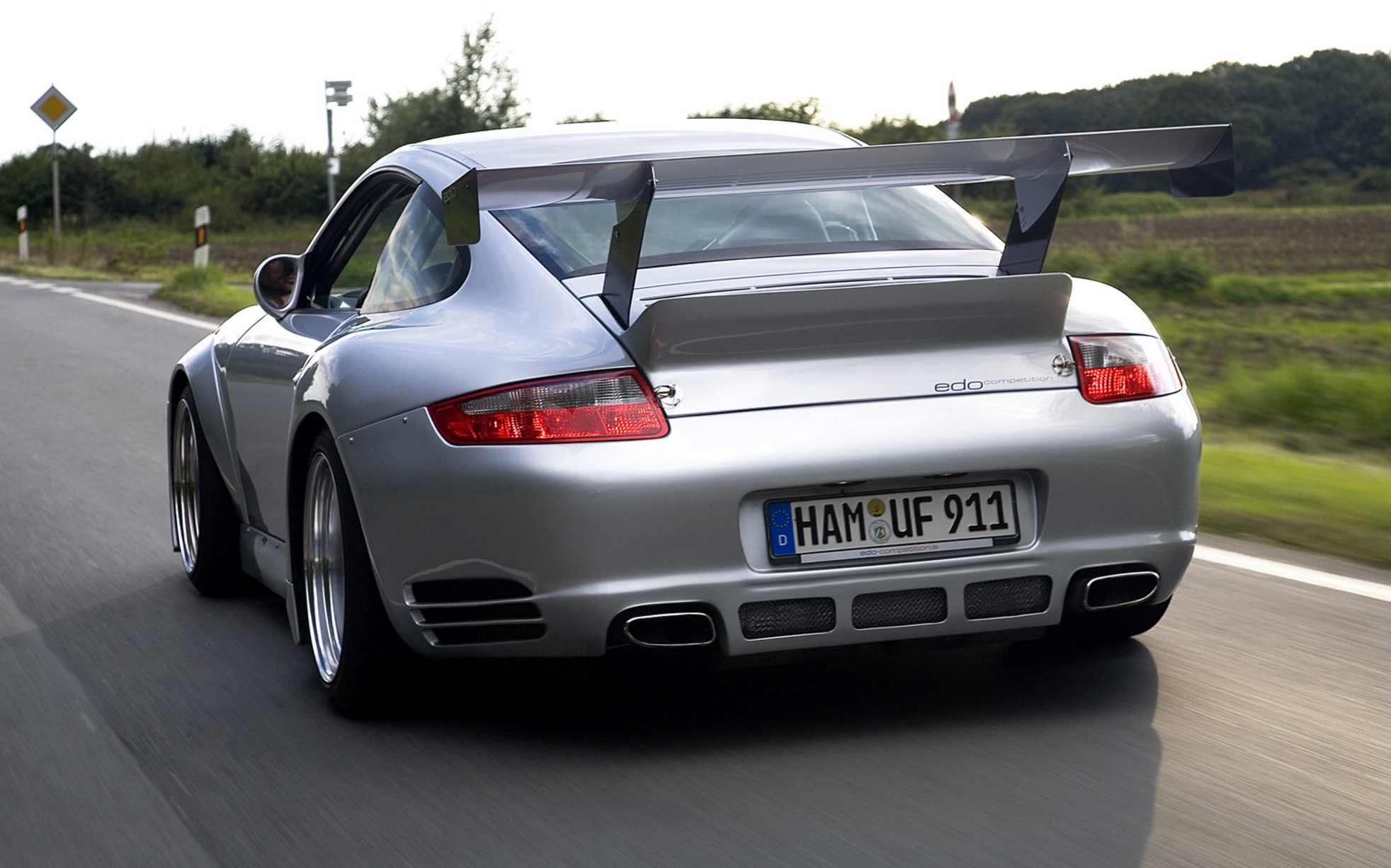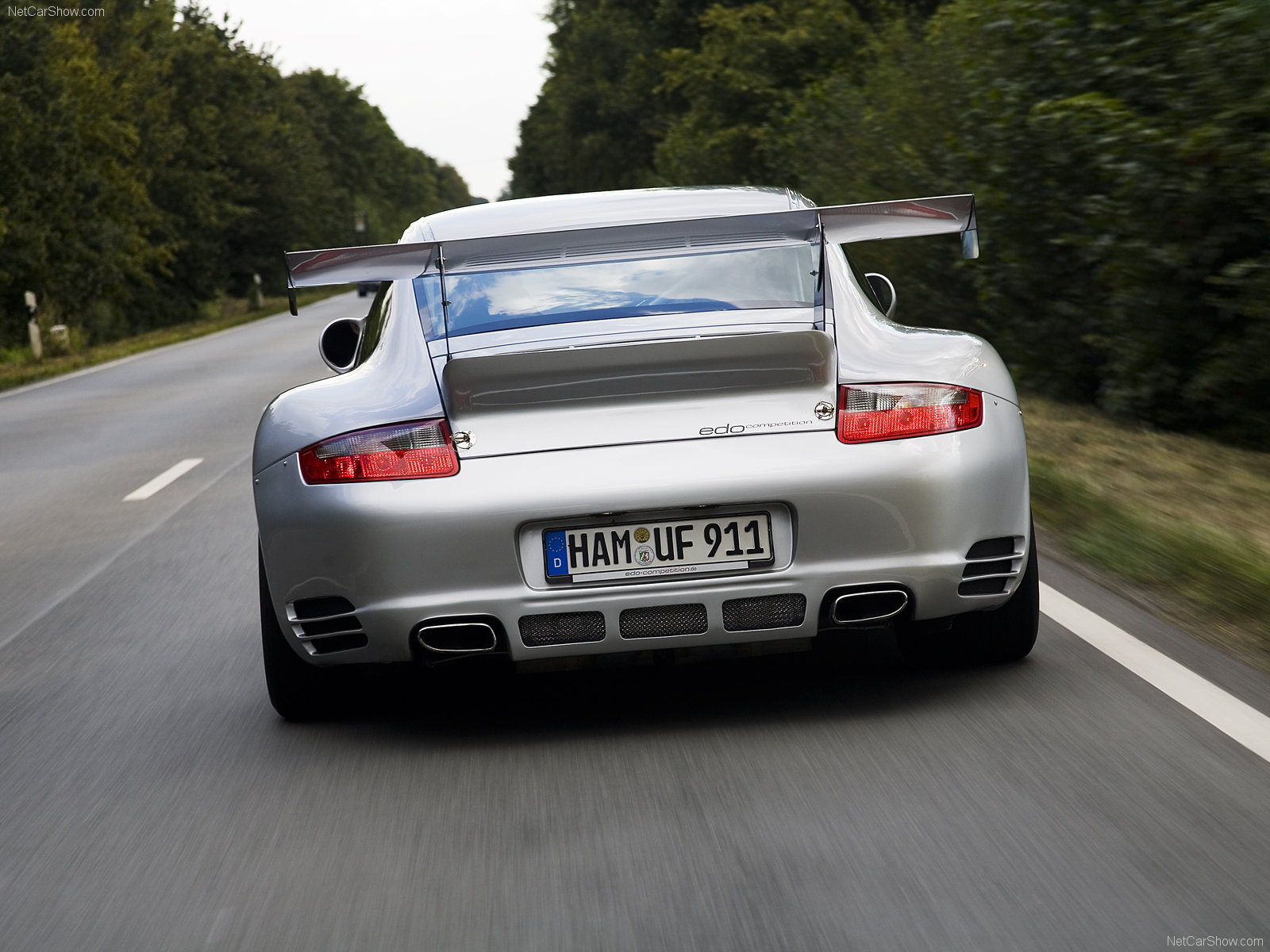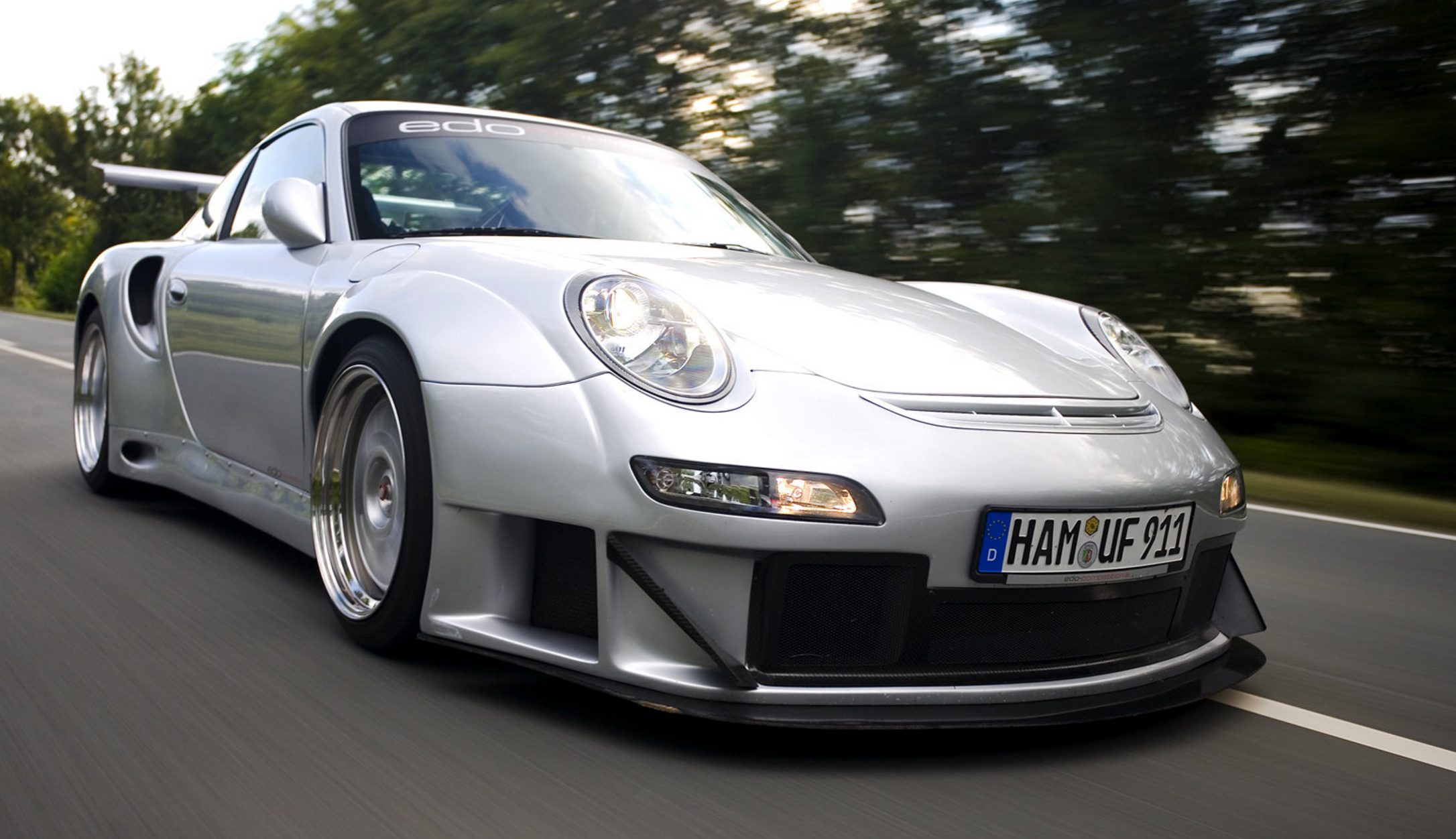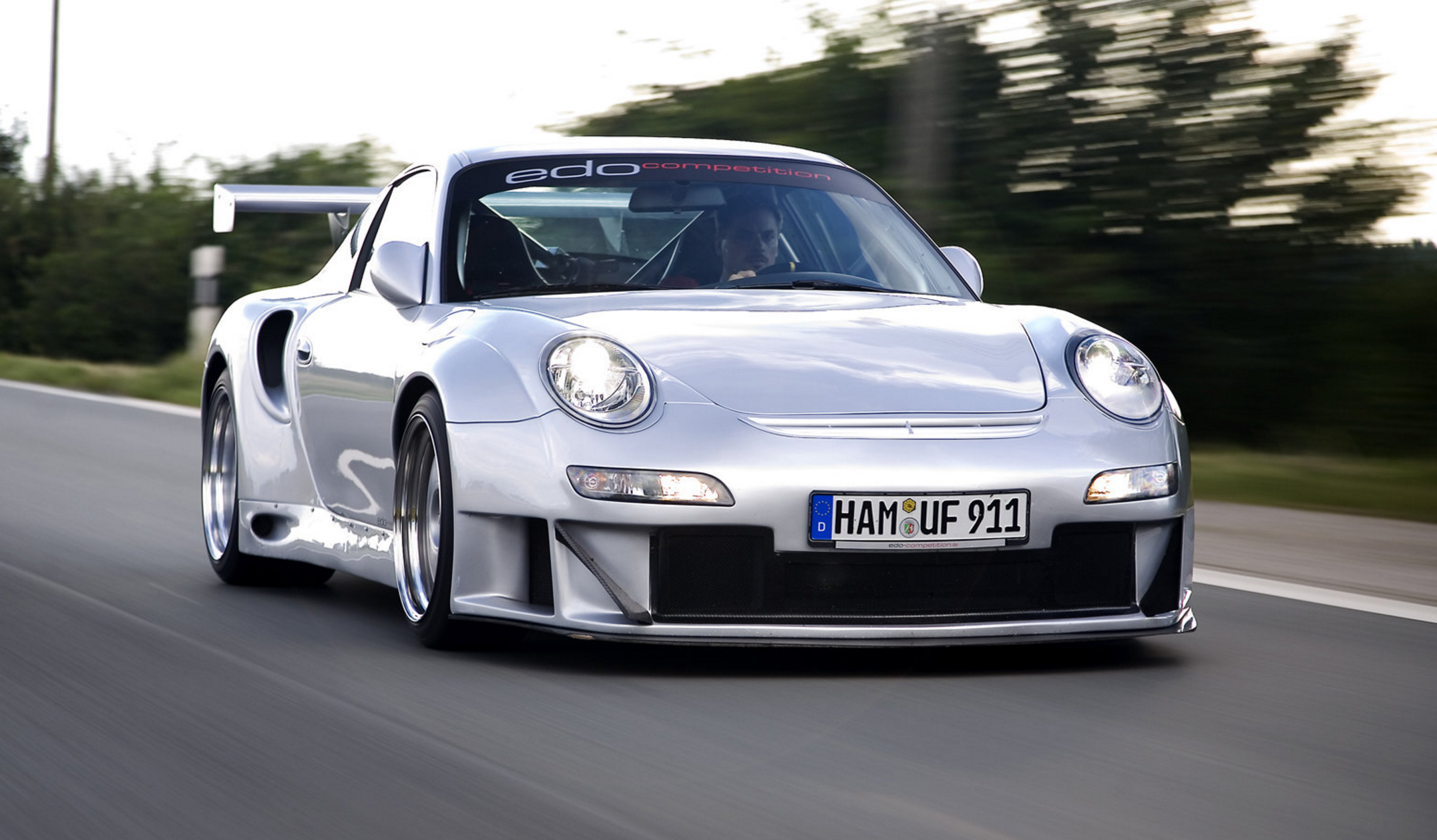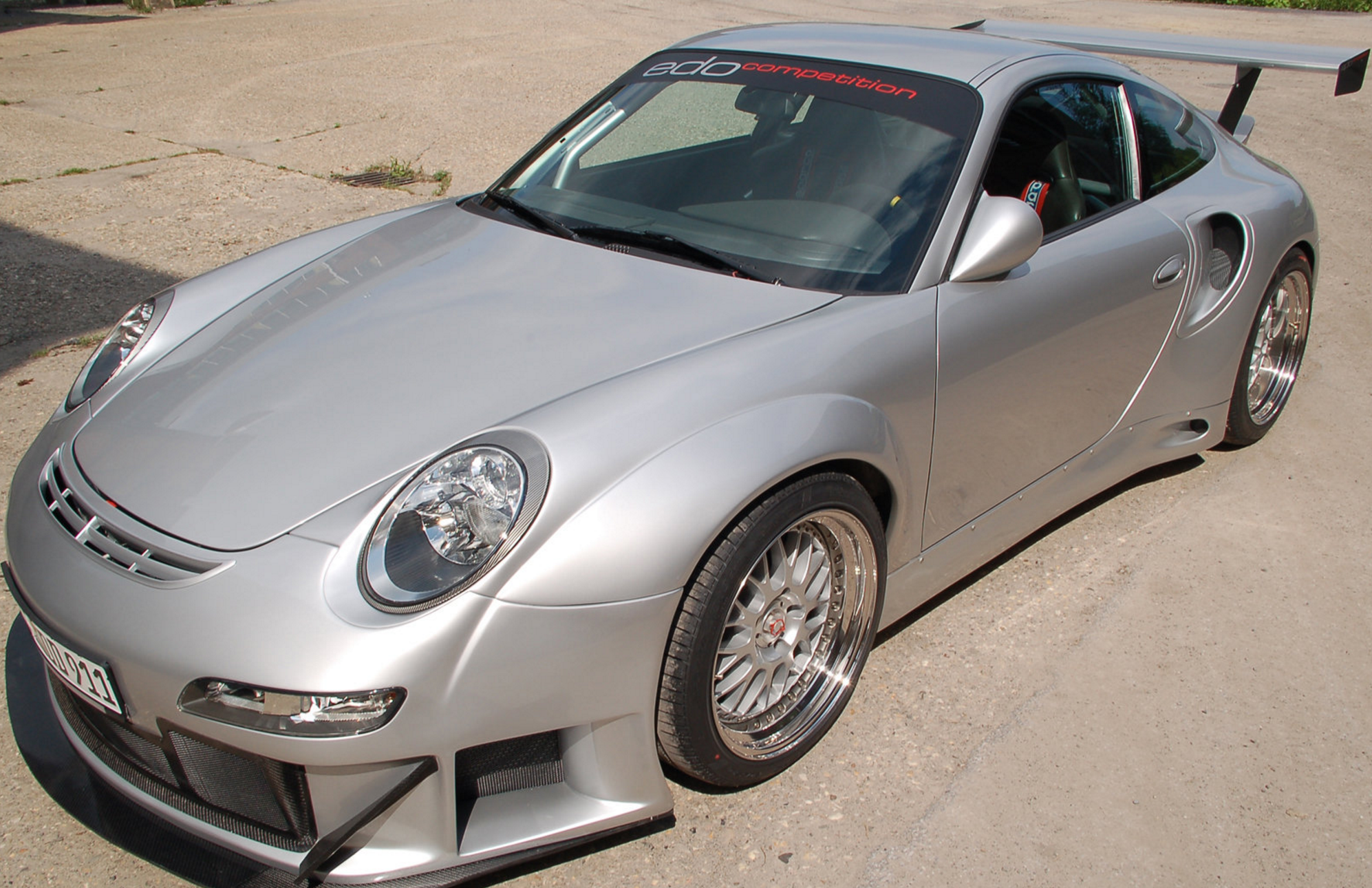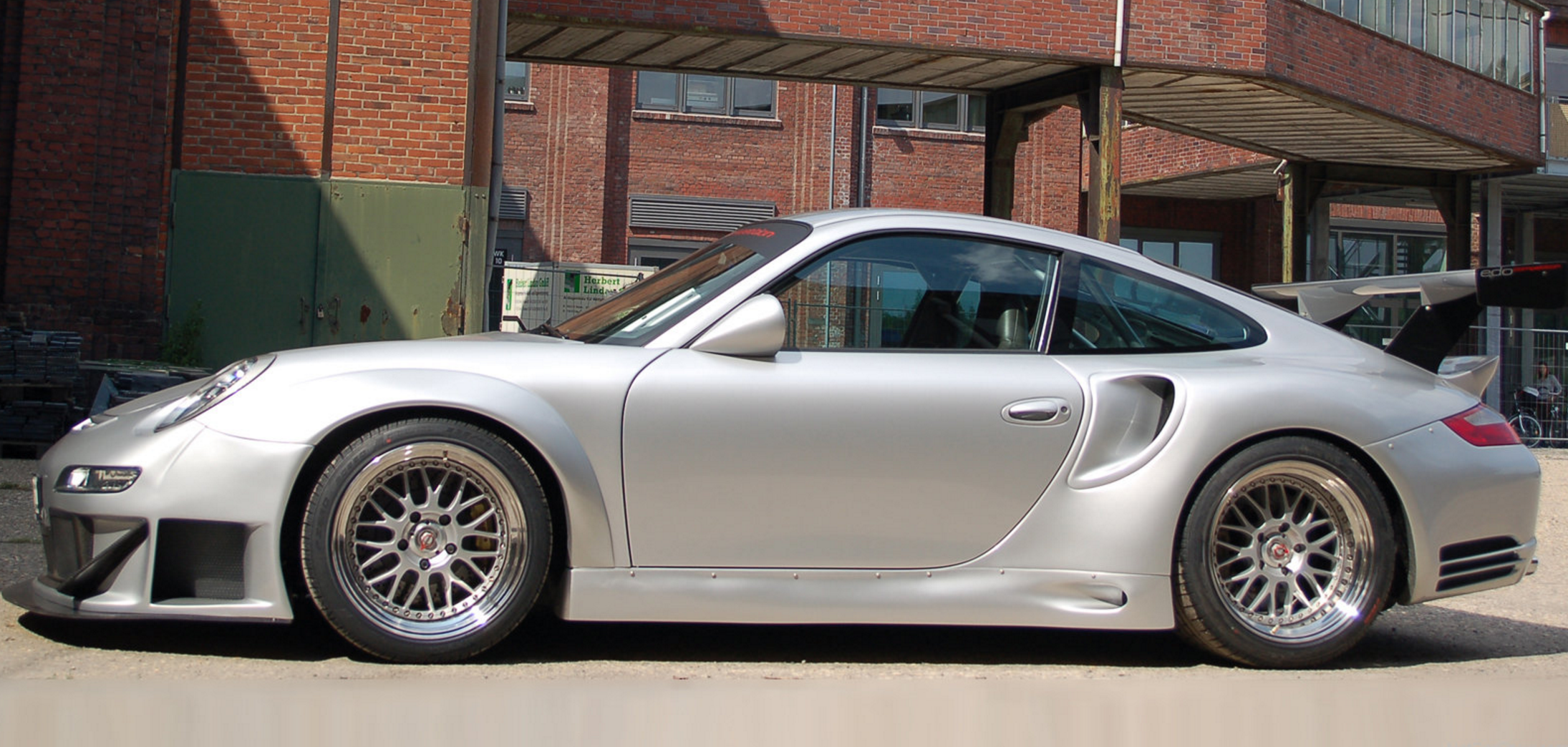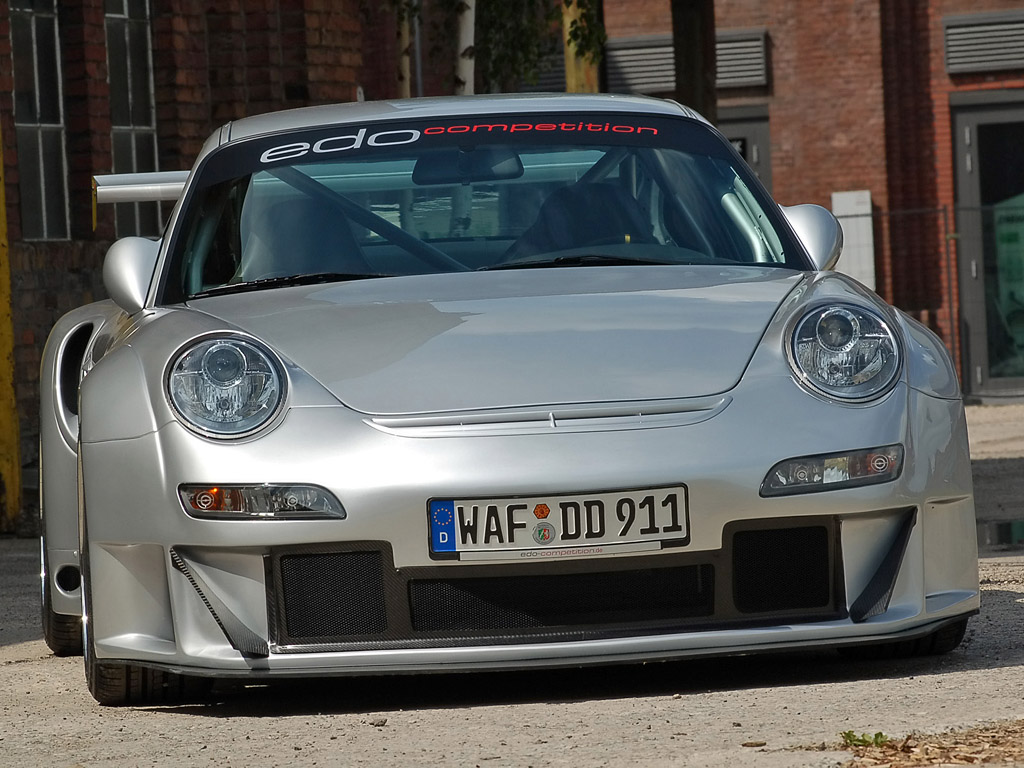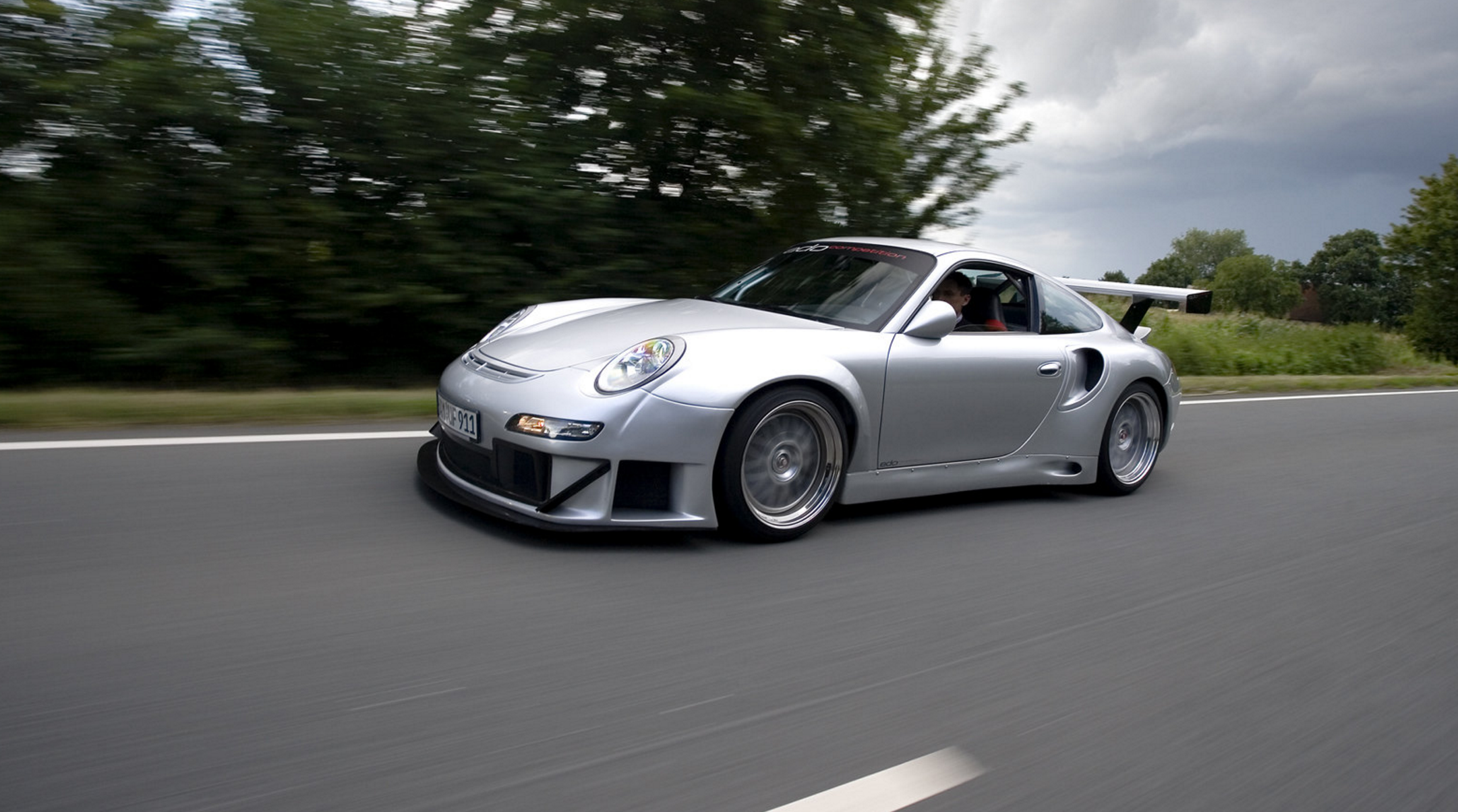 In Detail
| | |
| --- | --- |
| engine | Flat-6 |
| aspiration | Twin Turbocharged |
| power | 404.2 kw / 542 bhp @ 6790 rpm |
| bhp/weight | 383.04 bhp per tonne |
| torque | 755 nm / 556.9 ft lbs @ 4300 rpm |
| body / frame | Unit Steel w/Edo Carbon Fibre Body Kit |
| front tires | 235/45 18 Michelin Pilot |
| rear tires | 335/30 18 Michelin Pilot |
| front brakes | Discs w/4-Piston Calipers |
| rear brakes | Discs w/4-Piston Calipers |
| front wheels | F 45.7 x 25.4 cm / 18 x 10 in |
| rear wheels | R 45.7 x 33.0 cm / 18 x 13 in |
| f suspension | Adjustable edo/KW sport suspension |
| r suspension | Adjustable edo/KW sport suspension |
| curb weight | 1415 kg / 3120 lbs |
| wheelbase | 2350 mm / 92.5 in |
| front track | 1465 mm / 57.7 in |
| rear track | 1500 mm / 59.1 in |
| length | 4430 mm / 174.4 in |
| width | 1770 mm / 69.7 in |
| height | 1305 mm / 51.4 in |
| transmission | 6-Speed Manual |
| final drive | 3.44:1 |
| 0 – 60 mph | ~3.8 seconds |