2008 Geiger Corvette Z06 Black Edition
For years the Corvette has been representative of the very embodiment of the quintessential sports car amongst true motorsport fans. Thanks to Corvettes newest models and their successful racing prototypes performing world wide – most notably in the legendary 24 hour race at Le Mans – the Corvette has evolved to rightfully inspire fear in the eyes of supporters of Porsche and Co.
The Corvette C6 's acquisition price of almost 75,000 Euro is one trait that is not to be underestimated. Relative to its features and talents it's a good value for the money. Although it takes a little more than 10,000 Euro on top to attain the status of the fierce Z06, when compared to the Porsche 911 or the Audi R8 the Vette is a true bargain.
GeigerCars, the American car specialists situated in the Bavarian metropolis of Munich present their own Black Edition of the Corvette Z06. Its modification is not flashy nevertheless it embodies very striking customizations. The Z06 is powered by the familiar V8 block engine possessing a phenomenal 7 liters of capacity, 505 horsepower and an impressive torque of max 5638 lb-in (469.8 lb-ft) at 4,800 revolutions per minute.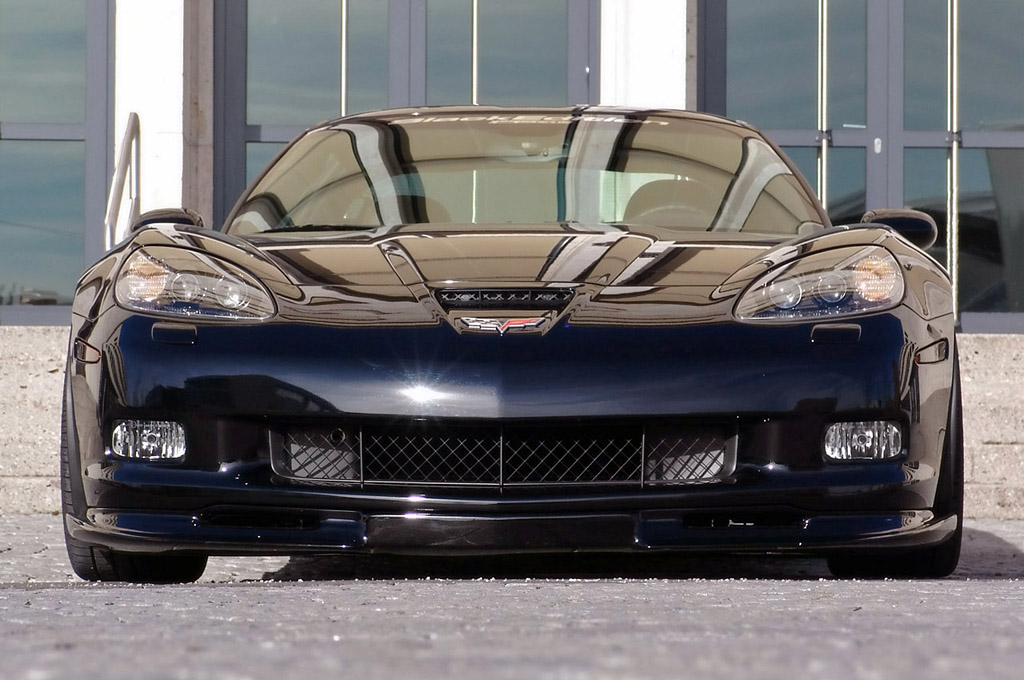 Thanks to Geiger's own exclusive Tuning Kit the addition of an extra 78 horsepower is mustered up – increasing maximum performance up to an impressive 583 horsepower. The modifications include an exhaust header with high-performance catalytic converters, a stainless steel exhaust system with four 100mm size tailpipes, an airbox incorporating a 100mm size airflow meter. The v8 motor gains considerable fierceness due to the customized throttle valves, a modified intake system, new valve springs, valve heads made of titanium steel and not to mention the installation of a specially designed camshaft.
An overhauled engine management system ensures that the 8 cylinders generate its 583 horsepower performance smoothly. The total price for this impressive Tuning Kit lies at 13.999 Euro. Untypical for an American vehicle, the Geiger Corvette is outfitted with a 6 gear manual transmission, adding only more fun to the overall package. Thanks to a curb weight of only 1.48 tons a level of road performance is attained that would make any Porsche fan go pale in the face.
Driving pleasure is increased significantly by GeigerCars own low rider design with adjustable high performance shock absorbers. In the front, 10×18 black varnish alloy wheels with 275/35 ZR18 tires mediate contact to the road. In the back 12×19 black varnish alloy wheels with 325/30 ZR19 tires perform their task with pride. With so much torque to tame, it isn't a problem in the least that the back tires won't always have everything perfectly under control. Quite the contrary, the brake away tail end only prompts a little smile on your face if you're one of the more trained drivers- besides; the Corvette Black Edition from Geiger also has a front spoiler as well as a modified rear end diffuser.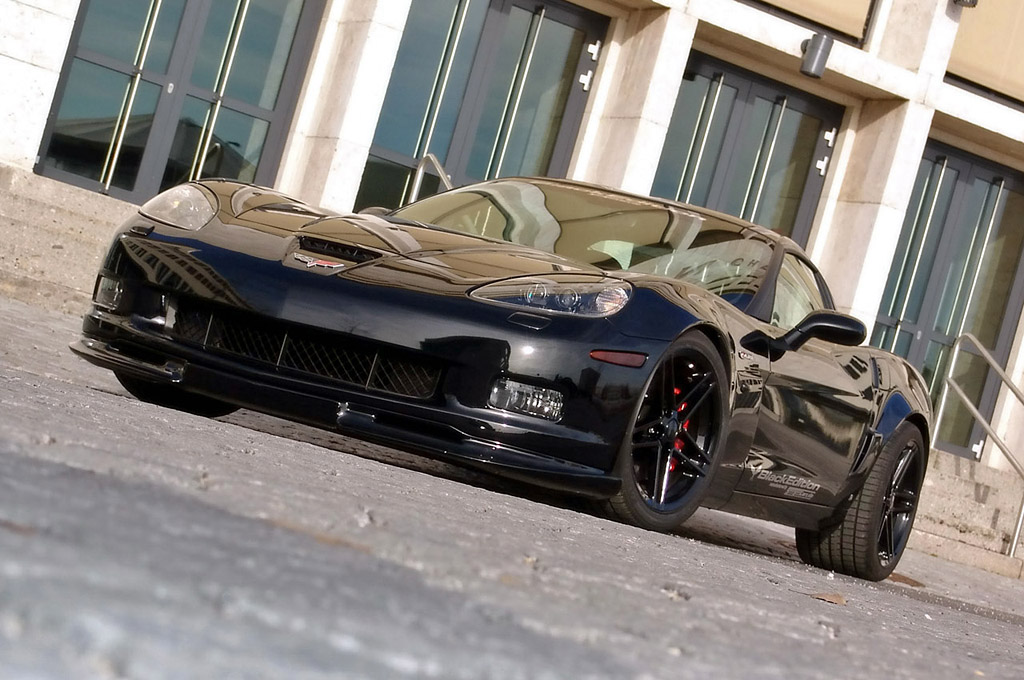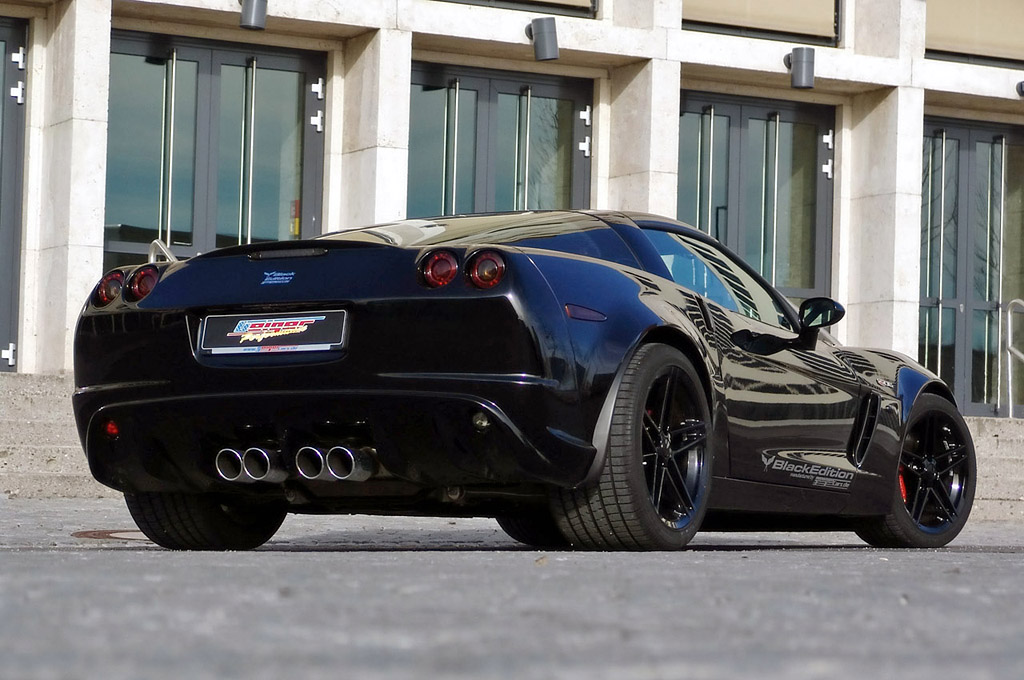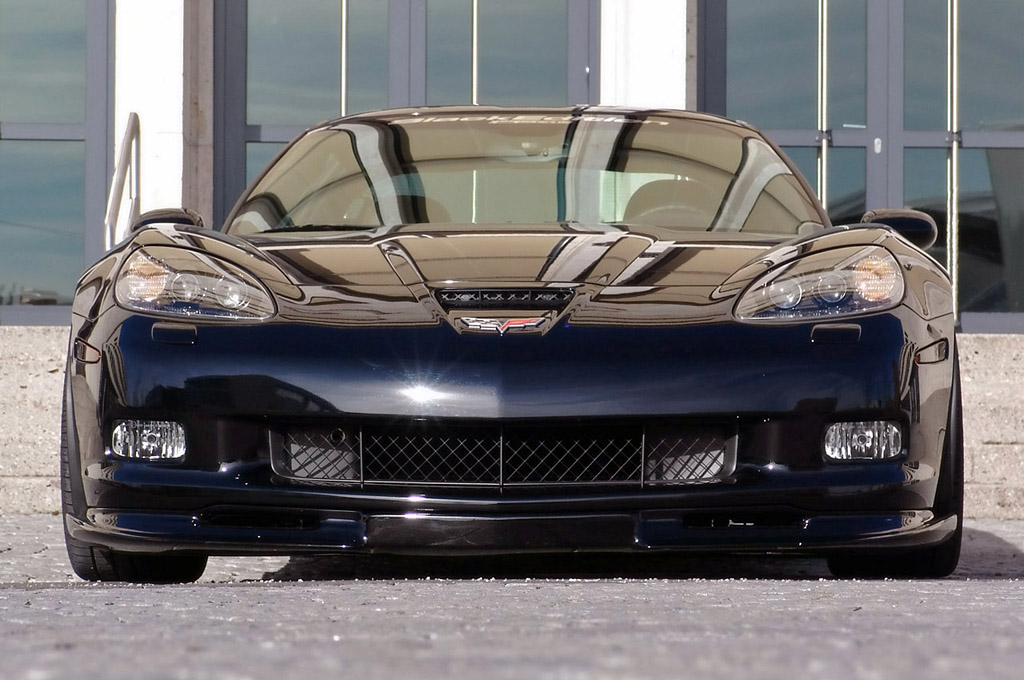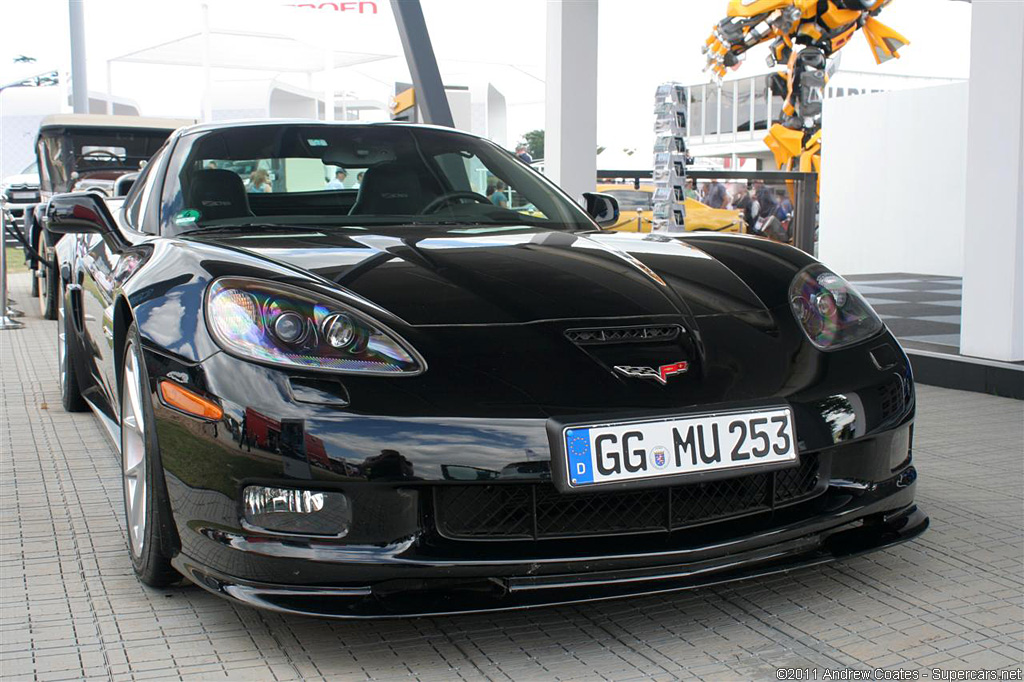 Above Images ©GeigerCars.de
In Detail
| | |
| --- | --- |
| type | Professionally Tuned Car |
| built at | Munich, Germany |
| price €/td> | €75,000 |
| engine | Cast Aluminum LS7 V8 w/Geiger Exhaust Header, Catalytic Converters, Stainless Exhaust |
| position | Front Longitudinal |
| aspiration | Natural |
| block material | Aluminum |
| valvetrain | OHV, 2 Valves w/Cyl |
| fuel feed | Sequential Fuel Injection |
| displacement | 7011 cc / 427.84 in³ |
| bore | 104.8 mm / 4.1 in |
| stroke | 101.6 mm / 4 in |
| compression | 11:1 |
| power | 434.7 kw / 583 bhp @ 4800 rpm |
| specific output | 83.16 bhp per litre |
| redline | 7000 |
| body / frame | Composite & Carbon Fiber Body Panels over Hydroformed Aluminum Frame w/Aluminum & Magnesium Structural Components |
| driven wheels | RWD w/Electronic Traction Control |
| wheel type | Gieger |
| front tires | 275/35 ZR18 |
| rear tires | 325/30 ZR19 |
| front brakes | Vented & Cross Drilled Rotors w/6 Piston Calipers, ABS |
| rear brakes | Vented & Cross Drilled Rotors w/4 Piston Calipers, ABS |
| front wheels | F 45.7 x 25.4 cm / 18 x 10 in |
| rear wheels | R 48.3 x 30.5 cm / 19 x 12 in |
| transmission | 6-Speed Manual |