Ferrari 458 Italia
Introduction
Collectively, the Ferrari 458 Italia is one of our most-loved vehicles here at supercars.net. You wouldn't have to dive very deep to find out why that might be the case, as even just a cursory glance at the car is more than suggestive enough.
Whether it be its sleek and timeless Pininfarina design, or its epic 562 hp naturally-aspirated V8 engine with a 9,000 rpm redline; the 458 was destined for greatness the moment the first car drove off the production line. It has already become a modern classic.
From F430 Successor…
Many consider the Ferrari F430 a remarkable car, but the 458 which succeeded it, is in an entirely different class. Arguably more than any other Ferrari road car up to that point, the 458 amalgamated the Italian automaker's latest Formula One technologies into its essence.
When it was first unveiled at the 2009 Frankfurt Motor Show, the 458 boasted a completely redesigned platform and brand new Pininfarina design. Its name is derived from its showcase 4.5L 8-cylinder engine, which made it "the highest-revving street-legal production V8". An emphasis on aerodynamics, handling, instrumentation and ergonomics are also evident throughout the rest of the car.
…To Ferrari Legend
Such was the car's influence, that it would also go on to serve as the platform for the models which followed – namely, the 488 GTB and F8 Tributo – with the original spirit of the 458 Italia remaining intact and on full-display through its successors.
While the aforementioned cars are undeniably faster and more technologically advanced, there will always be a special territory that only the 458 Italia can occupy – it is afterall, the last car to remain naturally-aspirated in a line of Ferrari automobiles dating all the way back to the 1967 Ferrari-Dino 206 GT.
The greatness of the Ferrari 458 Italia is not lost on anyone who appreciates a sublime supercar. As the recipient of no fewer than 30 international awards – including "Best Performance Engine" – it is one of the most decorated road cars in history and commands a universal degree of recognition.
Michael Schumacher is said to have been closely involved with the development of the 458 Italia as well, providing valuable input throughout the project.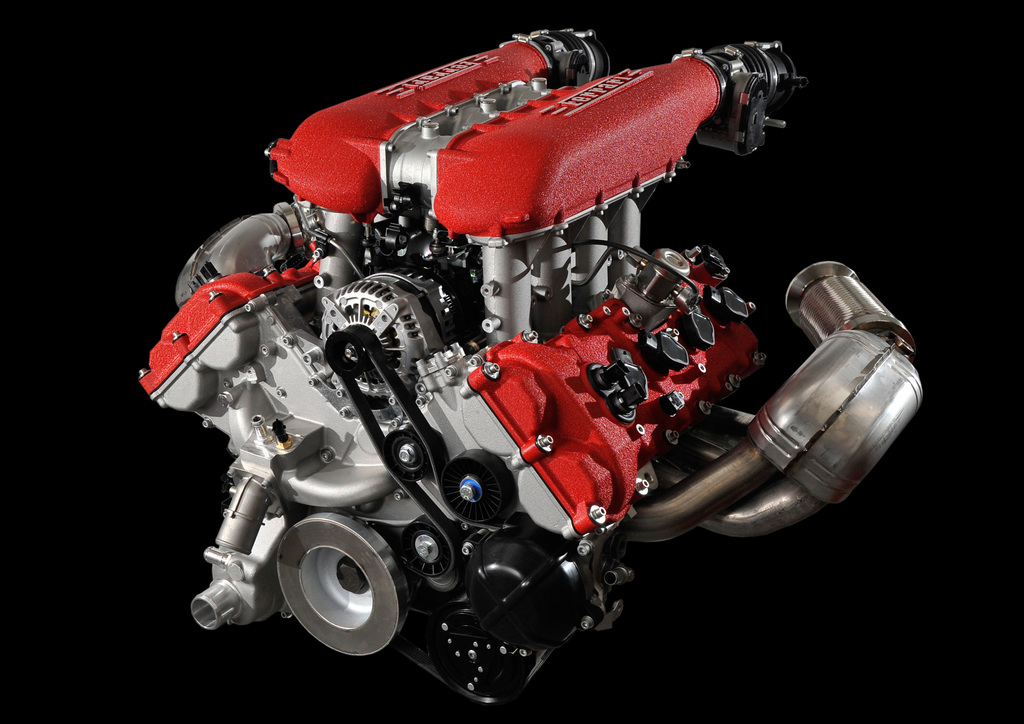 Engine & Performance
Engine Type & Size: 4.5L naturally-aspirated V8
Horsepower: 562 hp @ 9,000 rpm
Torque: 398 lb-ft @ 6,000 rpm
Transmission: 7-speed dual-clutch
0-60 mph: 3.2 seconds
Top Speed: 202 mph
Before getting down to the nitty-gritty of the 458 Italia's performance specifications, let's just mention that its F136-FB V8 engine provides one of the most thrilling soundtracks produced by any road-going vehicle out there, courtesy an orchestra which octaves all the way to 9,000 rpm. Bellissima!
Compared to its predecessor, the 458's all-aluminum power plant provides the best of all worlds – it's more powerful, more durable and more fuel efficient in spite of a 0.2L displacement premium. This is in part due to some variable valve wizardry, with three pneumatic throttle valves regulating air flow at the intake and exhaust. Surprisingly, it is also the first Ferrari mid-engine road-car to feature direct fuel injection.
The 458 comes exclusively with a 7-speed dual-clutch Getrag transmission which can change gears in as little as 0.04 seconds. Electronic nannies also help tether the car's performance in relation to driving conditions and preferences, with a steering-wheel-mounted Manettino switch allowing the driver easy access to a number of preset driving modes on the fly. Each mode – which includes: Wet, Sport, Race, CT Off and ESC Off – delivers varying levels of involvement from the E-Diff, traction control, stability control, ABS, active suspension and transmission systems.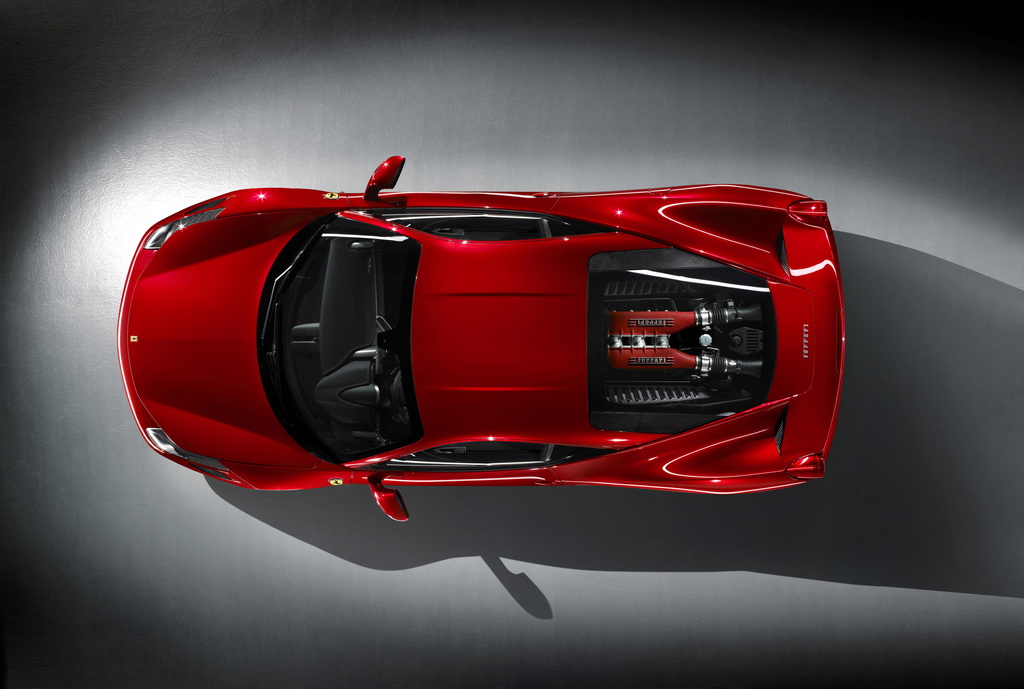 Chassis & Handling
Much like the engine, aluminum is the name of the game when it comes to the chassis design. Combined with aerospace-grade alloys and an advanced heat-forming process, the modular chassis is lighter and has more structural rigidity than ever before – up 15 percent over that of the Ferrari F430.
This provides a platform which really augments the 458's new double wishbone and multi-link suspension setup in the front and rear, respectively. Overall, this configuration significantly minimizes body roll while improving steering response and feedback, without any notable penalty to ride quality.
The Magnetorheological Suspension Control system is state of the art. It actively manages damper forces and bump control to promote smoothness and ride comfort, while reducing component friction; ultimately, making the car easier and more enjoyable to drive in any situation.
The synergy of  E-Diff and F1-Trac systems results in a 32 percent increase in longitudinal acceleration out of corners compared to previous models. This is the result of an advanced ECU which processes faster and more accurate calculations of grip levels, subsequently improving handling and ease of control at the limit.
With regards to the standard carbon ceramic brake setup, the same ECU also governs the 458's high-performance ABS system, providing enhanced precision and greater efficiency in caliper movement and brake pad contact. Braking distance from 100 km/h to a complete stop, has been reduced to just 32.5 m as a result.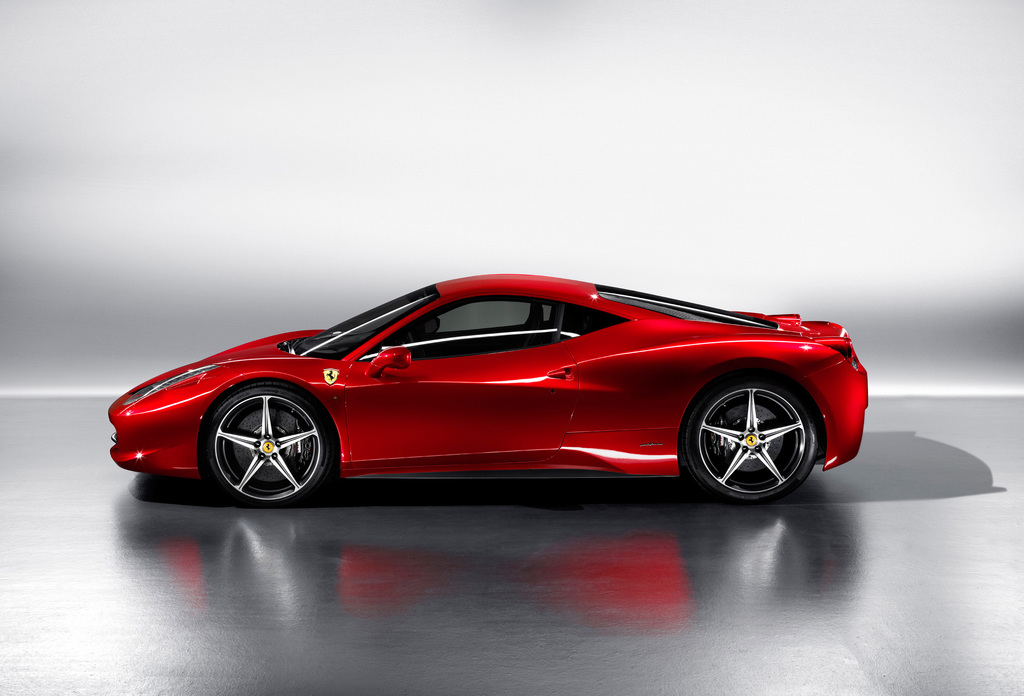 Design, Styling & Interior
Most aspects of the 458's design are driven primarily by the goal of maximizing aerodynamic efficiency, with each element working in concert with the other. At the front bumper, aeroelastic winglets bend at speed to increase airflow under the car and towards the rear, where a diffuser resides.This harmony of functionality can produce up to 794 lbs of downforce, split 41/59% over the front and rear wheels respectively.
Air apertures in the C-pillar direct air towards the engine and vents above the rear diffuser, which also assist in cooling the transmission and radiators. The final element is a small intake and exit located near the front headlights, which helps to reduce drag.
Ultimately, the 458 has remained one of the finest executions of functionality and form to this day. Its styling cues are decidedly Pininfarina, yet also a complete evolution from the classic Ferrari silhouette at the same time. Perfectly proportioned, timelessly elegant and deliberately streamlined; the Ferrari 458 Italia is the perfect consensus of minimalism, efficiency and capability.
Inside the cabin, you can expect the same marriage of simplicity and sporty personality. The cockpit reflects an intuitively functional layout and thoughtfully ergonomic design. Exposed aluminum panels and trim pieces are a nod to the car's racing DNA, contrasting the signature use of high quality Italian leather throughout.
The piece that truly brings everything together is the steering wheel. With mounted features such as the Manettino switch, Engine Start, indicator buttons, and shift paddles, drivers have charge of a command center at their fingertips. Convenience features such as infotainment, navigation and a back-up camera, are also available for the car.
Ferrari 458 Pricing
Price When New
Back when it was first released for the 2010 model year, the Ferrari 458 Italia had a base price of US$225,000. Options would add another $25,000 or so, with more bespoke appointments raising costs even further.
Subsequent models and trims such as the Spider, Speciale and Challenge commanded varying degrees of premium over the original car. As this article focuses on the latter, we've also done an analysis on what the used market currently looks like for the 2010 car.
Current Used Market
Quickly glancing at the (US) pre-owned market, it appears that a used 2010 Ferrari 458 Italia tends to command around $150,000 on average. Examples are typically lower mileage as you would expect, rarely having more than 15,000 clicks on the odometer.
Newer models (2012+) seem to command a premium over the earlier models, so jumping up to a later version can increase the price at least $50,000. This is due to the higher likelihood of transmission problems documented in 2010-2011 examples, which appears to have been smoothed over in the following model years.
Specifically for 2010 models, there have been rare instances of engine fires caused by the application of improper adhesives in the rear wheel arches – this issue prompted a manufacturer recall. If you are in the market for a pre-owned Ferrari 458 Italia – particularly an early model – ensure you've done your due diligence with regards to this recall or anything related to the transmission. The 458 otherwise has a lengthy and solid reputation of being a reliable car.
What Other Experts Say
Matt Prior, Autocar – 5/5
The Ferrari 458 Italia has set a new standard by which supercars are now judged
Kevin Hackett, CarAdvice – 10/10
Time to start saving then; time to start selling everything you own to join the fortunate few who will have one of these parked in their garage.
Auto Express – 4/5
The Ferrari 458 Italia delivers awesome performance, razor-sharp handling and jaw-dropping looks
Our Verdict
Supercars.net – 5/5
In spite of having a naturally-aspirated engine with a 9,000 rpm redline, the Ferrari 458 Italia still isn't one of the most raw and tactile Ferrari road cars out there. Mind you, we don't consider that a negative when it comes to this car; one that truly feels greater than the sum of all its parts.
That's because, well, these parts are all so very impressive to begin with. Sure, the advanced electronics might dull some of the sensations one would normally feel from the car in the absence of driver aids. However, this is paid back, and then some, with how fun and safe it is to toss around at the limit. Throw in a world-class drivetrain and state-of-the-art chassis too, while you're at it.
It's by no means what you would consider affordable either, even though the used market can occasionally present some deals that are too good to pass up (if you have the means to begin with). If you're serious about lap times, many other exotics offer better bang-for-buck and it's definitely not up there with the best in that regard.
But, the Ferrari 458 Italia is a car for the serious occasion – whatever occasion that might be – and it never fails to impress anyone. It gets full marks from us, while the sands of time reveal how iconic the 458 has become and will continue to be. The car is barely a decade old and it's already a classic in our books. I mean, look at it: it's timeless.
Specs & Performance
type
Series Production Car
released at
2009 Frankfurt Motor Show
built at
Maranello, Italy
coachbuilder
Pininfarina
price $
$ 225,000
price £/td>
£170,000
engine
F136-FB 90° V8
position
Mid Longitudinal
aspiration
Natural
block material
Aluminum
valvetrain
DOHC, 4 Valves per Cyl
fuel feed
Direct Gasoline Injection
displacement
4499 cc / 274.55 in³
bore
94 mm / 3.7 in
stroke
81 mm / 3.2 in
compression
12.5:1
power
419.1 kw / 562 bhp @ 9000 rpm
specific output
124.92 bhp per litre
bhp/weight
375.17 bhp per tonne
torque
540 nm / 398.3 ft lbs @ 6000 rpm
redline
9000
body / frame
Aluminum Body over Aluminum Chassis
driven wheels
RWD w/E-Diff3
wheel type
5-Spoke Forged
front tires
235/35ZR20 Michelin Pilot Sport 2
rear tires
295/35ZR20 Michelin Pilot Sport 2
front brakes
Ventilated & Drilled Carbon-Ceramic Discs w/ABS
rear brakes
Discs w/ABS
front wheels
F 50.8 x 21.6 cm / 20 x 8.5 in
rear wheels
R 50.8 x 26.7 cm / 20 x 10.5 in
steering
Rack & Pinion w/Variable Assist
f suspension
Double Wishbones, Coil Springs, Delphi Magnetorheological Dampers, Anti-Roll Bar
r suspension
Double Wishbones, Coil Springs, Delphi Magnetorheological Dampers, Anti-Roll Bar
curb weight
1498 kg / 3300 lbs
weight distribution
42 % / 58 %
wheelbase
2650 mm / 104.3 in
length
4527 mm / 178.2 in
width
1937 mm / 76.3 in
height
1213 mm / 47.8 in
transmission
Getrag 7-Speed Sequential
tran clutch
Dual-clutch
top speed
~325 kph / 201.82 mph
0 – 60 mph
~3.3 seconds
0 – 100 mph
~6.9 seconds
0 – 1/4 mile
~11.2 seconds
0 – 100 kph
~3.4 seconds
0 – 200 kph
~10.4 seconds
drag
0.33 Cd
fuel econ epa
13.7 L/100 km or 17.17 mpg-us
emission
320 g/km
Press Release
Maranello, July 28th 2009 – While it's true that every Ferrari is innovative by definition, it's equally true that in the course of the Prancing Horse's history, certain cars have marked a genuine departure from the current range. This is very much the case with the Ferrari 458 Italia, which is a massive leap forward from the company's previous mid-rear engined sports cars.
The new model is a synthesis of style, creative flair, passion and cutting-edge technology, characteristics for which Italy as a nation is well-known. For this reason Ferrari chose to add the name of its homeland to the traditional figure representing the displacement and number of cylinders.
The Ferrari 458 Italia is a completely new car from every point of view: engine, design, aerodynamics, handling, instrumentation and ergonomics, just to name a few.
A two-seater berlinetta, the Ferrari 458 Italia, as is now traditional for all Ferrari's road-going cars, benefits hugely from the company's Formula 1 experience. This is particularly evident in the speed and precision with which the car responds to driver inputs and in the attention focused on reducing internal friction in the engine for lower fuel consumption than the F430, despite the fact that both overall displacement and power have increased. However, Ferrari's track experience makes its presence felt in the 458 Italia not only in terms of pure technological transfer but also on a more emotional level, because of the strong emphasis on creating an almost symbiotic relationship between driver and car. The 458 Italia features an innovative driving environment with a new kind of steering wheel and dashboard that is the direct result of racing practice. Once again input from Michael Schumacher – who was involved from the very start of the 458 Italia project – played an invaluable part.
The Ferrari 458 Italia's Pininfarina design provides further evidence of the complete departure from the past that this new car hails. The Ferrari 458 Italia has a compact, aerodynamic shape, underscoring the concepts of simplicity, efficiency and lightness that inspired the project. As with every Ferrari, the car's styling has been very heavily influenced by the requirements for aerodynamic efficiency, as can be seen from the downforce of 140 kg at 200km/h generated by the new model. The front features a single opening for the front grille and side air intakes, with aerodynamic sections and profiles designed to direct air to the coolant radiators and the new flat underbody. The nose also sports small aeroelastic winglets which generate downforce and, as speed rises, deform to reduce the section of the radiator inlets and cut drag.
The new 4499 cc V8 is the first Ferrari direct injection engine to be mid-rear mounted. It has a very low piston compression height typical of racing engines which contributed to achieving its compression ratio of 12.5:1. Equipped with the traditional flat-plane crankshaft, the engine delivers 570 CV at 9000 rpm and, with an outstanding power output of 127 CV/litre, sets a new benchmark not only for the whole Ferrari range and the history of company, but also for the entire market segment. Maximum torque is 540 Nm at 6000 rpm, over 80 per cent of which is available from 3250 rpm. Specific torque is a record 120 Nm/litre. However, what is truly extraordinary is the amount of torque available while still maintaining high levels of power at low revs.
The car's soundtrack is also typical Ferrari, with an exciting, powerful growl emerging from the engine before it channels through to the exhaust's three rear tailpipes.
The 458 Italia is equipped with the seven-speed dual-clutch transmission which increases performance whilst providing very smooth shifts even at full throttle. The engineers have developed specific, sportier gear ratios to match the power and torque curves of the new V8, guaranteeing high torque even at lower engine speeds and allowing the car to reach its maximum speed in top gear.
This new Ferrari is also a major leap forward when it comes to cutting emissions. Despite the fact that the new engine is significantly more powerful than the V8s that preceded it, the Ferrari 458 Italia produces just 320 g/km of CO2 and fuel consumption is 13.7 l/100 km (combined cycle), the best in the entire segment.
The engineers also focused on weight reduction during the design phase for similar reasons. Consequently, the Ferrari 458 Italia has a dry weight of 1380 kg with a power-to-weight ratio of 2.42 kg/CV. Weight distribution is also optimal with 58 per cent over the rear axle. The result of the engineers' endeavours can be summed up in to two simple statistics which together perfectly encapsulate the Ferrari 458 Italia's exceptional performance: 0-100 km/h acceleration in under 3.4 seconds and a maximum speed in excess of 325 km/h.
For the new chassis, once more in aluminium, Maranello's engineers incorporated various types of advanced alloys along with aerospace industry-derived manufacturing and bonding techniques.
With regard to vehicle dynamics, the Ferrari 458 Italia's suspension features twin wishbones at the front and a multi-link set-up at the rear tuned for maximum roadholding and superlative handling. Along with a more direct steering ratio, the 458 Italia thus offers extremely rapid turn-in and body control whilst maintaining superior ride comfort.
The integration of the E-Diff and F1-Trac (now controlled by the same ECU) and their respective mappings is even greater, resulting in a 32 per cent increase in longitudinal acceleration out of corners compared to previous models. The evolution of the control logic, with even faster and more accurate calculation of levels of grip, ensures even greater roadholding, better handling and ease of control on the limit.
The same ECU also governs the high-performance ABS, providing even more precise control over the logic threshold and greater efficiency. The brakes also feature a prefill function whereby the pistons in the callipers move the pads into contact with the discs on lift off to minimise delay in the brakes being applied. This combined with the ABS has cut the 100-0 km/h braking distance to a mere 32.5 metres.
The Ferrari 458 Italia's interior is another area of the car that exalts its sporty personality. The driver is welcomed by a new layout and a revolutionary ergonomic interface where the main controls are all clustered on the steering wheel.
With the Ferrari 458 Italia, Maranello has brought a highly distinctive new car to its 8-cylinder range. The company now offers two models that share a common, race-derived DNA, both exceptionally sporty and fun to drive in true Ferrari tradition, but aimed at two very different kinds of client. While the Ferrari California was created for owners requiring a more versatile sports car with a practical edge, the 458 Italia is designed for owners for whom the priority is uncompromising on-road performance with occasional track day capability, but who still demand a car that is useable in day-to-day driving like all Ferrari's recent models.
Pictures
See full 2010 Ferrari 458 Italia Gallery.