38th Annual Concours d'Elegance of America
The Concours d'Elegance of America is held on the gorgeous grounds of the Inn at St. John's in Plymouth, Michigan in summer every year. This year marked the 38th Annual Concours d'Elegance on July 29 – 31, 2016. The show is small and intimate with a focus on showcasing classic, rare and magnificent automobiles that are hand-selected by the selection committee.
There is lots going on over three days including Concours Invitational Art Exhibition featuring fine automotive artists from around the world and the Mode du Concours fashions compliments of Productions Plus as well as an auction by RM Sotherby.
2016 Best In Class – Duesenberg J Model
1929 Duesenberg Model J – Clear Vision Sedan
Duesenberg built the Model J from 1929 to 1937 in Indianapolis Indiana. The car had a straight 8 double overhead cam with 265 hp. Power assisted hydraulic brakes were needed to slow these things down as they were the most powerful American built car until 1950's.
The original owner of this car was Harold F. Pitcairn, the developer of the Autogiro and founder of Pitcairn Aviation, which became Eastern Airlines. He purchased the car in July 1930 and sold it in 1933. This car is one of very few Duesenbergs which came with factory installed overdrive.
The Walter M. Murphy Company of Pasadena California built five of the exquisite Clear Vision Sedan bodies for Duesenberg. This body design incorporates the distinctive bronze windshield frame used on all the Murphy open car bodies, which provides a very narrow windshield post allowing a "Clear Vision" forward and to the side. The large rear quarter and rear window also contributor to the "Clear Vision" all the way around the car. Four of the five cars still exist and each Clear Vision Sedan was individually styled and no two are alike.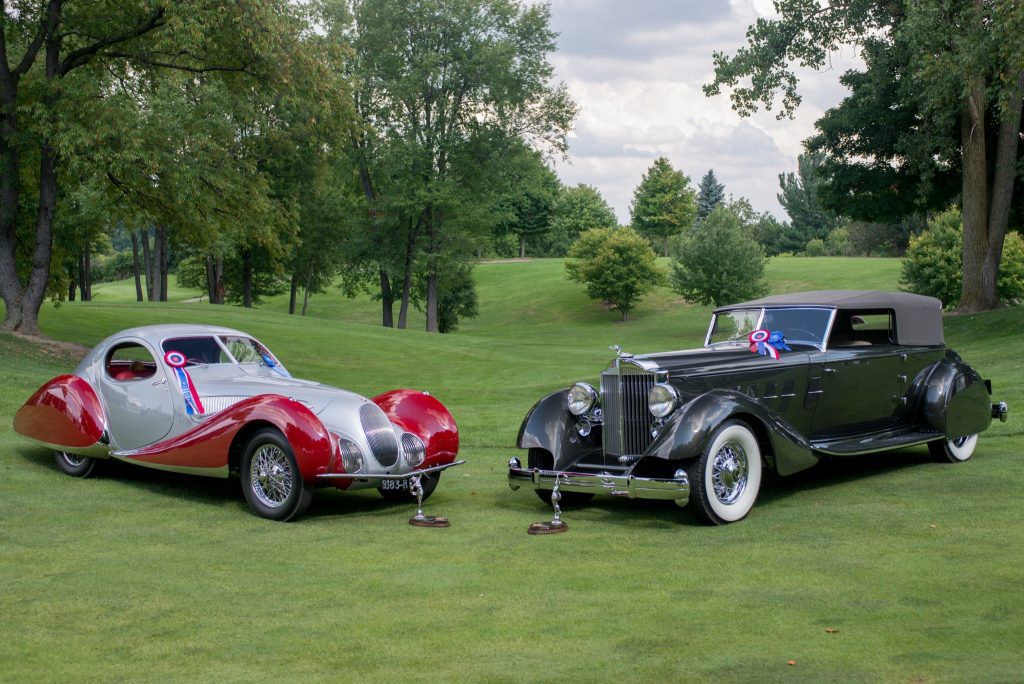 2016 Best In Class – European Post-war (Early)
1948 Alfa Romeo 6C 2500 3-Window Coupe
Carrozzeria Touring was established in 1926 by Felice Bianchi Anderzoni. In 1937, after years of evolving aerodynamics, Carrozzeria Touring developed what would be known as 'superleggera' (superlight) construction. This is a system of utilizing space-frame tubes that are covered in aluminum. This would lead to incredible racing success by Alfa, Fiat, Ferrari, and Lancia. Although not a craftsman, Anderzoni was Carrozzeria Touring's greatest influence on design.
Alfa Romeo first introduced its six cylinder 2500cc engine in 1935. Fortunately, prior to WWII, much of Alfa's activity had been moved from Portello, which was heavily damaged by Allied bombing, to the town of Orta. When hostilities ceased, the 6c 2500 was dusted off and limited production resumed.
Certainly one of the most beautiful cars of the era, it is believed that a mere sixty Touring three window Coupes were manufactured from 1946-1950. It is one of the first Italian sports cars to go into production after WWII.
More: 2016 Concours d'Elegance of America (Motor Tour) | 2016 Concours d'Elegance of America (RM Sotheby's Auction)
2016 Concours d'Elegance of America Image Gallery
Photos thanks to our awesome contributor Steven Hauptman