Aston Martin has really done a great job with the introduction of their all new DB11. The success of the DB11 is undeniable. In fact, orders are already filling up and a drop-top version is expected to be released soon. So in light of this recent success, the company brought in their newest GT car, the 2017 Vanquish S. There's one major concern about this new GT; it is based on the ageing DB9. This leaves you wondering why Aston Martin didn't use the DB11 as inspiration for this brand new GT instead. Well, we're here to talk about the Martin Vanquish S and not the DB9 so we will have to leave it at that for now.
The new Vanquish S is marketed as the 'ultimate GT' by the company. It makes sense because this is really a pumped-up and luxurious second-generation version of the Vanquish S. Everything from its performance, suspension, styling, and even its price tag, has been improved.
The car's exterior is just what you'd expect from an Aston Martin car. The front splitter and rear diffuser are now carbon fiber. The front end is has also been redesigned to reduce understeer.
What really makes the new Vanquish S exciting,however,  is its engine. As soon as you start the car, the engine will come to life with a metallic howl. Once it's up to temperature, the engine hums. Put it in drive and the Vanquish pulls away very smoothly. The car switches through its gear effortlessly making your ride calm and comfortable.
The car draw its power from Aston Martin's 6.0-litre V12 engine. This will be the last time that an Aston Martin car will carry a naturally-aspirated engine. The engine is fitted with a revised intake system that should give the engine an additional 27bhp, bumping its power total to 595bhp with 630Nm of torque. These glorious changes to its visuals and performance will definitely cost you though. Since the new Vanquish S comes with a recommended retail price that starts from $294,950 in US.
It's really amazing how this new Vanquish S is able to give such a good quality ride once it is on the move. Even though the car went through a number of chassis tweaks to make it an ideal ride, it is the car's supple suspension that makes the car smooth and comfortable once it's on the move. As a result, the car just goes smoothly over a road, showcasing its superior GT cruising ability.
The car's body control is also worth noting here. You may also choose to the Vanquish into its two more aggressive driving modes: the Sport or Track. Both mode makes the car firmer. The Track mode makes the car suitable for rough roads. Overall, the steering is smooth, responsive, accurate and consistently weighted. The car can pretty much tell you how much grip you still have from your front end.
With the car's ability and composed nature, it wouldn't be so hard to drive the Vanquish S with 595bhp in a cold, damp, and humid morning. Its fat rear tires will always find a good grip even when exposed to moist conditions. You can definitely relax when you go cruising in your Vanquish S even on the toughest roads because its 6.0-litre V12 engine will give you no problem or surprises as it accelerates. Even though it is not as fast as the McLaren 650S, it does compensate its lack of power with noise. Push the car beyond 4,000rpm and its V12 engine will surely come alive.
The eight-speed automatic gearbox has also been improved in order to provide smoother and sharper changes. Upshifts are now quicker in isolation although they are still no match from the ones that you get in a McLaren or a Ferrari.  Aston Martin claims that the car can dash from 0-62mph in 3.5 seconds.
Looking around inside the car is where things can be really frustrating. We do love the decorative blue leather but other than that, there's nothing els worth noting here. The cabin is not something that you would expect from a car that you pay for $294,950.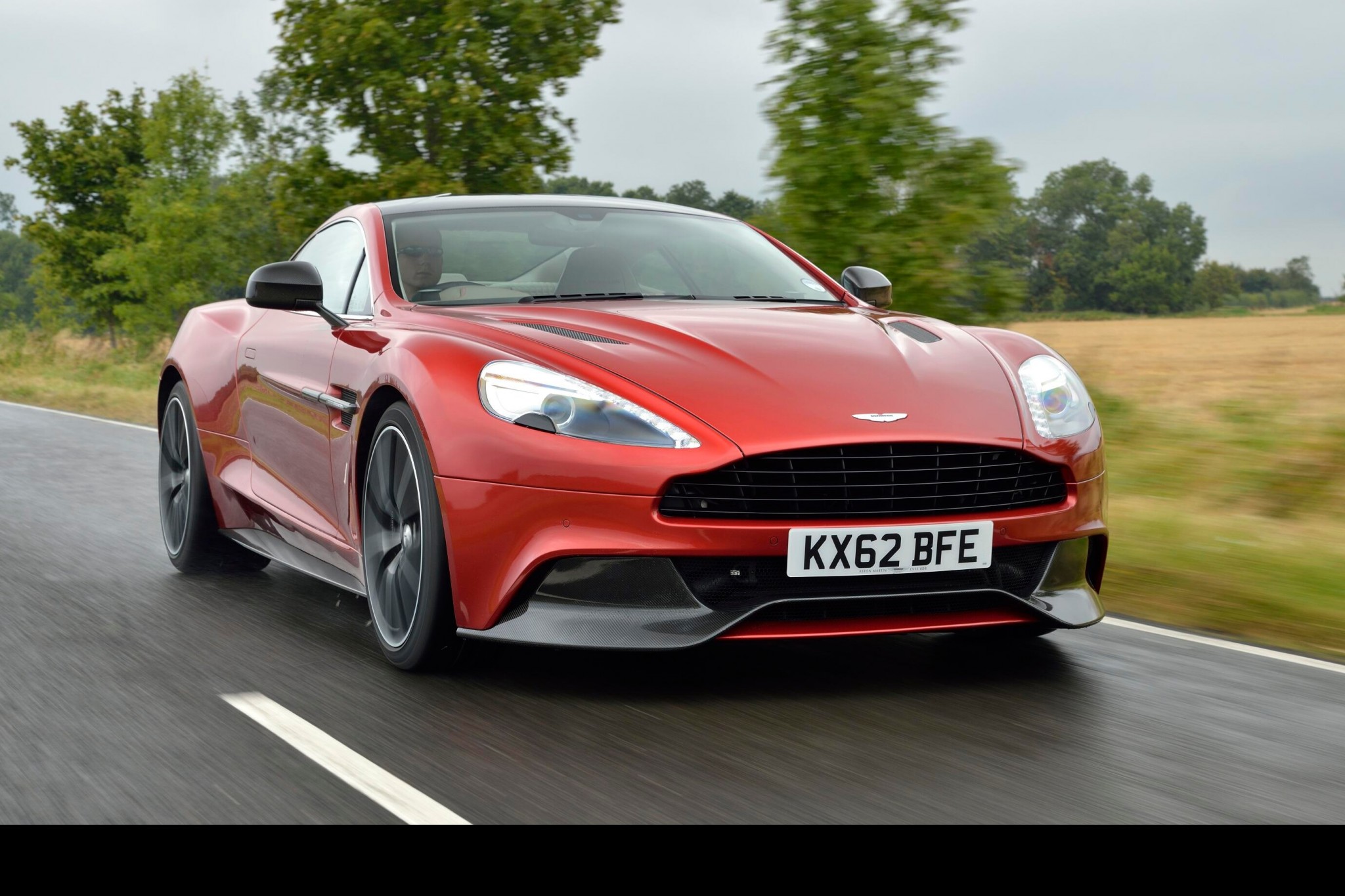 Aston Martin Vanquish S Press Release
Power of naturally-aspirated 6.0 litre V12 engine increased to 600PS
Suspension set-up honed to deliver greater poise and precision
Exterior features new exposed carbon fibre splitter and diffuser, plus striking new quad exhaust outlets
16 November 2016, Gaydon: Aston Martin has turned up the heat on it's ultimate Super GT to create the new Vanquish S. Sharper styling, greater potency and increased athleticism define this latest evolution of an illustrious model line. One that originated from Aston Martin's legendary Works in Newport Pagnell and has proudly served as standard bearer for the marque's sporting and stylistic values since 2001.
In this, the second generation Vanquish's evolution to S specification, careful attention has been paid to the engine, chassis and aerodynamics to create a machine honed to deliver more intense thrills and even more scintillating performance.
Central to this is the naturally-aspirated 6.0 litre V12 engine, which now produces up to 600PS (up from 573PS) and enjoys sensational throttle response, thanks to a revised, freer-breathing intake system. These larger volume inlet manifolds allow a greater volume of air to flow into the engine at high revs, creating a relentless power delivery and a stronger feel all the way to the redline.
Building on this increased intensity, the calibration of the 8-speed Touchtronic III transmission has been revised to deliver faster gearshifts and greater refinement at low speeds for a greater sense of precision and immediacy.
Likewise, the suspension, damper internals, spring rates and anti-roll bar bushes have also been re-tuned to give the Vanquish S a keener edge in the more sporting suspension modes, without compromising its ability to deliver supple ride quality on demand.
Visually the Vanquish S can be readily distinguished by a new aerodynamic package. Fashioned from exposed carbon fibre, this revised front splitter and rear diffuser combine to deliver a meaningful reduction in frontal lift with a minimal penalty in additional drag. Combined with visually striking new quad exhaust outlets the Vanquish S has more aggressive appearance, entirely fitting for Aston Martin's most overtly sporting GT production model.
This look can be further enhanced with a range of new options. These include carbon fibre bonnet louvres, new forged 5-spoke diamond turned wheels and a choice of striking painted graphics packs. A new Vanquish S badge sits proudly on the tailgate as the perfect piece of jewellery.
Inside, the Vanquish S can be further personalized with a choice of spectacular new 'Filograph' quilted leather and the use of new materials and finishes, such as the Satin Chopped Carbon Fibre fascia panel. Sumptuous Bridge of Weir Caithness leather offers an added touch of luxury and tactility, while Vanquish S embroidery on the headrests provides a crafted finishing detail.
Dr. Andy Palmer, Aston Martin President & CEO said: "From the moment the original Vanquish was launched it became a modern icon. It propelled Aston Martin from an era of hand-built cars to one where craftsmanship and technology combined to create a new kind of great British GT.
"In its second generation the Vanquish maintained that momentum with huge engineering advances such as its all-carbon fibre bodywork and compelling, contemporary styling. Now, the Vanquish S takes things a step further, confidently asserting itself within the Aston Martin range and distinguishing itself from the new DB11. A spectacular machine in every sense, the Vanquish S is a magnificent addition to our range."
Vanquish S is available in both Coupe and Volante and recommended retail price starts from £199,950 in the UK, €262,950 in Germany and $294,950 in the US. Deliveries will commence in December 2016.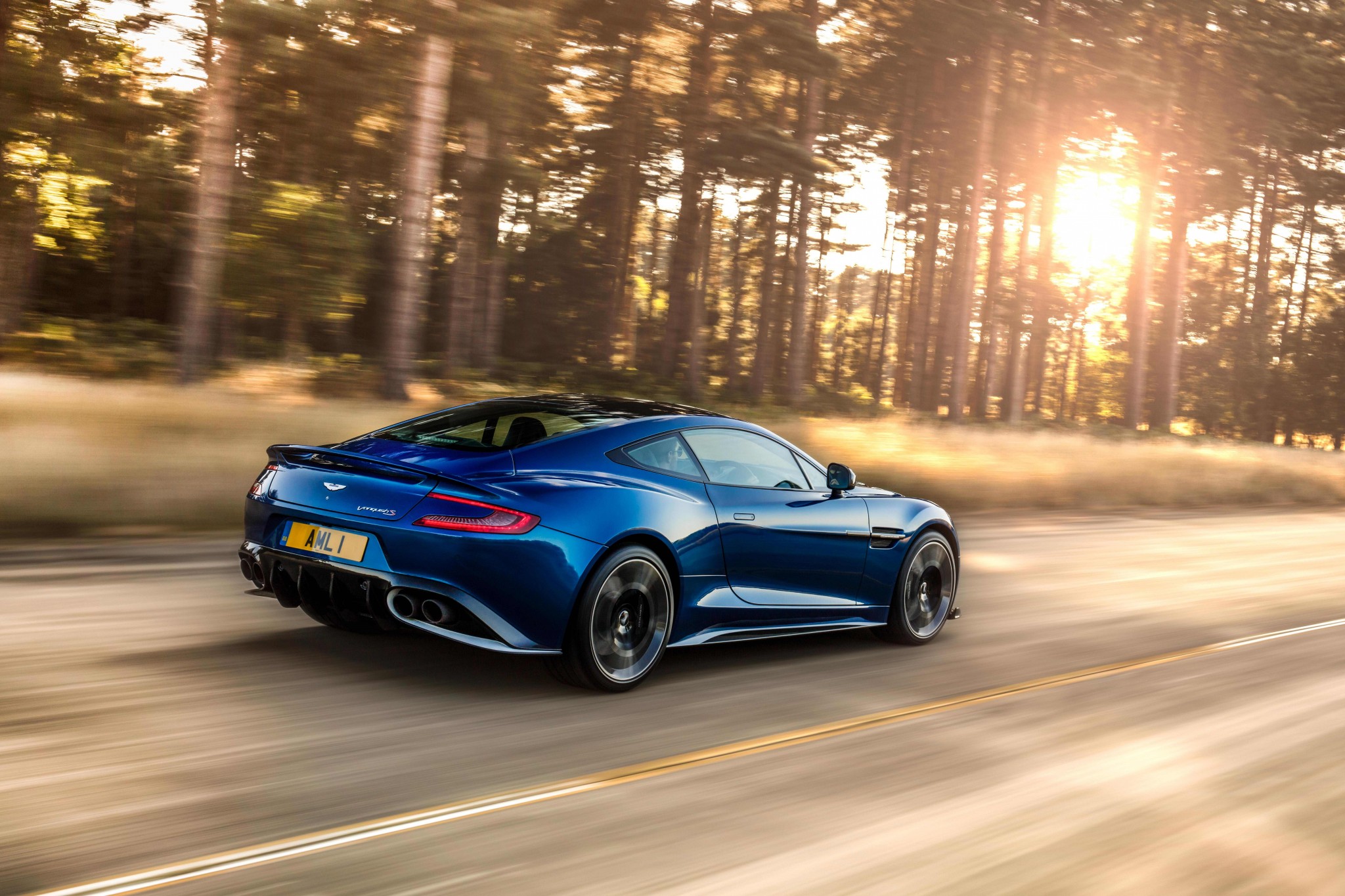 Aston Martin Vanquish S Quick Specs
VEHICLE TYPE:
front-engine, rear-wheel-drive, 2- or 2+2-passenger, 2-door coupe or convertible
ENGINE TYPE:
DOHC 48-valve V-12, aluminum block and heads, port fuel injection
Displacement:
362 cu in, 5935 cc
Power: 580 hp @ 7000 rpm
Torque: 465 lb-ft @ 5500 rpm
TRANSMISSION:
8-speed automatic with manual shifting mode
DIMENSIONS:
Wheelbase: 107.9 in
Length: 186.2 in
Width: 75.2 in Height: 51.0 in
Curb weight (C/D est): 3850-4050 lb
PERFORMANCE (C/D EST):
Zero to 60 mph: 3.5-3.7 sec
Zero to 100 mph: 8.2-8.4 sec
Standing ¼-mile: 11.8-12.0 sec
Top speed: 200 mph
FUEL ECONOMY (C/D EST):
EPA combined/city/highway: 16/13/21 mpg
Aston Martin Vanquish S Photos
Aston Martin Vanquish S Videos