Porsche has unveiled the 2019 911 GT3 RS ahead of the 88th Geneva International Motor Show, which is taking place from 8th-18th March 2018.
Striking visual updates separate this GT3 RS from the model before it. The 2019 model sports a carbon fibre front hood, with NACA ducts like on the 2018 911 GT2 RS to help with brake cooling without adversely affecting the aerodynamic performance of the body.
The front spoiler lip is larger, helping to increase downforce when paired with the side skirts, which are also enlarged. That massive rear wing works in conjunction with an underbody diffuser, with the whole lot coming together to produce more than two times the downforce of the non-RS 911 GT3 according to Porsche.
Inside is as you'd expect, with full bucket seats featuring carbon fibre-reinforced backrests to hold the driver in place while the car does its best to throw them out using lateral G-Forces and oodles of grip. Further nods to the motorsport potential of the 2019 GT3 RS include lightened door panels, with loops in place of door handles and an Alcantara steering wheel with a motorsport-inspired yellow 12 o'clock marker.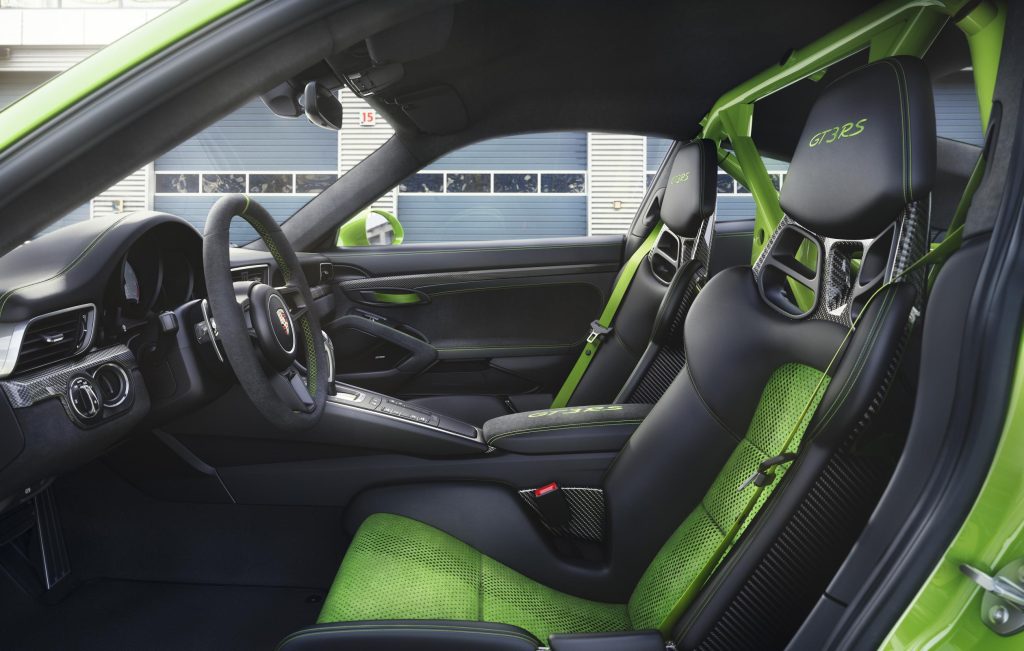 Rear seats? There are none – done away with in the pursuit of keeping the GT3 RS' weight as low as possible. Even with this, Porsche offer further weight savings, which it says are for 'particularly spirited drivers.' With extra carbon fibre for the steering wheel and shift paddles as well as on the sway bars, coupling rods and vehicle roof, and the optional forged magnesium wheels, the $18,000 Weissach package helps the 911 GT3 RS tip the scales at just 1431kg.
At no additional cost, Porsche will also fit the Clubsport package, which adds a roll bar, six-point seat harnesses and a fire extinguisher, for the especially track-focused enthusiast.
Power to match its racing pretensions
Beneath the rear bonnet and that huge spoiler sits Porsche's 4-litre, naturally aspirated flat-six engine putting out 520 horsepower and 346 lb ft of torque – good for a 0-60 time of 3 seconds flat, 0.2 seconds faster than the GT3 with PDK and one tenth of a second quicker than the previous-gen GT3 RS. This GT3 RS tops out at 193mph, with Porsche's main focus being to get it round a track as quickly as possible, not on straight-line top speed.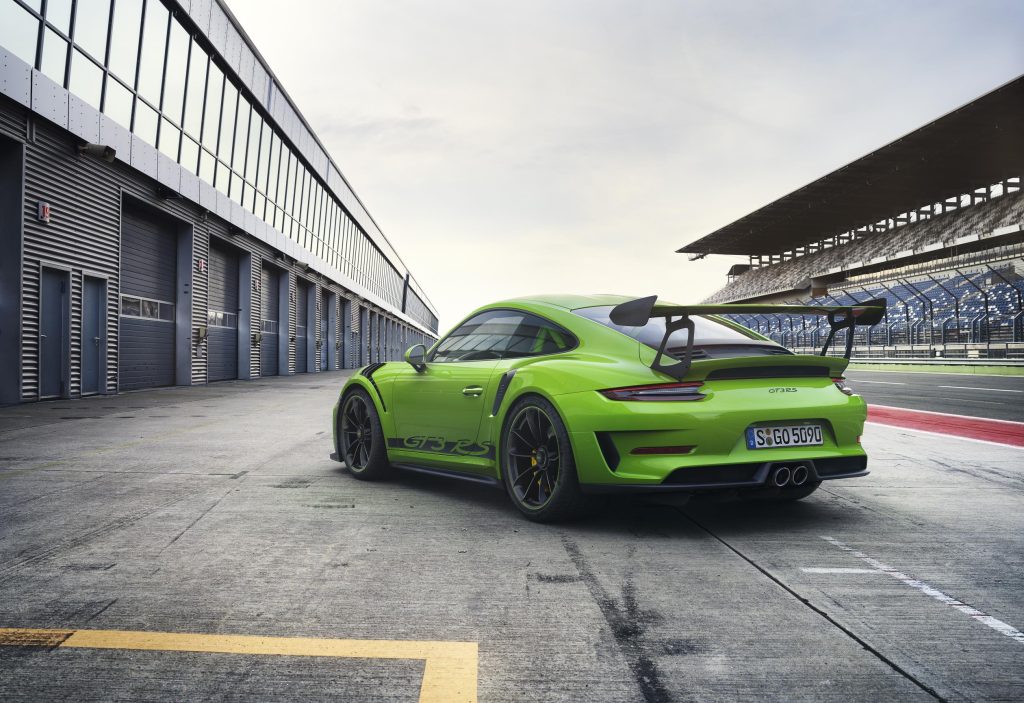 That power is delivered to the track (or road – don't forget this thing is road legal) via 325/30 Ultra High Performance tyres, wider than those fitted to the 911 GT3, to help those horses do their stuff in the most effective way possible.
Keeping that power in check and helping the driver harness the car's potential is the motorsport-derived chassis of the GT3 RS, which features Porsche Active Suspension Management (PASM), active engine mounts, rear-axle steering and an electronic locking rear diff with torque vectoring as standard.
The suspension is adjustable to suit the preference of the driver, with ride height, toe, camber, caster and sway bar settings all able to be altered.
Porsche is accepting orders now for the 2019 911 GT3 RS, with prices starting from $187,500 plus a delivery, processing and handling fee. Options include the aforementioned Weissach Package ($18,000) and magnesium wheels ($13,000).
Is the 2019 Porsche 911 GT3 RS hardcore enough? Let us know on Twitter.