Yes, It's For Sale….
However, the allocation for MY2018 units was already spoken for before this calendar year – all 6 of them, each costing $1.18 million USD. Even Porsche's head of Motorsport, Dr. Frank Walliser, has been surprised by the level of public consumer demand for the car – so much so that in mid-2017, Porsche decided to make the car available for purchase through its Customer Motorsport Program. Prior to this, the allotment was restricted to factory racing teams.
2018 Porsche 911 RSR
The Porsche 911 RSR is a special looking car, but despite its extreme enhancements, its visual profile remains undeniably 911. To understand what truly differentiates this 911 from any other, you would have to look at the engine bay – not so much what's in it, but where it is.
The RSR is the only 911 to have its engine sitting in front of the rear axle, effectively making this a mid-engined car. Dr. Walliser goes on to remark, "While retaining the typical 911 design, this is the biggest evolution by now in the history of our top GT model".
Repositioning the flat-six engine is considered an essential design element in ensuring the car remains competitive in its GTLM racing class. Apart from its more centralized weight distribution – effectively reducing tire wear at the rear wheels – the new engine placement also allows for the use of a massive rear diffuser and top-mounted rear wing, which significantly improves aerodynamic efficiency over rear-engined iterations.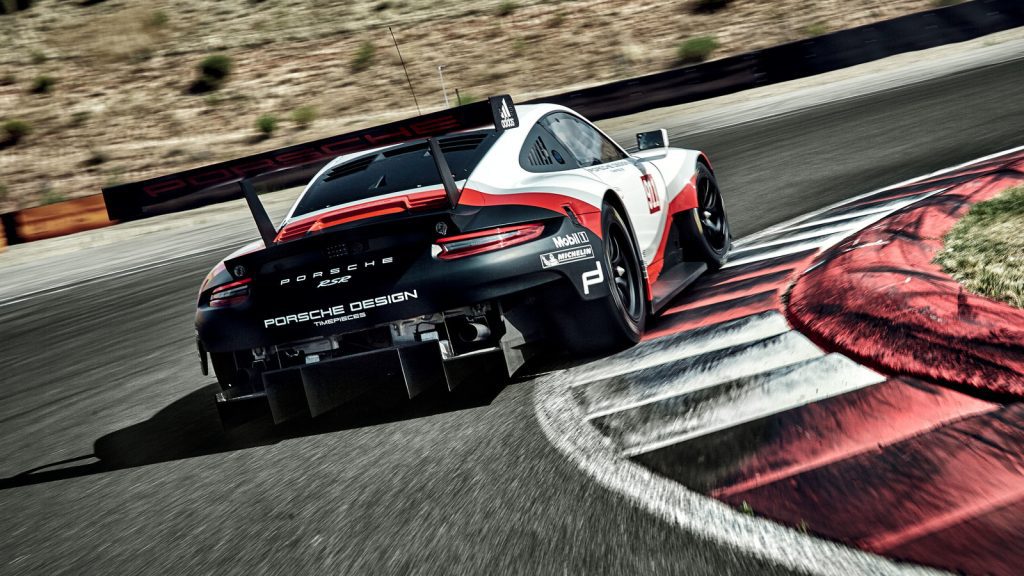 As Porsche customers and enthusiasts, perhaps what we should be most looking forward to is a street-legal version of a mid-engined 911 in the future. It could be the makings of something as controversial as it is exciting, and Porsche has a strong track record of sharing its race-proven technologies with its production models.
Engine
While some purists may be tentative about the idea of a mid-engined 911, they will feel more at ease about the fact that it remains in every other sense, more familiar. The 4.0L naturally aspirated boxer engine produces 510-horsepower (depending on size of restrictor) and revs all the way up to its 9,500 rpm redline – imagine a 911 GT3 engine on steroids.
It also features a water cooling system, direct fuel injection, a dry sump lubrication system and four valves per cylinder.
Chassis & Design
Mated to the engine is a six-speed electronic sequential gearbox which is cased in magnesium, and is operated using steering wheel mounted paddle shifters.
The car is also fitted with a myriad of devices and equipment to meet or exceed safety regulations. A radar-supported collision warning system dubbed 'Collision Avoid System', proactively alerts drivers to potentially dangerous situations involving other vehicles – particularly useful when dealing with traffic that includes faster prototype cars. The safety cage has been redesigned, along with a rigidly-mounted racing seat fixed to the chassis.
The 911 RSR weighs just 1,234 kg with its full arsenal of wider haunches, 13-inch-wide rear wheels and a massive rear diffuser and rear wing. Entire sections of its carbon fiber panels can quickly and easily be replaced thanks to the clever use of quick-release mechanisms. Changes to the suspension setup can also be performed on short notice.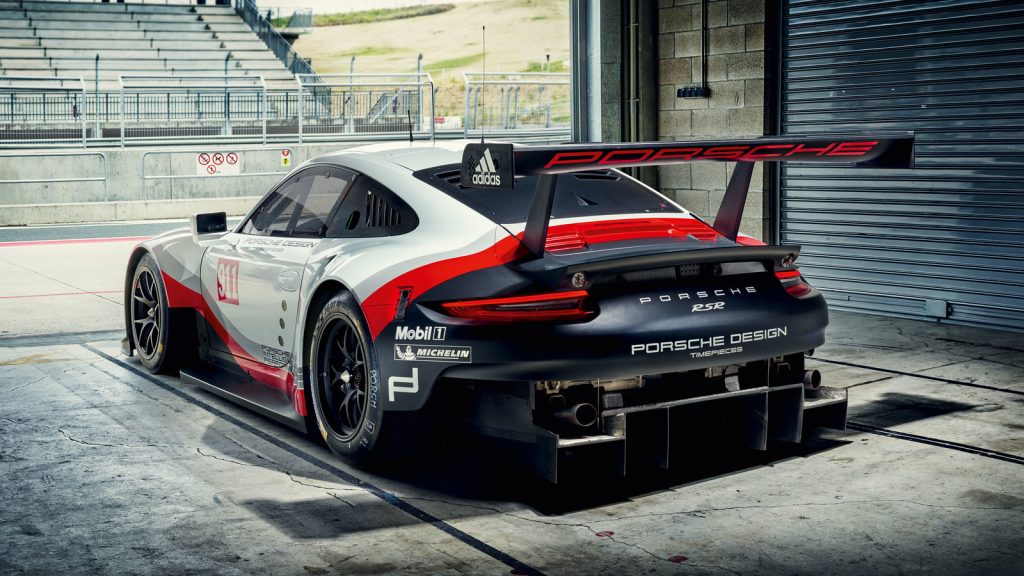 All technical specs can be found on Porsche's official website.
Photo Gallery
Videos
https://www.youtube.com/watch?v=j9EwbWbqZiI