Introduction
The 2022 Audi e-tron GT is the four-ringed company's first entrant into the high-performance EV weight class. It looks to shake up a playing field which includes the likes of the Tesla Model S and Porsche Taycan, the latter of which it shares many of the same underpinnings. Specifically, the two cars – which were developed in tandem by the Volkswagen Auto Group – both utilize an identical 800-volt battery architecture, with dual electric motors and a two-speed transmission responsible for sending power to all four wheels.
In a visual context, I would be hard-pressed to refer to the duo as "twins" as they share very little else in common – other than perhaps their side profiles – thanks to the e-tron GT having distinctly Audi signatures throughout its design elements. The cars are also packaged very differently, with Audi currently only offering their product in two distinct trims – e-tron GT and RS e-tron GT – which both come exclusively with all-wheel drive, whereas Porsche offers their base Taycan with a rear-wheel drive configuration, plus a myriad of other trims with the Cross Turismo models now available.
This isn't the marque's first EV model, as it joins up with a roster currently occupied by Audi's e-tron SUVs. However, the e-tron GT does have the distinction of becoming the first fully-electric car to don the company's legendary RS badge via the highest and most expensive trim level currently on offer. The base model e-tron GT predictably comes with less of the go-faster, stop-harder and look-sexier ingredients that are typically reserved for an RS model, but it does share the same 93.4 kWh battery with its more glamorous stablemate.
Audi has marketed the e-tron GT as a fully-electric grand tourer, as a opposed to a sports saloon EV like the Porsche Taycan. This sets clear expectations right away of what makes the e-tron GT an entirely unique offering – not quite as powerful (compared to the Turbo and Turbo S), a little less nimble and sharp in the handling department, slightly more utilitarian with extra cargo room and a typically impressive Audi-esque interior.
All e-tron GT models will be produced at Audi's Neckarsulm factory in Germany – where the same can be said for the company's flagship R8 – with the goal of rolling up to 10,000 units off the assembly line every year. This would be less than half of the number of Taycan models delivered world-wide in 2020, so the two cars certainly can't be compared like-for-like in that regard. Audi has ultimately done a fantastic job at making the e-tron GT look and feel like one of its own, and allays the fear about it being merely a reupholstered Porsche Taycan – it truly is a legitimate and unique player in this rapidly growing segment.
Engine, Drivetrain & Performance
The entry-level e-tron GT  produces 469 hp, which can be boosted up to 523 hp when using launch control. This is good for 0-60 mph in 4.0 seconds and a top speed of 152 mph, making it most comparable to the Porsche Taycan 4S which ends up being a smidge quicker using the same measuring stick. Stepping up to the RS model will net you 590 hp with 637 hp available in overboost mode. This allows the RS e-tron GT to complete the 0-60 mph sprint in 3.3 seconds, which is slower than Tesla's and Porsche's quickest EV models by 1.3 seconds (Model S Plaid) and 0.8 seconds (Taycan Turbo S) respectively.
Aside from the statistically-driven performance figures, the cars also differ from their competitors in less black-and-white, yet just as meaningful ways. For one, Audi engineered the e-tron GT to deliver its power in a more linear and progressive fashion – much like an internal combustion engined car – as opposed to being the torque-monster that we've come to expect from most performance-oriented EVs. This feature will certainly sway buyers who desire a more traditional driving feel, and are less inclined to be amused by the gut-busting characteristics of the e-tron GT's closest rivals. The e-tron GT also gets more usable battery capacity, managing to squeeze out 85 kWh – compared to the Taycan's 83.7 kWh – from its 93.4 kWh lithium-ion energy source. On paper, this should translate to a bit more range, all other things being equal.
Ultimately, the e-tron GT was always going to share certain characteristics with its German cousin through its communal platform. Afterall, the two-speed transmission which was once exclusive to Zuffenhausen, allows for an optimal balance of performance and efficiency. The e-tron GT will drive a lot more like the Porsche than the Tesla – which is a good thing in my opinion – particularly as it pertains to what is referred to in the biz as "one pedal driving". This is where the latter cars can almost be exclusively driven using only the accelerator as merely taking the foot off the pedal is sufficient to bring the car to a stop in most situations, making the brake pedal more of a luxury than a necessity. I'm not a fan of this, but apparently many people are.
Another similarity with the Taycan is the use of an artificial "engine" noise to replace the roar of the inline-6 or V8 which would otherwise be expected to power the car. Dubbed 'e-tron sport sound', this sci-fi-derived soundtrack gently wails through speakers placed both inside and outside of the car and varies based on throttle inputs and speeds. This is a standard feature on the RS and optional on the base model.
Battery & Range
As mentioned before, every e-tron GT model – including the RS – comes standard with a 93.4 kWh battery (of which 85 kWh is usable). On the entry-level e-tron GT, Audi has officially claimed up to 238 miles of driving range, putting it slightly higher than that of the Porsche Taycan 4s. We're still waiting to hear the official word on how the RS will fare in the range department, although it is expected to fall short of the aforementioned due to the extra juice required to dole out all that extra horsepower.
With regards to charging, the e-tron GT is inline with other performance-oriented EVs on the market today. It is able to get from 5% to 80% of its battery capacity in around 20-odd minutes using a standard 270 kW DC fast charger.  Last but not least, the advanced cooling system integrated into the 800-volt architecture allows for more repeatable performance than your typical Tesla, as overheating issues are far less likely to become a thorn in your customary hooning sessions.
Chassis & Handling
Like the Taycan, you can expect the e-tron GT to be remarkably responsive and precise – particularly when had with four-wheel steering – but more like the typical Audi, it could feel rather numb at lower speeds. That's not to say that the e-tron GT doesn't go where you're pointing it. Just don't expect the same level of feedback and weight tantamount to that of the Porsches. Ultimately, Audi still got the handling duly on point, especially as it pertains to being a grand tourer; if anything it does have a bit more body roll than the Taycan, but probably not enough to notice unless you were to drive each car back-to-back on a race track.
The Audi e-tron GT comes standard with a three-chamber air suspension system which allows for the driver to optimize the car for a variety of driving situations ranging from daily city excursions to canyon runs or even track use. Whether comfort or stiffness is what you require at any given moment, the selectable suspension settings have you covered. The air suspension can also lift the car by up to 0.8″ so that speed bumps and curbs can be negotiated with less fanfare.
Brakes & Tires
Braking is a similar exercise with comparable outcomes to that of the Porsche Taycan. This means that any braking forces within 0.3G are achieved entirely by the electric motors, with pad-to-rotor contact a relatively rare occurrence within the confines of non-aggressive driving. Subsequently, the standard steel brakes should suffice for just about any situation on public roads while the optional carbon ceramics are there for anyone who likes playing the min-max game when it comes to stopping power. Brake regeneration can also be toggled using controls on the steering wheel.
Working with the suspension, the e-tron GT's ride quality is incredibly compliant when driven on the 21″ wheels and even more so when equipped with smaller 19″ wheels. Audi has looked to Goodyear to provide the OE tires on the e-tron GT as it did for its electric SUVs, this time using specially-designed Goodyear Eagle F1 Asymmetric 5 tires.
Design, Cabin & Amenities
Exterior
For those who care to measure, the Audi e-tron GT further differentiates itself from the Taycan by being a tiny bit longer, slightly narrower and just a whisker taller than the Porsche. This hardly makes it a mini-van, comparatively speaking, as the e-tron GT strikes a sleek, aggressive and sporty silhouette nonetheless. The e-tron GT has Audi's DNA chiseled (quite literally) all over it, and that extends well beyond the four-ringed emblem sitting center stage.
At the front, there's that familiar looking grille (albeit solid) and distinctive headlight design which doesn't deviate far from the family tree. It's a lot busier than the Taycan's minimalist, yet somehow more exotic fascia, but I reckon this is a welcome change for buyers from either faction who prefer that there be less in common between the two vehicles.  The e-tron GT has one of the most exceptional looking rear ends of any car on the market today, with a rear lightbar connecting the decidedly Audi-esque LED taillights. The rear diffuser is a lot more pronounced compared to the Taycan's as well – it looks really good, and I'm sure it's very functional too.
Carbon side mirrors and a full carbon roof are also options, and can also be had as part of the Carbon Black and Carbon Vorsprung packages for the RS variants. The e-tron GT also has its own unique selection of wheels, of which the pricier choices come with functional aero blades to improve help improve driving range. Manufacturer exclusive paint colors such as Tactical Green are also available to further differentiate your e-tron GT from any other car on the road.
Interior
If there is one thing that Audi is universally recognized for, it would be the quality and design of their interiors. For the e-tron GT, Audi has decided to follow the more traditional formula that has earned them this reputation rather than embark on something groundbreaking as might have been the expectation, with the e-tron GT being a new EV and all that jazz. This equates to a palatable balance of touchscreen elements and actual plastic buttons, with a 12.3″ digital instrument cluster and a 10.1″ infotainment screen surrounded by physical toggles for the likes of climate control, driving modes, heated seats, and so on.
The finishes and materials inside the cabin are that of Audi's highest standards, with no shortage of available luxury and convenience offerings. This includes features such as ambient interior lighting, heads-up display, heated/ventilated front seats with massage, etc. The rear outboard seats provide ample legroom, but its headroom is less generous, and the middle seat is more courteous than comfortable.
Expect to see plenty of high-quality leather upholstering and metal accents, with a generous dose of Alcantara and carbon fiber coming standard in the RS. If a more vegan approach is desired, Audi offers leather-free artificial hides made from recycled plastic bottles and old fishing nets.
For driver assistance, forward-collision warning and automated emergency braking come standard while blind-spot monitoring, rear cross-traffic alert and lane-departure warning w/ lane-keeping assist are available as options.
Thanks to its dimensions, the e-tron GT is the marginally more utilitarian option compared to the Taycan with its 405L of rear cargo space plus another 81L in the 'frunk'. That makes for ample space for luggage behind the back seats and a few grocery bags stacked up front. Two adults will be a snug but comfortable fit in the back, but rear visibility could become an issue if this arrangement is frequent enough. The standard rear-view camera and optional 360 degree camera should alleviate much of those problems, though.
Pricing
The entry-level 2022 Audi e-tron GT (Premium Plus) starts at US$99,900, while the Prestige package will add another US$7,200 on top of that. Stepping up to the RS e-tron GT will take you up to US$139,900 before options. All models come standard with all-wheel drive and a 93.4 kWh battery.
Verdict
What Other Experts Are Saying
Top Gear – 8/10
"A handsome four-door GT that plays to Audi's strengths, with a blistering turn of pace."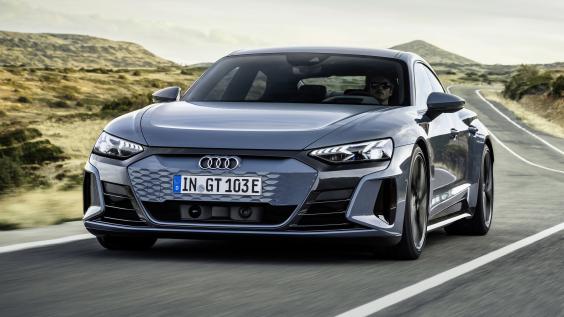 Car and Driver – 8.5/10
"The Audi e-tron GT excels as a stylish and sporty EV, but it's pricier than a Tesla Model S and lacks a long driving range."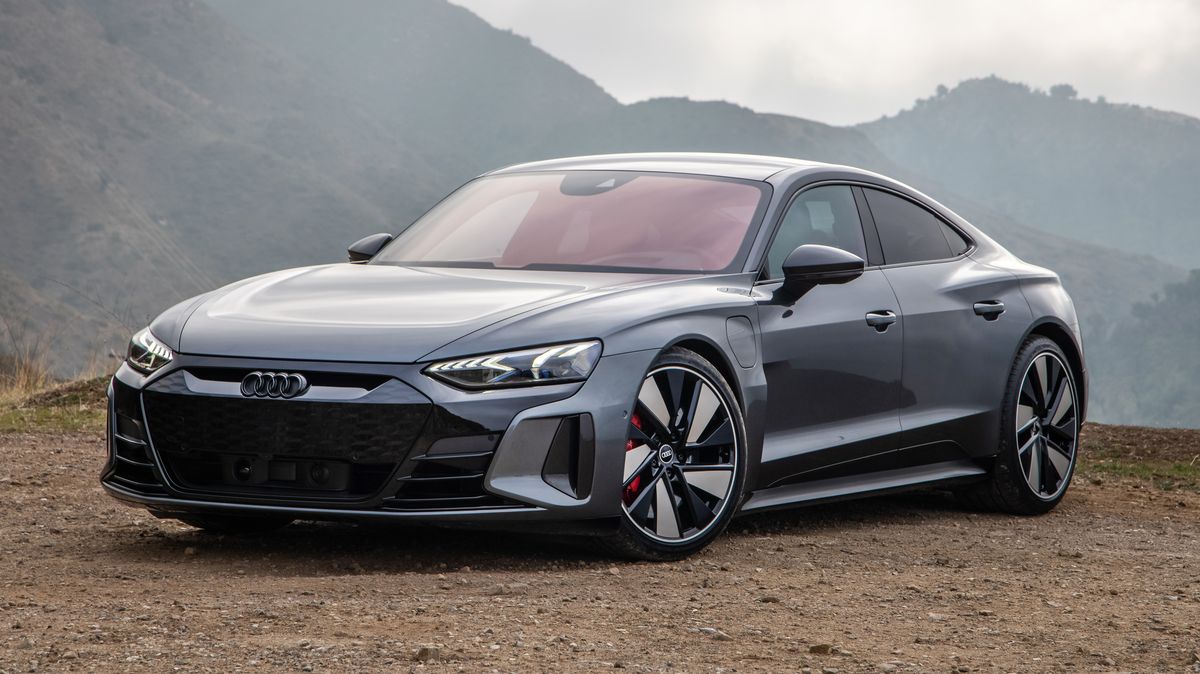 EVO – 4/5
"The entry level e-tron GT is another great grand tourer but question marks remain over touring range ability."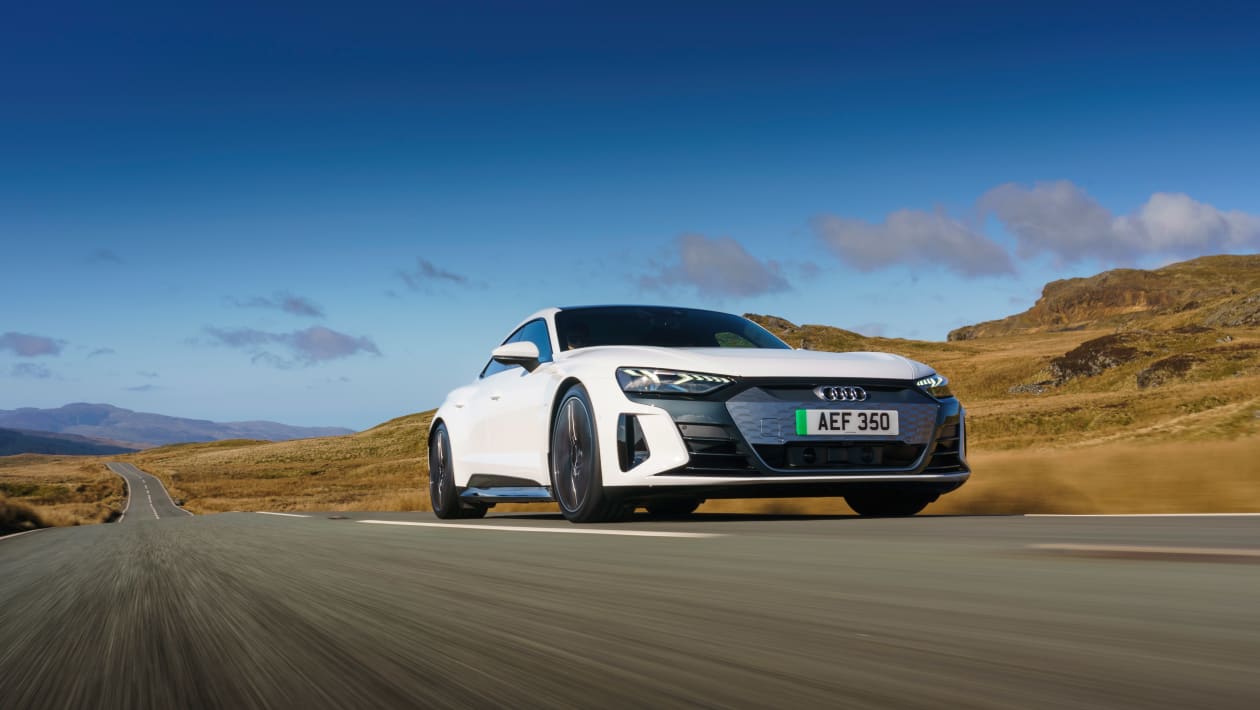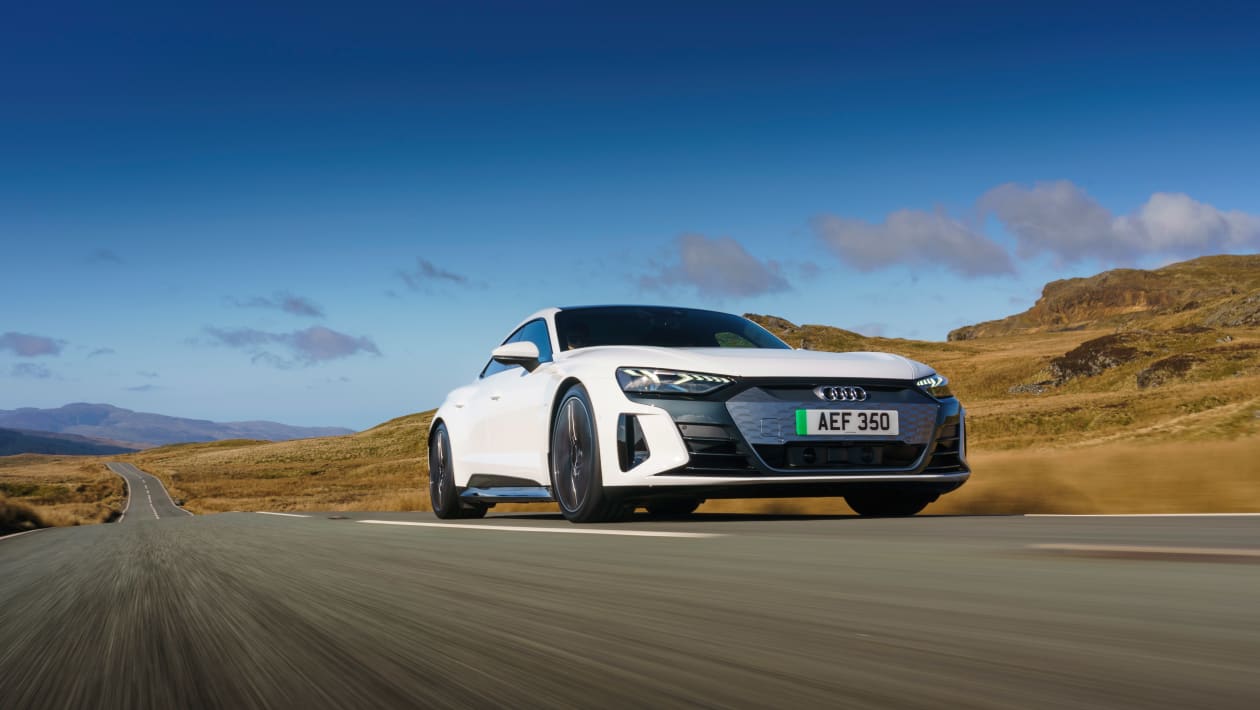 Car Magazine – 4/5
"By bravely focusing on true GT performance, Ingolstadt has diverted the e-Tron GT from an unexciting also-ran to a fascinating new addition to the Audi range."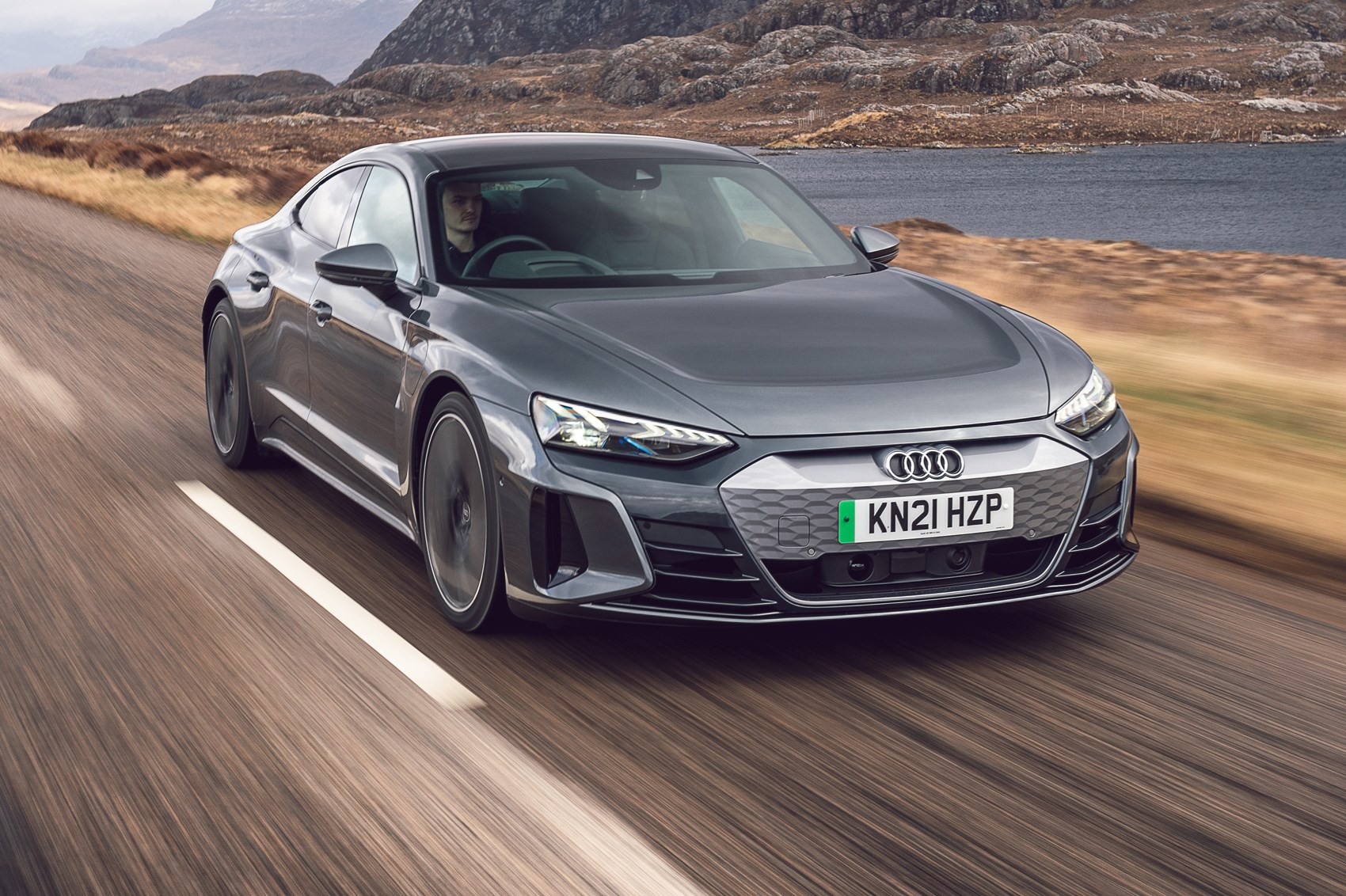 Auto Express – 4.5/5
"The Audi e-tron GT is another worthy entry in the luxury electric car market. It's just the right mix of the new and the familiar, and it has a fair degree of separation from the Taycan because it's a more comfortable electric grand tourer."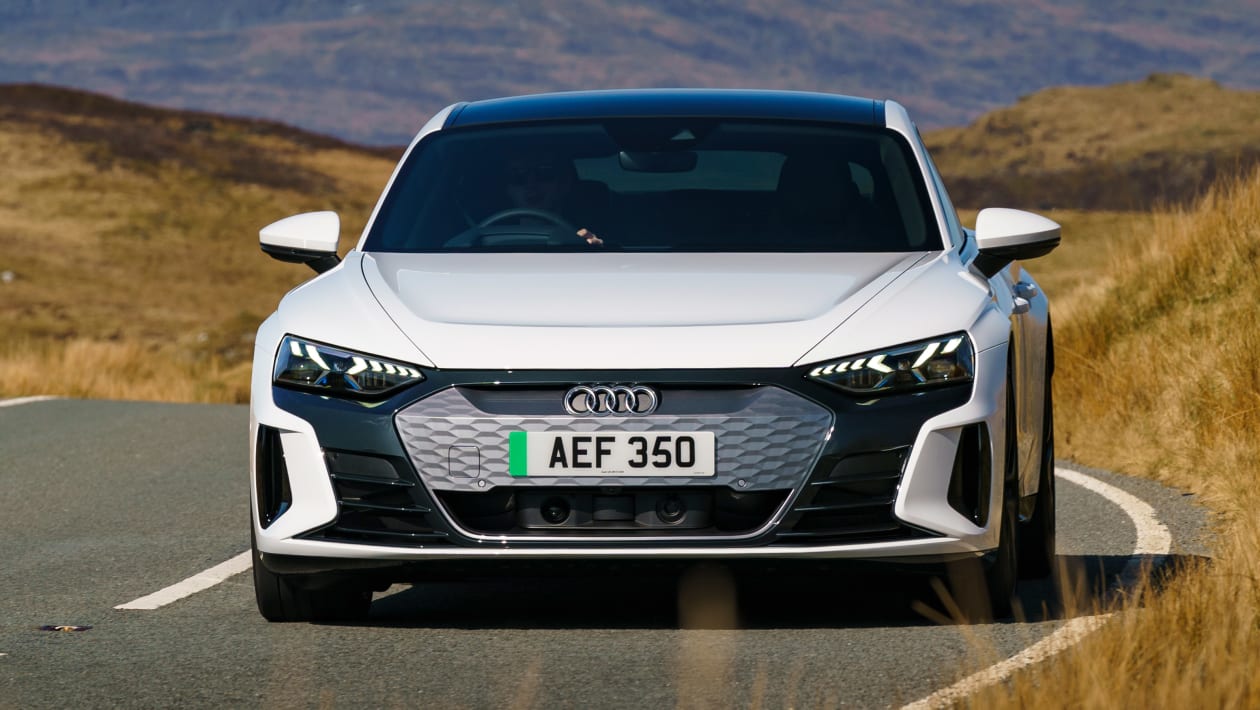 Our Thoughts
So, what is it really? A simple reskin of the Porsche Taycan or a performance-EV contender in its own right? I think Audi addresses that big elephant in the room with a level of assertiveness that would make both e-tron GT and Taycan owners just as happy as the other with their choices.
It really comes down to looks, and to a large degree what your preference is towards either a 4-door grand touring EV, or a Sports Saloon which happens to be fully-electric. Hint: The e-tron GT is the former, as it's literally in the name (GT is indeed meant to be an abbreviation for "grand tourer"). Think of the e-tron GT more as the gentleman and the Taycan more as the rebel; the Porsche perpetually taunting you to push it harder, while the Audi is there to keep things more civil and reserved. So, if you are a performance junkie who seeks the fun-factor above all else, you will get your fix in the Taycan, but do note that this will also come at an extra cost.
That's because Audi made sure to play to its much-proven strengths when it came to the e-tron GT, as revolutionary as the car already is and may yet turn out to be. Dependably handsome aesthetics which are deeply rooted to the company's philosophy. A familiarly high-class interior built around delivering comfort and quality. Superb performance and the heritage of the RS badge. All of these things are done right, and done the Audi way.
With the Taycan and the e-tron GT both existing in their own elements, the latter car can also set its sights – through unmuddied waters – on the Tesla Model S. While the range and top-end performance figures are lacking behind the California-made EV, there is no doubt that the Audi provides a recognizable and trustworthy package in its electric grand tourer – comfort, elegance, refinement and dependability, while manifesting a non-violent genre of high-performance.
It certainly deserves to be in the mix with these EV heavyweights and is by far the most exciting new car Audi has produced in quite some time. We hope that this is a sign of things to come; a car like the e-tron GT is just begging for an Avant version too, don't you think?
Image & Video Gallery