For those not in the know, Kyalami Green in Audi-speak is a bright shade that closely resembles Porsche's more aptly-descriptive Viper Green. That name at least tells you this is a green hue with fangs—a green that stands out like no other and which attracts the attention of others.
While reviewing this car, I was even asked by two gentlemen in the supermarket car park if they could photograph it. And on my return, there was a middle-aged lady hovering around Ingolstadt's fiery little coupe, muttering flattering words in its direction.
Hoping some of the compliments might have been aimed in my direction, I said to this lady how unusual it was for a grey-haired old codger like me to be piloting a sporty machine decked out in such a daring colour. "Ah no," she opined, "you look cool in it!" Happily, my wife heard every word but pretended not to have done so—although she did admonish me for having the drive mode set in DYNAMIC, which maximises all the stunning aural effects that envelop the TTRS on the move.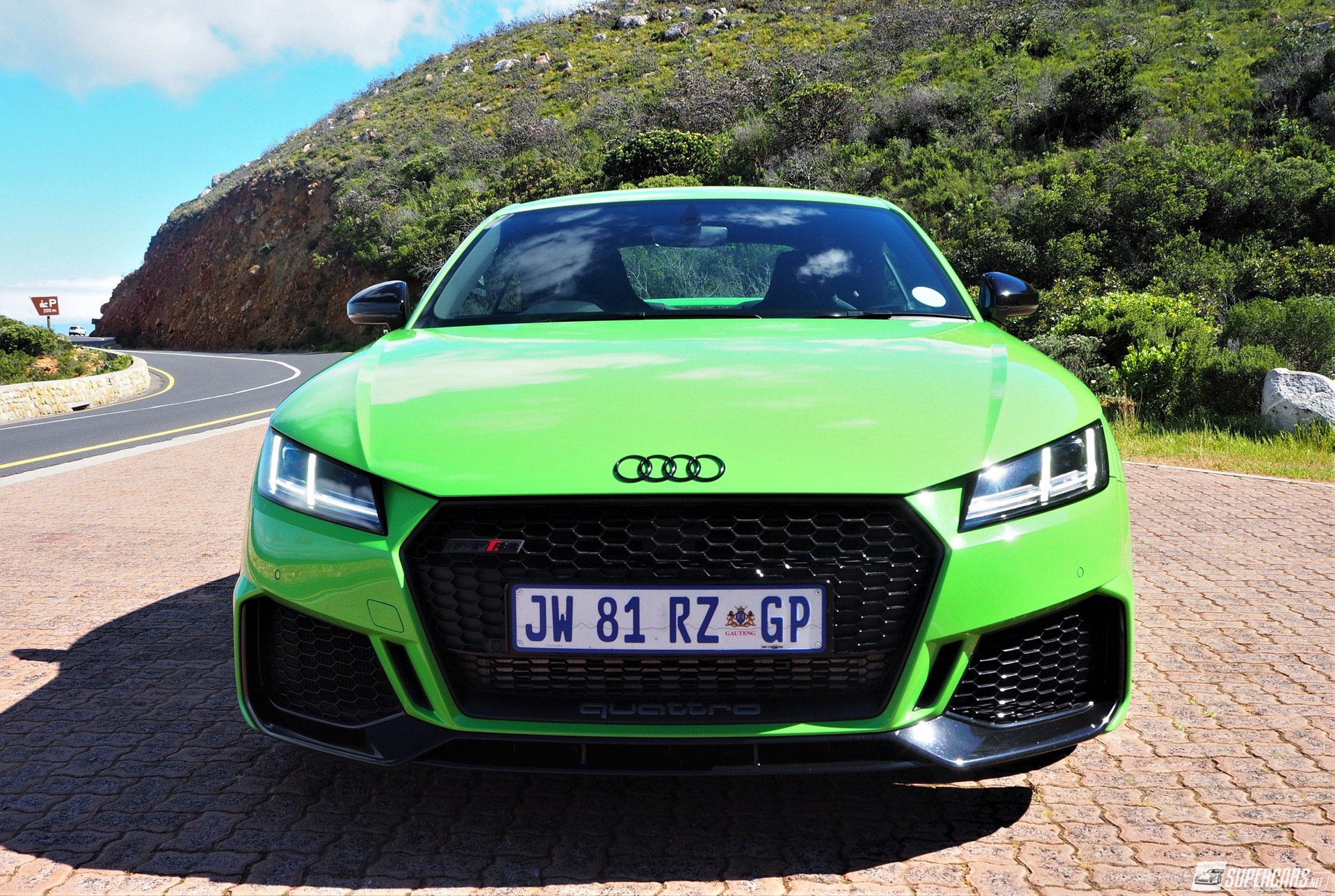 2022 Audi TT RS Design
Exterior Details
On a more serious note, it's not just the colour that attracts the eye in the case of this Audi supercar. It's as much the simply fabulous, glossy paint finish and the wafer-thin shut lines together with the beautifully detailed (optional) gloss black trimmings that all combine to massage the senses.
The basic shape of the TT is familiar enough, having retained most of the eye-catching yet simple elements of the revolutionary original, and although its dimensions have grown across the three-and-a-bit generations that have followed, it remains a compact sportster endowed with decidedly cosy cabin dimensions exaggerated by the marked roof curvature and long, sloping tailgate.
As you might expect, opening and shutting the two hefty doors is a pleasure, thanks to the reassuring thunk they make and the precision feel of the process—the effortlessness of which almost seems surreal within a structure solid enough to make a Tiger tank feel like a packet of corn flakes. All of this simply reinforces the feel good factor.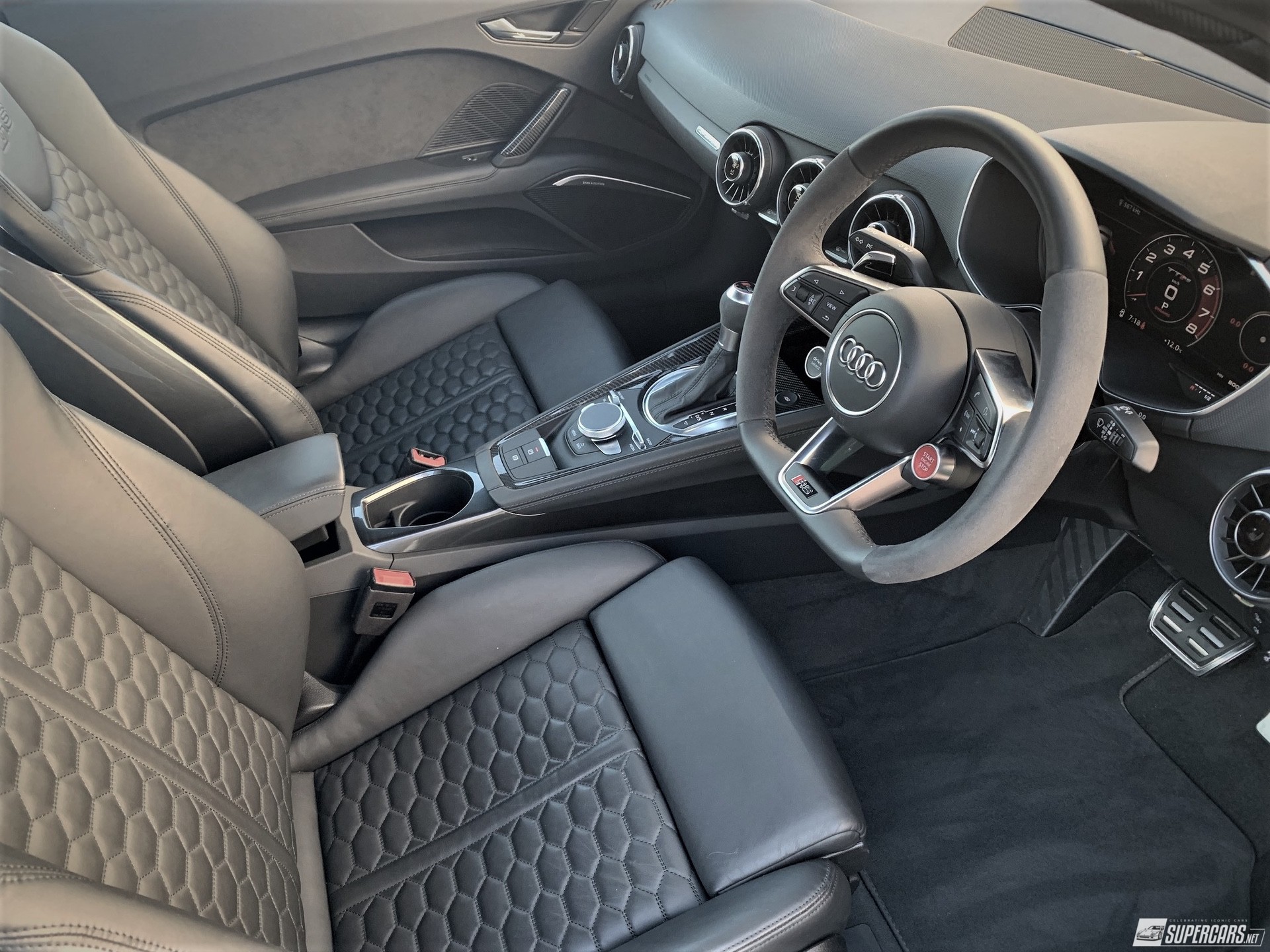 Interior Details
For those lucky souls who enter the cabin, there are even more details to appreciate. Take a close look inside the door jambs and around the sills and you'll notice that the paint finish is consistently flawless (and that nasties such as spot weld points are absent).
This fastidious detailing is maintained throughout the cabin, which in this instance featured gorgeous quilted nappa leather and alcantara seating, as well as acres of soft-touch surfacing and a mix of textures including (optional) carbon fibre.
It's certainly a cosy environment, although the low seating position and proximity of the beautifully lined roof ensure that entering and exiting needs a conscious effort for a frame as well worn as mine.
Finding a perfect driving position is not difficult though, thanks to the multi-adjustable seating and leather-wrapped, flat-bottomed steering wheel, which also sports alcantara inlays (as does the stubby shift lever).
This is what I call, in relative terms, old school Audi detailing. Hard surfaces are hard to find, and rotary MMI controllers and tactile switch gear provide functionality beyond mere touch. This makes operating the brilliantly informative and clear multi-functional driver display more intuitive than might be the case in some of the later Ingolstadt productions, where the eye needs to wander off the road. Truth be told, though, the ambience of the TT is not so much luxurious as it is clinically precise.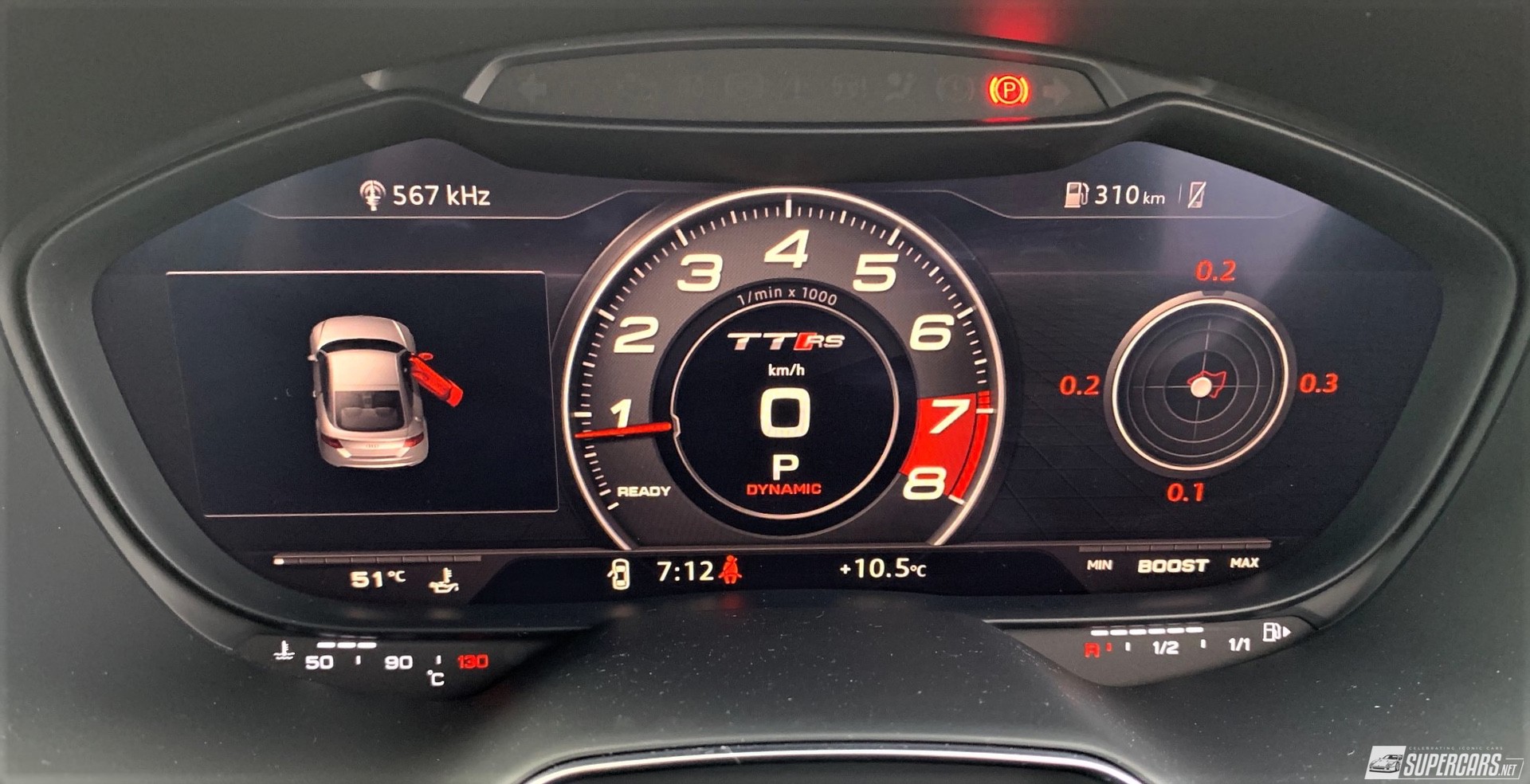 Cabin Display
The extent of the information on display is terrific and includes:
Front and rear camera images
A G-meter
Boost levels
Sat nav
Audio
A full run-down on the car's state of play, with details like:

Fuel consumption
Range/level
Odometer
Dual speedo displays
Engine revs
Tyre pressures
And more
Naturally, there's also cruise control on board, along with keyless stop/start, auto air con, electric folding mirrors (optional gloss black in this instance), and electric one-touch windows.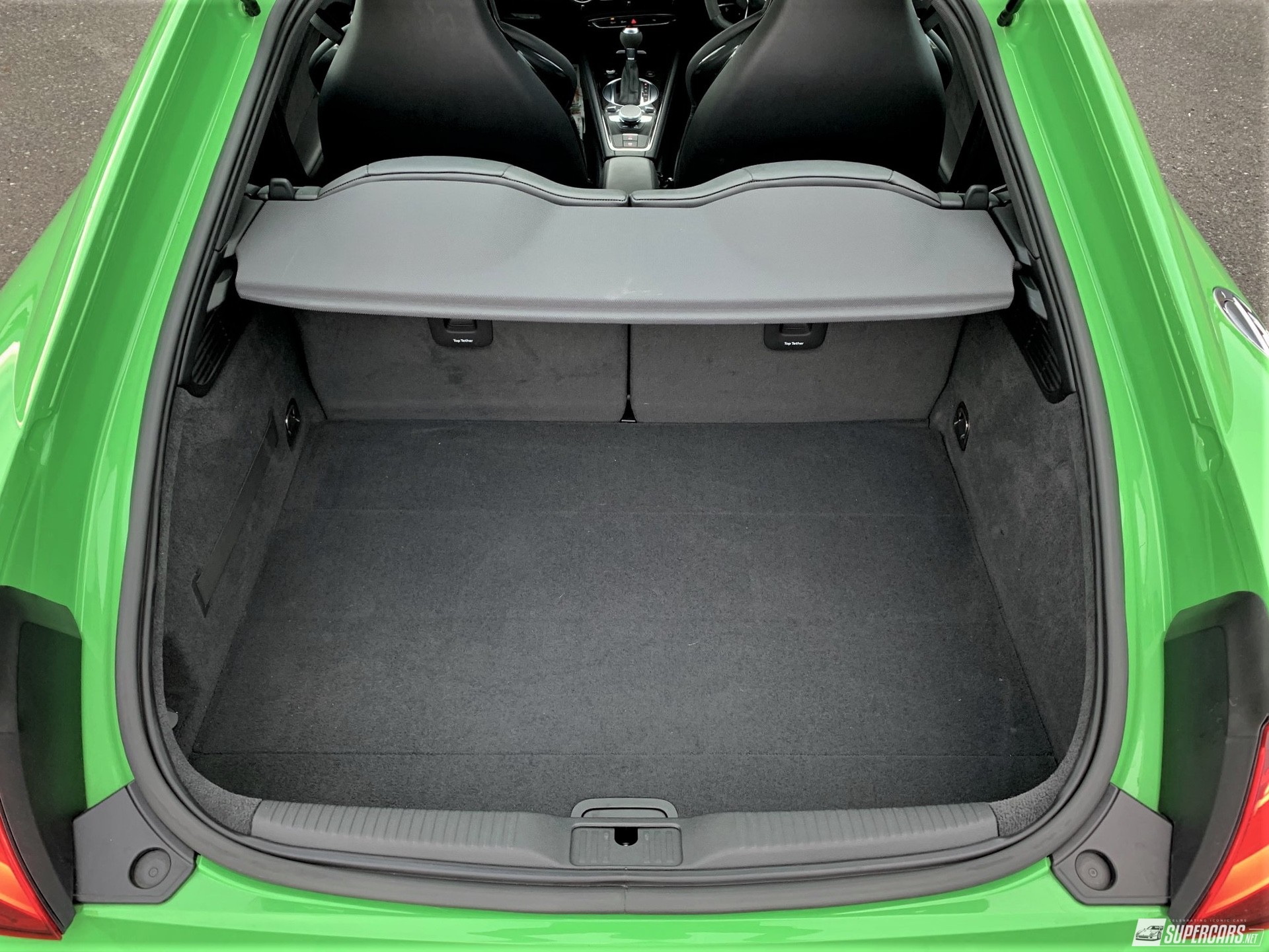 2022 Audi TT RS Comfort
Two occupants will enjoy the low-set front pews that offer more support than observation alone might suggest, but the vestigial and very upright pair of seats in the rear are there to transport wee ones on urban hops only. They're much more useful when folded to extend the surprisingly capacious (if shallow) load area that provides 305L (10.77cu/ft) with seats in place.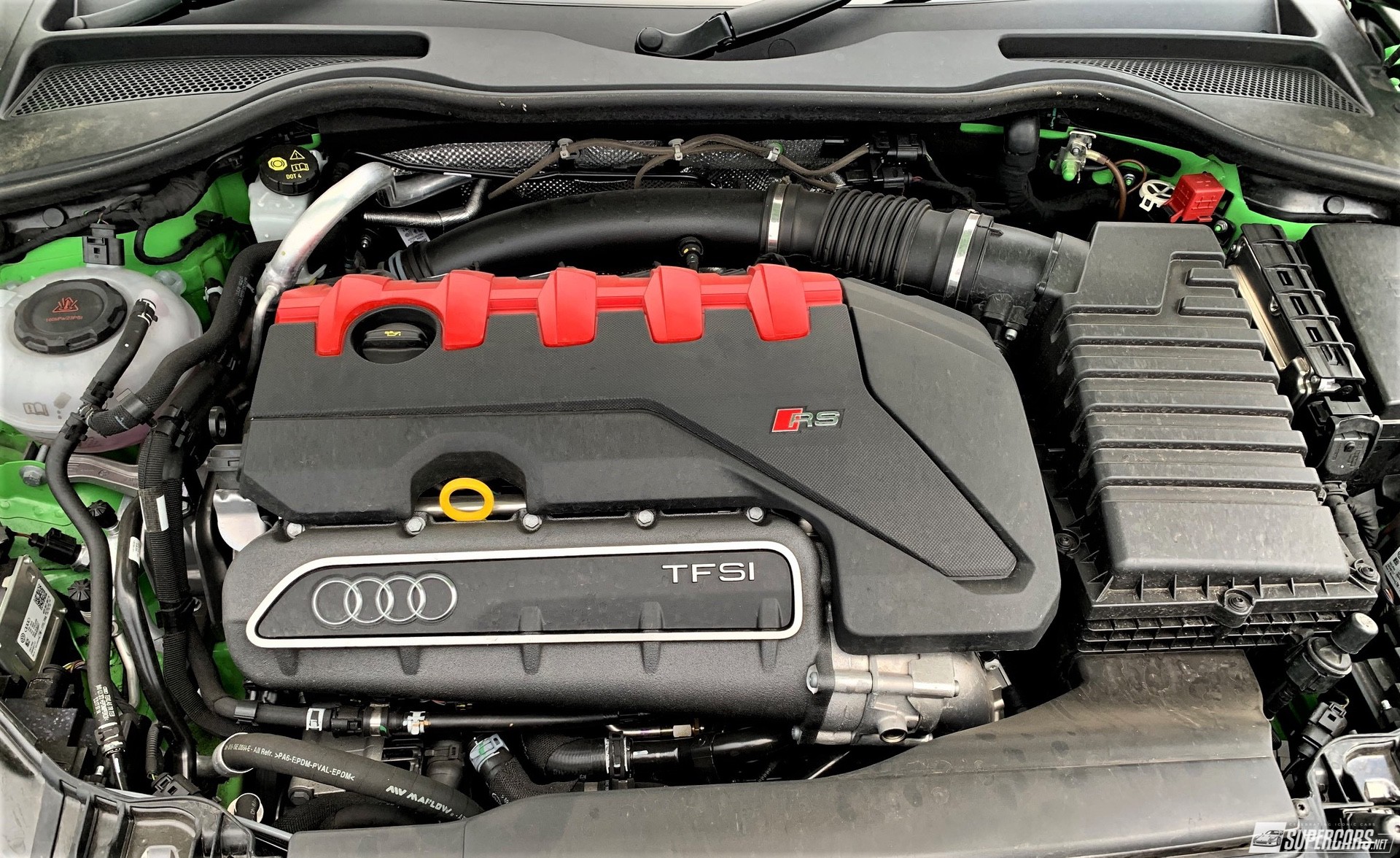 2022 Audi TT RS Performance
Those fortunate enough to own a set of keys for such a sporting bolide will be much more interested in what lurks under the clamshell bonnet, and here the TT RS truly excels. The straight-five injected and turbocharged engine has been refined over the years, during which time it has earned a multitude of international awards.
Notwithstanding its ballistic 294kW (395HP)/480Nm (354lb/ft) peak outputs, it idles with unusual smoothness and lack of aural fuss. But give the gas pedal a decent prod and those five cylinders, with their unusual firing order, transform into a snarling, mildly off-beat symphony that's sure to be accompanied by the broadest of smiles and simply devastating forward momentum.
Audi's famed quattro driveline ensures that no energy is fruitlessly expended in spinning wheels as the scant 3.7 second 0-100km/h (62.2 mph) elapsed time indicates—but this diminutive coupe does more than scamper off the line like a scalded hare.
With the aid of a slick and decisive 7-speed dual clutch S Tronic gearbox that's very willing to drop cogs in DYNAMIC mode in particular, this engine has muscles to flex from as low as 2000rpm. Traversing urban roads with constantly variable traffic flows never triggers a feeling of lethargy from the five-pot mill.
Indeed, it is rarely necessary to employ the services of the wheel-mounted paddle shifters, since the transmission boasts sufficient grey matter to do the right thing most of the time. If the mood arises, though, using a heavy foot and flexible fingers to work those shifters really does produce the most electrifying performance—aided by activating the sound flap in the exhaust system, which terminates in two large circular pipes that warn would-be-challengers to approach with caution.
For the record, this test unit featured the deletion of the usual 250km/h (155mph) speed limiter to allow for a top speed of 280km/h (174mph).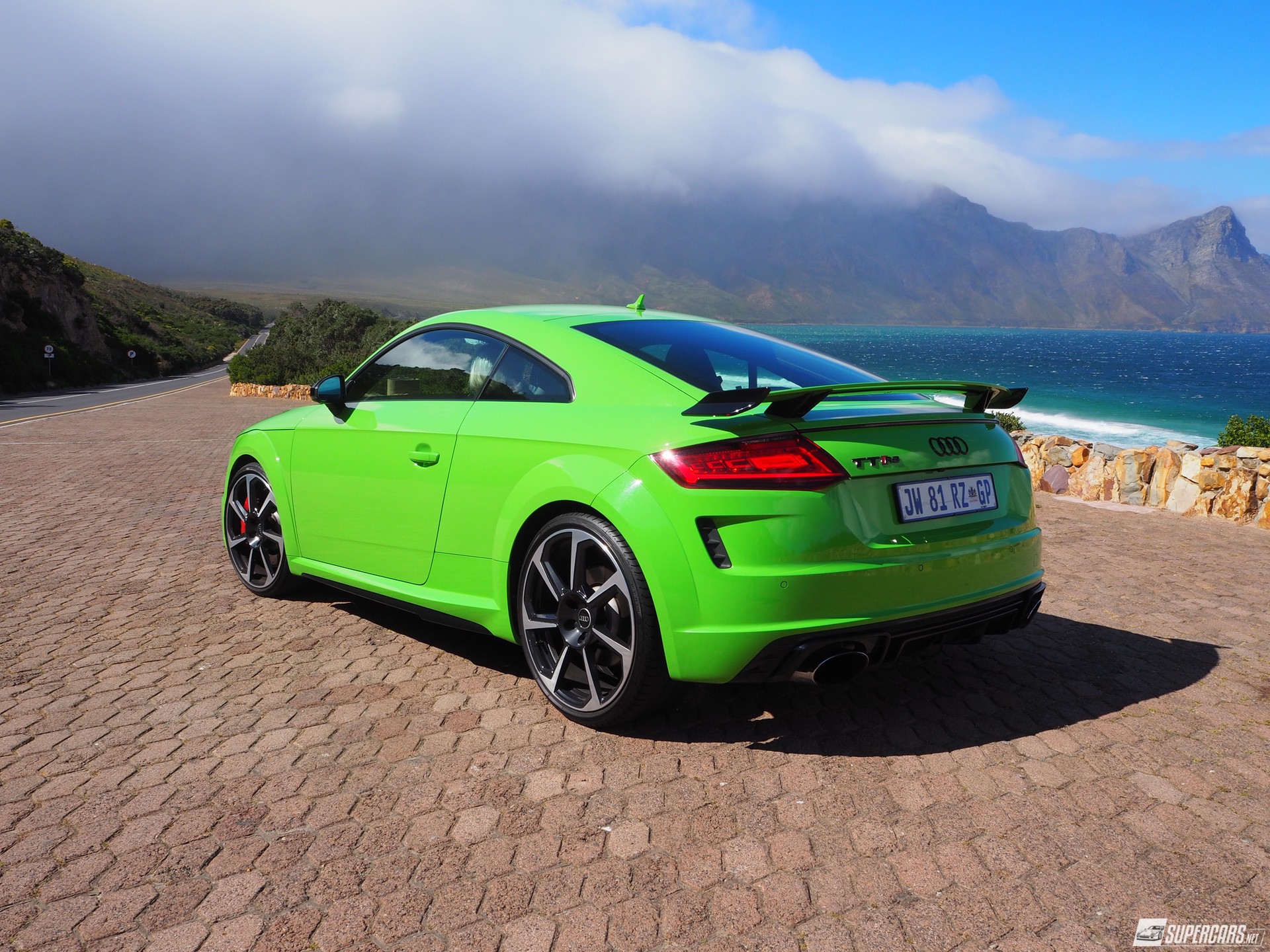 This car's straight line performance is nothing less than electrifying, as are the brakes. But the RS does more than leave vapour trails in its wake, as its small dimensions, huge 255/30ZR20 Pirelli P-Zeros, quattro drivetrain, inherently stiff springs, and (optional) adaptive suspension prove. All these inputs combine with surprisingly responsive steering to produce a machine that can change direction with pleasing certainty, backed by limpet-like grip.
Sure, it's not a scalpel in the mould of a Porsche Cayman, but to expect such precision would be a tad unfair, given that the Audi's underpinnings owe more to a Golf hatchback rather than an out-and-out sportscar. What it offers is a ride, even in the sportiest setting, that feels distinctly firm—but with a measure of pliancy that blunts the worst effects of sharp ridges and deep-set manhole covers (even if it doesn't entirely eliminate them).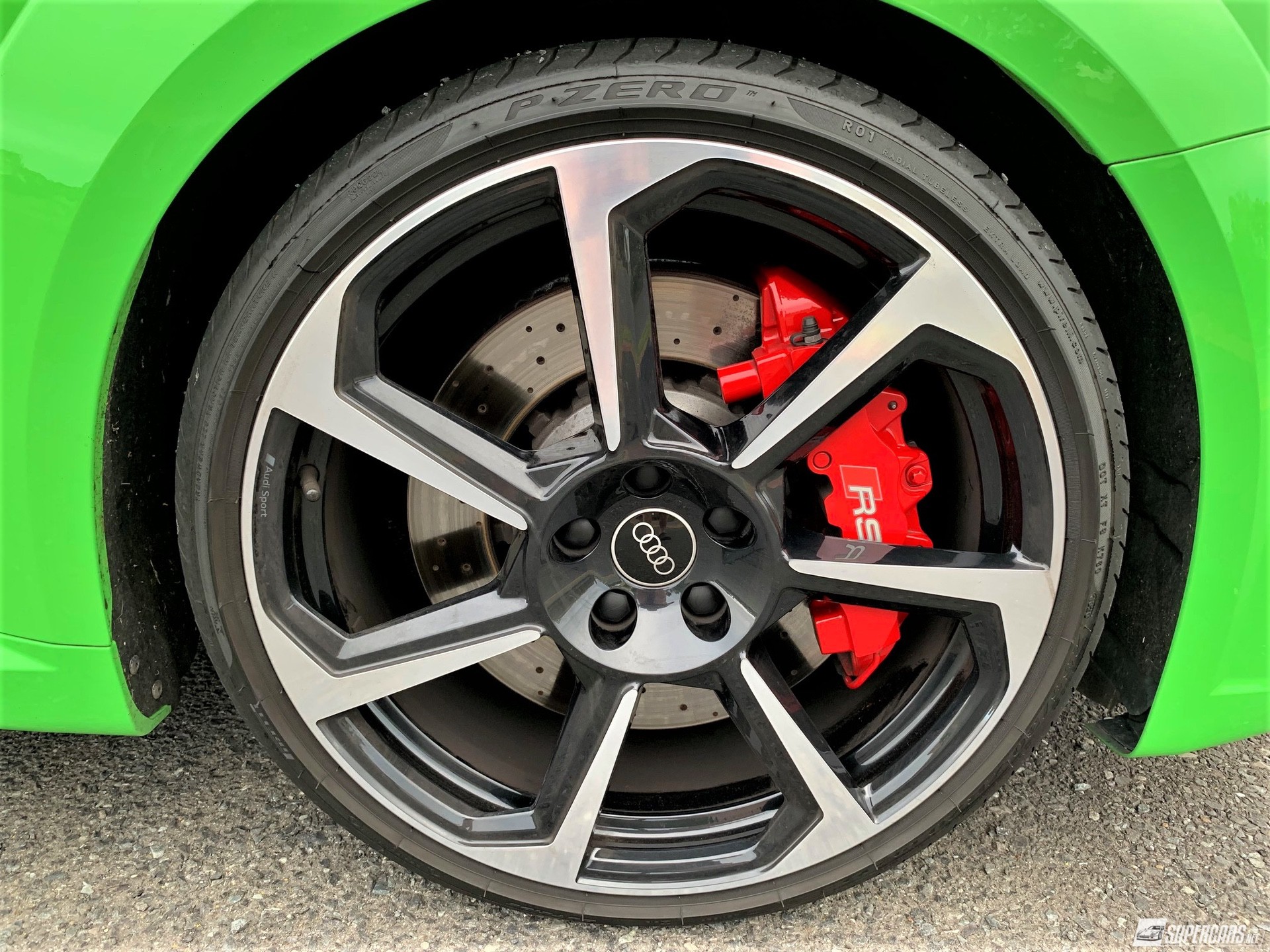 As might be expected, that sport-biased rubber can set up a bit of a din on coarse tar. But in cruise mode on smoother surfaces, the TT RS is decently refined, thanks to excellent suppression of wind noise and an almost total isolation of mechanical interference—until that gas pedal is exercised in a downward direction!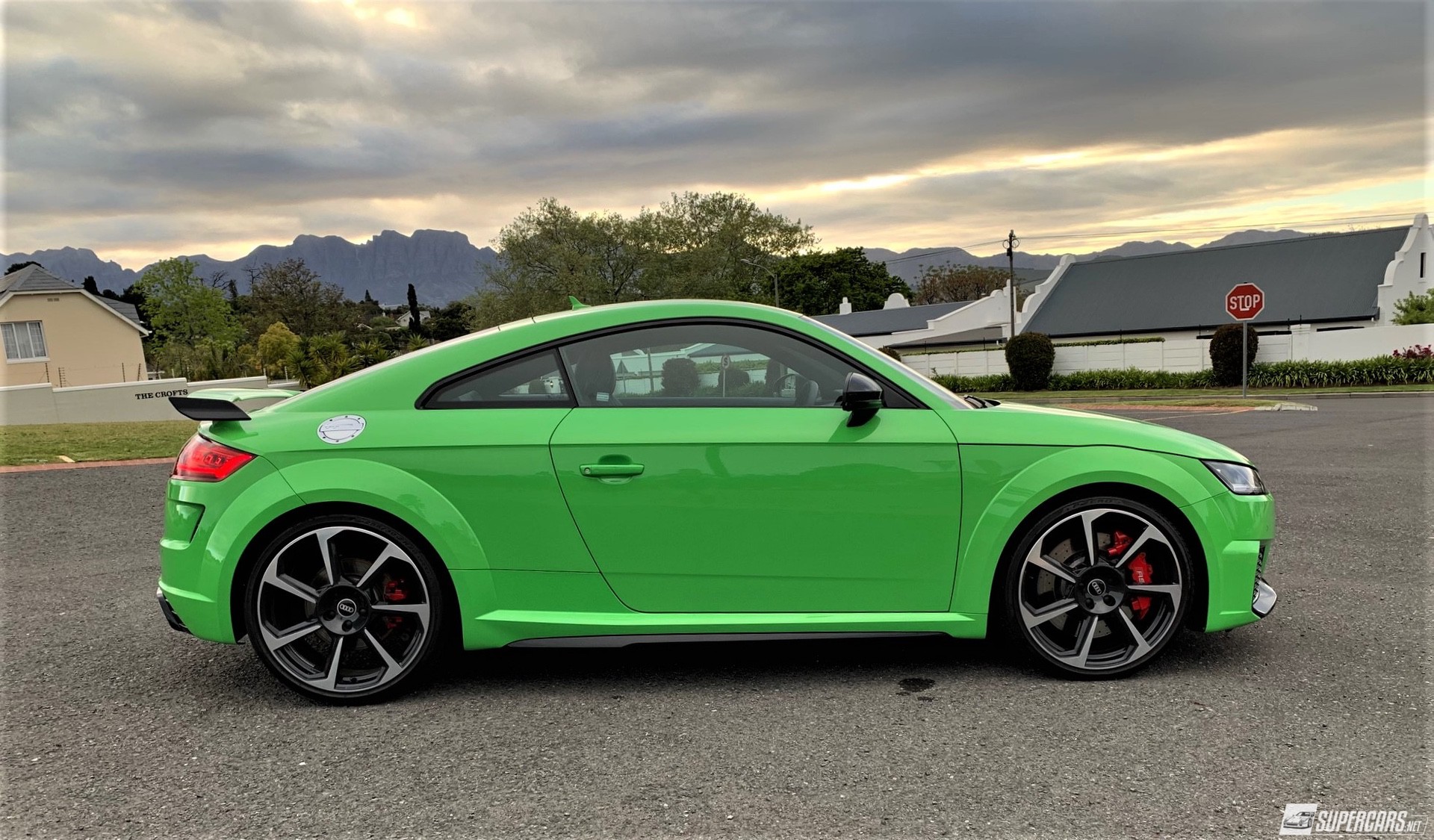 2022 Audi TT RS Mileage
Speaking of gas, the RS recorded a fuel consumption of 11.9L/100km (19.77mpg (US) over a weeks' varied use with plenty of urban running and bursts of acceleration thrown in. However, a specific motorway check over 30-minutes' running at around 130km/h (80mph) produced a most encouraging 8.2L/100km (28.68mpg (US).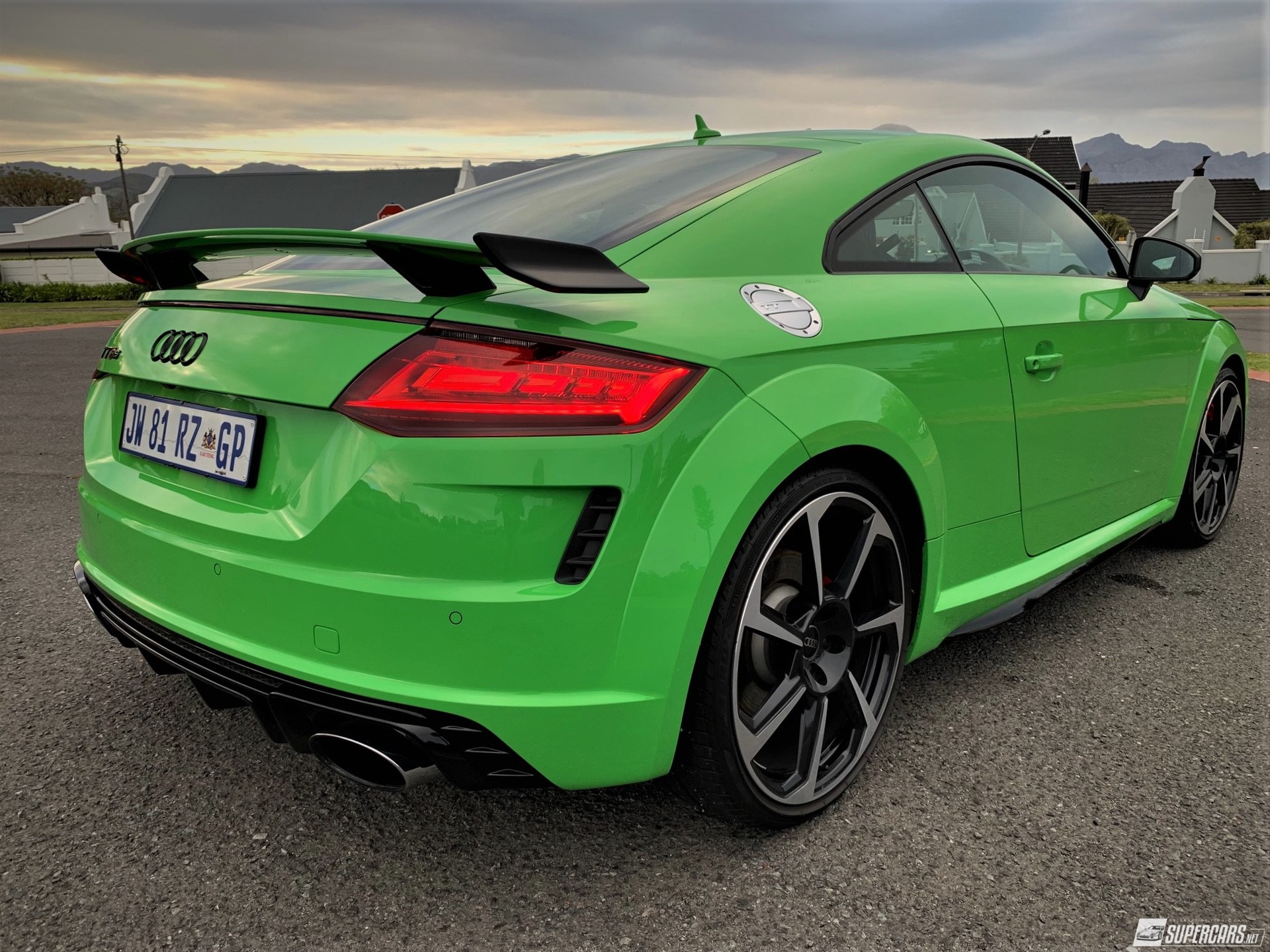 Final Thoughts on the 2022 Audi TT RS
Sadly, it seems this Audi TT RS will be the last of the breed, as politics and a change of priorities in the world of car manufacturing will soon see the end of fossil fuelled vehicles, especially those of this ilk. Anyone seeking a last chance to take ownership of a surprisingly practical compact sports coupe with stunningly classy build quality and a level of performance almost unmatched in this price range should take the bull by the horns without delay. If all these gloomy predictions do indeed come to pass, then the RS is a truly marvellous swansong for the TT concept.