The F(errari)-UV of the Future
One needn't go too far back in time—even just a decade—where the mere proposition of Ferrari producing an SUV would be considered heresy of the highest degree. Well, that's because the Lamborghini Urus didn't exist until 2018. But since then, Ferrari knew they had to do something about it.
After all, the Urus turned out to be a huge commercial success for their rival. That, and it's not as if a riposte on principle alone wouldn't have been enough for Ferrari to do what they once admitted themselves, as being unthinkable.
There's indeed going to be an SUV now. Up until today, we've been teased—with very little, mind you—by some abridged literature. The goal posts have also been moved on what Ferrari will and will not do. Time will tell how the rest of this will all unfold.
So, here we are today—watching all of this come to fruition as Ferrari unveil their new Purosangue SUV on social media platforms and their official website.
Here's everything we now know about the $400,000 USD Ferrari Purosangue:
Performance & Drivetrain
Leading up to the reveal, Ferrari stopped just shy of confirming that a naturally-aspirated V12 engine would become the centerpiece of the Purosangue. However, we can now be certain that this will indeed be the case.
Such a unit would always have been destined to become the focal point of any Ferrari motorcar, and further specifications detailing a displacement of 6.5L and power figures of 715 hp and 528 ft-lb of torque, prove that Ferrari was happy to pull out all the stops for their SUV, all the same. An 8-speed dual clutch transmission sends power to an all-wheel-drive system derived from the Ferrari GTC4Lusso.
This is a sure-fire way to leap frog the Urus, which comes equipped with a 'mere' twin-turbocharged V8. Ferrari claims a top speed of 193 mph and a 0-62 mph time of just 3.3 seconds, which means the Purosangue's rival might just edge it off the line.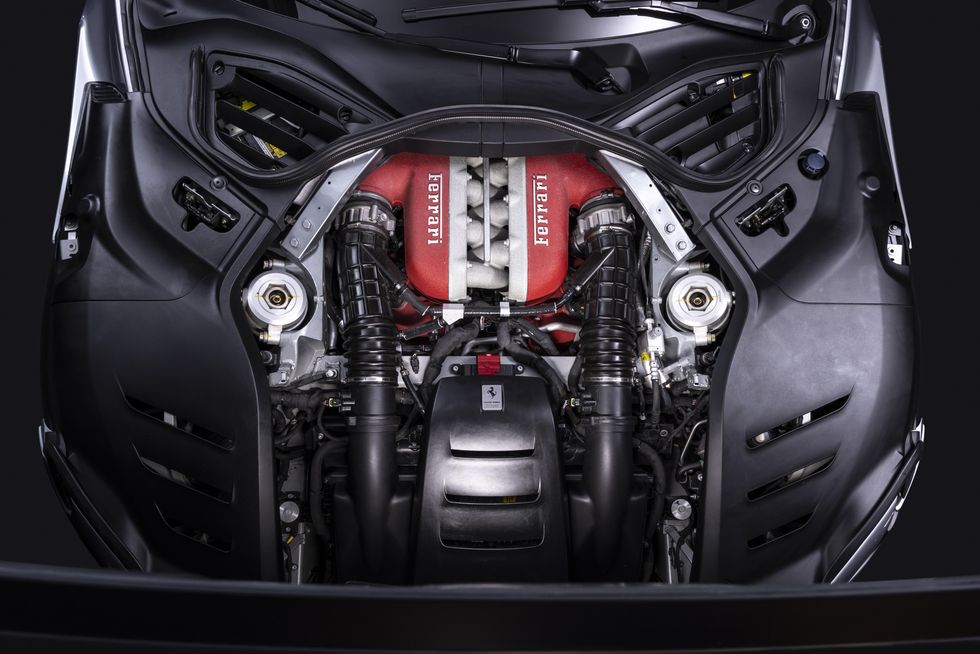 That being said, even the most die-hard Lamborghini loyalists can't deny that at the very least, the Purosangue trumps the Urus in character, if not overall performance, thanks in large part to its more heritage-inspiring NA V12.
No word yet on whether Ferrari will expand the parts bin to include other engines, but the foundations are certainly in place to introduce a variation of its existing V8 and V6 hybrid units to the Purosangue lineup. This would provide more variety and potentially a lower price of entry for the model, which could prove important should Ferrari become hell-bent on consolidating market share from its old rival.
I wouldn't expect too much when it comes to towing capacity either, and as bizarre as it might be to compare a Ferrari and Lamborghini in this regard, it has to be brought up in the context of what we're discussing here. The Urus can pull around 7,000 lbs, so the Purosangue should settle at around that range, give or take.
However, it's not like you'll see many of these out in the wild with anything hitched on, if not for the purposes of a sentimental or tongue-in-cheek photo-op.
Design & Interior
By universal standards, don't expect the Ferrari Purosangue to be your archetypal or pragmatic utilitarian vehicle—that was never Ferrari's intention to begin with. In fact, the automaker would really prefer it if you kept the 'S-word' out of the conversation.
By mere default of having more cargo room than anything else you can get in their line-up—17 cu.ft, and more with the rear seats folded down—I suppose it would have to be considered one in relative terms. But if we're being real, what it really is, is a sportscar that seats 5.
The deviation to full-on SUV-ism was never on the books. Its name—which means "pureblood"—further implies the automaker's true intentions and the subsequent essence of its new Purosangue, um, sportscar.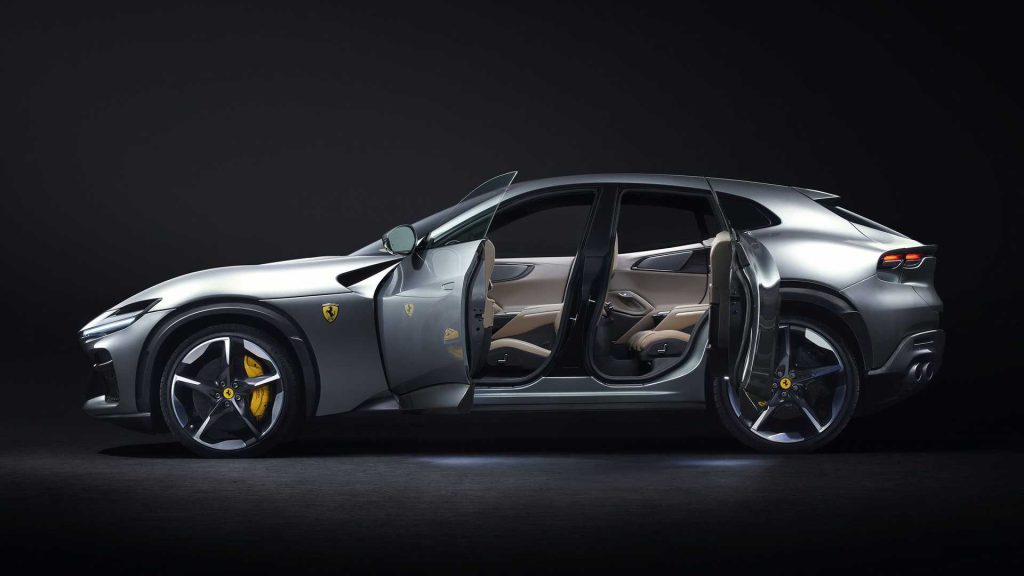 As the spiritual successor of the GTC4Lusso, the Purosangue gives off the vibes of being a lifted (all-road version, if you will) variant of the aforementioned shooting brake. Throw in a bit of the Ferrari Roma's minimalist design cues into the mix, and voila.
Mish-mashing different design elements can often lead to some peculiar outcomes, and the front-opening rear doors are at the forefront of the Purosangue's unique character. The "fake" headlight cutouts can be a bit polarizing when it comes to opinions.
Nevertheless, the Ferrari Purosangue is an intricate mix of simply elegant lines and aggressively sporty features which individually stand out when in contrast to one another. It has an intriguing silhouette, and one which can be customized with a wide-range of bespoke options, in true Ferrari sportscar fashion.
Pricing & Availability
If there's one thing we all knew was going to be true prior to today's unveiling, it would be that the Ferrari Purosangue won't come cheap.
While pricing has yet to be officially confirmed, many reliable sources have indicated that a starting MSRP of around $400,000 USD is to be expected. Most orders will likely approach the half-a-mill mark after options and other fees are accounted for.
As mentioned earlier, the introduction of additional trims with smaller engines would allow for a wider range of prices and a reduced cost of admission, so those might be in the Purosangue's future.
Either way, expect waiting lists to be long and allocations to be spoken for, for at least the foreseeable future. First deliveries are expected by early 2023.
Image Gallery