Today, Porsche finally pulled the curtains on the brand new 992-gen Porsche 911 GT3 RS. There has been plenty of buzz surrounding the release, as the company has just now concluded months of testing (accompanied by a plethora of spy shots along the way). Most recently, details and photos of the car had been "leaked", though the authenticity of the content has been scrutinized and questioned by more keen-eyed enthusiasts.
All of that matters very little now; we have all the exciting details for the first RS variant to debut in the current generation of 911 cars, straight from the horse's mouth. Here's our coverage of the livestream event, which was the chosen platform for Porsche to unveil all to the world.
Studio presenters for the livestream event were Patrick Long, former Porsche race car driver and of course Mr. GT himself, Andreas Preuninger.
Before pulling the covers on the new 992 GT3 RS, the audience was treated to a little trip down memory lane as Preuninger recapped the evolution of RS. From the 996 to the 997, then on to the "current" 991—that all quickly became history, for now, we have the 992.
At first glance, the silhouette of the new Porsche 911 GT3 RS cuts an aggressive figure—easily, the most extroverted production car to come from the automaker to date. It looks absolutely incredible.
Yet despite taking maximum style points, the new GT3 RS is even more about substance. "There's nothing fake, nothing exaggerated", said Preuninger. Every minute detail about the car has been painstakingly undertaken with the utmost consideration of maximum performance.
When asked by Long to pick his favorite RS generation, Preuninger replied "Like in a family, the newest one gets all the love. My love is the new 992 GT3 RS, definitely."
More of Everything & Nothing We Don't Need
Porsche had already made it clear in the lead up to this event that the latest iteration of their track-focused 911 would be the most advanced GT3 RS to date. This is hardly unexpected information in and of itself, though the company did hint on the specifics for how it would live up to this claim.
The most significant improvements made to the RS—over both the 992 GT3 and the previous-gen 991 GT3 RS—were applied to the aerodynamics and chassis departments of the car. However, they had been coy on providing specifics for power figures, with Andreas Preuninger, Director GT Model Line stating:
"The new 911 GT3 RS is even more optimised for track use than its predecessors. The spontaneously responsive, high-revving four-litre, six-cylinder boxer engine with approximately 500 PS has proven ideal for use at trackdays and club sport events. That's why we focused primarily on aerodynamics and chassis questions in the development of the new 911 GT3 RS."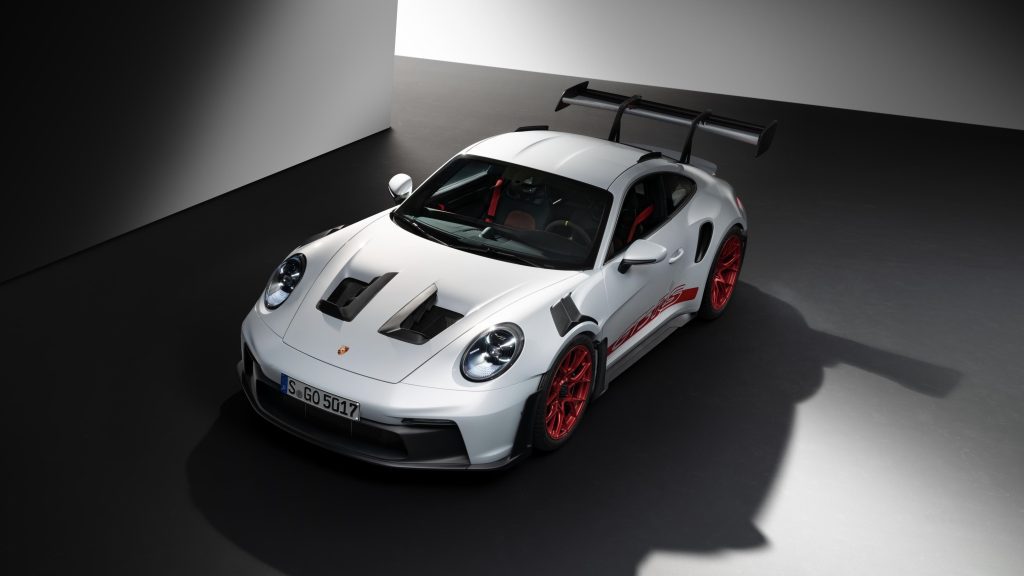 The company has definitely not strayed from this philosophy with the official release having taken place, and we now know that Porsche have indeed stuck with the tried-tested-and-true 4.0L flat-6 unit. It'll get the customary power bump over the 992 GT3, but not the extra displacement that the recently unveiled Porsche 911 GT3 R customer race car was suggestively teasing.
Engine & Drivetrain
More on that engine. Well, there actually isn't that much more to say, as other elements of the car dominated the script. But what there is to mention, is just as important.
The revised 4.0L naturally-aspirated flat-6 engine outputs 525 PS, which is 20 PS more than the latest GT3. Much like the displacement factor, the general consensus was that we'd see an even more powerful engine—but those who know, know that peak numbers mean very little these days anyway.
Preuninger sated that the new GT3 RS "Makes more power at higher rpms" and that it "Has a better lubrication system to handle high g-force situations". Additionally, the 7-Speed PDK which has become synonymous with RS-level performance, shifts faster and is "…easier to operate than ever".
It's everything you need to give you the biggest edge in pursuit of the best lap times while offering unmatched durability.
Chassis & Aerodynamics
"Basically a race car driver's dream come true…." – Jörg Bergmeister, Porsche test driver
It really is, Jörg, it really is. Such sentiments wouldn't be possible if the new Porsche 911 GT3 RS wasn't itself a race car, either. The two go together, like peanut butter and jelly.
It's a dream come true for the rest of us, too—or, at least those of us who have an appetite for performance in general. This car, it oozes it from every fiber of its being.
This starts with how easily customizable the driving experience is. An adjustable differential (PTV+) helps to dial out unwanted oversteer or account for tire degradation; extremely useful for excursions at the race track.
There are 7 traction control settings; the system can be switched off completely as well. Of course, being able to change suspension settings on-the-fly is still a cornerstone for the RS. All of the aforementioned can be toggled with steering-wheel-mounted knobs—just like (you guessed it) a race car.
The new Porsche 911 GT3 RS underwent 1,500 simulations in a wind tunnel and is able to generate up to 3 times the downforce of 992 GT3 and twice that of the 991.2 GT3 RS. As impressive as that is, peak numbers once again only tell part of the story.
It gets better—a lot better. Let's start with the aerodynamics. There are rotating flaps under the front bumper in addition to strakes, which help to maximize downforce and stability under load. The rear wing is fully active and infinitely adjustable, and even features a D(rag) R(eduction) S(ystem) to minimize drag in situations where less downforce is required (like on a long straight).
Air-flow is also channeled more efficiently than ever, with aggressive hood vents, revised fender vents and beveled door panels playing their part to optimize cooling and aerodynamics. Roof fins are something completely new and form part of that equation as well. In total, 860 kg of downforce is generated at 285 km/h.
The suspension plays a huge role in all of this too, with Preuninger remarking that the car's "anti-dive" suspension geometry helps to ensure more balanced load under braking. In unison, the aerodynamic and chassis features on the new GT3 RS allows for a perfect balance and setup for any race track and with any tire.
Preuninger also stated that an available Weissach Package will be returning for the 992, which doles out a generous serving of carbon fiber accessories including the front lip, an unpainted roof, interior accents, certain suspension components and even a roll cage. In all, this shaves around 5 kg of weight while giving the car that quintessential Weissach appearance.
"I hope customers will use it on the racetrack." – Andreas Preuninger
Interior & Design Elements
As weight reduction is a big part of the overall philosophy, there's carbon fiber just about everywhere you'd expect—and in true brand-spanking-new-RS-fashion, in some places you might not. For the first time, the doors are made entirely CFRP as are some suspension bits as mentioned earlier.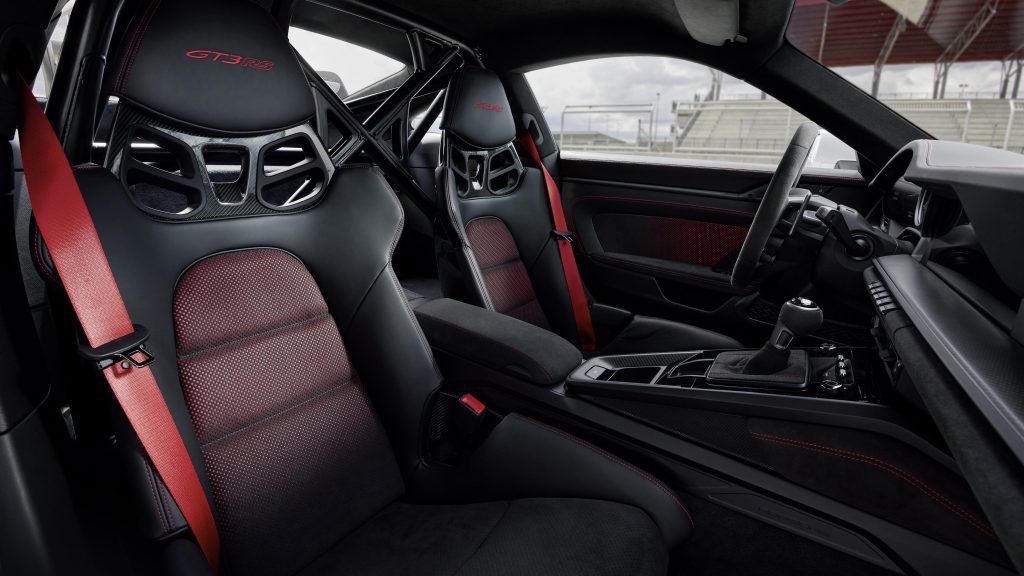 There's also lightweight carpentry and an extensive use of microfiber upholstery to highlight the car's driver-centric form and functionality. Not too many changes in the general cabin aesthetic otherwise, with a digi-analog hybrid display continuing to serve as the instrument cluster. For me, the steering wheel steals the show here.
Pricing & Availability
No word yet on pricing, availability or estimated delivery times for US customers. However, Porsche has stated that the car will start at €229,517 in Germany and orders can be placed now.
More information will be provided as it becomes available—though I suggest that if you want one, you need to talk to your Porsche dealership yesterday!
We'll also be providing a full in-depth review of the new Porsche 911 GT3 RS on supercars.net at a later date.
Images & Videos
For more official media, please refer to the Porsche Newsroom publication.