Even with the upcoming 2025 Ford Mustang GTD proclaiming some serious credentials, it may still be difficult for almost anyone to consider a Mustang and a supercar as being synonymous.
To be fair, there are already plenty of impressive Mustang sports cars right now—and a plethora of them throughout the legendary nameplate's uninterrupted 60-year production run—plus there's the Ford Mustang GT3 race car, which is in many ways a precursor to the new GTD.
But a supercar Mustang? That's not territory that the quintessential Ford model has been able to lay claim to, until now.
Sure, plenty before this moment have looked to the aftermarket in order to modify Mustangs to become supercar killers, but these are two very different things. The Ford Mustang GTD has the unique opportunity to play both roles with equal conviction.
2025 Ford Mustang GTD
For starters, this one's coming straight from the factory. Furthermore, the street-legal performance machine, Ford says, will be just as engaging to drive on the streets as it is at the racetrack. The company's brass has already gone on record, calling out the likes of the Mercedes-AMG GT Black Series, Porsche 911 GT3 RS and more, with CEO Jim Farley stating "It's for AMG Black, Aston Martin, Porsche GT3 RS. We want to beat (the GT3 RS) at Le Mans, but we also want to beat it as a street car."
The Ford Mustang GTD is assembled at the Multimatic Assembly Plant in Markham, Ontario in Canada—the same place the Ford GT is produced. Shoutout to my fellow Canadians.
Performance
Drivetrain-wise, the GTD shares more in common with production versions of the current Mustang rather than its race versions. In terms of outright numbers, this is a good thing, as production cars aren't subject to the same power limitations that are a part of sanctioned race series.
It features a slightly revised version of the powerplant seen in the indomitable Shelby GT500—a supercharged 5.2L V8 engine—which produces 800 hp, up from the latter's 760 hp. An 8-speed dual clutch transmission was deemed the exclusive option in ensuring that all this power is put to the pavement as efficiently as possible.
Ford says that they've also upgraded the dry-sump oil system to be more robust for regular track use and that an optional titanium Akrapovic exhaust package is also available.
Chassis
I suppose it shouldn't be surprising that the Mustang GTD truly differentiates itself from other Mustangs (or other supercars, for that matter) in the chassis and handling departments. An adaptive suspension, launch control and huge carbon ceramic Brembo brakes, do sound very much like the standard fare of an automobile gunning for supercar supremacy—features which the GTD has all of and more.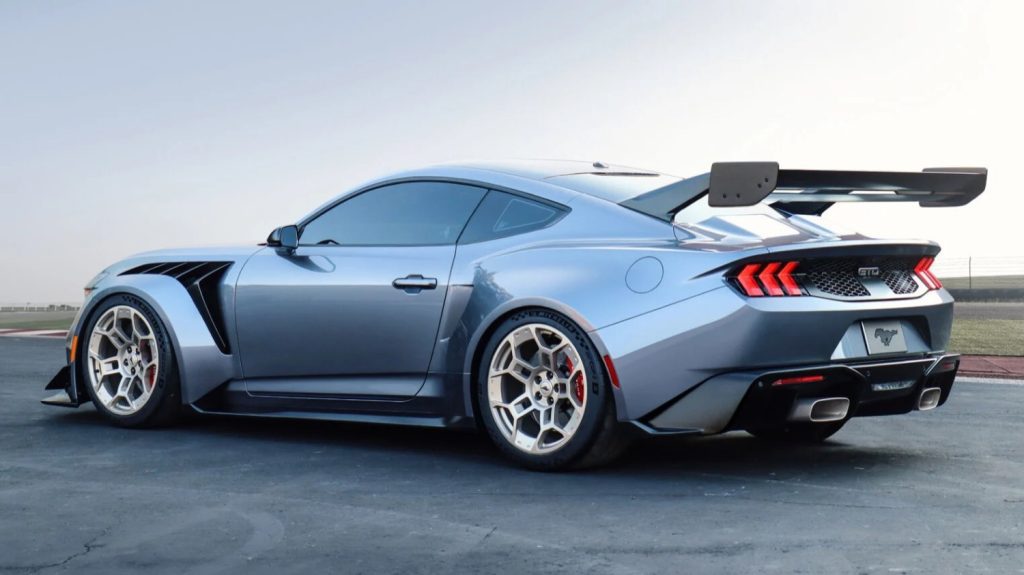 However, it has to be acknowledged that the 325/30/20 Michelin Pilot Sport Cup 2 R tires fitted in the front is practically unheard of, even at the highest stratospheres of production road car performance. The 345/30/20 sizes, fitted in the rear, are more in-line with conventional rear-driven supercar philosophies. Forged aluminum wheels come standard, while lighter weight magnesium wheels are also optional.
Design
Here's where things resemble the GT3 race car a little more closely. In fact, it's said that after seeing the clay model of the Ford Mustang GT3 in the company's design studio, CEO Jim Farley was determined to make a road car out of it.
Obviously, much wider fenders are needed to accommodate the remarkably huge tires mentioned above, and this design cue is complemented by aggressive styling all around. There's a huge rear swan-neck wing which forms part of the GTD's active aerodynamics system with DRS, along with elements such as a front splitter and dive planes. NACA ducts and vents on the hood and front fenders respectively, further help to improve air flow and cooling.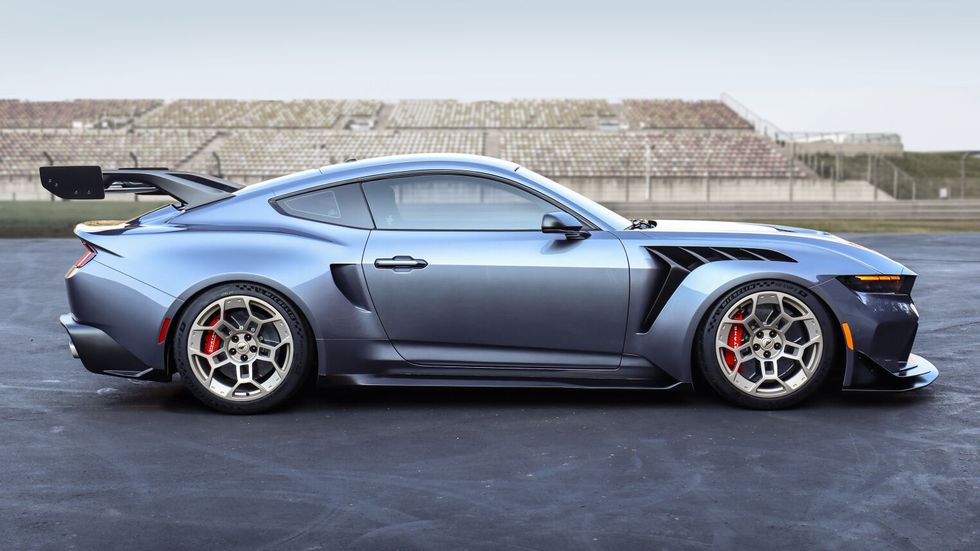 Overall, the Ford Mustang GTD is lowered by around 1.6-inches compared to the GT500 and features an incredible 4-inches of wider track. Ford says that additional aerodynamic elements are optionally available, such as a hydraulically actuated carbon underbody.
Pricing & Availability
Current information reveals that the Ford Mustang GTD will have a (very supercar-ish) starting price of around $300,000 USD and that only 1,000 to 2,000 examples will be produced. This is certainly inline with typical supercar metrics, and there's no reason to suggest that the American automaker is in any way out-to-lunch with commanding this level of remuneration based on what we've seen so far.
Any concerns that this car will merely be a brute that uses up all its advantage on the straightaways, seem to be quashed by its proposed handling, braking and aerodynamic capabilities. We'll have to wait and see, but it looks like the days of stereotypical American muscle are not even in the rear view mirror anymore. Lately, automakers west of the Atlantic have proven that they can compete with the Europeans when it comes to producing properly balanced track machines.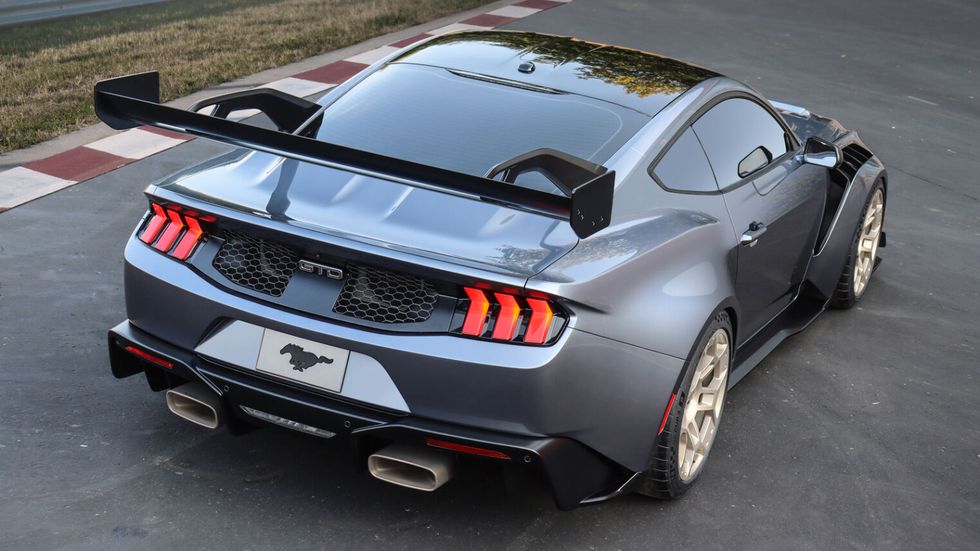 The 2025 Ford Mustang GTD looks like that type of car that could move the needle even more favorably for the Americans. At the very least we would advise that from now on, uttering anything along the lines of "but it's still just a Mustang…" should be done at your own peril.
We'll provide you with more information as it becomes available, which should hopefully involve some Nürburgring material thrown in the mix.