The Mercedes-AMG GT is somewhat of a strange four-door sedan in the lineup of this German luxury carmaker, unveiled as a concept at the 2017 Geneva Motor Show, the AMG GT 4-Door Coupé celebrated its world premiere a year later, at the 2018 Geneva Motor Show.
And while the 2017 concept car came with a massive V8 fuel burner coupled to an electric engine for the rear wheels, a combination that made 816 hp (600 kW), the production versions came with a turbocharged, 3.0-liter inline-six or a twin-turbocharged, 4.0-liter V8 powerplant. At this moment many markets have the option of four different versions in the Mercedes-AMG GT 4-Door Coupé model range, the GT 43 (inline-six, 362 hp, listed at $90,950), the GT 53 (inline-six, 429 hp, listed at $107,800), the GT 63 (V8, 577 hp, listed at $148,760).
But the top-of-the-line model at this moment is the GT 63 S, which comes with the massive 4.0-Liter, twin-turbocharged V8 engine that is modified to deliver a breathtaking 630 hp, acceleration figures are 2.9 seconds to reach 60 mph thanks to a dual-clutch nine-speed transmission … performance is similar to the Porsche Panamera Turbo.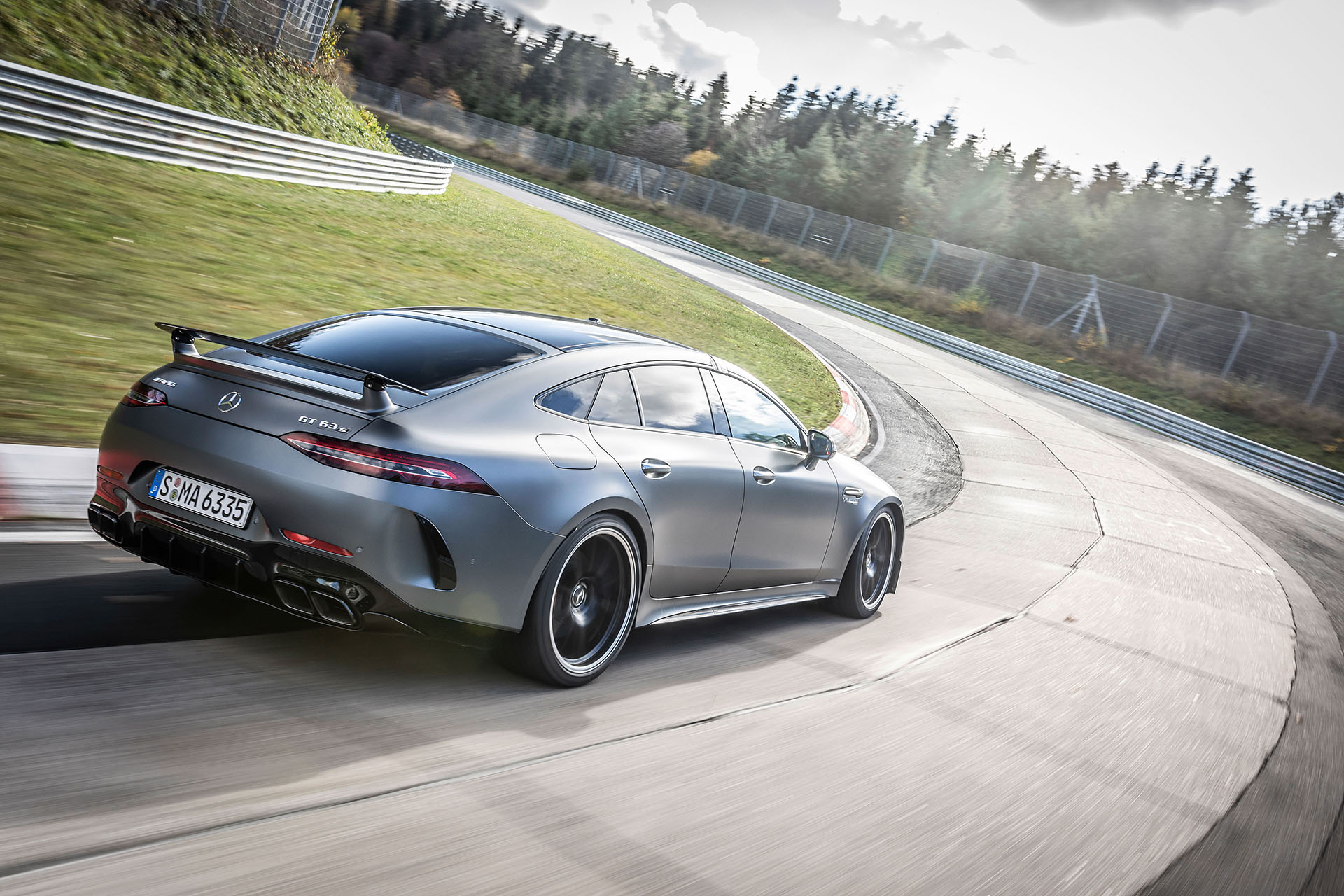 But it seems there is more to come … Mercedes has been testing a hybrid version of the GT 4-door, and while we still haven't seen a production car that comes close to the 816 hp in the concept, things are about to change when Mercedes unveils the GT 73 Hybrid.
A test mule with GT 63 S bodywork and an added 'door' on the rear bumper has been seen for months already, it is obvious that the door is hiding a power connector to charge the hybrid batteries. If we think about this logically we are probably looking at a new flagship model, taking the V8 engine from the GT 63 S and adding an electric motor (most likely to the rear wheels) for a combined output of at least 800 hp, which would close in on the concept car's power.
If this is the case, and the new Mercedes-AMG GT 73 4-Door Coupé comes with hybrid power close to, or over 800 hp, we are looking at 1,000 Nm or more, and this requires a new gearbox, hence why testing is taking so long probably. But when we finally get this ultra-high performance four-door supercar, we are looking at a price tag close to $200,000 and a direct competitor to the Porsche Taycan Turbo S. The latter starts at $185,000 and comes with 750 hp and acceleration figures of 2.6 seconds 0 – 60 mph, a Mercedes-AMG GT 73 might be able to up these numbers slightly, we'll have to wait and see when we finally get this car from Mercedes.