Maxlider Brothers Customs, from Bloomington, IL, have made a name in the restoration game for the classic Ford Bronco from the Sixties, a highly sought-after off-roader these days, these cars are over 50 years old now, and many of them will require some serious restoration as they were rather prone to rust.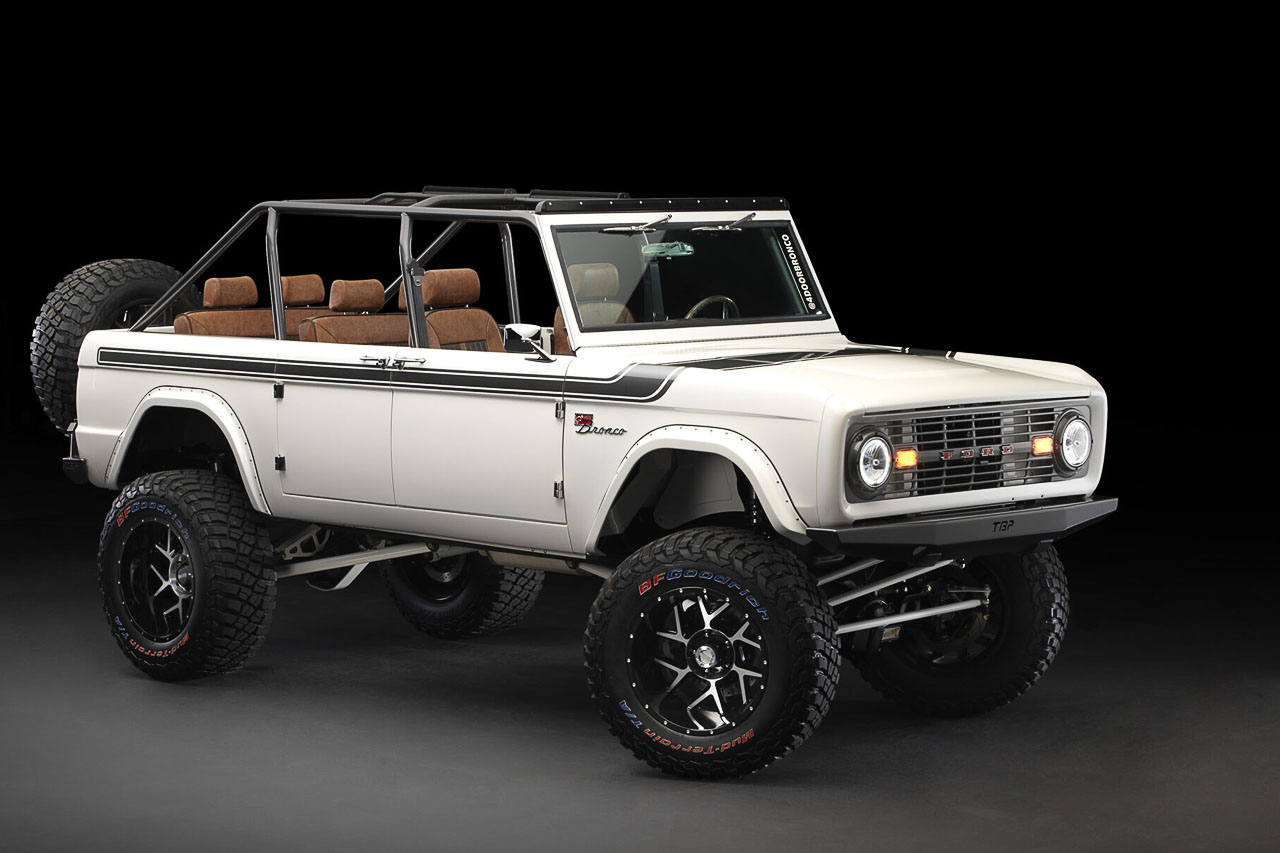 The Maxlider Brothers Customs will not only bring that classic Ford Bronco into the 21st century, but for the more discerning customer, they offer something rather impressive, a 4-door, stretched tub that seats 6 people, but retains the classic, Sixties look … for the 2019 SEMA show they built a Roush supercharged Coyote 5.0L 4-door early Bronco with a modern 6-speed transmission and tons of custom features.
The response was so overwhelming, Maxlider decided to add this 4-door option to their custom build lineup so customers can order this practical, classic-looking Ford Bronco, and while the SEMA show car came with the impressive Coyote engine and suicide doors, the customer version has traditionally hinged rear doors and a choice of engine options.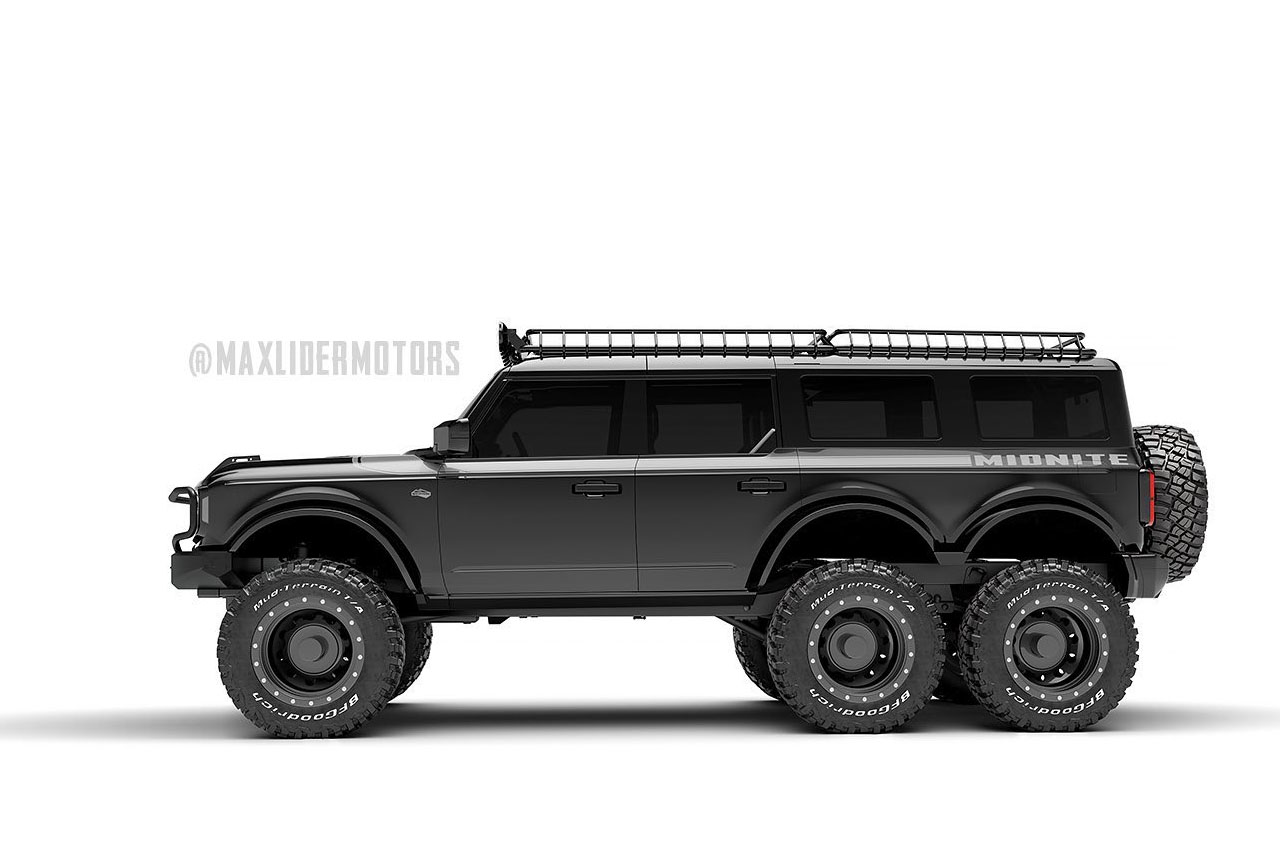 But with the new Ford Bronco becoming available, Maxlider Brothers Customs wants to take the 2021 model to the next level, you can already order either a two-door or a four-door version straight from Ford, but if you want to take your brand new Ford Bronco really over the top, and have about $399,000 to spend, you can get a 6×6 conversion done.
In the Ford Bronco option list from the factory, you'll find an almost unlimited number of possibilities, but a third axle isn't one of them, Maxlider will give you this option starting in 2022, but at the moment all we have to go on are renders by @innov8designlab that show a Ford Bronco with a longer rear section to accommodate the added wheels at the rear.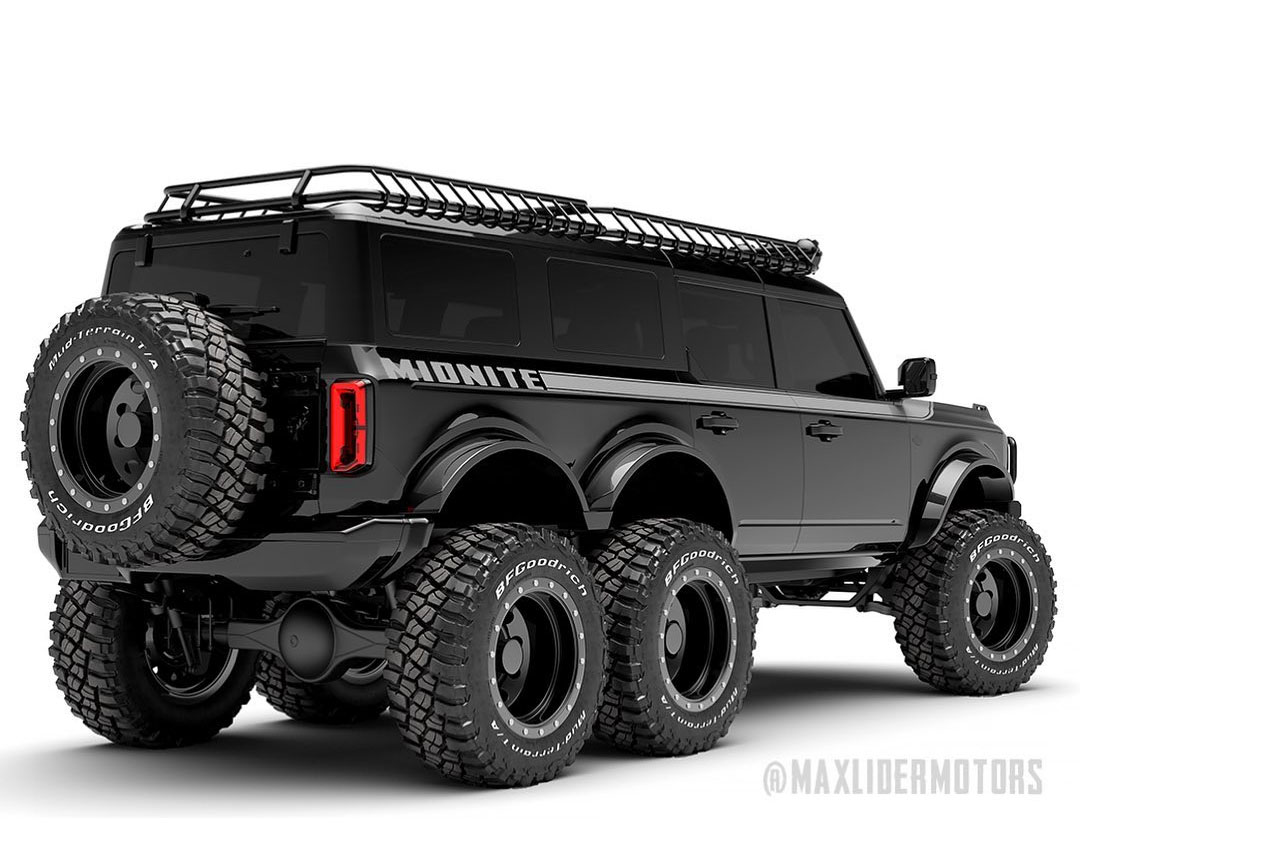 The render still shows a large spare wheel on the rear hatch, and a closed rear bed, the Maxlider Bronco 6×6 isn't a pickup style conversion like for instance, the Hennessey VelociRaptor 6X6, which comes in at $349,000, a full $50,000 less than the Bronco 6×6, but the latter will be able to seat people in the back I guess, or it just might be more luggage space, that remains to be seen once we get to inspect a real one.
For now, there isn't a single Bronco 6×6 built at Maxlider, and there isn't any information on power upgrades for the engine either, but it unlikely there won't be an increase in power to offset the additional weight and drag from the extra wheels, we also wonder if the two additional wheels at the rear will be powered or not, remember some 6-wheel conversions are actually a 6×4 technically, but as Maxlider calls this the Bronco 6×6 it would be expected all 6 wheels are powered.