2019 Aston Martin DBS Superleggera – Britain's Ultimate Grand Tourer
It's All In The Name
The new Aston Martin DBS Superleggera bears a name that pays tribute to the marque's celebrity status, while boldly articulating the standards of which the car is measured. 'DBS' was the model name bestowed upon 2 of James Bond's vehicles of choice from previous films, while the Superleggera moniker when translated from Italian, suggests a car (which is based on the current DB11 AMR) that is the beneficiary of a generous serving of weight reduction.

Oh, and the DBS Superleggera is also the most powerful V12 Aston Martin to date.
A vehicle which such a decorated resumé always come at a price – a large one at that – and the DBS Superleggera is no exception. With a base price of $308,081 USD, purchasing a DBS Superleggera means being like James Bond is simply not enough – you might have to be James Bond to afford one.*
*I should point out that based on the special set of skills Mr. Bond has, I am making assumptions about his remuneration.
Aston Martin DBS Superleggera
The DBS Superleggera uses the DB11 AMR as its canvas, adding further athleticism to it by way of powertrain, chassis, and aerodynamic enhancements. Visually, this is seen from the extensive use of carbon fiber parts which replace panels originally made from aluminum, while also providing a more aggressive silhouette.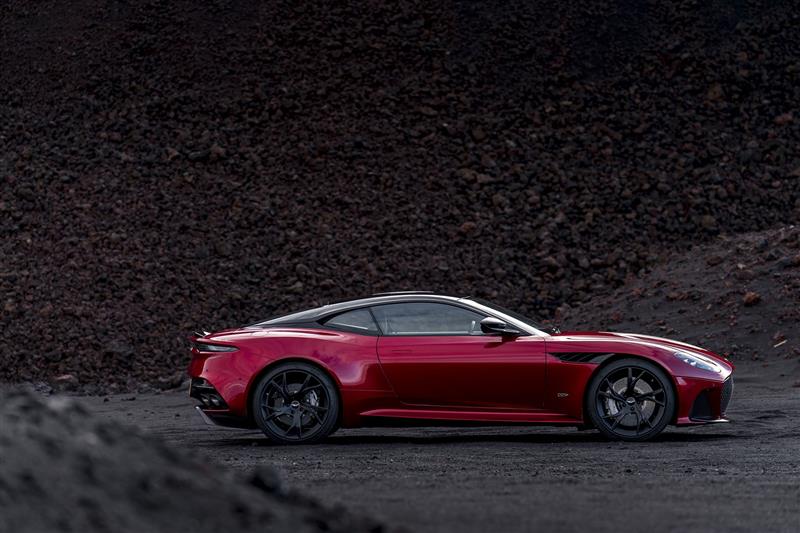 The upgrade of 85-horsepower over the DB11 AMR is complemented by tweaks to the chassis, with the power-steering, braking and suspension settings being fine-tuned to assimilate with the vehicle's increased grunt.
In all, this unique combination of upgrades and modifications creates the DBS Superleggera – a car in its own right, but also one that is synonymous with pop-culture and the Aston Martin brand.
Features and Highlights
Engine
Aston Martin's new grand tourer employs a front-mounted 5.2L twin-turbocharged V12 power plant. The engine delivers 715-horsepower @ 6,500 rpm and 663 lb-ft of torque @ 1,800 rpm to the rear wheels.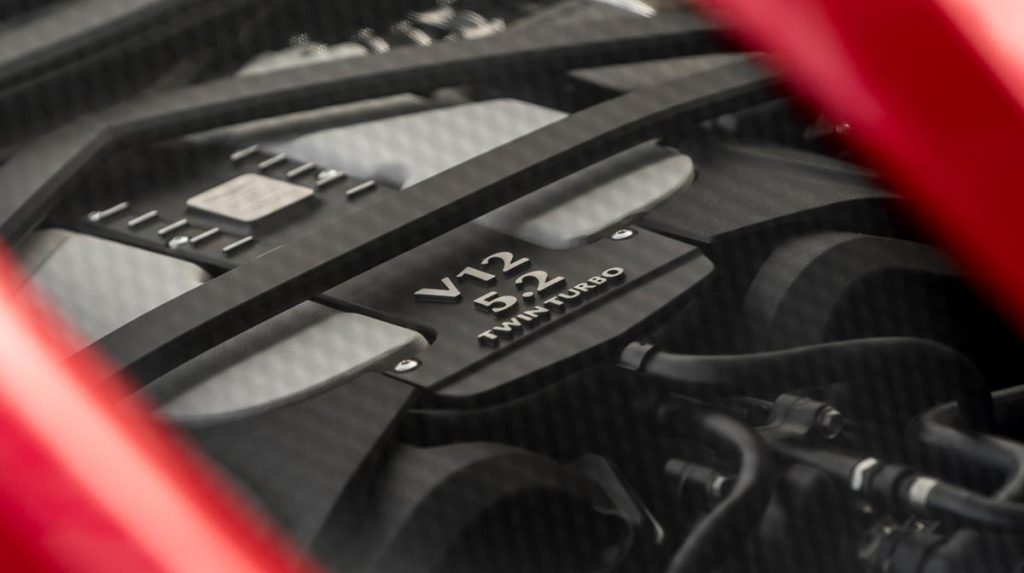 These figures were achieved by increasing the peak boost by 4.4 psi over the unit in the DB11 AMR – with the internals remaining unchanged – and the engine is mated to a beefier 8-speed automatic transmission with manual shifting mode (and a shorter 2.93:1 final-drive ratio) to synergize with the power gains.
The engine is predictably torque-y down low but also builds power linearly to the top end with no discernable turbo lag. All of this translates to a 0-60 mph time of 3.2 seconds and a top speed of 211 mph.
Chassis
Aston Martin – and by association, the new DBS Superleggera – are privileged to have Matt Becker as its Chief Engineer. That is because he had spent 26 years designing suspensions for Lotus before moving over to his current employer.
Needless to say, the DBS Superleggera suspension inherits his expertise with the dampers and suspension bushings being carefully engineered and fine-tuned for its application. The overall settings provide the car with enhanced handling precision and an appropriately comfortable ride quality.
Carbon ceramic brake rotors, which were optional on the DB11 AMR, are standard fare on the DBS Superleggera.
Exterior
As the name suggests – 'Leggera' meaning 'lightweight' in Italian – the DBS Superleggera undergoes a diet of the carbon variety with the front bonnet, splitter, rear spoiler and optional carbon roof amongst the body parts benefiting most from this treatment.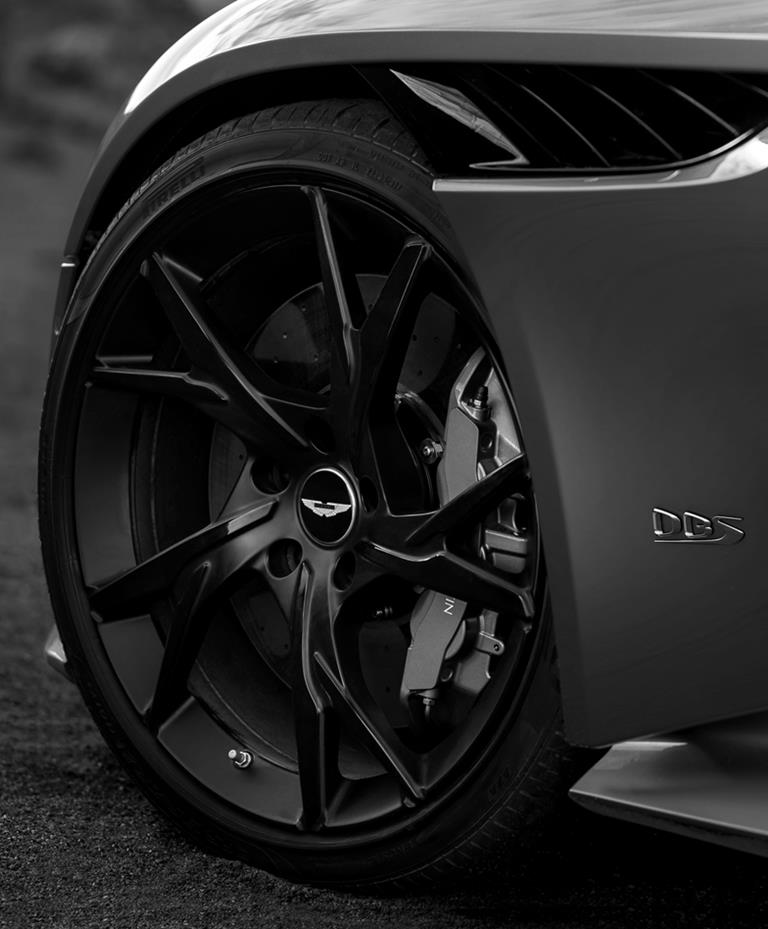 In total, the car weighs in at 4,100 pounds, with the carbon fiber shedding about 154 pounds compared to the DB11 AMR on which it is based. This perhaps suggests that the claim of being "super lightweight" be taken a little more faithfully than literally.
An aggressive front bumper, new front fender vents, and a carbon fiber rear diffuser assist in channeling airflow more efficiently, improving stability at high speeds. The front splitter and fixed rear wing generate 132 pounds and 265 pounds of downforce respectively, with no drag penalty – a significant improvement over the DB11 AMR.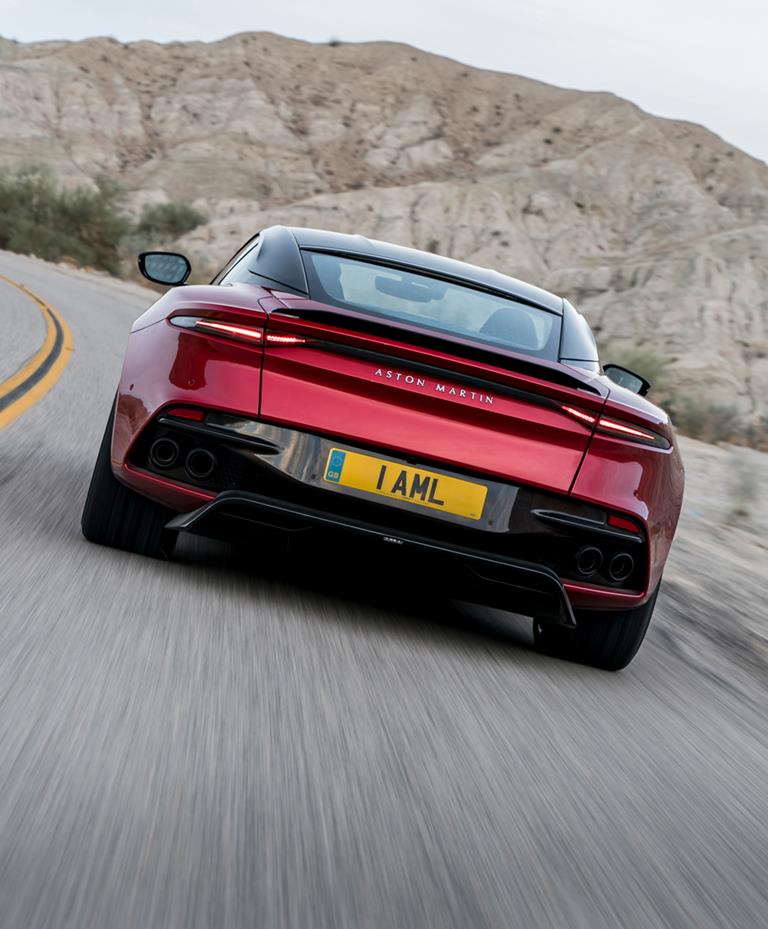 Interior
Inside the car, changes were made more sparingly and you could easily mistake yourself being in a DB11 when sitting in the driver's seat, though you would notice that the seats do offer more bolstering. Otherwise, the interior is mostly just a refresh – as opposed to a redesign – with a larger variety of optional colors, trims, and finishes to choose from.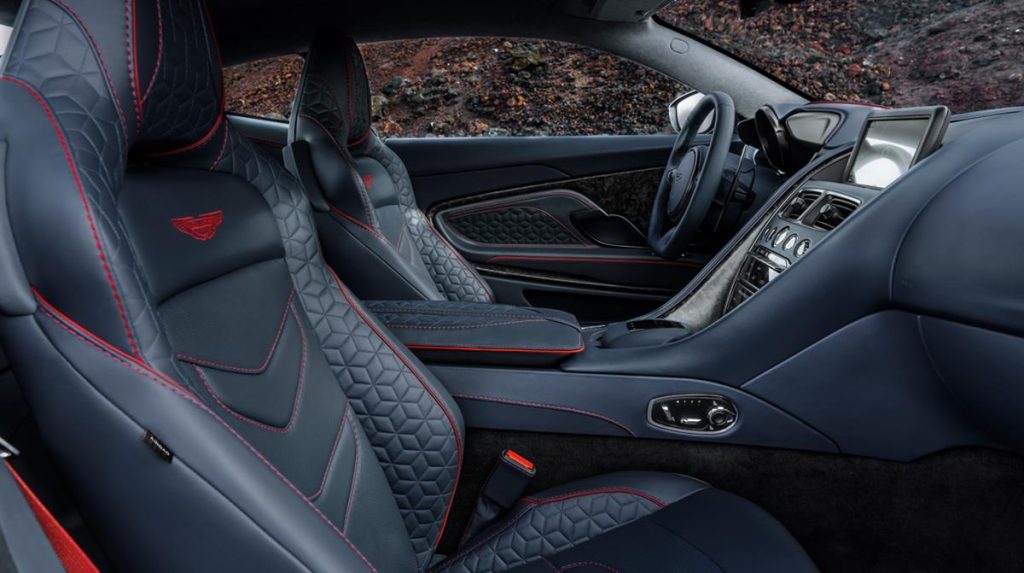 Verdict
The Aston Martin DBS Superleggera is objectively a fine looking automobile; one worthy of an endorsement by Agent 007. It is one of the best examples of what both Aston Martin and grand tourers should be all about – no shortage of horsepower, elegant design cues and everyday usability.
The 'Superleggera' moniker is more sentimental than anything, with the relative weight reduction and overall mass of the car being nothing close to revolutionary from Aston Martin nor to its competition. This can be overlooked to a degree, as GT cars don't typically have 'lightweight' listed as its core strength.
The DBS Superleggera is a very well rounded grand tourer and certainly lives up to being Aston Martin's flagship car, even if not entirely to its given name. At a base price of $308,081, it doesn't come cheap either; though some of its competition such as the Ferrari 812 is priced higher.
In my opinion, the Aston Martin DBS Superleggera is a properly traditional GT car for the modern era, with its prestige stemming from generations of automotive fame, celebrity, and royalty. If this suits your tastes and your budget, do everything you can to get your hands on a DBS Superleggera – because after all, You Only Live Twice.
Specifications and Performance Summary
Pricing and Model Info
| | |
| --- | --- |
| Make | Aston Martin |
| Model | DBS |
| Generation | 2019+ |
| Sub-Model | Superleggera |
| Car type | GT Coupe 2+2 |
| Category | Series Production Car |
| Built At | Warwickshire, England |
| Base Price (USD) | $308,081 |
Chassis and Powertrain
| | |
| --- | --- |
| Curb Weight | 4,100 lbs |
| Layout | Front-engine |
| Driven wheels | Rear-wheel drive |
| Suspension | Three-stage adaptive dampers and springs |
| Brakes | Carbon composite brake system |
| Engine | V12 |
| Aspiration | Twin-turbocharged |
| Displacement | 5.2 Litres |
| Transmission | 8-Speed automatic with manual shifting mode |
Engine Output
| | |
| --- | --- |
| Power | 715 hp @ 76,500 rpm |
| Power / litre | 137.5 hp / litre |
| Power-to-weight ratio | 5.73 lbs / hp |
| Torque | 663 lb-ft @ 1,800 rpm |
Performance
| | |
| --- | --- |
| 0-60 mph | 3.2 seconds |
| 0-100 mph | 7.3 seconds |
| ¼ mile | 11.0 seconds |
| Max speed (S coupe) | 211 mph |
Photo & Video Gallery