I for one rather like the Bentley Flying Spur, it is a high-end luxury car which is a notch above a Mercedes S-class, a BMW 7-Series, and an Audi A8, yet not as opulent as a Rolls Royce, and let's be honest, depending on which spec you go for, it does look like a sporty sedan, albeit a rather large and heavy one, but still, I like it.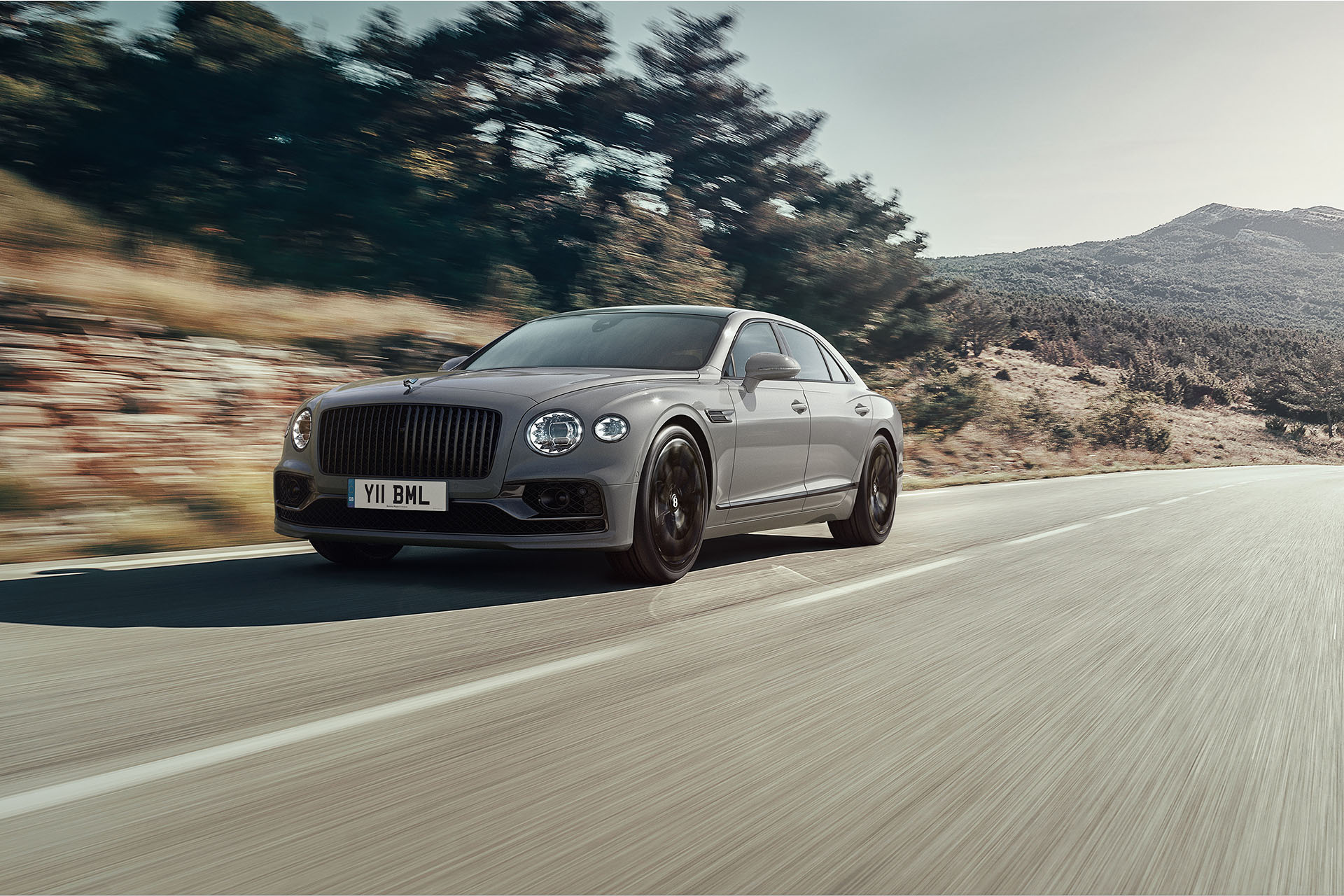 But when you turn to Bentley Mulliner to get something really bespoke, built just for you, chances are you are looking for a more luxury version instead of a sports sedan, which is what the Mulliner department at Crewe in the United Kingdom is known for … taking the very luxurious Bentley models to an even higher level, the Mulliner touch, Bentley's bespoke division, and the world's oldest coachbuilder.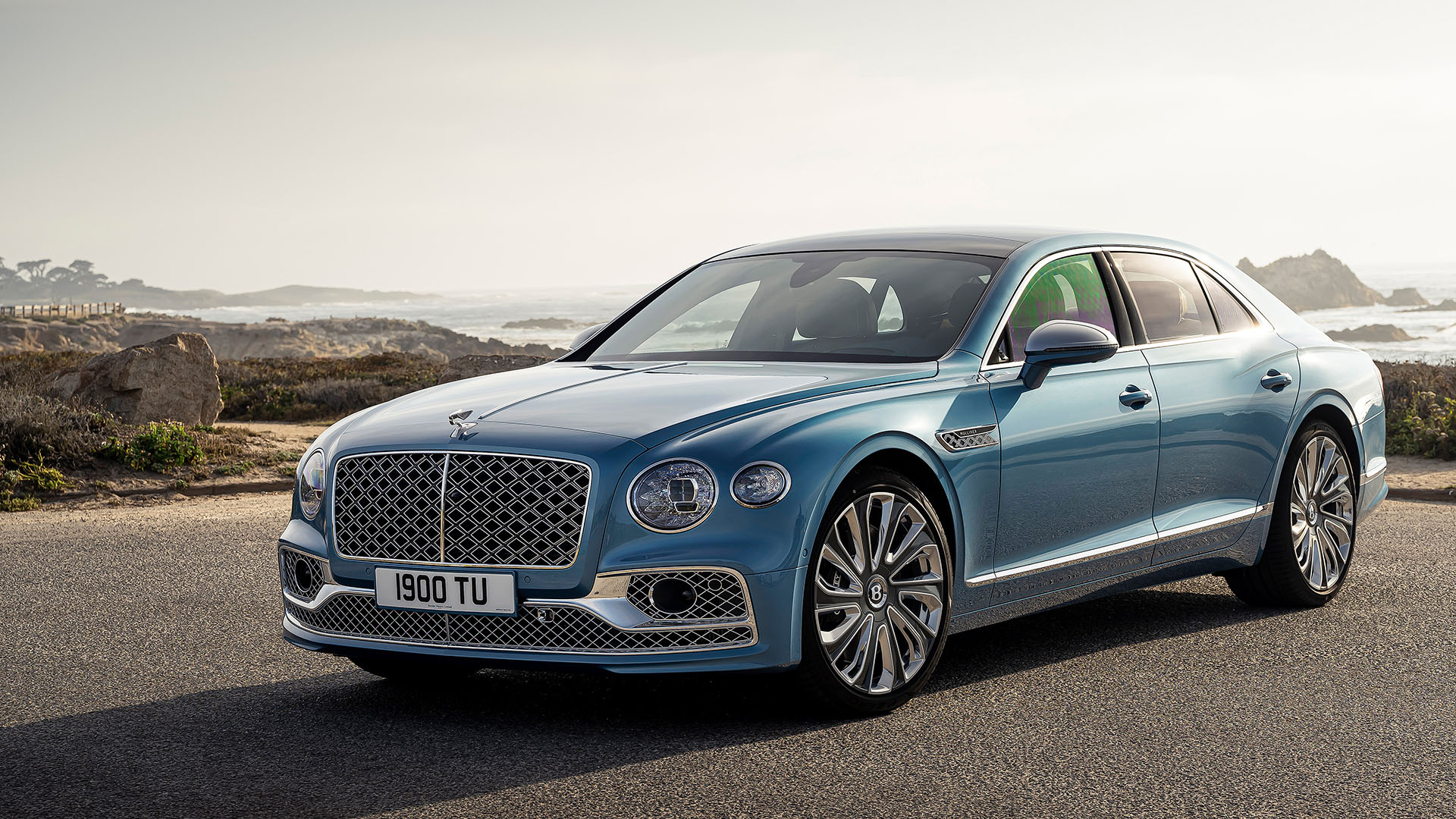 The Bentley Flying Spur Mulliner is the ultimate four-door luxury GT, and this specific model also marks the very first electrified car from Mulliner, as you can order this latest Mulliner in either V6 Hybrid, V8, or the impressive V12, all featuring the best of the best when it comes to attention to detail and workmanship found on these beauties from Crewe.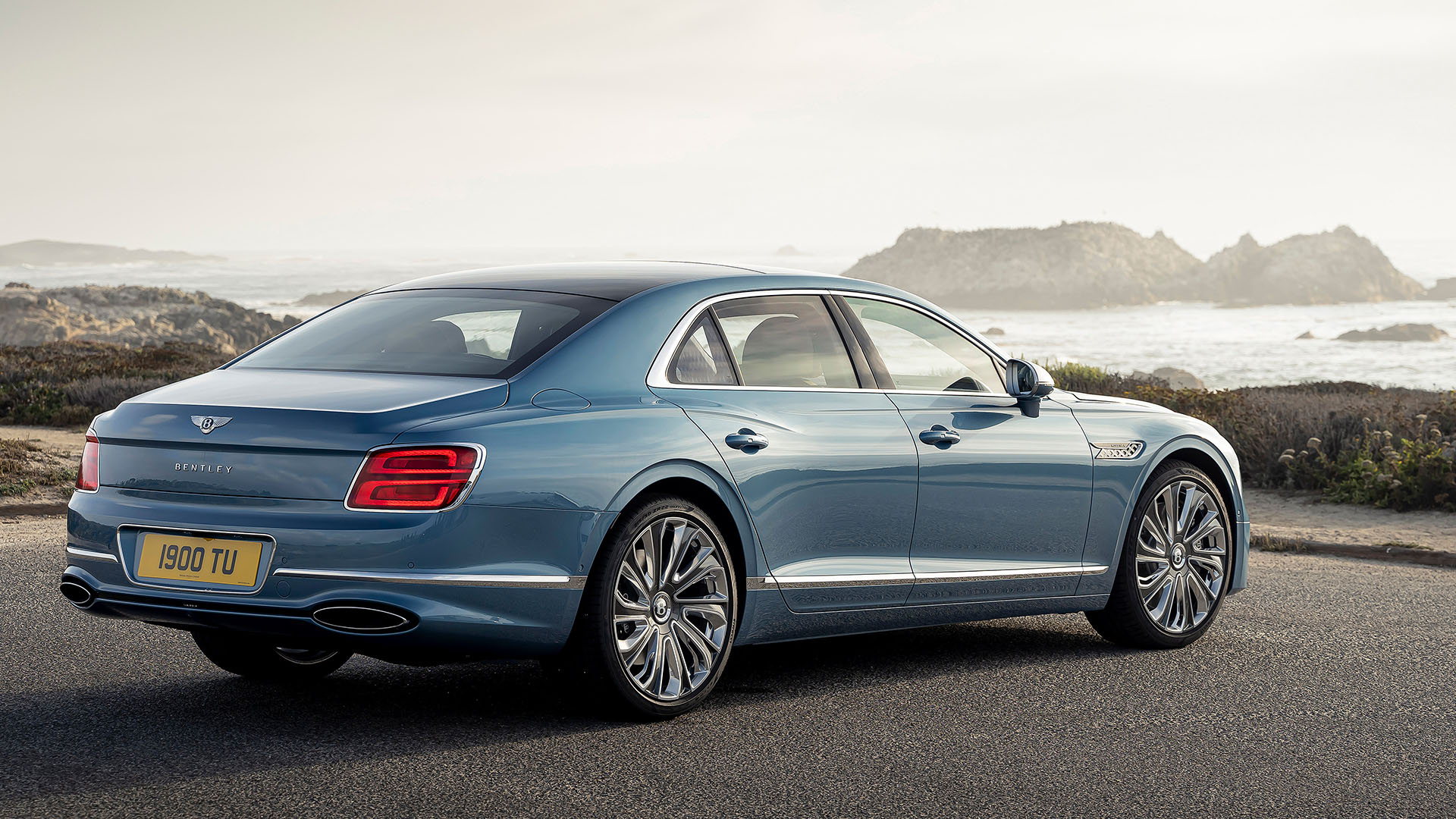 This is without a doubt the most luxurious Bentley Flying Spur at this time, created and developed by Bentley's in-house Mulliner department at Crewe where these cars are still being hand-built to this day, as already mentioned, this is the flagship model for clients looking for elegant details not found on the regular Flying Spur.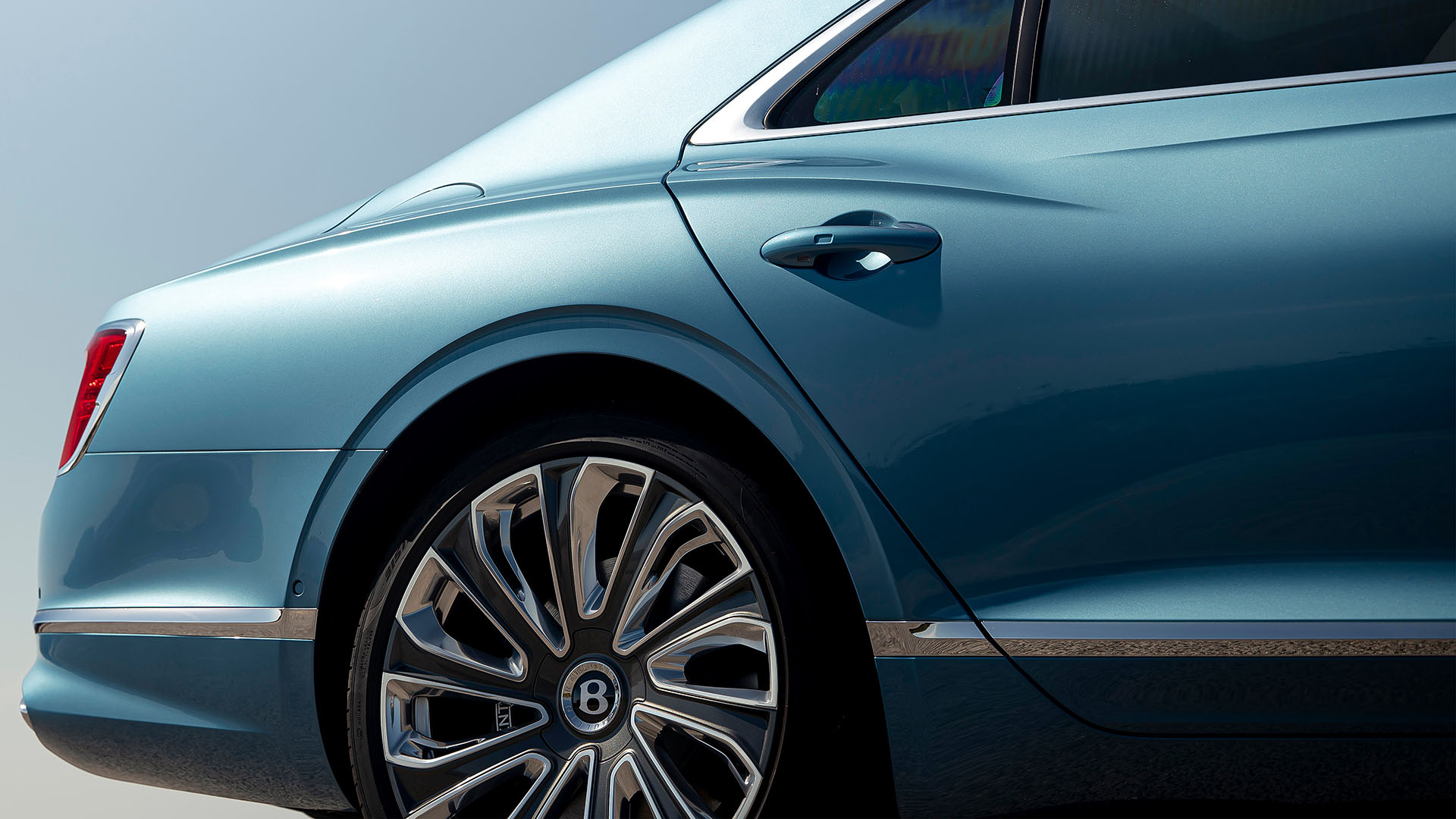 The Bentley Flying Spur Mulliner receives a set of special 22-inch wheels only available on this Mulliner edition, these come painted in grey but get parts of their surface deeply polished for that special look, naturally, the B on the wheel caps stays upright, even when driving thanks to their self-leveling system.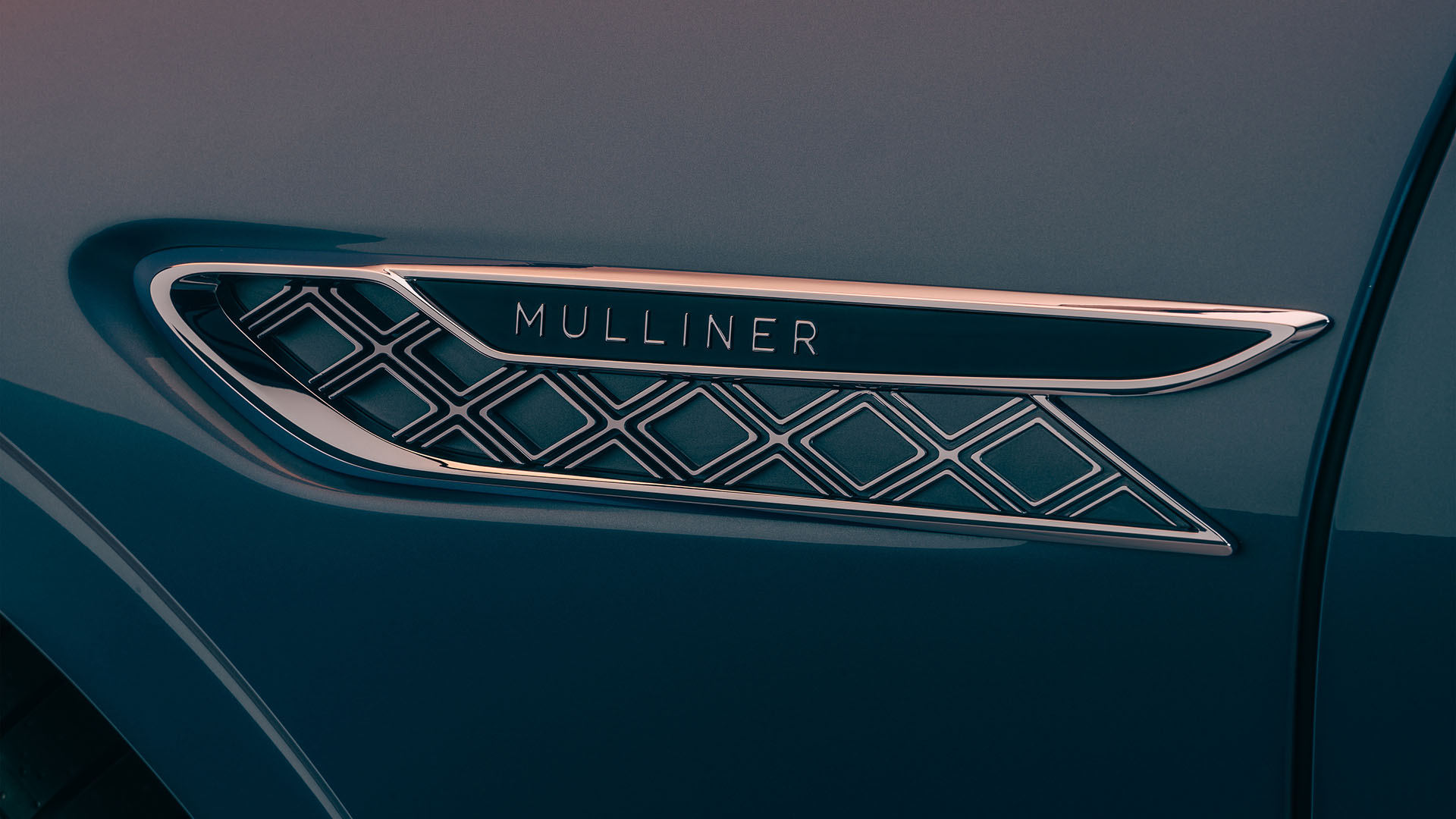 On this model, we also find the 'Double Diamond' design on the large front grille while a chrome grille gets fitted to the lower section of the front bumper, the Double Diamond design returns on the bespoke Mulliner vents on the front fenders, the world-famous Flying B that adorns the hood is lowered or raised electronically and is even illuminated, how's that for attention to detail. Add the satin chrome upper part of the mirrors and you end up with a very elegant overall look.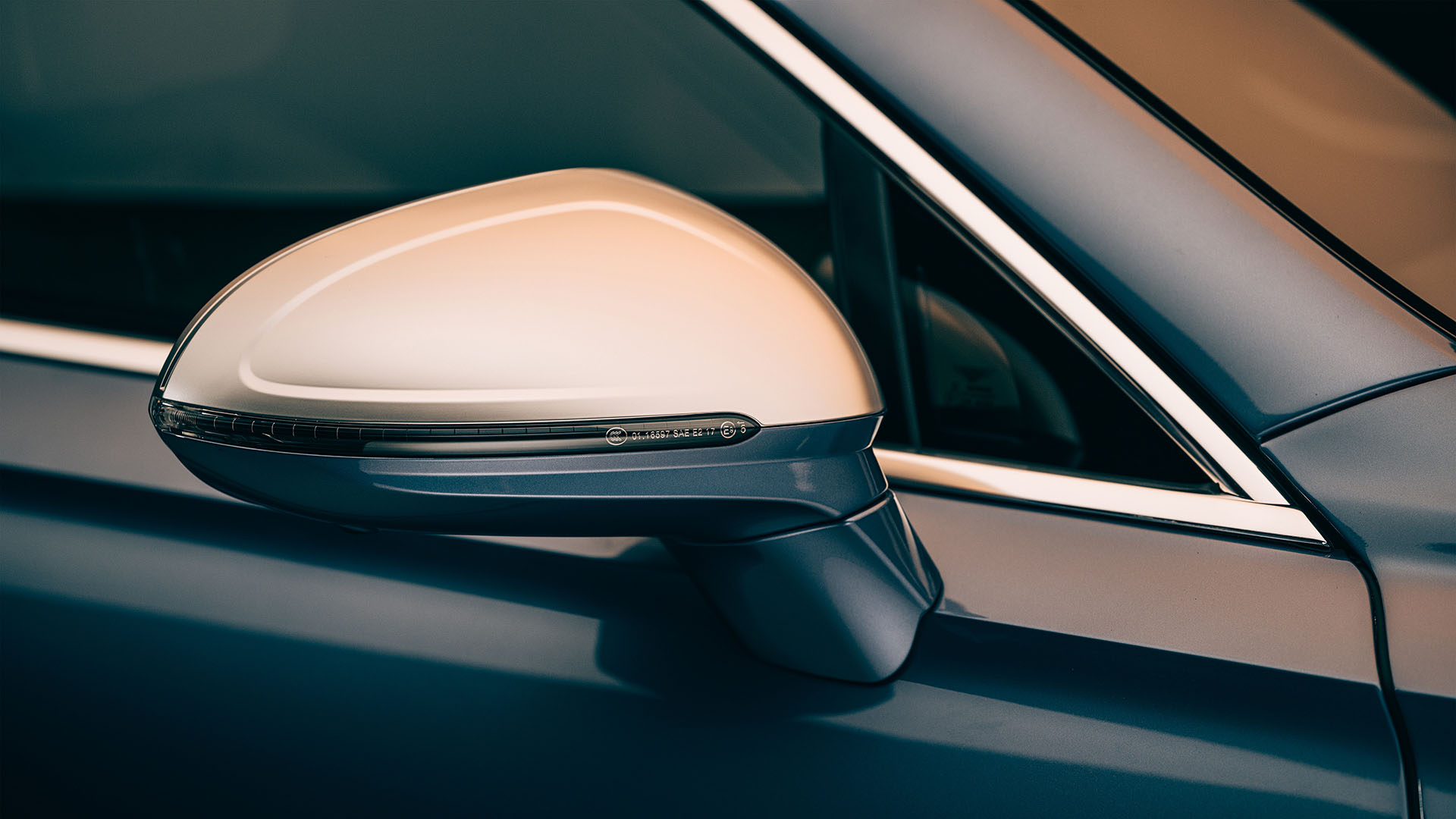 And while the exterior of this Bentley Flying Spur Mulliner looks amazing already, just open the doors and admire the ultimate Flying Spur interior, the first detail to attract your attention are the bespoke Mulliner treadplates, which are naturally illuminated, what would you expect? Mulliner actually composed a series of preset color combinations to make your life as a client a little easier, avoiding the hassle to go through an almost countless number of available shades, veneers, stitching, etc …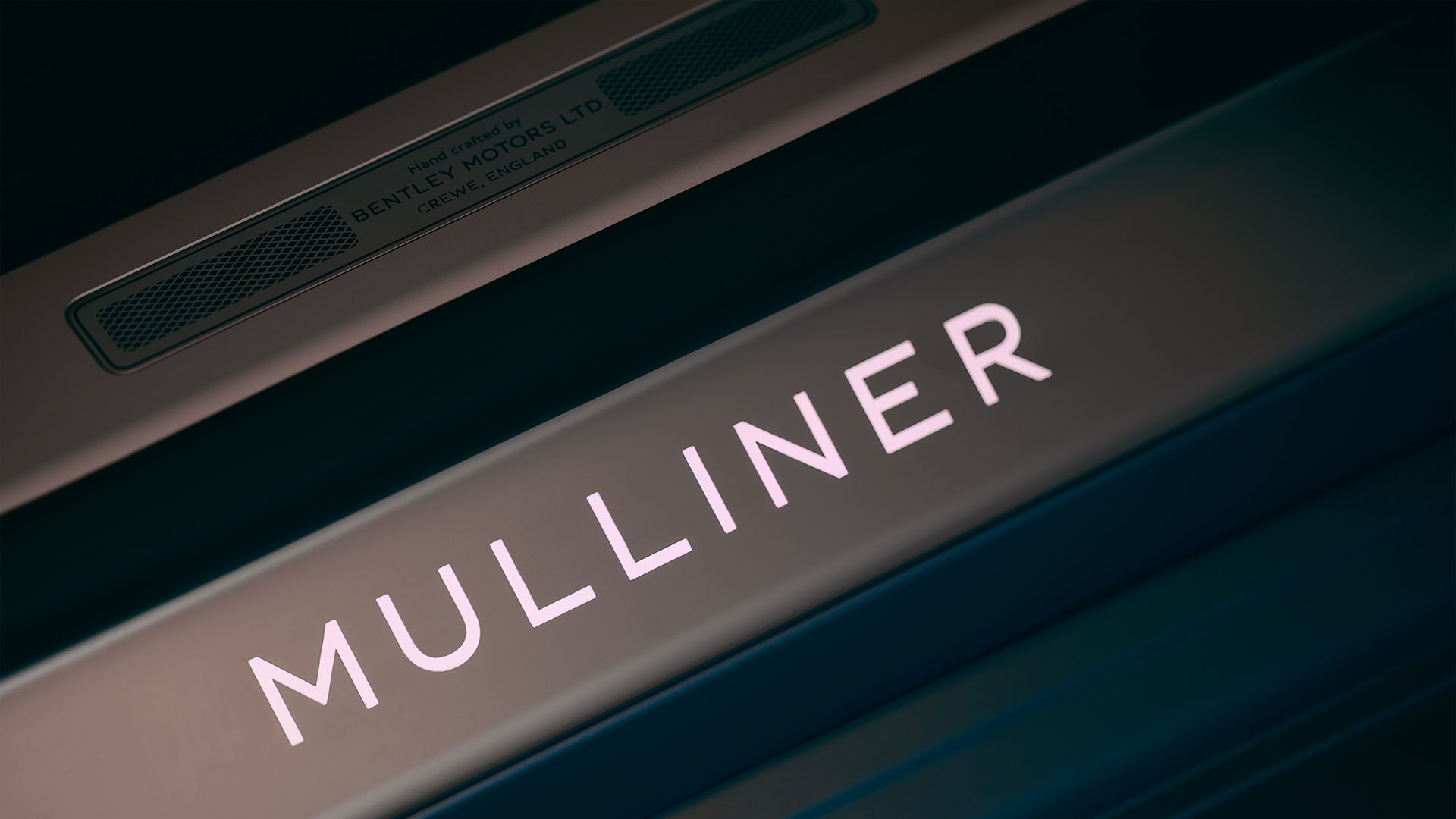 In total Mulliner put together eight different combinations of three colors for you to select, the one seen on this presentation model from Bentley Mulliner comes in 'Ascot', combining Imperial Blue leather on the dashboard, door panels, and headliner, while the seats are covered in a stunning Camel shade complete with white micro-piping, embroidery, and accent lines to create the bespoke three-color for this unique Mulliner interior.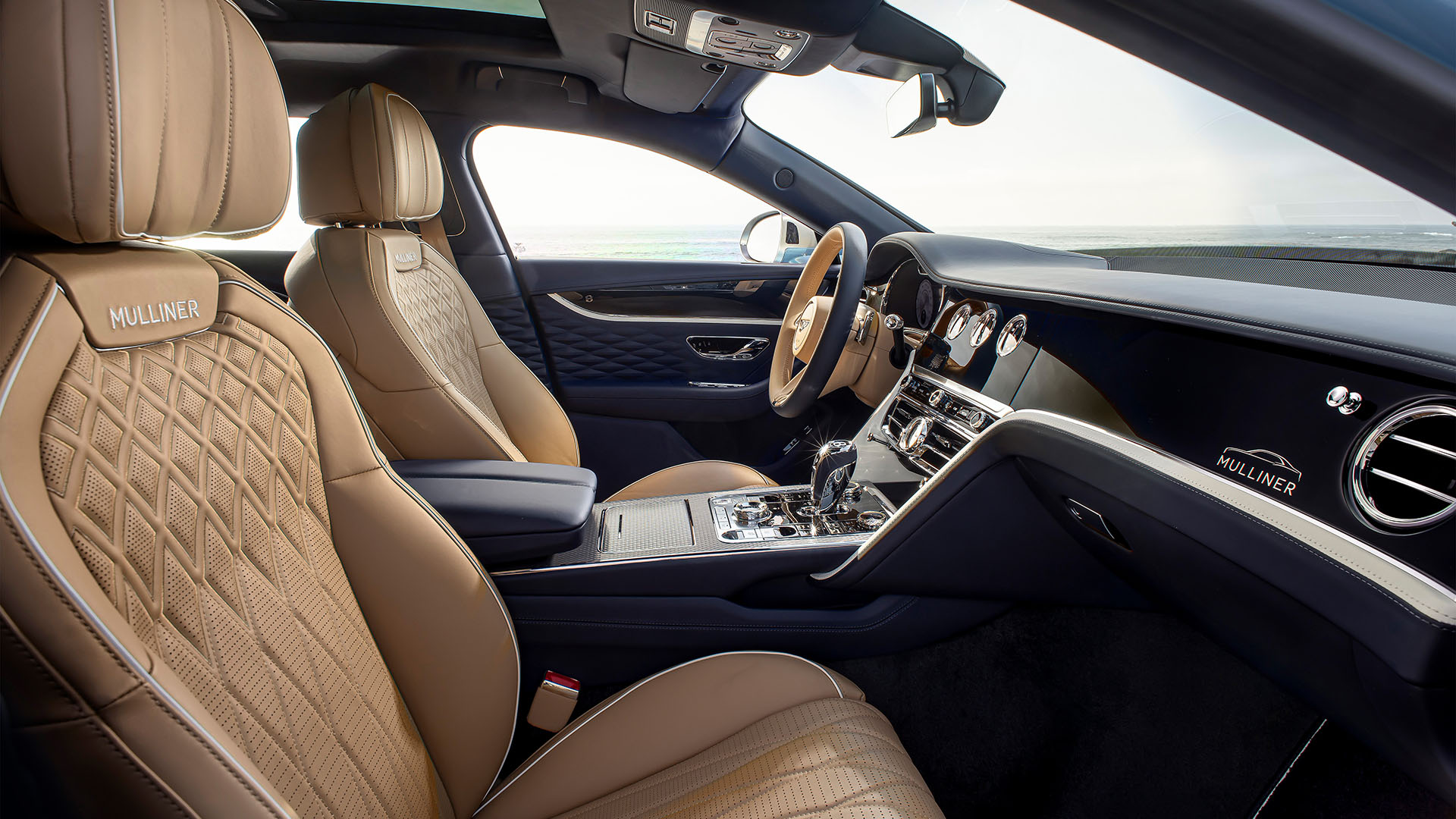 Some clients might request a bolder combination, for those demanding customers Mulliner makes Flare and Sirius, which add somewhat more daring combinations including Hotspur and Beluga, and Linen and Brunel both with a silver accent, no matter which of the eight possible combinations you go for, they all come with the famous Diamond-in-Diamond quilted pattern on the seats, complete with 3D door panels, on the panel in front of the passenger you'll find a chrome Mulliner inlay and a profile of the car.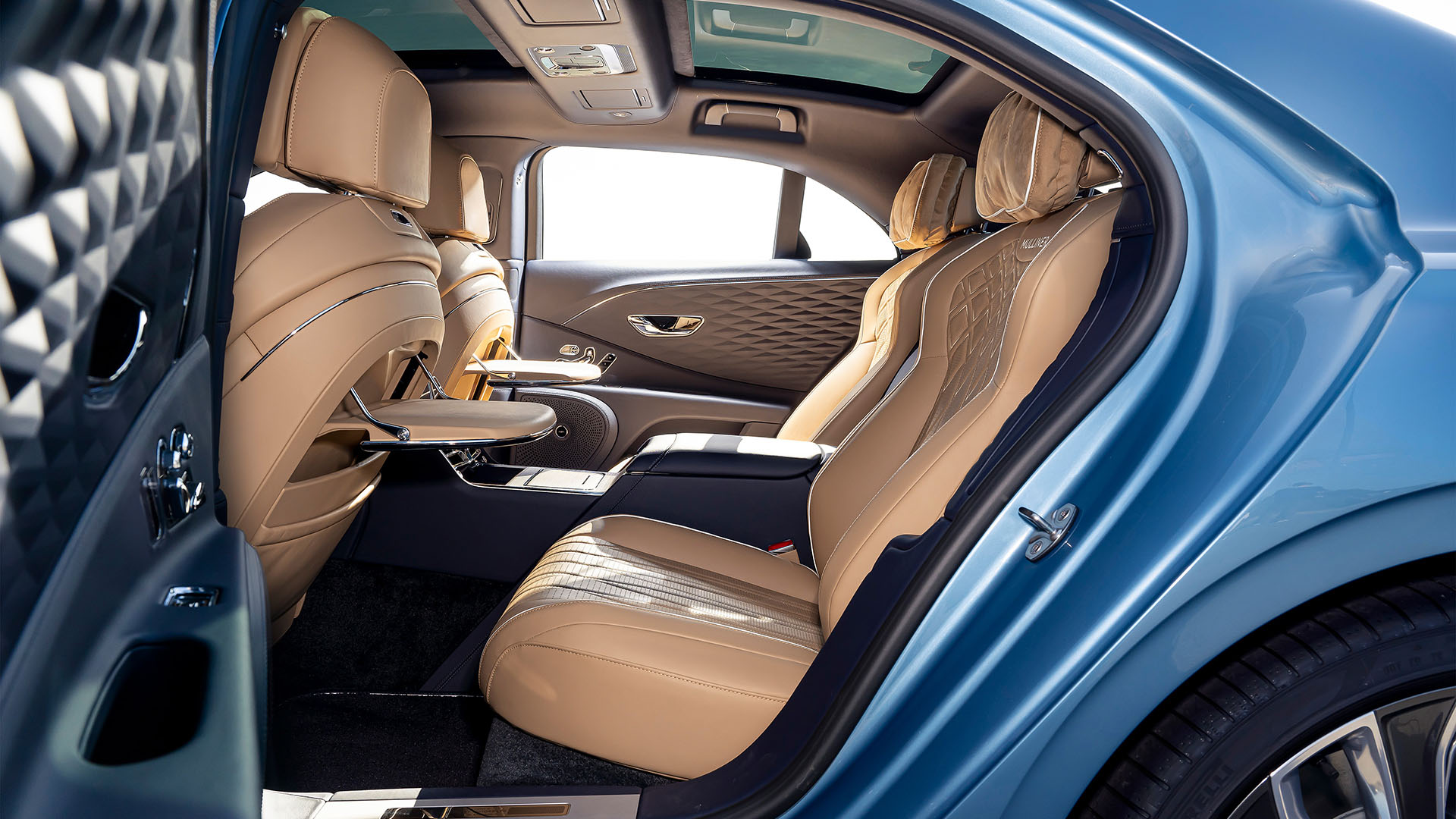 If you think that pattern on the seats comes easy, think again, it took Mulliner 18 months to get this perfect, each of the double diamonds consists of 712 individual stitches that have to be perfect to get the exact look you find on these amazing cars from Crewe, and that's only the start, the central console and the one at the rear are diamond milled to get the perfect technical finish, a look that is completed with a brushed silver Mulliner clock.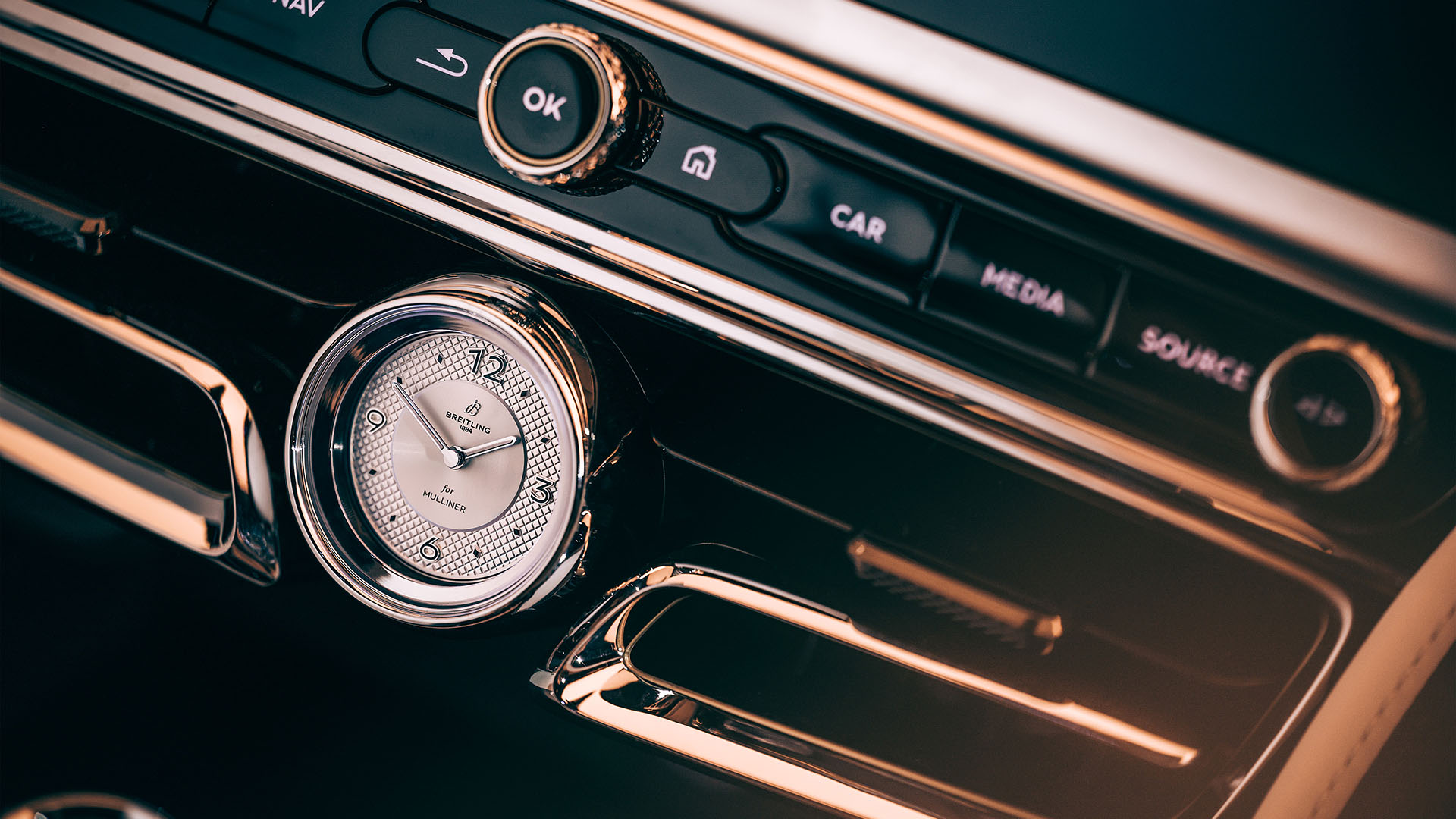 The picnic tables on the rear of the front seats are unique to the Mulliner edition and are electrically operated by the press of a button. These veneered tables, which feature a unique overlay, lower and self-level to reveal a leather-trimmed surface with a recess for a pen or stylus, and as a Mulliner client you can't be bothered by having to manually fold these tables back up, so just hold the button again and they gracefully return to their home position.
And while the Bentley Flying Spur is a large four-door car, when fitted with the twin-turbo W12 6-Liter engine, she takes just 3.7 seconds to reach 60 mph and reach a top speed of 207 mph. The twin-turbocharged V8 on the other hand needs 4 seconds for the same sprint and goes on until 198 mph, for the more ecologically minded among us, Bentley offers all this luxury with the V6 Hybrid engine, still good for a sprint to 60 mph in 4.1 seconds until she runs out of breath at 177 mph.