Whether you're pursuing a childhood dream, don't want to drive the family hauler to your high school reunion, or maybe go through a mid-life crisis, few things can inject as much excitement into your life as a sports car.
However, sports cars are often too expensive and impractical for most people. And while SUVs have taken the industry by storm, the reality is that few SUVs on the market offer you a sportier driving experience.
In contrast, four-door sporty saloons are the middle ground between sportiness and practicality and remain popular enough that many manufacturers continue to bring new models to market every year.
And although sports saloons are typically less powerful than most sports cars, they're also more affordable and usable and easier to enjoy on public roads. Additionally, many sporty saloons are four-wheel drive, making them suitable for being driven every day, all year round.
Some are more unassuming than others, yet the Best New 4-door Sporty Saloons still count as top-notch driving machines because of their involvement and how often you can enjoy them.
Kia Stinger GT2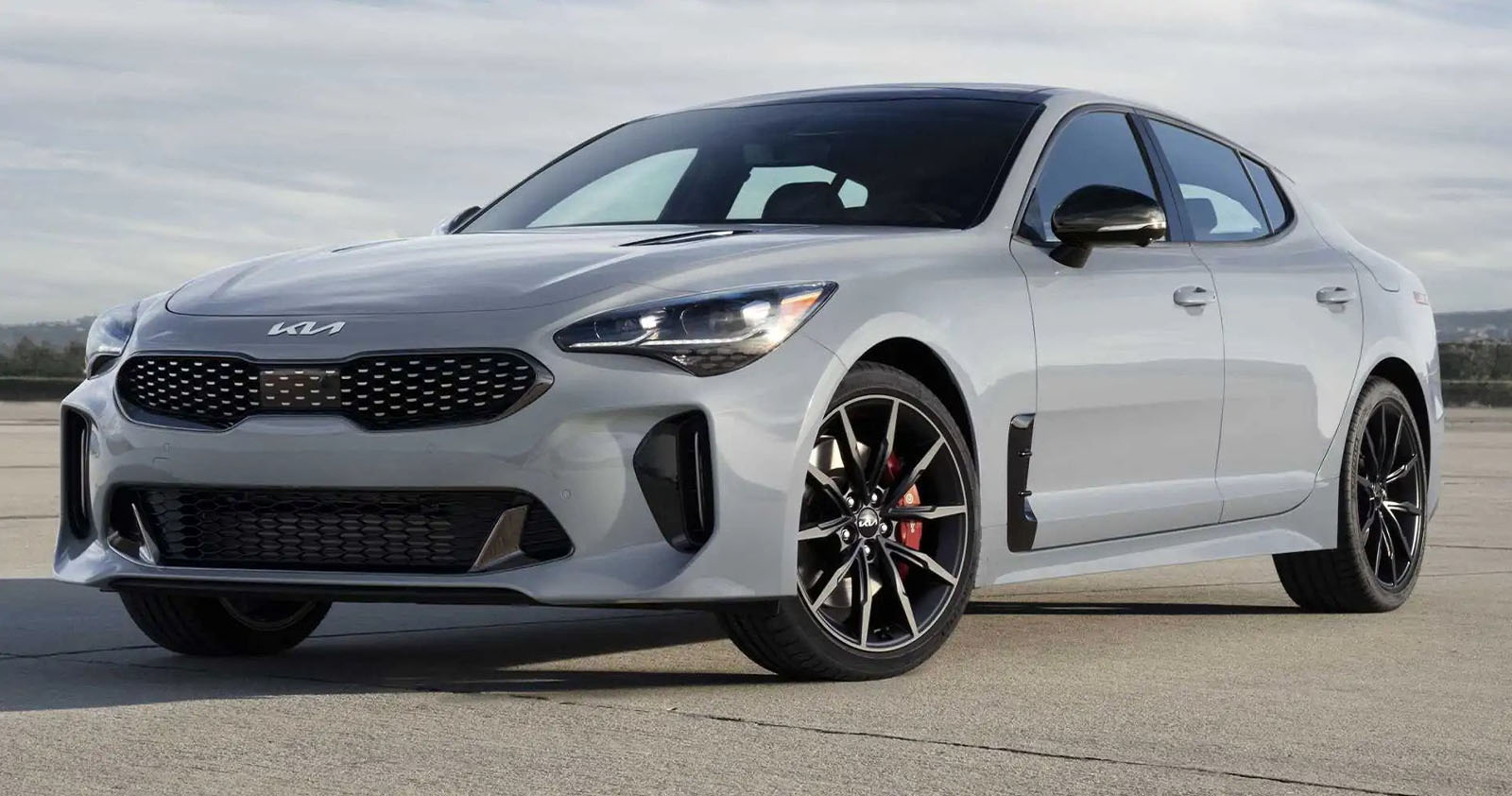 Price: $51,890 USD
Not carrying a premium logo does not make the Kia Stinger go unnoticed, and since arriving in 2017, this Korean grand tourer has proved to be up to the task. The 2023 Stinger may not have the refinement of its European peers, but it has a performance that is hard to match for the price. That is not to say, however, that it isn't elegant, even luxurious on its interior, with huge bolsters on its sport seats, finished in Nappa leather, with soft touch fabrics and leather trim, and almost any feature you could think of wanting included.
Even at $51,890m the Stinger in its GT2 trim is one of the best value propositions for price-to-performance under $100k. This is mostly down to its monstrous 3.3L twin-turbo V6 engine roaring out 368 horsepower and 376 lbs-ft of torque, sent through an 8-speed sport shift automatic to the rear wheels only.
In previous years, there was mild but noticeable turbo lag, but as part of the 2023 model, the twin-turbos have a new blade profile on their impellers, borrowed from the N-series of Hyundai turbo engines, that spools up much faster. Still, under about 3,000 RPM, there won't be much boost, but once you're in the power band, you will feel every one of those 368 South Korean horses.
You'll definitely feel them as the Stinger GT2 passes through the 60 MPH mark in under 4.7 seconds, and will continue on to an electronically limited 155 MPH top speed. What truly impresses is that when not spun up and attacking corners with wild abandon, the Stinger is also an immensely comfortable, freeway cruising machine with some pretty stellar space in the back seat, and an actually useable amount of trunk space. It's high performance, it's sporty, but it's also extremely well equipped and practical. It is, in many ways, the perfect mid-sized performance sedan.
Alfa Romeo Giulia Quadrifoglio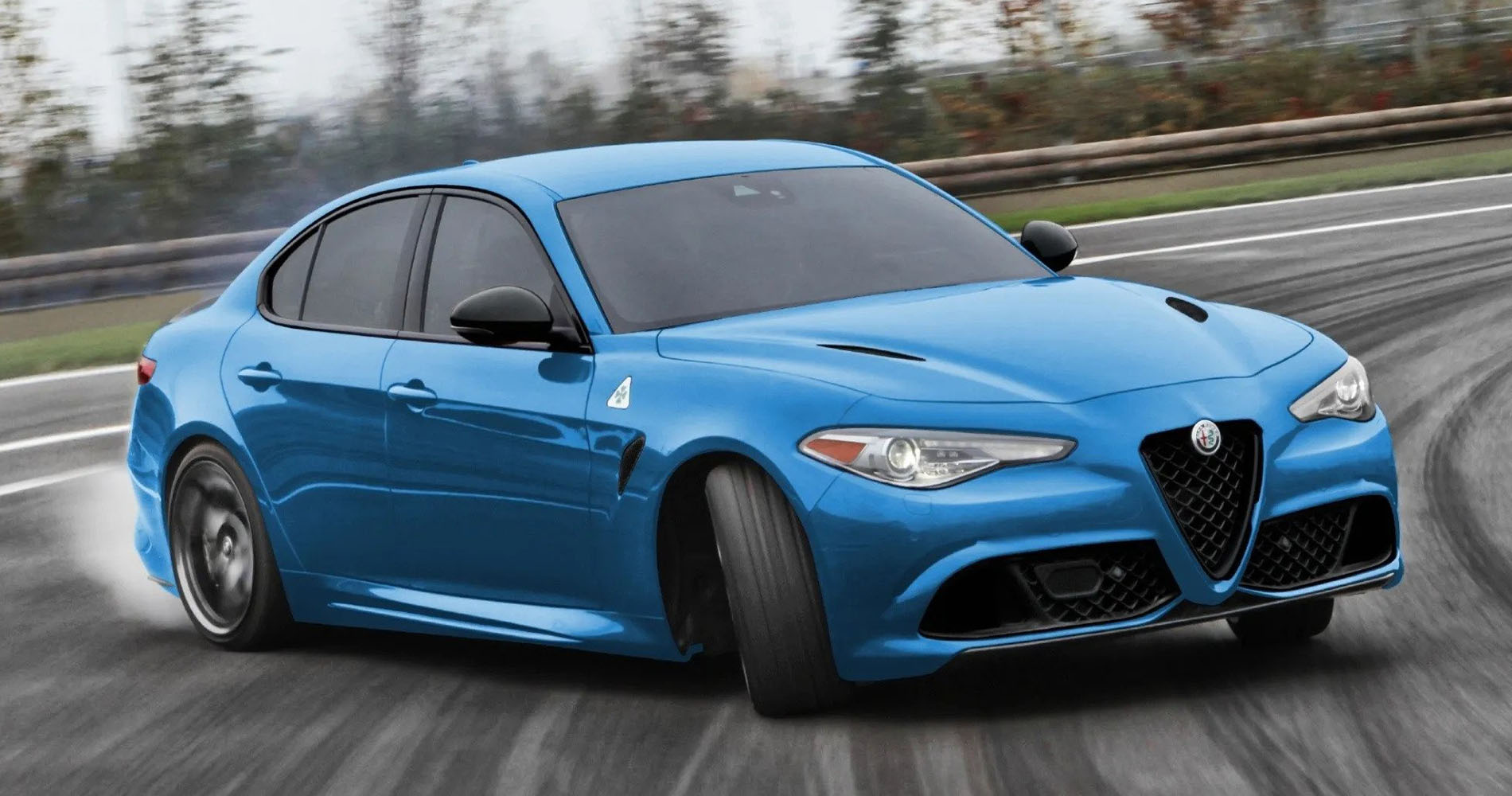 Price: $81,855 USD
When Alfa Romeo brought forth the Giula model in 2015, many of the brand's enthusiasts waited with baited breath. They didn't have to wait long, as the very next year, the Guilia Quadrifoglio performance model was released, and in the sub-$100k executive saloon market, there are very few cars like it.
The biggest thing about the Giulia Quadrifoglio is its engine, a twin-turbo, 2.9L 90 degree V6 engine was developed by Ferrari based on their monstrous F154 CB twin-turbo V8. That Ferrari engine, just to state how important it is as the blueprint for the V6, is the internal combustion portion of the 1,000 HP SF90 Stradale hybrid hypercar. The V6 in the Giulia produces a chunky 505 HP and 443 lbs-ft of torque, and is connected to either a 6-speed manual or 8-speed dual clutch semi-automatic, powering just the rear wheels. With either transmission, the Quadrifoglio will shatter through 60 MPH in 3.8 seconds, faster than pretty much any German equivalent RS, AMG, or M-series model. It also has a top speed of 191 MPH, which makes it one of the fastest four door, five passenger saloon cars in the world in 2023.
As it borders on being a supercar, the Giulia Quadrifoglio also has a lot of borrowed tech from Ferrari, who are owned by the same parent company, FCA. You get active aerodynamics with a moveable front splitter and stall flaps in the rear diffuser, as well as a carbon-fiber/carbon-composite drive shaft. Ferrari also provided a lot of input into the fully independent suspension setup, giving the Quadrifoglio immense cornering grip, and when it does finally let go at the rear, it is predictable and controllable, letting you enjoy a power slide without crashing.
The car also boasts a nearly perfect 50/50 weight balance, and puts the drivers seat as close to the pivot center of the car as possible, giving exceptional driving feel and generating many smiles-per-minute when driven… enthusiastically, shall we say.
The 2023 Alfa Romeo Giulia Quadrifoglio is one of the best performance four door saloons in the world because it is, in essence, a Ferrari in disguise, except that it doesn't cost an arm and a leg to service, will embarrass most other executive performance saloons, and do so in that cheeky Italian manner that can't be beat.
Audi S4 Saloon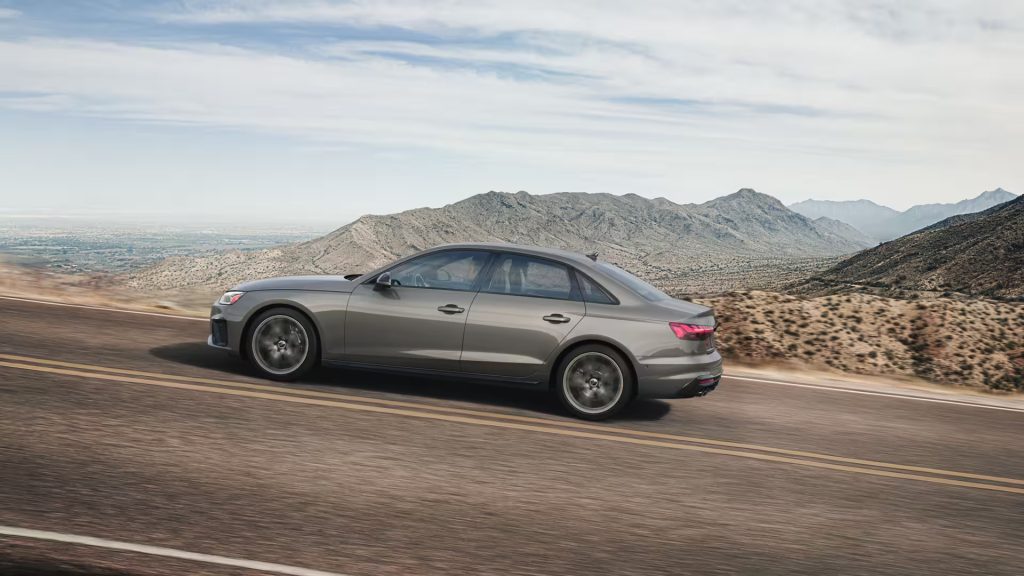 Price: $52,800 USD
Audi has made their name in the luxury and performance car circles throughout the years for taking their "boring" day-to-day cars and sprinkling some German magic on them to make them devour mountain roads and shred apart the tarmac at the track. A perfect example of this is the "normal" A4, a very professional and luxurious saloon for the young professional, which has been transformed into the exceptional S4.
The 2.0L turbo inline-four of the A4 is yanked out, replaced with a 3.0L twin-turbo V6, which brings with it 350 HP and 369 lbs-ft of torque. It is mated to an 8-speed semi-automatic transmission, and delivers power to all four wheels through Audi's superb Quattro AWD system. With a launch control feature as part of the transmission, the S4 will rocket to 60 MPH in 4.3 seconds, and is electronically limited to 155 MPH.
Why the S4 is recommended instead of the faster, more powerful RS3 is exactly because of the R part of the name. WHen you buy an executive performance saloon, you are not looking for a car that has stiff suspension and rear seats that are a bit cramped and almost seem like an afterthought. You want real-world performance with real-world convenience, and that is where the S4 shines.
It has useable rear seats, a spacious and useable trunk, and when you aren't demanding full power and maximum performance from it, it settles down into a properly comfortable car. The RS models like to keep things wound up and ready to go all the time, but as you get into your 30s, which is the age range that Audi targets with the S4, you want the ability to have fun, but also have a comfortable drive home at the end of the day.
That, among many other reasons, is why the S4 Saloon gets the vote. It's a car of two personalities: Comfortable executive saloon during the week, mountain twisties monster on the weekends.
Cadillac CT4-V Blackwing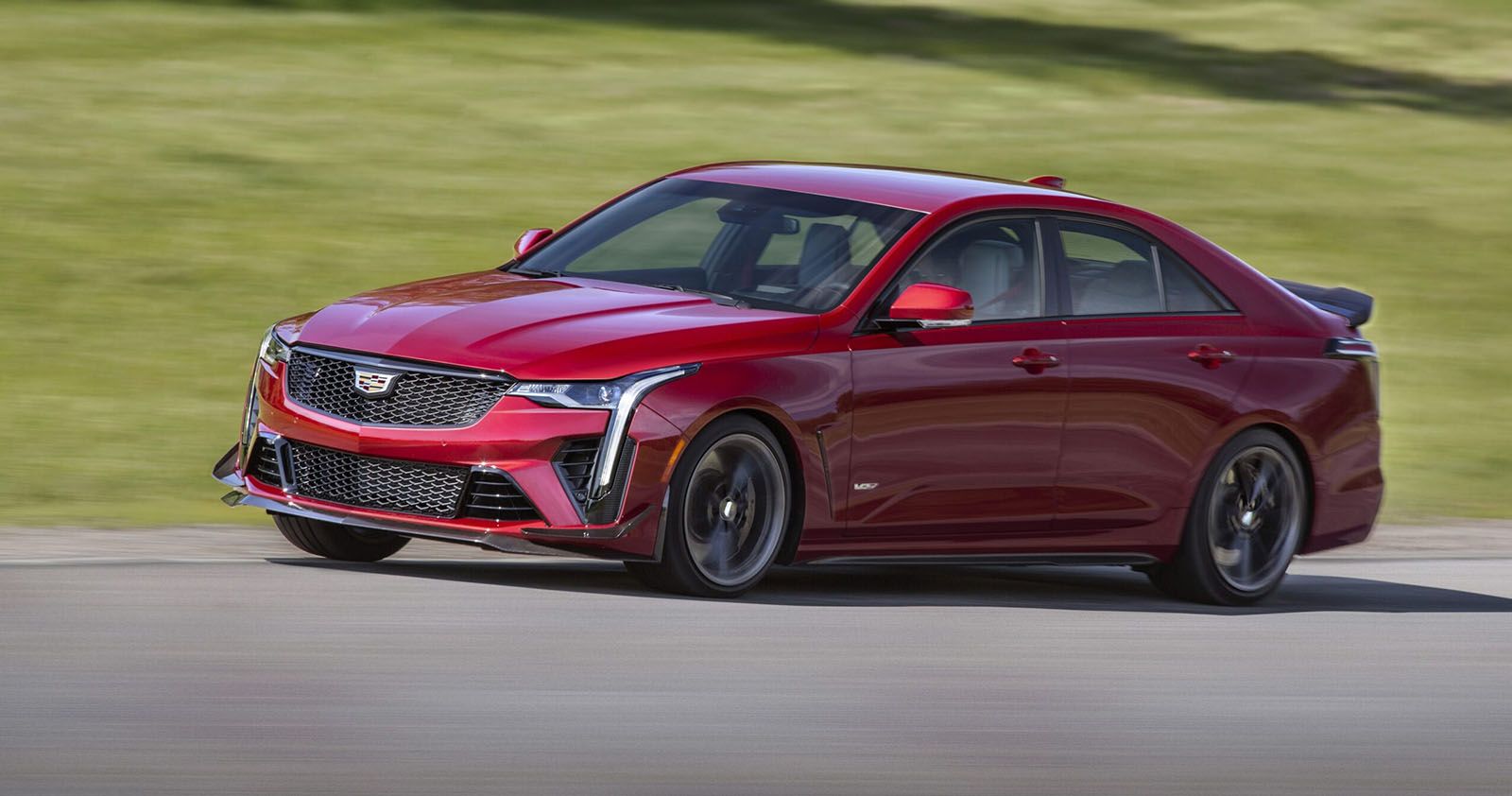 Price: $60,995 USD
Just a decade ago, Cadillac was still seen as the producer of land yachts, massive cars with suspension that ate up every bump and crack on the road, swathed with leather and meant to be extremely comfortable and not at all exciting inside. Then they decided to go after the performance sedan market, and they are still firing broadsides at the Europeans to this day. They formed a racing department, successfully challenging in the prototype class in IMSA over the past decade, and have one of the best sounding LMPh hybrid hypercars on the 2023 Endurance Championship grid, that is also ridiculously fast and is being taken seriously by all competitors.
Part of that racing knowledge gained over the past decade has been distilled into the Blackwing series of cars, including the 2023 CT4-V Blackwing and its bigger, flagship brother in the CT5-V Blackwing. The CT4-V Blackwing is positioned to be the volley fired by the Americans into the compact executive saloon car battlefield, and it comes armed to the teeth.
The warhead at the tip is the 3.6L twin-turbocharged V6 that had a visit to the Cadillac racing department. As such, it comes with a massive 472 HP and tarmac-tearing 445 lbs-ft of torque. This rocket is attached to a 6-speed manual, or optional 10-speed automatic, and will send the CT4-V screaming through the 60 MPH barrier in a hair under 3.9 seconds.
With the laser guidance set on competitors like the BMW M3, the Audi RS3 and S4, and the Mercedes AMG C 63S and CLA 45 S, the Cadillac lands a hammer blow to all of them. It's more powerful than the AMGs, it's faster than the RS3, and it is considered more premium and luxurious inside than the M3.
You can tell that Cadillac is serious when they include a functional front carbon fiber splitter, a trunk-lid spoiler, and a functional diffuser under the rear of the car. It will hit 189 MPH at v-max, and due to all of the lessons learned on the race track, it can actually corner like a proper sports saloon, on par with any other luxury performance saloon out there. Cadillac is coming to the executive saloon war armed to the teeth, and the CT4-V Blackwing is ready to take on all challengers.
Porsche Taycan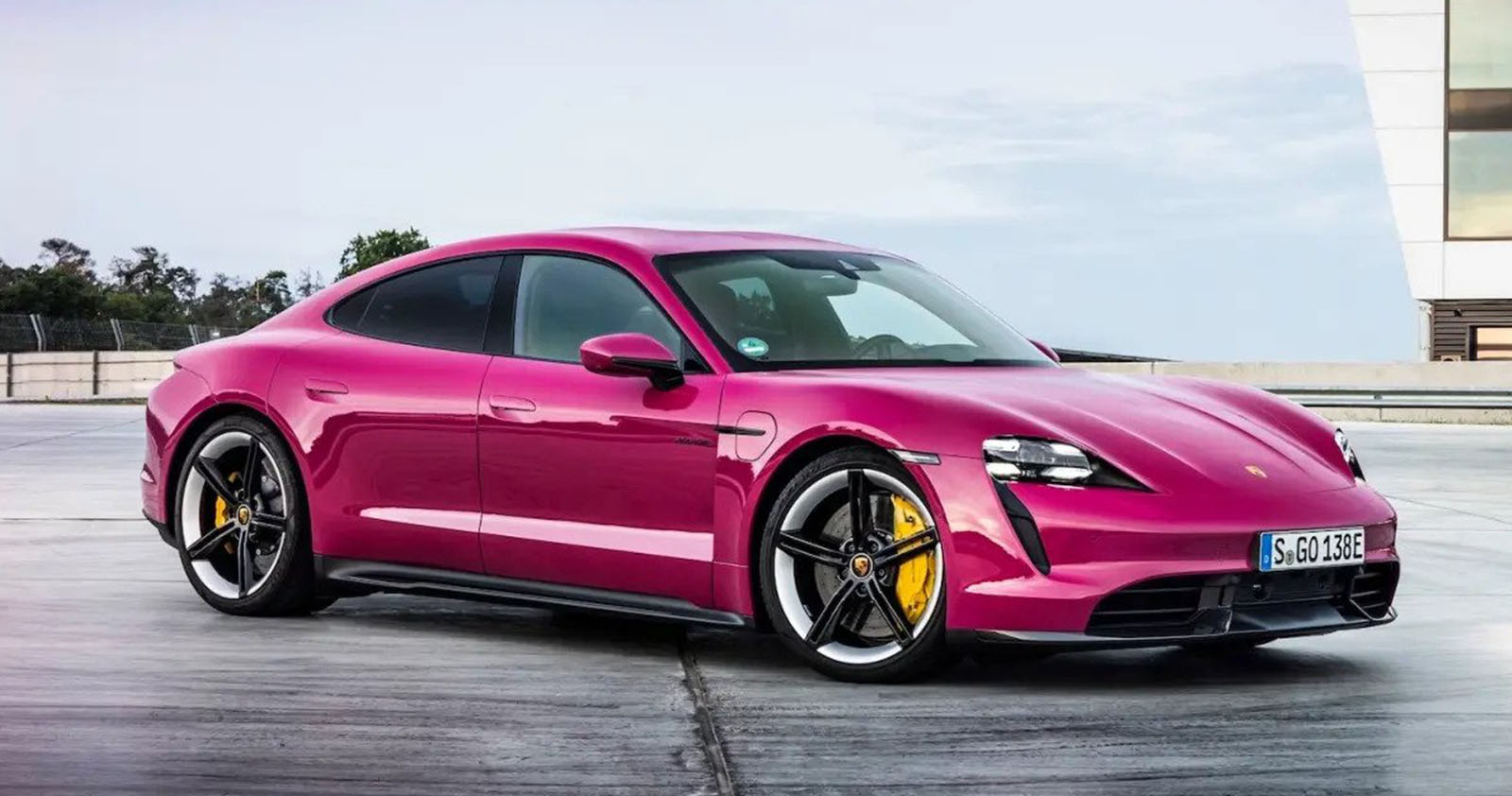 Price: $90,900 USD
Porsche is known for their engineering prowess, as well as their stubbornness. Instead of moving a big chunk of metal from beyond the rear wheels to a more "normal" mid-mount position, they engineered around the issue, giving us the inimitable Porsche 911. When they saw that one company, Tesla, was the only company that was putting out sporty electric vehicles, they took up the mantle of one-upping the Model S. The result, announced in 2018 and launched in 2019, is the Taycan EV.
Adoption of the Taycan was timid at first, but those first few people that bought one discovered that they had an EV with everything that Porsche stands for included. It handled like it was on rails, it had immense power, was quite fast and stable at high speed, and it was a really nice place to go for a drive.
Even the base model, which is the only model that comes in under $100k, has the equivalent of 402 HP and 254 lbs-ft of torque, with a 93.4 kWh battery pack, giving it over 200 miles of range on a single charge. However, what impresses the most about the Taycan is that unlike its American rivals, when you want to access the full power of the electric motors and the performance that having all your power available at 0 RPM, you simply stamp your foot hard on the brake and plant the accelerator to the floor. The car recognizes that you want launch mode, maximum power, and dials everything up to 11 for you. No need to prewarm the battery or select 15 different power modes. Just plant your foot, release the brake, and scream with joy as you are flung down the road and through 60 MPH in just about 5.0 seconds.
Just remember that this is the base model Taycan. When you go up to the Taycan S, the Turbo, or the Turbo S, you're getting more power, more batteries, more range, and eventually more motors, with the range topping Turbo S models coming with three motors, 750 HP, and a 0 to 60 time of 2.5 seconds.
BMW M3 Competition Saloon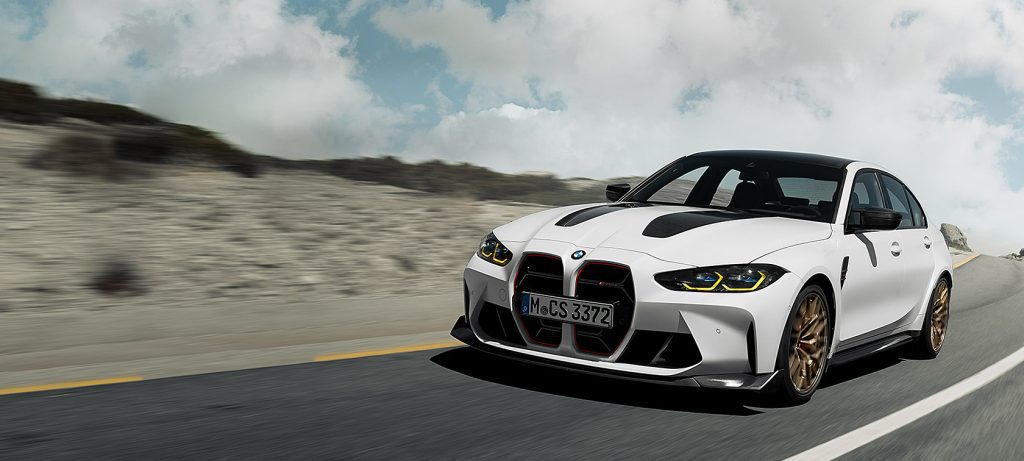 Price: $78,600 USD
Let's get the biggest point of contention out of the way first: The new aesthetic of BMW is definitely a love it or hate it look. For most, it initially looked strange and even ugly, but over the past year, it has grown on many and is now considered a pretty sporty look.
Whatever it looks like, the simple combination of one letter and one number, those being M and 3, carries with it nearly 35 years of expectation. An M3 must be a high performance saloon car. An M3 must be luxurious and comfortable. An M3 must be ready to attack a corner at all times, yet remain comfortable and competent in day-to-day regular driving. For the most part, the new G80 M3, especially in the Competition sub-model, meets or exceeds those expectations.
The most important part of the M3, the engine, has returned from the foray into V8s and is once again an 3.0L twin turbo inline-six putting out 503 HP and 479 lbs-ft of torque. It is mated to an M-StepTronic 8 speed semi-automatic transmission, and will shatter 60 MPH in 3.8 seconds. If you live where a speed governor can legally be removed, the M3 Competition tops out at 180 MPH, but if you can't lift the restrictor, it will still hit a very rapid 155 MPH.
The only area that the M3 Competition falters ever so slightly is with its interior. Yes, it is swathed in leather and the seats are immensely comfortable, but it continues the BMW trend of being just a little too busy. With just a little more restraint, the BMW would be nigh unbeatable in the sub-$100k performance saloon market.
Mercedes-AMG E 53 4Matic+ Saloon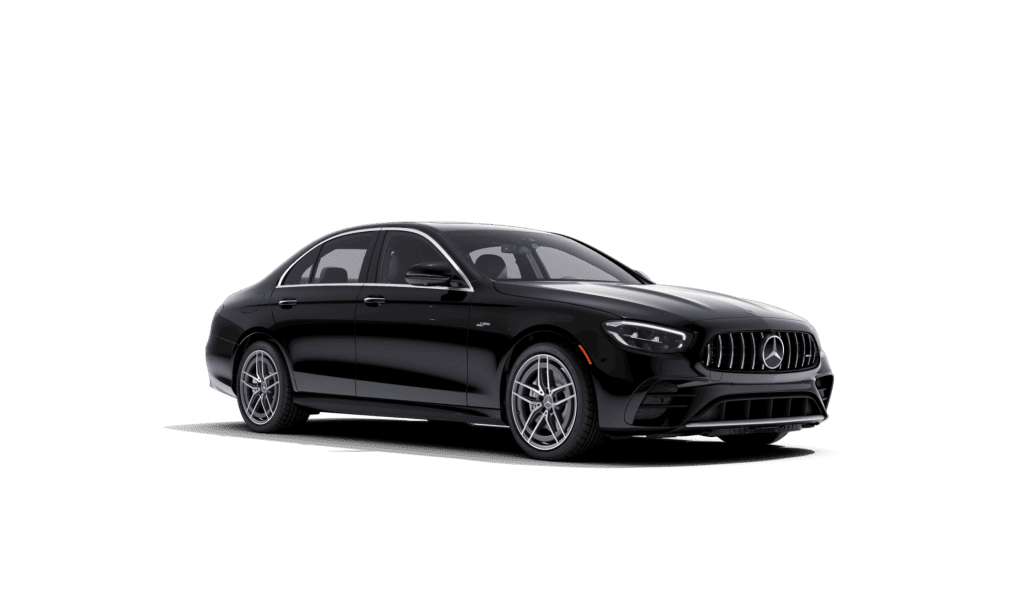 Price: $81,300
The Mercedes-AMG E 53 4Matic+ Saloon is one of those cars that unless you know exactly what to look for, is about as stealthy as its black paint suggests. What it hides, however, is a monstrous performance executive car that will surprise you.
First of all, it has a new 3.0L turbocharged inline-six that borrows heavily from the turbo-hybrid V6 that powers the Mercedes-AMG Petronas Formula 1 car. It is fully beltless, has an integrated starter/generator that is a mild hybrid with up to 21 HP extra available on demand, and has the same type of cylinder wall coating as used in the F1 engine. The result is a nominal 429 HP and 384 lbs-ft of torque, which can be boosted to 450 HP for short bursts, such as heavy acceleration.
That power is transmitted via a 9-speed automatic that has nearly seamless shifts, and has variable settings tied to the driving mode selected: Slippery (Wet), Comfort, Sport, and Sport Plus.
The Mercedes-AMG CLA 45 S 4Matic comes with a 2.0-liter turbocharged 4-cylinder engine that generates 421 horsepower and 368 pound-feet of torque. The grace of this 2.0-liter turbo engine is noticeable from the first touch of the accelerator, capable of excitement no matter what driving mode you are in. In the full Sport Plus mode, the E 53 will hit 60 MPH in 4.4 seconds, with an electronically limited top speed of 155 MPH.
What the E 53 manages best, however, is what Mercedes is famous for, and that is its luxurious and comfortable cabin. With easily enough space to fit four adults in comfort, five if the rear seat passengers are friendly, both front seats are heated and cooled, have three memory settings, are power adjustable in every aspect from firmness to height to lumbar support, and the whole place is swathed in warm wood accents and leather. It is more an executive limousine than an executive saloon, but with four doors, sports suspension, a powerful engine and speed that is not to be underestimated, it belongs on this list nonetheless.