Long gone are the days when the 2-door coupe had a monopoly on the best performance an automaker had on tap. In modern times, the 4-door saloon has become an increasingly popular platform for companies to showcase their greatest technologies, in a more utilitarian and family-friendly package to boot.
As a matter of fact, today's market has demanded more versatility from products as consumers look to maximize the overall value of each and every purchase they make—automobiles are no exception.
This shift in philosophy has led to the creation of some incredible performance saloons over the years, and this now-very-competitive space has also fostered plenty of innovation as automakers dedicate significant resources towards the research, production and marketing of their sporty 4-door models.
Let's also be clear that 'sporty' in this context doesn't translate to some sort of watered-down or muted rendition of a company's best offerings; rather, these cars are all contemporaries of their respective product line's flagship models, if not already in that camp themselves.
Here are the Best New 4-Door Sporty Saloons you can purchase today, between $50K–$100K USD.
BMW M3 Competition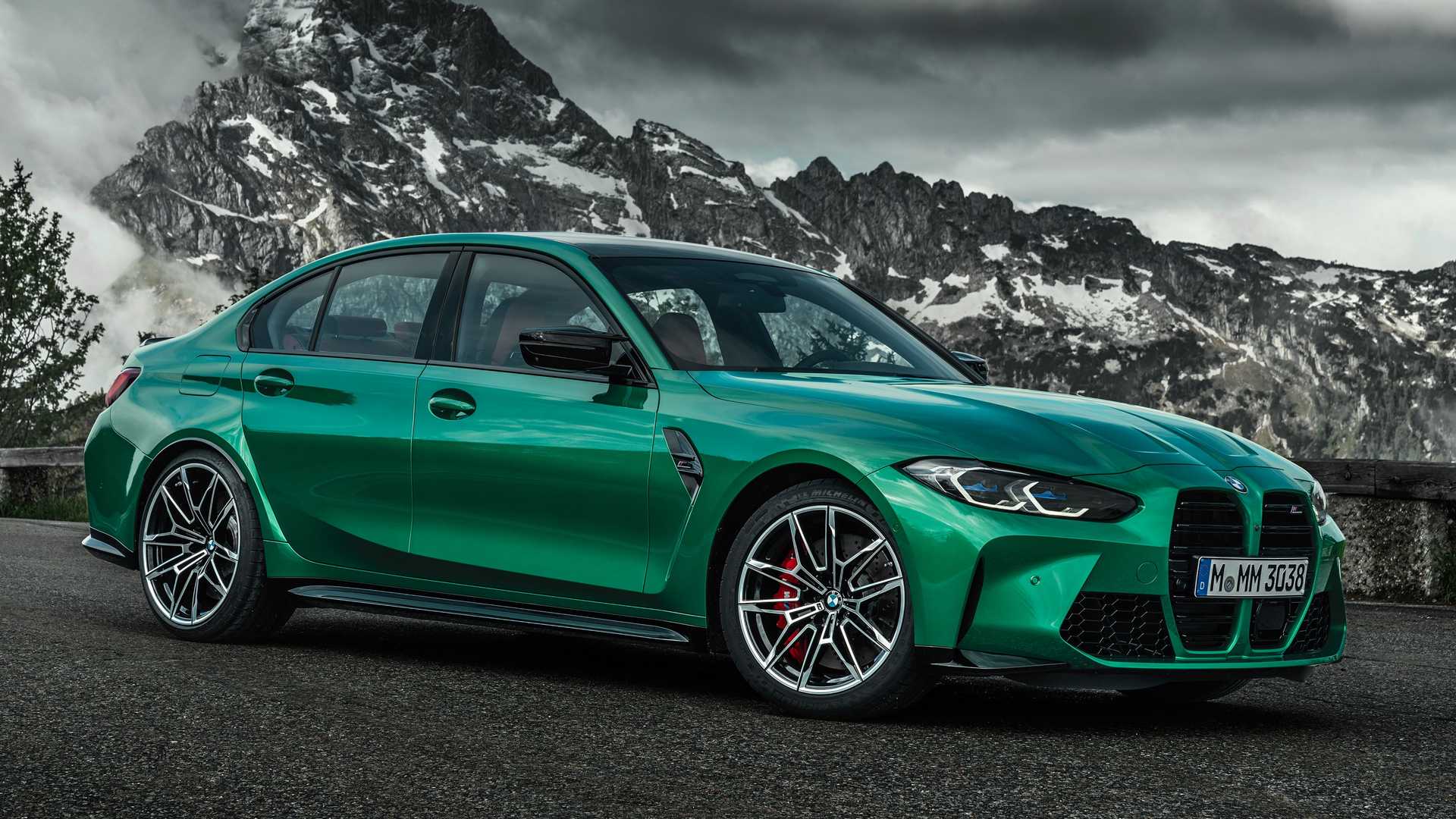 Price: $69,900 USD
BMW has refreshed the M3 sedan and M4 coupe for 2021, and the 6th-gen siblings remain as driver-focused as ever. By not caving in to conventional wisdom—and in doing so, honoring the wishes of its enthusiast fanbase—BMW is offering the base versions of the cars with a 6-speed manual transmission as standard.
By all important metrics, the M3/M4 are superior cars to their predecessors in every regard; a bump in power, a better chassis, fresh styling, and more luxuries all coming together in a very formidable looking and high-performing package.
The Competition version of the incoming generation is going to be my pick of the lot. Besides the notable increase in power and torque (503 hp and 479 lb-ft in total) over the regular M3/M4, the Competition models will exclusively have the option of adding xDrive all-wheel drive. BMW has promised that the rear-biased system will offer all of the traction benefits, without any drawbacks on the thrill-o-meter.
Inevitably, the potent power plant was decidedly a better match for the 8-speed M Steptronic transmission. While this may not be the purists' first choice, the Competition models are better equipped for those who find lap times to be the more pressing matter at hand.
Tesla Model 3 Performance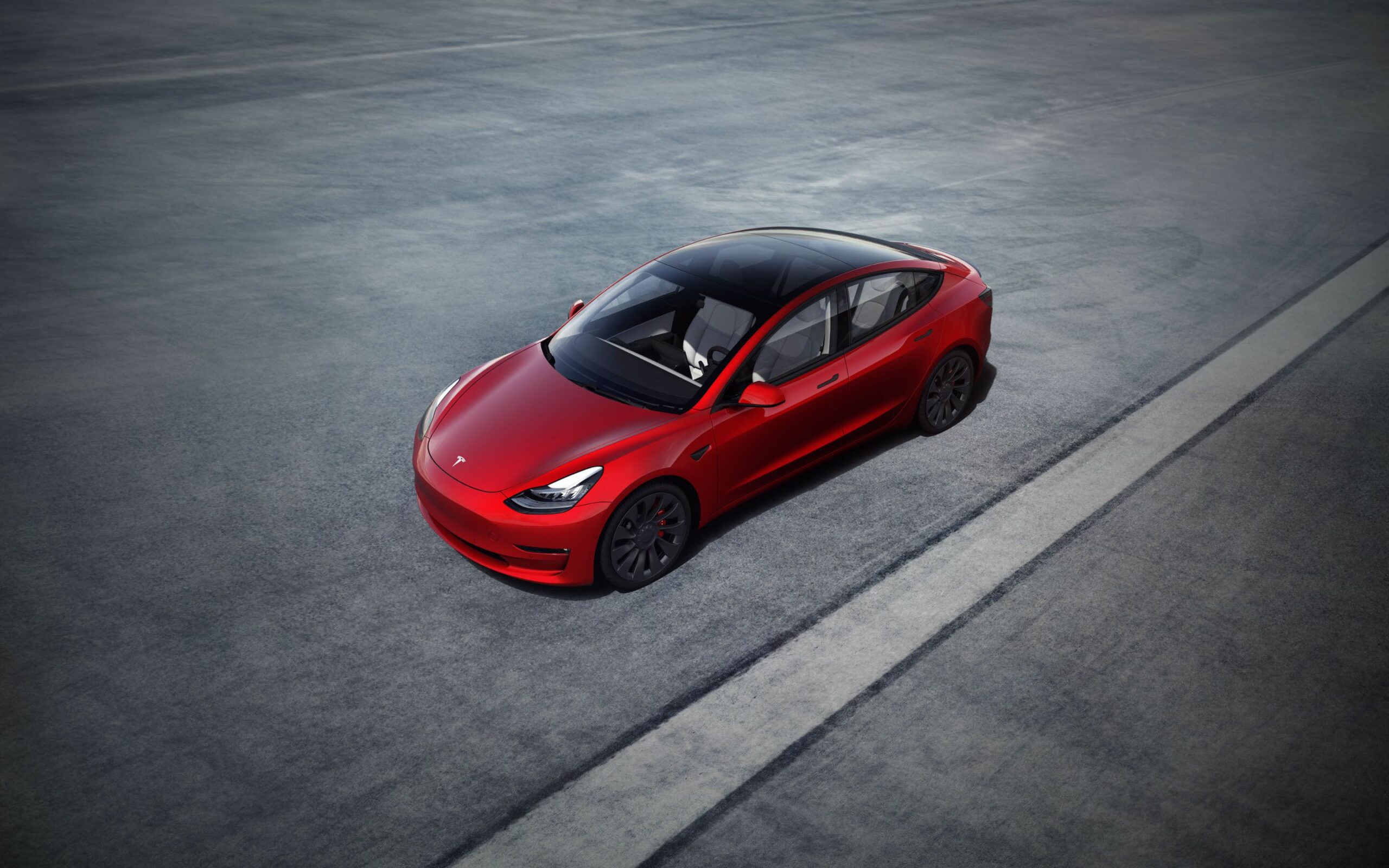 Price: $58,990 USD
The Tesla Model 3 itself is a pretty revolutionary car, offering a currently unrivaled combination of performance, utility, range, and price. While the sub-$50k range restricts us to the Rear-Wheel Drive model (which uses a single electric motor), upgrading to the Long Range ($50,990) and Performance ($58,990) models would only take you just over the $50K mark, so they are certainly worth mentioning as well.
Aside from their dual-motor electric drivetrains offering better performance, these cars offer better range as well. The Long Range and Performance models offer well over 300 miles of range, while the Rear-wheel Drive is good for around 272 miles.
The Performance model would obviously be our pick of the lot, with its 450 hp and all-wheel drive allowing the car to accelerate from 0-60 mph in an impressive 3.1 seconds. It also benefits from a more sporty suspension, better better brakes, stickier tires, and a selectable Track Mode.
Kia Stinger GT2
Price: $50,390 USD
While the Kia Stinger hasn't uprooted the market like some thought it would, it is still one of the most attractive buys in the luxury small car class. It looks impressive, performs well, and is priced about the same as most non-luxury brands' comparable offerings.
It has been widely praised by the automotive press and generally receives high marks in all categories. That is what you would expect from luxury cars that command luxury prices, but you can get into a Kia Stinger for as low as $33,090.
That'll get you the peppy 255 hp 2.0L turbocharged inline-4 GT-Line model, but stepping up to the GT, GT1 and GT2 trims will unlock the 3.3L twin-turbocharged V6 engine, which produces 365 hp. This transforms the Stinger from sporty 4-door to athletic sports sedan, with the performance-oriented models also benefiting from a more robust suspension and bigger brakes.
The range-topping GT2 would be our pick of the lot, and it also happens to be the only trim that crests into the $50K range before options.
Porsche Taycan (Base Models)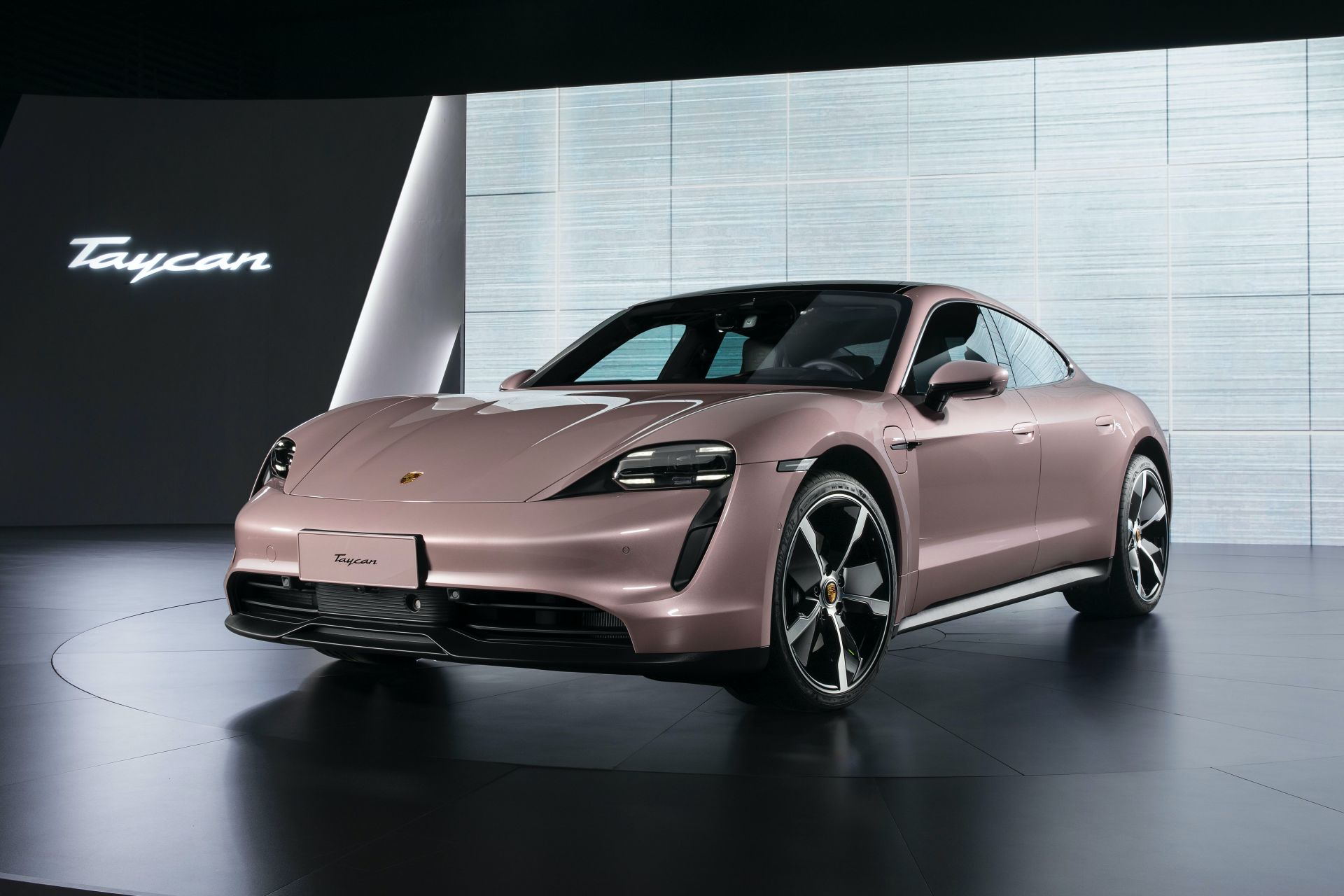 Price: $79,900 USD (Sedan), $90,900 USD (Cross Turismo)
Porsche's first EV was the statement car of 2020, proving that a future with electrification can still embody the soul of a true sports car in the Taycan Turbo and Taycan Turbo S.
Shortly after their release, Porsche added a slightly detuned version of the Taycan in a trim level known as the Taycan 4S. The company has since expanded the Taycan sports sedan lineup with even more versions, including a rear-wheel drive base model, with a GTS version just recently unveiled.
With the introduction of the new Cross Turismo range of Porsche Taycan models in 2021, we've now entered the second act of the company's electrification strategy. The Porsche Taycan Cross Turismo carries over the EV-platform and performance from its sedan counterpart, then amalgamates them with the utilitarianism of a sporty crossover/estate.
What this means is that you can expect the same 800-volt battery architecture powering the car, with 93.4 kWh as the standard fare on all models (certain sedan trims could be had with a smaller 79.2 kWh pack).
Our focus for this list is on the base Taycan models. Our first choice is the RWD Sedan, which features the aforementioned smaller 79.2 kWh battery and is the only rear-wheel drive Taycan model in the range.
The second would be the sub-$100K Taycan 4 Cross Turismo, which costs more than the base Sedan, but does come standard with the 93.4 kWh battery and all-wheel drive (in addition to the crossover body-style).
Mercedes-AMG C 63 / C 63 S Sedan
Price: $68,600 USD (C 63), $76,200 USD (C 63 S)
The C 63-series cars are the first step into "true" AMG territory, being the lowest point of entry in order to get one of those highly-coveted handcrafted AMG engines. The C 63 is the beneficiary of a 4.0L biturbo V8 mated to paddle-shifted multiclutch 9-speed, outputting 469 hp and 479 lb-ft of torque.
Standard Adaptive AMG RIDE CONTROL and a limited-slip differential make it quick on its feet. An exquisitely detailed cabin completes that "total package" feeling, which the C 63 provides in spades.
The Mercedes-AMG C 63 S is the top model in this range, equipped with the same handcrafted biturbo V8 as the C 63, but now unleashing 503 hp and 516 lb-ft of torque in this guise. Aggressive style envelops advanced new technologies, and from the cabin, drivers are immersed in innovation and superb build quality.
Both the C 63 and C 63 S are available in coupe, sedan and convertible configurations, meaning that buyers don't need to fuss over how much (or how little) they can fit in their new AMG car.
Alfa Romeo Giulia Quadrifoglio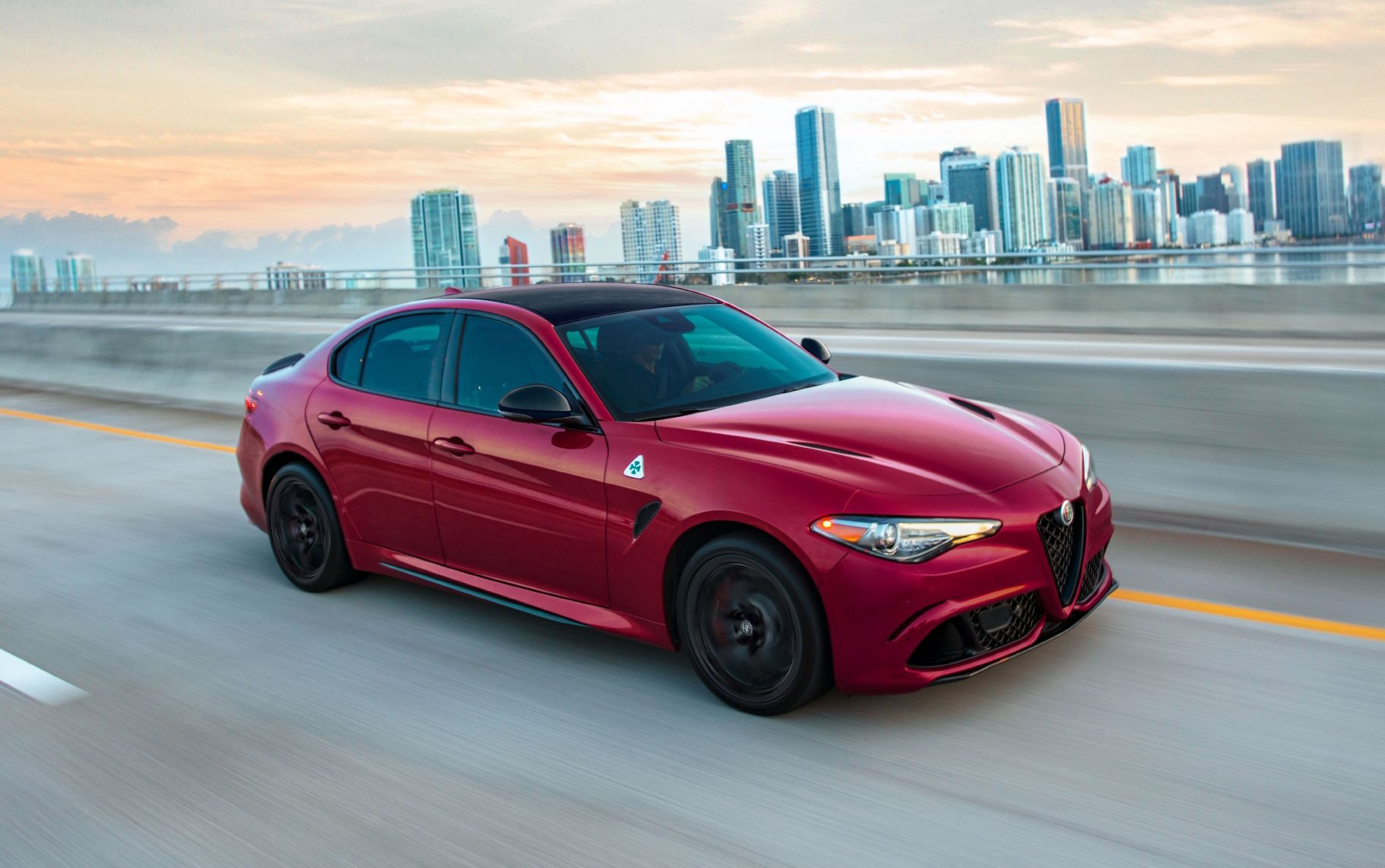 Price: $75,250 USD
The Alfa Romeo Giulia Quadrifoglio's legitimate performance cred starts with its engine, which is upgraded to a 2.9L twin-turbocharged V6 with over 500 hp.
It has the handling to match, with substantive upgrades, which allow the Quadrifoglio to negotiate turns on the racetrack or back country roads with aplomb. In fact, everything is turned up a few notches in the sportiness department, with aggressive styling and a fantastic sounding exhaust to boot.
There were several changes in 2020 that also carry over into 2021, including a new driver-focused cockpit and impressive technology including available Level 2 autonomy features and an 8.8 inch touchscreen.
BMW i4 M50 xDrive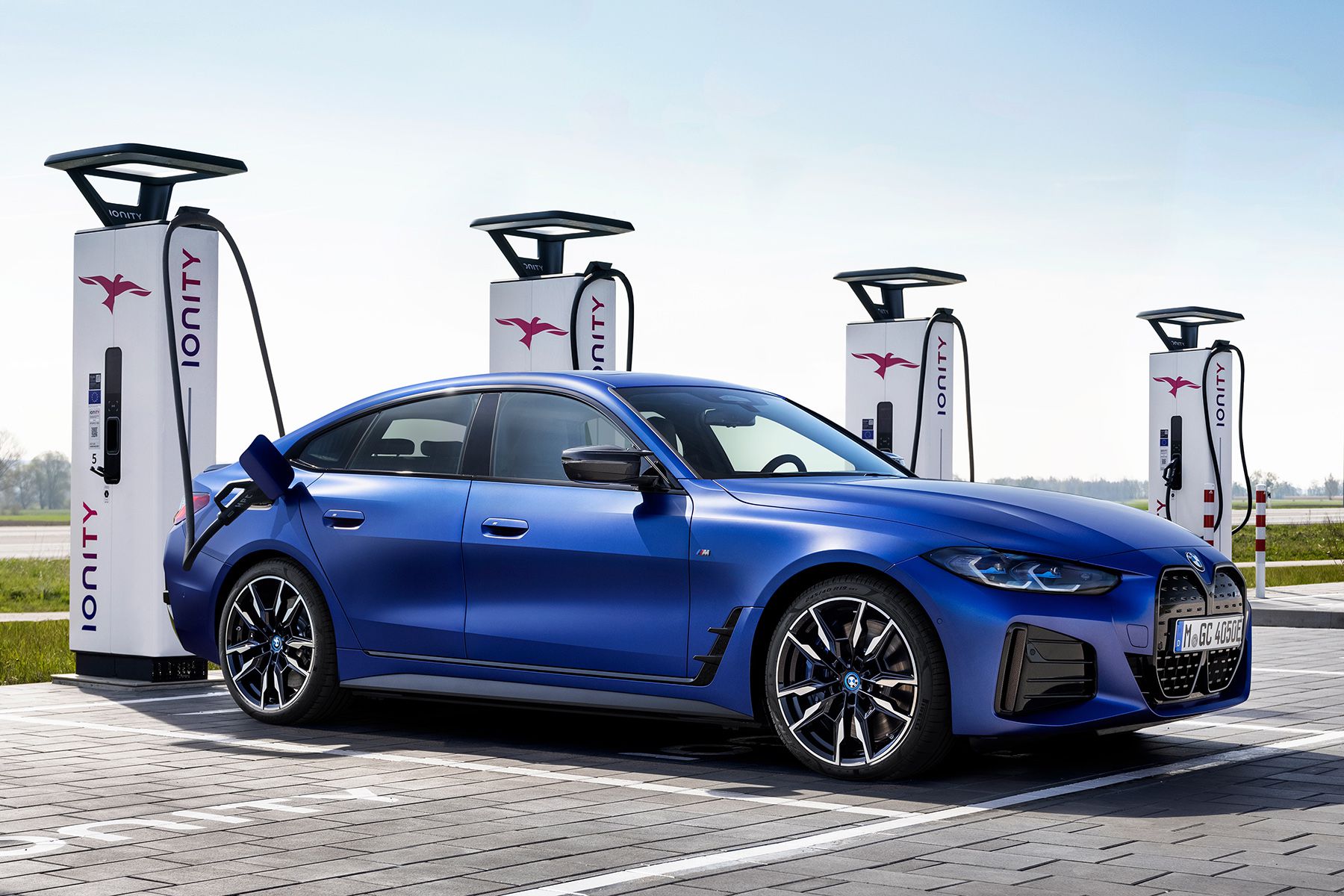 Price: $66,895 USD
The BMW i4 M50 xDrive is one of a number of fully electric BMW vehicles set to debut in the short term. The M50 has the distinction of being the very first (and only, for now) BMW EV to part of the M family. With that said, you can be confident that this car will have all of the performance credentials required for it to be a contemporary within this distinguished group of automobiles.
The easiest comparison that can be made with the sporty sedan is that it offers M3-like performance with an all-electric drivetrain. An 84 kWh battery pack and two electric motors (through which 536 hp and 586 lb-ft of torque can be produced) certainly backs up those claims, while putting it in direct competition (power-wise) with the Porsche Taycan 4S and Audi e-tron GT.
BMW has also claimed range figures of around 250 miles, compared to 300 miles that the more tame and economical i4 eDrive40 (the platform on which the M50 is based) is capable of.
The BMW i4 M50 xDrive is not on public roads yet, but you can certainly order one today. The base price of the M50 is around $4,000 less than the entry-level M3–something to ponder, while we wait for deliveries to begin early in 2022.