15 Best New Luxury & Performance SUVs
The sport utility vehicle segment has become an ever-present figure in the automotive market, catering to a vast assortment of needs for the modern family – and in many respects, for society as a whole. As both SUVs and their customers have evolved, a palette for high performance variants has also developed, prompting luxury brands to step up to the plate.
Dominance in this market has never been more lucrative to a manufacturer's bottom line, and even the most niche and exotic of automakers look to stake claim to a piece of territory.
Lately, it would be no exaggeration to say that SUV sales have become the bread and butter of many of these companies. This is hugely important for bankrolling the fun stuff – developing the sports cars that they're best known for – so this is a big positive for hardcore brand loyalists.
While the hottest 2-door Nürburgring dominators will suitably continue to serve as the respective flagship cars, we can still expect supercar technology to trickle down to the SUVs, expanding the target market to more than just soccer moms or SUV enthusiasts in the process.
More SUV lists: Fastest New SUVs
Our Favorite New Luxury & Performance SUVs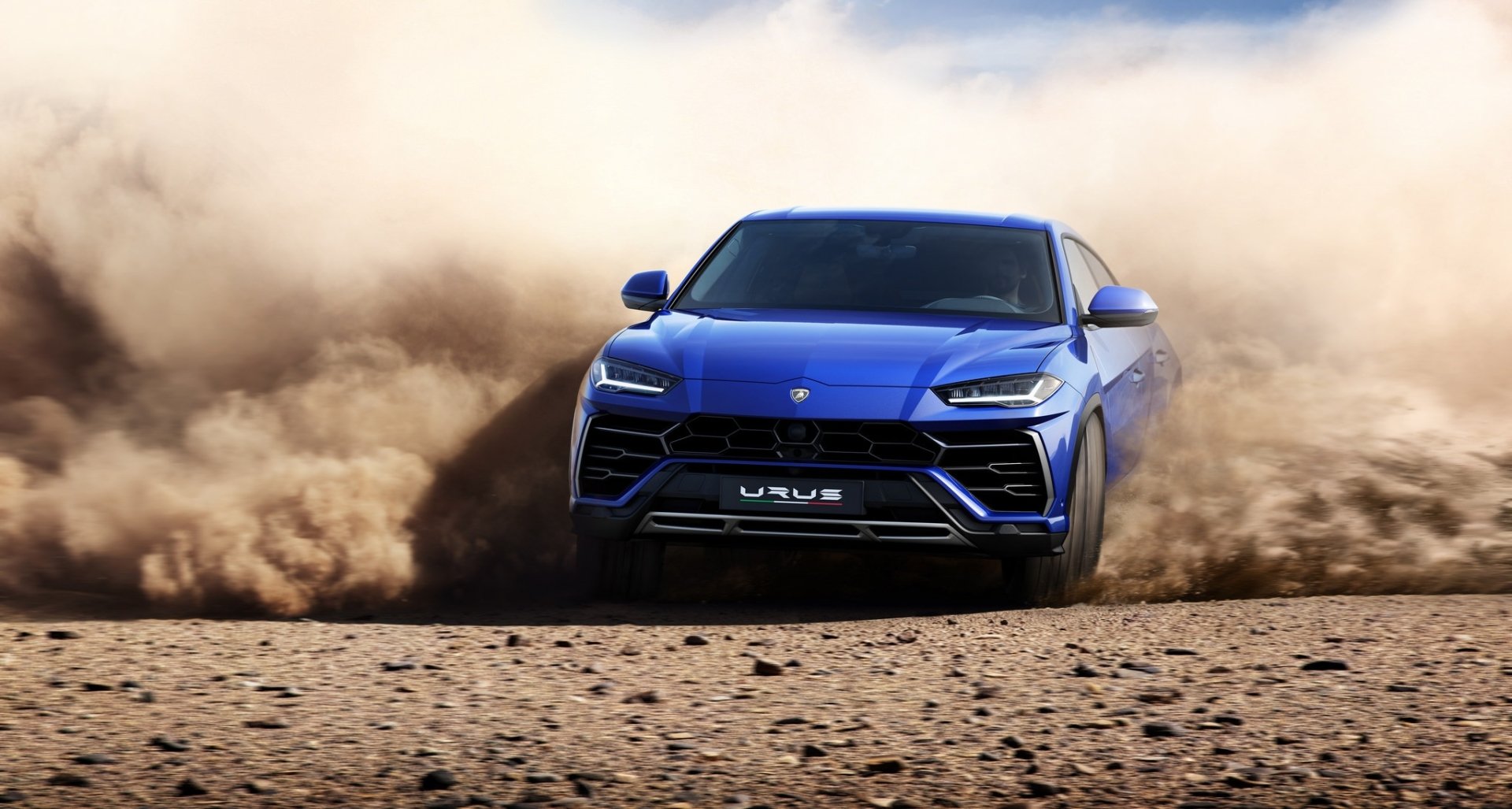 1. Lamborghini Urus
Base price: $207,326 / Engine: 4.0L twin-turbocharged V6 / Power: 641 hp @ 6,000 rpm / Torque: 627 lb-ft @ 2,250 rpm / 0-60 mph: 3.6 s
In keeping with industry nomenclature, supercar maker Lamborghini has boldly proclaimed its Urus as the world's first "Super Sport Utility Vehicle", or "superSUV." It is the Lamborghini model in the current Lamborghini range I would take with my own money.
Described as "luxury, sportiness and performance meeting comfort and versatility",  we can tell you that the Urus definitely lives up to that billing and is exactly what you would expect from an SUV made by Lamborghini.
Its driving dynamics and performance radiate the raging bull's DNA, and fully earns the title it has declared for itself. The wild styling and available paint schemes are decidedly fitting to the brand's image and personality. The Urus holds no punches in being a true testament to Lamborghini's taste for the extravagant and audacious.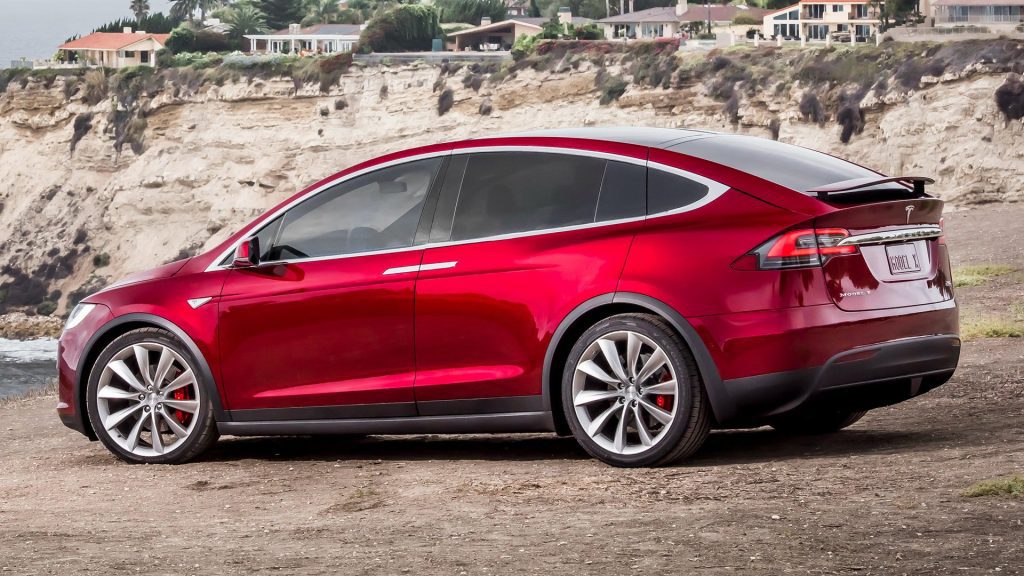 2. Tesla Model X Performance "Ludicrous Mode"
Base price: $104,990 / Engine: 100 kWh 350 V Lithium-ion Electric Motor / Power: 778 hp / Torque: 841 lb-ft / 0-60 mph: 2.7 s
By harnessing the scientific principles of the electric motor, the Tesla Model X is the fastest production SUVs ever made. It comes standard with all-wheel drive, loads of storage and seating for up to seven adults, checking all the important boxes of the typical SUV customer.
Not so typical is the 778 hp and 841 lb-ft of torque it makes, thanks to a 100kWh battery which powers all four wheels. Speed junkies will be able to cross-off a few things from their bucket list with the Model X capable of 0-60 mph in just 2.7 s. This not only easily makes this the fastest SUV, but also one of the fastest production vehicles on the road, period.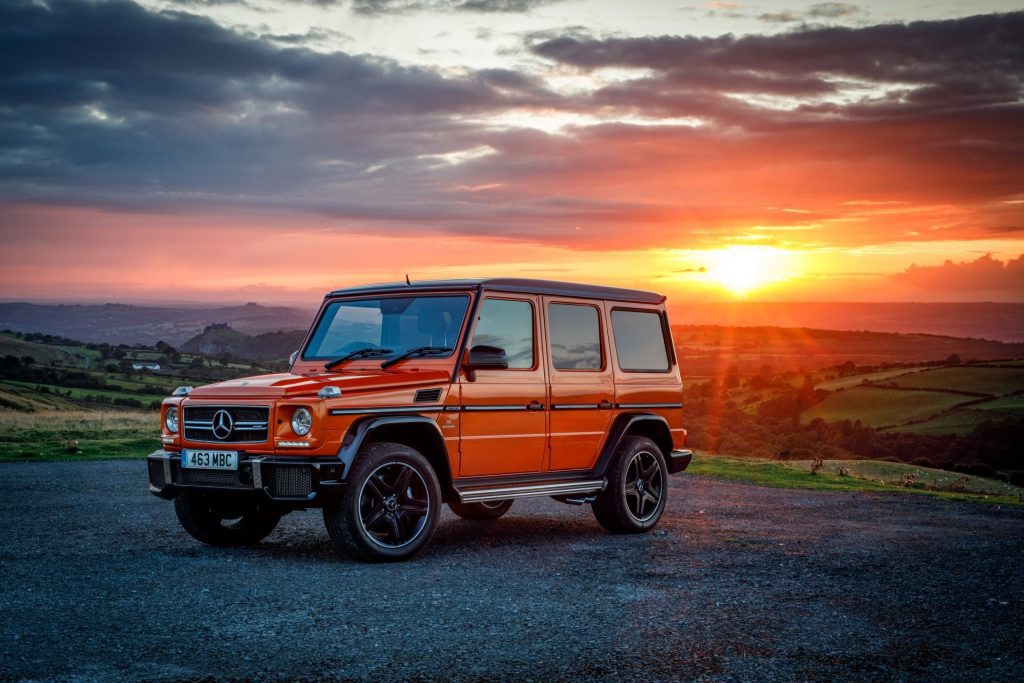 3. Mercedes-AMG G 63
Base price: $148,495 / Engine: 4.0L twin-turbocharged V6 / Power: 577 hp @ 6,000 rpm / Torque: 627 lb-ft @ 2,500 rpm / 0-60 mph: 3.9 s
There's just no avoiding the Mercedes-AMG G 63, when there's a conversation about iconic SUVs and which one you would buy if money was no object. The G 63 would probably be the pick of the lot in that context; it's popularity and familiarity as the ultimate luxury off-roader is often proliferated in today's pop culture and social media platforms.
Thanks to its insane acceleration, industry leading off-road capabilities and timeless styling cues, the Mercedes-Benz G63 has become the ultimate expression of wealth and utilitarianism in one package, making it the fan-favorite in this segment.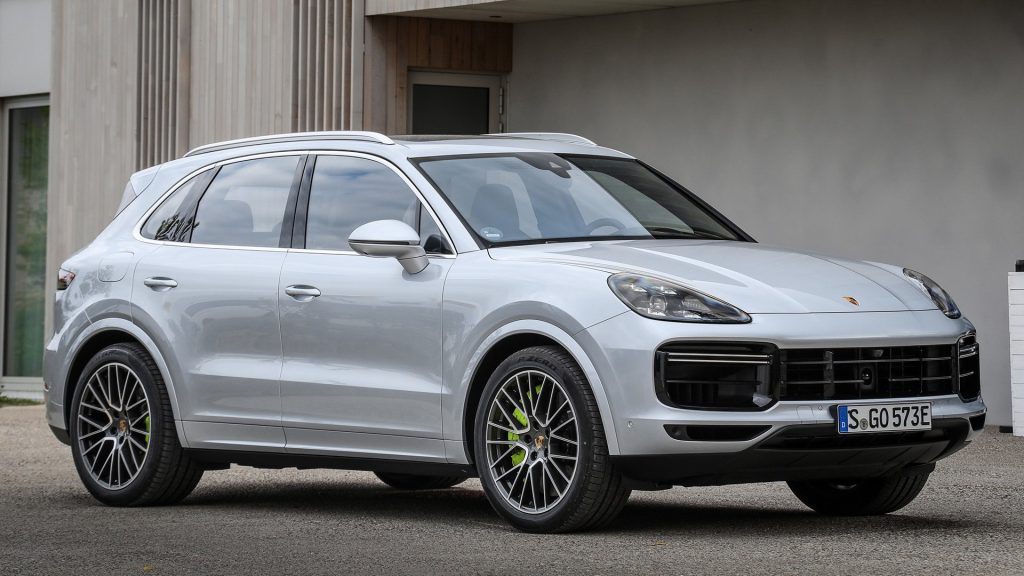 4. Porsche Cayenne Turbo S E-Hybrid
Base price: $185,600 / Engine: 4.8L twin turbocharged V8 w/ electric motor / Power: Power: 670 hp @ 5,750 rpm / Torque: Torque: 663 lb-ft @ 2,100 rpm / 0-60 mph: 3.6 s
At supercars.net, we're pretty firm believers that sports cars are always going to be more enticing than SUVs, but the Porsche Cayenne Turbo S E-Hybrid that Porsche recently released looks to challenge that assertion.
The SUV is a super-powerful hybrid that can sprint to 60 mph in just 3.6 seconds and is limited to a top speed of 183 mph. Those are sports car figures in a vehicle that comfortably seats five and in keeping with its Porsche roots, the Cayenne is well-equipped to handle the twisty roads better than most.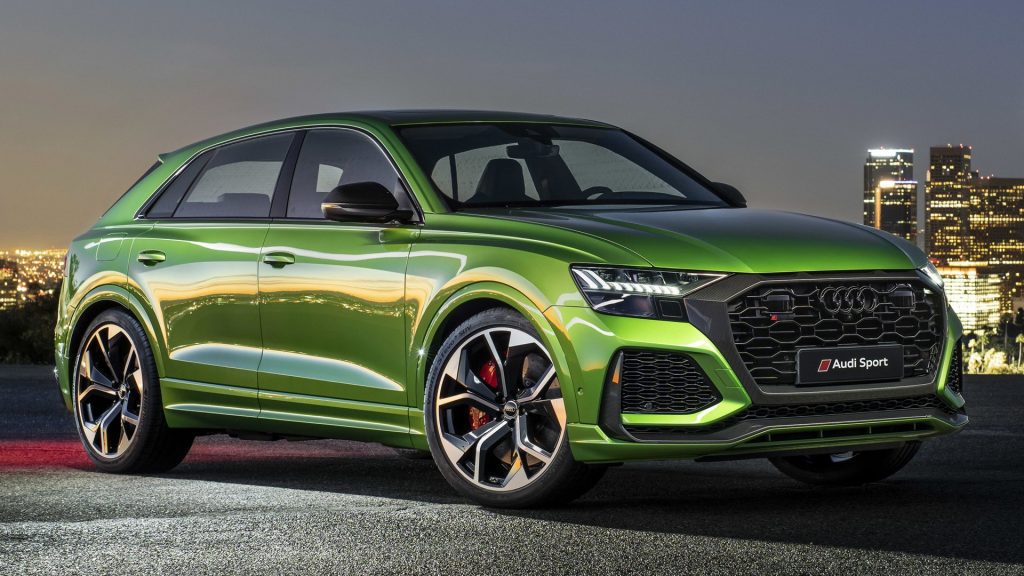 5. Audi RS Q8
Base price: $113,000 / Engine: 4.0L twin-turbocharged V8 / Power: 591 hp @ 6,000 rpm / Torque: 590 lb-ft  @ 2,000 rpm / 0-60 mph: 3.6 s
The brand new Audi RS Q8 is no regular SUV. The fastest variant of the Q8 series gets a high-performance 4.0L twin-turbocharged V8 engine, with the perfect chassis to complement it.
So perfect in fact, that it has also managed to become the fastest dang SUV around the Nordschleife .The SUV took the Green Hell late last year and left victoriously, setting a mightily impressive lap time of 7:42.25. That is quick for any vehicle by today's standards, and a whopping seven seconds faster than the previous record holder in the production SUV class.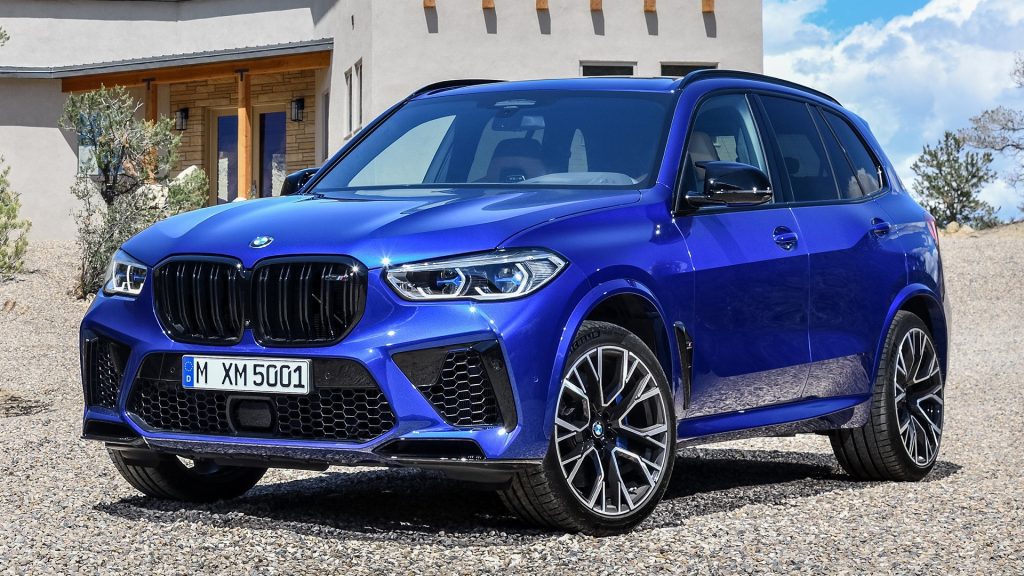 6. BMW X5 M & X6 M
Base price: $106,095 / Engine: 4.4L twin-turbocharged V8 / Power: 600 hp @ 6,000 rpm / Torque: 553 lb-ft  @ 1,800 rpm / 0-60 mph: 3.8 s
The BMW X5 M is a heavy SUV with a military grade twin-turbo V8 generating 600 hp, allowing it to propel from 0 to 60 mph in 3.8 s. Despite its dimensions and weight, the X5 M has superb handling characteristics, making it feel more akin to a sports sedan than a cumbersome SUV.
The X6 M is just like the X5 M with its own unique style, so we've bundled both cars in the same entry. While it is slightly less practical, the X6 M looks more sleek thanks to its "coupe" styling and is most importantly, just as fast and composed as its stablemate.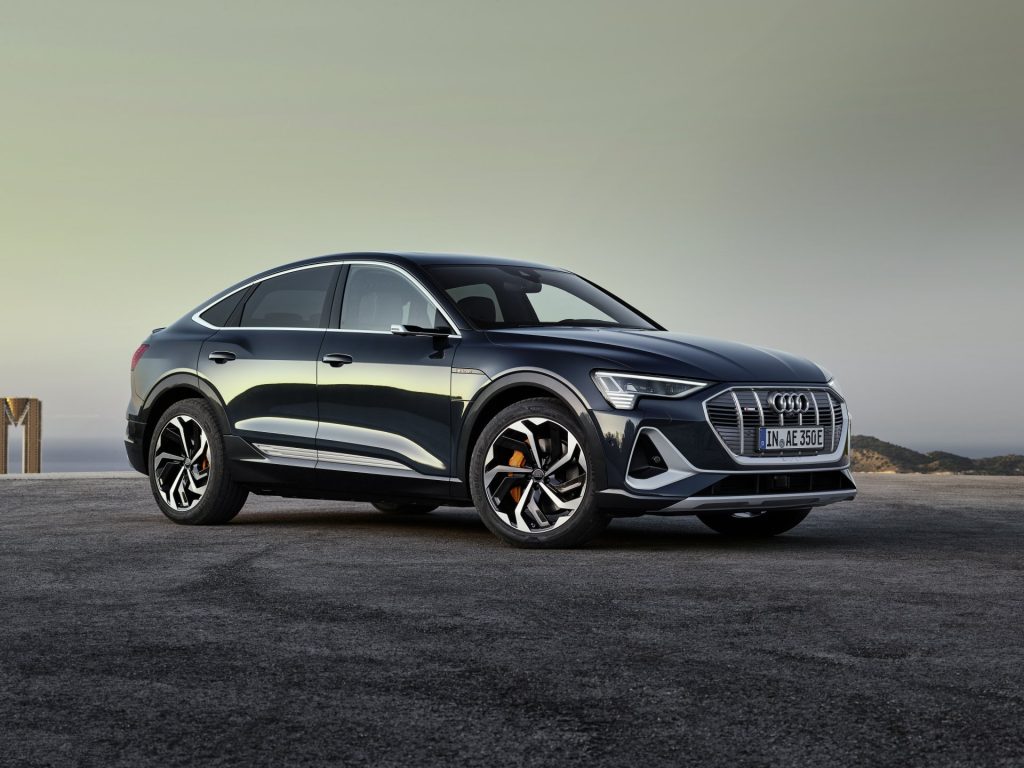 7. Audi e-tron / e-tron Sportback
Base price: $75,795 / Engine: Twin Asynchronous Electric Motors / Power: 402 hp / Torque: 490 lb-ft / 0-60 mph: 5.5 s
While the majority of SUVs on this list are of the more exotic performance / uber-luxury persuasion, the Audi e-tron is the German manufacturer's more pragmatic approach to both the high-end SUV and EV markets.
Coming standard all-wheel drive and a 4000-pound towing capacity, the two-row crossover SUV has the bulk of features which most SUV shoppers find desirable. Combined with its utility, the fully electric drivetrain and relatively low price of entry, makes the e-tron that much more attractive of a buy.
For 2020 Audi has updated the battery, which will improve on the previously standard 200-mile-ish driving range. The Sportback version – with its fastback roofline – will also be available in North America this year.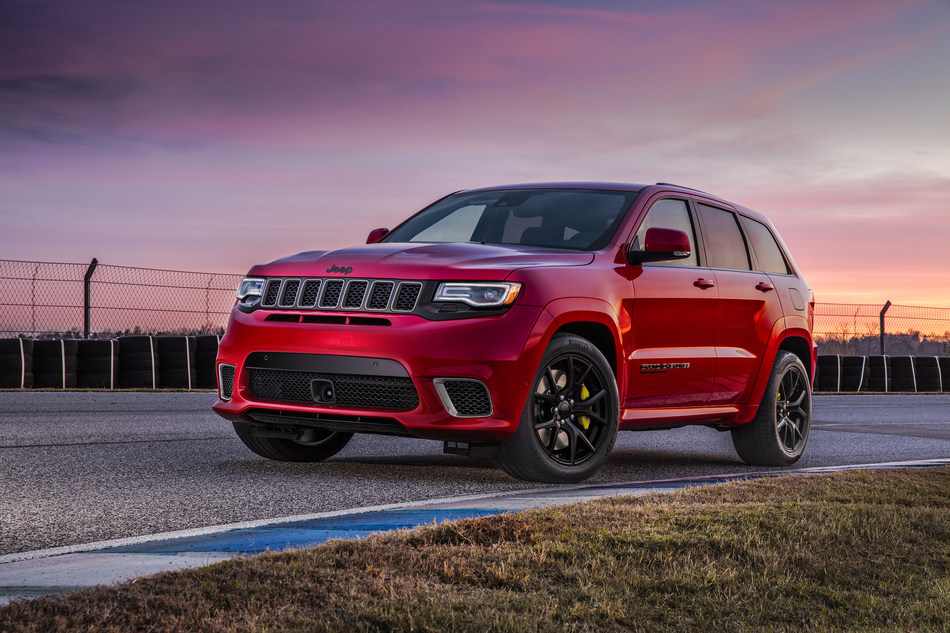 8. Jeep Grand Cherokee Trackhawk
Base price: $88,895 / Engine: 4.4L twin-turbocharged V8 / Power: 707 hp @ 6,000 rpm / Torque: 645 lb-ft  @ 4,800 rpm / 0-60 mph: 3.5 s
This "Jeep" has a supercharged 707 hp engine which provides 645 lb-ft of torque to boot – what is there not to love? It features the same V8 unit used in the Dodge Hellcat Challengers and Chargers, and does well in transforming the Grand Cherokee from a docile grocery getter to an absolute monster.
While you might be just as happy opting for the Cherokee SRT, we say go all the way and order the Trailhawk. It is a good looking, rugged SUV, has comfortable seats and a nice enough cabin. With a 0-60 mph time of 3.5 seconds, the Trailhawk is America's emphatic answer to the European dominated, high-performance SUV segment.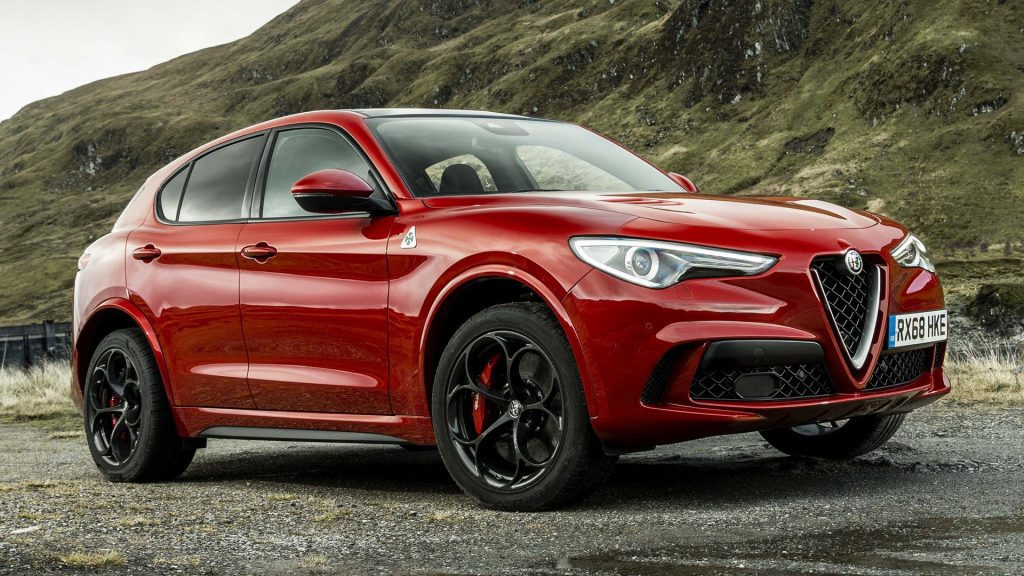 9. Alfa Romeo Stelvio Quadrifoglio
Base price: $82,040 / Engine: 2.9L turbocharged V6 / Power: 505 hp @ 6,500 rpm / Torque: 443 lb-ft  @ 2,500 rpm / 0-60 mph: 4.0 s
The Stelvio is an SUV built for people who care about the driving experience, and for that we are grateful for. In a world that is making the transition to producing more practical and/or electrically powered automobiles, this raw, extreme and somewhat oxymoron of a vehicle, is a welcome notion for sports car lovers. It is the most exciting car in Alfa Romeo makes.
For those who know exactly what they want out of an SUV, the Quadrifoglio can turn out to be a real bargain with its relatively low starting price compared to others on this list.  Although practicality is not one of the car's strong suits amongst competitors, it is certainly one of the more endearing of the lot, thanks to its focus on driving character rather than cargo room. Alfa Romeo models have never looked or performed so well.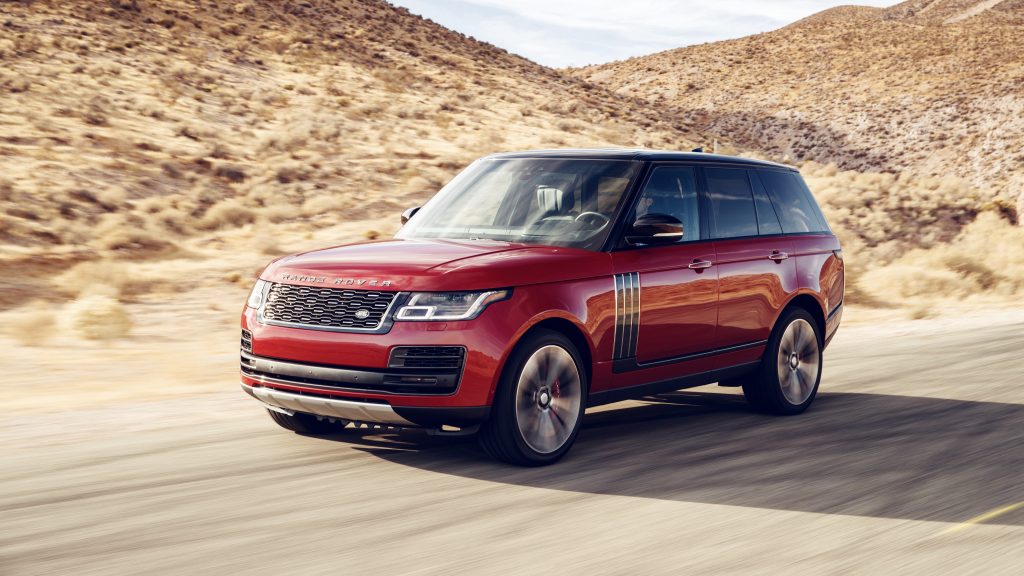 10. Land Rover Range Rover SV Autobiography
Base price: $179,795 / Engine: 5.0L supercharged V8 / Power: 557 hp @ 6,000 rpm / Torque: 516 lb-ft  @ 3,500 rpm / 0-60 mph: 5.2 s
It isn't just that the Range Rover SV Autobiography has a supercharged 557 hp engine and sports car characteristics; it's that it does it all with a sense of effortlessness and composure, owed in part to its 516 lb-ft of torque, standard all-wheel drive, and eight-speed automatic transmission.
This is a vehicle that weighs almost three tons, yet can reach a top speed of 140 mph. Despite 22" wheels and low-profile tires, the ride is smooth and comfortable. Vintage Land Rover character, modern day tech, and a big grin from ear to ear is what the SVAutobiography will provide you at the end of the day.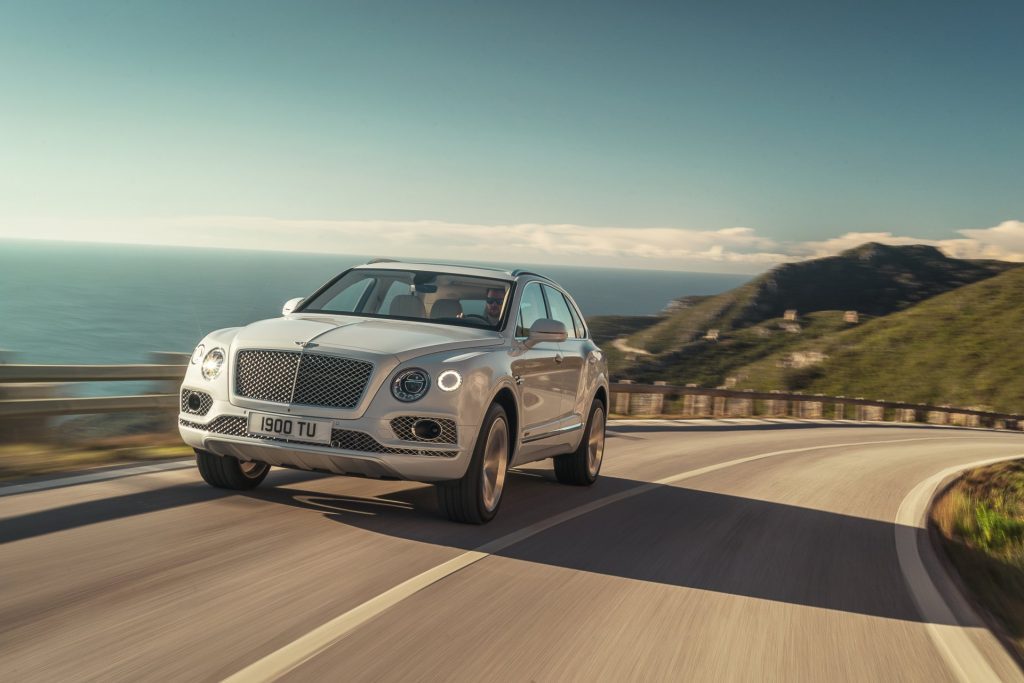 11. Bentley Bentayga Speed W12
Base price: $300,000 / Engine: 6.0L twin-turbocharged W12 / Power: 626 hp @ 5,000 rpm / Torque: 664 lb-ft @ 1,350 rpm / 0-60 mph: 3.8 s
Like so many other premium and exotic automakers, Bentley has brought their A-game to the SUV segment, looking to establish its dominance in this competitive and highly lucrative market. The Bentayga is a midsize crossover SUV which has become the marque's best seller since it was made available in the 2016 model year.
There are two petrol-engine options; a more-than-capable 4.0L twin-turbocharged V8 and a 6.0L twin-turbocharged W12.The Speed W12 tops the model range, equipped with the latter 626 hp motor. Diesel and Hybrid engines are also available, making for a diverse Bentayga roster equipped to suit just about any palette.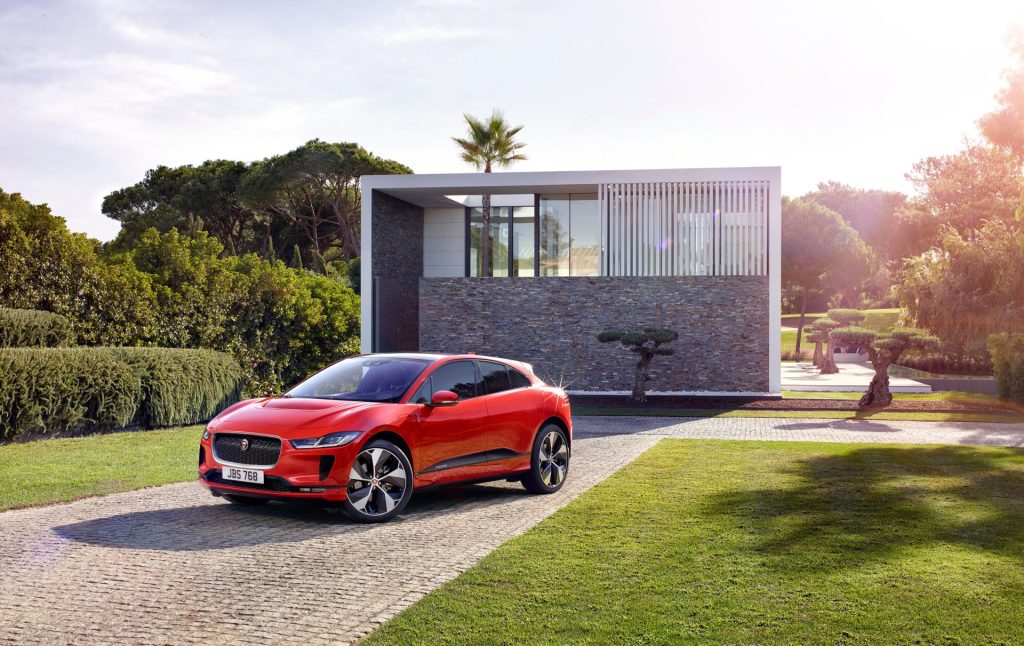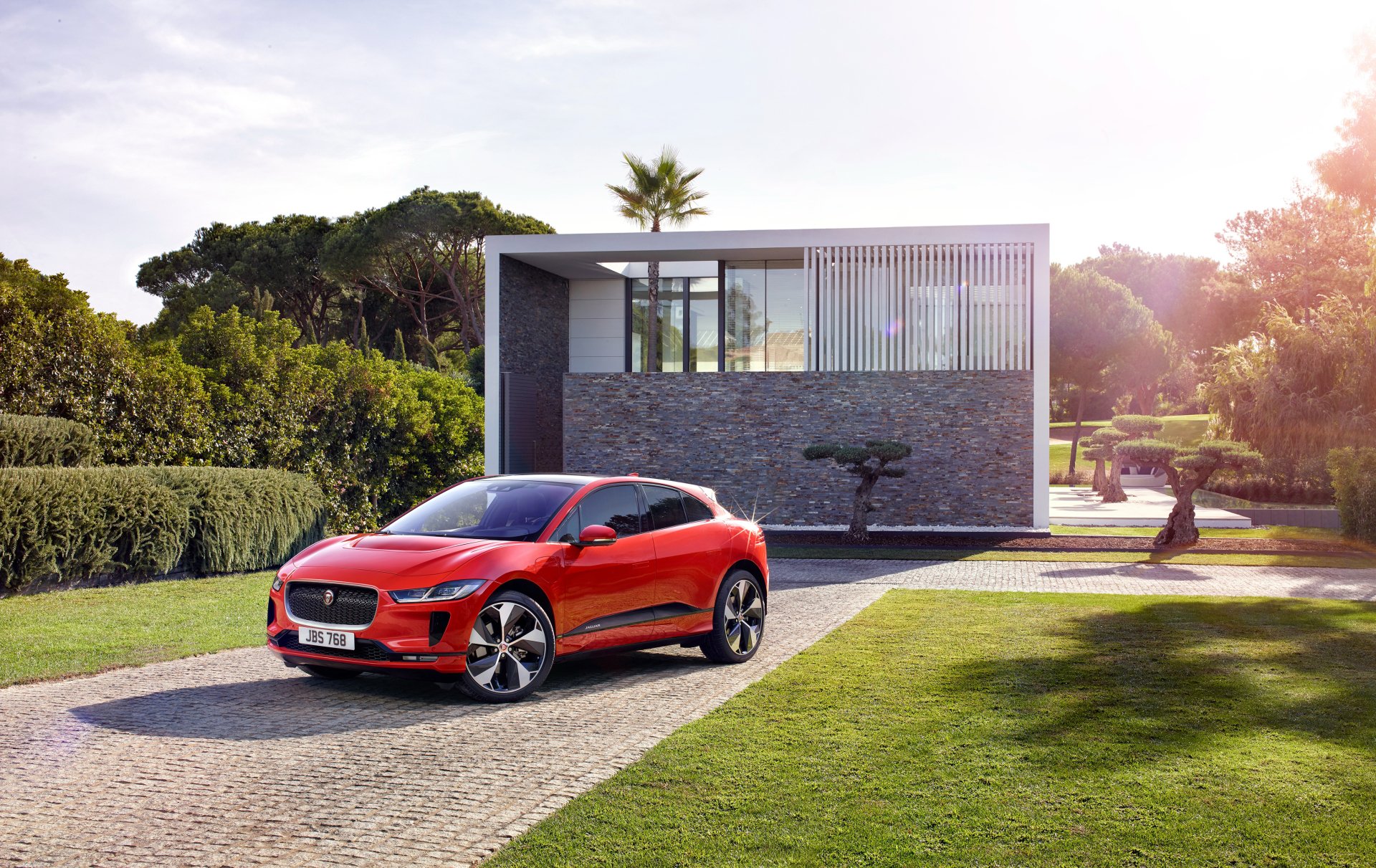 12. Jaguar I-Pace
Base price: $69,500 / Engine: Two permanent magnet synchronous electric motors / Battery: 90 kWh battery w/ 50 kW DC rapid charger / Power: 394 hp / Torque: 512 lb-ft / 0-60 mph: 4.5 s
Though the I-Pace has yet to disrupt the market in reality, it is very impressive EV on paper. Touted as the first true alternative to the Tesla Model X, Jaguar looks to unseat its competition showcasing a unique combination of technical prowess and driving engagement.
Remarkably nimble and planted in corners, the I-Pace is fun to drive while still offering the very best in EV range, performance and charging speed – all at a price point that can't be overlooked. New for 2020, the I-Pace has received improvements to its battery pack and regenerative braking system, which now provide up to 8 percent longer driving range.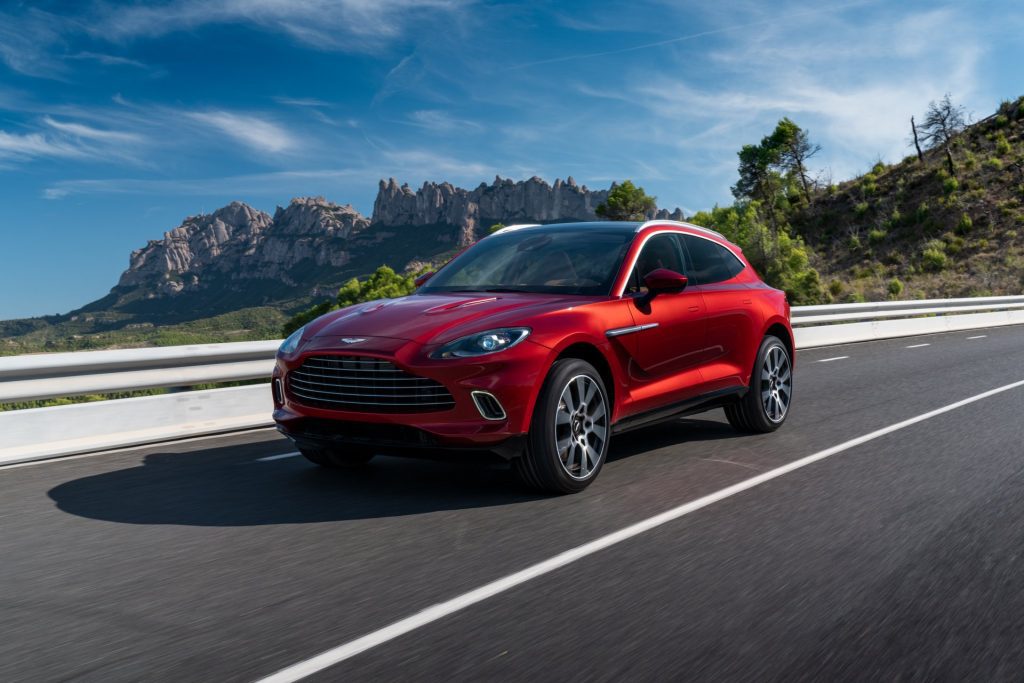 13. Aston Martin DBX
Base price: $192,986 / Engine: 4.0L twin-turbocharged V8 / Power: 542 hp @ 6,500 rpm / Torque: 516 lb-ft @ 2,200 rpm / 0-60 mph: 4.3 s
Built on Aston Martin's brand-new architecture, the Aston Martin DBX is designed to carry occupants in true Aston Martin style. Brimming with the latest technology to keep you safe, the DBX is comfortable, sumptuously luxurious, and will thrill you from the moment you sit behind the wheel.
Thanks to lightweight aluminum construction, and its world-leading Aston Martin powertrain and suspension developed by the finest engineers of their kind, the DBX drives like no other SUV. It drives like an Aston Martin sports car. If James Bond had a family, this would definitely be their get-around vehicle.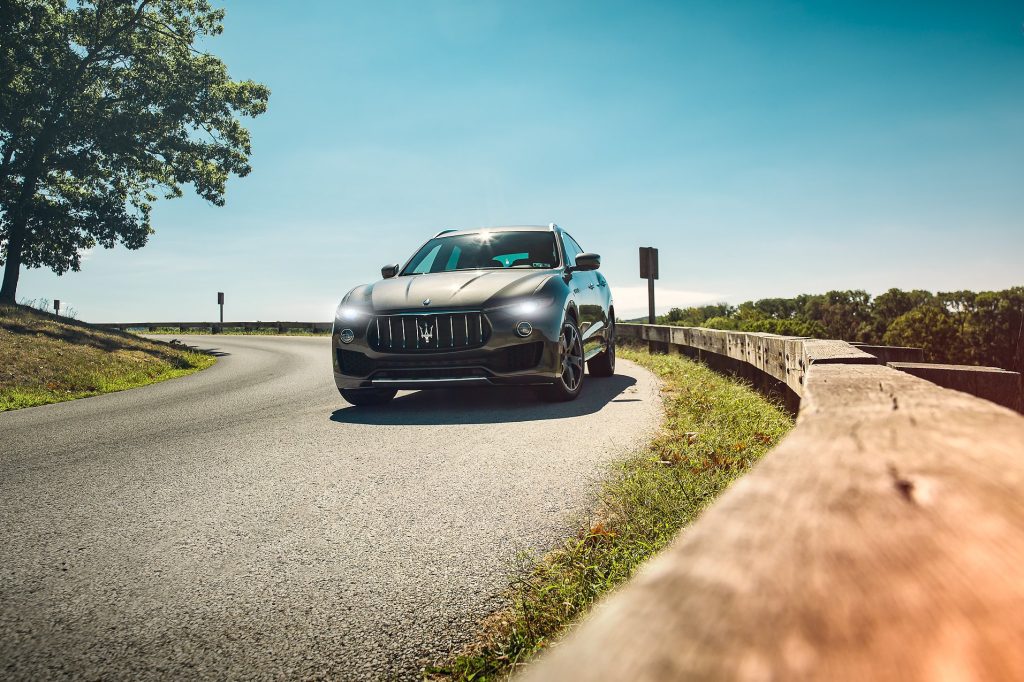 14. Maserati Levante
Base price: $74,485 / Engine: 3.0L twin-turbocharged V6 / Power: 345 hp @ 5,750 rpm / Torque: 369 lb-ft  @ 4,500 rpm / 0-60 mph: 5.1 s
The Maserati Levante has quickly become the Maserati brand's bread and butter, propelling the brand to achieve record unit sales over the last few years. Powered by either a twin-turbocharged V6 or a significantly beefier twin-turbocharged V8, the Levante is yet another amalgamation of the exclusive relationship the marque has with fellow countryman, Ferrari.
With different trim and engine options, naturally comes a variety of different price points within the model range; though it is quite eye-catching to say the least, that the difference in price between the base model and the top-of-range Trofeo, is nearly $100,000.
Suffice to say, those looking to buy a Levante probably won't be cross-shopping between its different trim levels; however, this does allow for a broader customer demographic than what the brand is normally accustomed to.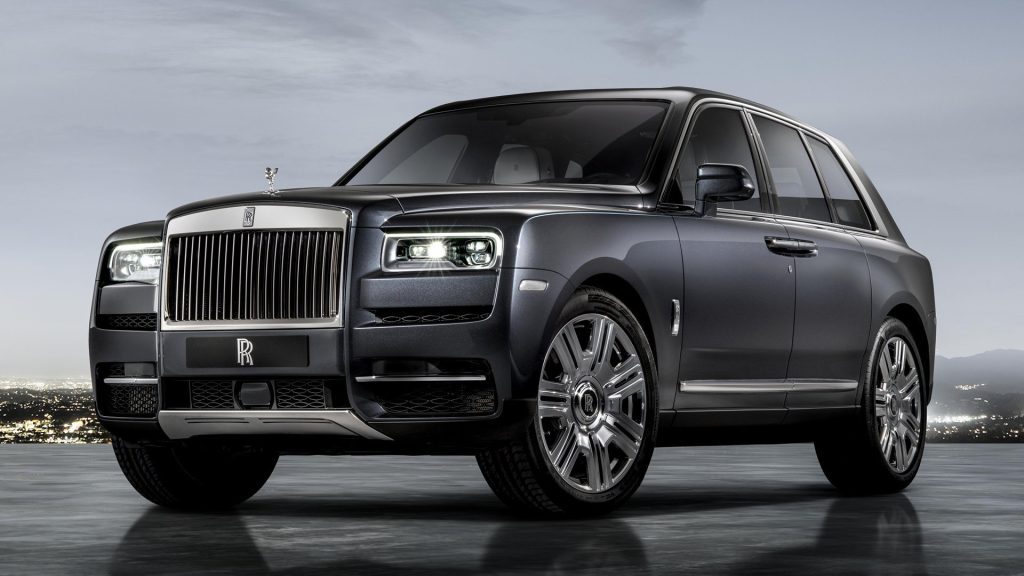 15. Rolls-Royce Cullinan
Base price: $327,750 / Engine: 6.8L twin-turbocharged V12 / Power: 563 hp @ 5,000 rpm / Torque: 663 lb-ft @ 1,700 rpm / 0-60 mph: 4.8 s
The newest addition to the Rolls-Royce lineup is the automaker's only SUV. While unapologetically different from anything else on offer, it still stands out as a quintessential Rolls-Royce thanks to its distinguishable (yet familiar) rectangular front grill.
Its DNA is not just limited to outward appearances though, as the opulent interior design elements and phenomenal V12 performance that we become familiar with from the brand, live on in the company's rendition of the all-terrain automobile.
As is tradition with Rolls-Royce, the Cullinan's price remains its biggest barrier to entry, as you're ultimately paying for the badge above all else; not only is the typical Rolls-Royce customer cool with that, but I'm sure it's also what gives them the most satisfaction (read: clout)  at the end of the day.