The sports car lineups in the international landscape expand with new proposals and updated models every year. Although some nameplates leave the market to make way for others, the options are still vast and comprehensive.
There's a lot to choose from if you're looking for a sports car. The problem is that the new models are increasingly beyond the reach of enthusiasts in most cases. The smaller the budget, the fewer the options and perhaps less impressive performance than sports cars with a higher price tag.
Despite this, you can still find a sports car that will fulfill the emotions you are looking for without breaking the bank if you know how to search.
Therefore, we're updating our list of the best new sports and performance cars on the market for 50k or less to give you a quick look at what you can get your hands on with this budget.
2022 Hyundai Veloster N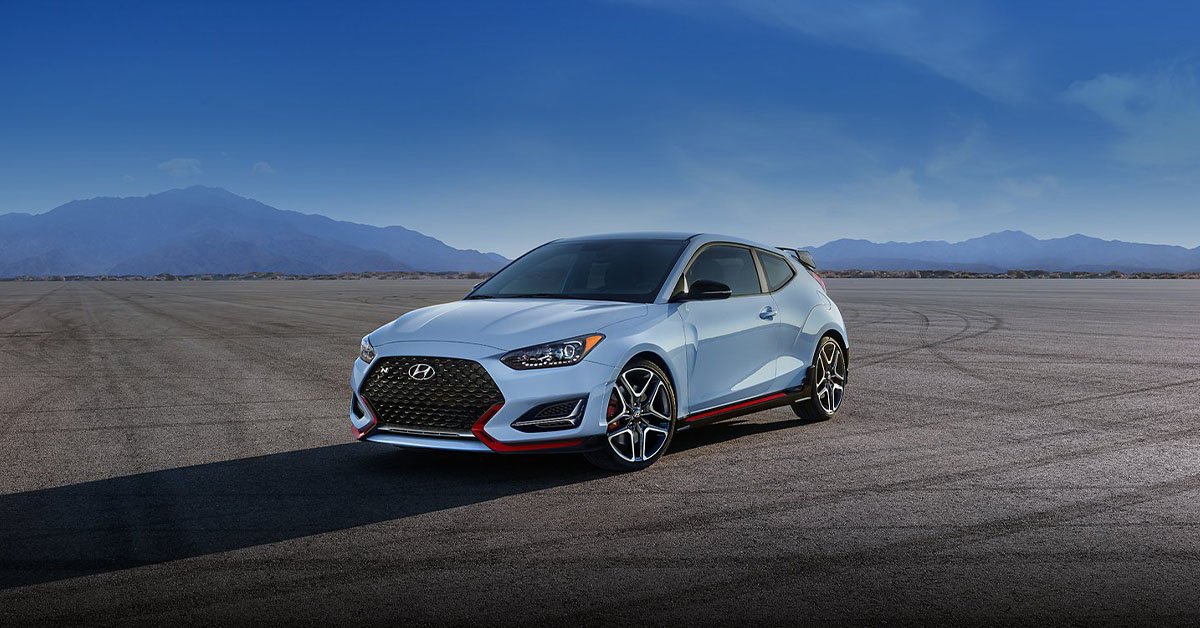 Base Price $32,500 USD
The Hyundai Veloster N is a hatchback that, with its unique styling, stands out from the crowd. Furthermore, its three doors, exterior lines, and performance package make it an attractive and functional sports car. This Hyundai results from the brand's development in automobile competitions.
The 2022 model of the Hyundai Veloster N is part of the second generation, presented in 2019. The Veloster is available with either a six-speed manual transmission or an eight-speed wet dual-clutch automatic. The car was also "refreshed" with sporty and lightweight seats that contribute to giving it sporty looks.
The Veloster N features a turbocharged 2.0-liter four-cylinder engine that delivers 275 hp and 260 lb-ft of torque. This thrust is enough to launch the car from 0 to 60 mph and reach a top speed of 155 mph.
There are three customizable driving modes in the Veloster N you can select from the steering wheel: Normal, Sport, and Sport +.
2022 Volkswagen Golf R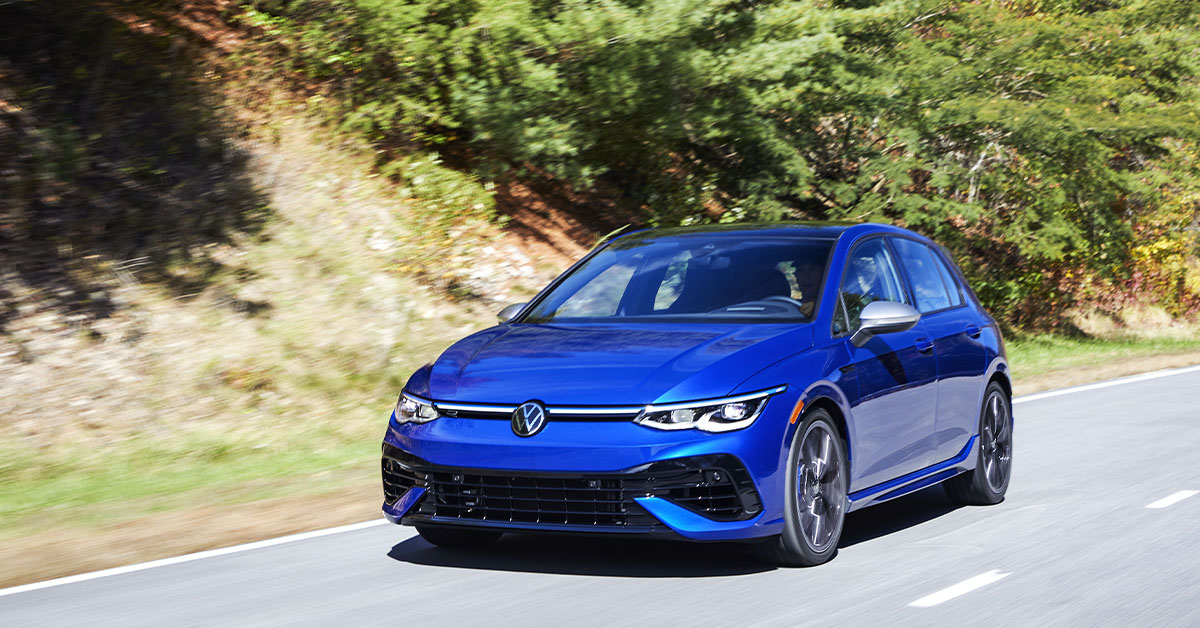 Base price $44,090 USD
Over the years, Volkswagen has calculated the evolution of the entire Golf lineup to the millimeter. The 2022 Golf R is no exception. However, if we contrast the technical sheet with its past generations, we can confidently say its development has been timid, at least on paper.
It continues to carry a 2.0 TSI engine, now with 315 hp and 295 lb.-ft., all-wheel drive, and manual gearbox or DSG. However, the real leap is in its driving sensations.
One key to its evolution and balanced driving is the 4Motion traction system. On the one hand, it allows the car to go 0 to 60 mph in 4.6 seconds, losing no grip. On the other, it debuts a Drift driving mode that sends all the torque to a rear tire to unbalance the car and make donuts easily. As a result, the top speed of the 2022 Golf R is 172 mph.
2022 Audi TT Coupe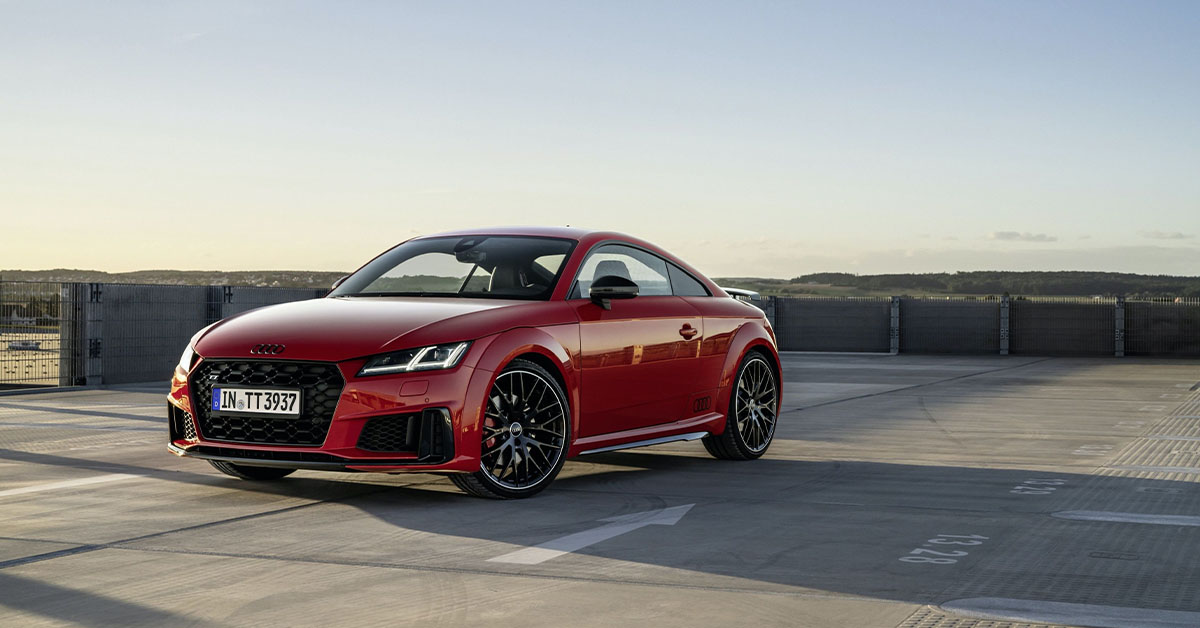 Base price $50,500 USD
The TT Coupe is a quintessential design icon for Audi purists. This car boasts a driver-focused interior with exceptional integration of technology and infotainment while still delivering proper sports-car performance.
The Audi TT equips a 2.0 TFSI engine with 228 horsepower and 258 lb.-ft. of torque, quattro drive, 7-speed S tronic transmission, and Audi Drive Select. The TT's 0-60 time is 5.5 seconds, and a top speed is between 130 mph to 155 mph.
For 2022 the TT's character was accentuated even more since Audi refined the design, increased performance, and improved the standard equipment. Thus, the TT now features Audi's virtual cockpit, the Audi Drive Select, an interior LED lighting package and a multifunction steering wheel.
The 2022 model year of the Audi TT RSHeritage will mark the final year this high-performance, smaller size two-door sportscar from Audi will be available on the United States market.
2022 Subaru BRZ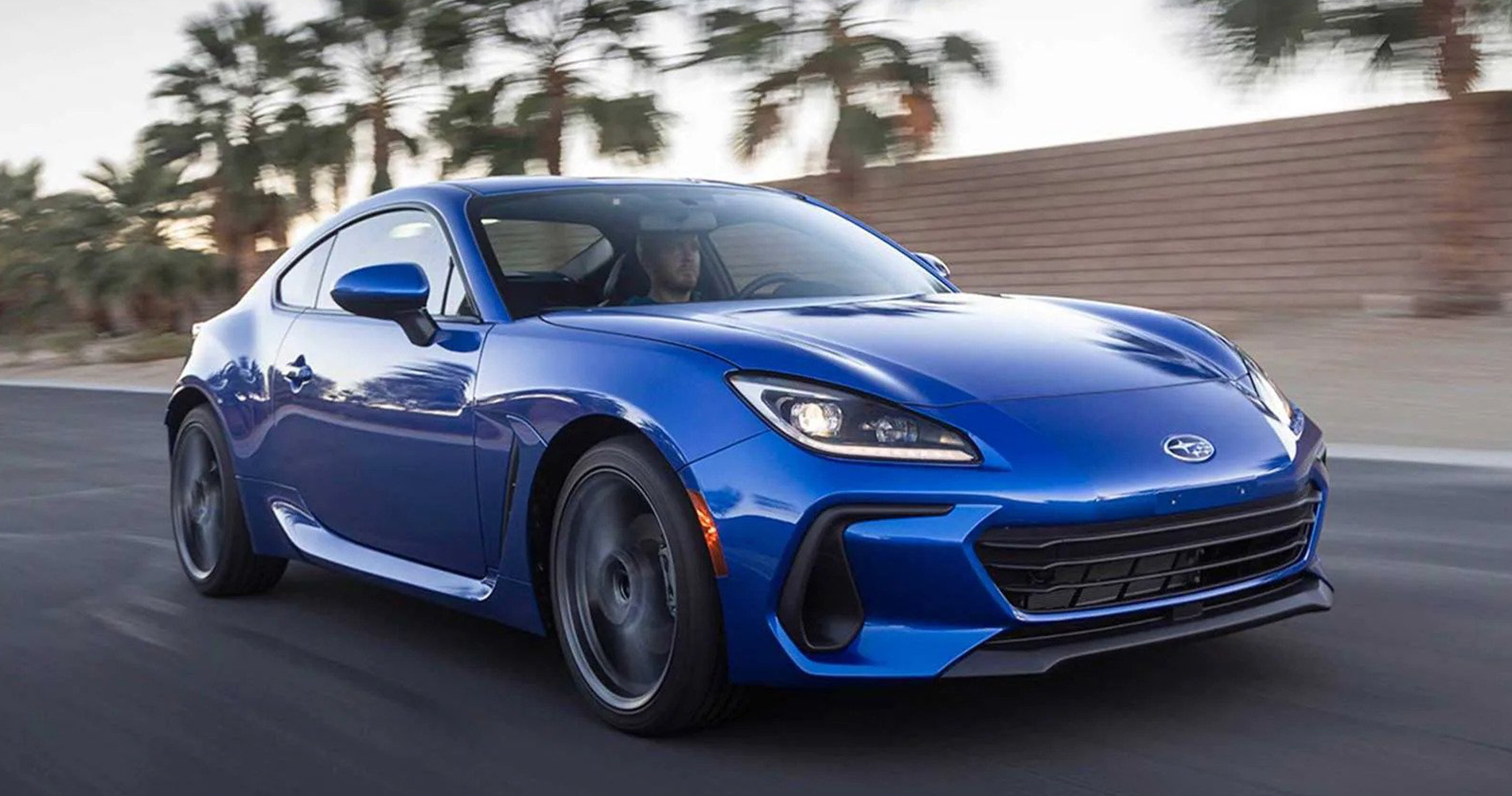 Base price $27,995 USD (Premium) 
A little over a year ago, Toyota and Subaru announced a new generation of the famous GT86/BRZ cousins.
The new Subaru BRZ does not imply any revolution design-wise than the outgoing model.
Its silhouette is practically the same, although with a more curved front end and cleaner lines, including its new headlights, which are noticeably more modern. The result is a very similar design to the new Toyota 86 (or GR86).
However, the great attraction of this BRZ and its cousin was its demeanor and mechanics. The engine is an all-new, naturally aspirated 2.4-liter four-cylinder Boxer block that now delivers 231 horsepower and 184 lb.-ft. of torque.
Interestingly, this BRZ will now be available with two different transmission types. A six-speed manual as standard, or a six-speed automatic.
The 2022 BRZ has a top speed of 140 mph, and with the automatic transmission, it can zip from 0 to 60 mph in 6.6 seconds.
2022 Chevrolet Camaro LT1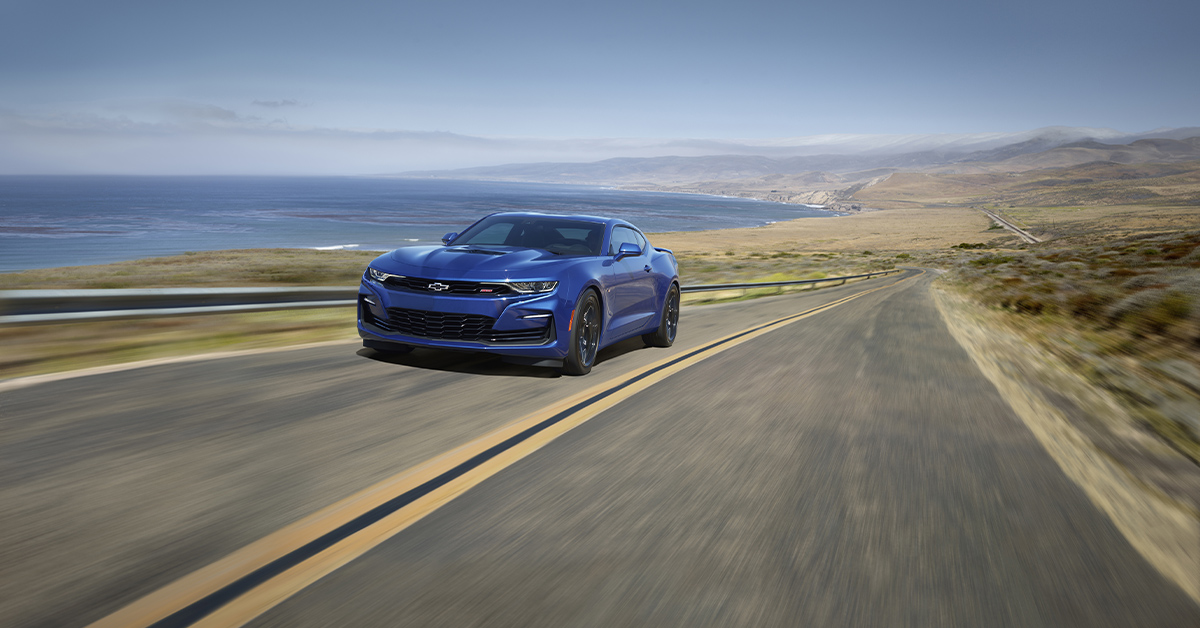 Base price $35,395 USD (Six-speed manual)
To put it simply, the Chevrolet Camaro LT1 is an old-school American muscle thrill machine. It features Chevy's iconic small block V8 with a total output of 455 horsepower and 455 lb-ft of torque sent to the rear wheels. Its tremendous low-end torque and linear power delivery translate into chest-compressing acceleration.
As a result, the new Camaro LT1 can launch itself from standstill to 60 mph in 4.0 seconds. That's exceptionally quick. Chevy puts top speed at 190 mph.
Like any good sports car, the new Camaro offers athletic handling, but it doesn't come at the expense of ride quality. Still, there are a few areas where the Camaro could improve, such as cargo space. Also, the rear seats are basically just for decoration. The interior quality is a step down from several competitors as well.
Still, other features like the standard six-speed manual gearbox will please the purists, but a ten-speed automatic with manual shift mode is also available for North America.
2022 Honda Civic Type R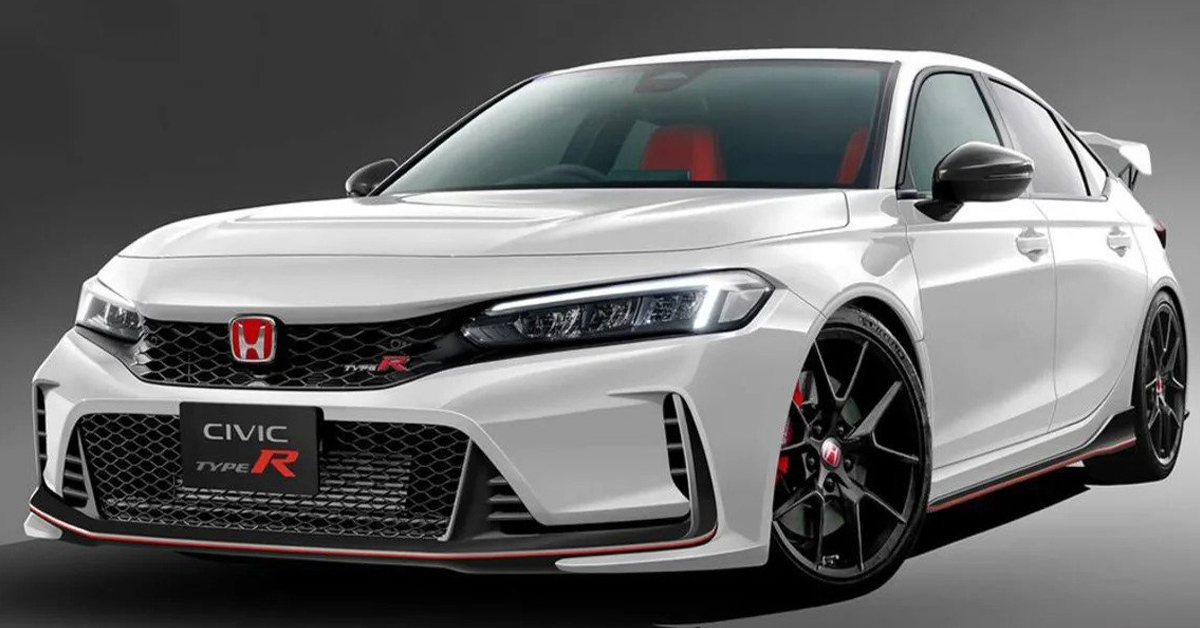 Base price $38,450 USD (Touring)
Honda pushes its sportiness to the limit with the new Civic Type R, a vehicle with high-performance and handling that translates into excellent track capabilities.
The new Type Civic R delivers a powerful message, inside and out, with its striking styling, highly functional aerodynamic design, and race car-inspired cockpit that adds a high-performance feel. This new Civic is taking its outrageous styling to a new level even by hot-hatch standards.
The Honda Civic Type R features an extensive aerodynamic kit on the body, giving it an edgy and attractive styling. Combined with a reinforced lightweight chassis and specially designed suspension, you'll feel the enhanced stability to the limit.
Under the bonnet, we find a 2.0L inline-4-cylinder engine pumping out 306 hp and 295 lb-ft of torque. That's enough to blast this otherwise five-door family hauler from 0-60mph in less than 5.8 seconds and reach a top speed of 169 mph. And being truthful to its purist approach, a six-speed manual transmission is the only transmission available.
2022 Mazda MX-5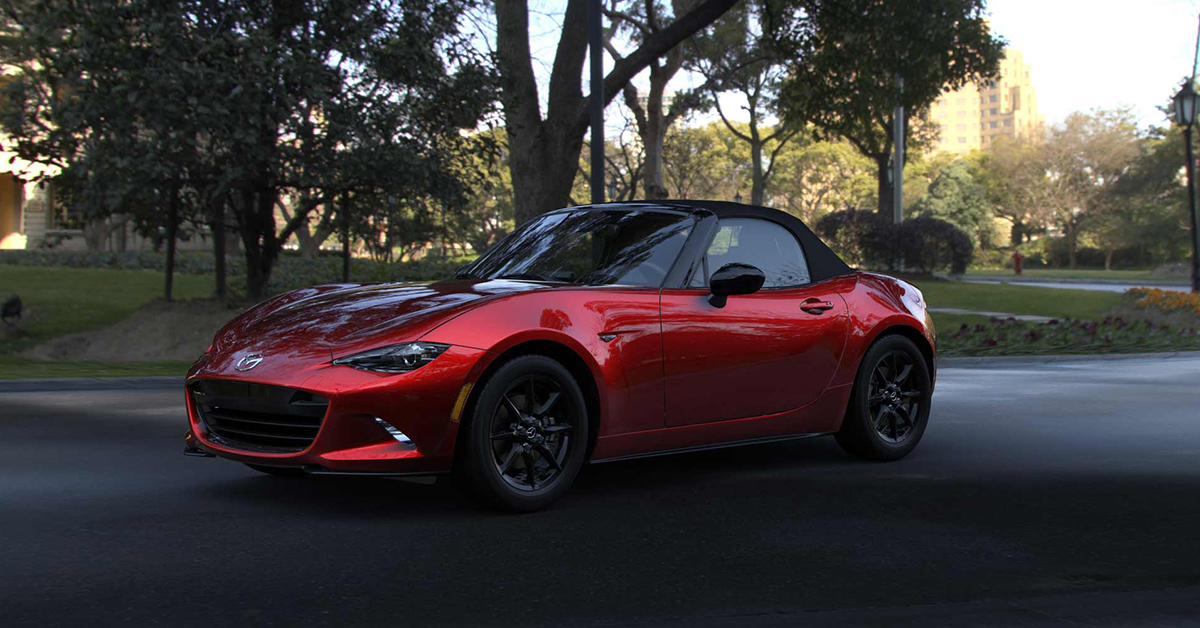 Base price $31,150 USD (Club)
To continue enjoying the success that has led it to become the best-selling two-seater roadster -far exceeding one million units sold since its arrival in 1989- the Mazda MX-5 received an update for 2022.
Some of the exciting novelties affect the Miata's styling and its dynamic behavior, which one of the main hallmarks of this Japanese sports car. However, regarding powertrains, Mazda did not introduce any changes for 2022.
The 1.5-liter naturally aspirated engine is on a lower step, developing 132 horsepower and a maximum torque of 112 lb.-ft. mated to a six-speed manual gearbox that sends all the power to the rear axle.
This transmission also appears in the Miata Touring, the best performing variant that features a naturally aspirated 2.0-liter four-cylinder block. This engine produces 184 horsepower and 151 lb.-ft. of torque, to take the MX-5 from 0 to 60 mph in 6.5 seconds and up to 136 mph.
2022 Toyota Supra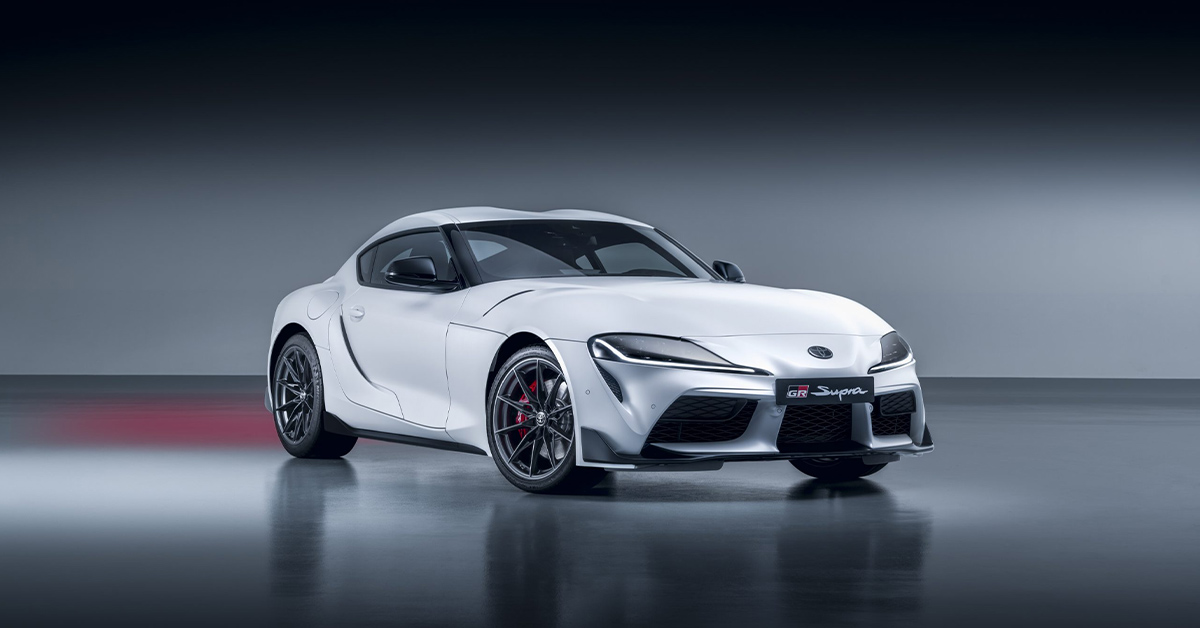 Base price $43,190 USD (GR 2.0)
The global sports car segment has shown that we can still find affordable models focused on the most purists, like the 2022 Toyota Supra. For Europe, however, due to the recently announced Euro6 emission standards, the GR Supra has had to be curtailed.
Toyota is one of the most versatile automakers out there, having a significant share in the automotive industry and integrating many models and segments. Still, it is worth highlighting that the 2022 Supra does not present substantial changes compared to the previous year's model.
The 2022 Supra features a 3.0-liter turbocharged 6-cylinder engine making 382 horsepower and 369 pound-feet of torque, rear-wheel drive, and an eight-speed automatic transmission. Without a doubt, its power is positioned as its most exciting feature, resulting in a sports car that is fast and thrilling.
The 2022 Toyota Supra accelerates from 0 to 60 mph in 4.3 seconds. Turbo's response is immediate, while steering is precise, so if you want to take this car to a track day, it will definitely crack some smiles on your face.
2022 Dodge Challenger R/T Scat Pack Widebody
Base price $50,150 USD
When Dodge announced its 2019 Challenger lineup, the SRT Hellcat Redeye turned heads, given the excitement generated by the Hellcat's marriage to the SRT Demon powertrain. Although we are stalwarts of American muscle cars, especially if they boast 800 horsepower, we feared that introducing another package could go unnoticed among so many cheers.
However, the debut of the R/T Scat Pack Widebody not only gave the Challenger an even more aggressive look but also made it more affordable than the Hellcat Widebody.
The R/T Scat Pack Widebody setup makes for an exciting mix. Hidden under the hood there's 6.4-liter Hemi naturally aspirated V8 engine with 485 hp and 475 lb.-ft. of torque.
The 305mm Pirelli P Zero tires, which are among the package's highlights, allow this Challenger to go from zero to 60 mph in approximately four seconds with the eight-speed automatic, and top 170 mph.
2022 BMW M240i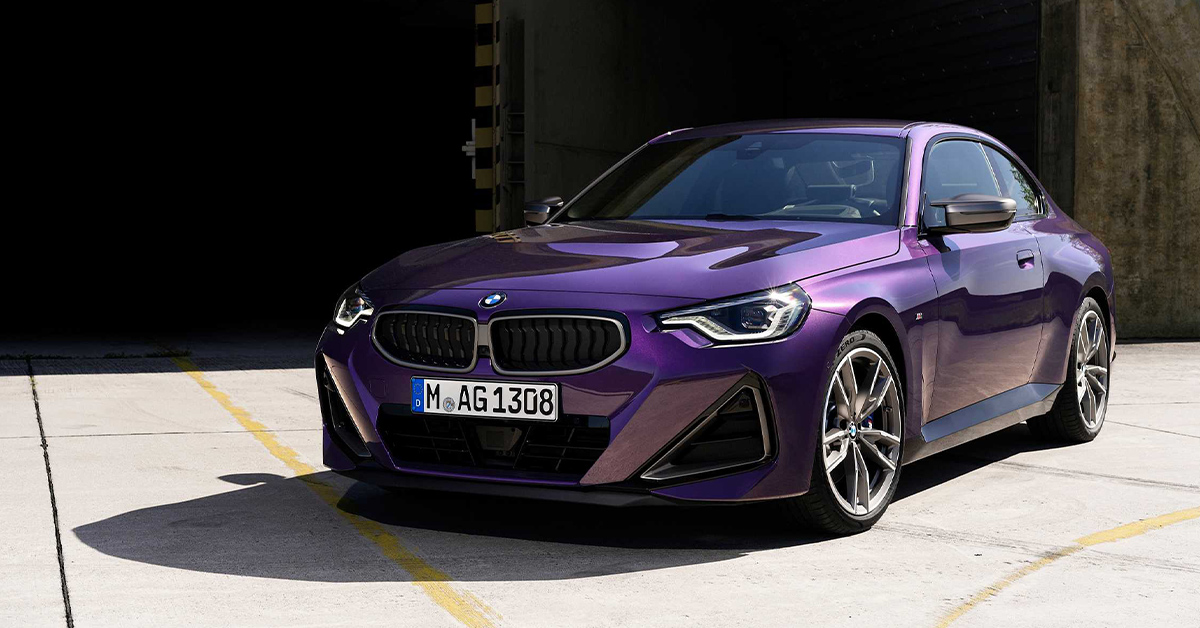 Base price $50,950 USD (M240i Convertible)
Inspired by BMW's M cars and optimized for everyday use, the BMW M240i defies the conventional acceleration standards.
Its turbocharged six-cylinder gasoline engine catapults the vehicle from 0 to 60 mph in 4.7 seconds. In addition, the M sport suspension translates the car's exceptional performance into an enhanced driving experience.
The M240i's exclusive M Performance design features complete this high-performance athlete. And with its 3.0-liter displacement that cranks 382 horsepower and 369 pound-feet of torque, the M240i's inline-six gasoline engine is one of the best performers in the $50K range.
In addition, the characteristic sound of the BMW M240i leaves no acoustic doubt that this engine is among the best in its class.
The M240i unites impressive acceleration with pure agility and high daily utility like no other car. In addition, the remarkable demonstrations of its excellent performance come from its extremely spontaneous response, its high torque even at low engine speeds, and the wide usable rev range.
2022 Nissan 370Z Nismo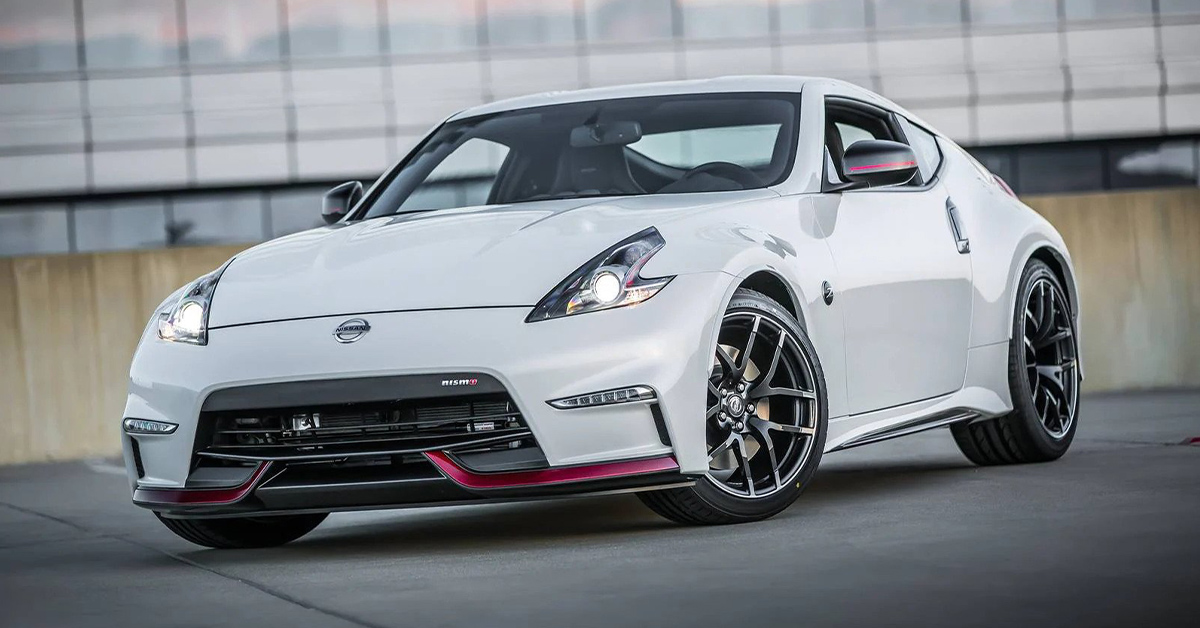 Base price $48,965 USD
The Nissan 370Z Nismo is a sports car aimed at true lovers of the Japanese brand's Z family. It does not stand out for being modern or technological, but for its retro design and a driving style reminiscent of the sports vehicles of yesteryear. The Nissan 370Z Nismo is an old-school sports car, proposing passionate driving sensations characterized by rapid acceleration and precise steering.
The Nissan 370Z Nismo retains its aesthetic heritage with a sharp silhouette and design elements. Although the car has not undergone substantial changes since the launch of the sixth generation in 2009, the 370Z Nismo looks striking and elegant. This is mainly because of its minimalistic style, which conveys a sense of fluidity and dynamism.
Under the hood lies a 3.7-liter V6 engine with 350 horsepower and 276 pound-feet of torque, which is mated to a 6-speed manual transmission. Its 0-60 time is 5.7 seconds with a top speed of 155 mph.
2022 Subaru WRX STI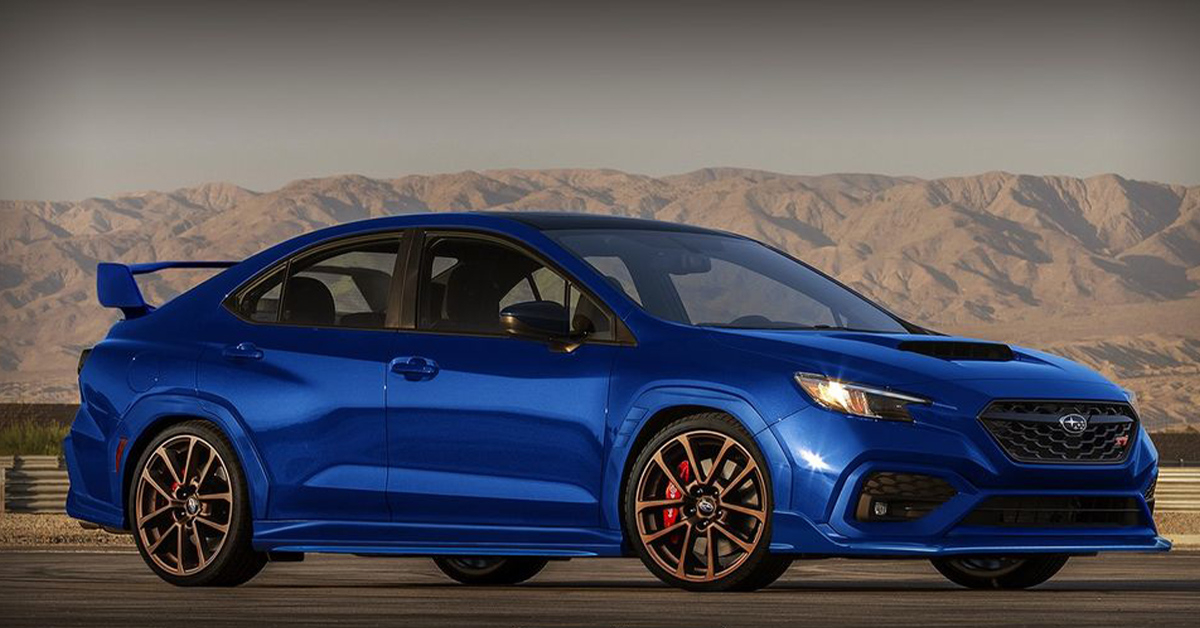 Base price $39,000 USD
Introduced in 1992 as the successor to the Leone, the Subaru Impreza raced the following year in the World Rally Championship in the iconic colors of the State Express 555 with its gold alloy wheels and bonnet scoop, and rear spoiler.
This rally-winning sedan derived from the road-going WRX is a car that has earned a cult following over the years. Moreover, its sportier STI version is one of the most desired by motoring enthusiasts.
Described as the fifth-generation WRX, though we're talking about the second installment without the Impreza nameplate, the famous sedan just got the Subaru Tecnica International (STI) treatment for 2022. Still, this isn't Subaru design itself; it's the work of the virtual recreation specialist X-Tomi Design.
Considering Subaru is a small company with a limited R&D budget, the WRX's 2.5-liter turbocharged flat-four engine will be slightly updated for the STI. There are no official numbers yet, but some estimate a power of around 315 to 320 horses.
2022 Infiniti Q60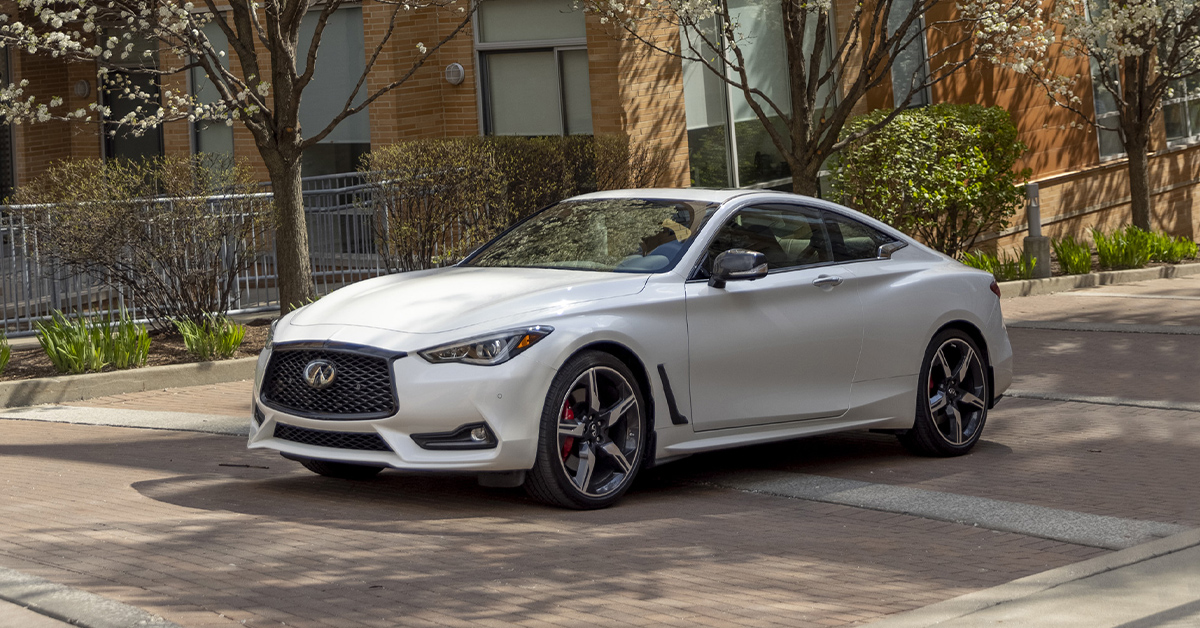 Base price $41,750 USD (Pure)
The 2022 Infiniti Q60 is a coupe that stands out for its elegant design and powerful and exciting performance. It offers all the amenities you would expect from a luxury car with a sporty touch to create a driving experience according to its specifications.
Its outstanding balance of power and luxury distinguishes the new Q60 model. The Infiniti Q60 is powered by a 3.0-liter V6 twin-turbo 24-valve engine, aluminum-alloy block, and heads with a water-cooled air charging system paired with an electronically controlled 7-speed automatic with Adaptive Shift Control.
Its double overhead camshaft with 4 valves per cylinder features a continuously variable valve timing control system that optimizes the opening of intake valves. This powertrain produces 300 horsepower and 295 lb.-ft. of torque sent to the rear wheels. That's enough power to blast the Q60 from 0 to 60 mph in 5.4 and reach a top speed of 155 mph.
2022 Ford Mustang GT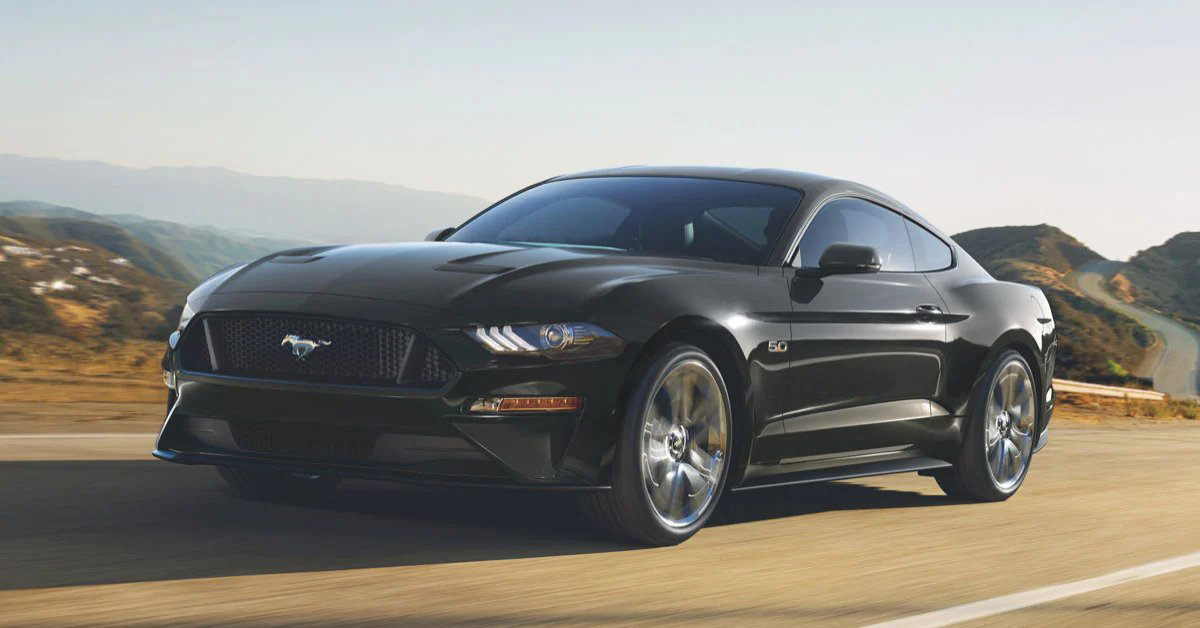 Base price $38,670 USD (GT)
The Ford Mustang holds the title of the best-selling sports car in the world, and the vehicle renews this title almost undisturbed every year. So, it is not surprising that many enthusiasts consider the Mustang the quintessential American muscle car.
Throughout its different generations, the Mustang GT has remained true to its philosophy, reflecting it on an aesthetic level. The 2022 model is no exception. Available with this fastback-type coupe body and convertible, The Mustang continues to be a four-seater sports car of considerable dimensions.
The new Mustang GT equips the purist and iconic naturally aspirated 5.0-liter V8 block as the only engine option. In addition, it is available with a six-speed manual gearbox or Ford's new ten-speed automatic transmission.
Power output is 450 horsepower and 390 lb.-ft of torque (it falls just 10 hp behind the Mustang Mach1) sent to the rear axle. Acceleration from 0 to 60 mph takes 4.6 seconds, and its top speed is 155 mph.
2022 Genesis G70 3.3T Sport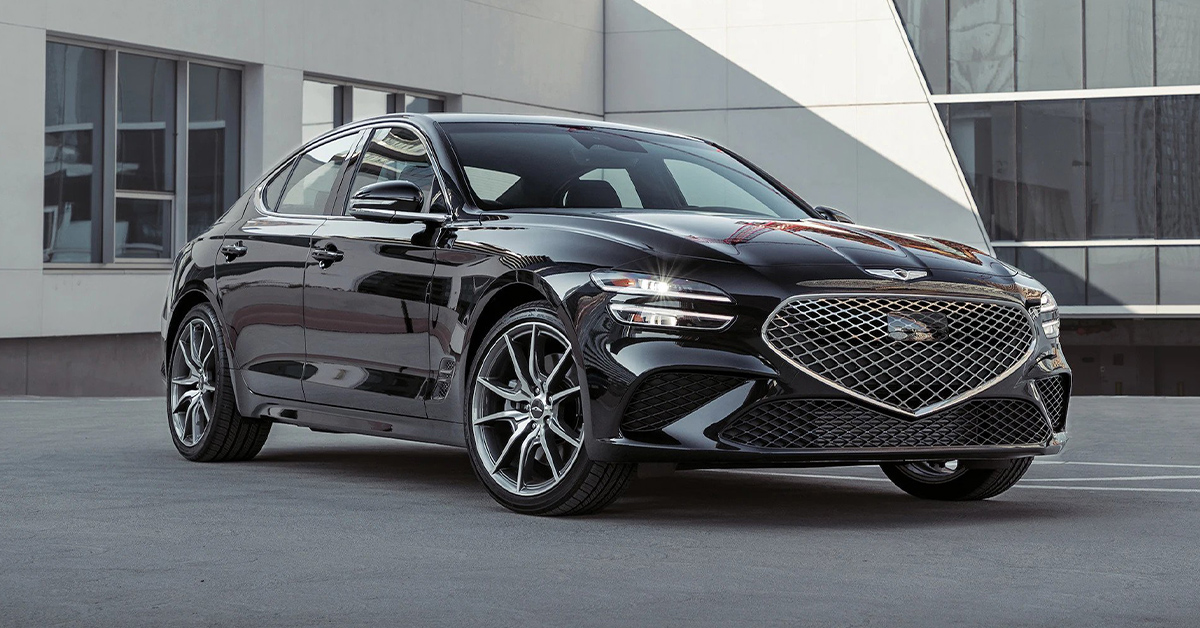 Base price $42,100 USD
Some may not know this, but Genesis has a legitimate sports sedan worth looking at. It's called the G70 3.3T Sport. This car rides on a platform not larger than a Toyota Camry, so by no means is this a powerful and expensive limousine. Instead, the G70 is exceptionally fast and with handling that rivals a BMW.
Thanks to the impressive 3.3-liter twin-turbo V6 that cranks 365 horses and 376 lb-ft of torque, this car is more fun and offers more bang for your buck than many models in a $50K+ range.
The G70 3.3T Sport can go from 0 to 60 in 4.4 seconds, achieving a top speed of 167 mph via AWD. An eight-speed automatic is in charge of its crisp shifting to help the power and torque push you back into your seat like an old-school V8.
The expertly balanced ride and handling characteristics give the G70 a silky-smooth ride, remaining composed in cornering thanks to its adaptive dampers, precise and pleasant steering feedback, and multiple driving modes.