The sports car lineups in the international landscape expand with new proposals and updated models every year. Although some nameplates leave the market to make way for others, the options are still vast and comprehensive.
There's a lot to choose from if you're looking for a sports car. The problem is that the new models are increasingly beyond the reach of enthusiasts in most cases. The smaller the budget, the fewer the options and perhaps less impressive performance than sports cars with a higher price tag.
Despite this, you can still find a sports car that will fulfill the emotions you are looking for without breaking the bank if you know how to search.
Therefore, we're updating our list of the best new sports and performance cars on the market for 50k or less to give you a quick look at what you can get your hands on with this budget.
2023 Hyundai Elantra N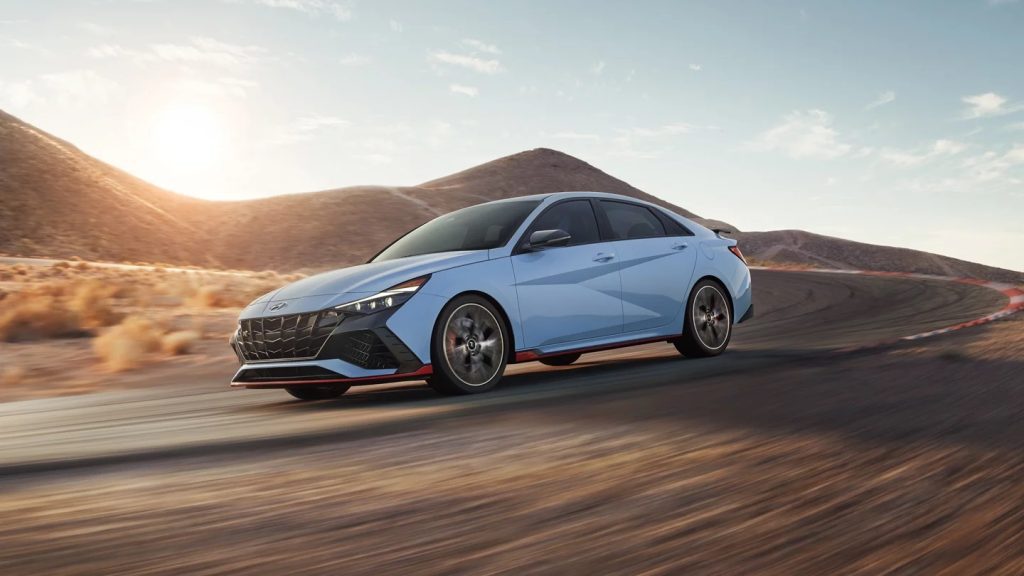 Base Price $32,900 USD
The Hyundai Elantra N is the high performance variant of the sensible family sedan that, with its unique styling and blue and red Hyundai motorsports colors, definitely makes a statement. Ever since the Veloster and its N variant was discontinued at the end of 2022, at least in North America, this is now the top tier sports car for the discerning young professional that wants sensibility mixed with driving fun.
The 2023 Elantra N is the first true sports sedan version in a model line that stretches all the way back to 1990, and was conceived once Hyundai's international motorsports efforts in touring car racing and the World Rally Championship brought them a lot of brand attention. It benefits from the already wide and low stance of the normal Elantra, bolstered with multilink suspension with a stiffening chassis brace across the rear and MacPherson strut suspension up front, as well as being fitted with 19 inch alloy wheels with low profile Michelin Pilot Sport 4S tires as standard
The Elantra N features a turbocharged 2.0L inline-four engine that snarls out 276 HP and 289 lbs-ft of torque through a bespoke sport exhaust system. That exhaust is fitted with valves that when you put the car into "N Grin Shift" (NGS) mode where everything is turned up to 11, slam open and give a throaty soundtrack to the car.
Motivation comes via either the standard 6-speed manual shifter or the optional 8-speed dual clutch semi-automatic transmission. The Elantra N will sprint to 60 MPH from a standstill in 5.9 seconds with either transmission, and is surprisingly nimble and capable in the corners due to having what Hyundai call a N Corner Carving differential, which is electronically controlled by what setting the drive mode is in: Normal, Sport, Sport +, or NGS.
As a replacement for the Veloster N, the Elantra N is a serious competitor in the $30k to $40k affordable performance segment. In fact, the Elantra model line as a whole, from the base spec Elantra to the N performance model, won North American Car of the Year in 2021, so you know that the South Koreans are meaning business!
2023 Volkswagen Golf R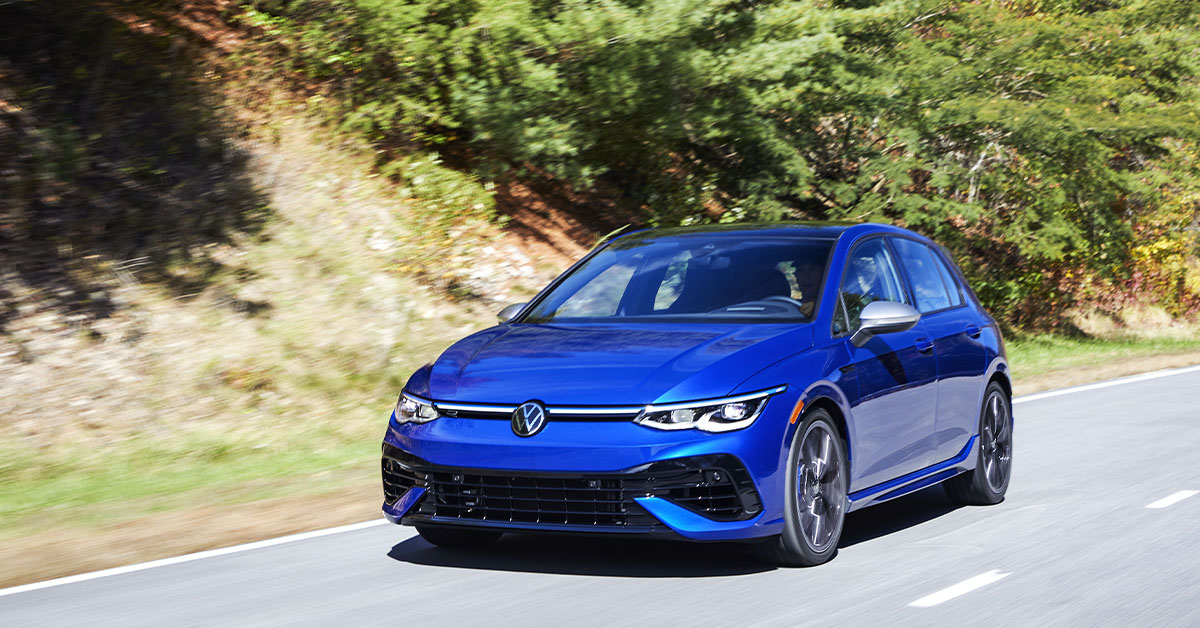 Base price $44,740 USD
Over the years, Volkswagen has calculated the evolution of the entire Golf lineup to the millimeter. The 2023 Golf R is no exception, especially after many years of somewhat tame upgrades. What VW is focusing on now, as they have the 2.0L TSI engine with 315 hp and 295 lb.-ft. perfected, is how the car drives and handles.
Using either a 6-speed manual or 7-speed DSG dual-clutch semi-automatic that borrows the Tiptronic technology from subsidiary Porsche, the Golf R features permanent all-wheel-drive (4Motion) connected to a Dynamic Chassis Control system that can make the car do amazing things, depending on what driving mode you are in. In Sport mode, it allows no slip whatsoever, giving each wheel maximum grip via torque vectoring and sensors that track thousands of small measurements across the whole car. In Drift mode, it completely turns off the torque vectoring system, shunts 90% of the power to the rear wheels, and turns off most of the traction and stability control systems, allowing you to send it sideways around a corner or pull donuts that an all-wheel-drive car shouldn't be able to to.
These two systems combine to let the Golf R pull 0 to 60 in a sub-$50k stunning time of 4.6 seconds, and it will pull strong and hard to its 172 MPH top speed. For 2023, a 20th Anniversary special edition is available, that upgrades the interior with special VW racing seats, real carbon fiber trim, a sunroof delete for a stiffer body, and a special edition set of alloy wheels in gloss black.
2023 Toyota GR86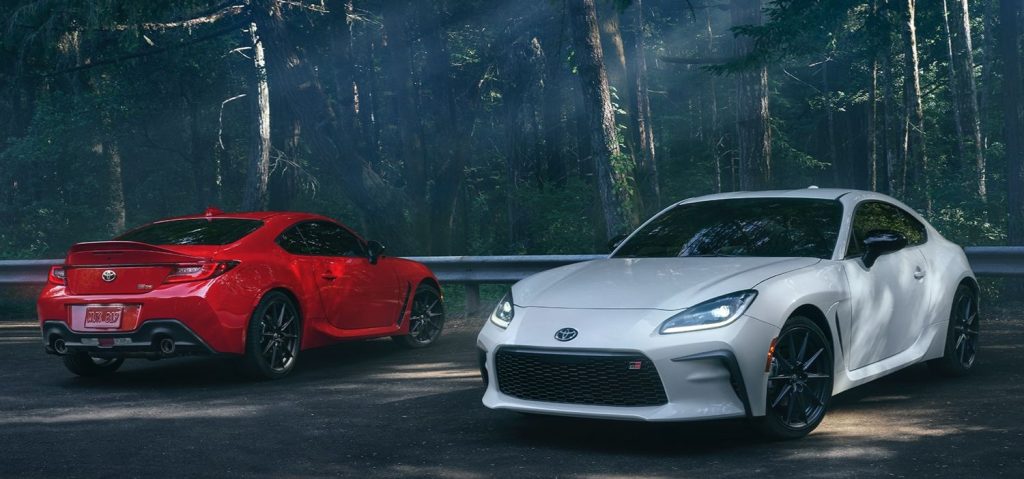 Base price $28,400 USD 
Sometimes, collaborations between competitors can produce amazing cars. This is especially true in the case of the Toyota GT86 and the Subaru BRZ, which are, in essence, the same car.
For 2023, however, Toyota has renamed the GT86 to the GR86, continuing their push to have a GR-performance model of almost every car they make. GR, for those unaware, stands for Gazoo Racing, which used to be called Toyota Racing Development (TRD), and is the motorsports arm of the legendary Japanese automaker.
The GR86 is one of those sports cars somehow manages to tick all the right boxes, at less than $30,000, to make it one of the best in terms of real-world sports driving capability. Consider, for a moment, that it was designed from the outset to be a car that has traction control that when you turn it off, it is off, and the natural tendency of the chassis is oversteer. This means that even the young professional that the car is aimed at can get it sideways and hold a power slide with one hand (at track or safe area, of course!), and it has one of the snappiest, most direct six-speed manual transmissions this side of a Porsche 911.
When the new generation of the car was introduced in 2021, it came with an all new, naturally aspirated 2.4L boxer four from Subaru, who have been making horizontally opposed engines for racing and rallying since the 1980s. It is almost a square bore in the cylinders as well, giving it 231 HP and a grunty 184 lbs-ft of torque, without the dreaded "torque dip" of the first generation in the mid-rev range.
What one needs to remember with the GR86 (and the Subaru BRZ) is that the car is not designed to be a light to light drag racer. Instead, it is designed to corner hard and flat, and use its front engine, rear-wheel drive layout to give you a fun little wag of the tail as you exit the corner and fire off down the road to the next one.
2023 Chevrolet Camaro 1SS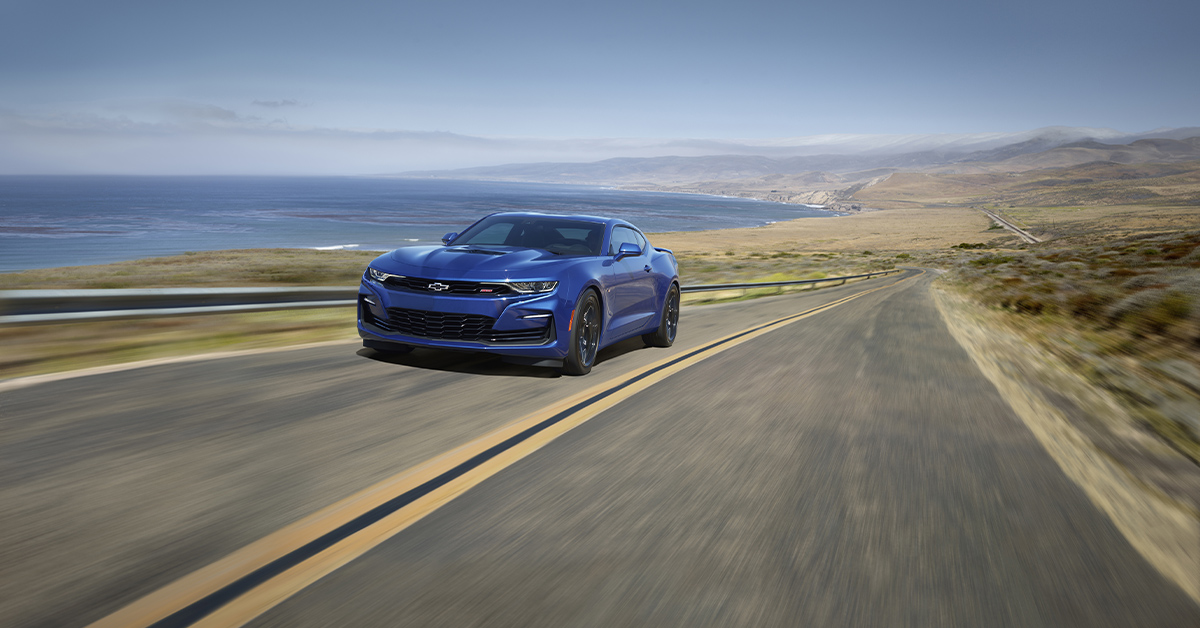 Base price $41,295 USD
In the simplest and most basic of terms, the Chevrolet Camaro is all about old-school American muscle. When you get into the "serious" specs of the car, it comes with a big, badass small-block 6.2L direct-injection LT1 V8 engine that chucks out 455 HP and 455 lbs-ft of torque, mated to a six-speed manual shifter that will catapult the car to 60 MPH in under 4.1 seconds. It will also smoke the rear tires as well, because like all great muscle cars, it is rear wheel drive only.
This is the kind of power that pins you back in the sport-performance seats inside, pulling your face into a smile as your ribs are compressed. This is power and grunt that is rivalling Chevrolet's top of the line sports car, the Corvette, although it naturally isn't quite as fast, topping out at 190 MPH. Chevy had to leave something to make the Corvette appeal to the masses!
Unlike many muscle cars of old, the Camaro actually has proper handling, with a pointed and direct turn in and some feel through the steering wheel, although the electronically aided steering rack does numb out a lot of the road. As well, the rear seats might as well be considered a cargo shelf, and the trunk space is nearly non-existent.
One could argue, and quite successfully at that, that one does not buy a Camaro for its practicality. One buys a Camaro to lay down a trail of rubber, with a roaring, bellowing V8 up front and a ton of noise behind, and Chevrolet definitely delivers on that in spades.
2023 Honda Civic Type R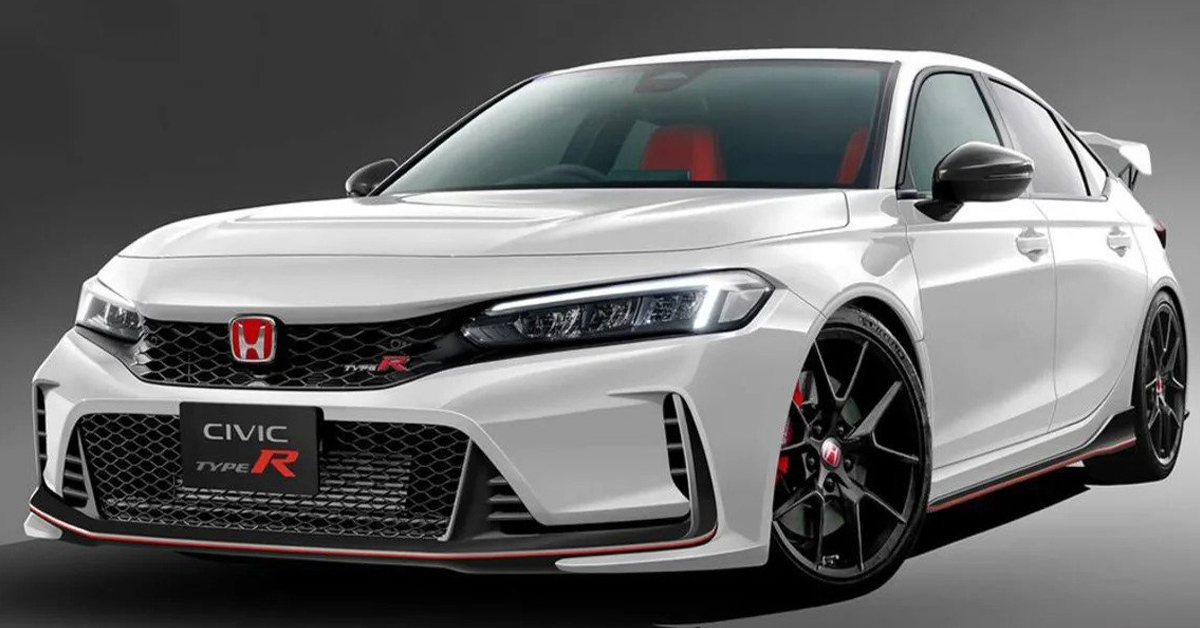 Base price $43,795 USD
It took several decades, but in the mid 2010s, Honda finally brought over the Civic Type R, the top tier sports performance car for its legendary sensible sedan and coupe. Now, the second generation of the "Global spec" Type R has arrived, and it's no less impressive than the first!
Not as bonkers-mad in styling as the previous generation, the 2023 Type R is still the most extremely style of all the Civic models. It features a deep, wide front fascia with a functional lip splitter and a visible intercooler behind a cross-hatch grille. It features a raised GT wing at the rear that is not just for show, providing real downforce in conjunction with the front splitter. It even features wing mirrors that are a different shape than the "normal" Civics, to be that much more streamlined.
What really impresses with the Civic Type R, however, is the 2.0L iVTEC turbo inline-four that rests there. It pumps out 315 HP and near as makes no difference 300 lbs-ft of torque. All that power goes through the front wheels, but the car doesn't just sit there endlessly burning rubber because of Honda's excellent e-diff that makes sure the car grips and goes like it's been shot out of a canon. It will rocket to 60 MPH in a hair over 5.7 seconds, with a top speed tickling at 170 MPH. Most impressively, however, is that this new Type R holds the current record for a front-wheel-drive sports coupe/sedan around the Nurburgring Nordschleife, the "Green Hell," at 7 minutes and 44.9 seconds.
Most importantly for the purists as well: The only transmission available is a 6-speed manual.
2023 Mazda MX-5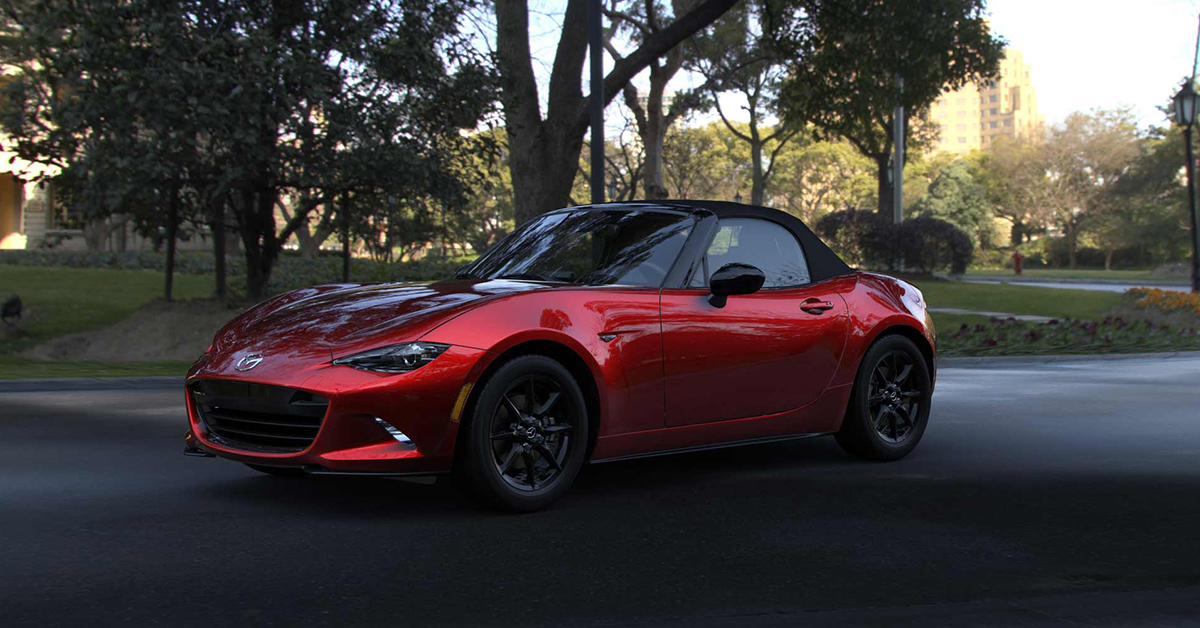 Base price $31,550 USD (Club)
To continue enjoying the success that has led it to become the best-selling two-seater roadster -far exceeding one million units sold since its arrival in 1989- the Mazda MX-5 received an update in 2022 that has continued on into 2023.
Some of the exciting novelties affect the Miata's styling and its dynamic behavior, which one of the main hallmarks of this Japanese sports car. However, regarding powertrains, Mazda has given the car a significant boost for 2023.
The 1.5L engine of the past few years has been replaced with a 2.0L inline-four that develops 181 horsepower and 151 lbs-ft of torque. Mated to a six-speed manual gearbox that sends all the power to the rear axle, it has revitalized the perfect balance of driver and car that Mazda has as their core philosophy, giving it enough power without going overboard. It is difficult to explain in simple words, but even if the MX-5 had 200 HP, it would feel like it was too much.
This engine is enough to push the MX-5 to 60 MPH in about 6.5 seconds, and it tops out at around 145 MPH. Compared to many other cars on this list, those specs sound a bit anemic, but all you need to do is drive an MX-5 once to understand everything that it's about.
2023 Toyota GR Supra 2.0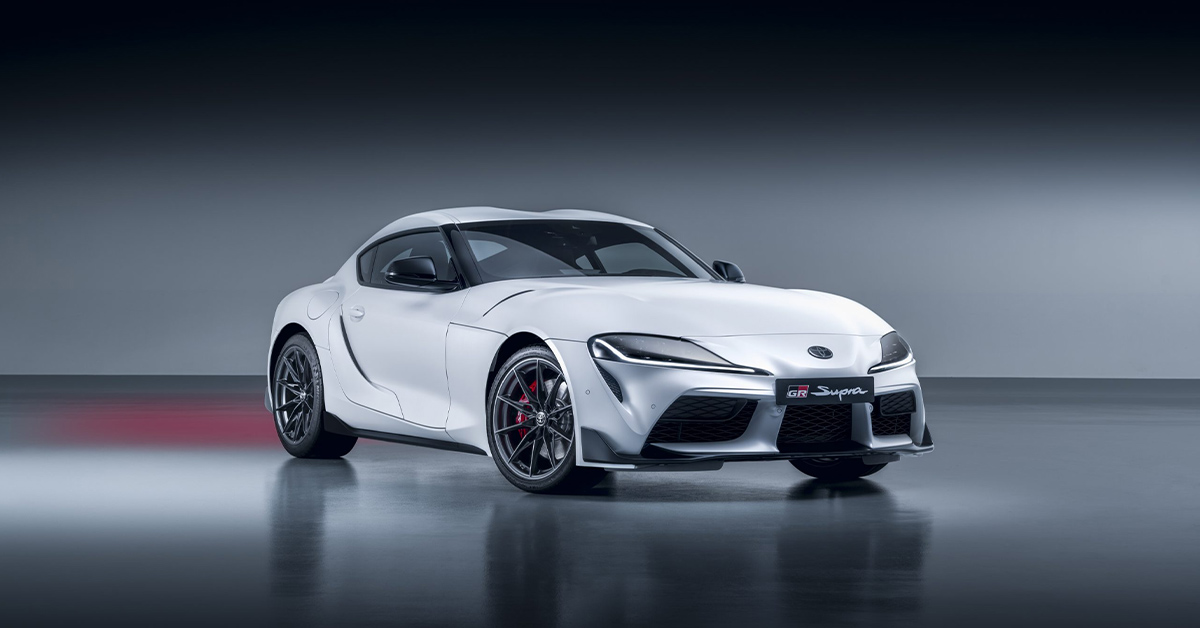 Base price $44,640 USD (GR 2.0)
The model name Supra, for anyone that grew up in the 1980s or 1990s, is evocative of ridiculously over-engineered engines in sleek cars that could be tuned to the stratosphere. When the new Supra was announced a few years back, many had the hope that those days were returning. However, due to the much different emissions laws that exist in the modern age, and the fact that cars are far more complex with multiple computers on board now, the Supra has had to be curtailed.
However, that doesn't meant that the Supra was dead on arrival. Being as versatile a company as they are, Toyota made sure that there was a Supra for the essential under-$50k performance market. While the top-spec car gets a turbo inline-six that was developed in conjunction with BMW, the "base" spec GR 2.0 Supra comes with a sublime 2.0L twin-scroll single-turbo inline-four that pushes out 255 HP and 295 lbs-ft of torque, mated to an 8-speed intelligent-shift automatic that can be shifted with paddles behind the wheel.
That may seem like it's not that much power, but through intelligent engineering, the GR Supra 2.0 manages to come in at just 3,181 lbs with a full tank of gas and all fluids. To give you an idea of how light that is, that is only 50 lbs heavier than the 2023 Porsche 718 Cayman GT4 RS, a hardcore track-oriented performance car that is three times more expensive and has only 1.8 times the power of the Supra.
The GR Supra 2.0 therefore, even with its "low" power, will demolish 0 to 60 in a whisker under 5 seconds, and will continue on to an electronically limited top speed of 155 MPH. It will corner hard, go like hell, and give a nice throaty roar out of its exhaust as it does so.
And since that 2.0L inline four was developed in house at Toyota… let's just say that there is already a tuner market emerging that is taking advantage of the solidly engineered 2.0L engine.
2023 BMW M235i xDrive Gran Coupe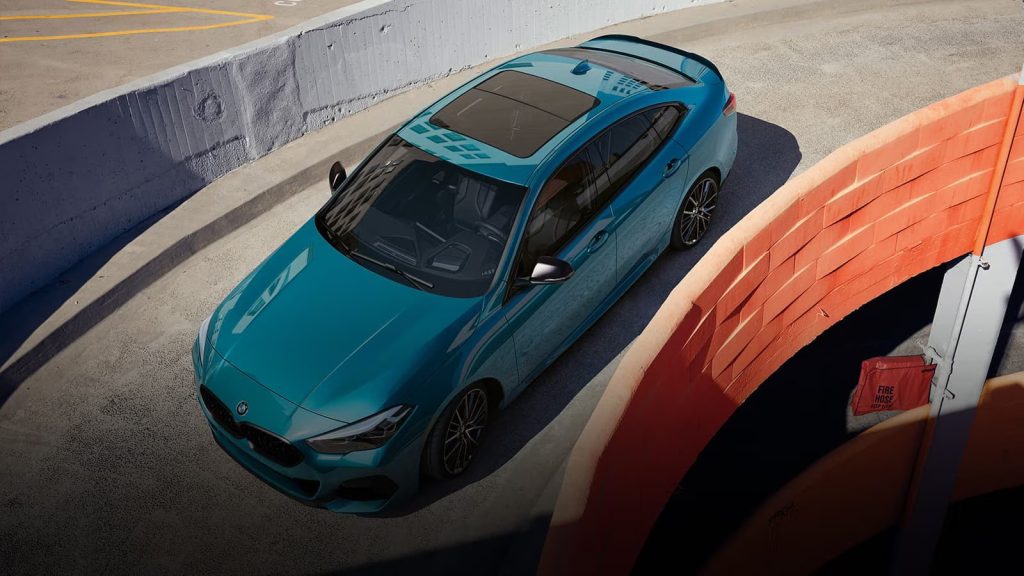 Base price $47,600 USD 
In previous decades, there was a significant jump between a standard BMW numbered model and the M-Division's ultra-performance variant of it. Those M cars became the stuff of legend, desirable models because of the combination of European luxury motoring and German performance tuning. BMW realized about a decade ago that they had been missing out on the an entire segment of clients, those that want M-level performance but at a reasonable price.
That realization has led to the M2xx, M3xx, and so on cars, with the first number being the model series and the other two denoting its performance placement. While there are several superb 2-series models with M designations in the $50k to $60k market, there is also one 2 series M model that makes it below $50k, the M235i xDrive Gran Coupe.
Make no mistake, even though it has "only" a 2.0L turbocharged inline-four, it is an M-model through and through. That engine pushes out 302 HP and a meaty 331 lbs-ft of torque. Paired with an M-Division 8-speed sport automatic, which comes bundled with the same launch control system that the M2, M3, and M5 top tier models have, it will absolutely catapult the four door comfortable car to 60 in 4.5 seconds.
Not satisfied with it just yet, the M-Division also gave the car 18 inch lightweight alloy wheels with Pirelli P-Zero sport tires as standard, and it has BMW's excellent xDrive all-wheel-drive system with torque vectoring and an e-Limited Slip differential on the rear axle.
Then, on top of all that, the car features throttle-by-wire, BMW's legendary DSC and DTC stability and traction control systems, M-Division brakes and calipers, dynamic ABS including cornering control ABS, M-Sport steering electro-hydraulic assist, M-Sport adjustable suspension, and to top it all off, heated and cooled front seats in a finely appointed, leather and wood wrapped interior.
All for under $50,000 before even glancing at the options list. Everything mentioned above comes standard. For a BMW, that is what is called a stupendous bargain, especially with the M-badge on the car!
2023 Nissan Z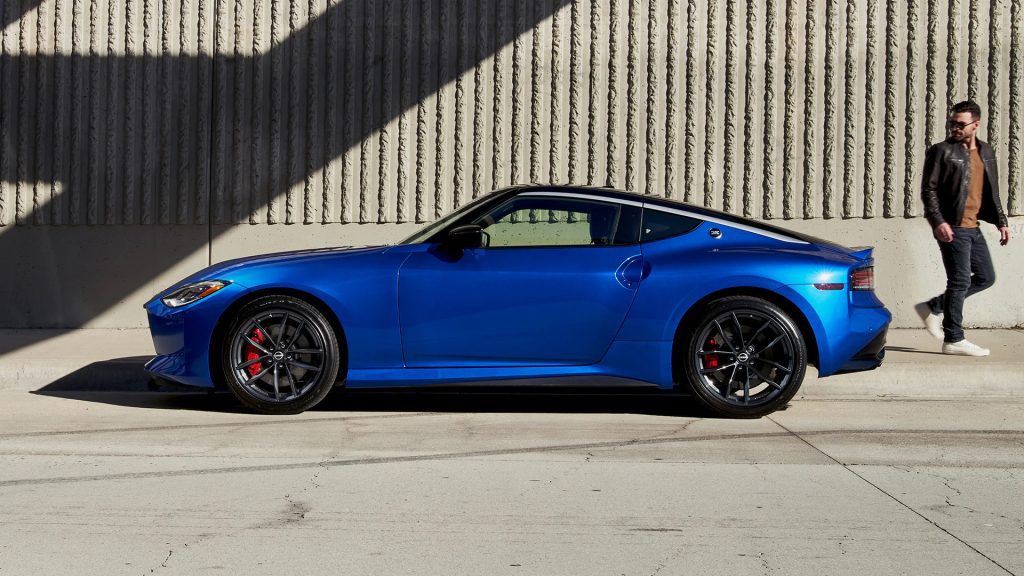 Base price $40,990 USD
The new 2023 Z is Nissan's return to providing affordable sporting power and precision to the masses. Replacing the 370Z, it is both less expensive at the base spec and much more powerful than even the top-spec 370Z NISMO final edition.
Nissan is legendary for their unbelievably powerful V6 engines, and the VR30DDTT 3.0L twin-turbo that lives under the long, flat hood of the Z flexes with 400 HP and 350 lbs-ft of torque, all of it going through a standard 6-speed manual or optional 9-speed automatic transmission to the rear wheels only. Despite that, the car will still pierce 60 MPH in under 4.5 seconds,a nd go on to an electronically limited 155 MPH
In a throwback to the early Fairlady Z models (what North America knew as the the Datsun 240Z or 280Z), the cabin is entirely and completely focused on the driver. All the instrumentation and panels face the driver's seat, the seats themselves are massively bolstered and hug you tightly, and the shifter comes to hand almost telepathically. The chassis is all new, carrying nothing over from the previous Z models, with monotube shocks, suspension tuning that keeps the car flat and planted through hard cornering, yet is supple enough to be everyday-driving comfortable.
The body is lower, sleeker, and despite appearances a tiny bit shorter than the 370Z it replaces. It is one of the most exciting cars to come from Nissan in nearly a decade, and at $41k is an absolute bargain.
2023 Subaru WRX Limited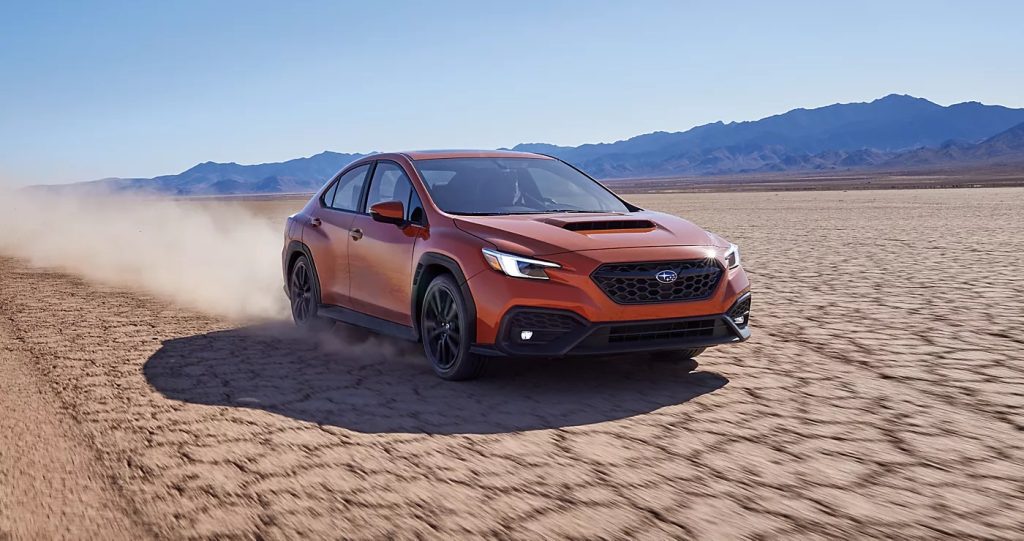 Base price $37,495 USD
The model name Impreza is the stuff of legends for Subaru, as it was the model that took them to glory in the World Rally Championship. To celebrate their success in the WRC, in the mid-1990s they release the Impreza WRX.
Throughout the years, there have been many models and variations, including the top-tier performance models tagged with the STI badge (Subaru Technica International, their racing division). For 2023, however, the STI performance model has been discontinued, the name reserved for the new upcoming EV version of the WRX in 2025, leaving just the "normal" WRX to fill in the performance gap.
However, to balance out the loss of the STI badge, all of the trims of the WRX have had significant upgrades for the 2023 model year, and of those, the WRX Limited is the best bet for proper sports car fun!
Featuring a 2.4L turbo flat-four, the engine burbles out 271 HP and 258 lbs-ft of torque, mated to a 6-speed manual. If one wanted to get the 8-speed automatic, there is the WRX GT at $43,395, but the WRX just screams that it needs three pedals and to row your own gears.
What makes the WRX the car it is is the superb AWD system that Subaru have perfected over 30+ years. It gives the wheels with the most grip the most power, even on dry tarmac, continuously varying the distribution while keeping the balance of power symmetrical so the car isn't pulled out of line to the left of right, hence why they label it as Subaru Symmetrical AWD.
The AWD system also features active torque vectoring, stability, and traction control, meaning that no matter what surface you're on, be it dry tarmac or sheet ice, the car finds a way to grip and go. In perfect conditions, the WRX Limited will sprint to 60 in 5.3 seconds, and even on a snow covered icy road, it will get there in under 6 seconds. That, in a nutshell, is why the WRX is such an amazing performance car for under $50,000… it is fast and fun in any weather, exactly as it has been designed to be.
2024 Ford Mustang GT Fastback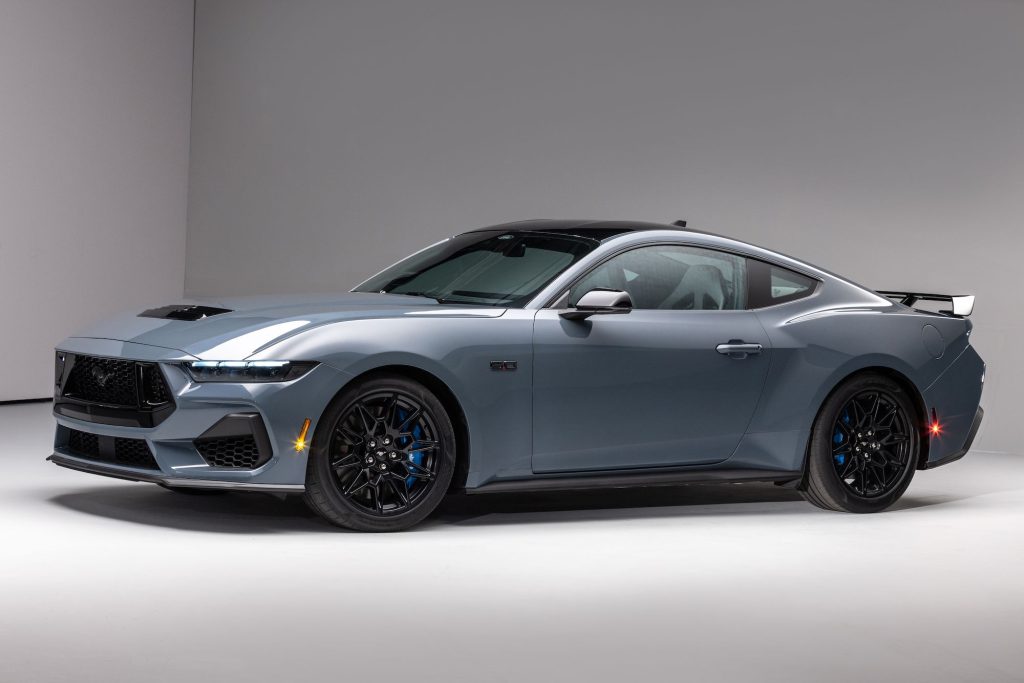 Base price $42,495 USD 
The Ford Mustang holds the title of the best-selling sports car in the world, and with good reason. It is a sports car, but also the quintessential muscle car of several decades and generations.
Now entering its 7th generation, with sales starting in 2023 for the 2024 model year, the GT Fastback is the model that many enthusiasts will be looking at with interest.
It features an upgraded version of the Coyote 5.0L V8, now producing 450 HP and 410 lbs-ft of torque with direct-port injection, mated to a manual 6-speed transmission and driving the rear wheels only, as goes Chapter 1, Paragraph 1 of "How To Built A Ford Mustang." Optionally, you can select a 10-speed automatic that will come in at about $2,000 extra.
The body has been redesigned to provide much more natural downforce, including a front splitter and rear decklid spoiler that are both fully functional. The hood also has new vent that allows for air coming up through the radiator to escape more easily, as well as reduce underbody lift.
All of this comes together to give the Mustang GT Fastback a 0 to 60 time of 4.5 seconds, and an electronically limited top speed of 155 MPH.
2023 Genesis G70 2.0T Select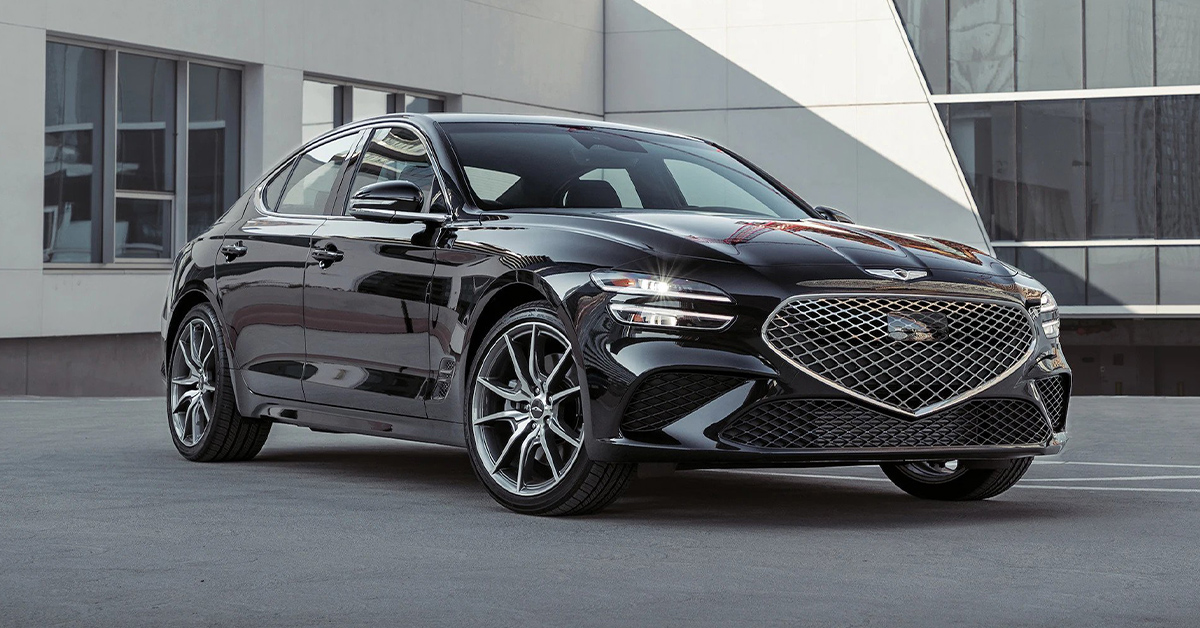 Base price $47,150 USD
Some may not know this, but Genesis has a legitimate sports sedan worth looking at. It's called the G70 2.0T Select, and it is part of the luxury brand owned by Hyundai, who started off this list with the Elantra N. The Genesis G70 is not positioned to challenge the affordable family sedan market, however… it is positioned to take the nuts to brands like Mercedes, Audi, and BMW.
While there are higher specs of the G70, they come in well over $50,000, except for the 2.0T Select. What you get with this car is a 2.0L turbocharged inline-four with 252 HP and 260 lbs-ft of torque, which is more than enough for some serious sporty fun when you consider that this car is just slightly larger than a Toyota Corolla.
It features AWD and a seamlessly shifting 8-speed sport transmission, but the big draw with the G70 is that it uses a properly "old school" hydraulic assist rack-and-pinion steering system. This gives it immense road feel and lets you corner precisely, knowing what the wheels on the road are doing without too much numbing along the way, something that has been lost along the way with the three German brands mentioned before. It is also sublime with is suspension, stiff enough to not roll like a boat on the ocean in the corners, but absorbing every little bump and dip on the road so your spine isn't shattered. It handles precisely, carves corners, has immense grip, and that steering feel cannot be understated.
It is not the fastest to 60, but will still break through in under 6 seconds, nor is it the fastest on the track. However, while the Germans are arguing about which of their sports sedans are the best track-day fun car, the G70, like almost every Hyundai, has a very short options list because it comes equipped with everything but a kitchen sink as standard. Sat-nav? Standard. Massive touch screen infotainment with premium brand name speakers? Standard. Heated and cooled seats? Standard. Dynamic cruise control, lane follow assist, rear cross traffic warning, blind spot monitoring? All standard.
That has been the draw for many to the Genesis brand, and Hyundai and Kia as well as partner brands, in that they give you absolutely everything save for a few options as standard equipment.
If you want to drive a sport sedan with excellent driving feel, enough power to be fun, every feature you could want on a luxury sports car, and have it come in at under $50k, while also looking snazzy and suave, the Genesis G70 is the car for you.