These days, cresting in to the hundred-grand range of a brand new automobile budget will still get you the keys to something more than ordinary. Economic factors such as inflation – and more recently, supply chain issues – have pushed a higher quantity of cars past the six-figure mark that may not otherwise have been there. These increases have affected upstream options too, with $500k+ being about the bare minimum should one wish to experience the crème de la crème of automotive technologies. This is likely the new normal for the industry, and there are no signs of this trend puttering out.
Nevertheless, the $100K – $200K range continues to unlock a highly regarded roster of high-performance sportscars and supercars that anyone should be thrilled to own for their daily grocery runs, weekend track events, and everything in between. As technology from race cars and hypercars is often seen trickling down into cars of this ilk, one could make a strong argument for this category offering the best bang for buck in terms of performance. I'd say those people would be right, as the higher in price you go, the more that diminishing returns typically start to factor in; never mind the fact that uber-expensive cars tend not to be driven anywhere near their performance potential, while their equally-yoked and more affordable counterparts are more primed to take on duties of a more rugged nature.
Here is our list of the Best New Sports & Performance Cars you can purchase in the $100K- $200K USD range.
Acura NSX Type S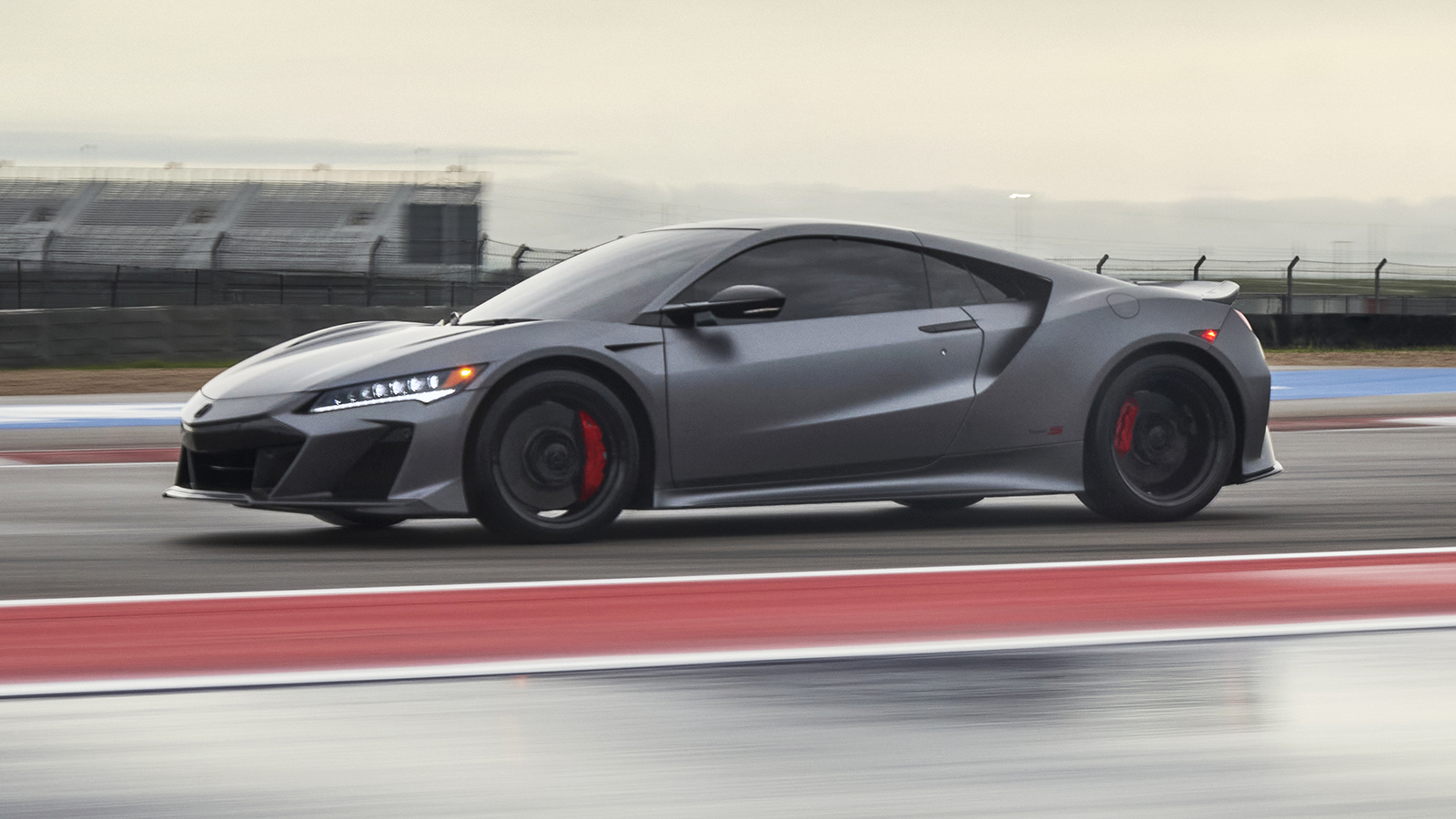 Base Price: $157,500 USD
The base level Acura NSX retains the 573 hp, twin-turbocharged V6 with 3 electric motors and 9-speed DCT used in previous years. It still delivers supercar looks and performance in an everyday livable package. Some pundits call it a "light" Porsche 918 and that says more than anything else. We feel that it is an under-appreciated, but worthy supercar.
New for the 2022 model year is the Acura NSX Type S, which starts at $169,500 (with the optional Lightweight Package adding another $13,000), which isn't significantly more than the base model's MSRP of $157,500 when factoring in all the improvements and considering the rarity of the Type S. Limited to a production run of only 350 units (of which 300 will be allocated for U.S. customers), this latest rendition of the NSX further sets itself apart from the regular model with special 'Type S' logos and nameplates visible throughout the interior and exterior of the car.
Aston Vantage AMR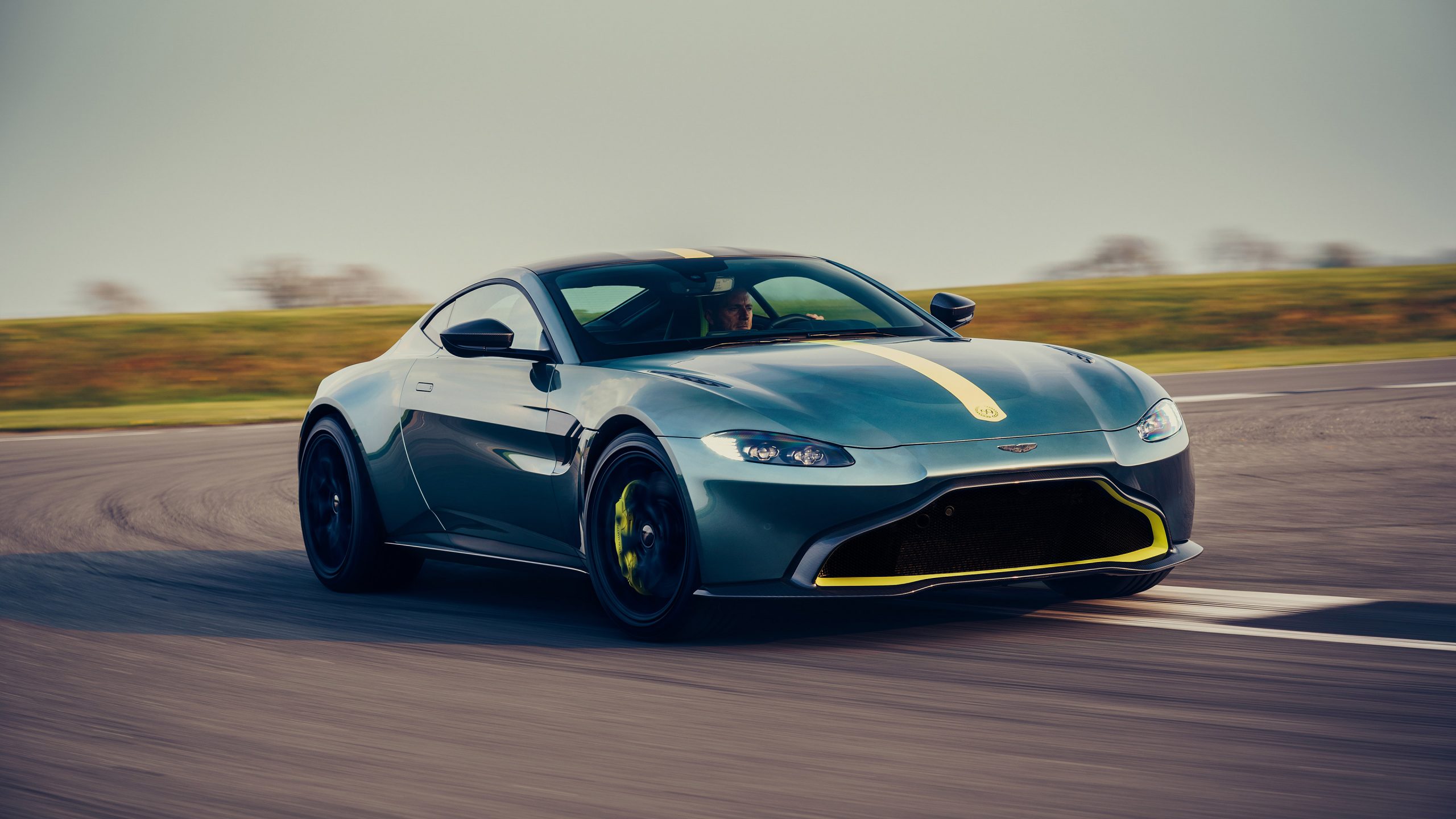 Base Price: $183,081 USD
The Vantage AMR is a new breed of predator, 95 kg lighter in weight than the base model, and boasting a seven-speed rev-matching manual transmission. This is a beast designed to deliver pure, engaging, manual performance – Aston Martin's interpretation of a "true driver's car".
The Vantage AMR also gets a sport-tuned limited-slip differential, carbon-ceramic brakes standard, and the company's most advanced adaptive damping system with Sport, Sport+, and Track driving modes. The sport exhaust and sport seats, which are optional on the regular car, also come standard on the AMR. Its 4.0L twin-turbocharged V8 produces 503 hp @ 6,000 rpm and 461 lb-ft of torque @ 2,000 rpm – this allows the Vantage AMR to sprint from 0-60 mph in 3.9 seconds, on its way to a top speed of 200 mph.
Audi R8 RWD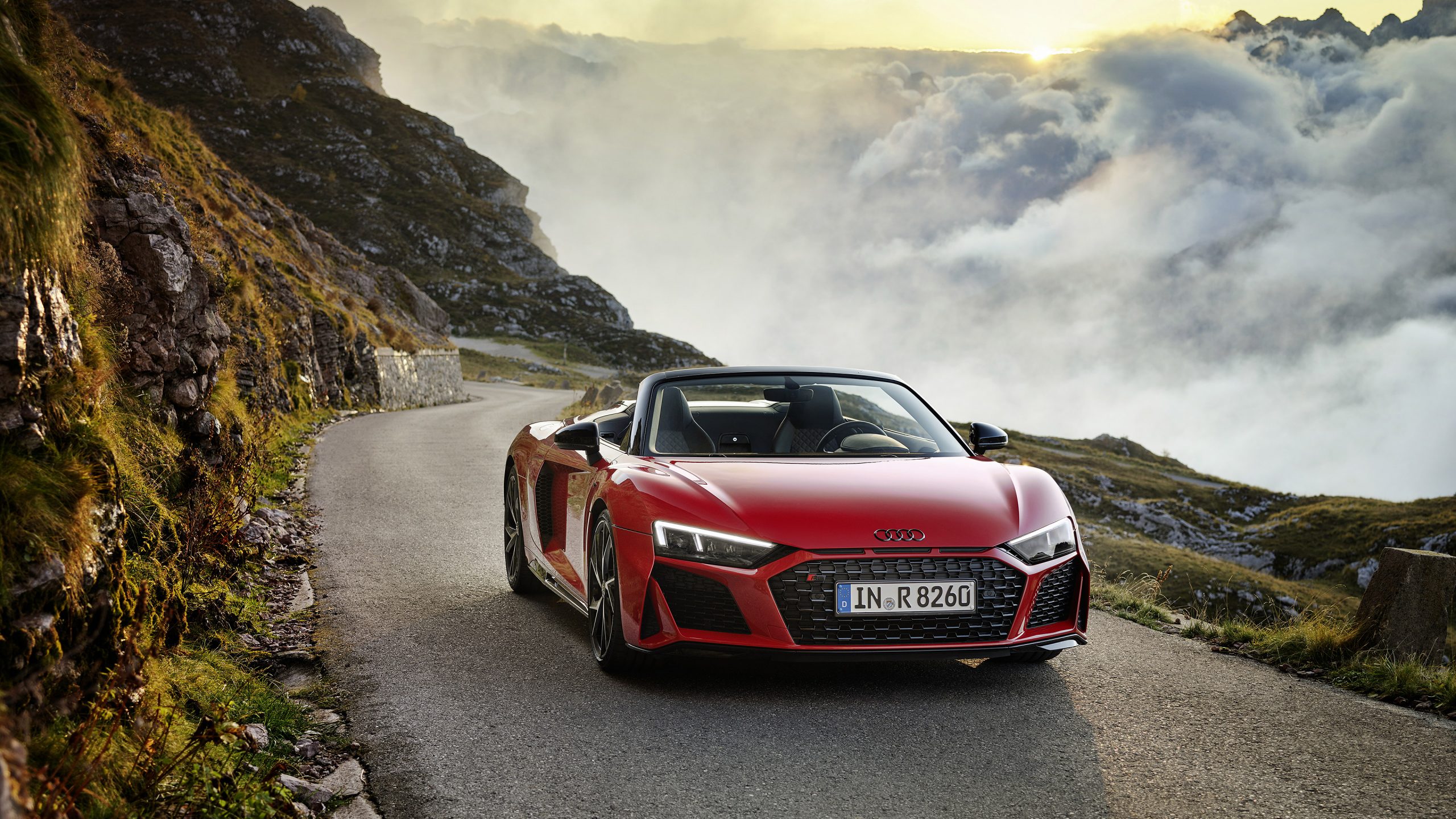 Base Price: $142,700 USD
This has to be the best car that Audi currently has in its model range, regardless of price. Now a standard, instead of a one-off offering, the rear-wheel drive version of Audi's famous R8 supercar is wonderful for so many reasons. Not only does it provide a notably lower price of entry into ownership of a brand new R8, it also brings about the puristic thrills that its heavier and more expensive all-wheel-drive counterpart can't.
Yeah, it's not going to be as quick as the Performance model, but it sure as heck is going to be more fun to drive. Touted as a proper sports car engine, its V10 makes peak power at 7,800 rpm and smoothly revs all the way to a euphoric 8,700 rpm redline, all the while providing a delightful symphony of sound via its howling engine note.
Audi RS 6 Avant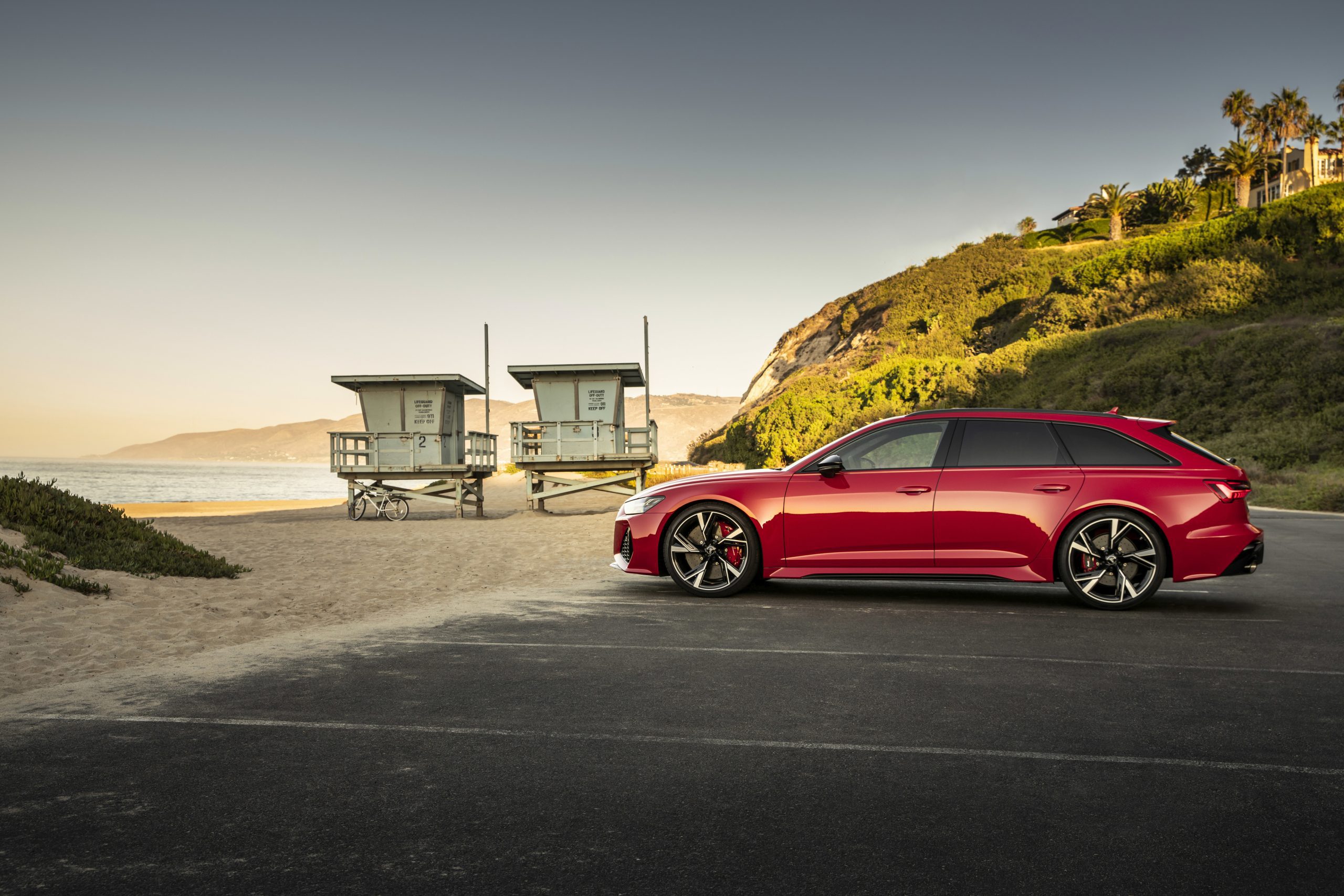 Base Price: $110,045 USD
Audi is reinvigorating the currently stale hot-hatch segment, with its greatly anticipated RS 6 Avant finally making its way over to the western hemisphere. Featuring a mild-hybrid powertrain, this is not your average station wagon. The aggressive and attractive RS-specific bodywork makes a loud statement that this is no ordinary grocery getter. Ok, so it's not exactly cheap either – with a base price north of 6 figures – but it's easily my favorite Audi, and is the best car in the lineup that is not an R8.
At the heart of the car is a twin-turbocharged 4.0L V8 engine that puts out a whopping 591 hp and 590 lb-ft of torque. The results are impressive, too – the car can sprint from 0-62 mph in just 3.6 seconds, on its way to a top speed of 155 mph.
Audi e-tron GT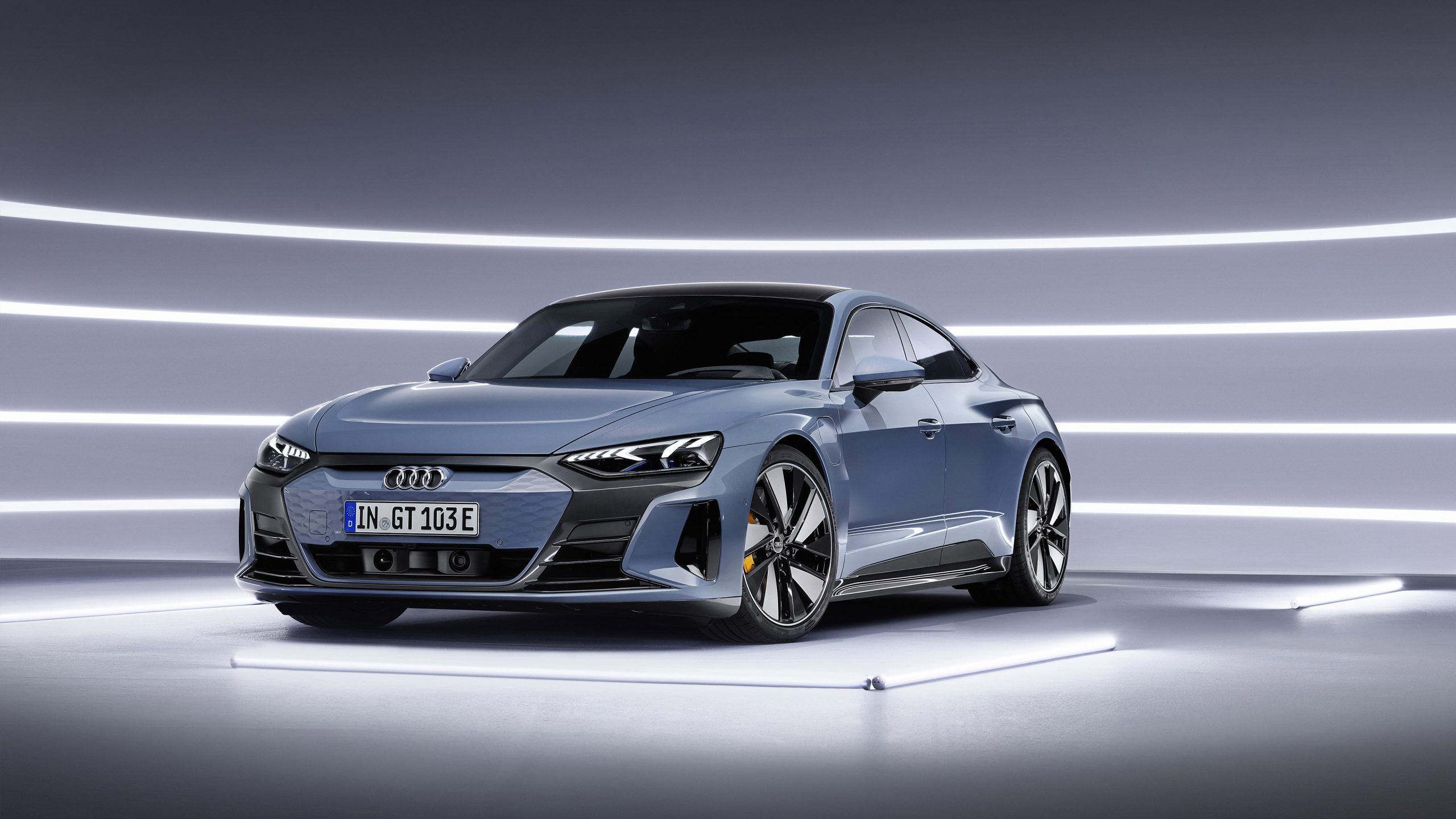 Base Price: $102,400 USD, $142,400 USD (RS e-tron GT)
The 2022 Audi e-tron GT is the four-ringed company's first entrant into the high-performance EV weight class. It looks to shake up a playing field which includes the likes of the Tesla Model S and Porsche Taycan, the latter of which it shares many of the same underpinnings. This isn't the marque's first EV model, as it joins up with a roster currently occupied by Audi's e-tron SUVs.
However, the e-tron GT does have the distinction of becoming the first fully-electric car to don the company's legendary RS badge via the highest and most expensive trim level currently on offer. The base model e-tron GT predictably comes with less of the go-faster, stop-harder and look-sexier ingredients that are typically reserved for an RS model, but it does share the same 93.4 kWh battery with its more glamorous stablemate.
BMW M5 CS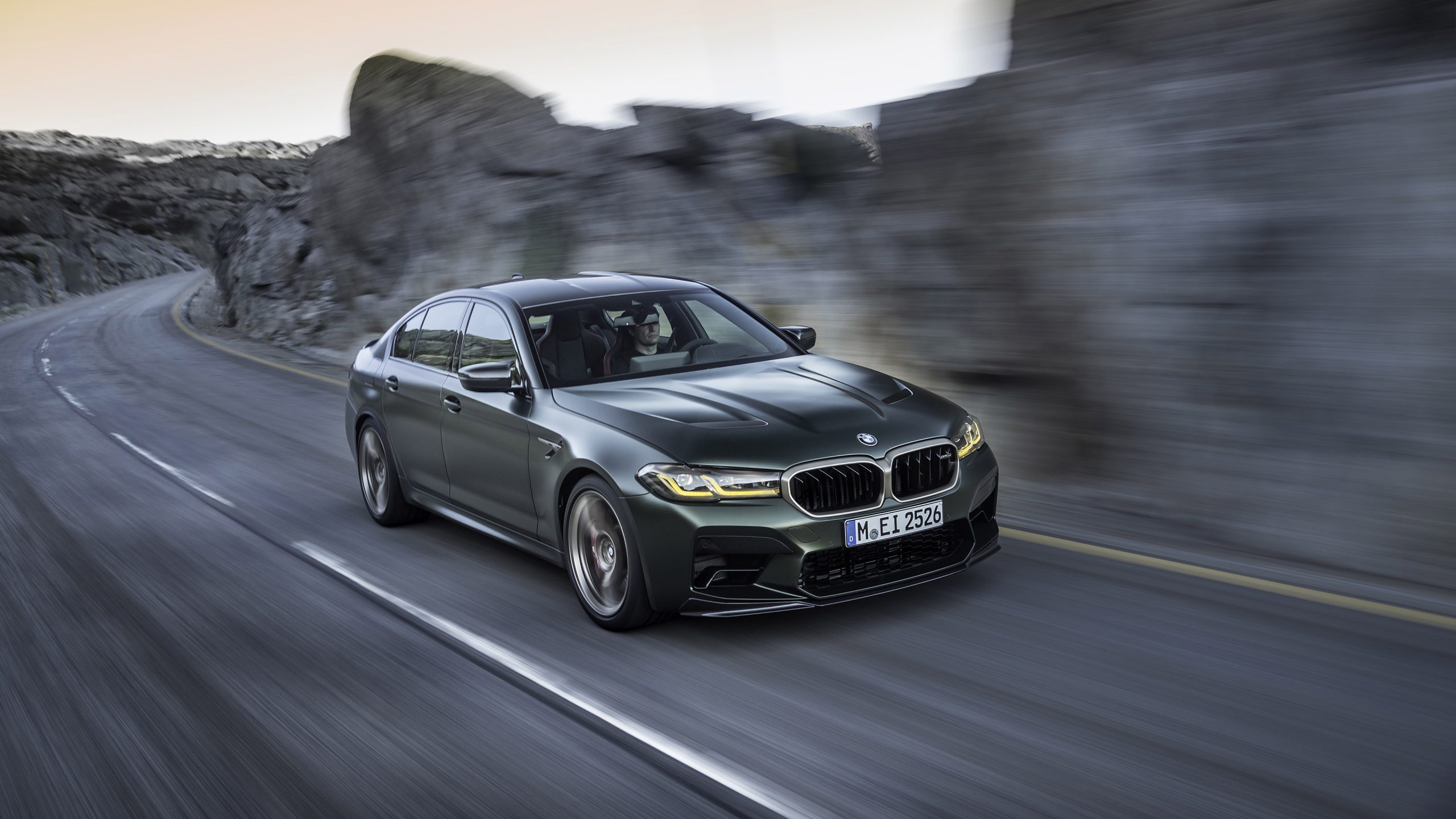 Base Price: $142,000 USD
If you're in the market for an M5, it's really a no brainer – for us, anyway – to spend the wee-bit extra to step up to the M5 Competition. Just a touch more powerful, the M5 Competition comes with 617 horsepower and 553 lb-ft of torque. Where you really get your money's worth is through the stiffer dampers, stiffer anti-roll bars, and a .28" lower ride height. All things considered the M5 Competition is a sharper, stiffer, and an even more performance-oriented version of the M5.
The Competition model gets a new full Merino leather color scheme, a new Track drive mode, and new shock absorbers. These dampers benefit from a recalibrated control system that BMW says should improve ride comfort, especially at high speeds. Still not enough? Well, there also happens to be a new range-topping CS model for the M5 which puts out an additional 10 hp, for a grand total of 627 hp. That's nothing to write home about, but where the CS truly begins to differentiate itself is on the scales; it's some 230 lbs less than the Competition model, thanks in large part to a strict diet of carbon fiber.
Chevrolet Corvette Z06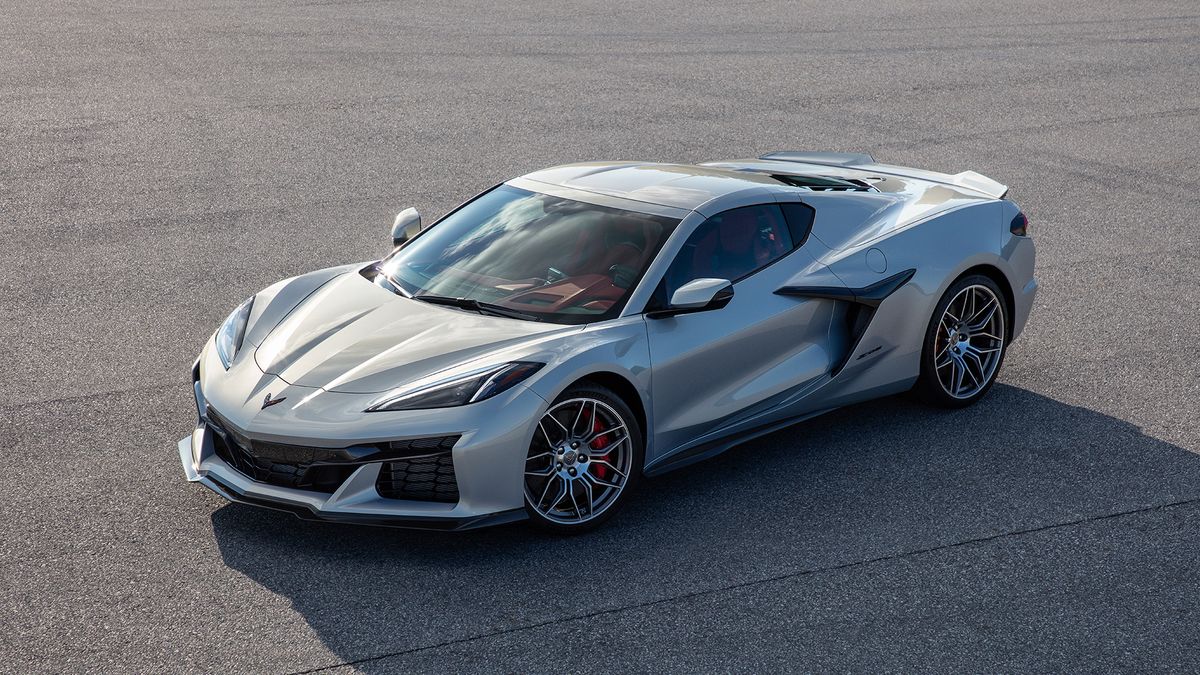 Base Price: $90,000 USD (est.)
In the months prior to the camo coming off, we'd been teased with a couple video snippets of what the new Z06 has on tap; and Chevrolet has made it abundantly clear that their latest Corvette model is a derivative of their latest race-bred technologies and unyielding philosophies.  More recently, another promo video made a brief nod to the new Z06's flat-plane crank engine – dubbed the LT6 – being able to rev all the way to 8,600 rpm. We now know that the 5.5L naturally-aspirated V8 produces 670 hp @ 8,400 rpm and 460 ft-lb of torque.
Chevrolet has stated that production of the Corvette Z06 will begin in mid-2022 and that the car will be designated as a 2023 model, so we can expect the first deliveries to start trickling in by next summer. The official website suggests that they're currently entertaining  "inquiries" for the Z06 – and you can even start designing your own – although no official word on pricing has been publicly provided yet. For now we can only speculate, but a starting price of around $90,000 USD sounds logical; this would put it at about $30,000 more than the base car's starting MSRP. While this places it just under the 6-figure mark, we reckon that having some buffer for the higher range – while also considering factors such as freight, taxes, and must-have options – basically makes it a $100K car.
Jaguar F-Type R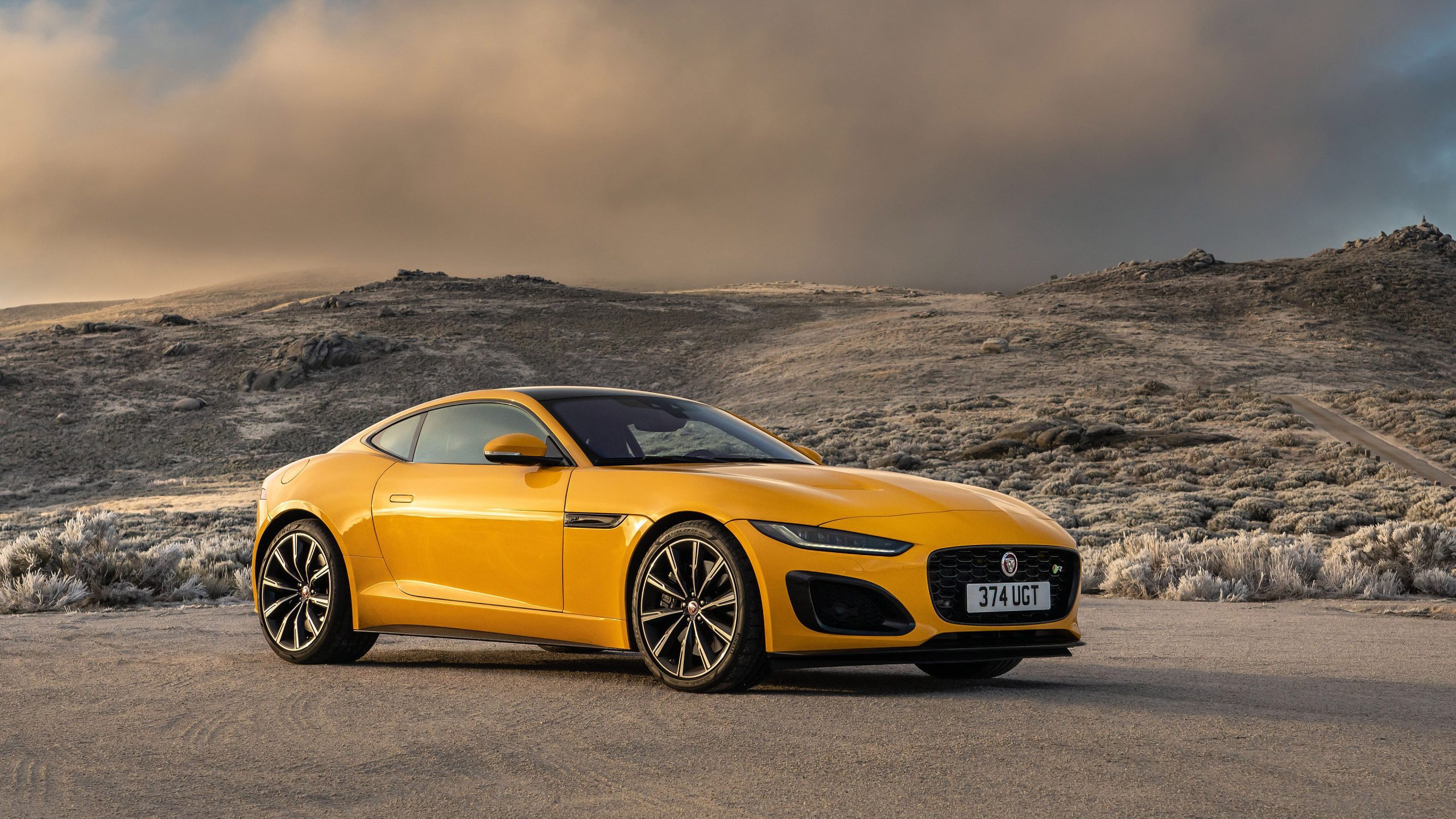 Base Price: $103,200 USD
The F-Type R has seen its engine output increased for the 2021 year, gaining 25 hp and 14 lb-ft of torque over the previous year's entry. The engine is exclusively mated to an all-wheel drive system. The general platform remains unchanged, with updates to the exterior and interior keeping the model feeling fresh and in line with the rest of its lineup. New LED headlights and taillights, a revised front and rear bumper, and a new infotainment system are amongst the aforementioned updates.
Available in both coupe and convertible form, Jaguar's F-Type R sports car is now the highest F-Type trim in the roster and is equipped with an arsenal required to square off against the likes of the Porsche 911 and comparable Mercedes AMG and BMW M models. With sharp handling and blistering acceleration – thanks in large part to its advanced all-wheel-drive system – the F-Type R makes for a padded spec sheet and costs less than most of its competition.
Maserati Quattroporte Trofeo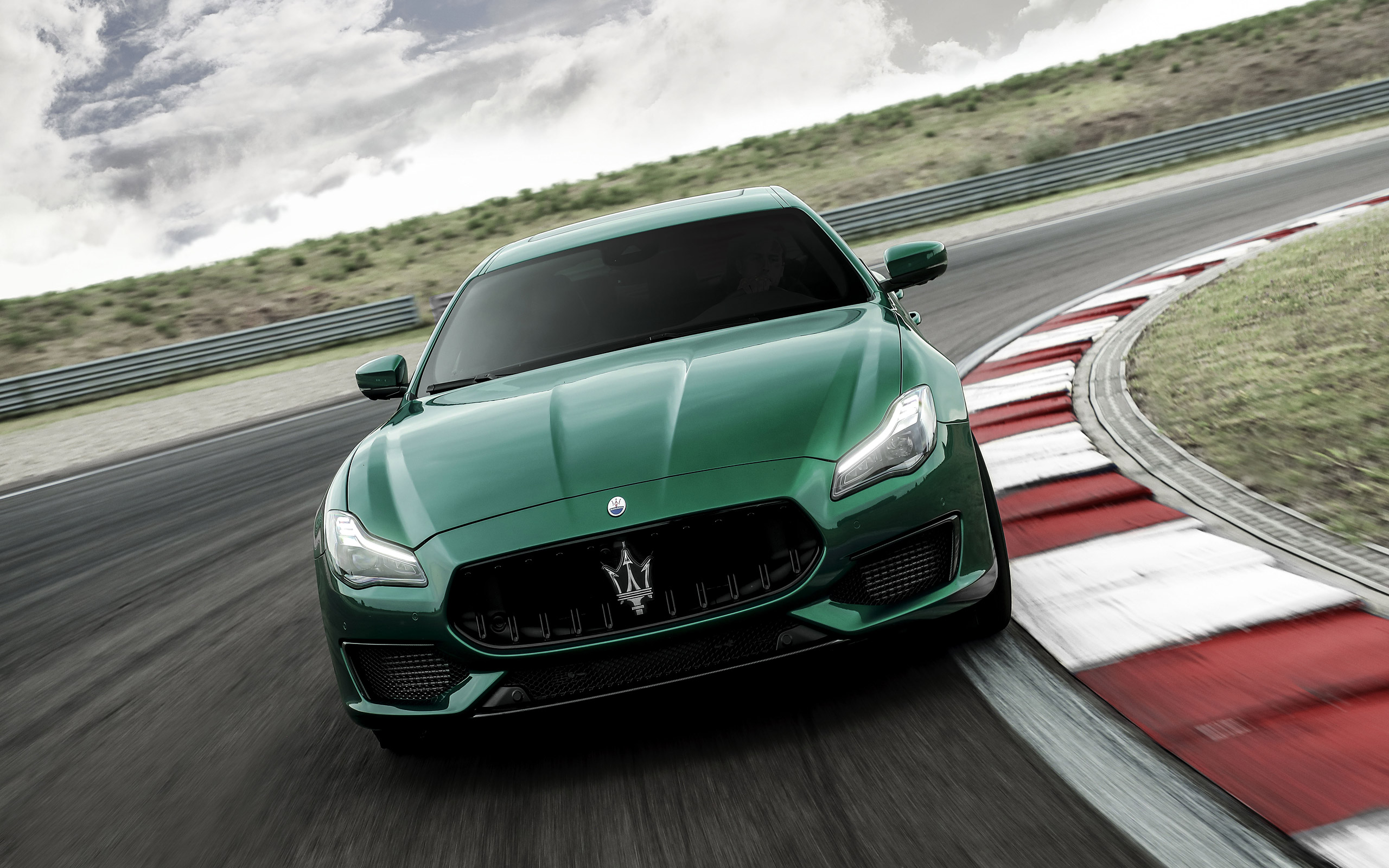 Base Price: $142,390 USD
Literally meaning "four doors" in Italian, the Quattroporte sedan is the lineup's current flagship sedan and comes with the gusto and flair required to duly represent the Maserati brand. Its luxurious interior and plush cabin are the car's calling card, and is certainly the best out of all the currently available models. More Ferrari-goodness in the engine bay too, with Ferrari twin-turbocharged engines available in two configurations – a 424 hp 3.0L V6 for the S, and a 580 hp V8 for the Trofeo.
An eight-speed automatic and rear-wheel drive are standard on both the S and Trofeo. The Trofeo obviously epitomizes the best of the range, with its more powerful and sporty demeanor transforming what is otherwise a pretty subdued car by today's standards.
McLaren 570S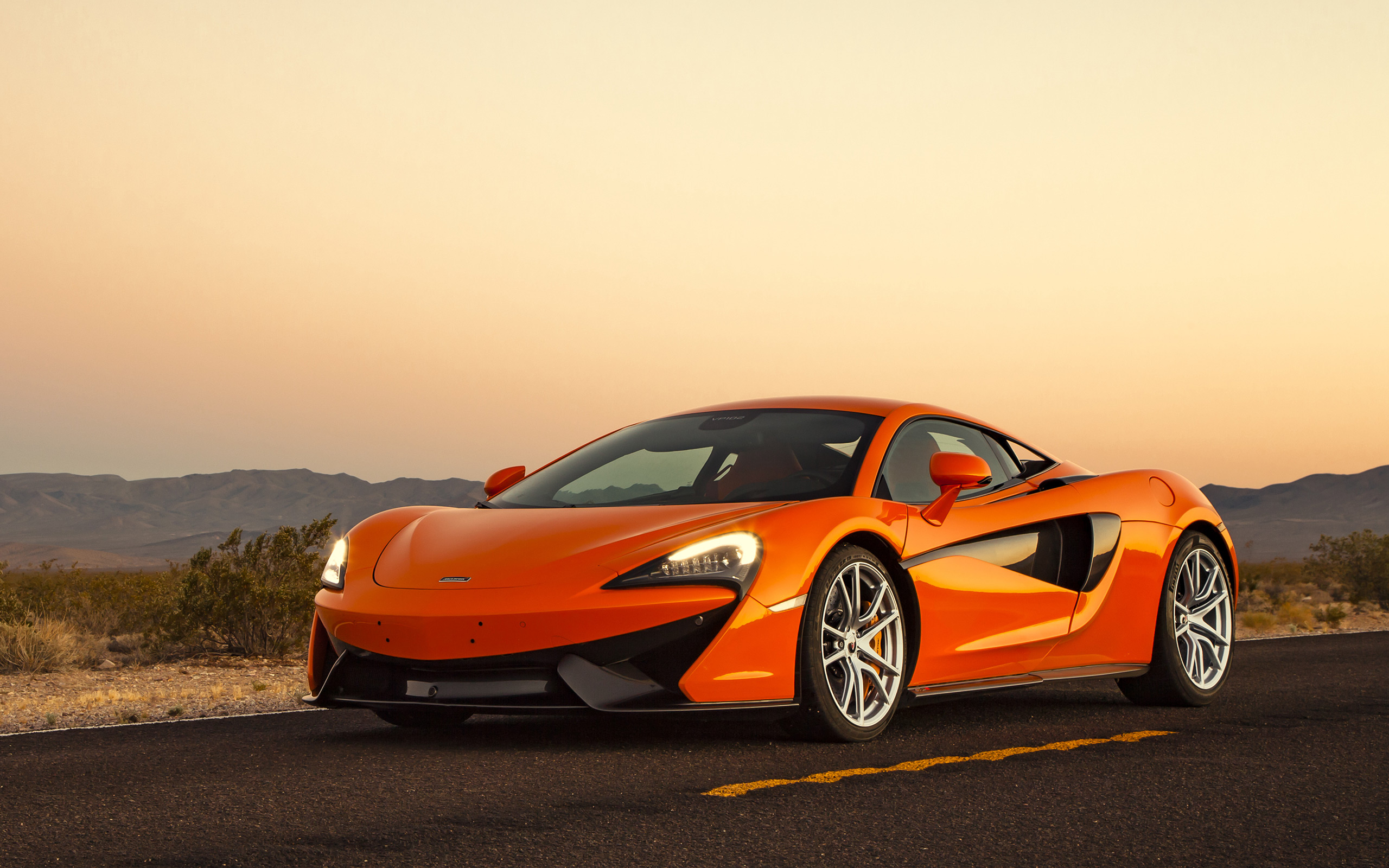 Base Price: US$191,100 USD
The McLaren 570S would be that "sweet spot" in the McLaren range if you are looking to get into the brand at a relatively accessible price point, while still being able to experience the true performance thrills that epitomize the automaker's supercar lineup. We love the 570S, as it delivers this in spades – a true sports car experience, centered around the driver, delivering epic yet livable performance. It's lightweight, the steering is analog and direct, and the driving dynamics are quite simply superb.
We reckon that its most direct competition would be the Porsche 911 Turbo, and believe that the 570S offers things that its German rival simply cannot afford – unquestionably exotic styling, the heightened sensations of rear-wheel drive, and the surgical balance of a mid-engined supercar platform. Though it might not match the 911 Turbo on interior amenities and creature comforts, by nature of its design, it's still comfortable enough as a daily driver and is guaranteed to turn more heads on your everyday commutes.
Mercedes-AMG E 63 S Sedan / Wagons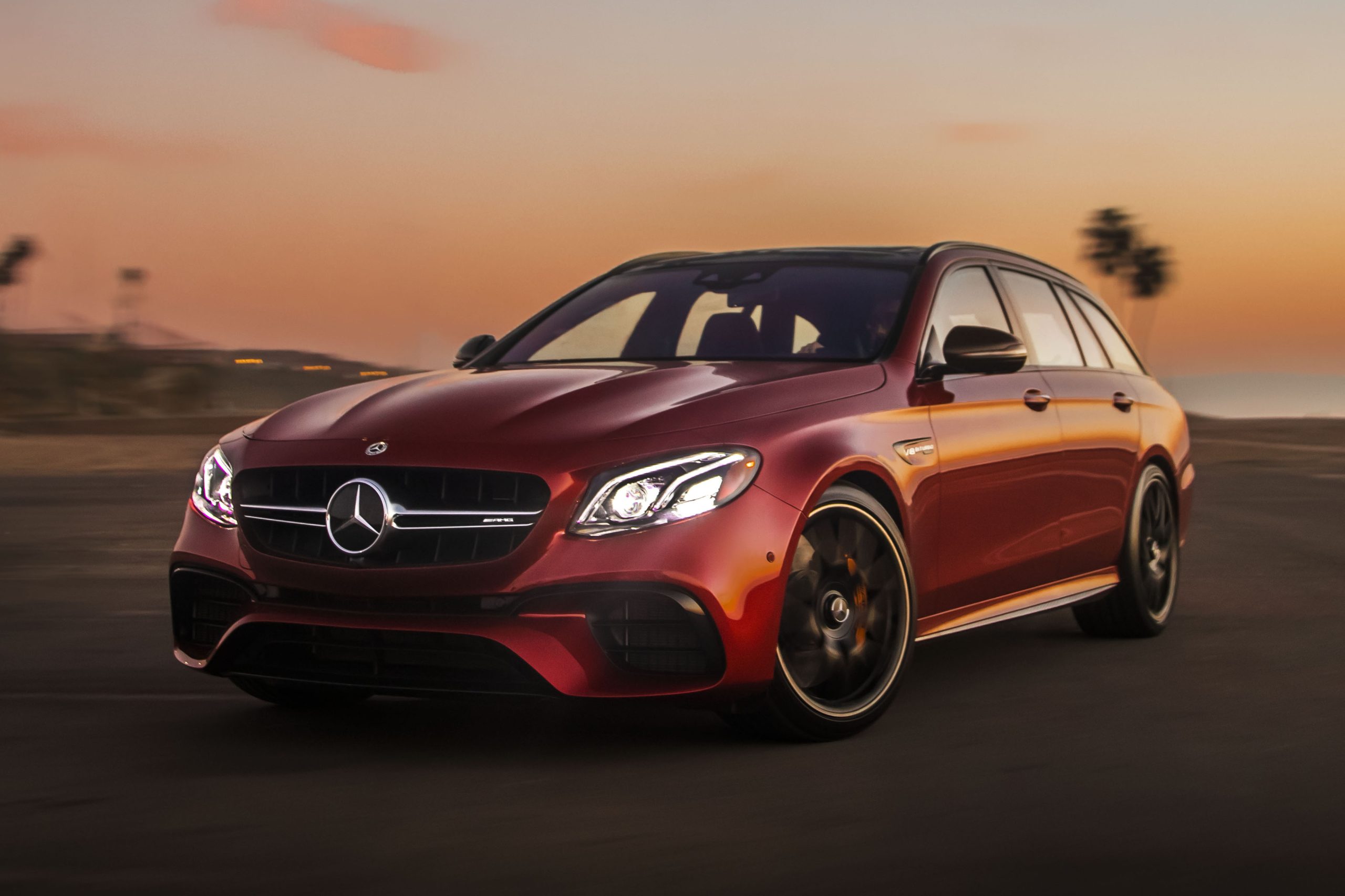 Base Price: $111,750 USD
For 2021, Mercedes refreshed the E63 S's appearance and has also given the sedan some new features. It's the recipient of a new grille design with updated headlights and taillights, as well as new 20-inch wheels with a more aerodynamic silhouette. Inside, the E63 S has a redesigned steering wheel with larger paddle shifters as well as an updated infotainment system. Most importantly though, the engine and powertrain are still best in class; it's a monster when you want it to be, yet it can still poodle around town in luxury when things need to be a little more on the tame side.
The wagon is probably my favorite body-style of any Mercedes-AMG car in the entire roster. It shares the same 4.0L twin-turbocharged V8 as the E63 S sedan – producing 603 hp @ 5,750 rpm – so its slick, utilitarian estate design doesn't come with any meaningful performance penalties whatsoever. In fact, the E63 S wagon outperforms any of its competitors on the road. Is it a spacious supercar or a fast family car? Only one way to find out: Open it up.
Mercedes-AMG GT R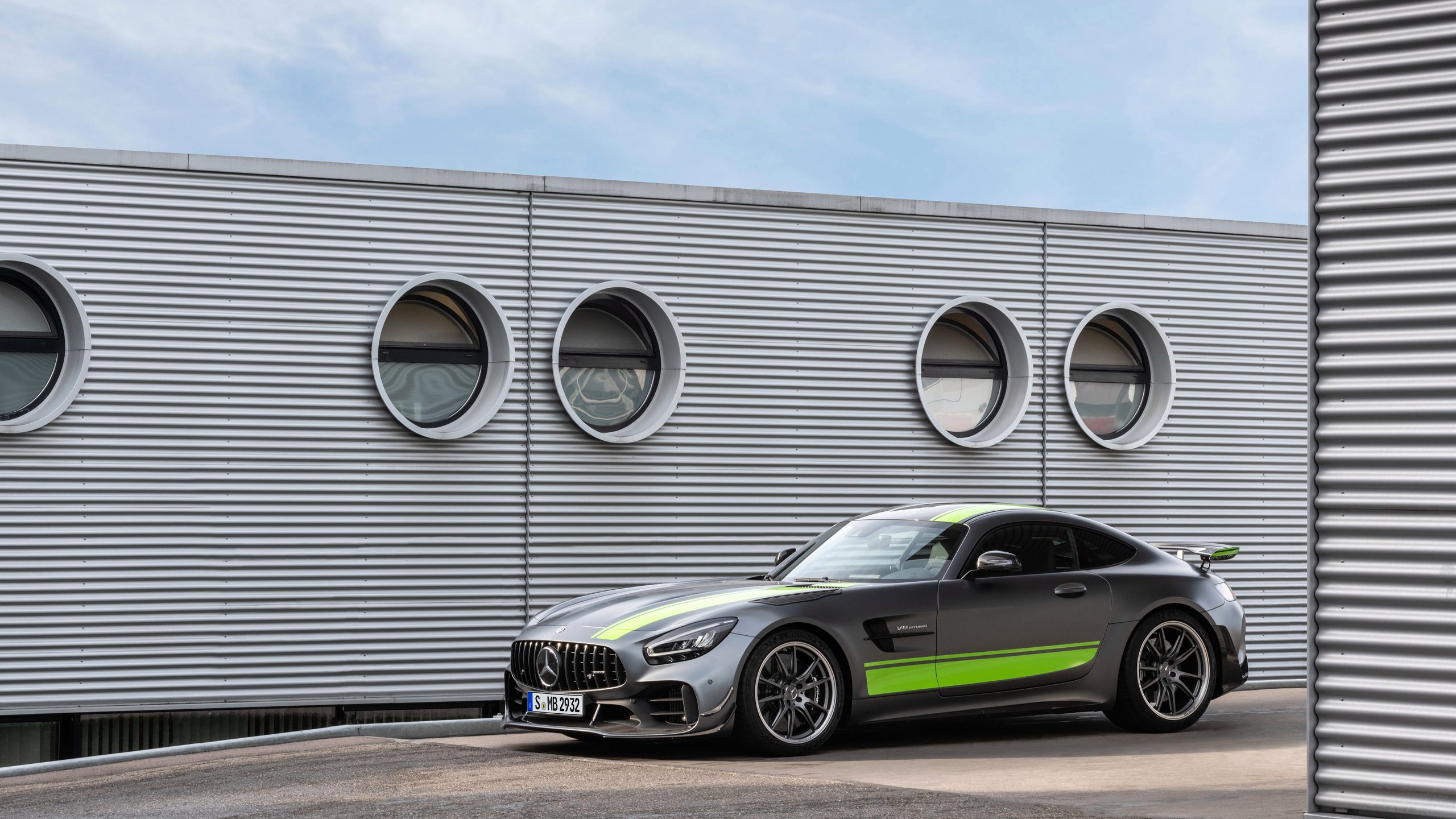 Base Price: $162,900 USD, $199,650 USD (GT R Pro)
The 577 hp AMG GT R is Mercedes-Benz' flagship supercar, which is the amalgamation of half a century of motorsports success, into a single Nürburgring lap. Lightened, sharpened and strengthened, its racing DNA is evident in every fiber of its body, chassis and soul. For those looking for that extra bit of the apex-clipping good stuff, the limited edition 'GT R Pro' is an even more track-focused variant of the GT R.
The new GT R Pro is more than just a fancy (yet functional) body kit and is also the beneficiary of upgrades that aren't as easily seen; such as redesigned mechanically adjustable coil overs, carbon ceramic brakes, a carbon fiber torsion bar, and dynamic engine and transmission mounts. The Mercedes-AMG GT R Pro looks to be calling out the likes of the Porsche 911 GT3 RS, Ferrari 488 GTB and McLaren 720S, and has definitely brought the right arsenal to this battle of giants.
Nissan GT-R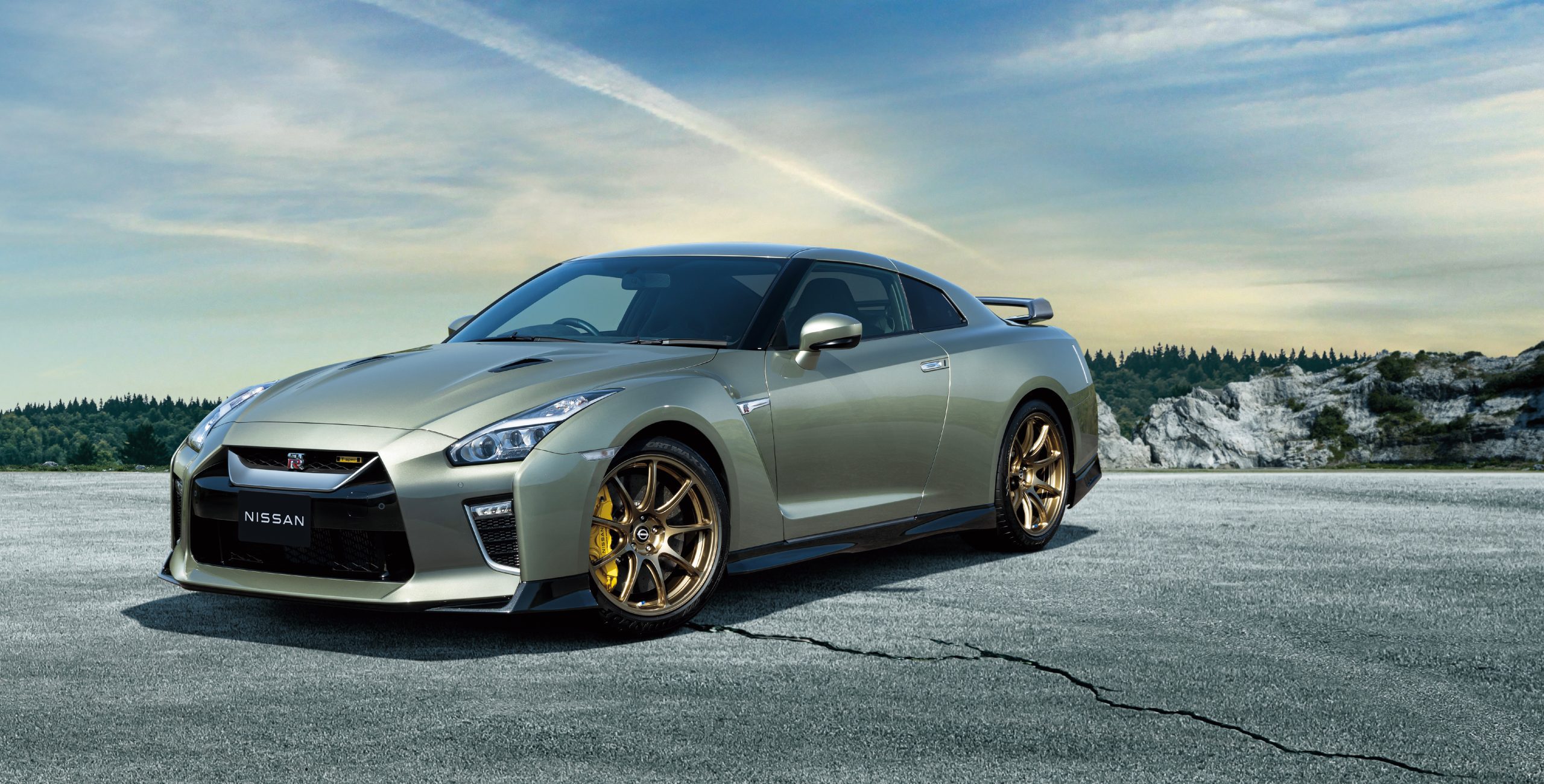 Base Price: $115,335 USD
The venerable Nissan GT-R is still going strong, on its now decade-old R35 platform. While this is a testament to how advanced the platform was when it first arrived on the seen, its longevity is also the bud of many jokes amongst automotive enthusiasts, who collectively feel that the car has exceeded its best-before date by at least a few years. Nevertheless, the R35 has been given incremental, yet important updates every model year.
While it has managed to stay relevant even though it remains in theory, the same car since 2009, recent commotions are suggesting that the 2021/2022 model year should be when the platform gets its long awaited swan song. With its regular improvements have come an equally consistent increase in the sticker price, and the Nissan GT-R is no longer the $80,000 USD bargain it used to be in a supercar segment that has gotten a lot more contested as well. So while the GT-R no longer boasts the same value-for-performance when it debuted all that time ago as an exotic supercar destroyer, it is still by all accounts a top performer amongst the very best that's out there today.
Porsche 911 GT3 (992)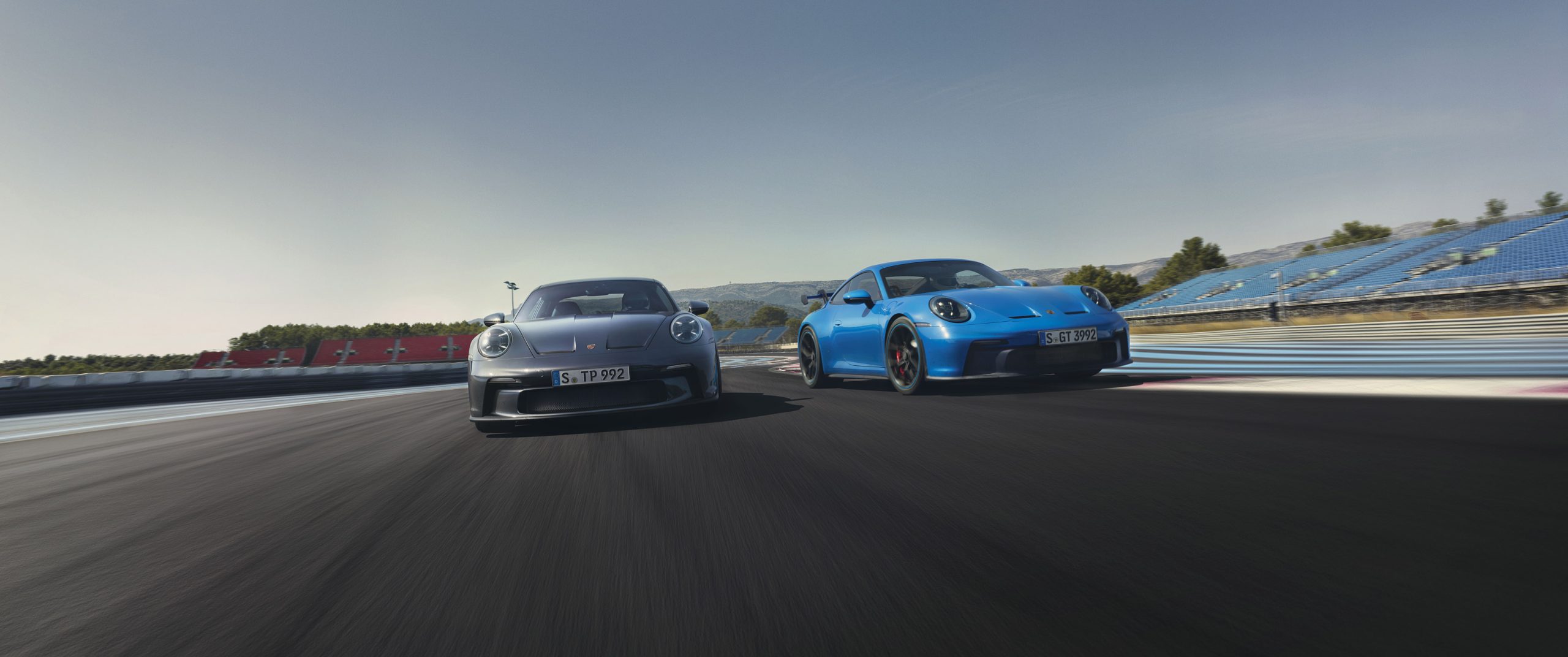 Base Price: $160,100 USD (GT3), $160,100 USD (Touring)
Porsche unveiled its new 992-generation Porsche 911 GT3 via digital livestream on YouTube. First deliveries are just starting to trickle in now, making it likely to be designated as a 2022 model. Semantics aside, this new GT3 becomes the seventh iteration of one of Porsche's most established and beloved automobiles. More importantly, it continues to embody the spirit of previous GT3 models by amalgamating all that is awesome about the 911 – and the Porsche brand – in a single road car.
The automaker has continued the use of the naturally-aspirated 4.0L 9A1 flat-6 power plant in the 2022 Porsche 911 GT3. The only key differences between the engine used in the race car and the one used in the 992 GT3, are the exhaust system and ECU. Otherwise, the two engines share virtually all the same components, such as individual throttle bodies. As such, the new GT3 needed no "sound engineering" and inherently sounds amazing. With its astronomical 9,000 rpm redline, the GT3 produces 502 hp @ 8,400 rpm and 346 lb-ft of torque @ 6,250 rpm. 
Porsche Cayman GT4 RS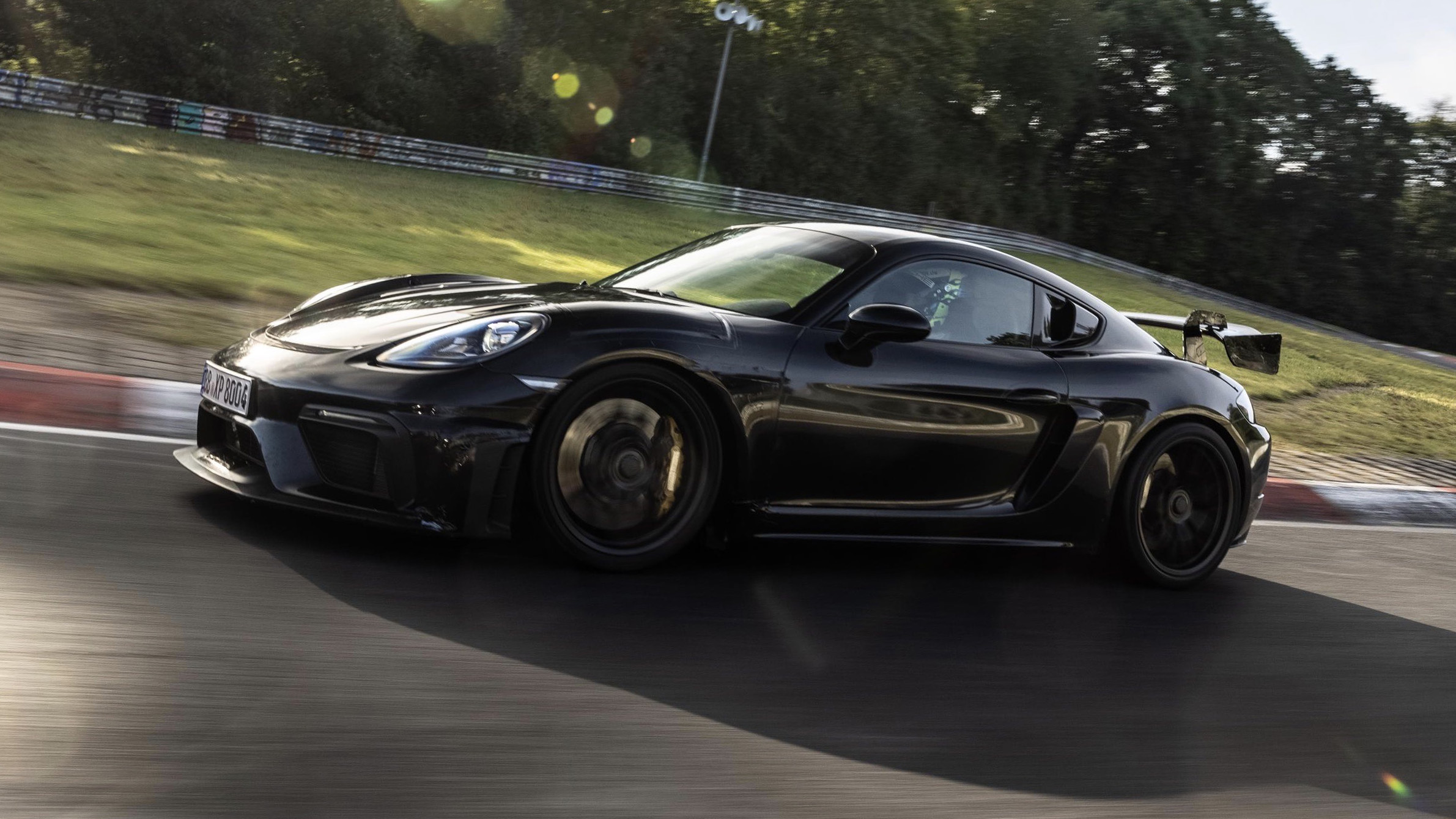 Base Price: $140,000 USD (est.)
Porsche has confirmed under no uncertain terms that there will be a 718 Cayman GT4 RS model. This comes after many months of testing camouflaged mule cars (with accompanied spy shots) which had long hinted that the GT4 RS was going to be a real thing – we finally know that this will indeed be the case. Porsche has stated that they are in the process of wrapping up the final stages of testing.
The GT4 RS will come equipped with a 4.0L naturally-aspirated flat-6, though Porsche has not yet provided any horsepower figures. Besides being obviously more than that of the GT4, many media outlets are predicting that it could make as much as 500 hp, especially considering the measurable gap in their 'Green Hell' lap times. Other telling differences can be spotted visually, with the GT4 RS being subject to the customary aerodynamic transformation. This includes a more aggressive front splitter, front fender vents, and a swan-neck rear wing (similar to that of the 992 GT3).
Porsche 718 Cayman GT4 / 718 Boxster Spyder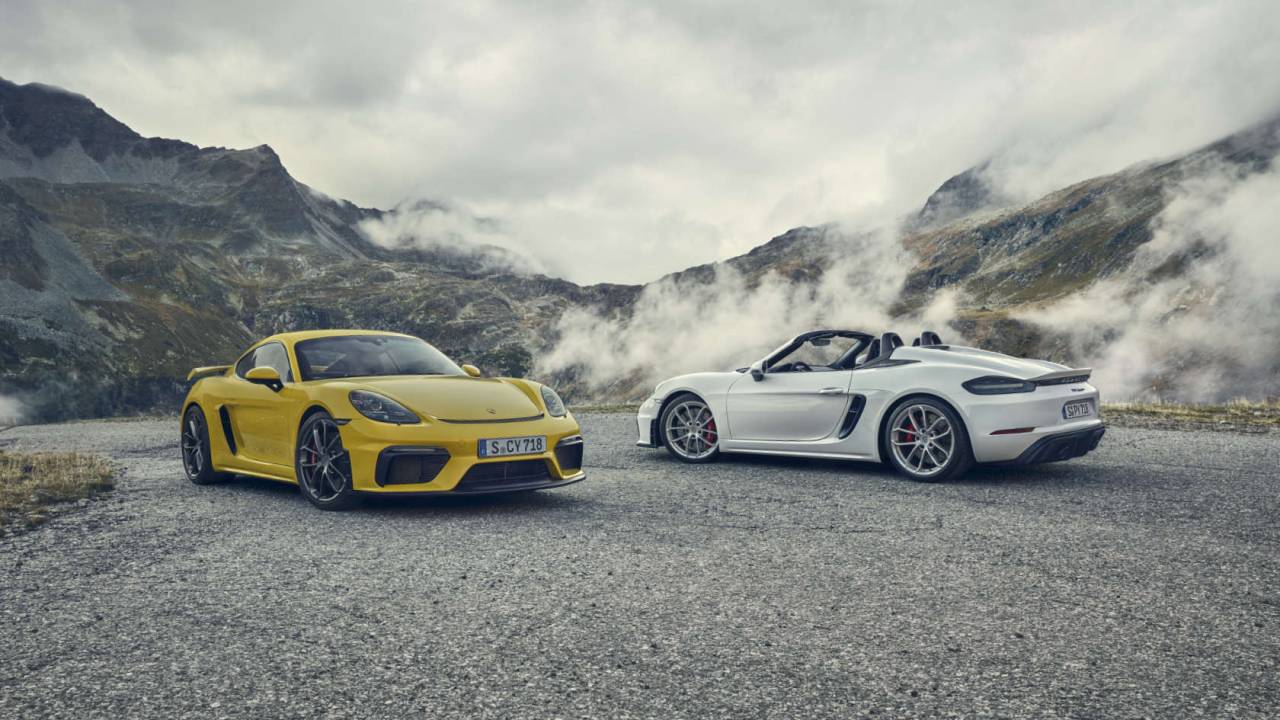 Base Price: $101,200 USD (GT4) / $98,300 USD (Spyder)
The first iteration of the Porsche Cayman GT4 made its debut in 2015, drawing a conclusion to the third generation of Boxster/Cayman (981). Since that time, the GT4 has become a cult hero amongst purists with its absence of frills (not to be misheard as 'thrills'), relative affordability and undisputable demi-god-status as one of the ultimate driver's car. Shortly after the release of the 981 Cayman GT4, Porsche ushered in the fourth generation of the Cayman/Boxster (982) in 2016 which are marketed as the 718. The most welcome fact about the new 718 GT4/Spyder models is that they marked the reintroduction of the naturally aspirated 6-cylinder into the Cayman/Boxster series, and for the first time into the 982 generation.
With the main difference between the two cars being that the GT4 is a coupe while the Spyder is a drop-top, both cars are mechanically identical and benefit equally from the typical GT-treatment we have all come to adore. Like the inaugural GT4, the new GT 'twins' once again infringe on Porsche 911 territory with their stunning performance metrics to rival Stuttgart's own flagship car.
Porsche Taycan (All Models)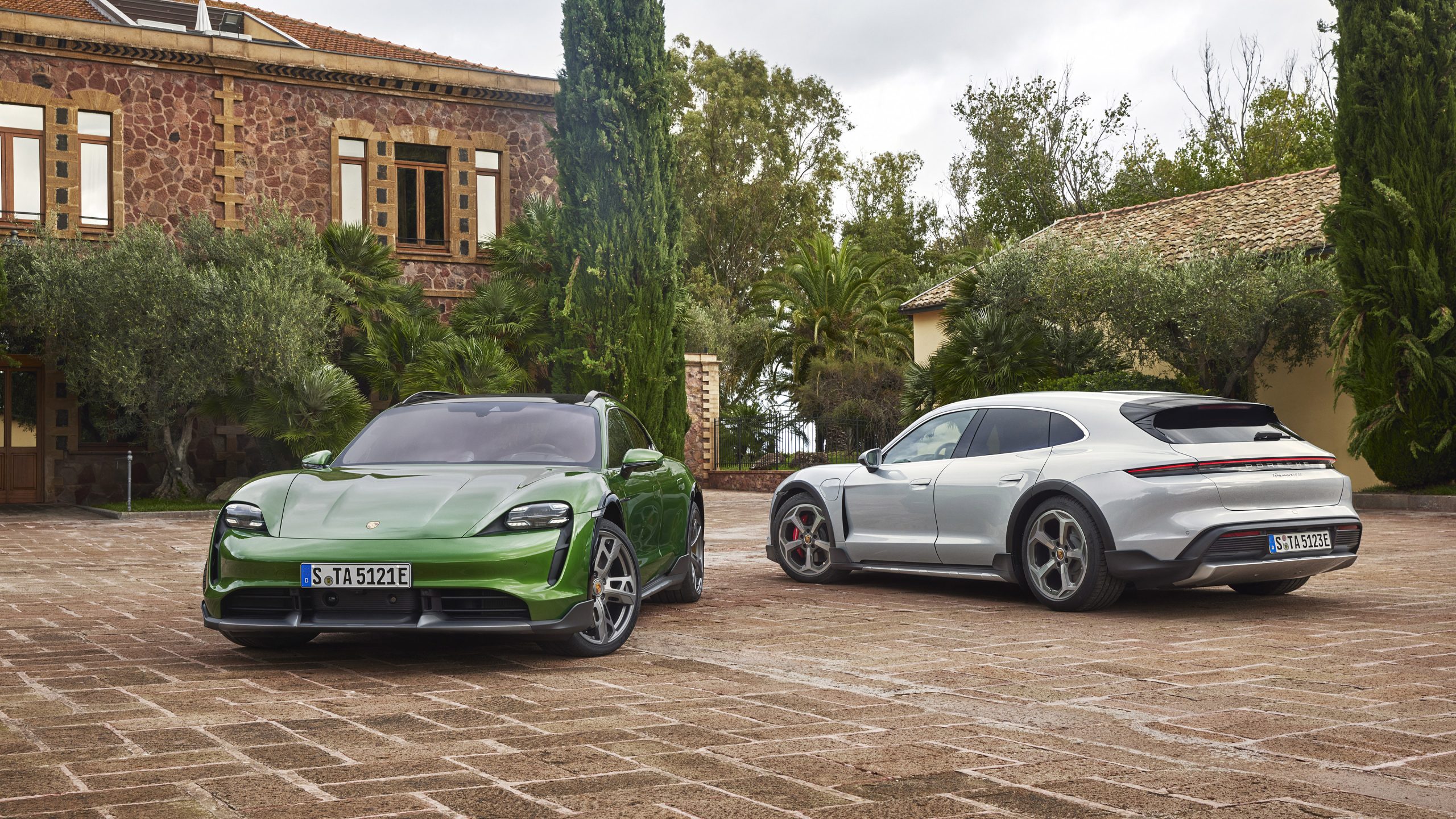 Base Price: Starting at $79,900 USD (Sedan) / Starting at $90,900 USD (Cross Turismo)
Porsche's first EV was the statement car of 2020, proving that a future with electrification can still embody the soul of a true sports car in the Taycan Turbo and Taycan Turbo S. Shortly after their release, Porsche added a slightly detuned version of the Taycan in a trim level known as the Taycan 4S. The company has since expanded the Taycan sports sedan lineup with even more versions, including a rear-wheel drive base model, with a future GTS version rumored to be in the works. Although base prices do start below the $100K mark, the vast majority of Taycan models (even without any options added) certainly meet this threshold.
With the introduction of the new Cross Turismo range of Porsche Taycan models in 2021, we've now entered the second act of the company's electrification strategy. The Porsche Taycan Cross Turismo carries over the EV-platform and performance from its sedan counterpart, then amalgamates them with the utilitarianism of a sporty crossover/estate. What this means is that you can expect the same 800-volt battery architecture powering the car, with 93.4 kWh as the standard fare on all models (certain sedan trims could be had with a smaller 79.2 kWh pack). The Porsche Taycan Cross Turismo is currently available in four distinct trim levels – 4, 4S, Turbo, and Turbo S – with relative performance figures and standard features across the range, mostly in parallel with that of the sedans.
Tesla Model S Plaid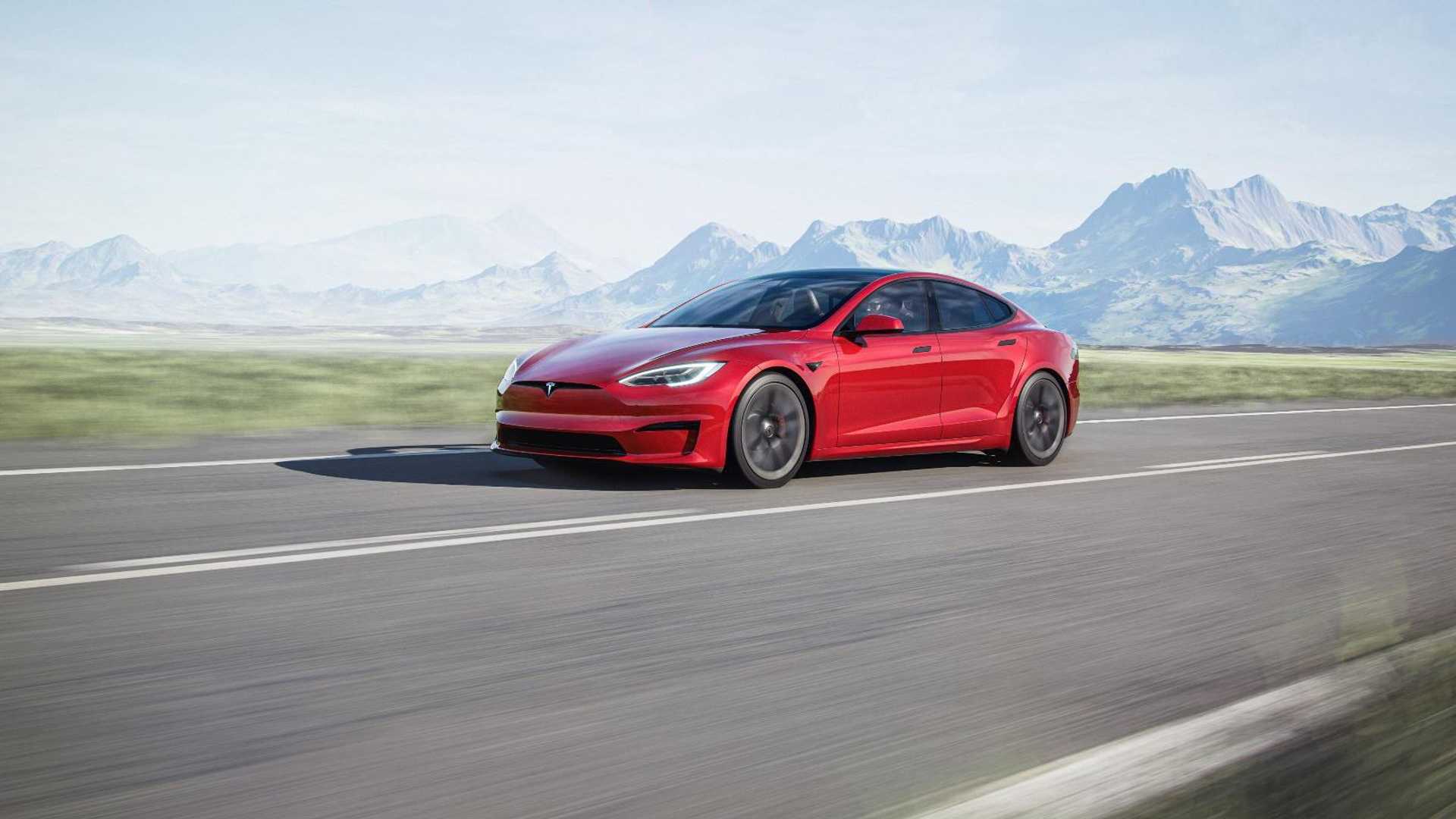 Base Price: $133,900 USD
Tesla's inaugural EV performance sedan might be getting on in age, but the company has continually improved the Model S in a way that not only keeps up with emerging technologies, but takes the reigns on innovation as well. The result of this is the introduction of the all new 'Plaid' version to the 2021 Model S roster. Don't worry, Tesla is still offering their Long Range Plus and Performance models, which keep the Model S well under the $100K range for those who wish to own the car for more pragmatic reasons.
This is important, because the Plaid is anything but. The tri-motor setup it uses (as opposed to dual-motors in the other trims) offers 520 miles of range, but more significantly, it also produces 1,020 hp and 1,050 lb-ft of torque. Hitting the 4-digit milestone on both of those measurements simultaneously is a pretty incredible feat in itself, but it also shatters other popular performance benchmarks too – the 0-60 mph sprint is said to take less than 2 seconds! As it travels the world setting new EV performance records, the new Tesla Model S Plaid certainly moves the goal posts on what a high-performance and relatively affordable EV, can and should be offering.