If you're reading this, chances are you're curious about how much more expensive your dream car is in 2022, or you have a 100k – 200k budget at your disposal and just started looking around.
Unfortunately, the current prices in the new car market landscape have skyrocketed to where it seems to get out of control. In addition, as the sports cars market is becoming more and more competitive, the options you could get your hands on perhaps stray a bit from supercar territory.
Still, a $100,000 – $200,000 budget gives one plenty of breathing room when selecting an exciting new sport or performance car.
With so many sports and performance cars available, determining which ones are the definitive best is not easy. However, this list we put together for you can be a starting point for deciding which of these cars to pull the trigger on.
2022 Mercedes AMG GT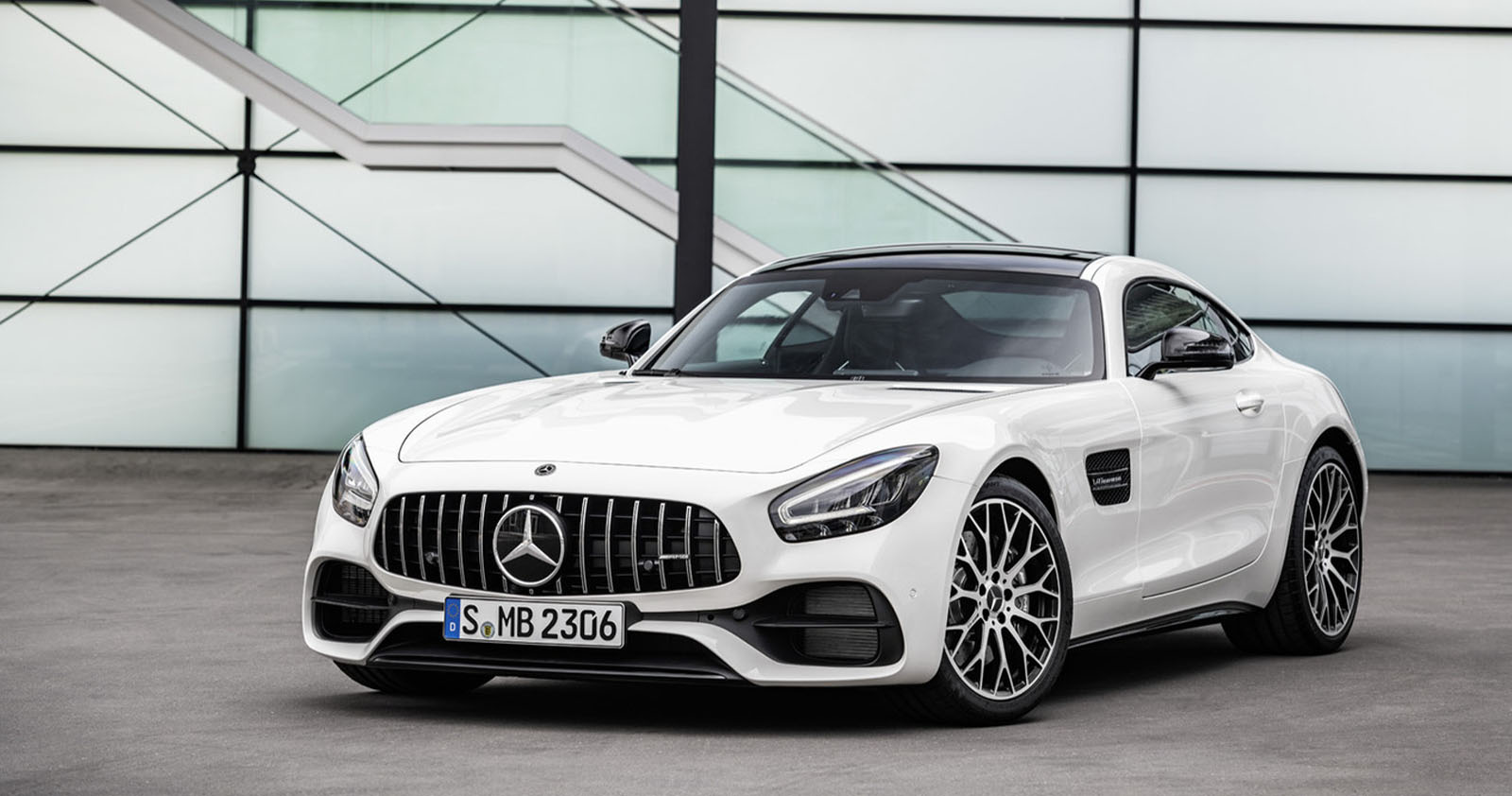 Base price $118,600 USD
Although the 2022 Mercedes-AMG GT coupe is considered an entry-level trim to the Mercedes-AMG lineup, it is much more than that.
The amount of power and thundering engine sounds complemented with a genuinely showstopping styling is something you don't usually get from an entry-level sports car. Instead, the Mercedes-AMG GT is a hugely capable yet civil performance car.
With this "entry-level" Mercedes AMG GT, you're accessing a car with stunning design and flawless fit and finish. In addition, you get attractive features, such as the bespoke switchgear, high-quality leather, and touches of aluminum and carbon fiber.
As a result, this car is an exceptional place to be. It offers a greater sense of occasion than its rivals like the Audi R8 or the Porsche 911. Therefore, we can confidently say the Mercedes-AMG GT coupe is the successor to the old SLS supercar but in a smaller, more agile package.
The main highlight of the 2022 Mercedes-AMG GT is its 4.0-liter twin-turbo V8 handcrafted engine coupled with a seven-speed dual-clutch automatic transmission. The car makes 523 horsepower and 494 lb.-ft- of torque. In addition, it can hit the 60 mph mark in just 3.7 seconds and reach a top speed of 196 mph.
2022 Audi R8 RWD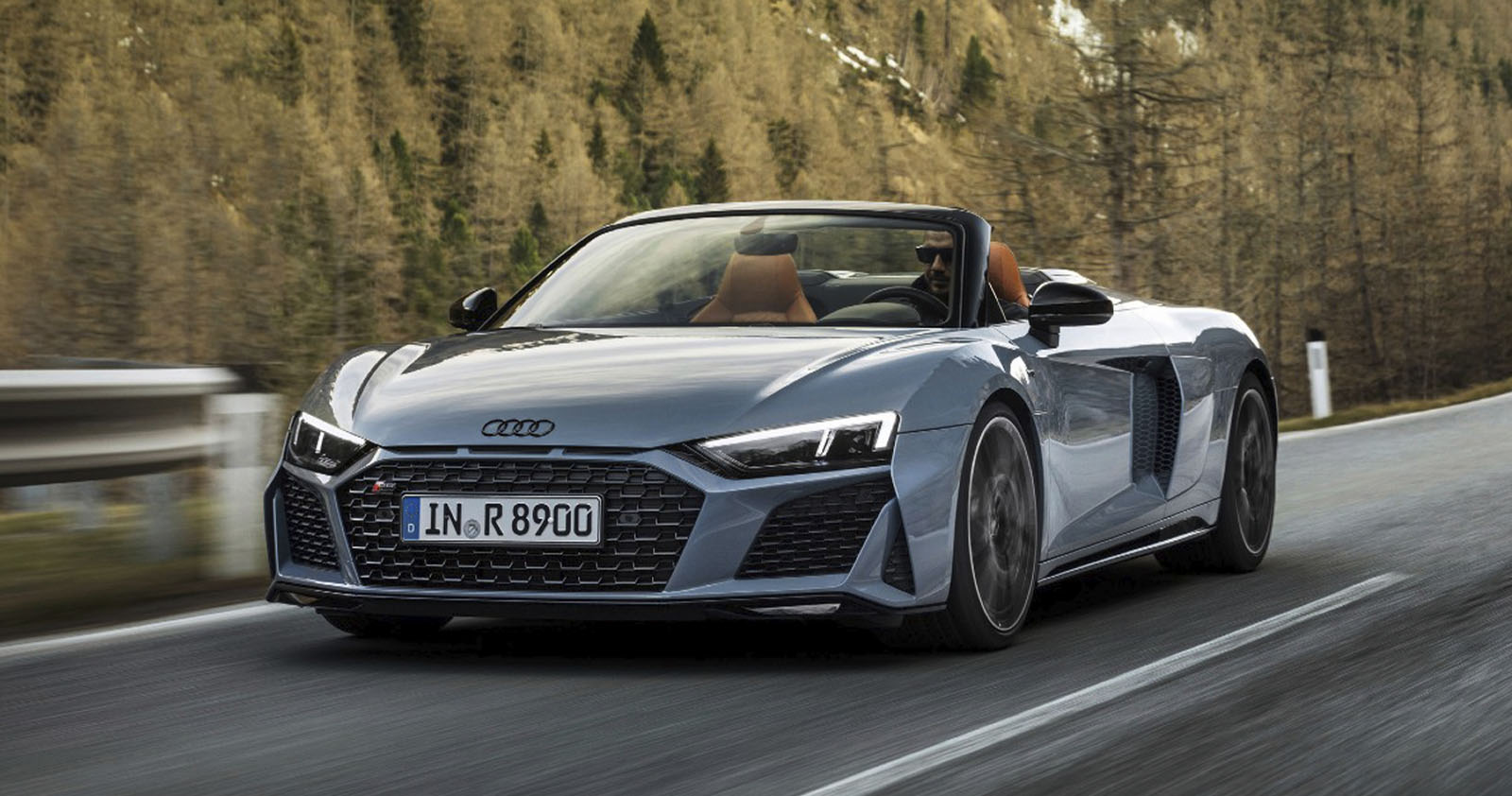 Base price $151,895 USD
Audi's Quattro is a household name that you can find in pretty much the entire Audi lineup. And if an Audi car doesn't come with Quattro, it's typically FWD. However, recently, the acronym "RWD" became relevant in Ingolstadt. The reason is that the Audi R8 V10 now also comes in an entry-level version that offers old-school sports car driving by sending all the power only to the rear axle.
The Audi R8 V10 Performance RWD 2022 is a luxury sports car for drivers seeking the most purist driving sensations. Those characteristics that only a well-achieved rear-wheel-drive sports car can offer.
Being a Performance variant, the brand has taken its naturally aspirated 5.2-liter V10 to tune it up and now extracts 570 horsepower from it. This is an improvement of 30 horses compared to the previous model. In addition, torque grows by 7 lb-ft for a 405 lb-ft total.
Thanks to these adjustments, its acceleration from 0 to 60 takes 3.7 seconds, and a top speed of 204 mph in the case of the Coupé variant. The Spyder will achieve 0-60 in 3.8 seconds, and its top speed is 203 mph. The Engine of the Audi R8 RWD is paired with a 7-speed dual-clutch gearbox.
2022 Nissan GT-R Premium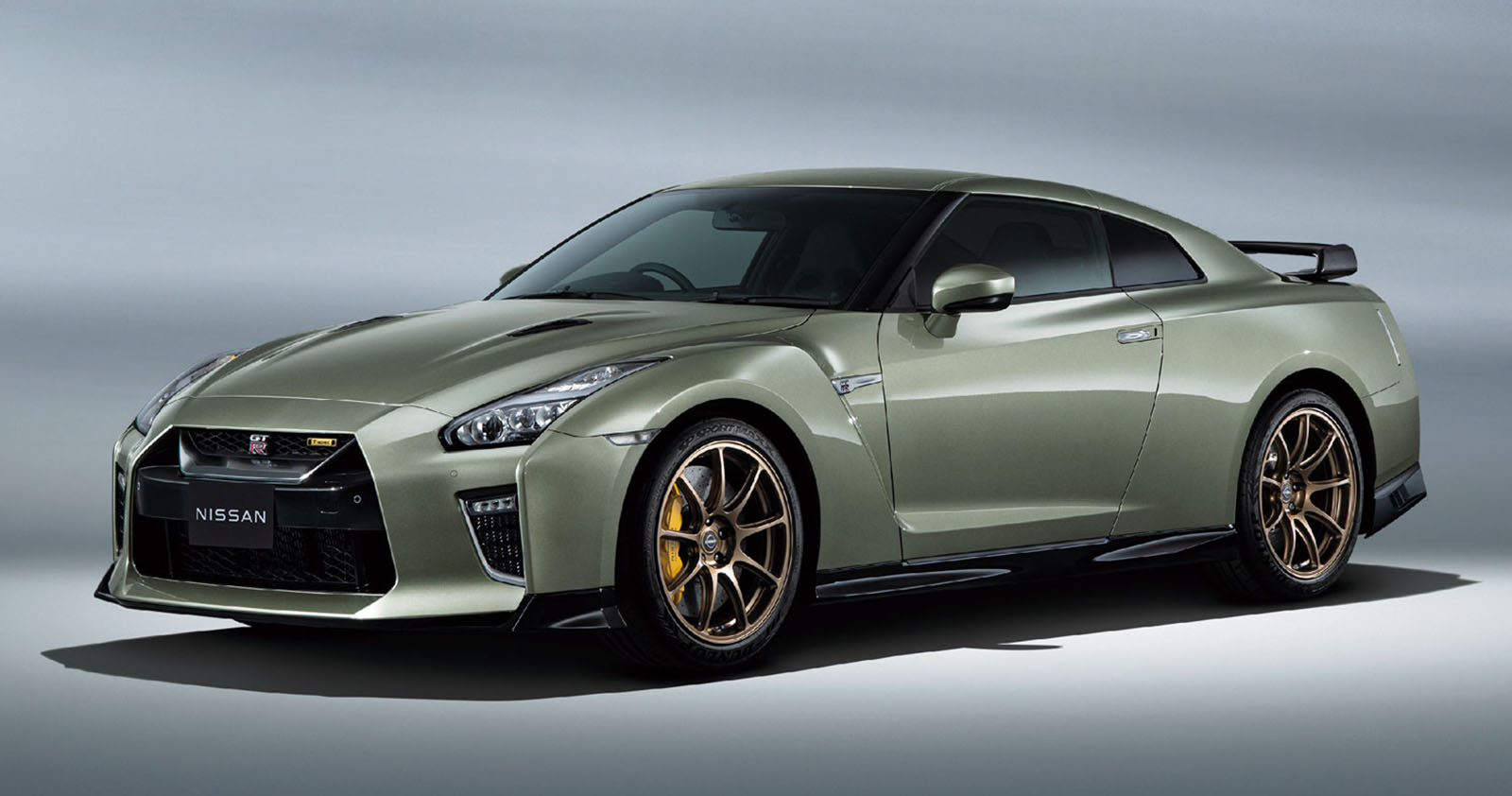 Base price $113,540 USD
The acclaimed Japanese sports car continues with a successful formula that dates to 2008, showing that all the work by Japanese engineers has been a genuine success because the Nissan GT-R car never ceases to amaze us.
Nissan defied convention at every step in the development of the Nissan GT-R. Instead of a big, heavy engine that requires a lot of fuel, the GT-R gets its power from a perfectly sized 3.8-liter twin-turbocharged V6 engine, which produces an astonishing 565 horsepower and 467 lb.-ft. torque paired with a 6-speed dual-clutch automatic transmission.
The engine it's made with great strength, from the closed base monobloc to the ladder frame for added support. And since assembly is just as crucial for the GT-R, its engines are hand-assembled by a master craftsman, whose signature you'll find on a small but prominent plate.
The Nissan GT-R's Premium Midship platform places the engine rearward in the chassis to improve handling. This unique design also mounts the transmission with the transfer case at the car's rear, creating an independent rear transaxle on an all-wheel-drive vehicle.
The GT-R can launch itself from zero to 60 mph in 2.9 seconds and reach a top speed of 199 mph.
2022 Maserati MC20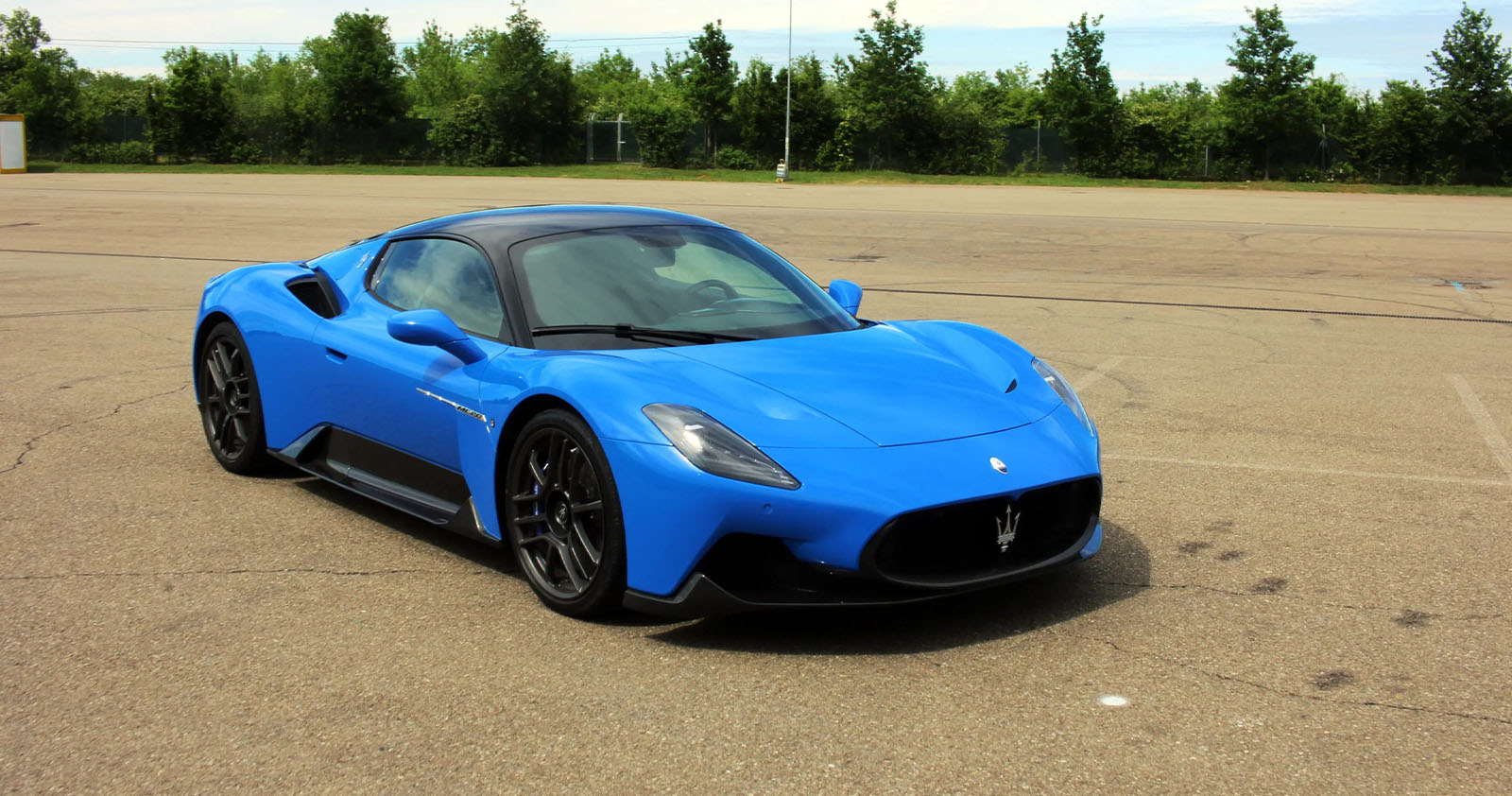 Base price $195,000 USD
With the presentation of the MC20 in 2020, Maserati's goal was to return the brand to its glory. A company full of history, victories in motorsport, and some products that dictated the aesthetics and luxuries of sports cars in various ways. The MC20 is Maserati's first super sports car.
The heart of the MC20 is a 3.0-liter V6 twin-turbo engine called "Nettuno" (Neptune), which refers to the god of the sea and who wields a trident that Maserati uses as their emblem. The MC20 produces 630 horsepower and 538 lb.-ft. of torque.
We should note that it doesn't have any level of electrification. However, this engine is unique because it has two combustion chambers to ensure better efficiency, consumption, and power delivery through a patented Maserati system, which resulted in the most powerful V6 in a production car.
The transmission is an eight-speed dual-clutch automatic that sends the power to the rear axle. It comes with a mechanical limited-slip differential as standard, but it can optionally have an electric one. As a result, the Maserati MC20 can go from 0 to 60 mph in just 2.9 seconds and has a top speed of 202 mph.
2022 Porsche 911 GT3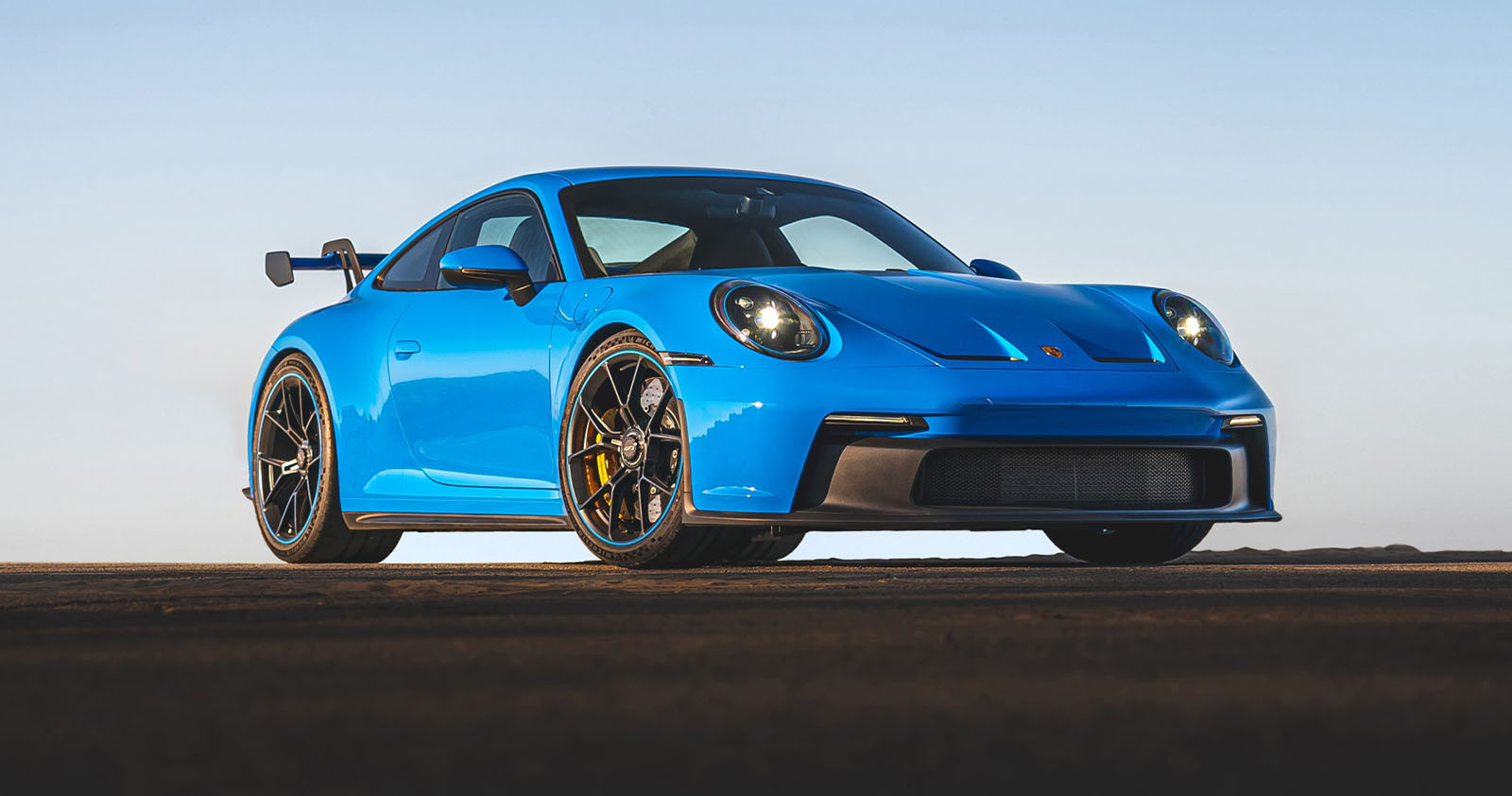 Base price $161,100 USD
Porsche is regarded as an automaker that produces some of the best sports cars globally for their excellent balance, agility, and qualities that matter in demanding driving conditions on tracks or on the road.
We all know that the Porsche 911 has perfected the recipe for subtle evolution, with a car that still has the essence of its first generation intact, although entirely different in capabilities and dimensions.
With the GT3, it is no different, but with a straightforward visual and aerodynamic approach to getting the best possible time on the track.
Under the bonnet of the 2022 Porsche 911 GT3 (992) lies a 4.0-liter naturally aspirated six-cylinder boxer engine (B6). Still, now it pumps out 510 hp and 346 lb-ft of torque.
And despite having more filters in the exhaust because of the stringent environmental standards in Europe, it maintains the spectacular sound of its engine. However, to get all the juice out of the engine, you must take it to 8,400 RPM.
Porsche claims the car can go from 0 to 60 in just 3.3 seconds and reach 124 mph in 10.8 seconds for variants with a 7-speed PDK gearbox. While the 6-speed manual GT3s will achieve those speeds in 3.9 seconds and 11.9 seconds, respectively.
2022 Corvette C8 Z06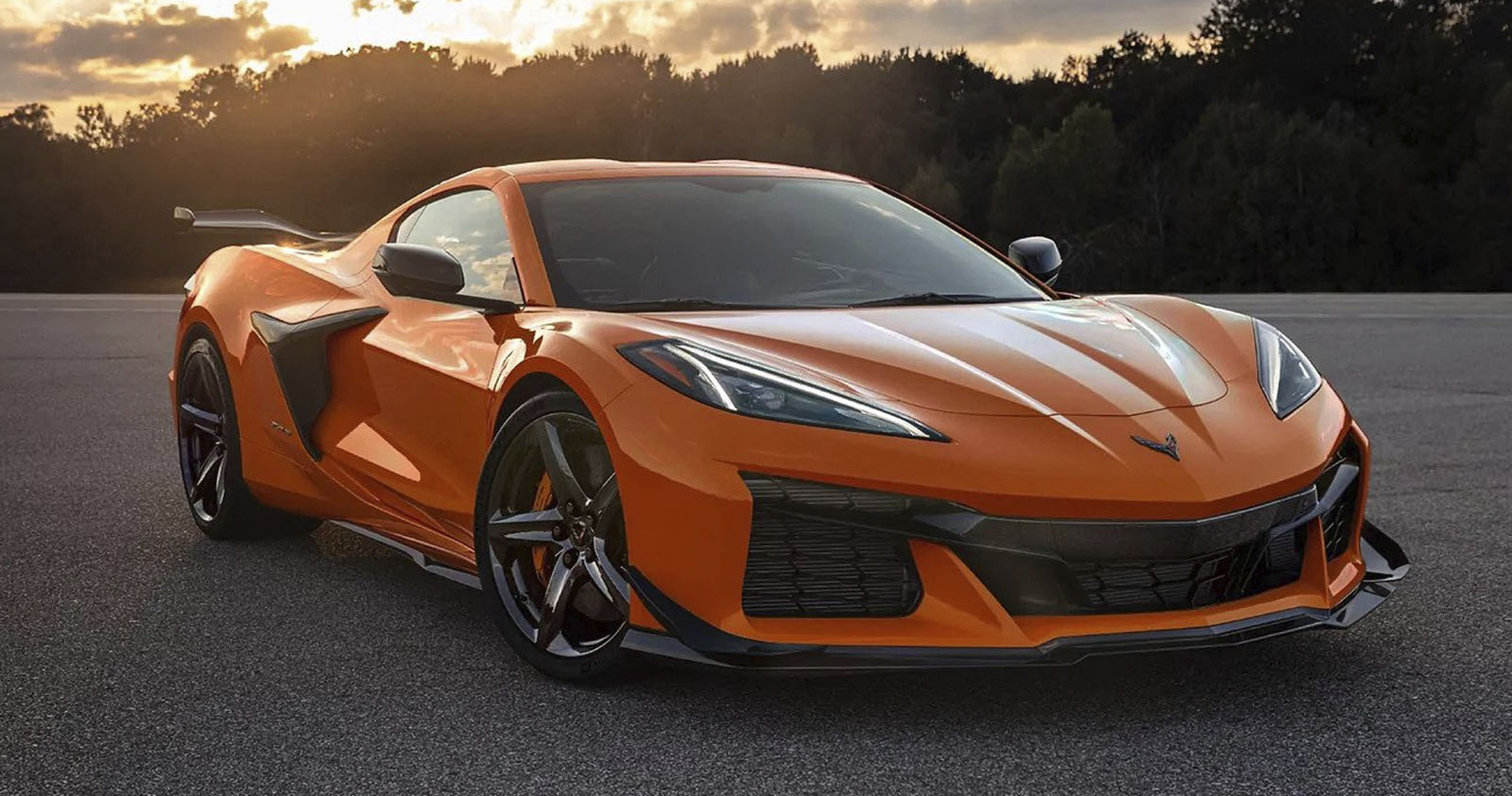 Base price $90,000 USD
As we have witnessed throughout its development, the new Corvette C8 Z06 looks surprisingly menacing and athletic, and it promises to become GM's nemesis of European supercars.
This latest iteration of the Z06 comes with a more muscular stance thanks to more aggressive bumpers, like those of the competition Corvette C8.R. Some of the design highlights of this new Corvette include the large front splitter, large air intakes, and sportier skirts.
Still, after its various appearances, we can all agree that the glorious star of this new Corvette Z06 2023 it's its engine. Unlike the base C8, the Z06 comes with a naturally aspirated 5.5-liter LT6 V8 with a flat crankshaft and DOHC based on the new Corvette C8.R.
Aside from the technicalities, this V8 configuration means we can enjoy an intense and sharp melody at around 9,000 rpm that we can hear in different official videos of the American supercar. This sound accompanies the Corvette's 679 horses and 470 pound-feet of torque.
In addition, the all-aluminum engine features a competition-style dry-sump lubrication system that makes it clear that the new Corvette C8 Z06 is ready for anything.
2022 Tesla Model S Plaid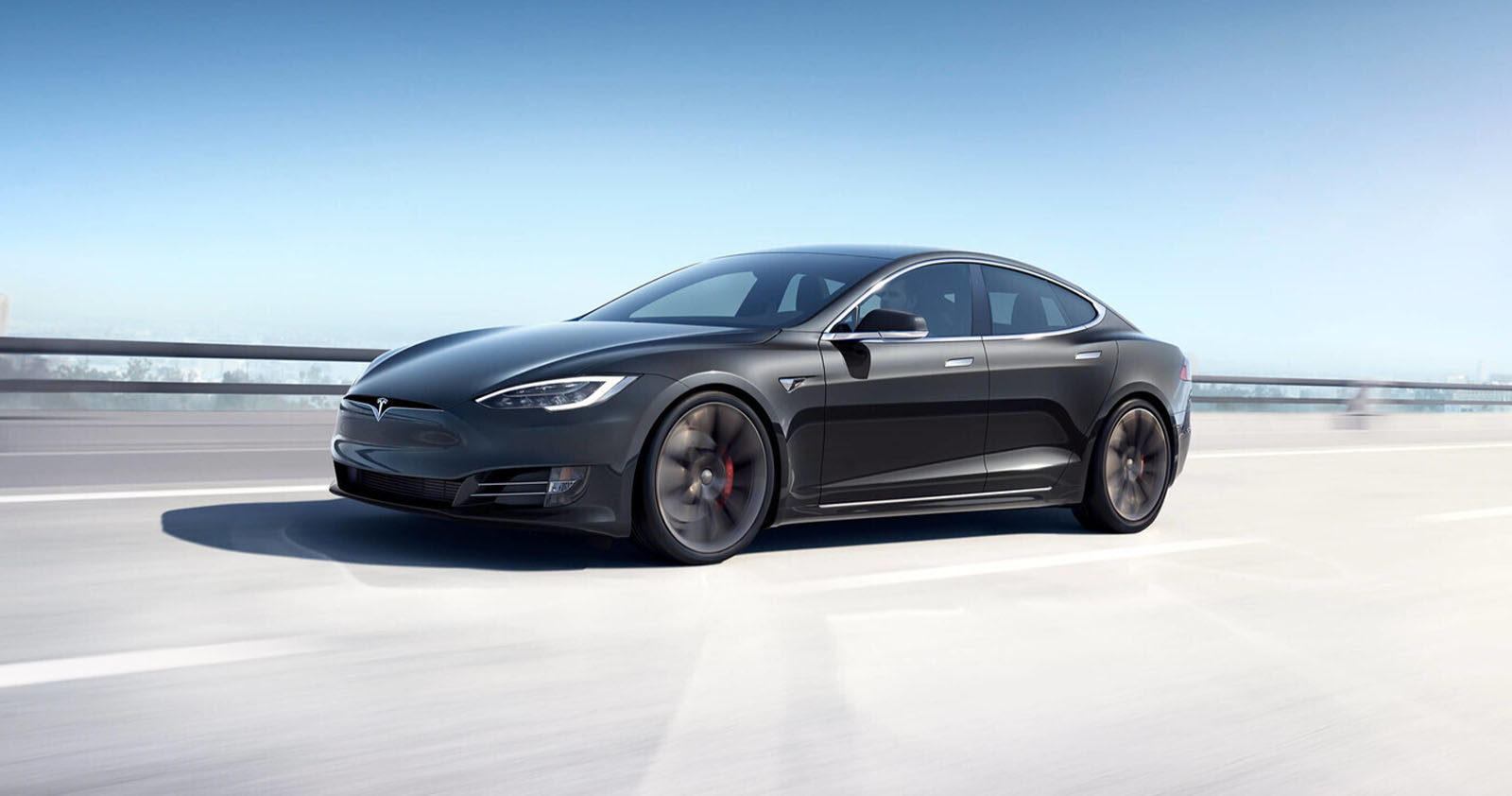 Base price $129,990 USD
The new Tesla Model S solves whether other proposals such as the Porsche Taycan or the Lucid Air could snatch the throne of the faster and more efficient electric sedan by taking the title of the quickest acceleration of any production vehicle.
In addition, the updated battery architecture for all Model S trims enables consecutive rides without performance degradation.
The technology that allows the Tesla Model S to be the fastest electric four-door sedan you can buy includes a set of three electric motors and all-wheel drive with torque vectoring. As a result, this car can develop 1,020 horsepower and reach 60 mph in just 2.1 seconds. Additionally, the Model S Plaid covers the quarter-mile in just 9.23 seconds at a top speed of 175 mph.
Model S platforms bring together powertrain and battery technologies for unmatched performance, range, and efficiency. In addition, the new module and pack thermal architecture enables faster charging and gives you more power and endurance in all conditions.
2022 Acura NSX Type S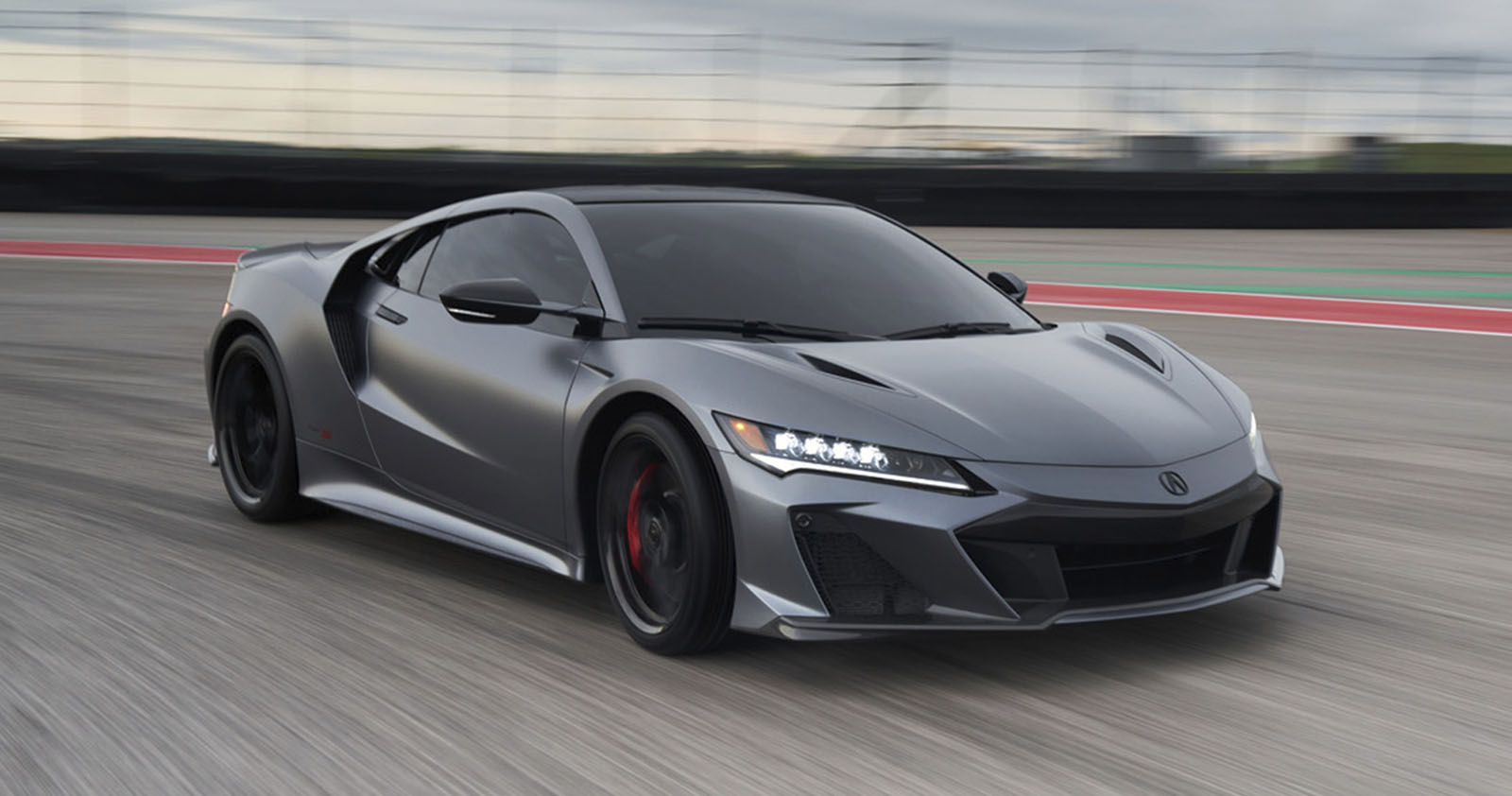 Base Price $169,500 USD
It is not news that the top sports car from Japan is close to saying goodbye at the end of 2022, but not without the honors that such an iconic car deserves. The Acura NSX receives the Type-S treatment, and with it, it gives us the most extreme variant in the history of this sports car.
The differences concerning the last update from three years ago are evident and go beyond performance. There is a presence of carbon fiber in the front end, splitter, running boards, roof, and rear spoiler. While the aggressive rear diffuser is an apparent heritage from its racing sibling, the NSX GT3.
In the mechanical department, being a higher-performance version, the Acura NSX Type S has improved performance according to its new nomenclature. The 3.5-liter twin-turbocharged V6 block with three electric generators is still present, only this time it gains 27 horsepower for a total of 608 hp and a torque of 491 lb-ft.
This is partly due to the incorporation of higher pressure turbos, injectors, intercoolers, and a better battery for the benefit of electric assistance. The transmission also improves in programming, so it gains shifting speed by 50%.
2022 Audi e-tron GT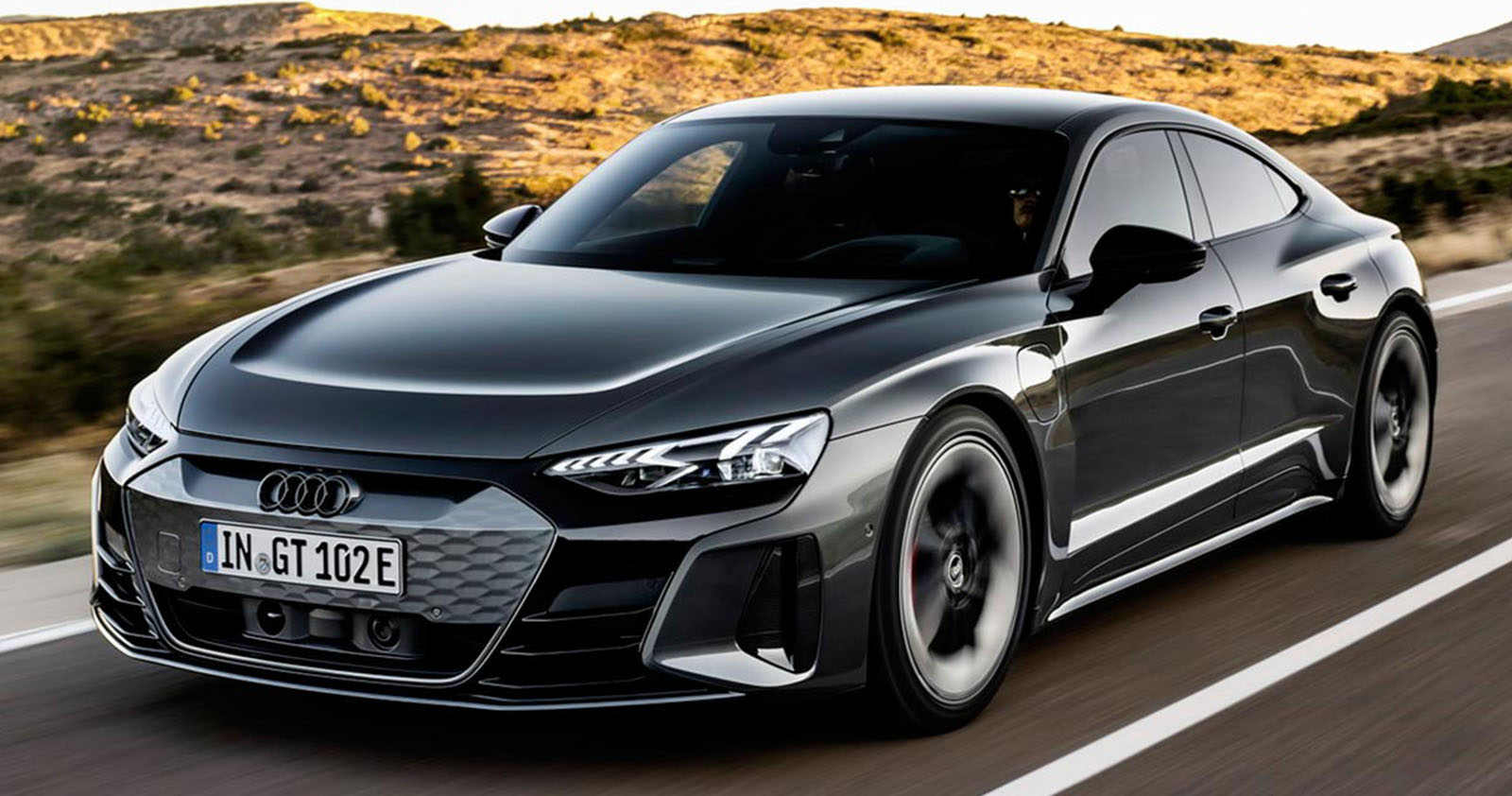 Base price $100,000 USD
The Audi e-tron GT translates Audi-specific design into the language of the electric age. It has an aerodynamic coupé exterior design that underlines its sporty appearance, expressive lines that enhance the silhouette on the sides, and aero-acoustics that help reduce external noise towards the passenger compartment.
Except for the technical differences in propulsion and platform, we are talking about a similar concept to the Audi A7 Sportback. Furthermore, the Audi e-tron GT has been developed based on the Porsche Taycan (both manufacturers owned by the Volkswagen Group).
Among the electric EVs that aspire to rival the Audi e-tron GT we find other sedans in its class, among which the Porsche Taycan, the Mercedes EQE, and the Tesla Model S stand out.
The Audi e-tron GT Quattro is rated at 476 horsepower and 465 pound-feet of torque. It can hit 60 mph in 3.9 seconds and have a top speed of 152 mph.
The performance of the e-tron GT is made possible by lithium-ion batteries with 93 kWh gross capacity (85 kWh net capacity) located under the passenger compartment floor. This arrangement allows ideal weight distribution and a very low center of gravity.
2022 Mercedes Benz AMG E63 S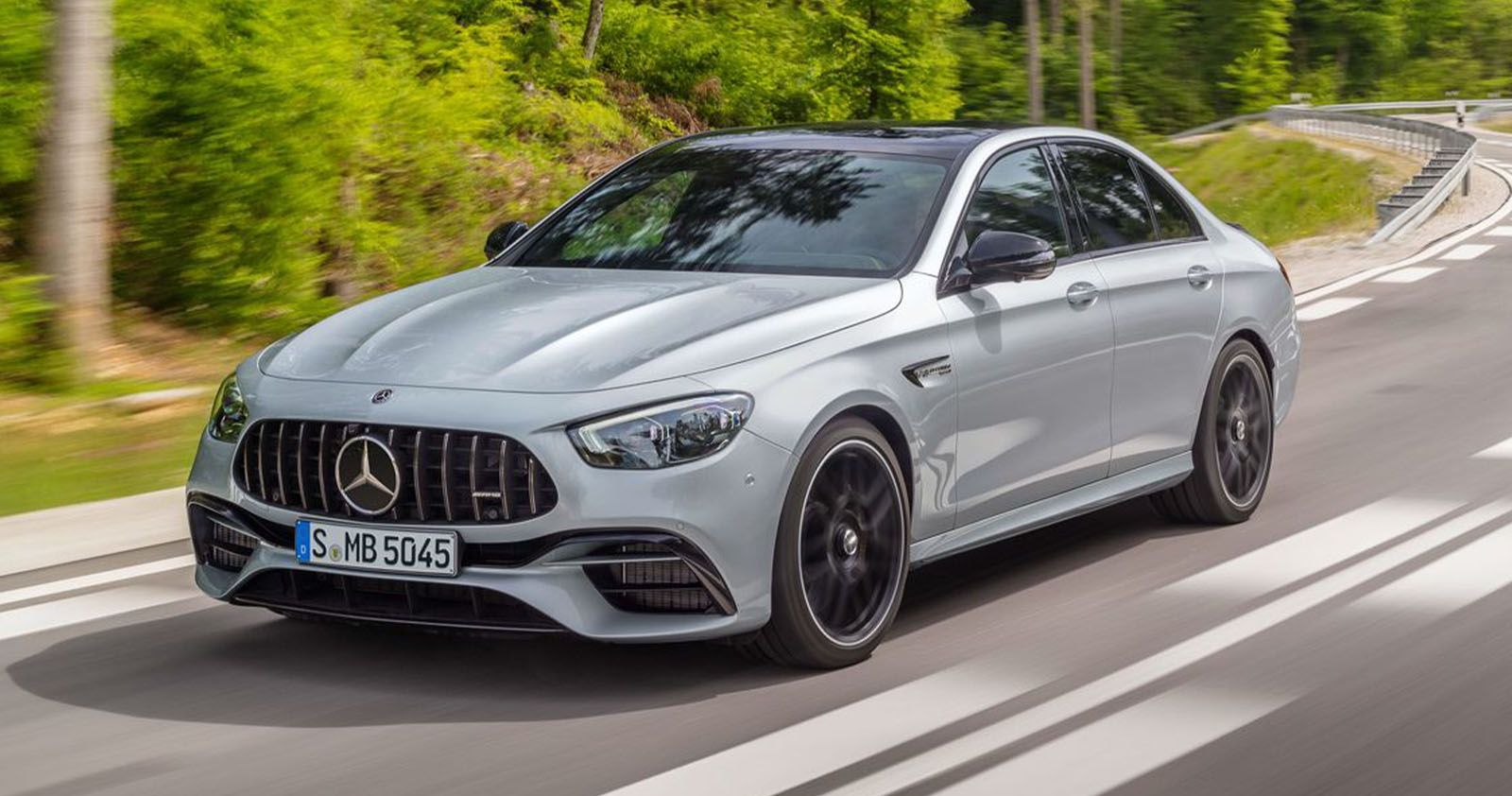 Base price $115,500 USD
I can't think of a more fascinating four-door sporty model in today's market than the Mercedes-AMG E 63 S Sedan. This car offers an exciting construction with space for the whole family, but each component is designed to obtain shorter lap times on the track.
On the outside, the first thing that catches your eye is the more aggressive aerodynamic kit, which is accompanied by a new set of 20-inch wheels, while the interior is sporty and luxurious.
But since we're talking about an AMG model, the most prominent aspect of the car is its mechanicals. And this E 63 S Sedan knows how to stand out with its 4.0-liter V8 twin-turbocharged engine with 603 hp and 627 lb-ft of torque, coupled to a 9-speed dual-clutch automatic transmission with paddle shifters that send power to all four wheels with the 4Matic system.
Of course, the Mercedes-AMG E 63 S Sedan's handling is distinct from the regular production model, as they are vehicles with different purposes.
This car asserts its status as a super sedan supported by the Air Body Control sports suspension to deliver a firm, exact handling sensation, perfect for taking curves at high speeds, although uncomfortable to use as a daily vehicle.
2022 Mercedes AMG EQS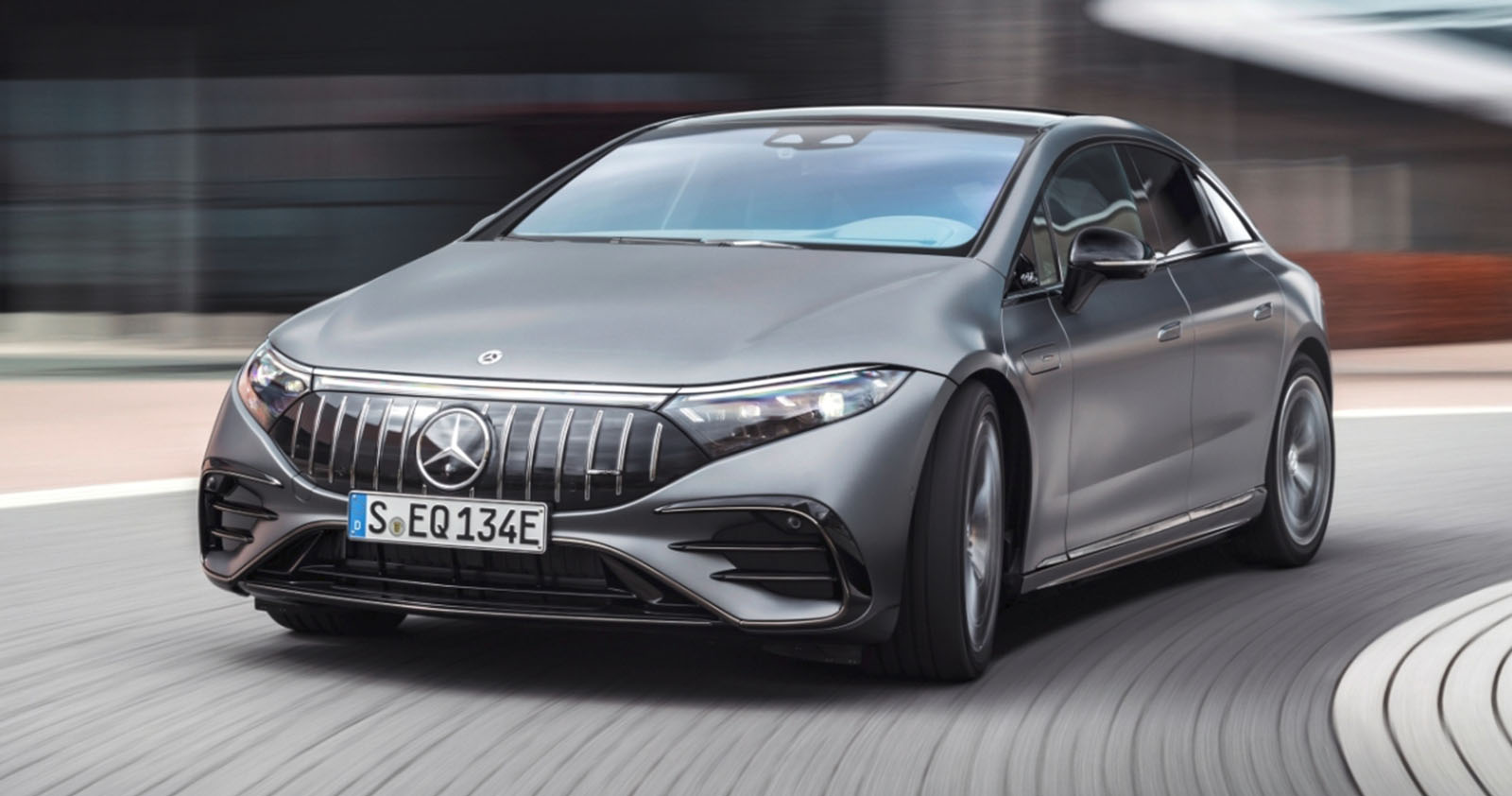 Base price $148,550 USD
Premium brands consistently improve what, a priori, seems perfect already. For example, some time ago, we met the EQS, the new electric representation sedan of the Stuttgart brand, and today we bring you the brand new top-of-the-range version.
The Mercedes-AMG EQS 53 4MATIC+ is the best of the German firm in terms of luxury, technology, and performance within the EQ electric family. There are two available power levels: the 'basic' offers 658 horsepower and 700 lb.-ft. With the AMG Dynamic Plus package, these figures increase to 761 horses and a torque of 752 lb.-ft.
In this last configuration, the ecological limousine boasts acceleration from 0 to 60 mph in just 3.4 seconds, although the battery must have at least 80% of its charge. The top speed is electronically self-limited to 155 mph.
The Mercedes-AMG EQS 53 4MATIC+ mounts a 107.8 kWh capacity battery that gives the car a 350-mile range. This component, which guarantees ten years or 155,000 miles, has automatically updated software through the cloud.
At a fast-charging point, at 200 kW, it takes 15 minutes to reach 186 miles of range, although it can also be charged with alternating current at 22 kW.
2022 BMW M8 Competition Coupe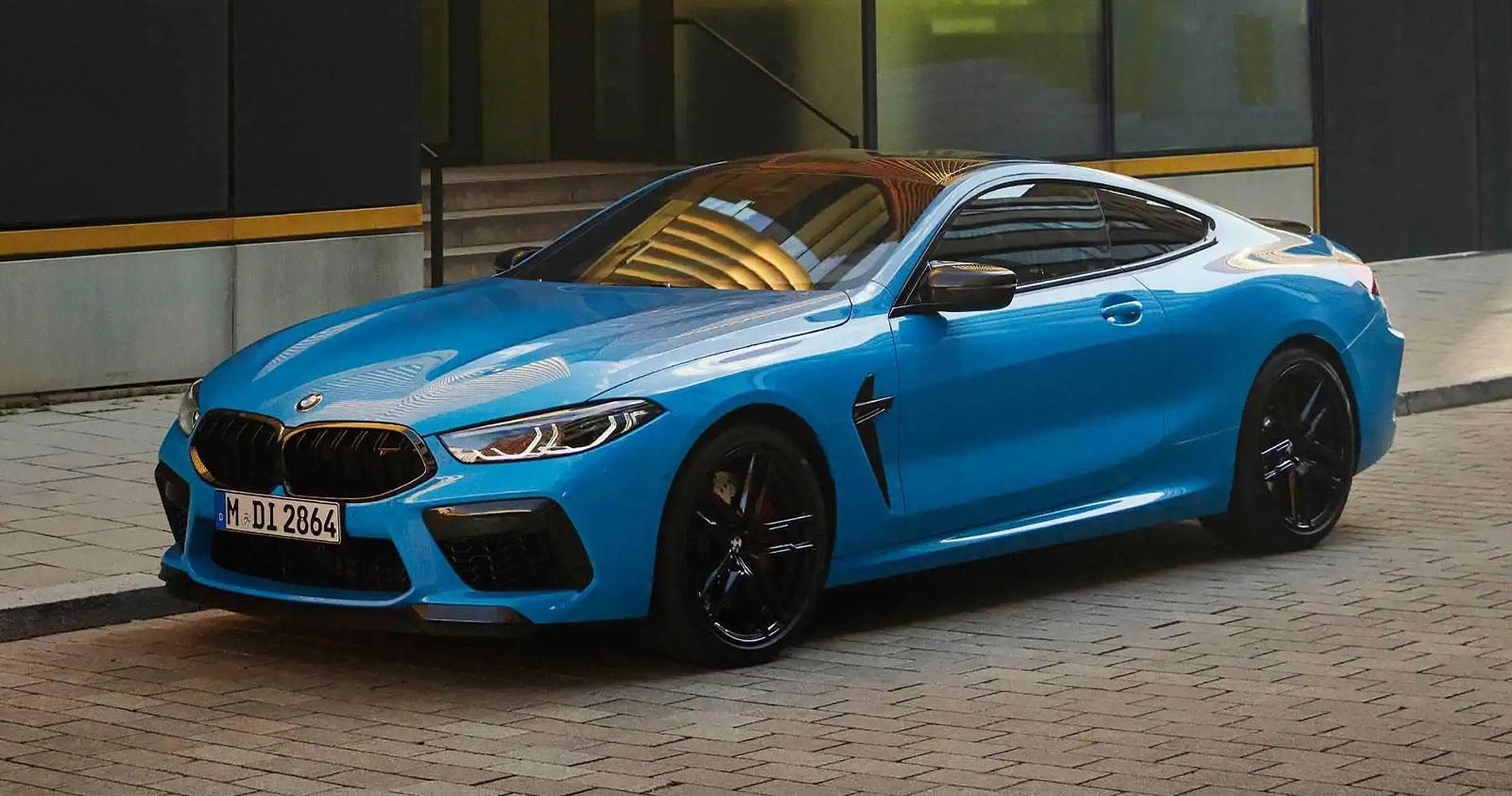 Base price $ 130,000 USD
To put it simply, the BMW M8 Coupe Competition is the sportiest BMW model you can buy. This coupe offers a radical, imposing, and technological style but is still versatile, even for everyday life.
The M8 is not just any model; we are talking about the most complete coupe offered by the Bavarian automaker, both in equipment and sportiness. Its design stands out for its large measurements and details as it is the Competition variant. Also, the engine of the M8 produces an intoxicating sound; the transmission delivers quick shifts, and you always feel in control of the car.
Under the hood of the M8, there's a 4.4-liter twin-turbo V8 engine that generates 625 horsepower and 553 pound-feet of torque. The powertrain is completed by an 8-speed automatic transmission with Launch Control function and all-wheel drive.
One thing that appeals more to BMW enthusiasts is that you can get the most out of the BMW M8 on a track day. Still, if you're looking for quieter driving, you can also achieve that thanks to its various driving modes and integrating different driving aids. In addition, elements like the rearview camera and the parking assistant simplify life in the city.
2022 Aston Martin Vantage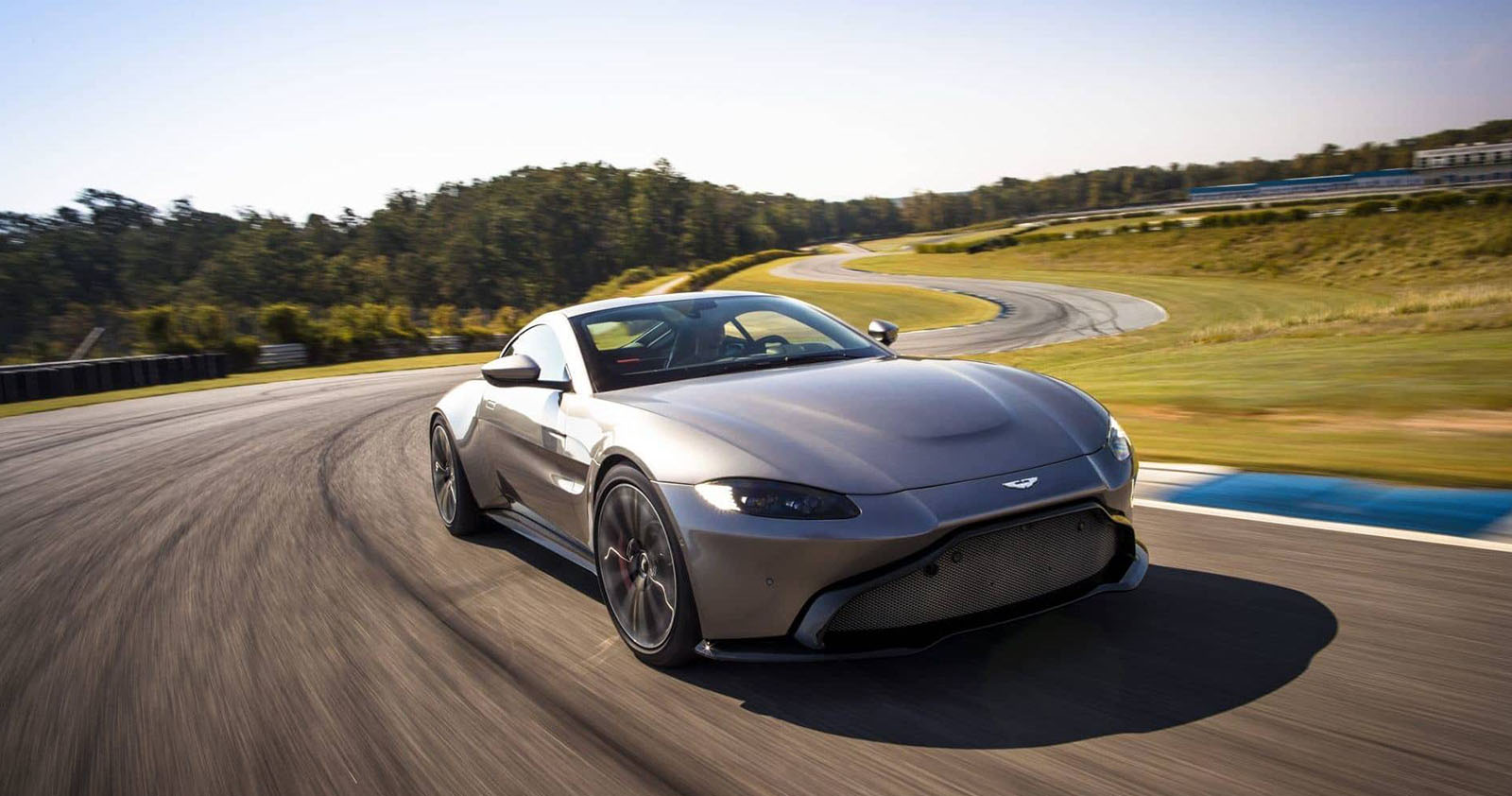 Base price $146,000 USD
The new Aston Martin Vantage isn't a sports car for bashful drivers, mainly because of its thunderous V8 and showstopping styling. The Vantage is the first Aston Martin to rely on a 4.0-liter twin-turbo V8 sourced from Mercedes-AMG, but the good news is that the German inheritance didn't spoil this true British classic.
Overall, the Aston Martin Vantage is a proper British sports car.
With 503 horsepower and 505 lb.-ft. of torque at your disposal, you can reach 60 mph from rest in 3.4 seconds with this entry-level Aston. That is supercar territory.
The Vantage's mighty engine is mated to a manual or automatic transmission, but unfortunately, the former is only available on the regular coupe. Nevertheless, it's worth highlighting that the precise steering and handling let you make the most of the Vantage's sporty suspension on twisty back roads.
Still, you can tame the whole car with a simple button and make it a comfortable long-distance cruiser when you want civil driving. Although the vehicle is wide, the steering is light around town, so it's reasonably easy to maneuver.
The Aston Martin Vantage is an excellent everyday sports car, but more importantly, it's a proper Aston Martin that was made possible with a bit of help from German engineering.
2022 Lexus LC500 Convertible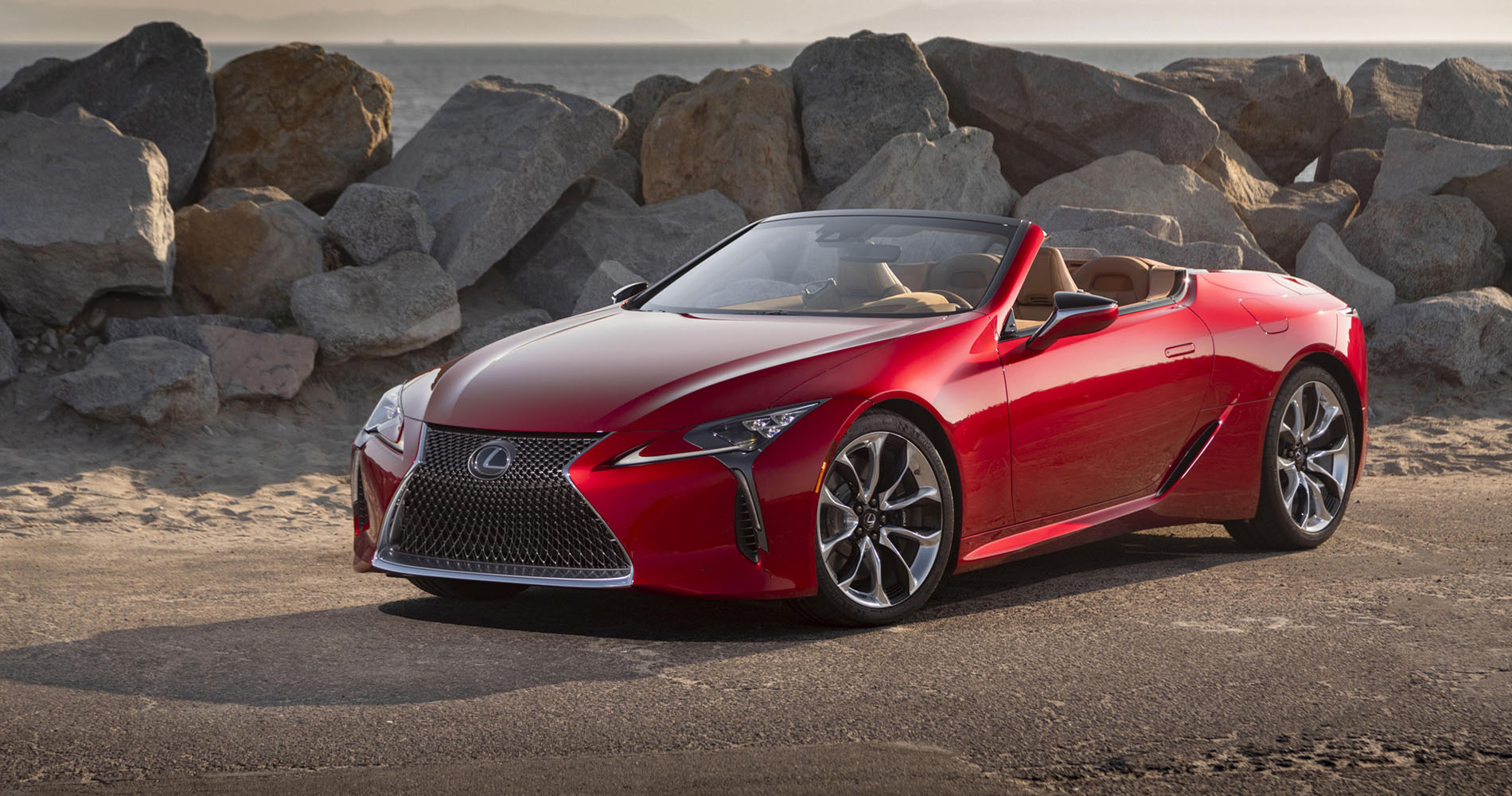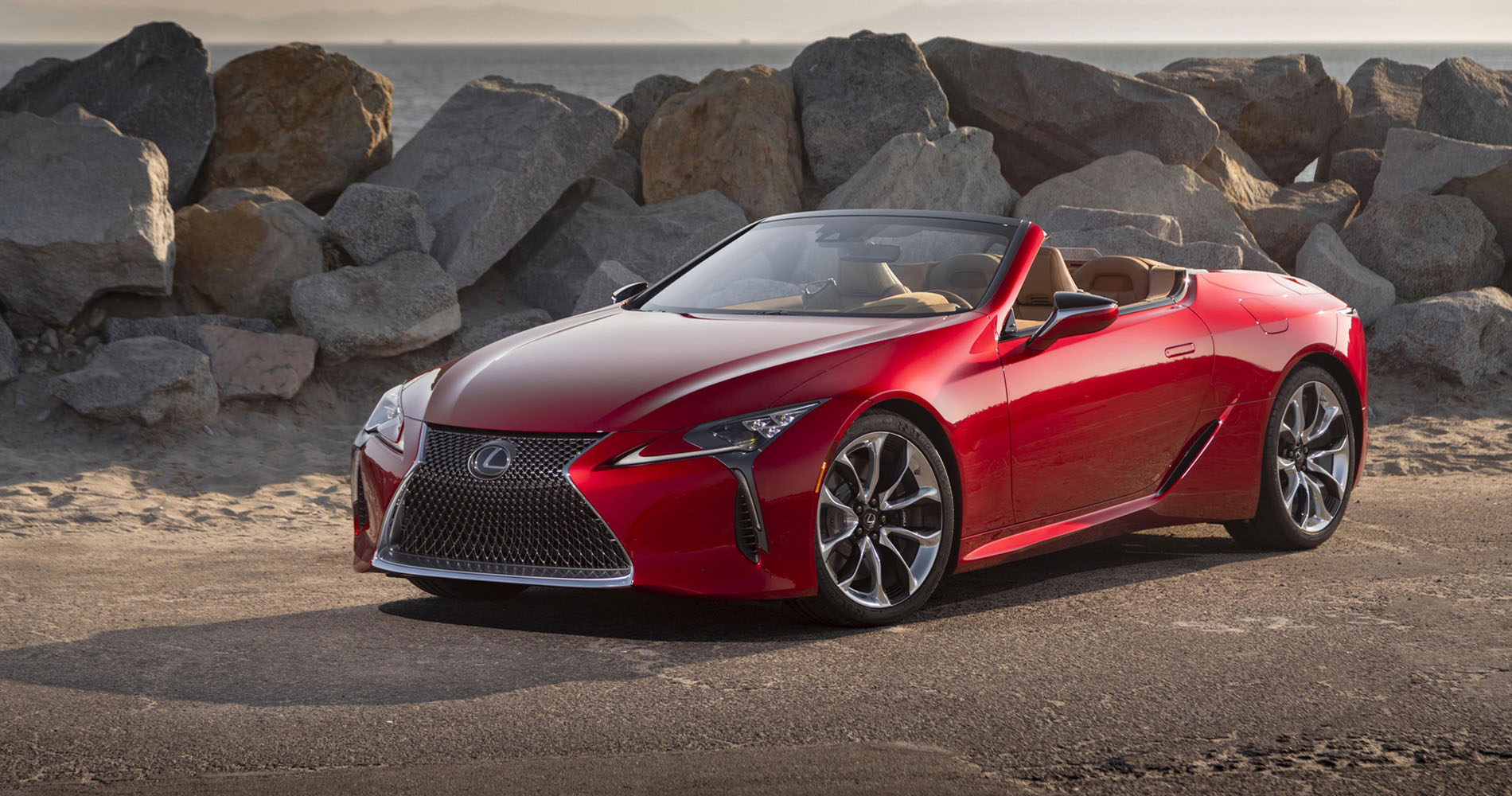 Base price $101,100 USD
The Lexus LC500 is a luxury coupe that knows how to hold the interest of a mature sports car enthusiast, but it's a grand tourer foremost.
Buyers can choose between two engines. A hefty 467 hp V8 unit powers the LC 500 with the help of a 10-speed automatic transmission. The most refined and efficient alternative is the LC 500h, a hybrid model that combines a 295 hp 3.5-liter V6 petrol engine with an electric motor for 354 hp.
The LC is a more communicative and engaging car to drive than many competitors in its three available spec levels. Still, more enthusiastic drivers will want the Sport+ version, which really breathes new life into the car.
With this trim and hooked up to the V8 engine, the LC is a hell of a car.
However, it's not quite as balanced in the corners as a pedigree sports car, with the steering being exceptionally light and disappointingly short of feeling.
As for the rear-wheel steering system, it adds stability at high speeds and increases agility by helping to turn the car around corners at lower speeds. The standard spec is still a lot of fun to drive, but, inevitably, it's not as well-tethered in the corners.
2022 Porsche 911 Carrera S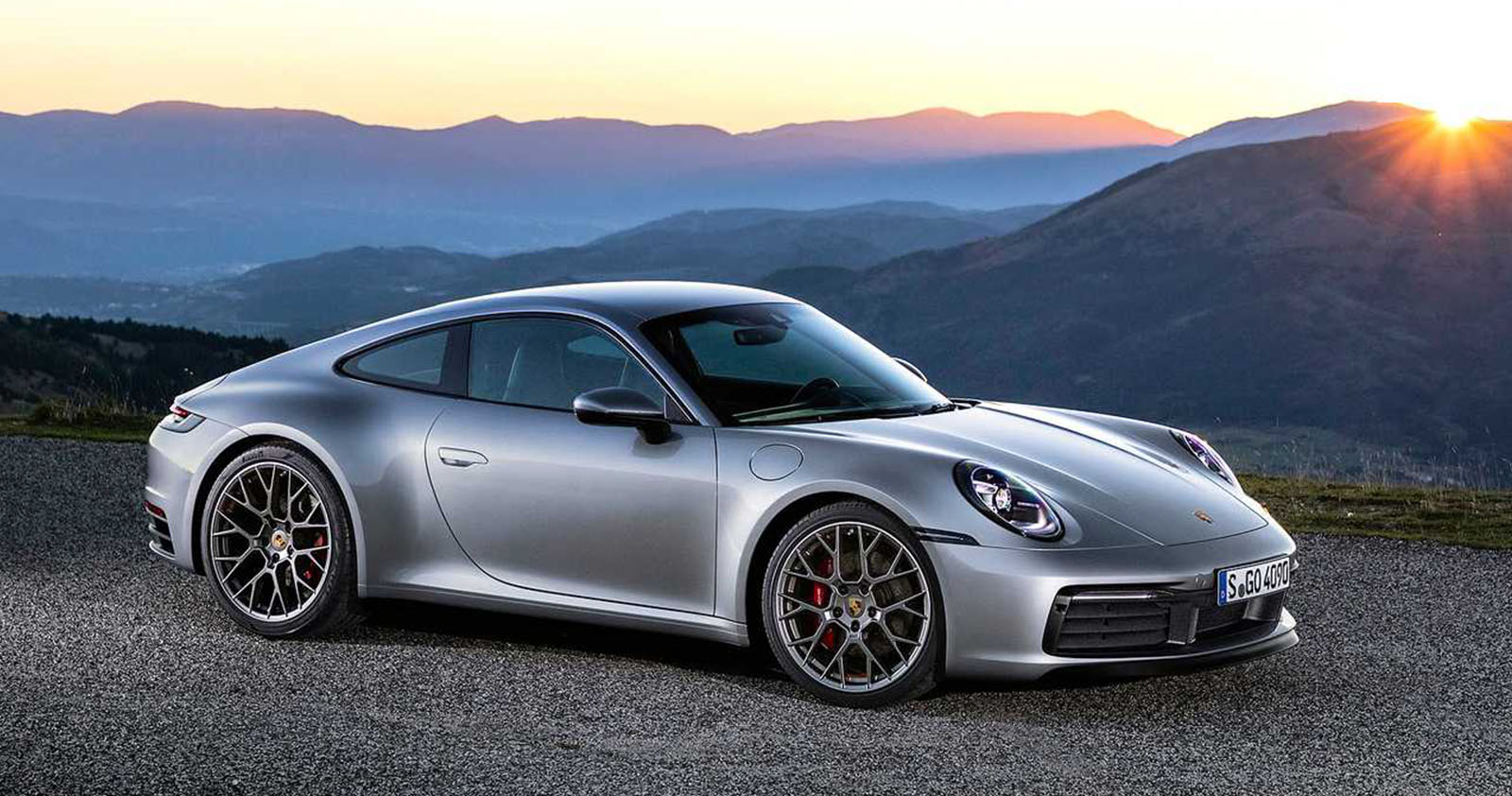 Base price $117,100 USD
The sports car segment continues to be a big trend for automakers with lineage built on high-performance vehicles. One of these brands is Porsche, with the 911 being a benchmark for several decades now.
A couple of years ago, the new generation of the Porsche 911 was revealed, showing that the classic style that has made the brand unique can also be combined with futuristic elements. Therefore, if you're looking for a sports car with all the performance and versatility for daily use, the 911 is an excellent option.
On the outside, the Porsche 911 Carrera S looks elegant and radical at the same time, with classic lines that are equally futuristic. In this version, the 911 equips a 3.0-liter twin-turbo 6-cylinder engine that generates 450 horsepower and 390 pound-feet of torque and an 8-speed PDK transmission rear-wheel drive. Thanks to this, it can achieve acceleration from 0 to 60 mph in just 3.0 seconds.
Its handling is enjoyable and responsive, and the engine's sound contributes a lot to the whole experience behind the wheel. Moreover, thanks to its driving modes and configurations, you will be able to have comforting sensations, so it is still suitable for driving in the city.
2022 Morgan Plus Six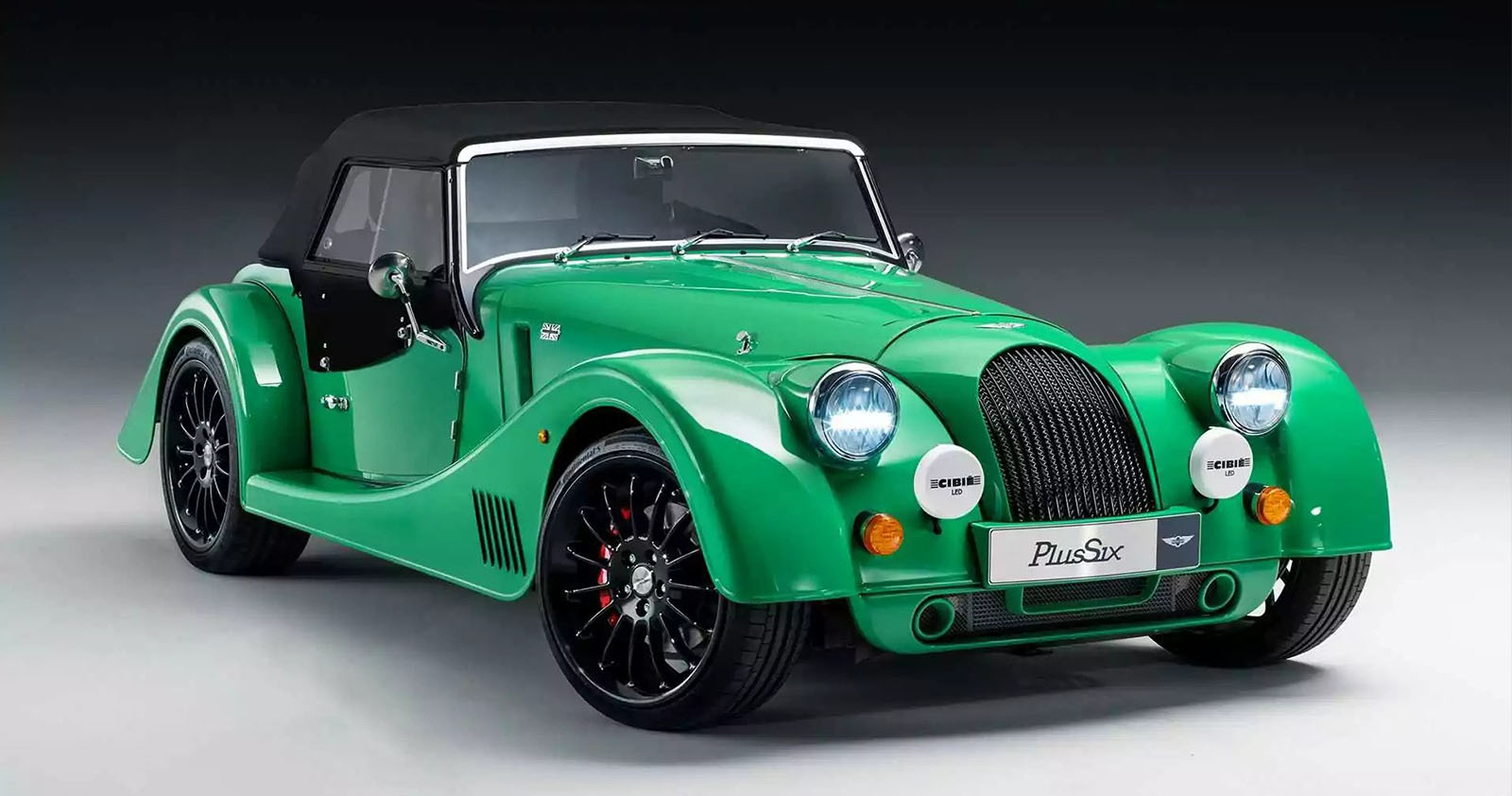 Base price $104,000 USD
Despite having industry-leading technology and engineering encompassed beneath its recognizable exterior, the new Morgan Plus Six doesn't look much different on the surface. Still, a series of subtle upgrades have made a big difference overall.
For instance, the all-new CX-Generation aluminum bonded platform that underpins the Plus Six features a 100% increase in torsional rigidity over the previous aluminum platform used by Morgan.
And although it remains expensive at $104,000, it still feels every inch like a faithful Morgan, but with a more comfortable interior, sharper dynamics, and a stirring soundtrack.
Thanks to Morgan's successful two-decade partnership with BMW, the Plus Six had access to the latest BMW Turbo six-cylinder inline engine. This engine delivers 335 bhp, 369 lb.-ft. of torque and is paired with an 8-speed automatic transmission that sends the power to the rear wheels and allows the Plus Six to reach 60 mph in just 4.1 seconds. This performance makes the Morgan Plus Six a true alternative to the sports car norm.
In addition, BMW's latest powertrain technology delivers a more exhilarating, high-sports car performance and provides better fuel efficiency. As a result, the Morgan Plus Six is, hands down, the most dynamically capable Morgan ever produced.
2022 Porsche 718 Cayman GT4 RS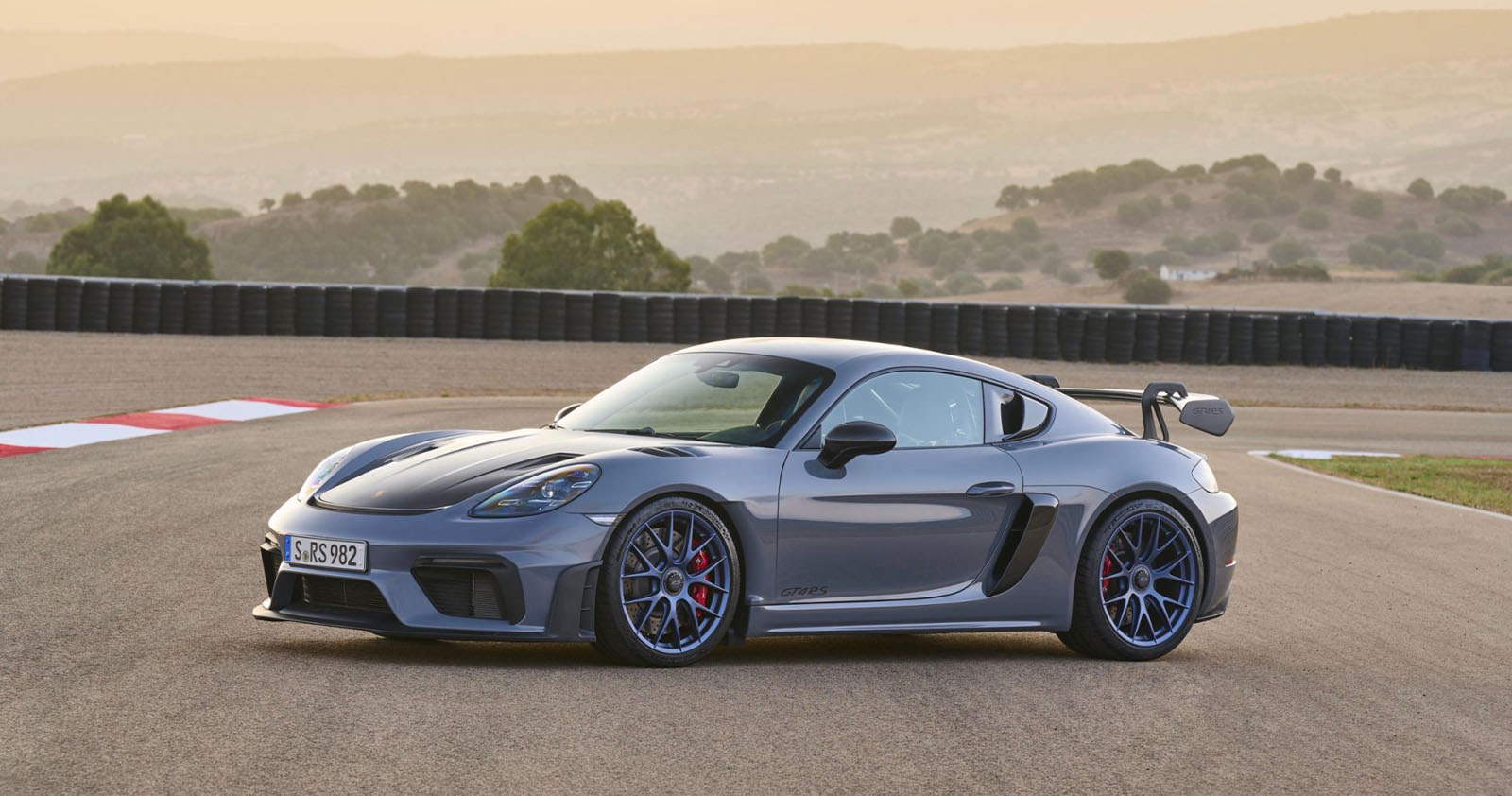 Base price $143,000 USD
The Porsche 718 Cayman GT4 RS is possibly one of the most expected cars of 2022. In it, competition technology was applied for the first time to a street model with a central engine, and it has been matched in power to the most high-performance 911.
Starting with aerodynamics, the GT4 RS generates 25% more downforce than the 718 Cayman GT4. It achieves this thanks to an aerodynamic package made up of completely faired bottoms, in which we find two NACA air intakes on the underside of the car that are not visible.
Therefore, we are talking about a competition engine, a prodigy of technique brought to streetcars despite the restrictions and environmental regulations that make this adventure more complicated every day.
It is a naturally aspirated six-cylinder boxer engine with a displacement of 4.0 liters, making the new 718 Cayman GT4 RS the most powerful mid-engine sports car in Porsche history (not counting supercars).
It delivers 500 hp (10 less than the GT3 to maintain respect) at 8,400 RPM and 331 lb.-ft. of torque at 6,750 RPM. Thanks to these specifications, the Cayman GT4 RS does 0 to 60 in 3.4 seconds and reaches a top speed of 196 mph.