The Mercedes E-class is what we might consider a mid-class sedan, a nice four-door, four or five-seater luxury car that's not the massive size of the bigger S-Class, but still larger and more comfortable than the C-Class, it's a car that doesn't shout for attention and most of the time isn't even noticed when you drive it, in Germany we see many E-Class being used as a taxi in fact … but none of those are the powerful E 63 S 4MATIC+ version, most of the taxis are diesel-powered, some are switching to hybrid and electric in the near future.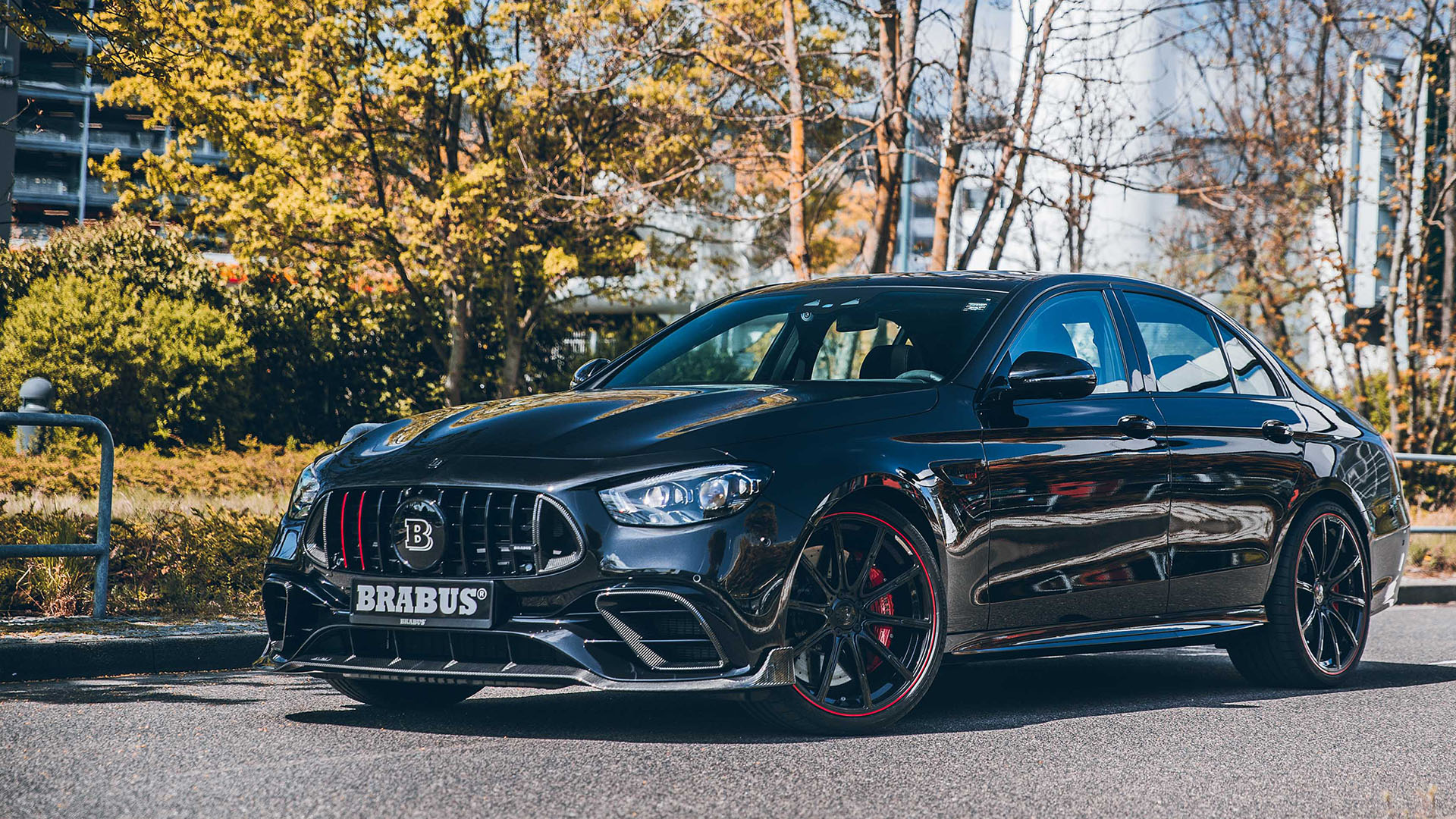 When you opt for the most powerful version of the 2021 model year Mercedes E 63 S 4MATIC+, you will end up with a 4.0-liter eight-cylinder engine that delivers 612 hp straight from the factory, which isn't bad to haul you and your family around on the Autobahn at speed, but we wouldn't be talking about BRABUS if this company from Bottrop, Germany didn't tweak it a little further … well more than a little.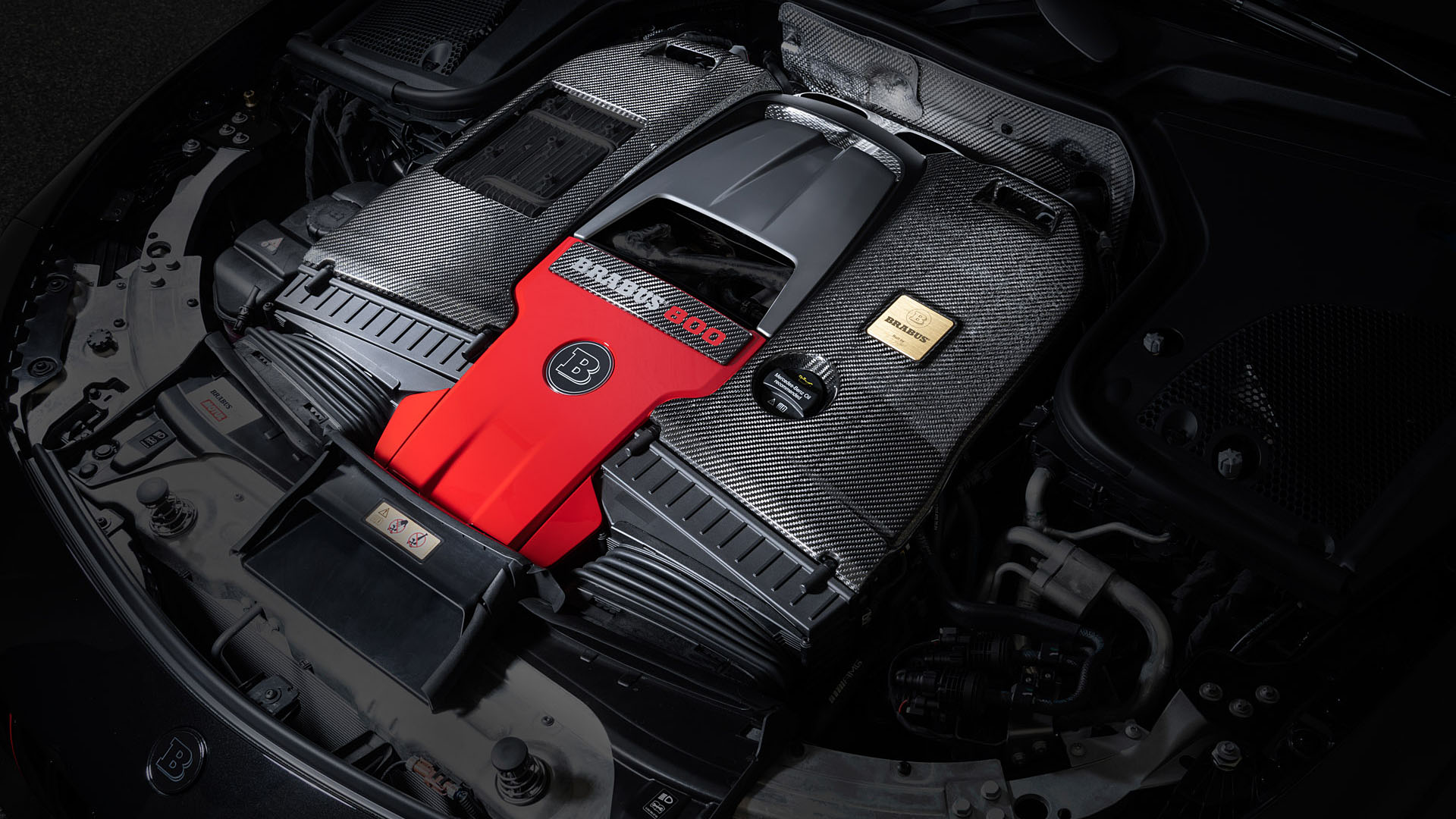 With over 40 years of experience in pulling more power from standard Mercedes engines, BRABUS has shoehorned their performance upgrade into the Mercedes E 63 S 4MATIC+, which doesn't void the warranty mind you, the BRABUS 800 is fully TÜV-tested and comes with a 3-year, 100,000 km (62,000 Mile) BRABUS Tuning Warranty … which is usually not seen for this kind of tuning anywhere else, but BRABUS offers it nonetheless.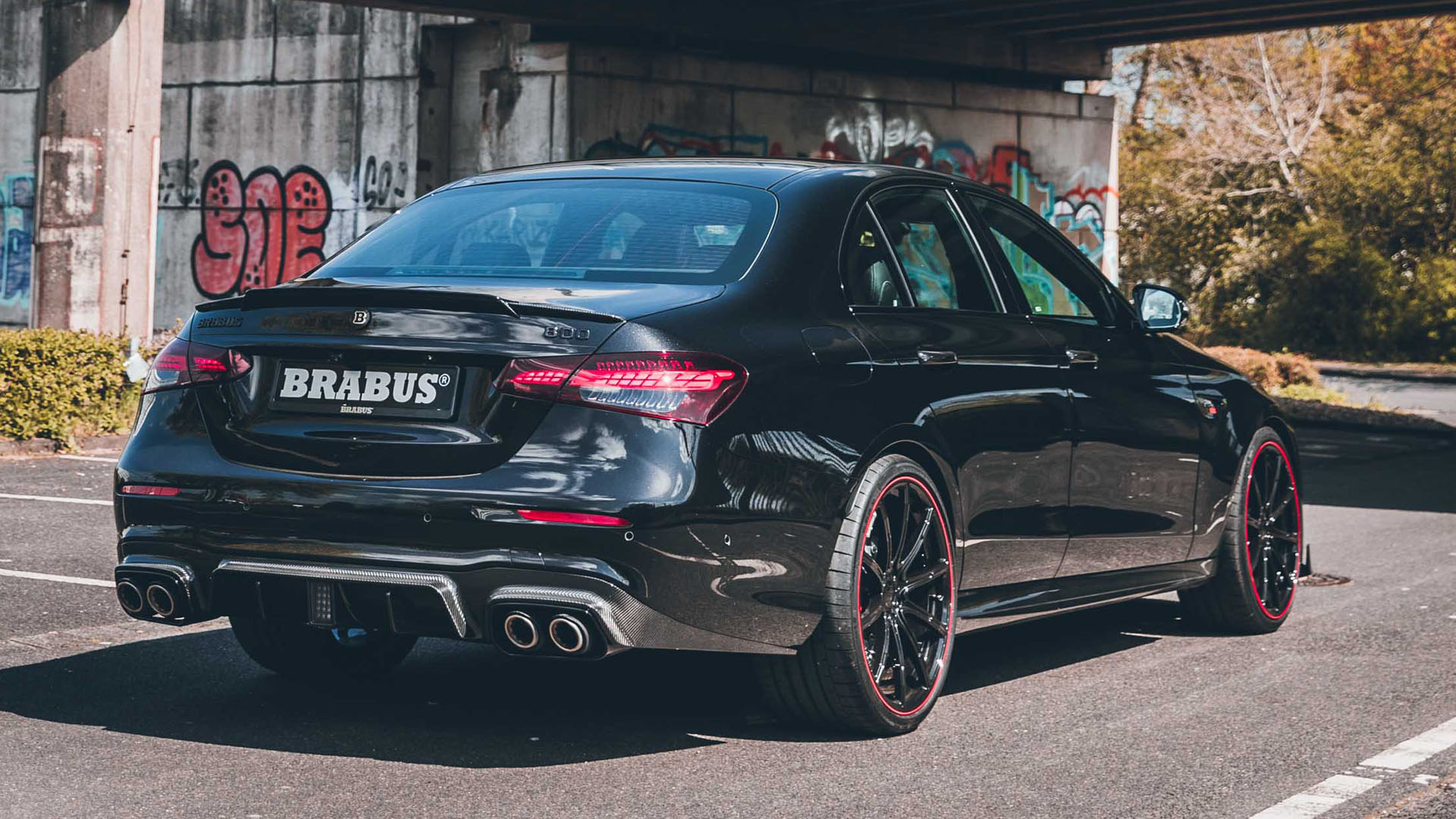 They don't call this the BRABUS 800 without a reason, and that's because they add 188 hp to the base from Mercedes, at 6,600 rpm you effectively have 800 hp available, and 1,000 Nm of torque at as low as 3,600 rpm, and as you can order a Mercedes E 63 S 4MATIC+ in either sedan or station wagon, this BRABUS 800 is one of the most powerful sedans/station wagons in the world today.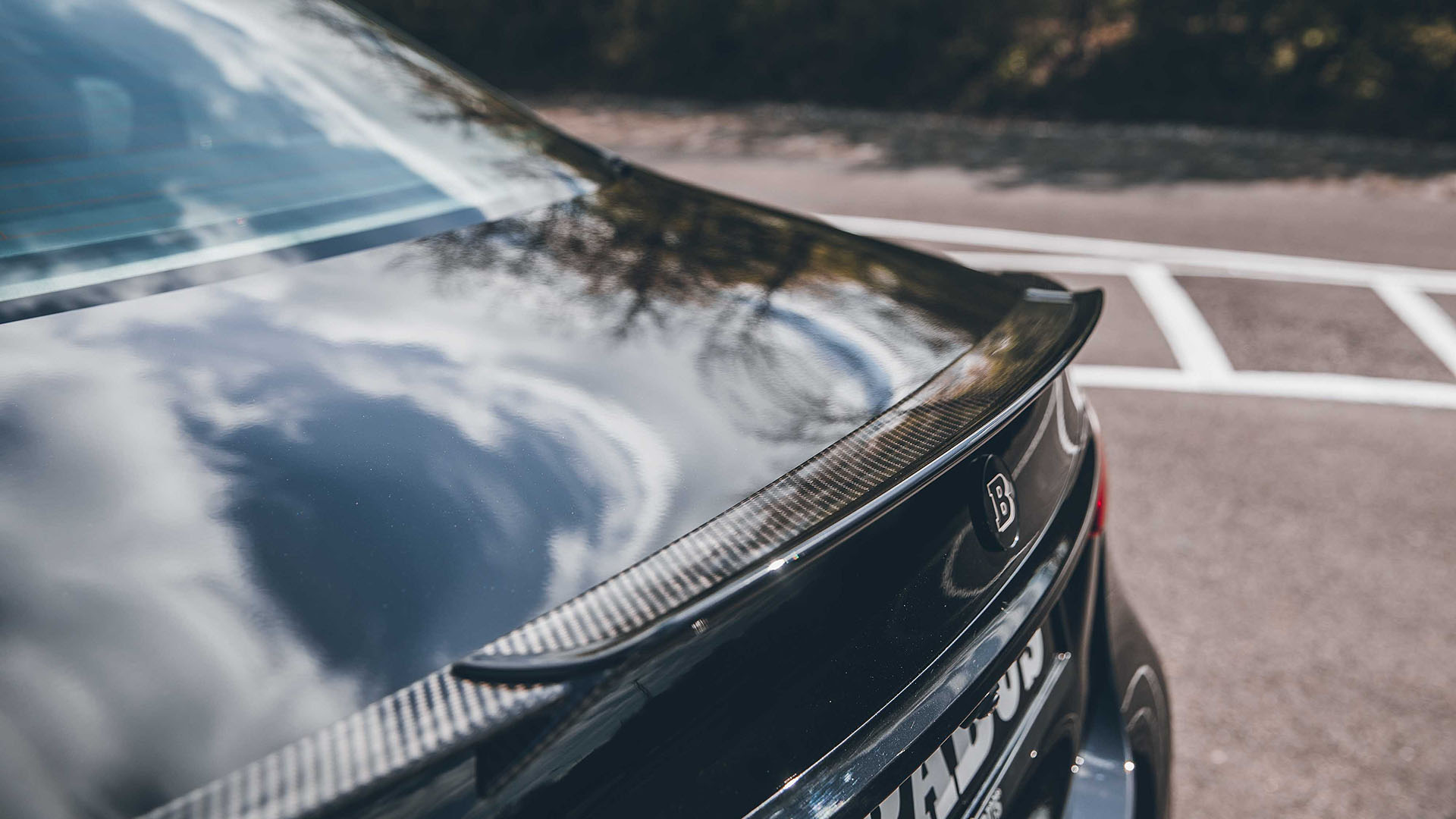 To achieve this massive 188 hp power increase, BRABUS developed their own high-performance turbochargers, with a bigger compressor unit, modified core assembly, and reinforced axial bearings, boost pressure sits at a maximum pressure of 1.6 bar, naturally, there is a custom engine management system called PowerXtra from BRABUS, and with this much power going on, the large engine needs more cooling, so BRABUS created bespoke, carbon-fiber air intakes to be integrated into the grille.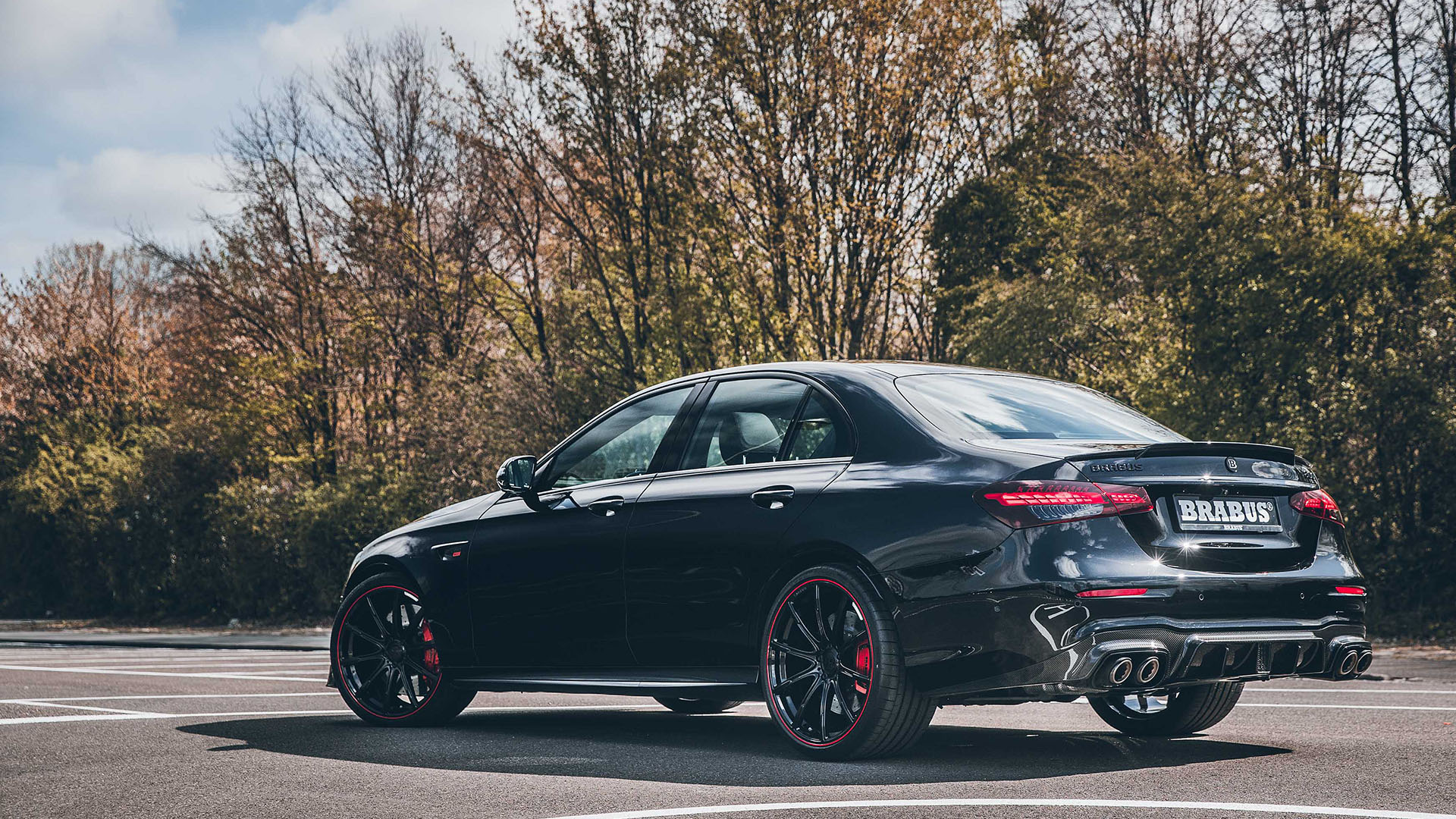 Being based on the E 63 S 4MATIC+, this BRABUS 800 is an all-wheel-drive car, the nine-speed automatic gearbox will hurdle this sedan to 100 km/h (62 mph) in just 3 seconds from standing still while if you opt for the station wagon this figure is 3.1 seconds, top speed for both body styles has been electronically limited to 300 Km/h (186 mph), which is probably more than enough … usually.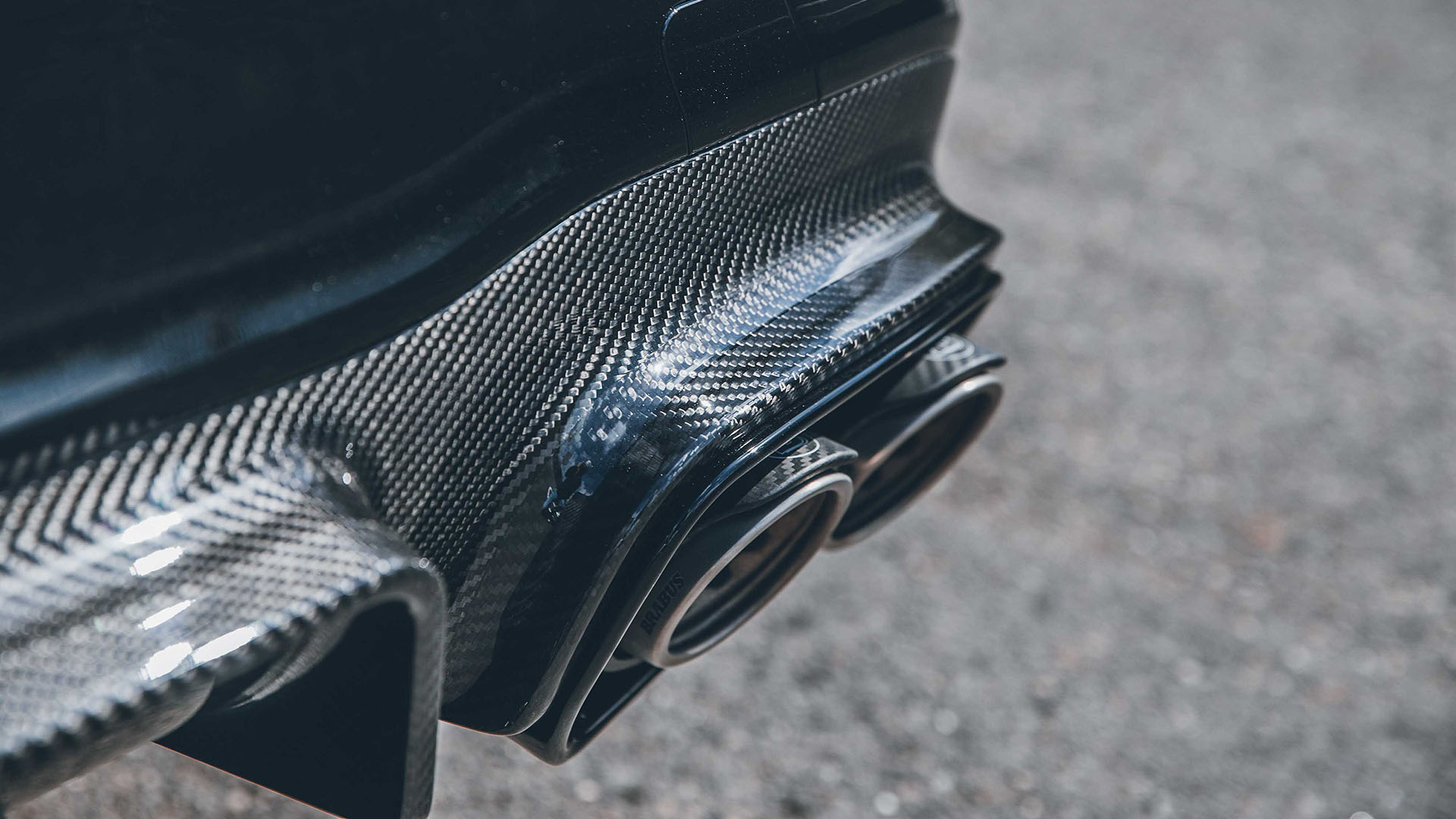 An engine like this BRABUS 800 unit needs to breathe, hence you can install an amazing stainless-steel high-performance exhaust that comes with four stainless steel/carbon tailpipes, not only for looks but also with an amazing sound thanks to integrated flaps into the exhaust system … a 'silent' mode when you drive up to your house and you don't want to wake the neighbors… or a 'Sport' position if you just don't care about those neighbors anymore.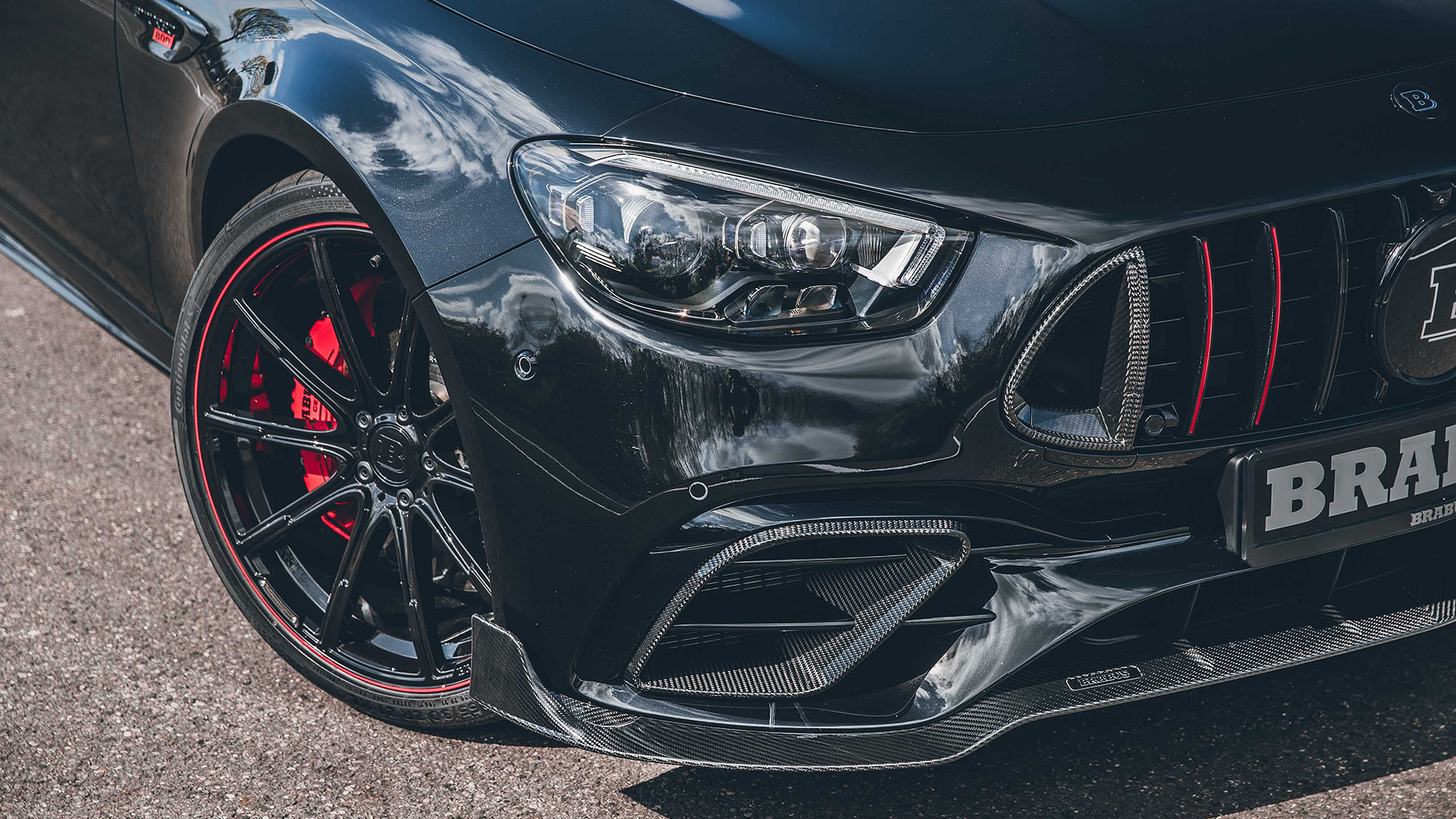 You could go for the more subtle look and just have the BRABUS 800 engine tuning installed while you keep the rest of the Mercedes E 62 S 4MATIC+ factory standard … or you go all-out and fit the entire BRABUS aerodynamic package to your car, the new front spoiler does create more downforce at speed, as does the really nice looking rear spoiler on the sedan while a clear carbon fiber insert can be fitted to the rear diffuser on both the sedan and the station wagon … just so it looks the part with that BRABUS exhaust.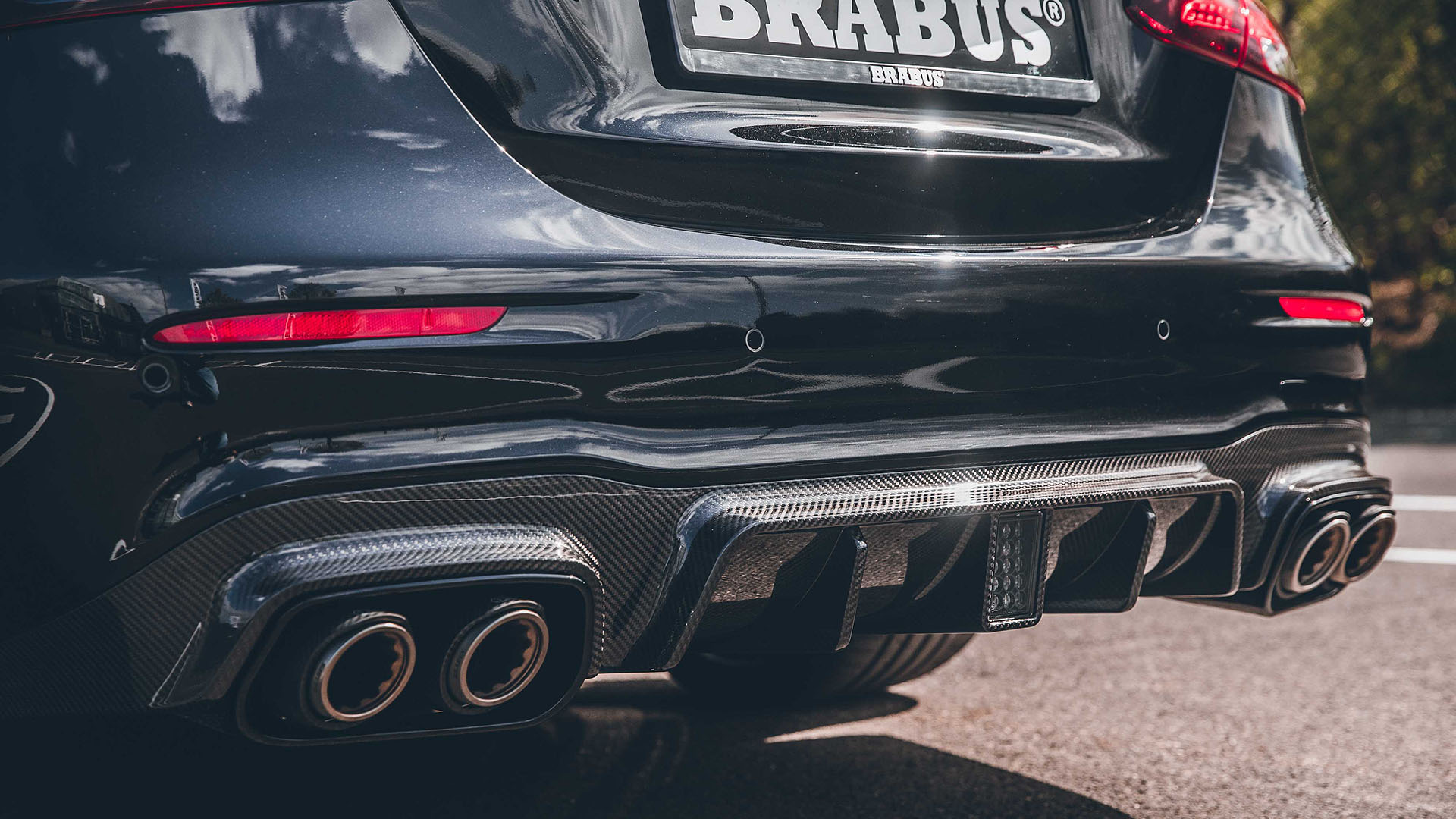 With engine tuning and aerodynamic from BRABUS, you'll just have to go the extra mile and get a set of BRABUS alloy wheels, up to 21 inches in diameter is available, pictured here are the famous BRABUS Monoblock "PLATINUM EDITION" Z forged wheels, painted to match the rest of this black BRABUS 800, 9×21 wheels with 255/30 ZR 21 tires for the front, and even wider 10.5×21 rims with 295/25 ZR 21 tires for the rear, tires are either Continental, Pirelli, or YOKOHAMA as advice by BRABUS themselves.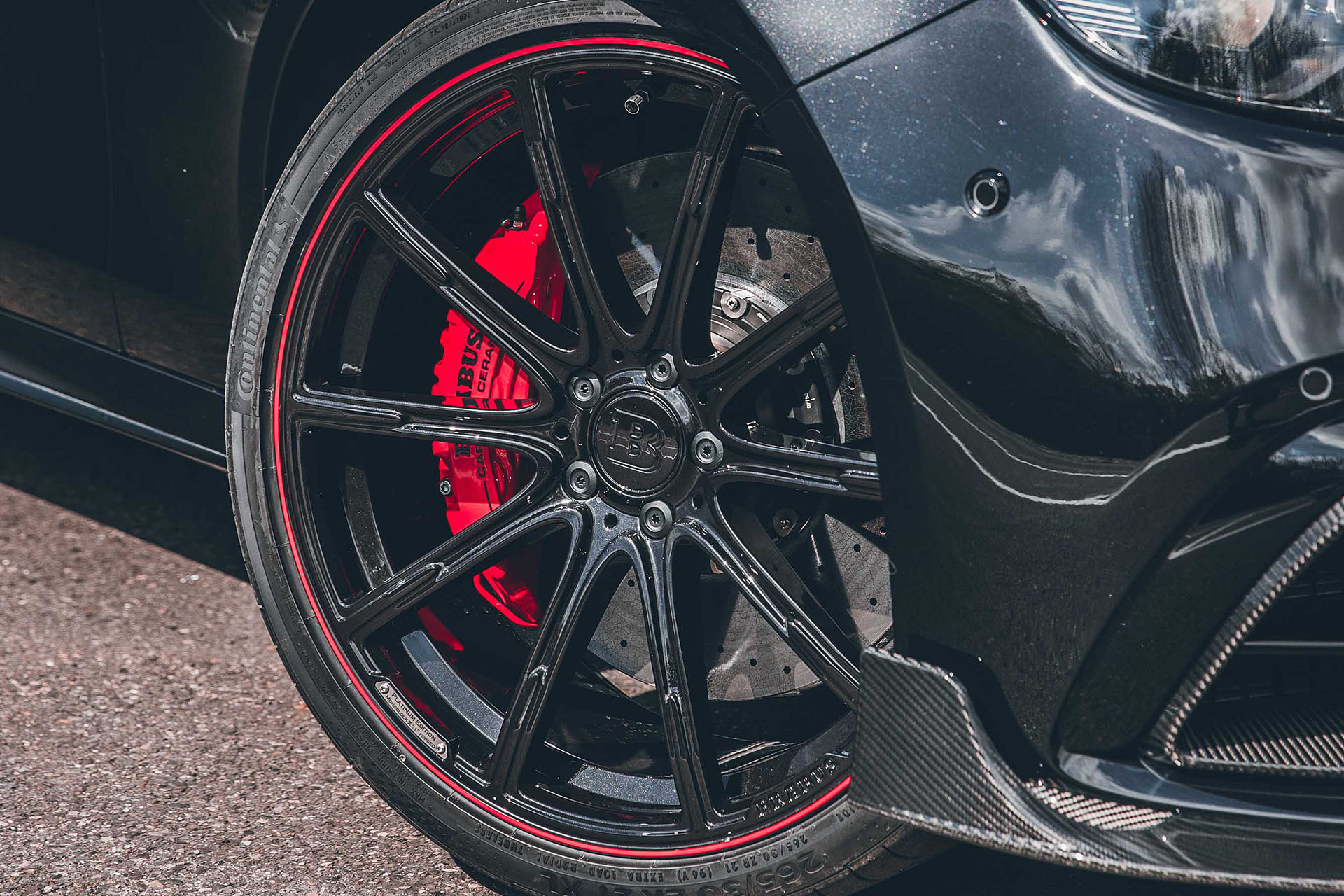 New wheels just scream for a lowered suspension too, and because the Mercedes E 63 S 4MATIC+ comes with air suspension, BRABUS offers their Sports Unit that allows the car to be lowered by 10 or 20 mm (0.4 or 0.8 in) depending on the selection of the available Comfort, Sport or Sport+ modes.
If a client wants something really special for his, or her bespoke BRABUS 800 E-Class, they can go for a complete interior overhaul, BRABUS offers the best selection of leather, Alcantara or cloth, in whichever combination or shade the customer can think of, add custom veneers or carbon fiber inlays, again in a multitude of colors, and you can create a truly unique car for yourself, or as a gift for someone else.